The Speaker of the House claims President Joe Biden in a 'Election Denier'. If true, shouldn't McCarthy do something drastic to remove Biden from office, because, he might be sharing TOP SECRET documents with other Presidents who are 'Election Deniers'?
How many billions of dollars does the U.S. spend on maintaining Democracies? Republicans want to cut our Military Budget which would make us vulnerable to our REAL ENEMIES! Perhaps McCarthy should go on T.V. and declare the Jan.6th. Committee got it right, and….DONALD TRUMP LOST! And…he did a disservice to Our Nation by WRONGFULLY SAYING BIDEN AND THE DEMOCRATS LOST THE ELECTION…..and they stole the election!
With the discovery there were Top Secret documents found on property that OUR RIGHTFUL PRESIDENT controlled, shouldn't Republicans work hard to remove Biden from office – before he shares documents with our enemies? How about the Democrats – who helped Biden STEAL the election? Shouldn't these ELECTION DENIERS be rounded up – and thrown in prison – even of they are serving as Senators and Congressmen?
Republican Lawmakers say they will not conduct ANY MORE investigations of EX-PRESIDENT, Donald Trump, because, they say Democrats already conducted several investigations. The Jan.6th.Com concluded Trump was wrong when he declared the Presidency was stolen from him. Shouldn't the Speaker of the House author a signed document that EXHONORATES the President of The Free World, so the DOJ can concentrate on….WHAT BIDEN IS REALLY GUILTY OF?
Looks like there are THREE PRESIENTS who are 'Election Deniers' if you count Mr Bolsonaro, THE EX-PRESIDENT of Brazil, a large democracy. It seems to me THE REAL ELECTION DENIER poses a REAL THREAT – to many Democracies! I would DISMISS the election of REAL ELECTION DENIERS – until this threat is alleviated. President Biden should call a National Emergency, and NOT validate the last election results – until this matter is RESOLVED! Our President should declare a National Emergency – and raise the Debt Celling – himself!
John Presco
https://www.cbsnews.com/news/election-deniers-2022-midterm-elections/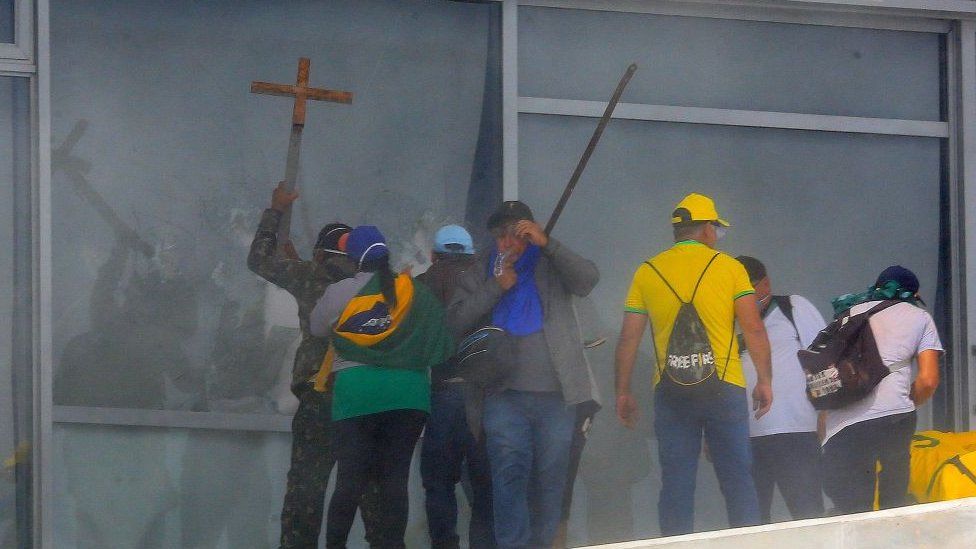 Mike Wendling
US disinformation reporter
The scenes in Brasilia looked eerily similar to events at the US Capitol on 6 January two years ago – and there are deeper connections as well.
"The whole thing smells," said a guest on Steve Bannon's podcast, one day after the first round of voting in the Brazilian election in October last year.
The race was heading towards a run-off and the final result was not even close to being known. Yet Mr Bannon, as he had been doing for weeks, spread baseless rumours about election fraud.
Across several episodes of his podcast and in social media posts, he and his guests stoked up allegations of a "stolen election" and shadowy forces. He promoted the hashtag #BrazilianSpring, and continued to encourage opposition even after Mr Bolsonaro himself appeared to accept the results.
Mr Bannon, the former White House chief strategist, was just one of several key allies of Donald Trump who followed the same strategy used to cast doubt on the results of the 2020 US presidential election.
And like what happened in Washington on 6 January 2021, those false reports and unproven rumours helped fuel a mob that smashed windows and stormed government buildings in an attempt to further their cause.
'Do whatever is necessary!'
The day before the Capitol riot, Mr Bannon told his podcast listeners: "All hell is going to break loose tomorrow." He has been sentenced to four months in prison for refusing to comply with an order to testify in front of a Congressional committee that investigated the attack but is free pending an appeal.
Along with other prominent Trump advisers who spread fraud rumours, Mr Bannon was unrepentant on Sunday, even as footage emerged of widespread destruction in Brazil.
"Lula stole the Election… Brazilians know this," he wrote repeatedly on the social media site Gettr. He called the people who stormed the buildings "Freedom Fighters".
Ali Alexander, a fringe activist who emerged after the 2020 election as one of the leaders of the pro-Trump "Stop the Steal" movement, encouraged the crowds, writing "Do whatever is necessary!" and claiming to have contacts inside the country.