The Royal Janitor
"Don't laugh. Chaz"l, our great Rabbis of the past, have said that Jews will most likely not recognize when the Moshiach/Messiah first comes. Therefore, I wanted to help my fellow Jews review the possibilities."
How many Jews, here and in Israel, and, how many Christians – blame black voters for Trump and God losing to Black People? Even though all Trump's candidates LOST – The Divine Donald – is not done! He may announce he is running again! Why? Well, when so many powerful people are suggesting you are the Messiah of the Jews – where do you go from there? Wellllll…..The Holy Trumpites ARRIVED when the Christian-right took over the Republican' Party founded by my kindred. Trump brought all the church pulpits out of the churches, and there is no going back. God and Son or in the limelight – all the damn time! That was Billy Graham's dream. God Talk is on – all the stations! Doctor Gene Scott – has risen from his grave!
Liz Cheney and Kari Lake are having a political cat fight. Cheney's kid is on top of Kari rubbing her face in the dirt. Knowing millions of Christians follow him – no matter what – the ex-President is inciting more violence by saying the elections in Arizona – are fake! Trumpite-Christians have removed THE FINISH LINE. No one can CROSS THE WINNERS LINE- but them! Reading about the horrific religious wars, I noticed The Losers believed – THEIR GOD WON! This is why I opposed Christian leaders getting into politics.
Days before the election I was worried sick the Democrats would lose – BIG TIME! I claimed many times my Bond novel 'The Royal Janitor' was very prophetic. WHAT IF I wrote A WINNING CHAPTER – that would come true? Wow! What a crazy idea! But…..what if it works?
Being a Biblical Scholar, I created Miriam Starfish Christling, a Torah expert. I had her dress in a loin cloth, like Jesus – on the cross! Miriam was Trump's ADVISARY! I put them on a collision course. In the beginning, she was a virgin. Then I had her fall in love with Victoria Rosemond Bond. Then, I made my virginal women – Lesbian Lovers! They got married! Then, I employed Tina Kotek in my book. Tina was up against a Christian and a Big Timber Heiress. The chances of her winning – did not look good. Not able to get a good psychic hit who was going to be THE WINNER, I went to the University y of Oregon to see Tina in person. The rest – is history!
Tina mentioned her church on her Facebook. Her two opponents were funded by Phil Knight, who decided to punish Kyrie Irving for promoting a Black-Israeli group – which he said he did/does not. On Friday, it was ruled Kyrie will be able to – go back to work! I demand Phil Knight make an apology!
Victoria Bond is a supporter of the Orange Order that believes they are of a lost tribe of Israel. They believe a Egyptian Princess founded -their race! The Orange Order have had bloody fights with the Catholics. My Rosamond kin took part. They fled to Canada when a Catholic youngster got shot. Look at the dates of these post. I began 'The Royal Janitor ' in April of 2018. I wanted my Female Bond to have character defects. She prides herself on being NON-VIOLENT! She leaves the job of killing human beings up to her bodyguard……..who in theory is a candidate for the Messiah of the Jews!
So, kick back with a bowl of buttered pop-corn and enjoy God's Most Angry Preacher Man! He's here to stay. When the World's Greatest Con-artist gets his first Holy Check – that's it! HOOKED for life!
God lost this time! But, I guarantee you – He won't lose next time! With your help….God will be VICTORIOUS AT LAST! Show God your vote of confidence in HIM – by sending ME a check! God and I have set a goal for you. Help get God over the Goal Line! He wants to be a winner – so you will be a winner!
Amen!
Who does not want Jesus to…….return?
John Presco
President: Royal Rosamond Press
https://www.msn.com/en-us/sports/nba/nets-e2-80-99-owner-meets-with-kyrie-irving-concludes-star-does-not-have-e2-80-98beliefs-of-hate-towards-jewish-people-e2-80-99/ar-AA140Fbm
CELTICS' JAYLEN BROWN QUESTIONS NIKE'S 'ETHICS' AFTER PHIL KNIGHT COMMENTS ON KYRIE IRVING
"Clara and I met with Kyrie and his family yesterday," Tsai said in a tweet on Friday. "We spent quality time to understand each other and it's clear to me that Kyrie does not have any beliefs of hate towards Jewish people or any group."
"The Nets and Kyrie, together with the NBA and NBPA, are working constructively toward a process of forgiveness, healing and education."
Joe Biden took a risk in making the midterms about democracy. I cheered that decision, because I thought it was the right issue—in fact, the only issue. But even I started to lose confidence as the election approached. America's voters, however, affirmed Biden's gamble, and our democracy is better for it.
https://jewishstandard.timesofisrael.com/donald-trump-is-the-messiah/
Posted on August 5, 2018 by Royal Rosamond Press
Here my prophetic post. Victoria Bond and Miriam Starfish Christling, are in the middle of the most important issues of our day.
John Presco
https://www.oregonlive.com/portland/index.ssf/2018/08/patriot_prayer_antifa_face_off.html
https://en.wikipedia.org/wiki/Patriot_Prayer
Posted on April 19, 2018by Royal Rosamond Press
Being part Dutch, and able to trace her lineage to William The Silent, got Victoria Bond an invite to march in the Orange Parade. But, when she insisted she play her 'Contraption', some of the most diplomatic folks of the Isles slithered up to her, and, as calm as can be, tried to talk her out of it.
"There will be trouble!"
"What kind of trouble? There's always trouble. I'm not giving up my pipes – mon! That would be like me, asking you, to give up your nuts. Coo'mon! Drop em!"
Jon Presco
Copyright 2018
Share this:
Former President Donald Trump (R) watches Republican candidate for governor Kari Lake speak at a 'Save America' rally in support of Arizona GOP candidates on July 22, 2022 in Prescott Valley, Arizona.© Mario Tama
Donald Trump has expressed the unsubstantiated belief that election irregularities cost Kari Lake the Arizona governor's race.
Lake, the latest Trump-endorsed 2020 election denier to have lost their midterm election, was defeated by Democrat Katie Hobbs nearly one week after the November 8 polls opened after mail-in ballots were slowly counted in the state.
https://www.msn.com/en-us/news/politics/trump-cries-foul-after-kari-lake-loses-arizona-governor-race-really-bad/ar-AA147M5V
https://www.msn.com/en-us/sports/nba/nets-e2-80-99-owner-meets-with-kyrie-irving-concludes-star-does-not-have-e2-80-98beliefs-of-hate-towards-jewish-people-e2-80-99/ar-AA140Fbm
https://en.wikipedia.org/wiki/Black_Hebrew_Israelites
During a press availability on November 3, 2022, Irving admitted that some of the film's content was "unfortunate" and untrue, but did not apologize for promoting the film, saying he was "not the one who made the documentary". Irving suggested that focus on his promotion of the film was unfairly diverting attention away from African-American history, claiming at one point that "300 million of [his] ancestors are buried in America"; he added that he would be able to debunk any criticism leveled at him because of his propensity for "study[ing]", and that he "know[s] the Oxford dictionary."[227] Asked directly if he held antisemitic beliefs, Irving did not give a yes-or-no response, saying only, "I cannot be antisemitic if I know where I come from."[228][229] At 7:44 PM EDT that night, the Nets announced that they had suspended Irving without pay for at least five games, due to his "failure to disavow antisemitism when given a clear opportunity to do so" and "conduct detrimental to the team.
https://www.msn.com/en-us/news/politics/trump-cries-foul-after-kari-lake-loses-arizona-governor-race-really-bad/ar-AA147M5V
https://en.wikipedia.org/wiki/Kyrie_Irving
Antisemitic conspiracy theories
Irving made his first tweet espousing Black Hebrew Israelite doctrine in March 2021.[212] Black Hebrews espouse the ideology that black people are the real Jews, wherein antisemitism is common.[212] On October 27, 2022, Irving tweeted a link to an Amazon listing page for Hebrews to Negroes: Wake Up Black America, a 2018 film based on a book of the same name, which promotes Black Hebrew Israelite ideology.[212][213] The film includes denials that the Holocaust occurred, quotes attributed to Adolf Hitler and Henry Ford, claims that Jewish people worship Satan, and accusations that Jews controlled the Atlantic slave trade and currently control the media.[214][215] In a tweet on October 28, 2022, Nets owner Joseph Tsai said he was "disappointed that Kyrie appears to support a film based on a book full of anti-semitic disinformation," and expressed his intent to address the issue further with Irving.[216][217]
On October 29, 2022, Irving tweeted that deeming him antisemitic was "not justified", and that he intended to "learn from all walks of life and religions."[218] The same day, during a postgame press availability at Barclays Center, Irving denied having any religious biases and defended the tweet, telling reporters that "[h]istory is not supposed to be hidden from anybody" and stating, "I'm not going to stand down on anything I believe in. I'm only going to get stronger because I'm not alone. I have a whole army around me."[219] Irving deleted the tweet on or around October 30.[220]
Irving observed the Kwanzaa celebration in December this year which started with Christmas and specific to African Americans. It is an annual celebration of black people of all religions. Kyrie constantly emphasizes the importance of god (Allah) and faith. While some might think he is Muslim, it's a common practice in the middle east to refer to Jesus as Allah. He seems to be embracing his black ancestry by celebrating Kwanzaa but we don't know which religion he follows.
The black lives matter movement has had a great influence on him in religious regard much like Malcolm X. in the 60s under Elijah Mohammad and the Muslim Movement in the United States at the time.
British Israel students among my readers will know that the Red Hand
is the symbol of the Zarah line from Judah, reunited in the purpose
of God with the Pharez line of the Davidic monarchy through the
marriage of Milesius the Heremon, of the Zarah line, with David's
descendant Tea Tephi, of the Pharez line, in Ireland. This Heremon
was a king of the Scarlet-thread branch of Judah and his genealogy
can easily be proved through study. The symbol of this branch of
Judah is the Red Hand, symbolising the scarlet thread placed round
the wrist of Zarah by the midwife (see Genesis 38).
Is Donald Trump The Moshiach/Messiah?
NOV 3, 2018, 4:28 PM
Please note that the posts on The Blogs are contributed by third parties. The opinions, facts and any media content in them are presented solely by the authors, and neither The Times of Israel nor its partners assume any responsibility for them. Please contact us in case of abuse. In case of abuse,
Report this post.
Don't laugh. Chaz"l, our great Rabbis of the past, have said that Jews will most likely not recognize when the Moshiach/Messiah first comes. Therefore, I wanted to help my fellow Jews review the possibilities.
When the Messiah comes, he will in all likelihood, first move the American Embassy from Tel Aviv to Yerushalayim/Jerusalem. When the Messiah comes, he will tear up the horrendous and ridiculous Iran Nuclear Arms Agreement of 2015. When the Moshiach comes, he will close the PLO offices in Washington DC and revoke the PLO representative's family passports. When the Messiah comes, he will somehow stop funding the UN Relief and Works Agency (UNRWA), an organization that has given millions of dollars for Palestinian terrorism in Israel.
When the Moshiach comes he will appoint two of the most pro Israel non-Jewish Americans to important positions in the American administration, Nikki Haley and John Bolton. Jews celebrate a holiday called Chanukah, in which oil burned for 8 days, even though it was supposed to last only one day. If that is truly a miracle, then what would you call what President Trump has done for Jewish people over the last 2 years? Any Jew who does not acknowledge President Trump's modern day miracles, is truly ignorant of Jewish history. Those Jews who sinfully criticized the President's trip to the Tree of Life Synagogue in Pittsburgh, should forcefully bang their chests for hours next Yom Kippur.
To say that President Donald Trump is antisemitic, or that he was in any way responsible for contributing to the Pittsburgh shootings, is the ultimate in stupidity, foolishness and arrogance. Shame on any individual that said or implied such an obnoxious conspiracy theory, which is known as a "Chillul Hashem" in Judaism. Actually, the real antisemites think that the Trump presidency and the Jewish state are both illegitimate. Haters of Trump and haters of Israel seem to be quite similar in their intellectually evil thinking, two peas in a venomous pod.
Even the liberal "fake" media are similarly obsessed with Donald Trump and Israel, and usually in a negative way. The First Lady wears a jacket with some writing on it and the press doesn't stop criticizing it for 3 days. Two Palestinians are killed at the Gaza border, after having sent a burning, explosive kite into Israel, and the stories do not stop. President Trump has created a roaring economy, and Israel treats sick Palestinians from the West Bank and Gaza; yet both get almost no mention. It must be "Moshiach Tzeiten," "The Time of the Messiah."
Everyone knows that Jews are considered "The Chosen People," so is Donald Trump that "Chosen" one as well? According to the Bible, often, when some group or some individual is "Chosen" by God for a task, they will not be accepted and more than likely be hated. The Talmud teaches us that the reason for thousands of years of Jewish hatred, has been because we were "Chosen" to give The 10 Commandments to the world. No wonder Israel is called racist, apartheid, occupiers and no wonder Donald Trump has been called a separator of families at the border, a misogynist, racist, homophobic and sexist. When you are truly "chosen," people lie about you.
We learn that the Messiah will reinstate the Sanhedrin—which is the Supreme Court. In Isaiah 1:26, when referring to the Messiah, it says, "And I will restore your judges as at first." Is this the Biblical prophecy that Trump's Supreme Court nominees will be conservative originalists, like the Founding Founders once were? Let us not forget that President Trump, through his daughter and her family, is now somehow a part of the Chosen People. Ivanka and Jared are an amazing religious Orthodox Jewish couple with truly incredible children. This just may be all part of God's plan.
###
Irwin N. Graulich is a motivational speaker and columnist on ethics, morality, Judaism, religion and politics. He is also president of Bloch Graulich Whelan Inc., a leading marketing, communications and branding company in New York City.
ABOUT THE AUTHOR
Irwin N. Graulich is a "serious Jew." He was born and raised in Brooklyn, New York, a child of Holocaust survivors. Mr. Graulich attended both public school and yeshiva, and has been writing and speaking about Jewish life since he was 16. He has written for many publications and web sites world wide. Irwin's unique eloquence and passion for Judaism have made him a much sought after speaker and writer. Some fascinating topics he has recently addressed include Why Be Jewish?, Where Was God During The Holocaust?, The Case For God's Existence, The Real Reason For Anti-Semitism, Lessons of The Holocaust, The Importance of Israel To The World, The Mitzvah To Hate, The Secrets of Shabbat and Kashrut, and many other subjects. In addition to lecturing in hundreds of synagogues, Mr. Graulich has been a guest speaker for Zionist Organization of America, Amit Women, UJA, Bnai Brith and ORT, as well as for many secular and non-Jewish organizations. Mr. Graulich considers himself a multi-denominational Jew and is a member of 6 shuls–Orthodox, Conservative and Reform. His wife, Dr. Penny Resnick Graulich, a pediatric dentist, is also the daughter of Holocaust survivors. They have 3 children, all of whom attended Jewish day schools in Westchester. Irwin N. Graulich is President of Bloch Graulich Whelan Inc., a leading marketing, branding and communications firm in New York City.
The King Messiah Trump
Published: AUGUST 29, 2019 23:02




U.S. President Donald Trump visiting the Western Wall in 2017
(photo credit: JONATHAN ERNST / REUTERS)
Advertisement
https://trinitymedia.ai/player/trinity-player.php?pageURL=https%3A%2F%2Fwww.jpost.com%2FOpinion%2FThe-King-Messiah-Trump-600135&unitId=2900003088&userId=dc9d5f04-743f-4cbb-8dba-fb146e515bfa&isLegacyBrowser=false&version=20221114_489e46adadd47461988734c1f65eeaaa2ce08020&useCFCDN=0&themeId=140
If all his "loyalty" measures weren't offensive enough, President Donald J. Trump, our Tweeter-in-Chief, has now, well recently, also posted on his favorite social media site a bit of grand theological-political flattery from Wayne Allyn Root, a failed libertarian presidential candidate and fridge purveyor of exotic conspiracy theories.
"President Trump is the greatest President for Jews and for Israel in the history of the world, not just America, he is the best President for Israel in the history of the world…and the Jewish people in Israel love him…."
"….like he's the King of Israel. They love him like he is the second coming of God… But American Jews don't know him or like him. They don't even know what they're doing or saying anymore."Top ArticlesRead More
Israel abstains in UN call for Russia to make reparations to Ukraine
Kim Jong Un reportedly in a coma as his sister Kim Yo Jong takes controlSponsored by NY Post News
Oregon Approves Pain Relief Gummies For Public UseSponsored by Health Headlines
Meghan Markle fans outraged over omission in Prince Harry birthday tributeSponsored by Page Six
[Photos] Kari Lake's Partner Might Look Familiar To YouSponsored by Sport Pirate
That's right: If you've been asleep for a week, our president retweeted that he was king of Israel, the second coming of God.
Faculty theology aside, this was a novel event, even for Trump, our most narcissistic of presidents. Granted, Americans have had a tendency to think highly of our chief executives and have, in our civil religion, deified a few (think the famous painting of the Apotheosis of Washington in the Capitol building or the Jesus imagery associated with Lincoln's death.)
But the idea of Trump as the messianic king of Israel goes far beyond what we normally expect of American civil religion. It is, one might say, a new Jewish – and Christian – heresy. Even for the Chosen One.
Within Jewish tradition, it is more accurate to speak of a complex of messianic beliefs, hopes, speculations and dreams than of a unified view of the messianic idea. In the discussions and explanations collected in the rabbinic corpus, as their thoughts turned from difficult political realities, their hopes for the restoration of national sovereignty in the Land of Israel was pushed into the realm of eschatology, where it mingled with all sorts of utopian and supernatural speculations.
The significance of redemption ranged from hope for the ingathering of the exile to the Land of Israel, restoration of the Davidic dynasty and rebuilding the Temple in Jerusalem, to universal knowledge of God, to Jewish sovereignty over the world. The kabbalistic speculations of the 16th century envisioned a radical perfection of the cosmos that had been damaged at the very moment of creation. Liberal Jews, myself among them, have hoped to build a messianic age where the ethical teachings of Judaism would become actualized in the world, shaping and becoming embodied in social and political institutions.
Most Americans Can't Pass This State Capitals Quiz. Can You?Sponsored by WarpedSpeed
I CAN think of nowhere in the Jewish tradition, however, that comes close to suggesting someone like Donald J. Trump as a messianic figure.
One wonders what Trump in his messianic self-regard will say and do when the majority of American Jews again fail to see the light. His light. Will he lament those American Jews who refuse to know and love their leader, despite all of his good works? Will he continue to complain, as they go to the polls, of their disloyalty to him? Will he accuse their leaders of plotting against him? It is, to be sure, hard to imagine the Donald uttering "Father, forgive them, for they know not what they do."
And, in the wake of such self-deification, what will his loyal followers do? We will, sadly, not be privy to what the Jewish day school educated son-in-law discusses with his wife about the complexities of the messianic idea in Judaism. But we can await the response of the members of other "loyal" Republican Jews, such as those who applauded Trump in Las Vegas when he referred to Benjamin Netanyahu as "their prime minister" and defended him again as recently as this week after he attacked Jews for "great disloyalty" for their failure to fall in line with his attacks on two Muslim members of Congress. I imagine they will continue to cite some brilliant Talmudic pilpul arguing that the president did not say what he said and in any event he is still "good for the Jews." After all, he tweeted so himself.
One wonders, too, about Trump's lauded evangelical base. Will they, who, unlike the Jews, await a Second Coming, remain faithful to their savior, a poor Jew from a backwater town in Galilee? Or will they chose to bow down to their modern-day Nero?
In the meantime, American Jews can rest assured knowing that messiahs have been proclaimed before. We remember that from time to time in Jewish history messianic ferment did flare up. Adventurers and pretenders arose, often from the margins of Jewish society, announcing the dawn of the redemption, and sometimes, having aroused the deep-rooted yearning for political independence and spiritual completion, generating significant spiritual and social agitation.
It is recorded that the great Sage Rabbi Yohanan Ben-Zakai used to say: "If you have a sapling in your hand and they tell you 'the messiah is coming!' first plant the sapling and then go to greet him." All Americans, gentile and Jew, ought to heed his wise counsel.
We will all sit beneath the shade of that sapling tree long before the King Messiah Trump saves any of us.
Will Trump Hasten the Arrival of the Messiah? Jews and Evangelicals Think So
BY CRISTINA MAZA ON 12/11/17 AT 4:14 PM EST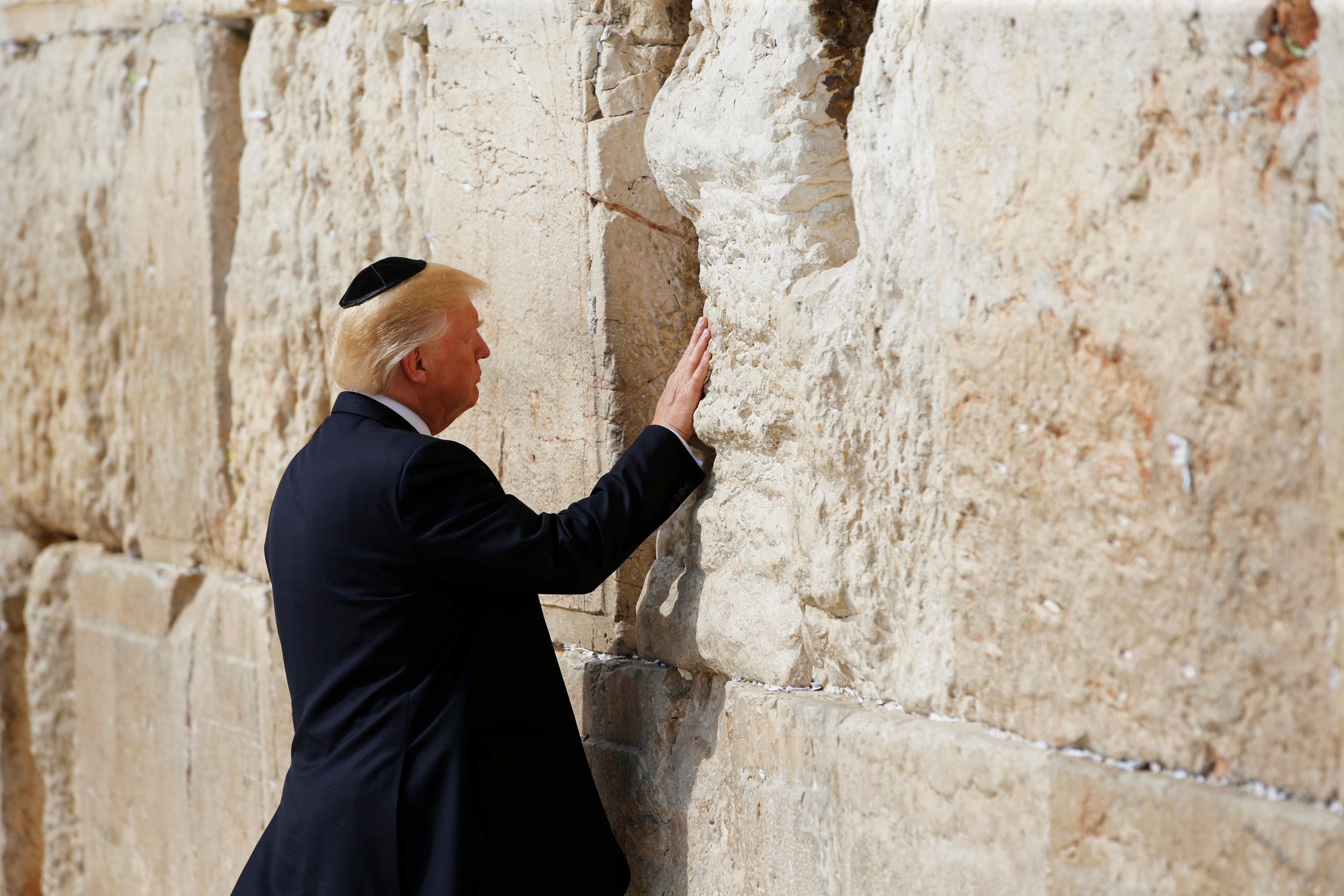 SHARE
Share on FacebookShare on TwitterShare on LinkedInShare on RedditShare on FlipboardShare via EmailComments
WORLDJEWSDONALD TRUMPTEMPLE MOUNTJERUSALEM
https://trinitymedia.ai/player/trinity-player.php?pageURL=https%3A%2F%2Fwww.newsweek.com%2Fjews-trump-persian-king-babylonian-exile-third-temple-judaism-744698&unitId=2601060880&userId=a66ebc90-8ab5-488c-be9f-1ef4c34881a3&isLegacyBrowser=false&version=20221114_489e46adadd47461988734c1f65eeaaa2ce08020&useCFCDN=0&themeId=140
In the wake of President Donald Trump's controversial decision to recognize Jerusalem as the capital of Israel, some Jewish activists argued that the U.S. president was being guided by God to restore Jewish control over sacred sites.
Activists lobbying for the construction of a Jewish Temple in Jerusalem said Trump was playing a similar role to the Persian emperor Cyrus the Great, who allowed the Jews to return to Israel from exile.
Jews also praised Cyrus for helping them build a second Jewish temple in the same place where the first had been destroyed.
https://69135cfab0279573a2dcf4871ab9b845.safeframe.googlesyndication.com/safeframe/1-0-40/html/container.html
Judaism's First Temple stood from around 957 B.C. to around 586 B.C., and its Second Temple stood from around 515 B.C. to 70 A.D., according to the Hebrew Bible. Now, some Jews said Trump's recognition of Jerusalem as Israel's capital paved the way for the construction of a Third Jewish Temple in the same place the Second Temple had been before it was demolished.
"There have been amazing advances towards bringing the Temple this year. It was clear that Trump was part of that process, guided by Hashem [God]," said Asaf Fried, official spokesman for the United Temple Movement, an association lobbying for the Third Temple's construction on the Temple Mount.
ADVERTISING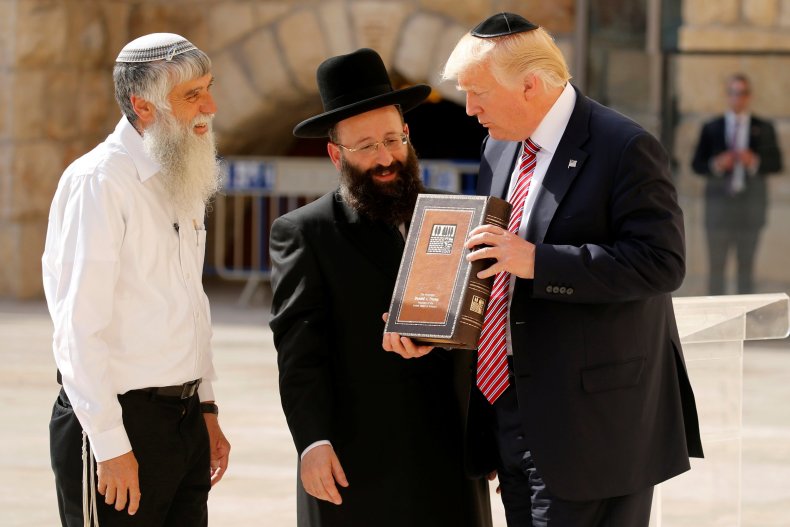 https://5875020c40e804c998e794abe690326f.safeframe.googlesyndication.com/safeframe/1-0-40/html/container.html
The Temple Mount is the elevated area above Jerusalem's Western Wall that was once the site of Judaism's two temples. The site is the third holiest place in Islam and has been the source of conflict between the two religions. It is currently under Israeli sovereignty but is administered by a Muslim religious trust. Jews are permitted to visit the site but are not allowed to pray there.
Jerusalem is currently controlled by Israel, but half of the city was seen as the future capital of a Palestinian state if a two-state solution were reached between Israeli and Palestinian authorities. Trump's controversial decision to recognize Jerusalem as the capital of Israel was widely criticized by U.S. allies, who viewed the recognition as the death of a negotiated peace settlement.
NEWSWEEK SUBSCRIPTION OFFERS >
RELATED STORIES
The Temple Mount is believed to be the site where Abraham demonstrated his devotion to God by taking his son Isaac to be sacrificed. According to Islamic tradition, it also was the place from which the prophet Muhammad ascended to heaven in the 7th century.
The Hebrew Bible describes both temples that stood on the Temple Mount in Jerusalem. Solomon's temple, also called the First Temple, stood in ancient Jerusalem until its destruction around 587 B.C. by the army of the Babylonian King Nebuchadnezzar.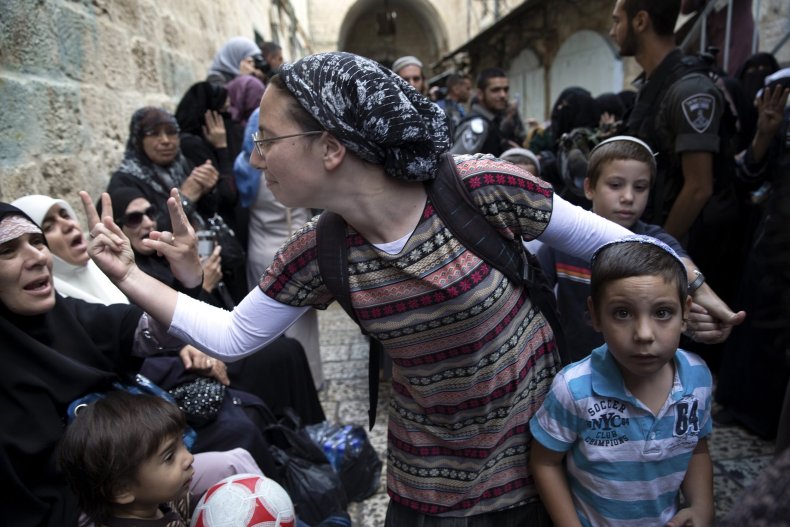 The Second Temple, meanwhile, was rebuilt with the support of Cyrus but destroyed after the Jews revolted against the Roman Empire. The Western Wall is all that is left of the Second Temple.
Advocates for a Third Temple were supportive of Trump even before he recognized Jerusalem as Israel's capital on Wednesday. Evangelical Christians, who are staunch supporters of Trump, believed that a Third Temple would be built before the "end times" that would usher the second coming of Jesus Christ. Jewish tradition also holds that the Third Temple will be built during the time of the messiah.
"A number of Christian leaders have been comparing Trump to the Biblical King Cyrus. They point out that King Cyrus was a leader called and appointed by God," wrote Enoch Lavendar for Prophecy Newswatch.
"If President Trump really has a similar calling to King Cyrus, could it be that God would use this real estate developer turned president to facilitate the greatest property development of modern time—the rebuilding of the Temple?"