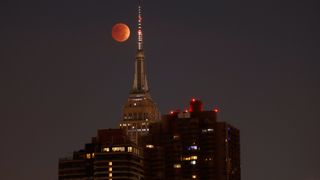 Blood Moon shining behind the Empire State Building, New York. (Image credit: Gary Hershorn/Getty Images)
When I awoke, I went out on my balcony to see the blood red moon. There was fog. I put the water on for coffee, and got on my Smart Phone. I beheld a light in the sky – that could be mistaken for The Return of Jesus. There were articles on Star Showers and asteroids. I was born during an amazing star shower. I was told by three Seers
"You own yout creation – you died!"
I saw my parents – create me – after I died.
Today is Election Day. Millions of Republican Christians are going to vote with the sole objective of preparing The Way for the Return of Jesus. They are taught they have to turn our Democracy into a Christian Nation to make it possible – that Jesus walk the Earth again. If they take the Senate and Congress, the CN will do all they can to destroy the Democrats and our Democracy. Jesus will take a back seat, as will Lazarus…..who Prepared The Way For Jesus…..and not John the Baptist.
I will be having a virtual visit with my therapist today. I'm going to ask her if she can set it up for me to take psilocybin – and have my session be tested and recorded. There is much evidence people I come in contact with – are AWARE of the state of being I was in, during my death – and after. To own proof of this, will benefit humanity. It is…..The Final Frontier!
There have been many sightings of strange lights in the sky – during the eclipse of the moon. Millions of Republican Christians are lining up to Make Their Mark next to a mere mortal who sold them on the lie they will bring the voters close to God-Jesus. Governor de Santis DECLARED himself 'The Savior of America' raising the ire of Savior Trump. It prophesized that many will led astray by false prophets.
I ran for Governor and received 170 votes. Bless these people. I am steeped in Biblical Knowledge and Answers, while Trump and De Santis – are ignorant……..?
Revelations has begun. The Fallen Angels – are here! Enjoy the Light Show!
I was just shown Revelation 9:9 that go with Mark 9:9. There is a good chance Moses led an invading army from Egypt against the Canaanites, and encountered a field of psilocybin that was named Manna. Moses met and conversed with God. Did Jesus have any conversations with God? If you read Mathew 27, it looks like Jesus was defeated – and God forsake His alleged Son. The Dead come out of their graves. It is said these are Saints, but what if……they are devils!
What if, God's Magic Mushrooms sprouted during an eclipse of the moon – and shooting stars?
While the vile sex-shaming Christ-demons hold their first Crotch-shaming tribunals in Congress, The Chosen Ones will have their mind and soul – amongst the stars!
John Presco
President: Royal Rosamond Press
EXTRA! I posted this and had breakfast. I found this on my phone. As I lie in my bed this morning, I considered whether or not I would be aware I am being killed by an astroid impact close by. I assessed my life would be over in a millisecond. Consider by Hand of God prophecy. Moses and the Multitude beheld a Pillar of Fire for days. Some believe it was a comet. What if dust from the tail of the comet fell to earth and mushrooms grew from this dust to make Manna. Did alien beings land near the camp of Moses, they wearing iron "breastplates" and their wings sounding like…..loud engines?
EXTRA! EXTRA! A news team captured a meteor while shooting the lunar eclipse! Why do I suspect all those Christine who voted to hurt Democrats and our Democracy – ARE GOING TO BE LEFT BEHIND? God harvests their name and votes – and cast them into the fire!
https://www.wlfi.com/video/news-18-this-morning-captures-meteor-during-the-lunar-eclipse/video_1222345d-feb2-5088-81a6-897ad0eacaf6.html
https://tech.hindustantimes.com/photos/danger-colossal-203-foot-asteroid-set-to-buzz-earth-today-at-very-close-quarter-nasa-says-71667894320803-4.html
https://en.wikipedia.org/wiki/Manna
9 And they had breastplates, as it were breastplates of iron; and the sound of their wings was as the sound of chariots of many horses running to battle.
45 From noon until three in the afternoon darkness came over all the land. 46 About three in the afternoon Jesus cried out in a loud voice, "Eli, Eli,[c] lema sabachthani?" (which means "My God, my God, why have you forsaken me?").[d]
50 And when Jesus had cried out again in a loud voice, he gave up his spirit.
51 At that moment the curtain of the temple was torn in two from top to bottom. The earth shook, the rocks split 52 and the tombs broke open. The bodies of many holy people who had died were raised to life. 53 They came out of the tombs after Jesus' resurrection and[e] went into the holy city and appeared to many people.
The Woman and the Dragon
12 A great sign appeared in heaven: a woman clothed with the sun, with the moon under her feet and a crown of twelve stars on her head. 2 She was pregnant and cried out in pain as she was about to give birth. 3 Then another sign appeared in heaven: an enormous red dragon with seven heads and ten horns and seven crowns on its heads. 4 Its tail swept a third of the stars out of the sky and flung them to the earth. The dragon stood in front of the woman who was about to give birth, so that it might devour her child the moment he was born. 5 She gave birth to a son, a male child, who "will rule all the nations with an iron scepter."[a] And her child was snatched up to God and to his throne. 6 The woman fled into the wilderness to a place prepared for her by God, where she might be taken care of for 1,260 days.
7 Then war broke out in heaven. Michael and his angels fought against the dragon, and the dragon and his angels fought back. 8 But he was not strong enough, and they lost their place in heaven. 9 The great dragon was hurled down—that ancient serpent called the devil, or Satan, who leads the whole world astray. He was hurled to the earth, and his angels with him.
Ballot Measure 109, which 56% of Oregonians approved in 2020, made Oregon the first state in the county to legalize psychedelic mushrooms, but the measure also allows cities and counties to vote to opt out of allowing legal psilocybin services and propagation. Those services are officially set to begin in January 2023, although because training programs for facilitators have not yet started, Oregonians won't have a chance to experience the services until months later.
Florida Gov. Ron DeSantis is overtly courting Christian nationalist voters, and Donald Trump lashed out at his most likely GOP challenger.
The Florida governor released a new video presenting him as a savior anointed by God to save the country, which the former president perceived as a direct threat to his grip over right-wing evangelical voters — and historian Sarah Posner told the Washington Post that Trump was right to be concerned.
"Trump knows that his base believes God anointed him to lead America at a critical juncture, and that many of them believe him to be a messianic figure who alone can rescue America from what they call demonic forces (liberalism, civil rights, 'deep state,' and more)," Posner told the Post columnist Greg Sargent. "None of Trump's potential rivals have so blatantly tried to claim that divine blessing."
https://www.newsweek.com/what-were-lights-sky-spacex-starlink-satellites-strange-line-1589131#:~:text=A%20line%20of%20lights%20streaking%20across%20the%20sky,like%20a%20string%20of%20lights%20in%20the%20sky.
Lucid Dying: Patients Recall Death Experiences During CPR
FeaturedNeurosciencePsychology
·November 6, 2022
Summary: 1 in 5 people who receive CPR report lucid experiences of death while they are seemingly unconscious and on the brink of death. The lucid experiences appear to be different from hallucinations, dreams, illusions, and delusions. Researchers found during these experiences the brain has heightened activity and markers for lucidity, suggesting the human sense of self, like other biological functions, may not completely stop around the time of death.
Source: NYU Langone
One in five people who survive cardiopulmonary resuscitation (CPR) after cardiac arrest may describe lucid experiences of death that occurred while they were seemingly unconscious and on the brink of death, a new study shows.
Led by researchers at NYU Grossman School of Medicine and elsewhere, the study involved 567 men and women whose hearts stopped beating while hospitalized and who received CPR between May 2017 and March 2020 in the United States and United Kingdom. Despite immediate treatment, fewer than 10% recovered sufficiently to be discharged from hospital.
Survivors reported having unique lucid experiences, including a perception of separation from the body, observing events without pain or distress, and a meaningful evaluation of life, including of their actions, intentions and thoughts toward others. The researchers found these experiences of death to be different from hallucinations, delusions, illusions, dreams or CPR-induced consciousness.
The work also included tests for hidden brain activity. A key finding was the discovery of spikes of brain activity, including so-called gamma, delta, theta, alpha and beta waves up to an hour into CPR. Some of these brain waves normally occur when people are conscious and performing higher mental functions, including thinking, memory retrieval, and conscious perception.
https://988874a24088dfb25d855268cd5d19cc.safeframe.googlesyndication.com/safeframe/1-0-39/html/container.html
"These recalled experiences and brain wave changes may be the first signs of the so-called near-death experience, and we have captured them for the first time in a large study," says Sam Parnia, MD, PhD, the lead study investigator and an intensive care physician, who is also an associate professor in the Department of Medicine at NYU Langone Health, as well as the organization's director of critical care and resuscitation research.
"Our results offer evidence that while on the brink of death and in a coma, people undergo a unique inner conscious experience, including awareness without distress."
Identifying measureable electrical signs of lucid and heightened brain activity, together with similar stories of recalled death experiences, suggests that the human sense of self and consciousness, much like other biological body functions, may not stop completely around the time of death, adds Parnia.
"These lucid experiences cannot be considered a trick of a disordered or dying brain, but rather a unique human experience that emerges on the brink death," says Parnia.
As the brain is shutting down, many of its natural braking systems are released. Known as disinhibition, this provides access to the depths of a person's consciousness, including stored memories, thoughts from early childhood to death, and other aspects of reality.
Sponsored by Democratic Party of Oregon
Vote blue.
See all the Democrats on your ballot, and vote by November 8th.
https://988874a24088dfb25d855268cd5d19cc.safeframe.googlesyndication.com/safeframe/1-0-39/html/container.html
While no one knows the evolutionary purpose of this phenomenon, it clearly reveals "intriguing questions about human consciousness, even at death," says Parnia.
The study authors conclude that although studies to date have not been able to absolutely prove the reality or meaning of patients' experiences and claims of awareness in relation to death, it has been impossible to disclaim them either. They say recalled experience surrounding death now merits further genuine empirical investigation without prejudice.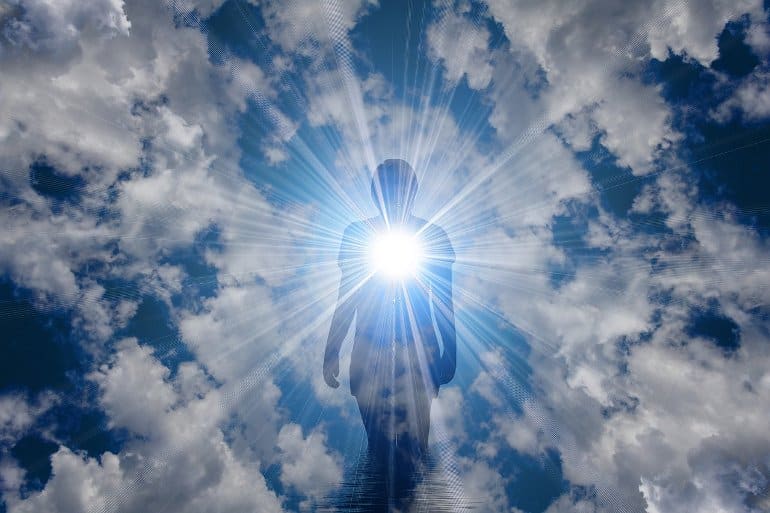 https://988874a24088dfb25d855268cd5d19cc.safeframe.googlesyndication.com/safeframe/1-0-39/html/container.html
Researchers plan to present their study findings at a resuscitation science symposium that is part of the American Heart Association's Scientific Sessions 2022 taking place in Chicago on Nov. 6.
See also
October 11, 2022
Some 25 hospitals in the U.S. and U.K. participated in the study, called AWARE II. Only hospitalized patients were enrolled to standardize the CPR and resuscitation methods used after cardiac arrest, as well as the recordings made of brain activity. Additional testimonies from 126 community survivors of cardiac arrest with self-reported memories were also examined in this study to provide greater understanding of the themes related to the recalled experience of death.
Parnia says further research is needed to more precisely define biomarkers of what is considered to be clinical consciousness, the human recalled experience of death, and to monitor the long-term psychological effects of resuscitation after cardiac arrest.
Funding: Funding and support for the study was provided by NYU Langone, The John Templeton Foundation, and the Resuscitation Council (UK) and National Institutes for Health Research in the U.K.
https://988874a24088dfb25d855268cd5d19cc.safeframe.googlesyndication.com/safeframe/1-0-39/html/container.html
Besides Parnia, other NYU Langone study investigators are Tara Keshavarz Shirazi, BA; Caitlin O'Neill, MPH; Emma Roellke, MD; Amanda Mengotta, MD; Thaddeus Tarpey, PhD; Elise Huppert, MD; Ian Jaffe, BS; Anelly Gonzales, MS; Jing Xu, MS; and Emmeline Koopman, MS. Other study investigators are Deepak Pradhan, MD, at Bellevue Hospital in New York City; Jignesh Patel, MD; Linh Tran, MD; Niraj Sinha, MD; and Rebecca Spiegel, MD, at Stony Brook University in N.Y.; Shannon Findlay, MD, at the University of Iowa in Iowa City; Michael McBrine, MD, at Tufts University in Boston; Gavin Perkins, MD, at the University of Warwick in Coventry, U.K.; Alain Vuylsteke, MD, at Royal Papworth Hospital NHS Foundation Trust in Cambridge, U.K.; Benjamin Bloom, MD, at Barts Health NHS Trust in London, U.K.; Heather Jarman, RN, at St. George's University Hospitals NHS Foundation Trust in London; Hiu Nam Tong, MD, at Queen Elizabeth Hospital King's Lynn NHS Foundation Trust in King's Lynn, U.K.; Louisa Chan, MD, at Hampshire Hospitals NHS Foundation Trust in Hampshire, U.K.; Michael Lyacker, MD, at Ohio State University in Columbus; Matthew Thomas, MD, at University Hospitals Bristol and Wexton NHS Foundation Trust in Bristol, U.K.; Veselin Velchev, MD, at St. Anna University in Sofia, Bulgaria; Charles Cairns, MD, at Drexel University in Phildelphia; Rahul Sharma, MD, at Weill Cornell Medicine in New York City; Erik Kulstad, MD, at University of Texas Southwestern in Dallas; Elizabeth Scherer, MD, at University of Texas San Antonio; Terence O'Keeffe, MD, at Augusta University in Augusta, Ga.; Mahtab Foroozesh, MD, at Virginia Tech in Roanoke; Olumayowa Abe, MD, at New York-Presbyterian in New York City; Chinwe Ogedegbe, MD, at Hackensack University in Nutley, N.J.; Amira Girgis, MD, at Kingston Hospital NHS Foundation Trust in Surrey, U.K.; and Charles Deakin, MD, at University Hospital Southampton NHS Foundation Trust in Southampton, U.K.
About this neuroscience research news
Author: David March
Source: NYU Langone
Contact: David March – NYU Langone