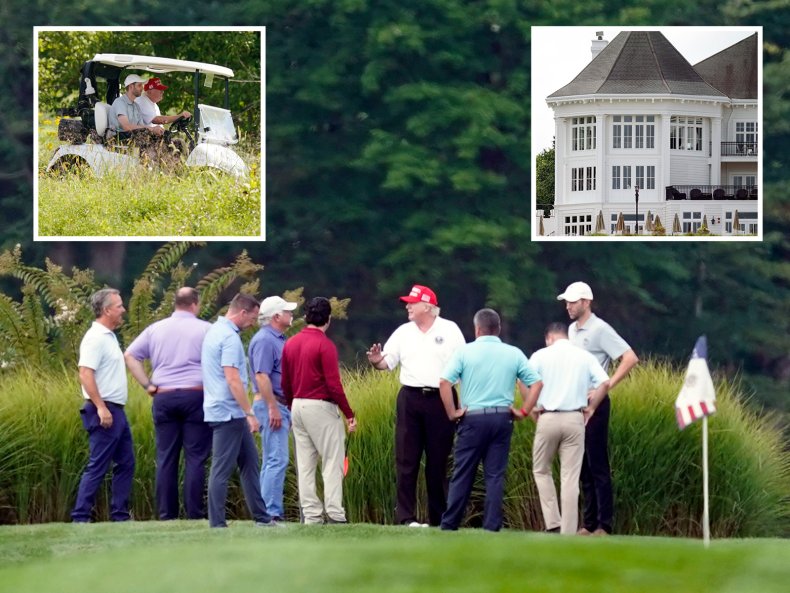 Donald Trump, his son Eric Trump, and several other people were pictured talking at the Trump National Golf Club Washington, DC. on Monday.
'Putin's Favorite Senator' Ron Johnson Scorched for Claiming Dems Weakened Ukraine by Impeaching Trump: 'FBI Warned You'
Published
on February 28, 2022 at 10:17 AM ET
By David Badash
U.S. Senator Ron Johnson (R-WI), already a well-known as a far right wing conspiracy theorist, is coming under strong criticism after falsely claiming top Democrats weakened Ukraine by impeaching Donald Trump.
What a scumbag! Johnson is another deluded Christian living in White Jesus World that he believes Democrats have infiltrated.
"They've infiltrated religions. "
White Racist Christians know Crime Boss, Donald Trump, empowered them, just like he did racist militias and neo-Nazis. I tried to become a Christian up in Blue River. My minister drove me out of HIS church for asking good questions. He saw me as a INFILTRATOR! He was funded by White Racist owners of logging operations who banded together to keep Blue River – their town! This is why I oppose Christine Drazen for Governor. When you look at her Facebook you are looking into White Christian Only World.
https://www.facebook.com/ChristineforOregon
The WRCCB are not FOR Government. They are FOR protecting their white communities from multiracial Democrats. That they meet in secret at a white golf course, with their crime boss they compare to King David, is perfect! Here is the sanctuary within the sanctuary. Here the White Ark Builders make plans for the…… COMING FLOOD OF REALITY!
"Lord! Make reality go away!"
John Presco
Lead House impeachment manager Rep. Adam Schiff (D-CA) responded by calling Johnson "confused," and saying, "Sit this one out, Senator."
"It was Trump who withheld military aid from Ukraine. It was Trump who demanded a 'favor' from Zelenskyy in exchange for the aid. It was Trump who weakened Ukraine. And it was Senator Johnson who voted to acquit."
"The press is so unbelievably powerful and the left has infiltrated every institution of this country," Johnson told Levin.
"They started with the college and university system. So they control college of education and journalism and law. And they've infiltrated every agency. They've infiltrated religions. They've infiltrated everything and now we're seeing the results of that."
"That's why our nation is literally on a precipice. We're at a hinge point in history," Johnson declared.
'Infiltrated': GOP senator angered that Democrats are allowed to participate in American life
AlterNet – Yesterday 11:00 AM
React2k Comments|3k
By David Badash,The New Civil Rights Movement
Image via Gage Skidmore.© provided by AlterNet
U.S. Senator Ron Johnson (R-WI) is angered Democratic voters are allowed to go to church, college, and be employed by those institutions and even the federal government, saying they have "infiltrated" these essential areas of American life and many others.
An elections and COVID conspiracy theory promotor, Senator Johnson, appearing on far-right-wing talk show host Mark Levin's Sunday night Fox News show, declared, "what this entire election is about is fighting for freedom."
It's a common refrain for the Wisconsin Republican who infamously spent the Fourth of July in 2018 in Moscow, "posing for propaganda photos with Russian officials" as The Washington Post's Dana Milbank noted at the time, while posting a tweet for his American constituents proclaiming, "What does July 4th mean to me? Freedom."
READ MORE: 'Putin's Favorite Senator' Ron Johnson Scorched for Claiming Dems Weakened Ukraine by Impeaching Trump: 'FBI Warned You'
Milbank observed Johnson's Moscow visit came on "the same day it was reported in Britain that two more people had been poisoned by a Russian nerve agent British officials say came from Vladimir Putin's regime. On the day after the Senate Intelligence Committee affirmed the U.S. intelligence community's conclusion that Russia interfered in the election to help Donald Trump."
Johnson, facing a tight re-election race for a third term despite having promised to retire after his second, is running against Democratic Lt. Gov. Mandela Barnes.
Related video: Ron Klain: 'Democracy is definitely on the ballot'
Ron Klain: 'Democracy is definitely on the ballot'
On Sunday Johnson suggested to Levin that liberals, Democrats, and anyone on "the left" as he put it, do not have an inherent right to participate in American life on an equal footing as Republicans.
And he accused Democrats of "infiltrating" American life four times.
READ MORE: 'Wants to Steal Your Money': Ron Johnson Thinks Rick Scott's Social Security Plan Is 'Not Cruel Enough' Say Critics
"The press is so unbelievably powerful and the left has infiltrated every institution of this country," Johnson told Levin.
"They started with the college and university system. So they control college of education and journalism and law. And they've infiltrated every agency. They've infiltrated religions. They've infiltrated everything and now we're seeing the results of that."
"That's why our nation is literally on a precipice. We're at a hinge point in history," Johnson declared.
"We have to win this election and we have to win many more because we've got to push them out of these institutions and return some normalcy, return the values that made this country great," Johnson, echoing the trumpist mantra, concluded.
READ MORE: 'Delusional Huckster,' 'Charlatan,' 'Political Grifter' and a 'Virus': 100-Year Old Newspaper Destroys Ron Johnson
While there is little public polling, the last four polls show Barnes up over Johnson by an average of 4.3 points.
Saying it "could be one of the uglier races of 2022," Politico lists it as a "tossup." As of Monday FiveThirtyEight puts the Johnson vote ahead of Barnes by 0.2 percentage points.
Donald Trump support
Johnson has been an unwavering supporter of former President Donald Trump, and attacked Senator Mitt Romney for his vote to allow witnesses in a Trump impeachment trial.[100][101][102] Asked subsequently about the confrontation with Romney, Johnson told reporters, "those are private conversations," continuing, "That's grotesque you guys are recording," with a reporter noting the press is permitted to witness the proceedings.[102] Johnson dismissively remarked that an impeachment vote would simply "inflame the situation".[102]
As chair of the Senate Homeland Security Committee, Johnson launched multiple investigations into Trump's political opponents, including Joe Biden.[100] In September 2020, after saying for months that he was undertaking an investigation that would demonstrate Biden's "unfitness for office", Johnson released a report that found no evidence of wrongdoing by Biden in relation to Ukraine. Johnson's report reiterated unproven allegations, many of which had been elements of Russian disinformation campaigns meant to smear Biden.[103]
In January 2018, Johnson said he had an informant with information that the FBI and Department of Justice had conspired against Trump in the 2016 presidential election; Johnson called it a "secret society" and said there was "corruption at the highest levels of the FBI".[104] Later that day, Johnson said he had based these claims on FBI agents Peter Strzok and Lisa Page's text messages, but conceded that he could not fully ascertain the messages' meaning.[105] In February 2018, Johnson further suggested that a text message between Strzok and Page raised questions about "the type and extent of President Obama's personal involvement" in the investigation into Hillary Clinton's email server.[106] But the message in question, which said, "Potus wants to know everything we're doing", referred to the FBI investigation into Russian interference in the 2016 election, not the Clinton email investigation, which had concluded months earlier.[106] In April 2019, Johnson defended Trump's statement that some high-level FBI agents were "scum",[107] and said "I think there's a proven fact there was definitely corruption at the highest levels of the FBI."[107]
Trump–Ukraine scandal
Further information: Trump–Ukraine scandal
Further information: Impeachment inquiry against Donald Trump
Volodymyr Zelensky 2019 presidential inauguration with U.S. delegation; Sen. Johnson (far right)
Johnson became an important figure in the 2019 controversy surrounding U.S. aid to Ukraine. He joined the U.S. delegation at the inauguration of the new president of Ukraine in May with National Security Council official Lieutenant Colonel Alexander Vindman and the "Three Amigos" (U.S. Ambassador to the European Union Gordon Sondland, Energy Secretary Rick Perry, and then-special envoy to Ukraine Kurt Volker).[108]
In August 2019, Sondland told Johnson that military aid for Ukraine was linked to Trump's push for Ukraine to investigate the origins of special counsel Robert Mueller's probe.[109] In October 2019, amid the impeachment inquiry into Trump, Johnson asserted that Trump had told him in August that he might withhold aid to Ukraine "because of alleged corruption involving the 2016 U.S. election. Johnson stood by the president, saying he was sympathetic to his concerns and didn't see any bad motives on his part".[110] Johnson has said that he asked Trump whether the aid to Ukraine was linked to the launch of the Biden investigation, and that Trump replied that it was not and asked him who had said that. Johnson replied that it was Sondland, and Trump asserted that "he barely knew him."[111]
In November 2019, at the request of House Intelligence Committee ranking member Devin Nunes and temporary member Jim Jordan, Johnson provided a detailed timeline of his involvement in the Ukraine situation.[111] In February 2016, he was one of eight senators who signed a letter to then-Ukrainian President Petro Poroshenko urging reforms in the office of the Ukrainian prosecutor Viktor Shokin.[112] On October 3, 2019, Johnson told reporters he did not recall signing the letter, which contradicts Trump's allegations that Biden had improperly pushed for Shokin's removal.[113]
The same day, Johnson also said that there was nothing wrong with Trump asking China, in October 2019, to start an investigation into Joe and Hunter Biden,[114] although there is no evidence of any wrongdoing by the Bidens in China.[114] Johnson has been one of the few Republican senators to defend Trump's efforts to get Ukraine and China to investigate Biden (then a potential 2020 Democratic presidential candidate) and his son.[115] Sondland told the House Intelligence Committee, "I shared concerns of the potential quid pro quo regarding the security aid with Senator Ron Johnson."[116]
Johnson went to Ukrainian President Volodymyr Zelensky's inauguration. Meeting later with Trump, he discussed Zelensky and the aid to Ukraine Trump had withheld, urging him to release it. He approached Trump after a U.S. diplomat informed him that its release was contingent on Ukraine's willingness to conduct investigations Trump sought regarding the 2016 election. He said he was disturbed by any linkage of the actions or the existence of a quid pro quo but became satisfied after Trump personally denied to him that the release was tied to political investigations. On November 26, however, the New York Times reported that Trump had been briefed about a whistleblower complaint involving a quid pro quo before releasing the withheld military aid to Ukraine.[117]
Johnson also met in 2019 with Ukraine diplomat Andrii Telizhenko about Ukraine's alleged interference in the 2016 U.S. presidential election.[118] The State Department revoked Telizhenko's visa in October 2020, and CNN reported the U.S. government was considering sanctioning him as a Russian agent.[119] Johnson has promoted conspiracy theories that the FBI and CIA have sabotaged Trump.[120][121][122]
In November 2019, he suggested that Vindman, who testified about Trump's phone call to Zelensky, might have participated in efforts to oppose Trump's policies and remove him from office, saying it was "entirely possible."[123] Michael Volkov, Vindman's lawyer, called Johnson's attack "such a baseless accusation, so ridiculous on its face, that it doesn't even warrant a response."[124]
Vindman's widowed father brought him and his twin brother to the U.S. when they were three years old. He is a decorated veteran from the Iraq war, having received a Purple Heart after being wounded in an IED blast. He is fluent in Russian and Ukrainian.[125][126][127][128] He was previously posted to the U.S. Embassy in Moscow.[129] The Washington Post wrote, "Johnson's letter intensified a campaign of attacks on Vindman from Trump and his allies, which has included speculation about the decorated war veteran's patriotism from conservative commentators and a White House statement on Friday criticizing his job performance."[130]
Johnson criticized Trump for firing Sondland, calling Sondland "a patriot".[131] After Trump fired State Department Inspector General Steve Linick and replaced him with an ally, Johnson said, "I'm not crying big crocodile tears over this termination."[132]
Johnson rejects the scientific consensus on climate change,[7] describing it in 2021 as "bullshit."[28] In a 2010 interview, he called scientists who attribute global warming to manmade causes "crazy," saying the theory is "lunacy," and attributed climate change to causes other than human activity.[29] Johnson also suggested carbon dioxide was good for the environment, as it "helps the trees grow."[7] In dismissing the effects of climate change, Johnson falsely claimed that Greenland was green when it was discovered and had become white and snow-clad over time as a result of cooling temperatures.[7] In August 2015, Johnson baselessly claimed that "the climate hasn't warmed in quite a few years. That is proven scientifically," although record world temperatures were reached that year and in 2014.[30] In February 2016, Johnson said, "I've never denied climate change. The climate has always changed, and it always will".[31] Johnson co-sponsored the Energy Tax Prevention Act, which would block the EPA from imposing new rules on carbon emissions.[32]
Posted on April 27, 2019 by Royal Rosamond Press
https://www.msn.com/en-us/news/us/ny-archdiocese-identifies-120-catholic-clergy-credibly-accused-of-child-sex-abuse/ar-BBWl37c?ocid=spartandhp
"Please join me in praying for peace and consolation for victim-survivors and their families."
Last night I had no choice but to conclude as I did back then – with the help of the head of Serenity Lane – that my minster, Gary Johnson, religiously abused me. He was jealous of me. He said this at Bible study.
"Greg has had a religious awakening, and is at the top of the mountain, but, he will soon come down."
Gary had been grooming Michael Dundon to be his assistant minister, and I was supposed to be his first convert. I wasn't supposed to have a dynamic revelation. I was supposed to have a common faith. I knew when he wanted me to play Judas to Michael, what his vision was – for me! Asshole! You try to forgive people.
I had to leave the Catholic Church after being targeted by a Catholic Priest. He was looking at me in a strange way. When I had my first communion, and while in confession, he told me I was lying and I had better come up with more sins. I was a saint! This is how they do it. They make you feel guilty and ashamed, and in need of personal attention. I walked out of the confession – and the Church! God came to me from a cloud and put His arm around me;
"I believe you, my child. You told the truth!"
A year after Gary forced me to leave I underwent hypnotic therapy. When I came out of trance my Therapist asked me this;
"What children does your father have access to. Give me their names and age!"
He was required to make a police report. This is why I did not want Kim Hafner passing around Christine's biography, because, an outsider wrote about the sexual abuse of my family when they were children – for profit! He did not know us! He was a ghost writer!
Things were coming back to me after my psychic reading. The reader said this;
"People come into your being and take, take, take! You are powerless to stop them. I don't know why."
Both of my parents were sexually abusive. Children are powerless to stop their parents. After reading all of Luke that night, I said this, softly……..
"Jesus. If you are real. Come into the darkness of family incest and help me and my siblings."
"I, and my Father in heaven are already working on these matters. Be not afraid. Spiritual Courage, will be me with Spiritual Courage!"
When a child has been Trespassed upon in such an egregious manner, and when he/she is not able to push ut the abuser, this leaves a gaping hole in your Spiritual Boundary and Barrier where other abusers and demons, may enter.
In the name of God, I close all these wounds, and give The Light of God, to plug these wounds, so there will be no more trespass.
Amen!
Seer John
One of the largest Catholic archdioceses in the nation released the names on Friday of dozens of priests and deacons "credibly accused" of sexually abusing minors, along with a letter of apology from New York's powerful archbishop, Cardinal Timothy Dolan, seeking forgiveness "for the failings of those clergy and bishops who should have provided for the safety of our young people but instead betrayed the trust placed in them by God and by the faithful."
About half of the 120 priests and deacons on the list released by New York's sprawling archdiocese have passed away, while the rest have been defrocked or otherwise dismissed from their ministries, though a handful of the named clergy are still appealing their dismissals.
Among those listed is Washington, D.C., Cardinal Theodore McCarrick, who was defrocked by Pope Francis earlier this year after a Vatican tribunal found him guilty of sexually abusing a minor decades ago. New York's archdiocese, like so many others across the nation, is scrambling to contain growing frustration among its nearly 3 million parishioners over the church's systemic cover-ups of child sex abuse by Catholic clergy in recent decades.
"After hearing from many of you, including many victim-survivors, I have decided to publish a comprehensive list of all archdiocesan clergy found credibly accused of sexual abuse of a minor," Dolan wrote in a letter to Catholics posted on the diocesan website and tweeted out on Friday afternoon.
"Please join me in praying for peace and consolation for victim-survivors and their families."