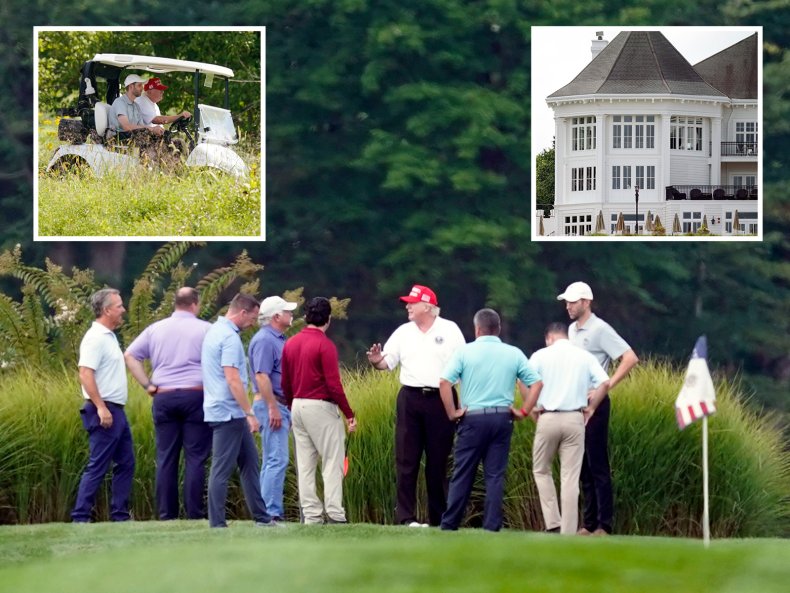 Donald Trump, his son Eric Trump, and several other people were pictured talking at the Trump National Golf Club Washington, DC. on Monday.
It appears Trump pretended to go golf, and instead was whisked away in a private jet to D.C. by his Gang who have no clubs. There are no golf clubs on these carts. Are they eluding the FBI?
John
There are no indications as to what the apparent meeting between the former president and those who work at The Trump Organization and his courses was about.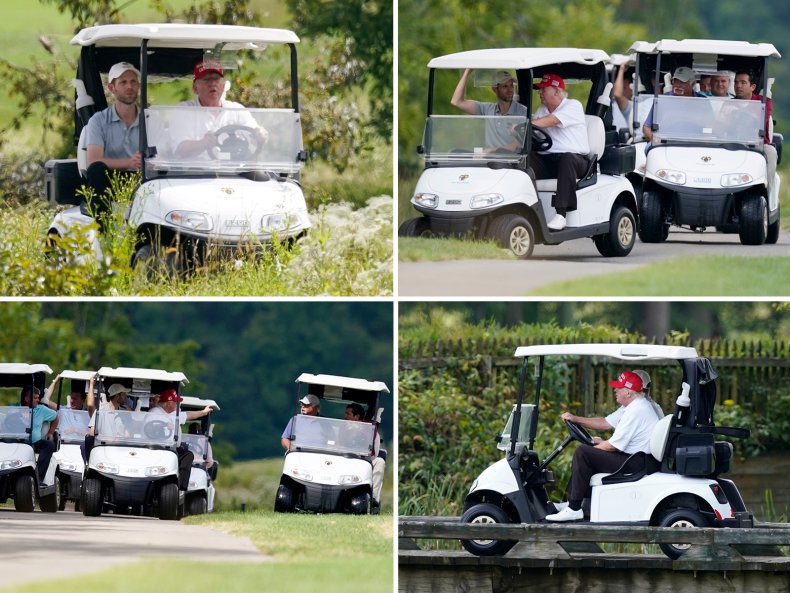 While Trump often played at the course just outside D.C. while president, he has only returned to Washington on one occasion since he left the White House in January 2021.
What Photos of Donald Trump on Golf Course Reveal (newsweek.com)
Phones taken by Justice Department as they roll out 40 subpoenas of Trump allies involved in fake electors scheme (msn.com)
Exclusive: Michael Cohen says Berman's book confirms his allegations — and demands the former US attorney be prosecuted (msn.com)
Donald Trump's mysterious trip to D.C. amid FBI probe has everyone wondering the same thing (msn.com)
GOP throws up last-minute roadblocks to hard-line Senate candidate (msn.com)
After months of handwringing over Don Bolduc, a retired Army brigadier general and 2020 Senate candidate, Republicans are trying to throw roadblocks in his way just before the Sept. 13 primary. If fruitful, the efforts would likely help state Senate President Chuck Morse, the only other primary candidate notching notable polling support, though it's unclear if there's enough time to close what some Republicans say is an uncomfortably large polling gap.
Trump tries to put rumors to rest for sudden DC visit (msn.com)
Trump tries to put rumors to rest for sudden DC visit
Raw Story – Yesterday 9:25 AM
React539 Comments|593
By Travis Gettys
Donald Trump speaking with supporters at a© provided by RawStory
Donald Trump addressed speculation about his surprise visit to Washington, D.C., in a brief post on his Truth Social network.
The former president arrived Sunday at Dulles Airport in Virginia, dressed in golf shoes and a white polo shirt, which prompted speculation that his unannounced trip was related to one of the various criminal investigations into him, but Trump claimed Monday that he was working at his nearby golf course.
"Working today at @TrumpWashingtonDC on the Potomac River," Trump posted, along with a link to Trump National Golf Club. "What an incredible place!"
An Associated Press photographer also shared a shot of Trump driving a golf cart alone at the golf course.
Last month's unprecedented FBI raid on Trump's Palm Beach, Florida Mar-a-Lago home saw thousands of government records, including the highly classified materials, retrieved.
Related video: What To Know As Donald Trump's Surprise Visit To DC Sparks Rumors
Loaded: 100.00%Play
Current Time 0:17
/
Duration 0:43LQCaptionsFullscreen
What To Know As Donald Trump's Surprise Visit To DC Sparks RumorsUnmute
0
IN OTHER NEWS: Legal expert blasts Trump: 'Kidnapped our national security and is holding it hostage'
How Can a Reverse Mortgage Help Your Retirement?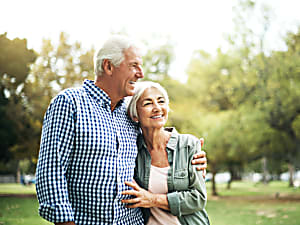 Much of it was mixed together into dozens of boxes with Trump personal records and other things like clothing and media clippings.
The government has maintained that Trump has no right to any of the official government records, which belong to the National Archives, and especially not to the classified materials.
It has not detailed what is in the classified documents, but media reports say some are extremely restricted, and the Washington Post reported that one deals with a foreign country's nuclear program and nuclear defenses.
The Justice Department cited the law on retaining defense materials and the law against destruction of government records for the raid.
It also cited obstruction of justice, after Trump and his attorneys told the FBI in June there were no more government or classified records in Mar-a-Lago.
In a social media posting Trump accused the FBI and Justice department of a "document hoax" and praised Cannon as "brilliant and courageous."