Last night I was watching CBS News and they showed the double rainbow that appeared over Buckingham Palace – at the very time of Queen Elizabeth's death! A half hour later I am on the internet reading articles, asking – Why are there no Protestant Saints? I made up my mind to declare Elizabeth a Protestant Saint because she mimicked the reign of Queen Elizabeth 1, thus – The Double Rainbow?
Queen Elizabeth was surrounded by spies that she employed against the Catholics, and, enemy spies were sent to destroy her – including a Spanish Armada! What the two Queen Elizabeth's endured – is a miracle – that I will put down in the English Language, and formerly present the day after her funeral. Yes I considered if this is appropriate, and, I wondered if there were rules – for this. But, my angel said;
"Do it – now!"
The Winged Angel of Victory is framed in the Arch of the Rainbow. She stands atop the monument to Queen Victoria a name that means – Victorious! Then, the two archs are Queen Victoria and Queen Elizabeth? Will a third rainbow appear on Eliabeth's funeral? The first rainbow appeared at Windsor.
John Presco 'Nazarite'
President; Royal Rosamond Press
Victoria Memorial, London – Wikipedia
London – Queen Victoria Memorial (vanderkrogt.net)
Queen Elizabeth II Dies and Multiple Rainbows Immediately Appear in Britain (newsweek.com)
https://www.christiancentury.org/blogs/archive/2010-08/protestant-sainthood
Double Rainbow Appears Over Buckingham Palace as Crowd Gathers to Mourn Queen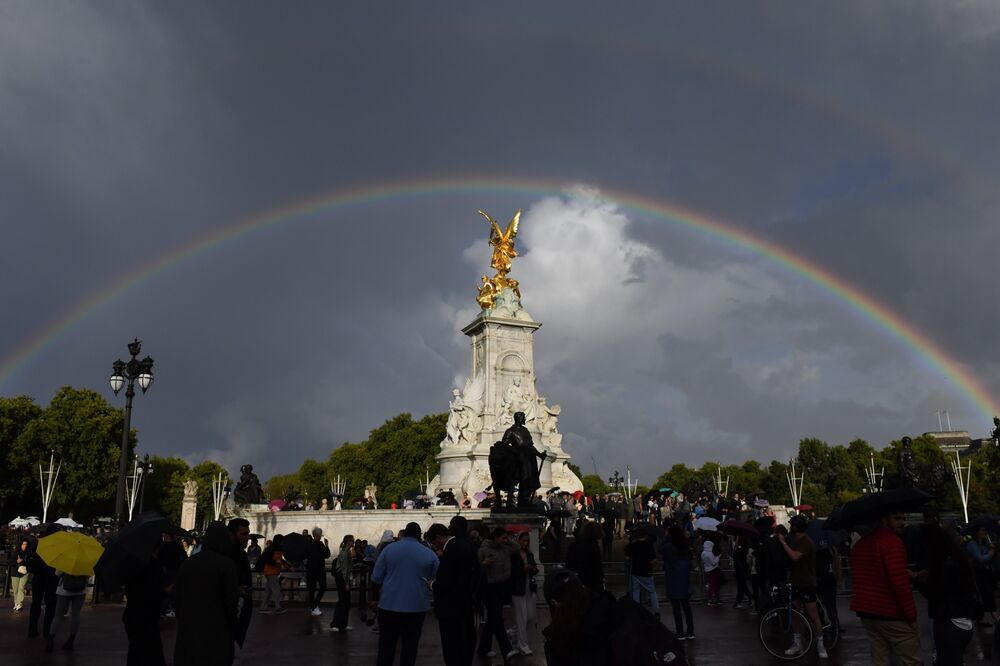 All James Bond Agents, Queen Elizabeth Madame Tussauds' Special Show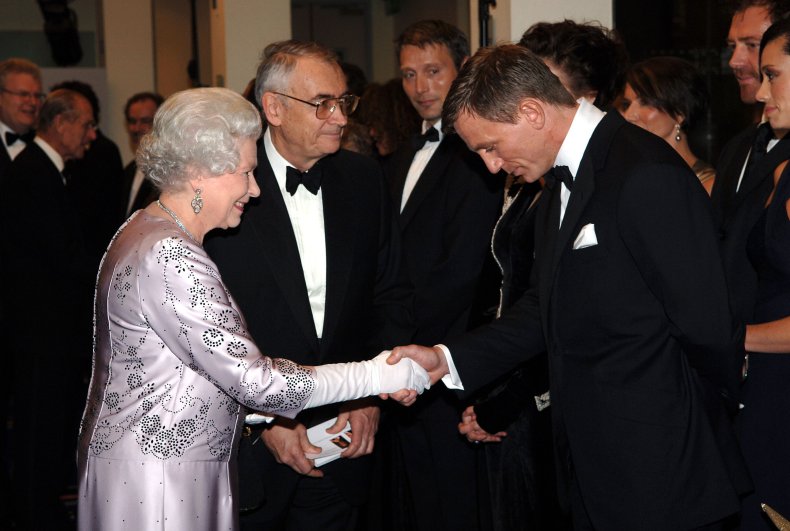 Queen Elizabeth II made it known that she would prefer to greet Daniel Craig as "Mr Bond" in their performance in the short film 'Happy and Glorious' for the London 2012 Olympic Opening Ceremony. Here at the premiere of 'Casino Royale' in London, November 14, 2006.
Queen Elizabeth James Bond Olympic Opening Ceremony – H 2012
Queen Elizabeth has honored Actors.
Today's first rainbow was spotted next to Windsor Castle, the Queen's residence in the English county of Berkshire. Getty Images captured a shot of Windsor Castle that depicted the flag being flown at half-staff, to honor Elizabeth's service to her country. And right next to it was a big, undeniable rainbow.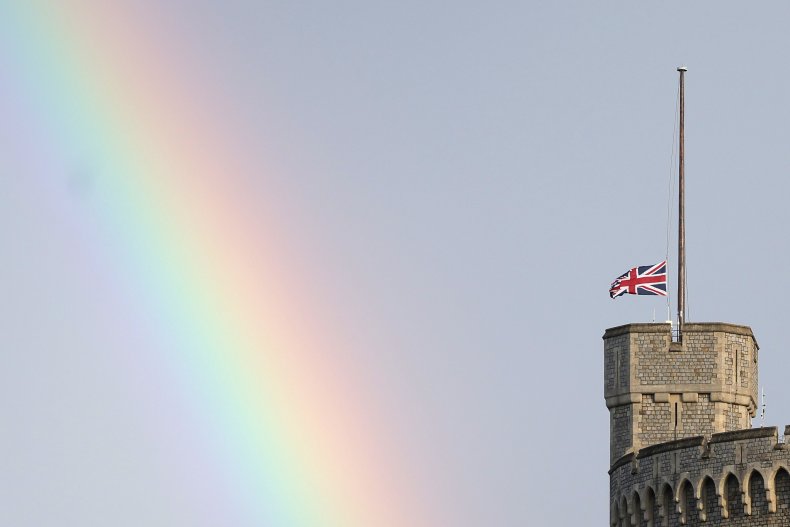 Over the last decade, despite her royal duties and advancing years, Queen Elizabeth II — who died Thursday at the age of 96 — starred in two beloved sketches alongside arguably two of the biggest modern-day icons of British entertainment.
In 2012, she stunned much of the world by appearing in a secretly shot scene for the London Olympics opening ceremony with Daniel Craig as James Bond.
"Good evening, Mister Bond," she says after a tuxedo-wearing Craig enters her study in Buckingham Palace, before the two — and several corgis — walk out to a waiting helicopter, from which she later parachutes into the Olympic Stadium to the 007 music.
Related Stories
While it was — obviously — a double who made the leap, it was the actual queen who appeared before, something the producers weren't anticipating when they first pitched the idea.
Speaking to the BBC on Friday morning, screenwriter and children's author Frank Cottrell-Boyce — who was the writer for the Olympic ceremony (which was directed by Danny Boyle) — said that a member of the team had gone to Buckingham Palace to find out what the queen would be wearing on the day of the ceremony and to take photos to build a set.
"The queen's dresser said, 'Why are you doing all this?' And we told her, 'so we can make it look like the queen.' So she said: 'Oh, the queen wants to do it,'" he explained. "She put herself up for that, she wanted to be in the sketch."
Cottrell-Boyce also noted that it was the queen who insisted she have a speaking part, something they hadn't previously written.
"On the day we were filming, she said to Danny Boyle, 'I think I should have a line,'" he recalled. "She bagged that. She didn't have a line in the script."
Cottrell-Boyce was also involved in the queen's most recent sketch, a short video broadcast during her jubilee weekend in June in which she had tea with Paddington Bear.
"She had a lot more lines in the Paddington sketch, partly because it was a lot cheaper to film her than to film Paddington," he said. "But she did that brilliantly and with evident enjoyment. And it wasn't easy. Paddington's not really there, so it's technically an amazing performance and a brilliantly timed comic performance."
Posted on August 15, 2018 by Royal Rosamond Press
Ian Fleming had to be interested in creating a dynasty that was worthy of a coart of arms. He poses as the genealogist, Bray, head of the College of Arms.

"Bond returns to London, and after a brief argument with M at the British Secret Service headquarters, heads for Draco's birthday party in Portugal. There, Bond and Tracy begin a whirlwind romance, and Draco directs the agent to a law firm in Bern, Switzerland. Bond investigates the office of Swiss lawyer Gumbold, and learns that Blofeld is corresponding with London College of Arms' genealogist Sir Hilary Bray, attempting to claim the title 'Comte Balthazar de Bleuchamp'.

Posing as Bray, Bond goes to meet Blofeld, who has established a clinical allergy-research institute atop Piz Gloria in the Swiss Alps. Bond meets twelve young women, the "Angels of Death", who are patients at the institute's clinic, apparently cured of their allergies. At night Bond goes to the room of one patient, Ruby, to seduce her. At midnight Bond sees that the 12 ladies go into a sleep-induced hypnotic state while Blofeld gives them audio instructions for when they return home. In fact, the women are being brainwashed to distribute bacteriological warfare agents throughout the world.

Related to Hollywood Stars

Posted on July 11, 2018

by Royal Rosamond Press

Here is the link to the Getty and Fleming family, that includes many Hollywood Starts. I am kin to them via Dame Liz Taylor who is in the Peerage. I found a new candidate for James Bond, Derek Ainslie Jackson. Come back to this post that is still under construction.
John Gregory Presco

Elizabeth Anne Pol (John) MP
Gender:
Female
Birth:
1912
Death:
1997 (85)
Immediate Family:
Daughter of Augustus John and Dorothy John
Wife of Willem Jilt Pol
Ex-wife of Derek Ainslie Jackson, DFC, AFC, OBE, FRS
Sister of Vivien White
Half sister of Sir Caspar John; Edwin John; Amaryllis Marie-Louise Fleming and Cole
Added by:
Fiona Evelyn Guinness on July 11, 2010
Managed by:
Tina and Fiona Evelyn Guinness

Elizabeth Anne ("Poppet") John: born Alderney, Dorset 9 March 1912; married 1930 Derek Jackson (marriage dissolved 1935), 1942 Villiers Bergne (marriage dissolved 1945), 1952 Willem Pol (died 1988; one stepdaughter); died London 22 October 1997.
Poppet always seemed faintly glamorous to the younger members of the John family; she was the aunt who lived in the South of France, mixed with grand people and loved a cocktail party. She had an exotically named stepdaughter, Talitha, and a charming husband, a Dutch painter who was always known by his surname, Pol. At their best they were a delightful, animated couple, who none the less suffered devastating turns of fate.
View All
Immediate Family
Text View
Photo View
Add Family
Showing 12 of 19 people Showing 19 people

Derek Ainslie Jackson, DFC, AFC, OBE, FRS 6/23/1906 2/20/1982
Derek Ainslie Jackson, DFC, AFC,…
ex-husband

Willem Jilt Pol 3/26/1905 8/15/1988
Willem Jilt Pol
husband

Dorothy John 12/19/1881 7/23/1969
Dorothy John
mother

Augustus John 1/4/1878 10/31/1961
Augustus John
father

Vivien White 3/8/1915 5/20/1994
Vivien White
sister

Talitha Dina Getty 10/18/1940 7/14/1971
Talitha Dina Getty
stepdaughter

Ida Margaret John 1/24/1877 3/14/1907
Ida Margaret John
stepmother

Sir Caspar John 3/22/1903 7/11/1984
Sir Caspar John
half brother

Edwin John 11/27/1905 2/2/1978
Edwin John
half brother

Lady Ottoline Cavendish-Bentinck 6/16/1873 4/21/1938
Lady Ottoline Cavendish-Bentinck
father's ex-partner

Evelyn Beatrice Saint Croix Rose 1885 7/27/1964
Evelyn Beatrice Saint Croix Rose
father's ex-partner

Amaryllis Marie-Louise Fleming 12/10/1925 7/27/1999
Amaryllis Marie-Louise Fleming
half sister

Derek Ainslie Jackson
Gender:
Male
Birth:
June 23, 1906
Death:
February 20, 1982 (75)
Immediate Family:
Son of Sir Charles Jackson and Aida Elizabeth Williams
Ex-husband of Poppet John; Pamela Mitford and Barbara Olive Skelton
Brother of Vivian Jackson
Added by:
Fiona Evelyn Guinness on January 27, 2008
Managed by:
Fiona Evelyn Guinness, Tina and Unknown
https://en.wikipedia.org/wiki/Derek_Jackson
https://www.thedailybeast.com/the-getty-family
https://www.geni.com/people/Poppet-John/6000000011071038000?through=6000000007315682383
https://www.geni.com/people/Derek-Ainslie-Jackson-DFC-AFC-OBE-FRS/5036545024110027081?through=6000000011071038000
Dame Rosemond and American Peerage
Posted on July 23, 2013
by Royal Rosamond Press
Rosamond Press
McClory was romantically involved with Elizabeth Taylor. Although he and Taylor reportedly had plans to marry, Taylor would eventually leave him for her future husband Mike Todd. Todd and McClory fell out over Taylor yet they managed to complete the final cut of the film side by side. The trio would eventually reconcile and they remained friends until Todd's untimely death in 1958.[8][9]MGM and Danjaq have acquired all of the rights and interests in James Bond held by the estate of Kevin McClory, ending more than 50 years of litigation between the producers of the franchise and an author who penned Bond scripts with Ian Fleming.
MGM, 'James Bond' Producer End Decades-Long War Over 007
O.K. This seals the deal. I got to get busy promoting myself. I am going to contact Don King and see if he can get me in a ring…
Elizabeth Rosemond Taylor – Proselyte | Rosamond Press
Adopting Elizabeth Rosemond Taylor | Rosamond Press
Liz Taylor's Hippie Brother | Rosamond Press