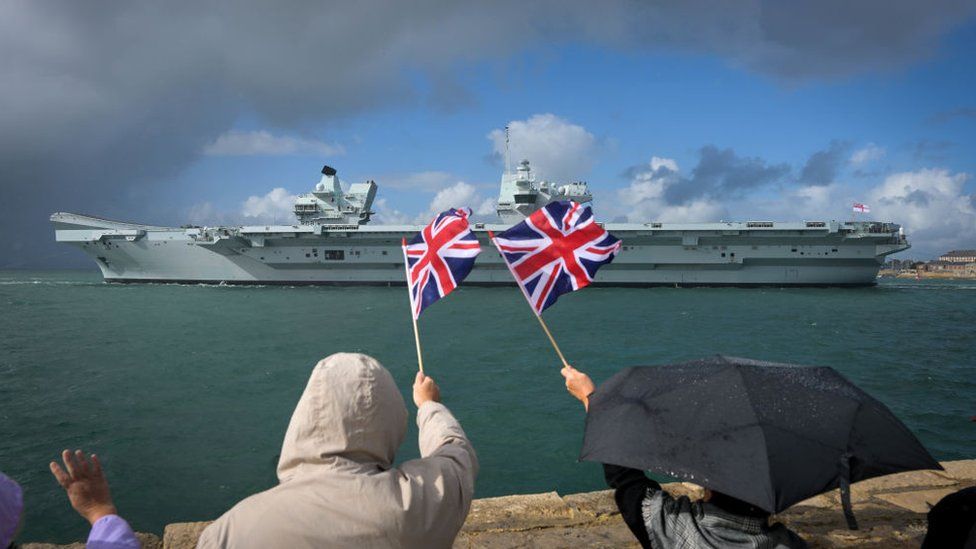 HMS Queen Elizabeth replaces HMS Prince of Wales in US trip – BBC News
Posted on June 28, 2016 by Royal Rosamond Press
It pained me to write this blog that will prove the most profound and prophetic works of art in history. What I saw in my dream was Rena's dead daughter bidding me to rescue and take care of her mother. There was much at stake. She was speaking as Ian's daughter. What may have alarmed Rena, is my implying her daughter took her naked form. and came into my bed in the shape of how I remember her best. Who wouldn't? A hundred million men have longed to see an extremely beautiful woman – naked! This want is the great engine of all the battleships that have sailed around Britannia, just to keep her safe!
But, she take in a Trojan Horse, and, only a great love story……..will save Britannia, now!
Jon Presco
'Capturing Beauty' Copyright 2016
Posted on August 9, 2013 by Royal Rosamond Press
I am going to paint Rena Victoria Easton as Britannia. How perfect! When I'm done, I will see if any of my titled friends on facebook want to purchase it. I will make posters for the Brits to enjoy. Who knows, William Windsor may want it on his wall in order to honor his beautiful wife.
After finding a book written by a member of Ian Fleming's family. I am on the conning tower of the HMS Queen Victoria – heading to America! I can see – for miles!
I need an agent! There are so many way I can go. I can go – all ways! This book – has set me free, and, set me up – for a windfall! What to do? I am considering publishing my revelations on this blog – for free – considering how much critical news is going on that I am compelled to cover, because Fiction and Reality had blended in Royal Rosamond Press. My Bondish novel 'The Royal Janitor' is news! I need to make reputable newspapers aware!
For sure the falling out I had with my muse, Rena Easton, is forgiven by real events, and English Literature. This book redeems the Artistic Vision I created around her. Rena will be immortalized, as will her husband, Commander Ian Easton. To render Victoria Rosemond Bond, and Miriam Starfish Christling – as lovers – propels all of Ian Fleming's books into the realm of high English Literature, as well as the Kingdom of English Art, that came to America. To depict Victoria and Miriam as Bohemians, was a stroke of genius – as you will read – one day!
On this day, I make it official! Rena Easton is….The Face That Launched A Thousand Ships!
I just noticed my idea for 'The Hypnotic Private Eye' dovetails nicely with the literary legend of Norbert Davis and Ludwig Wittgenstein – who may have read about Caryl Chessman. I am heir to the Black Mask League of Detective Authors. Ukraine is on the verge of destroying the Russian Army. People around the nuclear plant, are being evacuated. I did not know about Ludwig until 2020. How prophetic.
John Presco
Here we go! I got a movie script for sale! This movie will unite the Bohemian World!
The Hypnotic Private Eye
A Movie Idea
by
Jon Presco
Copyrght 2016
SYNOPSIS
A group of Freud's disciples team up with a group of men's magazine writers (known as The Lustful Eye), a couple of horror movie makers, the King of the Beatniks (who owns the Hungry 1) and Princess Marie Bonaparte, who claims she is the grandmother of Caryl Chessman. Together they hatch a scheme to alter the consciousness of the world, with the help of the Macumba Love Drug. They want to create a vortex of super creative people in the legendary Shangri-La that Carl's father, Prince Peter, discovered in his visit to Tibet. This is the scheme that Ken Kesey stumbled upon when he lived in the experimental community on Perry Lane in Menlo Park. There is powerful evidence Ken was put in a hypnotic trance he never got out of. The giant image of Kesey in Springfield holds the key that will unlock your mind! Study that bookcase! Long live the Grateful Dead of Macumba!
Posted on September 26, 2014 by Royal Rosamond Press
Rena's late husband, Sir Ian Easton, worked in Washington to insure Britain and the United States had federal funding to wage war against a common enemy. Our Congress is AWOL in this regards, they refusing to debate the War with ISIS, and legalize it. Will the Republican Co-terrorists call for a vote to defund our Commander in Chief in order to cause him to fail, and thus embarrass him in front of World Leaders whom he has formed a viable coalition with? If they do, let We the People demand that Republican Congressmen be arrested for Treason!
Jon Presco
Sir Ian Easton
Admiral, K.C.B., D.S.C. Former Head of the British Defence Staff. He was Commandant of the Royal College of Defence Studies in 1976, a UK senior serving military officer between 1972 and 2001. For the 2nd Louis Vuitton Cup, which was held in Fremantle, Australia in 1987, he paid an entry fee deposit of $16.000 for Royal Thames Yacht Club's White Crusader I and White Crusader II, representing United Kingdom.
HMS Queen Elizabeth replaces HMS Prince of Wales in US trip
Share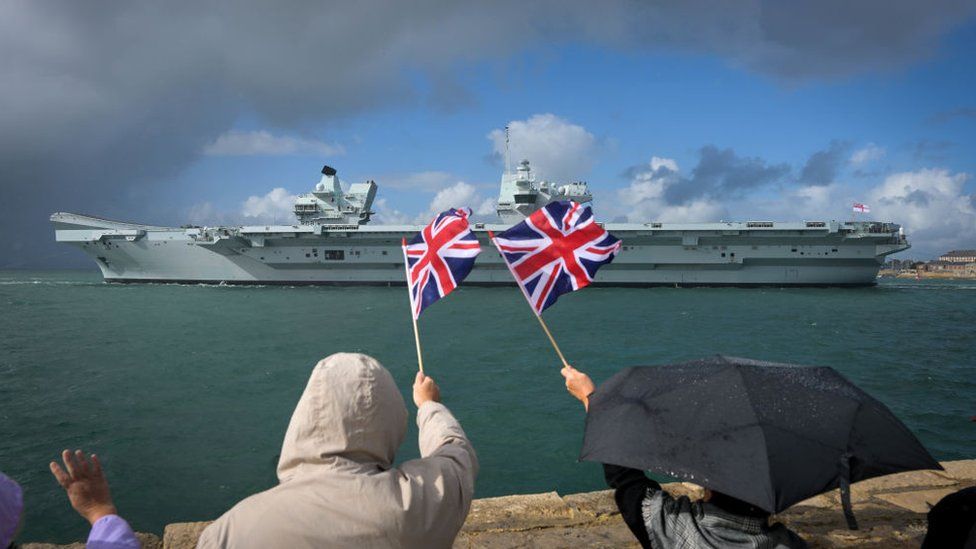 HMS Queen Elizabeth has set sail from Portsmouth to head to the US in place of its sister ship.
The carrier is standing in for HMS Prince of Wales, which broke down off the Isle of Wight at the end of August.
The warship had been on its way to the coast of North America for three months training, including flight trials with F-35B Lightning stealth fighter jets.
HMS Queen Elizabeth's crew were notified earlier this month that they would be sailing to the US instead.
Families of crew members and well-wishers lined the walls of Portsmouth Harbour on Wednesday morning and waved union flags to see the carrier off.
https://6f2135c94da15bde12fad5a9a10b6360.safeframe.googlesyndication.com/safeframe/1-0-38/html/container.html
The Navy has not detailed which of HMS Prince of Wales' diplomatic engagements and military exercises will be carried out by HMS Queen Elizabeth.
The programme included the Atlantic Future Forum and port stops in New York, Canada, and the Caribbean.
HMS Prince of Wales went back to Portsmouth Naval Base on Saturday after a coupling on its starboard propeller shaft broke.
The £3bn aircraft carrier will need to undergo repairs, which could be carried out at Rosyth in Scotland.
Posted on September 26, 2014 by Royal Rosamond Press
The Tea Party is no grassroots organization. It was born of the Koch brothers and Freedomworks, with the help of Dick Armey. Along with Cheney and Armey, these brothers, should be arrested and tried for Treason for the reason they do not abide by the results of a Democratic Election. Instead, they have plotted to undermine our Democracy and the Federal Government during a time of war.
With the formation of a Coalition of Real Freedom Fighters, it is now understood by real world leaders, that the war George W. Bush and Cheney waged in Iraq, is not over, and may never be over. If this is the case, then it is up to the Commander in Chief, and his party, to make long term plans to fight this war, without being hindered by real traitors, and a insane Congress that is AWOL.
My illustrious ancestors fought the British as South Carolina Patriots, and may have waved the 'Don't Tread On Me' flag over their head. On this day, I grab this flag out of the clutches of fake military wing-nuts loyal to the fake End Time Rapture, Quacks, who together form a co-terrorist coalition – that have done nothing to bring the battle to ISIS. Instead, these treacherous Sore Losers employ ISIS to defeat Democratic candidates.
I hand over the flag of True Patriots to our Commander in Chief to do with it what he will. I suggest he use it to represent the Coalition of World Freedom Fighters, a means to bring a message to ISIS.
"Don't tread on us, or you will die!"
Jon Presco
http://nypost.com/2014/09/24/president-obama-addresses-un/
https://rosamondpress.com/?s=benton+witherspoon
The Gadsden flag is a historical American flag with a yellow field depicting a rattlesnake coiled and ready to strike. Positioned below the rattlesnake are the words "Dont tread on me". The flag is named after American general and statesman Christopher Gadsden (1724–1805), who designed it in 1775 during the American Revolution. It was also used by the Continental Marines as an early motto flag, along with the Moultrie Flag.
Posted on September 25, 2021 by Royal Rosamond Press
The actor, Daniel Craig, was made an honorary Commander in the Royal Navy because of his role as James Bond, a fictional charater created by my kin, Ian Fleming. Our kin, Elizabeth Rosemond Taylor, was made Dame of the British Empire OBE for her thespian skills and backing of the British Empire. Fleming wanted Richard Burton to star in the first Bond movie.
In June of 2016 I began my first Detective novel 'The Hypnotic Private Eye'. The widow of Admiral Easton, Irene Victoria Easton, inspired me to write my own Bond book 'The Royal Janitor'. Above is a photography of my grandmother camping with Black Mask authors. Norbert Davis is the man with a gun. My grandfather was a good friend of Dashiell Hammet. Fleming was inspired by Raymond Chandler. It can be concluded that I am a bonified Bond author. I run a newspaper.
John Presco
President: Royal Rosamond Press
Actor Daniel Craig has been made an honorary Commander in the Royal Navy – matching the on-screen rank of James Bond.
Commander Craig's appointment as an honorary officer reflects his personal support for UK Armed Forces and links it with the legacy created through the guise of the fictional British secret agent.
Honorary officers in the Royal Navy bring a breadth of experience and contribute in their own distinct way to strengthen the navy's ties with the communities it serves.
Commander Craig is keen to support personnel within the Royal Navy, with a particular interest in service families.
Commander Craig said: "I am truly privileged and honoured to be appointed the rank of Honorary Commander in the senior service."
The announcement comes ahead of the premiere of the newest Bond instalment No Time to Die.
Filmmakers worked closely with the Royal Navy and Ministry of Defence in the production of the latest film in the franchise.
Warship HMS Dragon features in the movie with a sneak preview of the distinct Type 45 destroyer, with her red dragon emblem on the hull, seen cutting through the waves in the latest trailer.
Admiral Sir Ian Easton, KCB, DSC (27 November 1917 – 14 June 1989) was a Royal Navy officer who held various command positions in the 1970s.
Naval career[edit]
Easton joined the Royal Navy in 1931 and qualified as a pilot at the start of the Second World War, during which he saw active service on aircraft carriers.[3] On 4 January 1941, flying a Fairey Fulmar of 803 Naval Air Squadron from HMS Formidable during a raid on Dakar, he force landed with his aircrewman Naval Airman James Burkey and was taken prisoner and held by the Vichy French at a camp near Timbuktu until released in November 1942.[4]
Easton was appointed Assistant Director of the Tactical and Weapons Policy Division at the Admiralty in 1960 and was seconded to the Royal Australian Navy as captain of HMAS Watson in 1962.[3] He went on to be Naval Assistant to the Naval Member of the Templer Committee on Rationalisation of Air Power in 1965, Director of Naval Tactical and Weapons Policy Division at the Admiralty in 1966 and Captain of the aircraft carrier HMS Triumph in 1968.[3] After that he was made Assistant Chief of Naval Staff (Policy) in 1969, Flag Officer for the Admiralty Interview Board in 1971 and Head of British Defence Staff and Senior Defence Attaché in Washington, D.C. in 1973.[3] He last posting was as Commandant of the Royal College of Defence Studies in 1976: he commissioned armourial bearings for the college which were presented during a visit by the Queen in November 1977.[5] He retired in 1978.[3]
BBC News | ENTERTAINMENT | Queen honours movie Dames
Order of the British Empire – Wikipedia
Do the U.S. Navy's Aircraft Carriers Still Rule the Seas After Nearly 100 Years? (msn.com)
Posted on June 16, 2016 by Royal Rosamond Press
'The Hypnotic Private Eye'
Chapter Two
Lucky Victor's
Captain Von Victor liked Eric Nord the first time they lay eyes on each other. He could tell he was of the Teutonic race, and more than likely he was a Prussian, like himself. For this reason he gave him his best Evil Eye when he opened the old green door of 'Green Bros & Co. on Davis street.
"Who are you? Where's Meze? What happened to his produce?"Captain Vic growled. There was nothing more in the world he hated more, than a produce guy who doesn't have his stuff out by 5:00 A.M.
Spotting what looked like dead bodies laying about on the sofas and floor, Von Victor brushed Big Daddy aside. Strutting about like he owned the place, Captain Vic counted the empty bottles of booze tossed helter-skelter. He inspected the living-dead who had just crashed from their wild night of partying. Von Victor grumbled half approvingly. Some of these guys had money, and were slumming it. He recognized a couple of stiffs he had personally drunk under the table. Now, they are someone's sucker.
"Hmmm!"
Victor had crossed the Bay Bridge in his 1948 Flatbed Ford truck to pick up some South American Guavas for Trader's Vic's restaurant in Oakland, that just changed its name from Hinky Dinks, thanks to Von Victor who told Victor Jules Bergerson;
"Hinky Dink sounds real queer, like Dinky Pinky. You don't want the queer crowd in here, do ya!".
"What do you got goin on here?" Captain Vic asked Nord as he picked up a piece of cardboard with these infamous words on it.
"SUGGESTED DONATION – ONE DOLLAR FOR MEN & FIFTY CENTS FOR WOMEN"
"I run an after hours club. Now if you don't mind, I got to get some shut-eye. Come back tonight. Bring some friends."
"You allow Negroes in here?" Captain Vic shot, as he lifted his black eye patch and relieved a phantom itch. After Dirty Dee-Dee knocked his eye out with a five-pound green glass ashtray, he was after as much sympathy as he could get. Scratching his dead eyeball always gave him the upper hand as it un-nerved most folks to see him do it.
"What I don't allow in here, is racists. If you got a problem with the Black Race, don't come back."
"Hold your horses, ass-bite. I am thinking of bringing my good friends here, Viola and Vivian 'The Voom-Voom Sisters. You allow music? They play a mean Macumba, and have known to make Betsy Smith, blush!
"Of course! They are more than welcome!" Eric answered, contritely, because he and other club owners had been trying to book the Voom-Voom sisters who only play the clubs on 7th. Street, and, will do private parties at the Ritz Hotel in Emeryville (owned by Big Bone's Remmer) if the price is right.
Eris watched Von Victor put the red truck in reverse, then in first, and drive away. Deep inside he knew his life was going to change, forever. Captain Vic was tight with Jack Londons' daughter, and was running Acme Produce out of a Victorian warehouse on Webster and 4th, in Jack London Square. As he headed to San Jose, because that was the only other place you can get the Guavas Victor and his bartenders, liked, his mind and heart took in his old flame, Sarah Churchill, who he had to have the minute he lay his eye on her. He took her in the back of Hinky Dinks, thew her on some crates of oranges, and forced her to submit to his real Bohemian lust. He never fucked an actress before. Nine months later, Sarah thrust lil Oakland Jonny in his arms.
"I believe this lil sack of spuds…….belongs to you!"
When Vic walked in the door of his home on Berlin Way, that was built b his German grandfather, the Captain thrust Oakland Jonny in the arms of his wife, Rosemary,.
"Here. You have another son. If you give me any guff, I will twist your arm behind your back and force you to your knees. Now , take these kidney and cook them up the away I like them!"
When Oakland Jonny was thirteen, he was known as 'The Artist That Makes Women Cry'. Victor Bergeron commissioned Jonny to render some drawings of his new place. He rendered the beautiful Polynisian maiden on the cover of the menu. After that, The Captain introduced his a son as his 'Art Whore'.
"He'll draw or paint anything for a buck!
This is when Lil Jonny began to paint and draw in a closet with a flashlight. When his father opened 'Lucky Victor's' he was forced to render these incredible murals of the adventures of Jack London for a dollar a day. Lucky Victor's opened the same day Chessman hired Bill Linhart.
Jon Presco
Copyright 2016
Hidden below a crusty warehouse in the city's old produce district, the Party Pad was a beatnik hangout run by Eric "Big Daddy" Nord. Subject of then-mayor George Christopher's crack down on North Beach, it was raided in June 1958.
Eric "Big Daddy" Nord was referred to as the "King of the Beat Generation," and the 6'7″ man ran a lively scene in the 1950s. He started the original hungry i nightclub back in 1950, and later opened his Party Pad club. Located in an old produce warehouse, the Party Pad operated as a continuous "bring your own bottle party," asking for donations ($1 for men, 50 cents for women)> instead of a charge. It wasdescribed by a newspaper at the time
Eric "Big Daddy" Nord, 1968 [Photo: Moe's Books]
Nord kept a policeman on duty at the parties to help keep order, but on June 21, 1958 it was raided on orders from Mayor Christopher and Nord was arrested for operating a public dance hall without a license. Earlier that month a man had died after falling off the roof during one of the parties. Later that summer, Nord was charged with helping two teenage girls run away from their homes. The highly-publicized trial was technically for "contributing to the delinquency of minors." He and another man were accused oftaking two 16 and 17 year old runaway girls "on a Beat Generation weekend" including trips to Mill Valley and Big Sur. In the end, he was fined $300 and given three years' probation.
The Party Pad was ordered to close in August 1958, and Nord relocated to Venice, California to operate the legendary Gas House.
· DEATH AT BEATNIK "PARTY PAD", SF [Eureka Humbolt Standard]
· beatnik! [Tom Christopher]
· Head Beatnik Held for Aid To Runaways [San Mateo Times]
http://sf.curbed.com/2013/2/4/10276950/the-produce-districts-hidden-party-pad
It was known as the 'Party Pad', a clandestine bring-your-own-bottle establishment occupying the upper floor of a deserted produce warehouse on Davis Street, downtown San Francisco. The underground hipster hub was run without a license by a beatnik generation actor and poet known as Eric "Big Daddy" Nord, a well-known figure of the bohemian scene in California at the time. These photographs of the speakeasy-style joint were discovered by a digital archive for the city, Found, SF.
Unfortunately, this party was shut down pretty quickly after a 31 year old man died in June 1958 when he fell from the Party Pad's roof, which guests would often use to get a breathe of fresh air. "Police found 13 empty whiskey bottles, 10 empty beer cans, as well as chairs and mattresses on the roof," reported the local paper, "It was found that the roof was a most unsafe place." Today, the old food warehouse has long since been demolished.
Despite it's tragic end, this secret club must have once had an electric atmosphere behind its shabby exterior, and I can certainly see the story of a place like this inspiring some modern-day hipsters to open their next 'speakeasy' cocktail hotspot– complete with a decaying facade salvaged from an abandoned green grocer's. Any bar entrepreneurs out there interested in immortalising the story of The Party Pad?
http://www.foundsf.org/index.php?title=Cosmopolitan_Liberalism,_Harm,_and_the_Profitable_Beat_Scene
Trader Vic's is a restaurant chain headquartered in Emeryville, California, United States. Victor Jules Bergeron, Jr. (December 10, 1902, San Francisco – October 11, 1984, Hillsborough, California) founded a chain of Polynesian-themed restaurants that bore his nickname, "Trader Vic". He was one of two people who claimed to have invented the Mai Tai.[1] The other was his amicable competitor for many years, Don the Beachcomber.
Bergeron attended Heald College in San Francisco.[2] On November 17, 1934, using $500 in borrowed money, Bergeron opened a small bar/restaurant across from his parents' grocery store at San Pablo Avenue and 65th Street[3] in the Golden Gate District of Oakland.[4] He named it Hinky Dink's. As its popularity spread, the menu and decor developed an increasingly tropical flair, and Hinky Dink's soon became Trader Vic's. In 1940 the first franchised Trader Vic's opened in Seattle,Washington.[5] In 1950, Bergeron opened a Trader Vic's location in Hawaii[5] and in 1951 at 20 Cosmo Place in San Francisco.[4]
During the Tiki culture fad of the 1950s and 1960s, as many as 25 Trader Vic's restaurants were in operation worldwide. They all featured the popular mix of Polynesianartifacts, unique cocktails, and exotic cuisine. In the 1980s and 1990s, the chain began to shrink as a new generation of people had little or no connection to the chain's tiki theme. The chain of restaurants grew and is credited as one of the first successful themed chains, a marketing model that many other restaurants followed. Poor locations or less trendy addresses took a toll on the chain's popularity. In 1972 the original location in Oakland was closed and replaced by a bayfront restaurant in nearby Emeryville,[5] now considered the chain's flagship restaurant. While many of the original locations have closed, Trader Vic's once again has grown to 19 locations around the globe.[6] As of 2012 there are four Trader Vic's restaurants in the United States, three in Europe, eight in the Middle East, and three in East Asia. The Trader Vic's Corporation also franchises restaurants and bars under the names the Mai Tai Lounge, Trader Vic's Island Bar & Grill (which opened in 2010 in Sarasota, FL and shuttered in 2013 – where the company experimented with a Hooters-like concept but not a true Hooters knockoff), and Señor Pico,[7][8] which take the total restaurant count up to 27.
Sarah Millicent Hermione Touchet-Jesson, Baroness Audley, born Sarah Churchill (7 October 1914 – 24 September 1982), was a British actress and dancer.
Sarah Churchill was born in London, the second daughter of Winston Churchill, later Prime Minister of the UK during the Second World War, and Clementine Churchill, later Baroness Spencer-Churchill; she was the third of the couple's five children and was named after Sir Winston's ancestor, Sarah Churchill, Duchess of Marlborough. She was educated atNotting Hill High School as a day girl and later at North Foreland Lodge as a boarder.[1]
Thomas Touchet-Jesson, 23rd Baron Audley MBE (15 September 1913 – 3 July 1963) was born in Herefordshire, England, to Thomas Touchet Tuchet-Jesson and Annie Rosina Hammacott-Osler and educated at Lancing College. He married twice, initially to June Isabel de Trafford née Chaplin, daughter of Lt.-Col Reginald Chaplin, whom he divorced in 1957. His second marriage, on 26 April 1962, was to Sarah Churchill, daughter of former Prime Minister Sir Winston Churchill and his wife Clementine.
He inherited the title of 23rd Baron Audley on 27 May 1942 by writ, succeeding his second cousin Mary Thicknesse-Touchet, 22nd Baroness Audley on her death. As he died childless on 3 July 1963, the title passed to his sister Rosina (1911-1973).
Churchill is best known for her role in the film Royal Wedding (1951) as Anne Ashmond, romantic interest of Fred Astaire as Tom Bowen. In the same year, she had her own television show. She also appeared in He Found a Star (1941), All Over the Town (1949), Fabian of the Yard (1954) and Serious Charge (1959).
https://en.wikipedia.org/wiki/Heald_College
During the war, the German clothing factory that eventually became the international menswear powerhouse Hugo Boss produced thousands of SS and other uniforms;[2] with the black SS uniform having been designed by Karl Diebitsch and Walter Heck.
Born in New Orleans, Louisiana, Kaufman was one of fourteen children. He claimed to be the son of a German-Jewish father and a Roman Catholic Black mother from Martinique, and that his grandmother practiced voodoo. At age eighteen, Kaufman joined the United States Merchant Marine, which he left in the early 1940s to briefly study literature at New York's The New School. There, he met William S. Burroughs and Allen Ginsberg. In 1944 Bob Kaufman married Ida Berrocal. They had one daughter, Antoinette Victoria Marie (Nagle), born in New York City in 1945 (died 2008). Kaufman moved to San Francisco's North Beach in 1958 and remained there for most of the rest of his life. He married Eileen Singe (1922–2015). in 1958; they had one child, Parker, named for Charlie Parker.
Kaufman, a poet in the oral tradition, usually didn't write down his poems, and much of his published work survives by way of his wife Eileen, who wrote his poems down as he conceived them.[2] Like many beat writers, Kaufman became a Buddhist. In 1959, along with poets Allen Ginsberg, John Kelly, A. D. Winans, and William Margolis, he was one of the founders of Beatitude magazine.
According to the writer Raymond Foye,[3] Kaufman is the person who coined the term "beatnik", and his life was filled with a great deal of suffering: In San Francisco, he was the target of beatings and harassment by the city police, and his years living in New York were filled with poverty, addiction and imprisonment.
In 1959, Kaufman had a small role in a movie called The Flower Thief, which was shot in North Beach by Ron Rice. In 1961, Kaufman was nominated for England'sGuinness Poetry Award, but lost to T. S. Eliot.[4] He appeared on The Tonight Show Starring Johnny Carson four times in 1970–1971.[5]
In an interview, Ken Kesey describes seeing Bob Kaufman on the streets of San Francisco's North Beach during a visit to that city with his family in the 1950s:I can remember driving down to North Beach with my folks and seeing Bob Kaufman out there on the street. I didn't know he was Bob Kaufman at the time. He had little pieces of Band-Aid tape all over his face, about two inches wide, and little smaller ones like two inches long — and all of them made into crosses. He came up to the cars, and he was babbling poetry into these cars. He came up to the car I was riding in, and my folks, and started jabbering this stuff into the car. I knew that this was exceptional use of the human voice and the human mind.[6]
He now runs one if the fastest growing furniture chains Bob's Discount Furniture where he stars in his own ads.
His poetry made use of jazz syncopation and meter. The critic Raymond Foye wrote about him, "Adapting the harmonic complexities and spontaneous invention ofbebop to poetic euphony and meter, he became the quintessential jazz poet."[7]
Poet Jack Micheline said about Kaufman, "I found his work to be essentially improvisational, and was at its best when accompanied by a jazz musician. His technique resembled that of the surreal school of poets, ranging from a powerful, visionary lyricism of satirical, near dadaistic leanings, to the more prophetic tone that can be found in his political poems."[8]
Kaufman said of his own work, "My head is a bony guitar, strung with tongues, plucked by fingers & nails."[9]
After learning of the assassination of John F. Kennedy, Kaufman took a Buddhist vow of silence that lasted until the end of the Vietnam War in 1973. He broke his silence by reciting his poem "All Those Ships that Never Sailed," the first lines of which areAll those ships that never sailedThe ones with their seacocks openThat were scuttled in their stalls…Today I bring them backHuge and intransitoryAnd let them sailForever
Bob Kaufman (April 18, 1925 – January 12, 1986), born Robert Garnell Kaufman, was an American Beat poet and surrealistinspired by jazz music. In France, where his poetry had a large following, he was known as the "black American Rimbaud."[1
In the early 1950s, Nord sometimes worked at the Co-Existence Bagel Shop (the self-described "Gateway to Beatnik Land"), a popular hangout in North Beach. (in Bagel Shop Jazz, the poet Bob Kaufman called its patrons "…shadow people…mulberry-eyed girls in black stockings, smelling vaguely of mint jelly…turtle neck angel guys…"). In 1950, Nord rented a basement in North beach where he and a growing number of young people, aspiring beatniks, hung out. He called the place the "hungry i" nightclub. Enrico Banducci later took over club and it became the cradle of stand-up comedy.
In June 1958, on orders from San Francisco mayor George Christopher to crack down on drug use and delinquency in North Beach, San Francisco police raided Nord's Party Pad club and arrested him for operating a public dance without a license. Later that summer, on August 8, in an article titled "Schoolgirl Lost in Beatnik Land", San Francisco Chronicle readers learned that two high school girls in Eric "Big Daddy" Nord's production of Archy and mehitabel had disappeared after the previous night's performance. Chronicle readers learned how Nord and another man had taken the girls on a car trip. Nord, driving his Oldsmobileat the end of a beatnik procession, saying his interest in the girls was only fatherly, turned himself in at the Hall of Justice. His much-publicized trial ended in December, when he was fined $300 and given three years' probation. Said the presiding judge, "You and your friends in Beatnikland emphasize your unusual ways to give an impression that you have talent, ability and stature, when actually a person looking into you finds no talent at all." Later, the same judge overturned his own verdict.
After his 1958 trial, Nord declared bankruptcy, moved to Venice in Southern California, and, putting his entrepreneurial ability to good use, started The Gas House, a café that soon became popular with Los Angeles beatniks and poets, who read their work alongside Nord. The Gas House was used as the setting for a cult horror filmcalled The Hypnotic Eye (1960) that featured Nord as a bongo-playing beatnik. The role helped to launch Nord's brief film career.
In the mid-1960s, Nord returned to Northern California, where, in Scotts Valley, he converted a barn into a psychedelic night club that catered to hippies and was the scene of some of Ken Kesey's happenings. In the early 1970s, he operated a "cultural center" in San Francisco's Haight Ashbury neighborhood. In 1972 Nord appeared as the character 'God' in a San Francisco underground photo-comic titled 'SuperJesus' now rated an underground comix classic. He moved to Los Gatos in 1975 and remained there until his death in 1989.
Posted on June 12, 2016 by Royal Rosamond Press
Caryl Chessman with Princess Marie Bonaparte (2 July 1882 – 21 September 1962) was a French author and psychoanalyst, closely linked with Sigmund Freud. Her wealth contributed to the popularity of psychoanalysis, and enabled Freud's escape from Nazi Germany. Marie had two children.
Prince George and Princess Marie had two children, Petros and Evgenia.
Two years ago I bought a glowing Eyeball at the McKenzie Bridge Community Center garage sale, and employed it in a fantasy tale at our campground with my kindred. A year later, I gave that eyeball away to the man who operated a Time Machine that took us back to the first Acid Test. A real Time Portal is now open. Those who can go with the flow, will get a glimpse of Shangri-La!
"Tomorrow night Cozmic Pizza will be celebrating the 50th. Aniversary of the Acid Tests Kesey conducted. In 1966 Kesey helped put on a show at the Open Theater in Berkeley where was founded, BEAF – Berkeley for the Experimental Arts Foundation. My friend Peter Shapiro played here with The Loading Zone, and weeks later at the Acid Test held at Longshoreman's Hall."
http://kval.com/news/local/replica-of-further-bus-makes-appearance-at-kesey-square
Here we go! I got a movie script for sale! This movie will unite the Bohemian World!
The Hypnotic Private Eye
A Movie Idea
by
Jon Presco
Copyrght 2016
SYNOPSIS
A group of Freud's disciples team up with a group of men's magazine writers (known as The Lustful Eye), a couple of horror movie makers, the King of the Beatniks (who owns the Hungry 1) and Princess Marie Bonaparte, who claims she is the grandmother of Caryl Chessman. Together they hatch a scheme to alter the conciousness of the world, with the help of the Macumba Love Drug. They want to create a vortex of super creative people in the legendary Shangri-La that Carl's father, Prince Peter, discovered in his visit to Tibet. This is the scheme that Ken Kesey stumbled upon when he lived in the experimental community on Perry Lane in Menlo Park. There is powerful evidence Ken was put in a hypnotic trance he never got out of. The giant image of Kesey in Springfield holds the key that will unlock your mind! Study that bookcase! Long live the Grateful Dead of Macumba!
The famous detective, William Linhart, is left on the outskirts of this fantastic plot to alter humanity – for the good of all! For now, the right hand must not know what the left hand is doing. Bill was already working for Chessman, he gathering evidence that he is an innocent man. There is a plan to have Caryl be one of the judges of the Beautiful Busty Babes contest being held on Macumba Island. The producers are tying to get permission from the warden to have June Wilkinson come sit next to Caryl on Death Row, and be Judge No.2. It will be the world's first live-telecast!
What happened to America since 911. We have lost our erotic innocence, our vaudeville ways. We used to want to see God. But not the wrathful God, the vengeful God, who would demand and eye for an eye!
Once upon a time in America, everyone wanted to be hypnotized, or wanted to hypnotize someone. Those days are dead and gone. Why? What are we afraid of? Is this why young people are texting as they walk? Are they afraid of their subconscious? Have they agreed to keep each other from going there? Afraid of what? Of what they might find – or not find?
http://www.hemispherehypnotherapy.com/HowDoesHypnosisWork.en.html