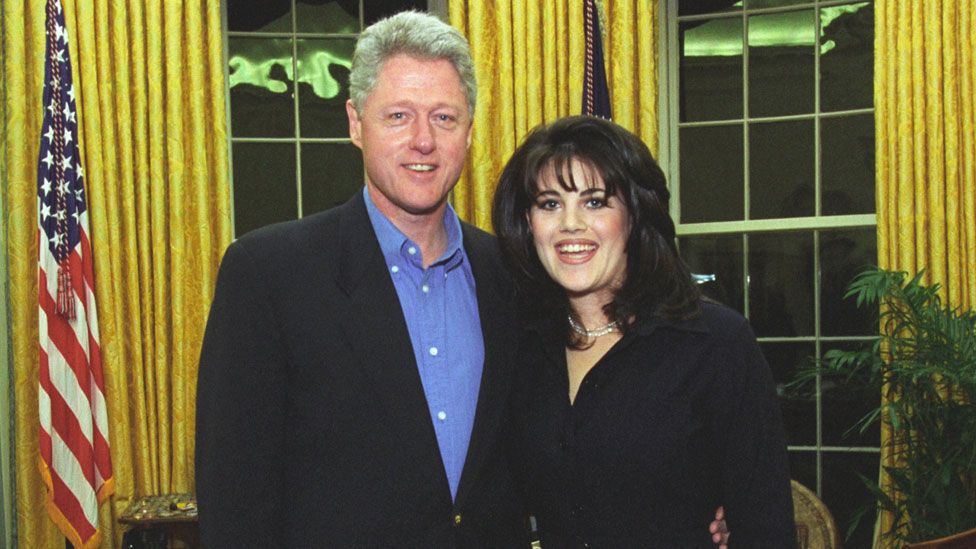 IMAGE SOURCE,WILLIAM J CLINTON PRESIDENTIAL LIBRARYImage caption,
Monica Lewinsky with President Clinton in February 1997
With the revelation Donald Trump has/had Top Secret Nuclear Information in his home (TSNI) one has to ask WHY the former Republican President – has not been fully co-operative – and why he has been misleading? Consider the Cuban Missile Crisis.
How come President Bill Clinton was not offered a SPECIAL MASTER in order to prevent "reputational harm" ? Did real legal experts conclude that this was like closing the barn door after the cows got out, and, to be ACCUSED of getting a blow-job in the Oval Office – would automatically HARM Clinton's reputation? What's to "prevent"? It was suggested this affair endangered National Security in that Bill could be Blackmailed. How many people knew President Trump was mishandling TOP SECRETS – while in the Oval Office?
Does Trump want to know – who snitched on him? How about – other Republicans? Remember THE LETTER that Ginni Thomas singed in order to HARM the reputation of Lynn Chenny. Does Ginni know anyone in the video? Did Cannon ever meet Clarence Thomas?
What is clear, the Republicans are no longer 'The Law and Order Party'. When I look at that video of Republican Operatives invading our voting machines, I am reminded of the movie 'The Invasion of The Body Snatchers. These people look like Russians disguised as American Christians and Do-Gooders -who have to believe the Democratic Party is more of an enemy – than Putin! Is Judge Cannon concerned that the Democrats are out to deliberately HARM Trump – in order to win more elections? Did the Monica scandal harm Democrats in their bid for the Senate and Congress? If so – Republicans DO want her to serve as Special Master in order to HARM the Clinton's some more, and, get Trump off the hook!
For sure…..the Republican Party has gone insane!
John Presco
Aileen Cannon Joined The Federalist Society in 2005 | Heavy.com
Katyal also criticized the idea that the court should be mindful of the risk of undue "reputational harm" to Trump. "That's insane," he wrote. Every criminal defendant experiences "reputational harm. Are we now going to have special masters in every [criminal] investigation?"
Courts occasionally appoint special masters – typically retired judges or lawyers – to decide if materials seized by subpoenas or search warrants are protected by attorney-client privilege, and therefore exempt from use in court. Unusually, Cannon also authorized the special master in this case to look for documents protected by "executive privilege".
Executive privilege is the controversial legal doctrine that US presidents, and their staffs, can refuse certain legal demands if they impair national security or the functions of the executive branch.
What makes the situation even more bizarre is that Trump, a former president, is invoking executive privilege against the current executive branch of the US government.
In 1974, when Watergate prosecutors subpoenaed tapes from the White House, Richard Nixon memorably argued that the tapes were protected by executive privilege. The supreme court ruled against him.
Cannon's decision, however, has lawyers for the justice department frantically rushing to respond. She has given both the department and Trump's legal team until Friday to agree on a list of potential special masters.
The justice department can appeal Cannon's ruling, but the court of appeals that would probably hear the appeal is heavily dominated by Trump-appointed judges. Cannon herself was appointed to the federal bench by Trump in 2020 and is a member of the Federalist Society, a conservative legal organization.
In her 24-page ruling, she held that Trump faced "unquantifiable potential harm by way of improper disclosure of sensitive information to the public".
Although the justice department has a "filter" team to review documents for privilege before criminal investigators or prosecutors see them, Cannon argued that the process was faulty. In two instances, she said, potentially privileged materials were seen by the prosecution team.
Some legal experts criticized Cannon's order as abnormal and unduly protective of Trump. The decision is "an unprecedented intervention by a federal district judge into the middle of an ongoing federal criminal and national security investigation", Stephen Vladeck, a law professor at the University of Texas, told the New York Times.
On Twitter, Neal Katyal, a professor of national security law at Georgetown and a former acting US solicitor general, described Cannon's reasoning as "so bad it's hard to know where to begin".
The judge enjoined "the entire investigation because some of the material might be subject to executive privilege", Katyal wrote.
Yet executive privilege "isn't some post-presidential privilege that allows presidents to keep documents after they leave office. At most, it simply means these are executive documents that must be returned to the archives. It doesn't in any way, shape, or form mean they can't be used in a criminal prosecution about stolen docs."
Katyal also criticized the idea that the court should be mindful of the risk of undue "reputational harm" to Trump. "That's insane," he wrote. Every criminal defendant experiences "reputational harm. Are we now going to have special masters in every [criminal] investigation?"
Trump's former attorney general William Barr recently criticized Trump's legal maneuvers in an interview with the New York Times. "I think it's a crock of shit," Barr said. "I don't think a special master is called for."
A separate review of the documents by the Office of the Director of National Intelligence, which is reviewing them to assess their national security implications, will continue unaffected.
CNN, MSNBC slam Trump-appointed judge, accuse her of corruption after special master appointment
MSNBC's "The ReidOut" host Joy Reid hosted an entire panel of disgruntled interviewees on Monday, with guests claiming that the judge's decision was wrong and "corrupt," among other things.
"Trump—he always looks at things as my or mine. My generals, my Kevin, my classified documents, my judges. Apparently he's got one," Reid said as she smirked.
She then past on the baton to frequent MSNBC guest and The Nation justice correspondent Elie Mystal, who made bold claims about the judge's credibility and character.
Monica Samille Lewinsky (born July 23, 1973)[1] is an American activist, television personality, fashion designer, and former White House intern. President Bill Clinton admitted to having an affair with Lewinsky while she worked at the White House in 1995 and 1996. The affair, and its repercussions (which included Clinton's impeachment), became known later as the Clinton–Lewinsky scandal.
(CNN)A Republican county official in Georgia escorted two operatives working with an attorney for former President Donald Trump into the county's election offices on the same day a voting system there was breached, newly obtained video shows.
The breach is now under investigation by the Georgia Bureau of Investigation and is of interest to the Fulton County District Attorney, who is conducting a wider criminal probe of interference in the 2020 election.
The video sheds more light on how an effort spearheaded by lawyers and others around Trump to seek evidence of voter fraud was executed on the ground from Georgia to Michigan to Colorado, often with the assistance of sympathetic local officials.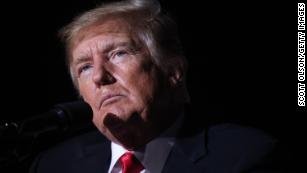 Email reveals Trump campaign told fake electors in Georgia to use 'complete secrecy'
In the surveillance video, which was obtained by CNN, Cathy Latham, a former GOP chairwoman of Coffee County who is under criminal investigation for posing as a fake elector in 2020, escorts a team of pro-Trump operatives to the county's elections office on January 7, 2021, the same day a voting system there is known to have been breached.
https://75049b27a7df2d408bd33a0b5303444c.safeframe.googlesyndication.com/safeframe/1-0-38/html/container.html
The two men seen in the video with Latham, Scott Hall and Paul Maggio, have acknowledged that they successfully gained access to a voting machine in Coffee County at the behest of Trump lawyer Sidney Powell.
Text messages, emails and witness testimony filed as part of a long-running civil suit into the security of Georgia's voting systems show Latham communicated directly with the then-Coffee County elections supervisor about getting access to the office, both before and after the breach. One text message, according to the court document, shows Latham coordinating the arrival and whereabouts of a team "led by Paul Maggio" that traveled to Coffee County at the direction of Powell.
Three days after the breach, Latham texted the Coffee County elections supervisor, "Did you all finish with the scanner?" According to court documents, Latham testified she did not know what Hall was doing in Coffee County. But when confronted with her texts about the scanner, she asserted her Fifth Amendment rights.
Maggio did not respond to CNN's request for comment. Instead, the data firm he works for, SullivanStrickler, which court documents show was hired by Powell, said in a statement to CNN that it was "directed by attorneys to contact county election officials to obtain access to certain data" in Georgia and also "directed by attorneys to distribute that data to certain individuals."
In an August 29, 2022, email, an attorney for SullivanStrickler acknowledges that Latham was the "primary point of contact" in coordinating the team's visit to Coffee County.
The firm said it had no reason to believe these attorneys would ask or direct it to "do anything either improper or illegal."
Hall, an Atlanta bail bondsman and Fulton County Republican poll watcher, did not reply to repeated requests for comment from CNN.
Conflicting answers
The newly obtained surveillance video and text messages in the civil lawsuit suggest the fake elector plot and the effort to breach voting machines in Georgia were part of a larger, coordinated plan to subvert the 2020 election. Some of the same Trump lawyers and allies who helped orchestrate the effort to seat fake electors in states Trump lost in 2020 were also involved in attempts to gain unauthorized access to voting machines in numerous counties in states around the country seen as friendly toward the former president.
"The video reveals that Cathy Latham had a more significant role with the SullivanStrickler team's work in Coffee County than she claimed," said David Cross, an attorney representing election integrity groups suing Georgia over its voting systems and who has reviewed the video. "We can see her escort the team into the office that morning, for example. And she's an important connection to the effort to create a slate of Georgia electors who would have wrongly voted for Trump for the 2020 election, which now looks to be the subject of a grand jury investigation in Fulton County."
According to court documents, Latham has provided conflicting answers during depositions when asked about her involvement in the breach and whether she was at the Coffee County elections office on the day it occurred. The video confirms she was there when it took place and literally held the door open for those who breached the voting systems. Previously, the Justice Department had warned elections officials not to allow outside access of this kind.
Latham did not respond to CNN's request for comment. A lawyer representing Latham did not dispute the facts of the story and said that Latham did not have the authority to "authorize anyone to do anything with the ballots."
The lawyer said Latham did not "participate personally in anything that the elections board and/or its employee … may have decided to do under their own authority (or at least their perceived authority) with the ballots."
"So, regardless of whether she correctly remembers the details of what time she spent there on January 7, it doesn't change the fact that she had no authority to do any of this and was not personally involved in whatever was done," the lawyer added.
A second lawyer representing Latham, Bob Cheeley, told CNN, "Cathy Latham has dedicated significant time and effort over many years protecting the integrity of elections in Coffee County, Georgia. She would not and has not knowingly been involved in any impropriety in any election."
"Latham did not authorize or participate in any ballot scanning efforts, computer imaging, or any similar activity in Coffee County in January 2021."
Operatives connected to Trump's campaign and legal team worked with local GOP officials to gain access to voting systems in counties across several states following the 2020 election, including Coffee County. The goal was to produce evidence to back up Trump's baseless claims and ultimately upend Joe Biden's victory — even after it was certified on January 6.
Among them was Cyber Ninjas CEO Doug Logan, who oversaw the partisan election audit in Maricopa County, Arizona, and was recently named by the Michigan attorney general as a target in the state-level criminal investigation into unauthorized voting machine breaches in that state.
The newly obtained surveillance video shows Logan also visited the Coffee County elections office more than once in January 2021, roughly two weeks after the breach took place. CNN has reached out to attorneys for Logan.
Separately, federal investigators have issued subpoenas seeking information about Latham's communication with Rudy Giuliani and other members of Trump's legal team as part of a DOJ probe, sources said.
On December 30, 2020, eight days before the January 7 voting machine breach, Latham testified along with Giuliani before Georgia state lawmakers about supposed voter machine irregularities in Coffee County.
DOJ subpoenas Georgia Republican Party chairman as it expands Trump fake elector probe
At the time, Latham and the Giuliani legal team were represented by the same attorney, according to the minutes from that hearing. When asked during a recent deposition in the Georgia civil case whether she knew or ever had any communication with Giuliani, Latham asserted her Fifth Amendment rights.
Latham is a target of two criminal investigations into efforts to overturn the 2020 election, one by the Fulton County District Attorney's Office, and a parallel probe by the Justice Department, according to multiple sources and documents obtained by CNN. Both of those investigations are looking specifically at the fake electors plot. State investigators in Georgia are also examining the Coffee County voting machine breach.
Trump allies target rural GOP stronghold in Georgia
In the weeks after the election, Coffee County quickly emerged as a central part of the Trump team's push to overturn the election. The reliably Republican stronghold of about 43,000 residents was the only county in Georgia that refused to certify its results after the election, even though Trump won nearly 70% of the vote.
Trump and his lawyers had an ally in Latham, who was open to helping push their claims of fraud and was a leading voice among those raising concerns about the Dominion voting systems used in Coffee County.
It was one of two counties referenced in draft executive orders that, if signed by Trump, would have ordered the military or Department of Homeland Security to seize voting machines across the country. They would have also installed a special counsel with the power to investigate voter fraud.
While those documents were never signed, the draft orders were presented to Trump during a now-infamous Oval Office meeting on December 18, 2020, which was attended by election deniers, including Powell and Michael Flynn, according to previous CNN reporting and testimony before the House Select Committee investigating January 6.
In the weeks after that meeting, gaining access to voting machines became a top priority for Trump allies seeking to overturn the election, as those closest to the former President thought it was the only way to actually prove there was widespread fraud, according to a source with direct knowledge of the matter.
Police investigating how Michigan voting machine wound up for sale online
Trump's inner circle was warned by several Republican lawmakers that without evidence of fraud, their plan to subvert the Electoral College would almost certainly fail, text messages obtained by the House Select Committee investigating the US Capitol attack show.
Powell was among those who took the lead in the hunt for evidence of voter fraud, turning her attention to Coffee County in the days before January 6, emails produced as part of the civil suit and obtained by CNN show. Like Latham, Powell was in direct contact with members of the team that travelled to Coffee County and Powell appears to have hired them for the task, the emails show.
According to the civil lawsuit, members of the team included Hall, the Atlanta bail bondsman who is seen on the surveillance footage being escorted into the Coffee County elections office by Latham.
In an audio recording obtained by CNN, Hall claims that he "chartered the jet to go down to Coffee County to have them inspect all of those computers."
"I went down there, we scanned every freaking ballot," Hall says in the recording. Hall also suggests that the same group of people who orchestrated the breach in Coffee County also gained access to voting machines in Antrim County, Michigan weeks before.
"The same people that went up to Michigan, OK, and did all that forensic stuff on the computers. And they sent their team down to Coffee County, Georgia, and they scanned all the equipment, imaged all the hard drives, and scanned every single ballot," Hall says in the recording.
Maggio was among those who was involved in both efforts, according to previously reported documents related to the inspection of voting systems in Antrim County and his own testimony in a civil court case related to the Coffee County breach.
Hall also claims that he and the team of individuals who traveled to Coffee County had permission from local elections officials to access the voting systems.
Evidence of a coordinated plot
It's unclear if federal authorities are investigating whether attempts to gain access to voting machines after the 2020 election were part of a coordinated, multi-state effort carried out by Trump allies. But state investigators in Georgia are examining the possibility of a broader plot.
And investigators in Colorado and Michigan are sharing evidence they have collected about unauthorized breaches in those states with the FBI, according to multiple sources familiar with those investigations.
Earlier this year, Michigan Secretary of State Jocelyn Benson shared information with members of the House Select Committee, as well as Attorney General Merrick Garland, to assist in the investigation of whether pro-Trump operatives gained access to voting machines in Antrim County as part of a coordinated plot overseen by the former President's legal team.
Since then, evidence has emerged linking several people who gained access to voting systems in Antrim County to the breach in Coffee County — including Powell and Maggio.
In a recent court filing, Phil Waldron, a retired Army colonel who was deeply involved in efforts to overturn the election, claimed that a federal grand jury has been empaneled and that a team of federal prosecutors and FBI agents are "conducting a sweeping criminal investigation into those, among others, who have 'worked in the cybersecurity space on election- and voting-related issues."'
January 6 committee subpoenas retired colonel who shared election fraud PowerPoint presentation
The filing came as part of Waldron's months-long court fight with the House Select Committee investigating January 6, which has subpoenaed Waldron's phone records. Waldron has argued that if the House Committee gets his phone records, they could end up in the hands of federal prosecutors that he says are also investigating efforts to obtain election data by seizing and tampering with voting machines.
CNN previously reported that Waldron was part of the team that reviewed election data obtained from Antrim County, helped craft the draft executive orders for seizing voting machines and coordinated efforts to access voting systems in several states to bolster Trump's claims about widespread election fraud.
He also testified during a December 2020 hearing on election fraud held by state lawmakers in Georgia and was introduced by Giuliani.
A source familiar with Trump's legal defense strategy expressed concern about the prospect of federal prosecutors targeting cyber investigators like Waldron, because they may attempt to flip them in order to bolster their potential case against the former President.
On August 25, Waldron and Powell were ordered to testify as part of the Fulton County District Attorney's probe.
In a court filling, Fulton County District Attorney Fani Willis specifically notes that Powell can likely provide information about the breach in Coffee County as well as similar efforts in Michigan and Nevada related to voting machines.