Lobkowicz Palace (part of the Prague Castle complex).
A noble family in the Czech Republic saw their castles and 20,000 cultural artifacts stolen, first by the Nazis then by the Communists.
William Rudolf Lobkowicz, a 27-year-old prince, is trying to preserve and share this 700-year-old legacy using NFTs, the blockchain and the metaverse.
CNBC's MacKenzie Sigalos and William Rudolf Lobkowicz in the Family Chapel of the Lobkowicz Palace depicting an early 18th-century altarpiece painting of St. Wenceslas, patron saint of the Czech nation.
Nazi officers observing plans during their occupation of Roudnice Castle in 1939. The castle was turned into an SS training camp.
Bohemian prince, 27, raises $300,000 in NFTs to preserve and share castles, artifacts (cnbc.com)
In the last two days the world has been considering if Donald Trump is invincible -and will be reelected President of the United States – AGAIN? The really mind-boggling question is – how can he be reelected – if he was not UN-ELECTED! Many real scholars are suggesting we are looking at….
THE DEATH OF DEMOCRACY!
As a Biblical Scholar I CAN SEE what is coming – NEXT! I own powers of deduction – TOO! For two months I have been flirting with the Mormon Religion. I was preparing them to be – free and clear of the death of the Republican Party – that has gone insane! I told them about 'The Last Audience of the Habsburgs' that will be located three miles from their new temple that will be in Eugene – or Springfield – about a mile from where KORE stood. I was considering a Baptism of all the Habsburgs – IF I get baptized! I studied if it was possible to educate the LDS Church. I concluded…..
I BEST DO EVERYTHING MYSELF!
Many people believe Trump and his cult followers – are like the old Nazis – who stole the Bohemian castles of my alleged ancestors. I found an article about the Lobcowicz family who are trying to recover their property that was – LOST DURING THE WAR! People go to war to RECLAIM what they rightfully BELIEVE BELONGS TO THEM. Trump ran on this idea that can no longer be contained and channeled in a prescribed reality. IT IS BREAKING OUT!
John Presco
"Chris Lovegrove, who reviewed The Holy Blood and the Holy Grail when first published in 1982, dismissed the significance of a Jesus bloodline even it were proven to exist despite all evidence to the contrary:
If there really is a Jesus dynasty – so what? This, I fear, will be the reaction of many of those prepared to accept the authors' thesis as possible, and the book does not really satisfy one's curiosity in this crucial area
In the Land of Israel, Austria- Hungary's polyglot army was part of the realpolitik strategic alliance between the Central Powers – Muslim Turkey, Roman Catholic Austria- Hungary, mixed Protestant-Catholic Germany and Orthodox Bulgaria. All three empires – the Ottoman, Habsburg and Hohenzollern – collapsed at the end of the war.
Custodians of Truth: The Continuance of Rex Deus (publishersweekly.com)
Custodians of Truth: The Continuance of Rex Deus
Tim Wallace-Murphy, Marilyn Hopkins, . . Weiser, $22.95 (268pp) ISBN 978-1-57863-323-4
In this second collaboration, Wallace-Murphy and Hopkins continue a quest begun in their first work, Rex Deus . This similarly themed sophomore effort finds them making a case for identifying the Holy Grail as the bloodline of Jesus Christ and portraying subsequent efforts to protect that lineage throughout history. They claim to have been contacted by a man known only as Michael, who claims to be a descendant of Jesus Christ and a custodian of the secret of the Grail. To support their thesis, the authors recast biblical history as a vast coverup, an ingenious story concocted by priests and plotters. They continue with a narrative of church and state conspiring to maintain the secret of the Grail, beginning with the early church, through the Middle Ages and finally to the present day. To accept the authors' premise, one must consent to the idea of a massive coverup, a cabal involving church, various governments and science. Furthermore, one must agree that Jesus survived the crucifixion and lived on to raise his children and produce a family line. Drawing heavily from known secondary sources, this book offers little that is new, but rather a rehash of much that has already been published and has been heavily popularized through the novel The Da Vinci Code . It does, however, provide a readable—if fervent—overview of this controversial theory. (June)
Posted on July 23, 2018 by Royal Rosamond Press
For several years I have been trying to bring to the attention of the Austrian Government the existence of the large canvas at the University of Oregon Museum titled 'The Last Audience of the Habsburgs' that was smuggled out of Austria. Alas, I have found just the right person. He is my kindred, Karl Schwarzenberg, who himself had to flee a oppressive regime. Karl opposes Putin, and backs Britain. I will contact him and see if he would like to come give a talk on this painting. His relative, Prince Felix Schwarzenberg, restored the Habsburg Empire.
John Presco
President: Royal Rosamond Press
https://www.huffingtonpost.com/lan-anh-vu/how-i-got-there-karel-sch_b_9043274.html
Prince Felix of Schwarzenberg (German: Felix Prinz zu Schwarzenberg; 2 October 1800 – 5 April 1852) was a Bohemian nobleman and an Austrian statesman who restored the Habsburg Empire as a European great power following the Revolutions of 1848. He served as Minister-President of the Austrian Empire and Foreign Minister of the Austrian Empire from 1848 to 1852.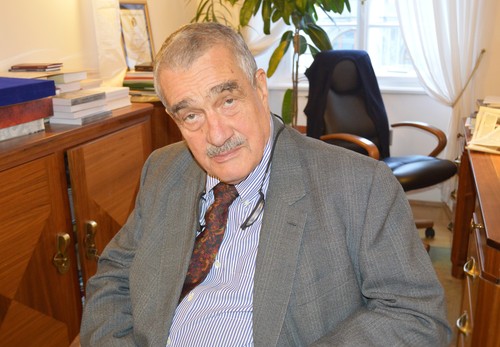 Karel Schwarzenberg is the Prince of Schwarzenberg, Duke of Krumlov, former first Deputy Prime Minister and Minister of Foreign Affairs of the Czech Republic and honorary Chairman of Top 09 party. Schwarzenberg was also a Member of the Senate of the Czech Parliament and a candidate for the President of the Czech Republic in the 2013 presidential election. He is noted as a pro-European member of the center-right governing coalition.
Schwarzenberg's family, who once ranked among the oldest and wealthiest aristocrats in Central Europe, had to leave the Czechoslovakia after the Communist coup of 1948. He spent most of his adult life in Austria to plot against communism. He is a great proponent of human rights and has been for his entire life. In 1989, he was awarded, together with Lech Wałesa, the Council of Europe's Human Rights Award. Lan Anh Vu sat down with Schwarzenberg to learn more about his political life, the challenges he faced and his advice for young people across the world when it comes to pursuing a career in politics.
As told to Lan Anh Vu
My Career in Politics
In my early childhood, I was an observer of politics. In 1948, when the Communists took over, I was ten years old when I had to leave the Czechoslovakia and move to Austria. When I went to the school in Vienna to study law, I engaged in some political activities and became active in promoting human rights. At Munich university where I studied Graz and forestry, I was elected to student government. Due to the early death of my adoptive father, Jindrich Schwarzenberg, I had to cut my studies short and start managing the family properties.
From 1984 to 1991, I became president of the International Helsinki Federation for Human Rights. I pushed for human rights in Europe and was negotiating the question of human rights in the former USSR, Bulgaria, Kosovo and the Czech Republic.
When the Communist regime fell in 1989 , I returned to live in the Czechoslovakia and work for the late President Vaclav Havel. In 1990, I was appointed as the Chancellor of the Office of the President.
Some people told me I should become a senator. I first ran in the senate elections in 2002 and was unsuccessful, and in 2004 I ran again, succeeded and was elected a senator. Three years later, I became the foreign minister of the Czech Republic. Politics has been a constant part of my life ever since childhood.
My whole life I fought for liberty and democracy. I always thought that if you had opportunities ahead, you have responsibilities and should do something for your country.
http://daughternumberthree.blogspot.com/2013/12/the-girl-in-last-audience-of-hapsburgs.html
When this unfinished canvas was first exhibited in Eugene fifty years ago, it was described as a "painting with a history as romantic as old Vienna." Given that it was smuggled into the United States in a carpet roll by a political refugee, this claim is not unfounded.
The artist began the work in October of 1918 at Schönbrunn Palace, where the young Empress Zita (1892 – 1989) received an audience of war orphans and a group of wealthy noblewomen, the Organization of War Godmothers, who had "adopted" them. Within hours, Empress Zita (shown seated on her throne), her husband, and their own eight children were forced to flee across the Swiss border because of the contentious political climate. Despite several attempts, they were never able to reestablish themselves on their thrones; both the Emperor and Empress died in exile.
Alleged Jewish Descent
Antisemitic propaganda claimed that the Hapsburgs were contaminated with Jewish blood, the protruding lower lip characteristic of many of them being considered a racial mark! The allegation was based on the assertion that Roger II of Sicily (1095–1154), whose offspring intermarried with the Hapsburgs, had married a *Pierleoni, a sister of the Jewish antipope *Anacletus II. The claim became notorious when the Austrian noble Adalbert von Sternberg declared around 1900 that he could have Jewish blood only through his kinship to the Hapsburgs. Modern research dismisses the allegation.
Bohemian prince, 27, raises $300,000 in NFTs to preserve and share castles, artifacts (cnbc.com)
Been There: A forgotten time
A recent symposium on the role of the Austro-Hungarian army in Palestine during those critical years 1914 to 1918 illustrates a fascinating chapter of the past.
By GIL STERN STERN ZOHAR
To most people, World War I Palestine is an obscure subject recalled – if at all – by Rehov Allenby in Tel Aviv, itself commemorating the British general who, together with his expeditionary force of British and colonial ANZAC (Australia-New Zealand) forces, freed the country from four centuries of Ottoman Turkish rule. The recent symposium at the Austrian Hospice on the role of the Austro-Hungarian army in Palestine during those critical years 1914 to 1918 illustrates a fascinating if little remembered chapter of the past, even as it proves the adage that history is written by the victors.
The symposium, entitled "Doctors, Artillerymen, Musicians: The Austrian Expedition in Palestine in the First World War," documents the 3,000 Imperial Habsburg troops – some of them Jewish but most Hungarian – who arrived here in 1915 and remained until the calamitous Battle of Megiddo in September 1918, leading to the signing of the Armistice of Moudros on October 30, 1918.
In the Land of Israel, Austria- Hungary's polyglot army was part of the realpolitik strategic alliance between the Central Powers – Muslim Turkey, Roman Catholic Austria- Hungary, mixed Protestant-Catholic Germany and Orthodox Bulgaria. All three empires – the Ottoman, Habsburg and Hohenzollern – collapsed at the end of the war.
New Israeli tech can detect heart condition with simple breath test
Would this strategy defeat enemies within and outside? Game simulates global conflictsSponsored by Politics Strategy Game
With the defeat of Serbia in 1915, Germany established a rail link through Austria-Hungary and the Balkans to Constantinople and beyond via the Hijaz railway.
Unlike Germany, which had colonial ambitions in Palestine, Austria viewed its Middle East adventure as "an investment that would pay off in the future, in the postwar period," explained Viennese historian Robert- Tarek Fischer, author of Austria in the Near East, the Great Power Politics of the Habsburg Monarchy in the Arab Orient 1633-1918 and Austria-Hungary's Struggle in the Holy Land: Imperial Palestine Politics in the First World War, who was the first speaker at the symposium, which opened a photo exhibition.
Berlin and Vienna were economic competitors for the Ottoman Empire's mineral wealth of copper, lead and oil, Fischer said. Turkey, leery of too much German influence from its 25,000- strong Asia Korps, welcomed the Austrians. In addition, the Germans were seen as overbearing, while the amiable Austrians played a more deft hand, even as they tried to supplant France as the protector of the Christians in the Holy Land.
Kaiser Franz Josef – the aging emperor trying to keep his faltering Central European empire from tearing apart under the nationalist ambitions of its disparate ethnic parts – presciently observing the departure of his troops to the Middle East, said, "I believe we will never see them again."
Those units, initially Motor Mortar Battery No. 9 and Howitzer Battery No. 36, followed by Mountain Artillery Regiments No. 4 and No. 6, were remembered with fond nostalgia by the Arabs and Jews of Palestine.
Top US Men's Surgeon: Do This Once Daily To 'Shrink' Enlarged ProstatesSponsored by gorillasecret.com
One reason was the Austrians' distribution of daily bread in Bethlehem in the winter of 1916/1917 to prevent starvation caused by a locust plague.
The Austrian military presence included a brass band that played frequent concerts and provided musical accompaniment for the silent films shown as propaganda. Both greatly improved Austria's prestige among the local population. One screening in Jerusalem on March 11, 1916, attracted 1,300 spectators, noted Fischer. "It created a great sensation, which for a time let people forget the hardships of the war."
Finally the Austrian military's medical unit attended to the civilian population's health, as well as that of its soldiers, seeking to contain outbreaks of typhoid, typhus, dysentery and cholera. Military hospitals were established in Jerusalem and Nazareth. The latter was moved to Damascus in 1918 as the front drew near.
In the chaos of the war's final months, the Austrians suffered many fatal battlefield casualties. Most were left unburied. Fischer estimates the total losses at some 600 men – one-fifth of the expeditionary force. The graves of only 12 soldiers are marked, noted Norbert Schwake, the custodian of the German War Cemetery in Nazareth. One of them is that of vormeister (corporal) Nissim Behmoiras, who was wounded on the Gaza front in July 1916 and buried on the Mount of Olives Jewish cemetery. His funeral procession from the hospital in the Ratisbonne Monastery was accompanied by a Turkish military orchestra.
Elaborating on the "very much neglected subject" of the many World War I Austrian soldiers missing in action in Palestine, Schwake explained that in 1985, following the Kurt Waldheim affair – the international controversy raised about possible Wehrmacht war crimes of the Austrian who served as the fourth secretary- general of the United Nations from 1972 to 1981 – Austria sealed its military records until 2018.
While it's "probably too late to find any new information in the sand of the Holy Land, one thing should be done: Change the strange Austrian laws that hinder the historian investigating the lot of so many young men who sacrificed their lives for their beloved Austria," he said.
Bohemian noble family redefines modern aristocracy by selling NFTs to preserve and share a 700-year-old legacy
PUBLISHED SAT, AUG 6 20221:11 PM EDTUPDATED TUE, AUG 9 20224:36 AM EDT
MacKenzie Sigalos@KENZIESIGALOS
SHAREShare Article via FacebookShare Article via TwitterShare Article via LinkedInShare Article via Email
KEY POINTS
A noble family in the Czech Republic saw their castles and 20,000 cultural artifacts stolen, first by the Nazis then by the Communists.
William Rudolf Lobkowicz, a 27-year-old prince, is trying to preserve and share this 700-year-old legacy using NFTs, the blockchain and the metaverse.
CNBC's MacKenzie Sigalos and William Rudolf Lobkowicz in the Family Chapel of the Lobkowicz Palace depicting an early 18th-century altarpiece painting of St. Wenceslas, patron saint of the Czech nation.
House of Lobkowicz
PRAGUE — It is past midnight on a Friday at the Lobkowicz Palace in the Prague Castle complex. A 27-year-old Czech prince, William Rudolf Lobkowicz, is crawling on the hard stone floor, taking care not to trigger the alarms behind the guardrails that partition the castle's daytime visitors from the 16th-century portraits hanging on the stone walls.
He's trying to find an outlet so he can plug a 30-foot extension cord into the wall. The cord powers camera equipment to be used in a live broadcast happening around 1 a.m. which will feature the story of his family on a CNBC prime-time show in New York. Lobkowicz will be behind the camera for the shot, but that doesn't matter to him. He simply wants to share one of the world's greatest private collections of masterworks with the public.
A young prince in an ancient castle stashed with priceless art sounds like the beginning of a fairy tale, but his life is far from a Disney adaptation.
The palace feels more like a crypt. At the height of the Bohemian summer, the humidity clings to our skin, and it is pitch black beyond the glow of the stark fluorescent lighting that runs along the high stone ceilings. Each time Lobkowicz comes to a door, he reaches down to a bulky key ring that looks like it belongs to a monk in a monastery and fumbles for the right key to let him through — and there are dozens of doors on each floor. Each door leads us deeper into the dark stone labyrinth, deeper into the past.
William Rudolf Lobkowicz walking through the Prague Castle complex.
House of Lobkowicz
He and his family do not live in this or any of their other ancestral homes. Instead, they live in personal apartments a 10-minute drive away. To stay past 10 p.m. on a Friday night, Lobkowicz has to get special permission from the military guards who patrol the grounds.
Lobkowicz, his two sisters and their parents have dedicated their life's work to maintaining what's left of their ancestral heritage: Three castles, one palace, 20,000 movable artifacts, a library of approximately 65,000 rare books, 5,000 musical artifacts and compositions — including an early copy of Beethoven's Fifth Symphony — and 30,000 boxes and folios, some of which have never been opened. All of it was stolen, twice. First by the Nazis, then by the Communists.
"You know, most people see the beautiful artworks and castles and think that this all comes incredibly easy," Lobkowicz said from the Habsburg Room, a portrait gallery on the second floor of the palace. "But in reality, behind the scenes, we're working tirelessly day and night to preserve and protect these things. Nobody's going to care about these things as much as we do."
William Rudolf Lobkowicz examining old family photographs in the Lobkowicz Archives.
House of Lobkowicz
His voice is tired at this late hour, but his youthful enthusiasm still shines through.
To protect his family's past, Lobkowicz has embraced the future. The world of cryptocurrency and non-fungible tokens is intangible and abstract, a collection of mathematical formulas running on computers spread all over the world. The young prince has turned to these digital tools to safeguard and repair the artifacts that hold so much nostalgic value for the family — and, he hopes, for some of the rest of the world, as well.
″It's not just about selling NFTs to support cultural monuments, but it's also looking at: How do we preserve a record of our history?" Lobkowicz said. "Blockchain technology provides an immutable record of our cultural heritage, which you can preserve on chain, and that's something that's never been done before."
CNBC's MacKenzie Sigalos tours Lobkowicz Palace at Prague Castle with William Rudolf Lobkowicz.
House of Lobkowicz
An immutable record
The palace is housed within the Hrad, the name given by locals to Prague Castle, which looms over the city. The sprawling complex was once the seat of Bohemian kings. Now, it's home to Czech presidents and to The Lobkowicz Collections, a body of work dating back more than 2,000 years.
After the thefts by the two authoritarian regimes, the collections were painstakingly reassembled over 25 years through a process known as restitution. They feature world-famous paintings by Bellotto, Bruegel, Canaletto, Cranach, Rubens, and Veronese, as well as ceramics spanning five centuries, 1,200 pieces of arms and armor, and string and wind instruments, including trumpets gilded and adorned with rubies. The collection also includes early manuscripts and scores, including several Beethoven symphonies and his Opus 18 String Quartets, some marked with the composer's original corrections.
The Lobkowiczes take none of this for granted.
Lobkowicz Palace (part of the Prague Castle complex).
House of Lobkowicz
In CNBC's first conversation with Lobkowicz — a nearly two-hour Zoom call from New York to Prague — he shared a translated quote from Jan Viktor Mládek, a member of Czechoslovakia's post-communist government and a former International Monetary Fund official: "When a nation's culture survives, so too does the nation."
Lobkowicz has turned that line over in his head quite a few times in the last couple of years since making this mission his life's work. To him, the strength of a country rests on preserving the cultural roots that define it.
After the fall of the Soviet Union in 1991, the democratically elected president of the newly formed country passed restitution laws enabling Czechs to reclaim property stolen under Communist rule. William Sr., then 29 years old, heeded the call and uprooted his life as a real estate broker in Boston to return to Prague.
William Lobkowicz Sr. examining damage to the interior courtyard façade of Nelahozeves Castle.
House of Lobkowicz
There's no definitive how-to manual on restoring stolen items to their rightful owner. It's a convoluted exercise that involves filing thousands of separate claims and can take decades. Some of the claims fail or are never resolved.
"When we first came back to the Czech Republic and restitution began, it was the Wild West, and you really didn't have any business plan whatsoever," the younger William said of his father's quest.
William Sr. traversed the country in a small Škoda Favorit, carrying with him the meticulous lists kept by the Communists when they confiscated the family's artifacts.
Alexandra Lobkowicz with a colleague observing the renovation of the Balcony Room of the Lobkowicz Palace, c. 2005.
House of Lobkowicz
"Our objects were taken to over 100 locations, so we crisscrossed Czechoslovakia to recover tens of thousands of movable objects," he said. "We probably covered hundreds of thousands of miles."
Once the property was reclaimed, the family had to figure out how to pay to restore it. William's grandfather, Martin, cashed in his pension and gave it to William Sr., telling him to "try not to lose it all" — and that was it in terms of upfront capital commitments.
Covering the costs of restoration is the family's business and makes up a full-time job for each member of the Lobkowicz household, complete with weekly business meetings on Tuesdays. (Sunday is reserved for personal updates at family dinner.)
But keeping the business afloat has been a hustle, requiring increasingly creative financial acrobatics.
The Lobkowicz family, 2019.
House of Lobkowicz
Collections belonging to the Lobkowiczes have been declared Czech cultural monuments, so they can't sell any pieces to help pay to restore the rest. Meanwhile, traditional philanthropy channels are running dry as museum patronage continues to fall.
The state has strict rules governing restoration protocols that can slow the renovation process and make it more expensive. There is also fierce competition for a limited number of grants earmarked to fund cultural heritage projects. Castle ownership isn't much of a novelty in Europe, and especially not in the Czech Republic, which ranks among one of the continent's top destinations for the most castles per square mile. In fact, some state governments and towns are auctioning off castles under their custodianship, because they don't have the cash to maintain them.
To keep everything afloat, the Lobkowiczes have generated income from things such as castle tours, the gift shop, and hosting events such as weddings and corporate retreats. It also means appealing to donors, applying for grants from the government, and securing loans — often at sky-high interest rates.
"My father had to take out loans with 20% revolving interest, consistently asking the banks for extensions," the younger William said of the early days, when his father first began restoring the family's castles and artifacts.
Alexandra Lobkowicz organizing c. 17th-century hunting rifles from the Lobkowicz Collections onto new shelving in the Lobkowicz depository.
House of Lobkowicz
Fortunately, William Sr. had a dedicated partner in the quest.
A year into his new life in Prague, his girlfriend, Sandra Florescu, flew over to help him; they have now been married for 30 years. Coming to Prague meant leaving her role as a sixth-grade teacher in Boston's Back Bay, but she never stopped being an educator.
She has launched and run multiple educational programs in connection with the collections, including the junior curator program, which is now being modeled by schools around the world.
It helps that she spent time at the Sorbonne in Paris, studying fine arts.
WATCH NOW
VIDEO02:43
Czech prince turns to NFTs to preserve family history
The couple seemed destined for each other, with intertwining family histories that go back centuries.
In the early 1600s, their ancestors, who were diplomats and advisors to their respective kings in Bohemia and Romania, met in Prague to strategize about how to defeat the Turks who were threatening the Habsburg Empire. Fast forward to the early 1920s, when Sandra's grandfather, Radu Florescu — who had two diplomatic postings in Prague — likely crossed paths with the elder William's grandfather, Max, also a diplomat. They were reunited in London during World War II, both serving their respective countries' fight against the Nazis.
Sandra and William, too, were serendipitously linked as refugees and young adults living in Beacon Hill in Boston.
Sandra first spotted her now husband from the window of her apartment, years before they actually met in person. William Sr. was booming out the lyrics to "Chanson d'Amour," which was playing on his Walkman, preparing for concerts he performed in the area with the hopes of becoming a professional opera singer one day.
Alexandra and William Lobkowicz with baby William Rudolf opening their first exhibition in 1995.
House of Lobkowicz
Safeguarding these memories and those of their ancestors — as well as the cultural legacy they together fought to restore — is where their son's blockchain ambitions come into view.
"We've dealt with losing our collections twice and regaining them twice as a result of authoritarian regimes, but the way we got them back was actually through the receipts they kept," the younger William said.
Both regimes tracked the process and the provenance history of these pieces, so William Sr. was able to trace ownership and identify where they had been over time. Cryptocurrency blockchains — an immutable ledger tracing the provenance of digital artifacts — are an updated version of those meticulous lists kept by the authoritarian regimes.
Only this time, the power to track these artifacts is in the hands of the rightful owners.
Nazi officers observing plans during their occupation of Roudnice Castle in 1939. The castle was turned into an SS training camp.
House of Lobkowicz
The rebel princes
"What I'm doing right now I don't think is any different from any of my predecessors. Each prince did something completely different based upon the times they lived in," Lobkowicz said.
The Lobkowicz princes have a history of being rebels, each breaking tradition in their own way.
Take the seventh prince, Franz Joseph Maximilian (1772-1816), who made a big bet on Ludwig van Beethoven back when the composer was still a relative unknown. Beethoven famously incorporated an additional French horn into his orchestra for the "Eroica" symphony at a time when people thought that kind of sound was blasphemous.
Joseph gave the renegade composer an annual stipend, as well as musicians and concert spaces, nearly bankrupting the House of Lobkowicz in the process. While the prince was his patron, Beethoven was free to compose music that revolutionized the symphonic world. In return, Beethoven would dedicate some of his greatest works to the prince, including his Third ("Eroica"), Fifth, and Sixth ("Pastoral") symphonies.
Renovated Beethoven Room at the Lobkowicz Palace.
House of Lobkowicz
Then there was William's great-grandfather, Maximilian Lobkowicz (1888-1967), who realized that the world of his princely predecessors was becoming obsolete. The end of World War I brought the fall of the Austro-Hungarian Empire and the rise of independent nation-states, including a democratic Republic of Czechoslovakia.
Max, then a young lawyer and Czech patriot, embraced and supported the democratic ideals of this new republic. When hereditary titles were abolished with the formation of the new state, he gladly forfeited his aristocratic label. It was a break from tradition so profound that Max's own father, Ferdinand Zdenko (1858-1938), refused to speak to Max for a decade.
In addition to his Bohemian princely pedigree on his father's side, William's maternal line traces back to a prime minister in Bucharest and an ancient and noble Romanian boyar family. He also has blood ties to the real-world noble upon whom Bram Stoker based his legendary Count Dracula — the world's most famous fictional vampire.
CNBC's MacKenzie Sigalos tours Lobkowicz Palace at Prague Castle with William Rudolf Lobkowicz.
House of Lobkowicz
Despite lineage linking him to noble families across Europe, Lobkowicz is also very American. His paternal grandfather began his career as a door-to-door salesman selling Cutco knives after marrying a dentist's daughter from Kentucky.
Lobkowicz dropped his British accent for an American one at the age of seven, and he fried mozzarella sticks at Harvard's Eliot House Grille to earn pocket cash in college.
Even though he made the Forbes "30 under 30" list last year, the prince doesn't own a car and takes a tram to work.
He gives castle tours in free pockets of time to bank cash for the restoration fund while also running the digital innovation initiatives for the House of Lobkowicz, which encompasses the nonprofit initiatives of The Lobkowicz Collections as well as several businesses, including an events management company and a winery.
William Rudolf Lobkowicz welcoming guests at Non-Fungible Castle 2021.
House of Lobkowicz
Now he's applying that humble renegade spirit to learn everything he can about the technology he believes can help preserve the family legacy.
Every summer, the world's top blockchain developers and cryptographers descend on Paris to hack, code, and talk shop. The flagship event is a conference called EthCC, or Ethereum Community Conference, but the main attraction has given rise to dozens of ancillary gatherings focusing on topics running the gamut from web3 and ethereum's rival blockchains to the metaverse.
The diversity of programming and people is why Lobkowicz headed to Paris again this year. He doesn't go to speak on panels or attend blowout parties at venues such as the iconic Moulin Rouge. Instead, he prefers to fly under the radar, sitting at the periphery of an audience but always listening intently.
For him, unlocking the potential of blockchain technology comes down to speaking with developers on the ground to create technical solutions to the very real-world problems he faces on a daily basis.
"Crypto is a tool to continue working on the things we're doing. It's like a membership card to a whole world of history and culture," he said.
NFT Gut Shot on display (next to the original painting) at the Lobkowicz Palace, the sale of which financed the restoration of several portraits of officers in the Lobkowicz Collections.
House of Lobkowicz
So far, the prince has tried out a couple of different ways to incorporate blockchain technology into his work with The Lobkowicz Collections. Most successful to date has been selling NFTs to support specific conservation needs.
The family takes a painting that needs restoration and mints an image of the painting as an NFT. The provenance of the donation and donor is also included on chain. From there, they set the price of the NFT at the cost of the restoration of the physical work tied to the token. The person who buys the NFT then receives a second NFT at the end of the restoration process as a token of their patronage.
"We are trying to bring people on the journey of philanthropy and be completely transparent with them about where their money is going," Lobkowicz said.
Thus far, the House of Lobkowicz has successfully financed more than 50 art restoration projects through this proof-of-patronage philanthropic model — including a 17th-century painting, "A Wild Boar in a Landscape," which was featured in Wes Anderson's film "The Grand Budapest Hotel."
Paintings from the Lobkowicz Collections awaiting their restoration in an atelier, financed by the sale of NFTs during Non-Fungible Castle 2021.
House of Lobkowicz
Collectively, the family has raised $300,000 through the sale of NFTs.
When asked whether he was worried about the fact that the price of NFTs has fallen off a cliff in the last few months, Lobkowicz said the boom-and-bust cycle of the market doesn't really affect their business model. If a restoration costs $4,000, that is exactly what they charge for the piece — and it either sells or it doesn't.
He also sees NFTs as unlocking new ways of reaching a more diverse audience and creating a community of patrons and supporters who are interested in interacting with their collections in a more innovative way.
"It's important for people to understand that this isn't about just JPEGs attached to a digital receipt — we're talking about different applications that can change the way we build communities of people who care about culture and see the potential of using web3 technology to preserve it," Lobkowicz said.
Non-Fungible Castle 2021 Exhibition at the Lobkowicz Palace.
House of Lobkowicz
POAPs — or Proof of Attendance Protocol — are a subset of NFTs that serve as a sort of attendance sheet for events or specific experiences. The prince plans to test out POAPs during the next installment of Non–Fungible Castle, an annual exhibition and conference that will run Nov. 4-5 in Prague and that bridges the biggest names in traditional art to the world of web3 and crypto.
"We will create POAPs for experiences that you have there, whether you're getting bread and salt (a traditional Czech invitation ritual) as you enter the birth house of the world-renowned Czech national composer Antonín Dvořák — or you're listening to a string quartet," he said.
POAPs could ultimately be used to upgrade ticketing and membership programs for museums.
Also on Lobkowicz's to-do list for the next few months? Getting into quadratic funding, which is a way to crowd-raise a central crypto treasury that is then used to fund public goods projects in the ethereum ecosystem — all with the help of an algorithm designed to optimize spending decisions.
William Rudolf Lobkowicz explains to CNBC's MacKenzie Sigalos the renovation process of the Chinese Belvedere room inside Lobkowicz Palace at Prague Castle.
House of Lobkowicz
Most recently, he's been testing out applications in the metaverse.
Lobkowicz worked with Somnium — a virtual reality world built on the ethereum blockchain — to put one of the rooms in the palace in Prague into the metaverse.
The family sold an NFT corresponding to the three-month restoration of this room, known as the Chinese Belvedere, for $79,000 to Oxb1, a famous crypto influencer.
A look inside the Chinese Belvedere room in the metaverse.
House of Lobkowicz
A look inside the Chinese Belvedere room in the metaverse.
House of Lobkowicz
It's a test case that could prove useful as the family moves to restore other properties in urgent need of repair.
Take Roudnice Castle, a 40-minute drive north of Prague. To restore the 200-room palace to its former grandeur would today require tens of millions of dollars.
It already costs a small fortune to heat the castle in the winter just enough to keep the pipes from freezing and bursting open. In the summer, leaks are commonplace, like the one that cropped up on a Saturday morning during my stay in Prague. That can translate into major damage, mold, and even collapsing ceilings.
The ongoing maintenance and renovations have also been complicated by changes made during the 41-year Soviet occupation, including retrofitting a concert hall with a basketball court.
Roudnice Castle, the former ducal seat and residence of the Lobkowicz family.
House of Lobkowicz
Another execution, though still in its infancy, is turning Renaissance portraits of gowns worn by ladies of the court into gaming skins — a market worth $40 billion globally.
Lobkowicz is also thinking about digitizing the family's stockpile of historic weapons to sell as NFTs, complete with the story of their provenance, to be used in a gaming setting.
That would also help with the $400,000 price tag to restore and catalogue their inventory — which is one of the most important private arms collections in Europe.
CNBC's MacKenzie Sigalos and Ileana Lobkowicz leaving the Arms Room of the Lobkowicz Palace, featuring 17th–18th century military and hunting rifles and a three-quarter suit of armor.
House of Lobkowicz
A princess saving history through stories
It is a week later, on another Friday evening at almost midnight in Prague, except this time, I am on the opposite side of the Atlantic Ocean, and I am speaking with a different Lobkowicz — William's younger sister, Ileana. (Their youngest sister, Sophia, is a rising junior at Trinity College in Connecticut but remains closely connected to her family's work.)
The 25-year-old princess embraces all the ethereal qualities one might associate with aristocracy, effortlessly stepping into her birthright and assuming the old-world responsibilities that accompany it.
Ileana and her mother, Sandra, giving a historical tour of the Lobkowicz Collections, highlighting the heroine stories that shaped its history.
House of Lobkowicz
"These titles are not something we use or introduce ourselves with to others in our day-to-day lives. It's part of our history, but it doesn't change the work we're trying to do or the values we have," she said.
The title that Ileana does embrace is writer and storyteller for House of Lobkowicz.
The role suits her well. While a philosophy major at Boston College, Ileana launched her writing career with online student magazine The Gavel, where she wasn't afraid to speak truth to power and offer a platform to contrarian voices. Later, she shared hidden stories of Bohemia in a column called "In Search of Prague," and in her free time, she is developing a lifestyle blog that launches later this year and builds upon her experience of custodianship through storytelling.
Ileana Lobkowicz in the Baroque Music Room at the Lobkowicz Palace.
House of Lobkowicz
At work, Ileana has made it her personal mission not only to share her family's story but to bring forward the narratives of her female ancestors who were quietly saving the day while letting the limelight fall on their male relatives.
Take Princess Polyxena Lobkowicz (1566-1642), a politically active and prolific figure across Bohemia. During the Defenestration of Prague — an incident that triggered the Thirty Years' War, one of the bloodiest conflicts in European history, killing one-third of Europe's population — an angry mob of members of the Protestant estates did not dare cross Polyxena's path. The princess wielded no weapon, yet her presence proved a powerful force.
Or Gillian Somerville (1890-1982), the wife of Maximilian, the noble who gladly dropped his title in tandem with the birth of democracy in Bohemia. In 1939, she overheard German officers on a train to London talking about the upcoming invasion of Czechoslovakia. She quickly wired Max to warn him, and he managed to escape to England, leaving Czechoslovakia two days before the Nazis invaded.
A letter from an Italian composer and violinist Francesco Geminiani addressed to Ferdinand Phillipp, 6th Prince Lobkowicz, dated 1748.
House of Lobkowicz
Finally, in a story that seems ripe for Hollywood, The Lobkowicz Collections is also home to an exchange of letters written between Princess de Lamballe — a lady-in-waiting to Marie Antoinette whose sister was married to the sixth Prince Lobkowicz — her cousin Karl Emanuel Hessen Rheinfels Rotenburg and his wife, Leopoldine Liechtenstein.
The exchange, which hasn't been seen before, provides firsthand accounts of what it was like during Marie Antoinette's final days in prison, just before her beheading.
"I see my role and impact in our family's work as being the voice through which stories — from the past, present, and future — can be shared, preserved and celebrated. I feel it is the best and only way I can honor my ancestors — and for that matter, my descendants too," Ileana said. "We can't be stuck in the past, but we can't forget it either."
To that end, she and William have launched a special series of NFTs that capitalize upon source material that wasn't given its due in its day.
Take "Forgotten Menuet" — an NFT of an animated piece of music composed by Anna Maria Wilhelmina Althann (1703-1754), unheard for over 250 years.
"In addition to bringing to life the music itself, it also pays homage to the unrecognized ancestor, because at the time, she didn't receive any acknowledgment for her musical talent," Ileana told me as we stood adjacent to the glass-encased display containing Anna Maria's handwritten lute music.
That NFT has since been put on exhibit in a virtual museum in the metaverse.
Menuet, an early 18th-century lute tablature composed by Anna Maria Wilhelmina Althann, wife of the 4th Prince Lobkowicz, displayed at the Lobkowicz Palace.
House of Lobkowicz
"It's crazy to think of conceptually, because this is a piece of music that hasn't been played in 250 years and also would have only been performed in very small private spaces. Now it has the ability to be all around the world for anyone to enjoy," William said.
Another NFT from this series animates X-ray and infrared images so the viewer can see through to the invisible layers of a canvas that have been painted over. A third features a virtual rendering of the degrading sgraffito from the 16th-century façade of Nelahozeves Castle.
"We must take our history with us into the future by making it relevant today," Ileana said.
William Rudolf Lobkowicz and CNBC's MacKenzie Sigalos in the Baroque Concert Hall of the Lobkowicz Palace featuring 17th-century frescoes.
Posted on August 10, 2013 by Royal Rosamond Press
Above is a large painting at the Univerity of Oregon Museum titled 'The Last Audience of the Habsburgs'. It was smuggled out of Austria. Hitler put a bounty on the head of Empress Zita who fled to America with her Royal Family. Rena and Zita own the same beautiful and regal energy.
When I told a new-found friend and fellow scholar that my mother's maiden name was Rosamond, and my sister painted beautiful women using her middle name, he took me to see this painting which is about five by seven feet.
"I recall the Rosamond name is associated with the Habsburgs."
That was 1997. When I found the Rosamond-Rougemont name in my family tree, and introduced all the beautiful and rosy women in my life – especially my grandmother – these old curmudgeon who glommed onto the theory that Jesus and Mary Magdalene begat the Rex Deus lineages that was protected by a lineage of Knight Templars, their balls dropped to the ground. They hate me to this very day. They have published books. There is not a lover of women amongst them.
I can look at Zita's face, forever, the same way I look at Rena's face. I was supposed to bring many beautiful children into the world so as to save this Rose Line.
A world-renowned feminist arranged a meeting of War orphans with the Empress. In the background are Habsburg men in uniform.
This lost painting was found in a bank vault in Eugene Oregon rolled up in a very beautiful Persian Carpet. Cleopatra was smuggled in a carpet, and unrolled before the King of the Roman Empire.
In my letter to Michael Salvator Archduke Habsburg-Lorraine asking for a contest form, I informed the Archduke the University of Oregon has something that belongs to his family, and, if he so wish, I will be the laison to get it returned to the rightful owner, because, there are new international laws to return art belonging to refugees. I told this Habsburg this painting was the best example of crossing the old boarders – to the New World. So jealous was this Archeduke, that he ignored me. The only other explanation is – he is very stupid! Perhaps he thought I was a crazed lunatic? Naaaah! Hush the thought!
Of course this painting is going to be the first chapter of my book 'Capturing Beauty'.
Zita born eight children from her womb. She was a beautiful mother and empress – and a very gallant refugee without a home.
When Rena entered the University of Nebraska Museum, she unrolled herself, and did a dance. Behold the white flowers on the Empress's carpet.
I love this woman.
Jon Presco
Copyright 2013
A Jesus bloodline is a hypothetical sequence of lineal descendants of the historical Jesus and Mary Magdalene, or some other woman, usually portrayed as his wife or a hierodule. Differing and contradictory versions of a Jesus bloodline hypothesis have been proposed in numerous books by authors such as Louis Martin (1886), Donovan Joyce (1973), Andreas Faber-Kaiser (1977), Barbara Thiering (1992), Margaret Starbird (1993), and various websites. Dan Brown's novel The Da Vinci Code used the premise for its plot line. The 2007 documentary The Lost Tomb of Jesus proposed that evidence existed to show that Jesus was married to Mary Magdalene and that their son was named Judah, based upon inscriptions found on ossuaries discovered in Jerusalem in 1980.[1] Biblical scholar and author James Tabor has recently affirmed his belief in a married Jesus, [2] while Karen King announced the discovery of text in a Coptic papyrus fragment, alleged to be a translation of a lost 2nd century Gospel, in which Jesus is made to refer to "my wife".
With the Nazi invasion of Belgium on 10 May 1940, Zita and her family became war refugees. They narrowly missed being killed by a direct hit on the castle by German bombers and fled to Prince Xavier's French Castle in Bostz.[3]:271–272. The Habsburgs then fled to the Spanish border, reaching it on 18 May. They moved on to Portugal where the U.S. Government granted the family exit visas on 9 July. After a perilous journey they arrived in New York on 27 July, having family in Long Island and Newark, New Jersey.[3]:277; at one point, Zita and several of her children lived, as long-term house-guests, in Tuxedo Park, at Suffern, New York.
http://en.wikipedia.org/wiki/Zita_of_Bourbon-Parma
Templars in America?
Steeped in Templar tradition, Henry St. Clair, Earl of Orkney and Lord of Roslin, sailed across the North Atlantic in 1396.
http://rosaleen-thewhistler.blogspot.com/2010/10/king-of-jerusalem.html
http://en.wikipedia.org/wiki/King_of_Jerusalem
According to the vast majority of professional historians and scholars from related fields, there is no historical, biblical, apocryphal, archaeological, genealogical, or genetic evidence which supports this hypothesis.[3] Hypothetical Jesus bloodlines should not be confused with the biblical genealogy of Jesus or the historical relatives of Jesus and their descendants, who are known as the Desposyni.
Contents
[hide] 1 History of the hypothesis
2 Claimants
3 Adherence
4 Criticism
5 See also
6 Notes
History of the hypothesis[edit]
The 13th-century Cistercian monk and chronicler Peter of Vaux de Cernay claimed it was part of Catharist belief that the earthly Jesus Christ had a relationship with Mary Magdalene, described as his concubine.[4]
Early Mormon leaders Jedediah M. Grant and Orson Hyde stated it was part of their religious belief that Jesus Christ was polygamous, quoting an apocryphal passage attributed to the 2nd-century Greek philosopher Celsus: "The grand reason why the gentiles and philosophers of his school persecuted Jesus Christ was because he had so many wives. There were Elizabeth and Mary and a host of others that followed him".[5]
The French 19th century socialist politician, Louis Martin, in his 1886 book Les Evangiles sans Dieu described the historical Jesus as a turned atheist, who had married Mary Magdalene, and that both had travelled to the South of France, where they had a son.[6][7]
The Jesus bloodline hypothesis which held that the historical Jesus had married Mary Magdalene and fathered a child with her was brought to the attention of the general public again in the 20th century by Donovan Joyce in his 1973 book The Jesus Scroll.[8] In his 1977 book Jesus died in Kashmir: Jesus, Moses and the ten lost tribes of Israel, Andreas Faber-Kaiser explored the legend that Jesus met, married and had several children with a Kashmiri woman. The author also interviewed the late Basharat Saleem who claimed to be a Kashmiri descendant of Jesus.[9] Michael Baigent, Richard Leigh, and Henry Lincoln developed and popularized the hypothesis that a bloodline from Jesus and Mary Magdalene eventually became the Merovingian dynasty in their 1982 book The Holy Blood and the Holy Grail,[10] in which they asserted:
The symbolic significance of Jesus is that he is God exposed to the spectrum of human experience – exposed to the first-hand knowledge of what being a man entails. But could God, incarnate as Jesus, truly claim to be a man, to encompass the spectrum of human experience, without coming to know two of the most basic, most elemental facets of the human condition? Could God claim to know the totality of human existence without confronting two such essential aspects of humanity as sexuality and paternity? We do not think so. In fact, we do not think the Incarnation truly symbolises what it is intended to symbolise unless Jesus were married and sired children. The Jesus of the Gospels, and of established Christianity, is ultimately incomplete – a God whose incarnation as man is only partial. The Jesus who emerged from our research enjoys, in our opinion, a much more valid claim to what Christianity would have him be.[10]
Their thesis was alluded to in the second "The Matrix Trilogy" film.[11]
In her 1992 book Jesus and the Riddle of the Dead Sea Scrolls: Unlocking the Secrets of His Life Story, Barbara Thiering also developed a Jesus and Mary Magdalene bloodline hypothesis, basing her historical conclusions on her application of the so-called Pesher technique to the New Testament.[12][13]
In her 1993 book The Woman with the Alabaster Jar: Mary Magdalen and the Holy Grail, Margaret Starbird developed the hypothesis that Saint Sarah was the daughter of Jesus and Mary Magdalene and that this was the source of the legend associated with the cult at Saintes-Maries-de-la-Mer. She also claimed that the name "Sarah" meant "Princess" in Hebrew, thus making her the forgotten child of the "sang réal", the blood royal of the King of the Jews.[14]
In his 1996 book Bloodline of the Holy Grail: The Hidden Lineage of Jesus Revealed, Laurence Gardner presented pedigree charts of Jesus and Mary Magdalene as the ancestors of all the European royal families of the Common Era.[15] His 2000 sequel Genesis of the Grail Kings: The Explosive Story of Genetic Cloning and the Ancient Bloodline of Jesus is unique in claiming that not only can the Jesus bloodline truly be traced back to Adam and Eve but that the first man and woman were primate-alien hybrids created by the Anunnaki of ancient astronaut theory.[16] The 2000 book Rex Deus: The True Mystery of Rennes-Le-Chateau and the Dynasty of Jesus, Marylin Hopkins, Graham Simmans and Tim Wallace-Murphy developed the hypothesis that a Jesus and Mary Magdalene bloodline was part of a shadow dynasty descended from twenty-four high priests of the Temple in Jerusalem known as "Rex Deus" – the "Kings of God".[17]
The 2003 conspiracy fiction novel The Da Vinci Code by Dan Brown accepted some of the above hypotheses as being valid. Elements of some Jesus bloodline hypotheses were propounded by the 2007 documentary film The Lost Tomb of Jesus by Simcha Jacobovici focusing on the Talpiot Tomb discovery,[18] which was also published as a book entitled The Jesus Family Tomb.[19] In 2007 psychic medium Sylvia Browne released the book "The Two Marys: The Hidden History of the Mother and Wife of Jesus", in which she tries to further validate the possibility of Jesus and Mary Magdalene producing a family.[20]
The 2008 documentary Bloodline[21] by Bruce Burgess, a filmmaker with an interest in paranormal claims, expands on the Jesus bloodline hypothesis and other elements of The Holy Blood and the Holy Grail.[22] Accepting as valid the testimony of an amateur archaeologist codenamed "Ben Hammott" relating to his discoveries made in the vicinity of Rennes-le-Château since 1999; Burgess claims Ben has found the treasure of Bérenger Saunière: a mummified corpse, which they believe is Mary Magdalene, in an underground tomb they claim is connected to both the Knights Templar and the Priory of Sion. In the film, Burgess interviews several people with alleged connections to the Priory of Sion, including a Gino Sandri and Nicolas Haywood. A book by one of the documentary's researchers, Rob Howells, entitled Inside the Priory of Sion: Revelations from the World's Most Secret Society – Guardians of the Bloodline of Jesus presented the version of the Priory of Sion as given in the 2008 documentary,[23] which contained several erroneous assertions, such as the claim that Plantard believed in the Jesus bloodline hypothesis.[24] By 21 March 2012 Ben Hammott confessed and apologised on Podcast interview (using his real name Bill Wilkinson) that everything to do with the tomb and related artifacts was a hoax; revealing that the actual tomb was now destroyed, being part of a full sized set located in a warehouse in England.[25][26]
See also: Gospel of Jesus' wife
In September 2012, at the International Congress of Coptic Studies in Rome, professor Karen L. King announced the discovery of a fourth-century papyrus fragment she and a colleague referred to as the Gospel of Jesus' wife. The small piece of papyrus includes text in Egyptian Coptic with the words, "Jesus said to them, 'my wife…'". The fragment has led to a revival of theories and discussion about a possible bloodline.[27]
Claimants[edit]
The following is a list of persons who have publicly claimed to be from a Jesus bloodline, or have had such a claim made about them:
Basharat Saleem, the late Kashmiri caretaker of the Martyr's Tomb of Yuz Asaf in Srinagar.[9]
Michel Roger Lafosse, a Belgian false pretender to the throne of the former Kingdom of Scotland.[28][29]
Kathleen McGowan, an American author, lyricist and screenwriter.[30][31]
Suzanne M. Olsson, linked to the Roza Bal shrine of Sufi saint Yuz Asaf in Srinagar [32] (has recently renounced this claim[33]).
Adherence[edit]
In reaction to The Holy Blood and the Holy Grail, The Da Vinci Code, and other controversial books, websites and films on the same theme, a significant number of individuals in the late 20th and early 21st centuries have adhered to a Jesus bloodline hypothesis despite its lack of substantiation. While some simply entertain it as a novel intellectual proposition, others hold it as an established belief thought to be authoritative and not to be disputed.[34] Prominent among the latter are those who expect a direct descendant of Jesus will eventually emerge as a great man and become a messiah, a Great Monarch who rules a Holy European Empire, during an event which they will interpret as a mystical second coming of Christ.[35]
The eclectic spiritual views of these adherents are influenced by the writings of iconoclastic authors from a wide range of perspectives. Authors like Margaret Starbird and Jeffrey Bütz often seek to challenge modern beliefs and institutions through a re-interpretation of Christian history and mythology.[34] Some try to advance and understand the equality of men and women spiritually by portraying Mary Magdalene as being the apostle of a Christian feminism,[36] and even the personification of the mother goddess or sacred feminine,[37] usually associating her with the Black Madonna.[38] Some wish the ceremony that celebrated the beginning of the alleged marriage of Jesus and Mary Magdalene to be viewed as a "holy wedding"; and Jesus, Mary Magdalene, and their alleged daughter, Sarah, to be viewed as a "holy family", in order to question traditional gender roles and family values.[39] Almost all these claims are at odds with scholarly Christian apologetics, and have been dismissed as being New Age Gnostic heresies.[3][40]
No mainstream Christian denomination has adhered to a Jesus bloodline hypothesis as a dogma or an object of religious devotion since they maintain that Jesus, believed to be God the Son, was perpetually celibate, continent and chaste, and metaphysically married to the Church; he died, was resurrected, ascended to heaven, and will eventually return to earth, thereby making all Jesus bloodline hypotheses and related messianic expectations impossible.[34]
Many fundamentalist Christians believe the Antichrist, prophesied in the Book of Revelation, plans to present himself as descended from the Davidic line to bolster his false claim that he is the Jewish Messiah.[41] The intention of such propaganda would be to influence the opinions, emotions, attitudes, and behavior of Jews and philo-Semites to achieve his Satanic objectives. An increasing number of fringe Christian eschatologists believe the Antichrist may also present himself as descended from the Jesus bloodline to capitalize on growing adherence to the hypothesis in the general public.[42]
Criticism[edit]
Jesus bloodline hypotheses parallel other legends about the flight of disciples to distant lands, such as the one depicting Joseph of Arimathea traveling to England after the death of Jesus, taking with him a piece of thorn from the Crown of Thorns, which he later planted in Glastonbury. Historians generally regard these legends as "pious fraud" produced during the Middle Ages.[43][44][45]
The Jesus bloodline hypothesis from the book The Holy Blood and the Holy Grail is not contained in any of the "Priory of Sion documents" and was dismissed as fiction by Pierre Plantard in 1982 in a French radio interview, as well as by Philippe de Cherisey in a magazine article.[46][47] However, Plantard's "Priory of Sion" documents prior to 1956 were found to be forgeries which were planted in French institutions to be later "rediscovered". [48] Plantard only claimed that the Merovingians were descended from the Tribe of Benjamin,[49] which contradicts the hypothesis of a Jesus bloodline as the missing link between the Merovingian line and the Davidic line from the Tribe of Judah. The notion of a direct bloodline from Jesus and Mary Magdalene, and its supposed relationship to the Merovingians (as well as their alleged modern descendants: House of Habsburg, Grand Ducal Family of Luxembourg, Clan Sinclair, House of Stuart, House of Cavendish, House of Bourbon, House of Orléans and other noble families), is strongly dismissed as pseudohistorical by a qualified majority of Christian and secular historians such as Darrell Bock[50] and Bart D. Ehrman,[3][51] along with journalists and investigators such as Jean-Luc Chaumeil, who has an extensive archive on this subject matter.
In 2005, UK TV presenter and amateur archaeologist Tony Robinson edited and narrated a detailed rebuttal of the main arguments of Dan Brown and those of Baigent, Leigh, and Lincoln, "The Real Da Vinci Code", shown on Channel 4.[52] The programme featured lengthy interviews with many of the main protagonists, and cast severe doubt on the alleged landing of Mary Magdalene in France, among other related myths, by interviewing on film the inhabitants of Saintes-Maries-de-la-Mer, the centre of the cult of Saint Sarah.
The Jesus bloodline hypothesis from the book Rex Deus: The True Mystery of Rennes-Le-Chateau and the Dynasty of Jesus hinges on the testimony of the authors' anonymous informant, "Michael", who claimed to be a Rex Deus scion. Evidence supporting the hypothesis was supposedly lost, and therefore cannot be independently verified, because Michael claimed that it was contained in his late father's bureau, which was sold by his brother unaware of its contents.[17] Some critics point out the informant's account of his family history seems to be based on the controversial work of Barbara Thiering. [53]
Robert Lockwood, the Roman Catholic Diocese of Pittsburgh's director for communications, sees the notion of the Church conspiring to cover-up the truth about a Jesus bloodline as a deliberate piece of anti-Catholic propaganda. He sees it as part of a long tradition of anti-Catholic sentiment with deep roots in the American Protestant imagination but going back to the very start of the Reformation of 1517.[54]
Although Jesus bloodline hypotheses were not submitted to the judgment of the Jesus Seminar, a group of scholars involved in the quest for the historical Jesus from a liberal Christian perspective, they were unable to determine whether Jesus and Mary Magdalene had a matrimonial relationship due to the dearth of historical evidence. They concluded that the historical Mary Magdalene was not a repentant prostitute but a prominent disciple of Jesus and a leader in the early Christian movement.[55] Bart D. Ehrman, who chairs the Department of Religious Studies at the University of North Carolina, commented that, although there are some historical scholars who claim that it is likely that Jesus was married, the vast majority of New Testament and early Christianity scholars find such a claim to be historically unreliable.[3]
Ultimately, the notion that a person living millennia ago has a small number of descendants living today is statistically improbable.[56] Steve Olson, author of Mapping Human History: Genes, Race, and Our Common Origins, published an article in Nature demonstrating that, as a matter of statistical probability:
If anyone living today is descended from Jesus, so are most of us on the planet.[57]
Historian Ken Mondschein ridiculed the notion that the bloodline of Jesus and Mary Magdalene could have been preserved:
Infant mortality in pre-modern times was ridiculously high, and you'd only need one childhood accident or disease in 2,000 years to wipe out the bloodline … keep the children of Christ marrying each other, on the other hand, and eventually they'd be so inbred that the sons of God would have flippers for feet.[58]
Chris Lovegrove, who reviewed The Holy Blood and the Holy Grail when first published in 1982, dismissed the significance of a Jesus bloodline even it were proven to exist despite all evidence to the contrary:
If there really is a Jesus dynasty – so what? This, I fear, will be the reaction of many of those prepared to accept the authors' thesis as possible, and the book does not really satisfy one's curiosity in this crucial area.[59]