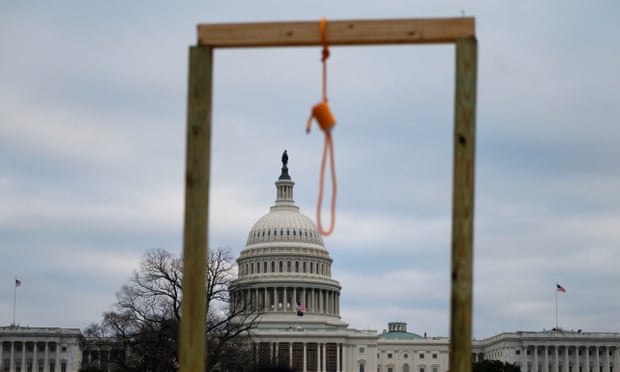 A pro-Trump mob set up makeshift gallows outside the US Capitol on 6 January 2021 and rioters chanted 'Hang Mike Pence'. Photograph: Andrew Caballero-Reynolds/AFP/Getty Images
"Ambassador J. Kenneth "Ken" Blackwell is an author and senior fellow for human rights and constitutional governance at the Family Research Council."
I am asking well learned men with sound reputations to help me form a PUBLIC TRIBUNAL and examine all the Traitors who signed the Insurrectionist Exoneration Letter. The whole Free World wants to know why a Black Man, who fought for Civil Rights, did every underhanded thing to take away the power of the LGBTQ community – and destroy them! Blackwell knows about LYNCHIG!
President Biden is sending billions of dollars in weaponry to combat the fierce homophobic mania of Putin, and his Killer Holy Man – Kirill. Blackwell needs to be asked this question…
"Have you ever looked favorably upon Putin's Anti-Gay Crusade? Do you know who Kirill is, and do you agree with some of the things he says?"
I beseech foreign nations help me in this investigation of HOMOPHOBIC MANIACS in sheep's clothing. Never forget….Democrats, and the former Vice President of the United States – did nothing wrong!
John Presco
Family Research Council (FRC) is an American evangelical activist group and think-tank with an affiliated lobbying organization. FRC promotes what it considers to be family values.[2] It opposes and lobbies against: access to pornography, embryonic stem-cell research, abortion, divorce, and LGBT rights (such as anti-discrimination laws, same-sex marriage, same-sex civil unions, and LGBT adoption).[3] The FRC has been criticized by media sources and professional organizations such as the American Sociological Association for using "anti-gay pseudoscience" to falsely conflate homosexuality and pedophilia, and falsely to claim that the children of same-sex parents suffer from more mental health problems.[4][5][6]
The Family Research Council holds the belief that "homosexual conduct is harmful to the persons who engage in it and to society at large, and can never be affirmed", and asserts that it is "by definition unnatural, and as such is associated with negative physical and psychological health effects."[64][65] The Council also asserts that "there is no convincing evidence that a homosexual identity is ever something genetic or inborn".[64] These positions are in opposition to the consensus of mainstream psychological and medical experts that homosexuality is a normal, healthy variation of human behavior, and that sexual orientation is generally not chosen.[66][67][68][69]
2010 listing as a hate group by SPLC[edit]
The Southern Poverty Law Center (SPLC) designated FRC as a hate group in the winter 2010 issue of its magazine, Intelligence Report. Aside from statements made earlier in the year by Sprigg and Perkins (see Statements on homosexuality), the SPLC described FRC as a "font of anti-gay propaganda throughout its history".[101][102]
AMB. J. KENNETH BLACKWELL, BOARD CO-CHAIR
Ambassador J. Kenneth "Ken" Blackwell is an author and senior fellow for human rights and constitutional governance at the Family Research Council. He is a visiting professor at the Liberty University School of Law, a contributing editor for Townhall.com, and a public affairs commentator for the Salem Radio Network. His commentaries have been carried in major newspapers across the U.S., including The Wall Street Journal and The New York Times.

Amb. Blackwell is a fellow at the National Academy of Public Administration (2003– present) and a visiting fellow at the American Civil Rights Union. He is the former director of the Academy for Government Accountability and a member of the National Rifle Association's Board. He serves on the Board of Directors of various high-profile organizations including the Club for Growth and National Taxpayers Union.

Amb. Blackwell has had a vast political career. He was mayor of Cincinnati, treasurer and secretary of state for Ohio, undersecretary at the U.S. Department of Housing and Urban Development and U.S. ambassador to the United Nations Human Rights Commission. Amb. Blackwell was a delegate to the White House Summit on Retirement Savings in 1998 and 2002. During the 1990s, he served on the congressionally appointed National Commission on Economic Growth and Tax Reform and the Board of Directors for the International Republican Institute and the American Council of Young Political Leaders.

He has received many awards and honors for his work in the public sector. These accolades include the U.S. Department of State's Superior Honor Award for his work in the field of human rights, which he received from the administrations of former Presidents George H.W. Bush and Bill Clinton. In 2004, the American Conservative Union and the Ashbrook Center for Public Affairs honored Amb. Blackwell with the John M. Ashbrook Award for his steadfast conservative leadership. In 2002, he received meritorious recognition from the Center for Digital Government, and was recognized by Government Technology magazine as one of the top 25 public sector leaders in information technology.

Amb. Blackwell was a founding partner of the highly successful Blue Chip Broadcasting Company, a network of 20 urban format radio stations. At the time of its sale in 2001, Blue Chip Broadcasting had become the second largest African-American owned radio company in the nation.

He has been a fellow at Harvard University's Institute of Politics, the Aspen Institute, the Salzburg Seminar in Austria and the Johns Hopkins University School of Advanced International Studies (British-American Project). His continuing education has included executive programs at the Massachusetts Institute of Technology and Harvard. Amb. Blackwell has also received honorary doctoral degrees from 10 institutions of higher education. He holds a bachelor's of science and a master's of education from Xavier University (Ohio), where he later served as a vice president and member of its faculty. In 1992, he received Xavier's Distinguished Alumnus Award.
Contact
Email Address:
media@ifes.org
Phone:
+1 (202) 350-6700