Ina Coolbrith created the BRAND that made Joaquin Miller famous. Joaquin had dinner with the Pre-Raphaelites, and might have met William Morris who inspired Tolkien. John Fremont inspired Brigham Young to go West.
Coolbrith, born the niece of The Church of Jesus Christ of Latter-day Saints founder Joseph Smith, left the Mormon community as a child to enter her teens in Los Angeles, California, where she began to publish poetry. She terminated a youthful failed marriage to make her home in San Francisco, and met writers Bret Harte and Charles Warren Stoddard with whom she formed the "Golden Gate Trinity" closely associated with the literary journal Overland Monthly. Her poetry received positive notice from critics and established poets such as Mark Twain, Ambrose Bierce and Alfred Lord Tennyson. She held literary salons at her home in Russian Hill[3]—in this way she introduced new writers to publishers. Coolbrith befriended the poet Joaquin Miller and helped him gain global fame.
Posted on June 24, 2022 by Royal Rosamond Press
Eureka!
John
https://en.wikipedia.org/wiki/Mahonri_Young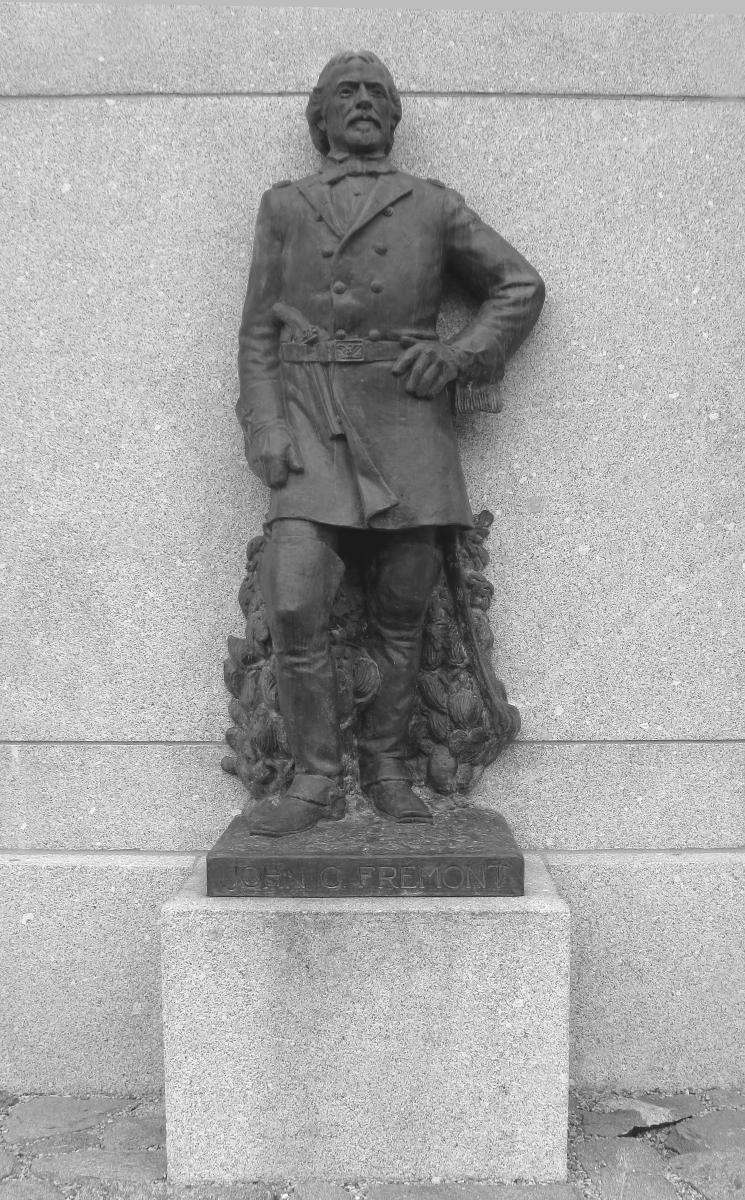 Bronze figure representing John C. Frémont by Mahonri M. Young, part of This Is the Place Monument, situated on the east bench of Salt Lake City, July 2012. Photograph by Alexander L. Baugh.
High on the bench east of Salt Lake City is the This Is the Place Monument, erected and dedicated in 1947 as part of the centennial celebration commemorating the arrival of the Mormon pioneers in July 1847. Featured on the granite base and tower are a number of bronze-cast figures created by the renowned Latter-day Saint sculptor Mahonri M. Young (grandson of Brigham Young). Most notable are the large statues of Mormon leaders Brigham Young, Heber C. Kimball, and Wilford Woodruff, who stand atop the centerpiece while gazing to the west over the Salt Lake Valley. In addition, nearly twenty other figures are situated around the monument's base, including one representing John C. Frémont. A plaque, placed in front, provides a fitting tribute highlighting the contributions of the explorer to the Utah region and his influence upon the Mormon populace:
John C. Fremont
1813–1890
Pathfinder, explorer, soldier, statesman. Led five significant exploring and scientific expeditions to the West, 1842–54, three of which traversed the Great Basin to California. Conducted the first scientific exploration of the Great Salt Lake in 1843 and was the first to traverse the treacherous Great Salt Lake Desert directly westward from [the] Great Salt Lake to the site of modern Elko, Nevada. His report and map published in 1845 were invaluable to the Mormon pioneers in their westward journey.
Mahonri Mackintosh Young (August 9, 1877 – November 2, 1957) was an American social-realist sculptor and artist. During his lengthy career, he created more than 320 sculptures, 590 oil paintings, 5,500 watercolors, 2,600 prints, and thousands of drawings. However, he is primarily recognized for his sculpture. His work includes landscapes, portraits, busts, life-size sculptures, monuments, and engravings. Regardless of his medium of choice, his work is characterized by spontaneity; he often preferred to prepare his work with quick sketches on the scene. He felt this made his work more natural as compared to using a model in the studio. He was fairly commercially successful during his life, though he did not find success until his mid-30s. Large commissions for sculptures from The Church of Jesus Christ of Latter-day Saints (LDS Church) were particularly lucrative for him.
Born into a family of rich Mormon pioneer heritage, Young was the grandson of the second President of the LDS Church and first Governor of Utah, Brigham Young. Young was introduced to art by his father at an early age. He quit school at seventeen years old and worked engraving and portrait making jobs at various newspapers in Salt Lake City to make money for art lessons and for art school in New York and later, Paris. He lived most of his life in New York City where he became associated with "The Eight" and the Ashcan School. He ignited his commercial success in New York; however, arguably two of his most famous works, the This Is The Place Monument and the Seagull Monument are featured prominently in Salt Lake City, Utah. One of his other well-known works is a statue of Brigham Young which resides at the Statuary Hall at the United States Capitol Building in Washington, D.C. At various times during his career, Young taught at the Art Students League. Most of Young's work resides at Brigham Young University.
Posted on April 12, 2022 by Royal Rosamond Press
I am a Traditional Candidate for Republican Governor of Oregon. My sister was a world famous artist who married the cousin of the artist, Thomas Hart Benton, the grandson of the famous Senator by the same name. Benton was the first proprietor of the Oregon Territory and is kin to Polly Lane, the wife of Joseph Lane, who was appointed Oregon's first governor. Lane County is named after Joseph who was a pro-Confederate candidate for Vice President. He was on the ticket with General John Breckenridge whose family was The South that became the new home of the Abolitionist Republican Party. This came about due to the Southern Strategy that should be taught in Oregon schools so that young people will know how the pro-slavery party of Lincoln, became the party of racists who opposed the Reconstruction after the Red States lost the Civil War. John Fremont was the co-founder of the original Republican Party, and its first Presidential Candidate.
I was born in Oakland California. My father was born in San Francisco where one of his German grandfathers built a Turnverein Hall. Carl Janke was the co-founder of Belmont California and had one of that States first theme parks. He was an Odd Fellow, and thus would no subscribe to Christian Nationalism. Nor would Senator Thomas Hart Benton who was honored by the Freemasons who raised monies to build Benton Hall on the campus of Oregon State. Several years ago, Benton's name was removed. Thomas was the attorney of John Astor, who hired Washington Irving to write book about the Beaver Territory that was a home for his company. The Hart family were partners of Daniel Boone in the Transylvania Fur Company.
Many men came from Europe to make their fortune in the New World. The men that constituted Fremont's Bodyguard, were Forty-Eighters who fought the Hapsburgs who had created a Christian Nation in the middle of Europe, and who sent two Armadas to destroy the Protestant Christian Nation that Queen Elizabeth ruled. There is no evidence any Christian has worked, but for the one that is sustained in Britain by royals with German roots. Many of the Forty-Eighters were German and were Socialists and Marxists. Lincoln was surrounded by Marxists. Fremont forced Lincoln's hand by emancipating the slaves of Missouri. He also founded the Radical Democracy Party. Republican Radicals brought about the Civil War. Black people would still be slaves if Fremont had not taken radical steps. John's wife, Jessie Benton Fremont – the daughter of Thomas – wrote the first book about the Oregon Territory that was explored by John 'The Trailblazer.
If I become Governor, I will reach out to European Nations to renew a bond very few members of NATO know about. I believe President Zelensky of Ukraine has given new life to the revolution of the Forty-Eighters began in 1848. I suggest Oregon become the Sister State of Ukraine and see itself as a State Member of NATO. Oregon should let our European Allies know we are a Trading Partner in The Pacific.
Let Oregon once again be the model for the Republican Party that has become a symbol for what divided us in Europe and is the reason we were divided over there. We came – here – to find unity of purpose, and create a enlightened culture. Ukrainians are already abandoning the Russian language and culture that oppressed them. Let us follow suit and make an orphan…..the culture of hate. We can do so much with simple love for one another.
John Presco
Radical Democracy Party (United States) – Wikipedia
Rosamond Press
Romney Statement on Anniversary of January 6
WASHINGTON—U.S. Senator Mitt Romney (R-UT) today released the following statement on the anniversary of January 6.
"Today, we call to mind the memory of those who were tragically lost on the 6th and in the following days, and we reflect with gratitude on the heroic efforts of those who protected the U.S. Capitol and all of us inside the building. It is because of their courage that Congress ultimately fulfilled its responsibility to count the votes and that the transfer of power continued unimpeded.
"We ignore the lessons of January 6 at our own peril. Democracy is fragile; it cannot survive without leaders of integrity and character who care more about the strength of our Republic than about winning the next election. I said last year that the best way we can show respect for voters who are upset is by telling them the truth. The responsibility that elected officials have in this regard is fundamental to reversing the malaise gripping our current politics and ensuring that our democracy endures."
Isaiah 61:5
Translations
King James Version (KJV)
And strangers shall stand and feed your flocks, and the sons of the alien shall be your plowmen and your vinedressers.
American King James Version (AKJV)
And strangers shall stand and feed your flocks, and the sons of the alien shall be your plowmen and your vinedressers.
American Standard Version (ASV)
And strangers shall stand and feed your flocks, and foreigners shall be your plowmen and your vine-dressers.
Basic English Translation (BBE)
And men from strange countries will be your herdsmen, and those who are not Israelites will be your ploughmen and vine-keepers.
Webster's Revision
And strangers shall stand and feed your flocks, and the sons of the alien shall be your plowmen and your vine-dressers.
World English Bible
Strangers shall stand and feed your flocks, and foreigners shall be your plowmen and your vinedressers.
English Revised Version (ERV)
And strangers shall stand and feed your flocks, and aliens shall be your plowmen and your vinedressers.
Bible > Isaiah > Isaiah 61 > Isaiah 61:5
Clarke's Isaiah 61:5 Bible Commentary
Strangers shall – feed your flocks – Gentiles shall first preach to you the salvation of Christ, and feed with Divine knowledge the Jewish congregations.
Barnes's Isaiah 61:5 Bible Commentary
And strangers shall stand – (See the notes at Isaiah 14:1-2; Isaiah 60:10).

And feed your flocks – The keeping of flocks constituted a very considerable part of the husbandry of those who dwelt in Palestine. Of course, any considerable prosperity of a spiritual nature would be well represented by an accession of foreigners, who should come to relieve them in their toil. It is not necessary to suppose that this is to be taken literally, nor that it should be so spiritualized as to suppose that the prophet refers to churches and their pastors, and to the fact, that those churches would be put under the care of pastors from among the pagan. The idea is, that it would be a time of signal spiritual prosperity, and when the accession would be as great and important as if foreigners were to come in among a people, and take the whole labor of attending their flocks and cultivating their fields.

Your plowmen – Hebrew, אכר 'ikkâr, from which probably is derived the Greek ἀγρός agros; the Gothic akr; the German acker; and the English acre. It means properly a digger or cultivator of the soil, or farmer Jeremiah 51:26; Amos 5:16.

And vine-dressers – The sense here accords with that which has been so repeatedly said before, that the pagan world would yet become tributary to the church (see the notes at Isaiah 9:5-7, Isaiah 9:9-10).
Wesley's Isaiah 61:5 Bible Commentary
61:5 Strangers – Gentiles, such as are not of the natural race of the Jews, but Gentile converts. Or, such as shall have no more than an outward profession. Stand – Ready to be at thy service. Flocks – The churches with the word of God. Plow – men – Shall manage the whole work of God's spiritual husbandry.