Eureka!
John
https://en.wikipedia.org/wiki/Mahonri_Young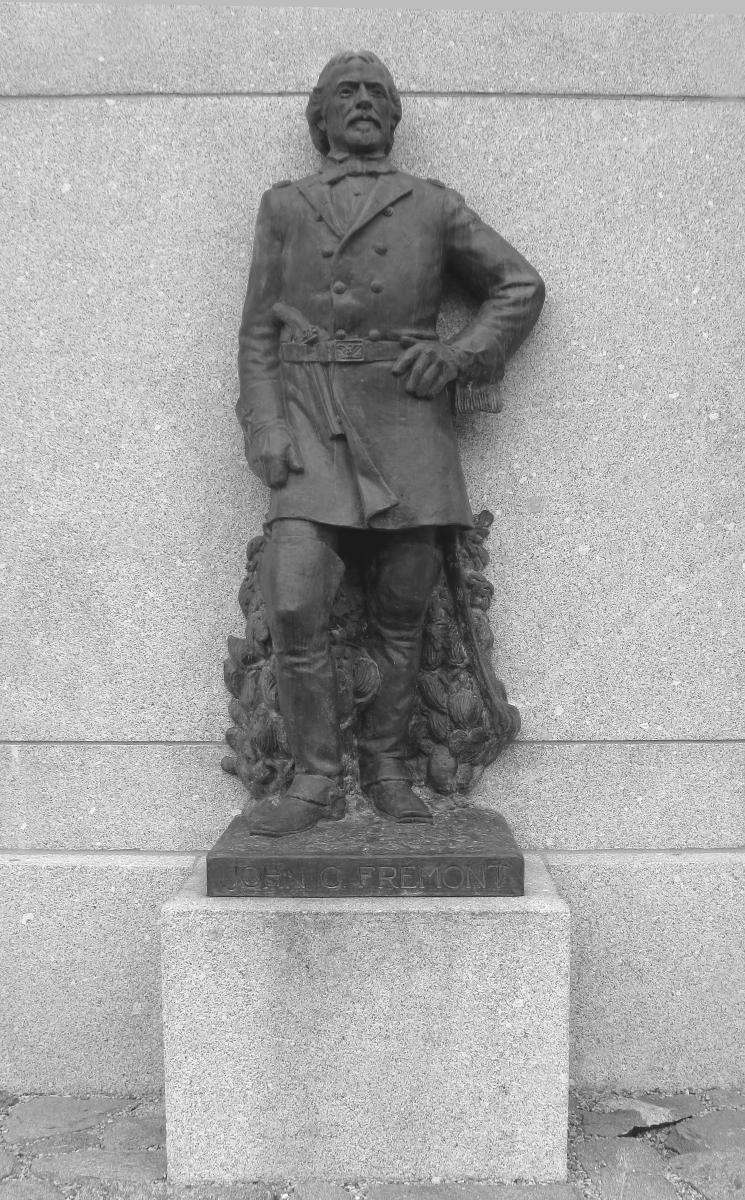 Bronze figure representing John C. Frémont by Mahonri M. Young, part of This Is the Place Monument, situated on the east bench of Salt Lake City, July 2012. Photograph by Alexander L. Baugh.
High on the bench east of Salt Lake City is the This Is the Place Monument, erected and dedicated in 1947 as part of the centennial celebration commemorating the arrival of the Mormon pioneers in July 1847. Featured on the granite base and tower are a number of bronze-cast figures created by the renowned Latter-day Saint sculptor Mahonri M. Young (grandson of Brigham Young). Most notable are the large statues of Mormon leaders Brigham Young, Heber C. Kimball, and Wilford Woodruff, who stand atop the centerpiece while gazing to the west over the Salt Lake Valley. In addition, nearly twenty other figures are situated around the monument's base, including one representing John C. Frémont. A plaque, placed in front, provides a fitting tribute highlighting the contributions of the explorer to the Utah region and his influence upon the Mormon populace:
John C. Fremont
1813–1890
Pathfinder, explorer, soldier, statesman. Led five significant exploring and scientific expeditions to the West, 1842–54, three of which traversed the Great Basin to California. Conducted the first scientific exploration of the Great Salt Lake in 1843 and was the first to traverse the treacherous Great Salt Lake Desert directly westward from [the] Great Salt Lake to the site of modern Elko, Nevada. His report and map published in 1845 were invaluable to the Mormon pioneers in their westward journey.
Mahonri Mackintosh Young (August 9, 1877 – November 2, 1957) was an American social-realist sculptor and artist. During his lengthy career, he created more than 320 sculptures, 590 oil paintings, 5,500 watercolors, 2,600 prints, and thousands of drawings. However, he is primarily recognized for his sculpture. His work includes landscapes, portraits, busts, life-size sculptures, monuments, and engravings. Regardless of his medium of choice, his work is characterized by spontaneity; he often preferred to prepare his work with quick sketches on the scene. He felt this made his work more natural as compared to using a model in the studio. He was fairly commercially successful during his life, though he did not find success until his mid-30s. Large commissions for sculptures from The Church of Jesus Christ of Latter-day Saints (LDS Church) were particularly lucrative for him.
Born into a family of rich Mormon pioneer heritage, Young was the grandson of the second President of the LDS Church and first Governor of Utah, Brigham Young. Young was introduced to art by his father at an early age. He quit school at seventeen years old and worked engraving and portrait making jobs at various newspapers in Salt Lake City to make money for art lessons and for art school in New York and later, Paris. He lived most of his life in New York City where he became associated with "The Eight" and the Ashcan School. He ignited his commercial success in New York; however, arguably two of his most famous works, the This Is The Place Monument and the Seagull Monument are featured prominently in Salt Lake City, Utah. One of his other well-known works is a statue of Brigham Young which resides at the Statuary Hall at the United States Capitol Building in Washington, D.C. At various times during his career, Young taught at the Art Students League. Most of Young's work resides at Brigham Young University.
Posted on April 12, 2022 by Royal Rosamond Press
I am a Traditional Candidate for Republican Governor of Oregon. My sister was a world famous artist who married the cousin of the artist, Thomas Hart Benton, the grandson of the famous Senator by the same name. Benton was the first proprietor of the Oregon Territory and is kin to Polly Lane, the wife of Joseph Lane, who was appointed Oregon's first governor. Lane County is named after Joseph who was a pro-Confederate candidate for Vice President. He was on the ticket with General John Breckenridge whose family was The South that became the new home of the Abolitionist Republican Party. This came about due to the Southern Strategy that should be taught in Oregon schools so that young people will know how the pro-slavery party of Lincoln, became the party of racists who opposed the Reconstruction after the Red States lost the Civil War. John Fremont was the co-founder of the original Republican Party, and its first Presidential Candidate.
I was born in Oakland California. My father was born in San Francisco where one of his German grandfathers built a Turnverein Hall. Carl Janke was the co-founder of Belmont California and had one of that States first theme parks. He was an Odd Fellow, and thus would no subscribe to Christian Nationalism. Nor would Senator Thomas Hart Benton who was honored by the Freemasons who raised monies to build Benton Hall on the campus of Oregon State. Several years ago, Benton's name was removed. Thomas was the attorney of John Astor, who hired Washington Irving to write book about the Beaver Territory that was a home for his company. The Hart family were partners of Daniel Boone in the Transylvania Fur Company.
Many men came from Europe to make their fortune in the New World. The men that constituted Fremont's Bodyguard, were Forty-Eighters who fought the Hapsburgs who had created a Christian Nation in the middle of Europe, and who sent two Armadas to destroy the Protestant Christian Nation that Queen Elizabeth ruled. There is no evidence any Christian has worked, but for the one that is sustained in Britain by royals with German roots. Many of the Forty-Eighters were German and were Socialists and Marxists. Lincoln was surrounded by Marxists. Fremont forced Lincoln's hand by emancipating the slaves of Missouri. He also founded the Radical Democracy Party. Republican Radicals brought about the Civil War. Black people would still be slaves if Fremont had not taken radical steps. John's wife, Jessie Benton Fremont – the daughter of Thomas – wrote the first book about the Oregon Territory that was explored by John 'The Trailblazer.
If I become Governor, I will reach out to European Nations to renew a bond very few members of NATO know about. I believe President Zelensky of Ukraine has given new life to the revolution of the Forty-Eighters began in 1848. I suggest Oregon become the Sister State of Ukraine and see itself as a State Member of NATO. Oregon should let our European Allies know we are a Trading Partner in The Pacific.
Let Oregon once again be the model for the Republican Party that has become a symbol for what divided us in Europe and is the reason we were divided over there. We came – here – to find unity of purpose, and create a enlightened culture. Ukrainians are already abandoning the Russian language and culture that oppressed them. Let us follow suit and make an orphan…..the culture of hate. We can do so much with simple love for one another.
John Presco
Radical Democracy Party (United States) – Wikipedia
Rosamond Press
Romney Statement on Anniversary of January 6
WASHINGTON—U.S. Senator Mitt Romney (R-UT) today released the following statement on the anniversary of January 6.
"Today, we call to mind the memory of those who were tragically lost on the 6th and in the following days, and we reflect with gratitude on the heroic efforts of those who protected the U.S. Capitol and all of us inside the building. It is because of their courage that Congress ultimately fulfilled its responsibility to count the votes and that the transfer of power continued unimpeded.
"We ignore the lessons of January 6 at our own peril. Democracy is fragile; it cannot survive without leaders of integrity and character who care more about the strength of our Republic than about winning the next election. I said last year that the best way we can show respect for voters who are upset is by telling them the truth. The responsibility that elected officials have in this regard is fundamental to reversing the malaise gripping our current politics and ensuring that our democracy endures."
Isaiah 61:5
Translations
King James Version (KJV)
And strangers shall stand and feed your flocks, and the sons of the alien shall be your plowmen and your vinedressers.
American King James Version (AKJV)
And strangers shall stand and feed your flocks, and the sons of the alien shall be your plowmen and your vinedressers.
American Standard Version (ASV)
And strangers shall stand and feed your flocks, and foreigners shall be your plowmen and your vine-dressers.
Basic English Translation (BBE)
And men from strange countries will be your herdsmen, and those who are not Israelites will be your ploughmen and vine-keepers.
Webster's Revision
And strangers shall stand and feed your flocks, and the sons of the alien shall be your plowmen and your vine-dressers.
World English Bible
Strangers shall stand and feed your flocks, and foreigners shall be your plowmen and your vinedressers.
English Revised Version (ERV)
And strangers shall stand and feed your flocks, and aliens shall be your plowmen and your vinedressers.
Bible > Isaiah > Isaiah 61 > Isaiah 61:5
Clarke's Isaiah 61:5 Bible Commentary
Strangers shall – feed your flocks – Gentiles shall first preach to you the salvation of Christ, and feed with Divine knowledge the Jewish congregations.
Barnes's Isaiah 61:5 Bible Commentary
And strangers shall stand – (See the notes at Isaiah 14:1-2; Isaiah 60:10).

And feed your flocks – The keeping of flocks constituted a very considerable part of the husbandry of those who dwelt in Palestine. Of course, any considerable prosperity of a spiritual nature would be well represented by an accession of foreigners, who should come to relieve them in their toil. It is not necessary to suppose that this is to be taken literally, nor that it should be so spiritualized as to suppose that the prophet refers to churches and their pastors, and to the fact, that those churches would be put under the care of pastors from among the pagan. The idea is, that it would be a time of signal spiritual prosperity, and when the accession would be as great and important as if foreigners were to come in among a people, and take the whole labor of attending their flocks and cultivating their fields.

Your plowmen – Hebrew, אכר 'ikkâr, from which probably is derived the Greek ἀγρός agros; the Gothic akr; the German acker; and the English acre. It means properly a digger or cultivator of the soil, or farmer Jeremiah 51:26; Amos 5:16.

And vine-dressers – The sense here accords with that which has been so repeatedly said before, that the pagan world would yet become tributary to the church (see the notes at Isaiah 9:5-7, Isaiah 9:9-10).
Wesley's Isaiah 61:5 Bible Commentary
61:5 Strangers – Gentiles, such as are not of the natural race of the Jews, but Gentile converts. Or, such as shall have no more than an outward profession. Stand – Ready to be at thy service. Flocks – The churches with the word of God. Plow – men – Shall manage the whole work of God's spiritual husbandry.
Andy Larsen: Short-term blip or longer trend? Surveys shed light on the LDS Church membership stagnation.
Andy Larsen – 11h ago
React32 Comments|23
One of my recent articles caused quite a stir.
You see, a few weeks ago, I wrote about The Church of Jesus Christ of Latter-day Saints' official membership numbers, which had been freshly released. What they showed was a faith that grew in numbers during the past two years in the United States — but one that grew at a slower pace than before and, notably, at a slower pace than overall U.S. population growth.
Invest In This Non-Toxic Solar Energy Technology Before It Is Too Late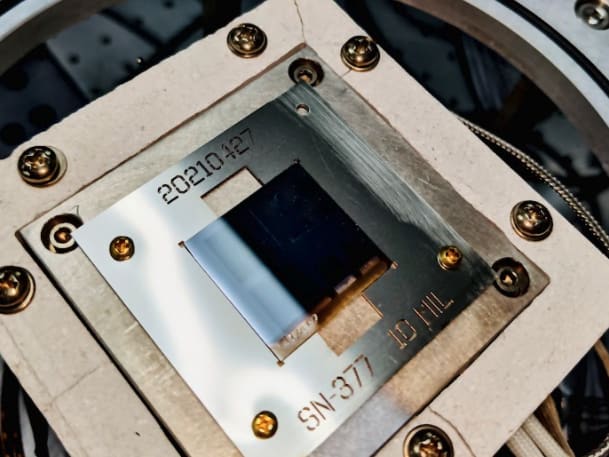 Unexpectedly to me, it turns out that it was brought to the attention of the highest levels of church management. Apostle David A. Bednar was asked about it at a luncheon held at the National Press Club in Washington. (Props, by the way, to Bednar for speaking there. It was the first time a Latter-day Saint leader had addressed the group in 22 years, since then-President Gordon B. Hinckley did so in 2000.)
When Bednar was asked about the article, he cited mostly a lack of familiarity with the statistics. But he did bring up a good point: "If you take a look at the church in the aggregate, it is growing, which in the climate that we find today is rather newsworthy in and of itself."
The "climate" Bednar references is the religious landscape in which the U.S., and much of the Western world, finds itself: Nearly 30% of Americans now consider themselves religiously unaffiliated, almost double the percentage from 15 years ago.
Other churches — and religion in general — are struggling, there's no doubt about it. Is Utah's predominant faith outperforming or underperforming those?
Answering this question turns out to be a bit difficult, but we can look at data from a number of sources to get the best picture. (If you want to skip the data-gathering weeds and just jump down to the graphs and the conclusions nearer the bottom of this article, you certainly can.)
The religion data ecosystem
In my previous article, we used official LDS Church membership stats in analyzing the growth state by state. But most churches don't release similar numbers of who is on their rolls. If they do, they follow different rules than the LDS Church does in putting people on those rolls, or removing them. Our comparisons wouldn't be equal; apples would be up against non-apples.
What would be neat — from an analyst's point of view, anyway — is if the U.S. census asked about people's religion. That would allow us to have nearly everybody counted and help us see how different denominations have grown and shrunk overtime. But the census has been prohibited from asking about religion by U.S. law since the 1970s and didn't really ask much about it before then, anyway.
We'll have to work instead with smaller surveys that try to model the full spectrum of American adults. What are our options here?
Survey No. 1 • The gold standard of this kind of research is called the General Social Survey, which has polled Americans once every couple of years since 1972. The folks at the National Opinion Research Center at the University of Chicago do a ton of work to ensure that their respondents are proportionally representative of the country as a whole, then go out and interview those selected Americans in person. They spend about 90 minutes with each of them, asking hundreds of questions about their lives, their habits, their views.
Here's the problem: All that is really expensive. As a result, the General Social Survey interviews only about 3,000 people a year — which means that researchers are talking to only a few dozen Latter-day Saints a year.
As a result, you see swings in estimated Latter-day Saint population depending on luck of the draw. The fall from 1.2% of respondents saying they're Latter-day Saints in 2018 vs. the 0.9% saying they are in 2021 isn't statistically significant. The difference is about nine people.
Survey No. 2 • Next up on the list is the Public Religion Research Institute's American Values Atlas survey. These researchers operated every year since 2013, and they use the same National Opinion Research Center's methodology when selecting respondents, so they're likely to be representative. However, they too interview only about 3,000 people a year, online and through telephone interviews. More frequency is good, but otherwise the arrangement isn't too different.
Their results show steady levels of respondents reporting the LDS Church as their religion from 2013 to 2018, and then a drop after that.
Survey No. 3 • A much bigger study is the Pew Research Center's Religious Landscape Study, which interviewed 35,000 Americans across 50 states via telephone. Unfortunately, the center has done so only twice: Once in 2007, and again in 2014. Latter-day Saint respondents fell from 1.7% to 1.6% between those two years, but most other Christian religions saw bigger drops.
© Provided by Salt Lake TribunePew Research Center (https://www.pewresearch.org/religion/2015/05/12/americas-changing-religious-landscape/)
Luckily, there is one big survey that has both a high sample size and an annual frequency.
The biggest, most useful survey?
We come to Survey No. 4: the Cooperative Election Study. Designed by Stephen Ansolabehere, a government professor at Harvard, it has interviewed between 20,000 and 60,000 people annually since 2006 with an online-only survey that takes about 20 minutes to fill out. That means we have a sample size that's about 10 to 20 times bigger every year than the other surveys — a real asset.
Researchers select their online participants from people who have signed up to receive surveys on the website YouGov, and then weigh those responses based on a formula that takes into account age, gender, race, ethnicity and education level. Their goal was to make their survey audience match that of the census' distribution of those figures.
What did they find? Well, to be honest, a significant slump in the number of respondents in the past 10 years who say they are Latter-day Saints. Just like with the church membership rolls, 2021 was a particularly troubling year.
Again, you see declines in other Christian religions over that same period, especially among Protestants. In this poll, however, the number of respondents who say they're Latter-day Saints falls more quickly than any other religion.
Because the CES interviews so many people, there's actually a statistically significant number of Latter-day Saints who answer their polls. That means that, if we're careful, we can look at the church subsample, and compare it to people who said they were of other religions. One such question: How important do they consider their religion to be?
Protestants saw an increase in people who said their religion was very important to them from 2010 to 2020. Latter-day Saints, meanwhile, saw a decrease in people who considered religion very important. Columnist Jana Riess pointed out that the decline is happening across age groups: Fewer Latter-day Saints over 40 and under 40 are saying religion is important to them.
How about church attendance? Here, we'll compare 2010 to 2019 to try to avoid pandemic effects.
Latter-day Saints clearly attend their worship services more "religiously" than people of other religions. But their self-reported attendance also slipped in the past decade, whereas more Protestants and Catholics said that their church attendance increased.
Now, I understand at least hesitancy about these results. These are statistical estimates of the population as a whole taken from a hopefully representative sample. There is no relevant census data. As much as statisticians perfect their sampling and weighting processes to fit the American populace, there may just be a difference between the people who spend time filling out surveys (online or offline) and those who don't.
But, well, there's pretty widespread agreement here: If the small-sample in-person surveys, the small-sample telephone surveys, and the big-sample online surveys all show movement in the same direction, I'm going to be fairly confident in those results. If there are underlying numbers that back up a decline — lesser church attendance, lesser religious importance — then we have an even more complete picture. And, given the LDS Church's official rolls show the same thing, albeit on a different scale, the trend simply is clear.
What have we learned?
In short, the percentage of Americans who say they are Latter-day Saints is shrinking. There's no doubt about it. Surveys and the official data come to that conclusion.
Furthermore, when you compare the LDS Church to other religions, it doesn't come out looking so hot. Yes, other religions, especially Protestants, have seen declines. But the declines have been steeper among Latter-day Saints than in other religions. To be sure, those who profess their Latter-day Saint religion still go to church very frequently — more than those of other religions — but they consider religion less important to their lives than they did 10 years ago.
Probably the biggest unanswered question, then, is whether this is a short-term blip or a decadelong trend.
The LDS Church News published an article last week touting growth in 49 of the 50 U.S. states since 2011, per the official rolls. The data released in April, though, shows declines in 21 U.S. states since 2019, and 34 states declined on a percentage basis since 2019.
Before then, the polls above tend to show stability or decline rather than growth during the 2010 to 2019 period. Depending on which source you prefer — the surveys or official rolls — you could reasonably argue it either way. But there's agreement from both official and unofficial sources on a drop-off since then.
Bednar, in his response to the National Press Club question, noted that church membership has its ups and downs.
"In the United States, the growth is not nearly as rapid as it is in Africa. And my observation is that over the history of the church in different parts of the world, there are different seasons of growth," he said. "In the early days, in the 1830s, 1840s, mass migration of Saints coming from Europe to the United States, we don't have as many converts in Europe today as we did then. So there's an ebb and flow and seasons in the growth all over the world."
That hypothesis may well be true. But right now, we're in a Latter-day Saint ebb in America.
Andy Larsen is a data columnist for The Salt Lake Tribune. You can reach him at alarsen@ sltrib.com.