Three years ago I showed up at a Gay Pride event, dressed as Merlin, the crowned Antichrist. The Wizard was made more famous by Disney. There was a brawl with the Three Percenters who have a connection with the Oath Keepers. Blood was shed. This is the preamble to Jan 6th.
Disney does a disclaimer that says Jesus-magic is more powerful than Wizard-magic. This is why Trump could not have lost, because, he rebuked The Wizard. This is it – in a nut shell!
https://www.bookdreamspodcast.com/post/laura-campbell
I did some research and discovered I can not use the name Godzilla without permission. I am working on a proposal for a cable series about the rise of Christian Nationalism in Lane County. How about
GOD'S ZON
Synopsis: Johnny Oregon puts forth a proposal to the City Council of Eugene Oregon to have his 'Godzilla Run' replace the Eugene Celebration Parade and Festival.
"You can't use Godzilla!" said Councilperson, Wendy Goomzelda.
"How do you know?" Johnny asked the former Slug Queen.
"I am an artist and was going to publish a children's book 'Godzilla Bonds With The Wiccan Children'."
"Oh."
After the meeting, Johnny is approached by three tall blonde folk who are (allegedly) member of 'The Army of Odin'. They tell Johnny they have an interest in keeping Oregon – white!
"We approached the Kesey family, and they wanted nothing to do with us – foreigners – who are keen on keeping foreigners out of America – and Oregon!" said Horsa.
"If things get too bad in our country, we have plans to live on the thousand acres we bought that we call Godzilla Land."
"You can't use Godzilla."
"Yes we can, because it has the name of God in it, and, we are Christian Internationalists."
"Godzilla was modeled on the Kraken, a beast of Odin."
"Here is a map of Godzilla Land."
"I don't think I should get involved."
"What are you afraid of – we will go to war with Japan?"
John Presco
The Godzilla Run | Rosamond Press
Oregon's Own Antichrist vs. MADA | Rosamond Press
Three Percenters | Southern Poverty Law Center (splcenter.org)
Three Percenters often draw parallels between the U.S. government today and the British government in the 1700s, arguing that the current U.S. government is tyrannical and actively working to infringe on Americans' Constitutional rights and liberties. They believe a small force of armed individuals can overthrow a tyrannical government, and many Three Percenters engage in paramilitary training and organizing to do so. Three Percenterism is at its core a vanguard extremist movement that claims to be ready to carry out armed resistance to perceived tyranny. Their perceptions of tyranny emanate from the radical conspiracy theories and paranoia rooted in the decades-old antigovernment extremist movement, and have repeatedly led to violence against America's law enforcement, citizens and residents.
Up-in-Arms_Report_PDF.pdf (rop.org)
New evidence reveals coordination between Oath Keepers, Three Percenters on Jan. 6 (nbcnews.com)
https://en.wikipedia.org/wiki/Soldiers_of_Odin

New evidence reveals coordination between Oath Keepers, Three Percenters on Jan. 6
Evidence reviewed by NBC News shows a new connection between the Oath Keepers and a group of Three Percenters from California charged in connection with Jan. 6.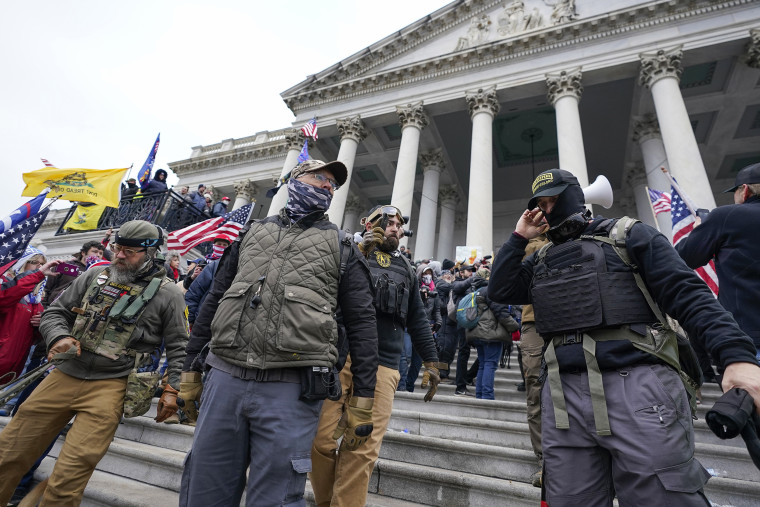 Members of the Oath Keepers on the East Front of the Capitol on Jan. 6, 2021.Manuel Balce Ceneta / AP file
Link copiedSAVECreate your free profile or log in to save this article
May 28, 2022, 1:30 AM PDT
WASHINGTON — Derek Kinnison, a self-identified member of the Three-Percenter militia group, was one of six California men indicted by a federal grand jury last year in connection with the Jan. 6 attack on the U.S. Capitol.
Kinnison, the indictment alleged, was part of a conspiracy to obstruct the certification of President Joe Biden's electoral college victory, joining a group that came to D.C. armed and "ready and willing to fight" in the nation's capital.
Kinnison was also a member of the Oath Keepers, a far-right anti-government organization whose members have pleaded guilty to seditious conspiracy in connection with the Jan. 6 attack, according to texts and images reviewed by NBC News.
Godzilla/Gojira belongs to Toho Studios in Japan. They own the rights, and anybody that wants to make a Godzilla movie/game/novel/etc needs Toho's permission. Also, ever since the 1998 American "Godzilla" film (which infuriated Toho), Toho is very strict about how Godzilla is represented in film. If you got Toho's permission to make your own Godzilla film, Toho will be carefully watching. They will give guidance and criticism where they feel it is needed.

Toho is VERY protective of Godzilla. They want to make sure their intellectual property is treated with respect. If they are unhappy with your rendition of Godzilla, they will not hesitate to let you know. They won't be shy or bashful about it either. On the other hand, if they approve of your rendition of Godzilla, they will shower you with praise and adoration. They will gladly allow you to keep making Godzilla films.

For example, Toho LOVED how Legendary Pictures handled Godzilla in the 2014 film. They felt it was a proper, respectful, and accurate portrayal of Godzilla. So, of course, when Legendary said to Toho: "Well, we are thinking of a cinematic universe. We'd like to make some more Godzilla movies! Sequels!"

Toho basically responded with: "Yes!!! Of course you can! Have fun!"
New report details significant role of Christian nationalism in January 6 attack on the Capitol – BJC (bjconline.org)
New report details significant role of Christian nationalism in January 6 attack on the Capitol
by Don Byrd | Feb 14, 2022
A remarkable and essential new report issued jointly by BJC and the Freedom From Religion Foundation (FFRF) provides a comprehensive look at the way Christian nationalism motivated and permeated the January 6, 2021, insurrection by documenting and examining the imagery, prayers, and other statements of the rioters and riot organizers. As New Yorker journalist Luke Mogelson – who was in the Capitol building that day – said to Andrew Seidel, one of the report authors, "[t]he Christianity was one of the surprises to me in covering this stuff, and it has been hugely underestimated… That Christian nationalism you talk about is the driving force and also the unifying force of these disparate players…"
The document, titled "Christian Nationalism and the January 6 Insurrection," provides detailed and documented evidence of the extent of Christian nationalism throughout multiple elements of the attack on January 6, including the pervasive symbols, signs and iconography in the crowd:
The imagery and violence of January 6 left indelible stamps on the American memory. Of the thousands of photos and videos taken that day, several moments have come to symbolize the insurrection. The five categories of iconic imagery examined here [the gallows; the cross; flags; signs, clothing and Bible verses; and white Jesus and religious iconography] all have ties to Christian nationalism. The officers on duty that day described seeing the Christian nationalism, even if they didn't know what to call it. D.C. Metropolitan Police Officer Daniel Hodges testified to a House Select Committee, "It was clear the terrorists perceived themselves to be Christians,"
The report also emphasizes that Christian nationalism was on display not only on January 6 but also in the days and weeks leading up to the attack, intensifying and unifying those who believe the false claim that President Joe Biden did not win the 2020 presidential election, starting as far back as Election Day:
Almost immediately after the polls closed on Election Day, [Christian nationalist political] machinery changed gears to stoke outrage and fear, exhort action, and work to give Trump a second term as president, no matter what the voters wanted. Paula White, still involved with the White House at the time …began hosting nightly prayers… "White and fellow prayer warriors called on God to smite the president's enemies—his political opponents, anyone standing in the way of a second term, and anyone interfering with their vision of national and global dominion," explained one observer. On the second night of prayer, White preached that "God, we declare that you will keep the POTUS [sic] in his purpose and in his position," and, "We override the will of man for the will of God, right now."
Providing important context, the report also helpfully provides background information discussing the recent rise of Christian nationalism and its close connection to white supremacy, as well as the response of many Christian leaders in opposing Christian nationalism and the attack on the Capitol. As BJC Executive Director Amanda Tyler explains, the insurrectionists were no friend to Christianity:
The rioters, who can accurately be labeled as radical Christian terrorists, used Christianity as a kind of mascot, trying to lend credibility and social acceptability to their terrorism. In the process, they sullied Christianity and Jesus in the hearts and minds of people all over the world.
The report features contributions from a wide range of historians, scholars, advocates, and experts, including Tyler; Andrew Seidel, a constitutional attorney at the Freedom From Religion Foundation and author of The Founding Myth: Why Christian Nationalism Is Un-American; researchers Dr. Andrew Whitehead and Dr. Samuel Perry (who are the co-authors of Taking America Back For God: Christian Nationalism in the United States); Dr. Anthea Butler, the Geraldine R. Segal Professor of American Social Thought at the University of Pennsylvania; Katherine Stewart, author of The Power Worshippers: Inside the Dangerous Rise of Religious Nationalism; and Dr. Jemar Tisby, a historian of race and religion and author of The Color of Compromise: The Truth about the American Church's Complicity in Racism.
Take the time to read through this report — there are important elements covered in this comprehensive report that go deep into history, research, the impact and overlap of white supremacy and Christian nationalism, an exploration of the networks of power at play, and much more.
For example, Dr. Tisby explores different ways Black Christian communities fuse faith and political action:
In contrast to white Christian nationalism, Black Christians have historically tended to embrace a kind of patriotism that leads to an expansion of democratic processes, the inclusion of marginalized people, and a call for the nation to live up to its foundational ideals. … The historic example of Black Christians demonstrates that a Christian commitment to God and country does not always mean making America a white man's country.
Many of the contributors participated in a webinar on February 9 releasing the report – you can watch a recording of that here.
You can read the entire report here. And, if you are a Christian concerned about the rise of Christian nationalism, join more than 24,000 other Christians in signing this statement of unifying principles (launched in 2019), and check out the resources for information you can share on social media and curriculum you can use for small group discussions to help root out this ideology in your community.
As Amanda Tyler wrote in the report, "The Christian response to Christian nationalism must not only be widespread to be effective; it also must be prolonged. The ideology of Christian nationalism, which has become deeply entrenched in American society over centuries, will take generations to dismantle."
It will take all of us.
Our Mission Statement is as follows, and We as a Non Profit Organization stand by our Mission Statement 100%. We strive to bring about unity among various racial and ethnic constituents of our community through the performance of African – American Gospel Music, sharing a message of Faith, Hope, and Charity.
About an hour ago, Krysta said I was unfit to be in her group. She states;
" You are literally an UN-medicated individual with ideas of grandeur."
Posted on August 13, 2019 by Royal Rosamond Press
Here are the Three Percenters.
Oregon III%
October 3, 2016
This an excerpt from Up in Arms: A Guide to Oregon's Patriot Movement co-published with Rural Organizing Project.
Oregon Three Percenters are very active and seems to have eclipsed the Oath Keepers as the locus of Patriot movement organizing in the state.
The Three Percenters have a complex structure. Anyone can call themselves a Three Percenter, and there are also competing national organizations. But there is also a statewide group, called simply, "Oregon III%," which functions as a group-based network, albeit with a central leadership.1) (This seems to run contrary to cofounder Vanderboegh's original vision for the Three Percenters as a decentralized form of the militia that was harder to infiltrate and disrupt. However, these more organized Three Percenter groups, in Oregon and Idaho, have been very successful.) There is significant overlap between Oath Keepers and Three Percenters, as well.
The President of Oregon III% is David Samuel Hill, and the Vice President is Jeff Roberts; the group registered as a 501(c)4 in November 2015.2) Roberts claims that in 1993, as a 15-year-old, he drove to the Ruby Ridge standoff with Bo Gritz.3) In September 2015, Hill said the group had 1,000 members and a full "executive staff"—up from 200 members and no staff, except its president, less than a year before.4) These numbers have undoubtedly grown since the Malheur occupation. Oregon III% divides the state up into seven "Zones," plus an independent eighth section.
Hill says, in addition to participating in the Pacific Patriots Network, Oregon III% has "a close working relationship with other patriotic, prepper and training groups."5) Oregon III% co-organized the February 2015 Salem anti-SB 941 rally, was active in the Sugar Pine Mine and White Hope Mine armed camps, were at May 2015 anti-SB 941 rallies, and were part of "Protect the Protectors" campaign to "guard" U.S. military recruiting stations in July 2015.6)
One flyer indicates that BJ Soper and the Oregon III% were the organizers of the initial January 2, 2016 march in Burns, Oregon (Rice claims it as PPN and Oregon III%). Soper, and both Oregon and Idaho Three Percenters, spoke at the rally.7) As part of the PPN, they were active in Burns during the occupation. At least one Oregon Three Percenter, Flipp Todd, was part of the occupation early on.8)
Some members of the Oregon III% are reportedly involved with an anti-immigrant vigilante group, which does street patrols, called the Soldiers of Odin. The group was founded in Finland by white supremacists, and it has recently spread across the United States.9)
Posted on August 16, 2019 by Royal Rosamond Press
"Under the wide and starry sky
Dig the grave and let me lie.
Glad did I live and gladly die,
And I laid me down with a will.
This be the verse you grave for me;
"Here he lies where he longed to be,
Home is the sailor, home from sea,
And the hunter home from the hill."
I am thinking of declaring myself the Three Percenter Representative of Lane County. I do so because I can according to the rules, and, I do so because I believe our Democracy has failed due to U.S. Citizens subverting my Nation because they hated the election of a black man – President of the United States. This is contrary to the statement made by 3Centers. I want to give a c0ntrary opinion.
https://en.wikipedia.org/wiki/3_Percenters
This ongoing hatred encouraged President Trump to invite a foreign power to help him get elected. To seal the deal with Putin and Russia, Trump offered to hand over an American Citizen to Putin for trial in a foreign land. Yesterday, Trump bid a foreign leader to punish two elected Congresswomen by banning them from his nation, that also claims it is a Democracy. I sincerely doubt it.
Most Christians know the story of Barabas. When the Jews were given a choice of freeing Barabas, or Jesus, they chose Barabas. The Jews could have saved the life of their Messisah, but did not. However, this outrage turned out good – because Jesus was supposed to die for our sins. Ah-hah! We are now without sin, and, our hatred of Jews has changed recently, thanks to the teaching of John Darby, who taught that evangelicals need the Jews to save them during the End Time Tribulation. Wow! Why do we need a secular government to make – anything right!
Look how powerful Christians have made the Jews – and they hate Jesus. They spit on Christians in the Holy Land because they understand they are just pawns in the crazy games Christians play. Then these nuts claim they fouded this Democray, and their games got even more convoluted – and insane! Then they took over the Repblican Party and founded the Tea Party to help sort it all out!
"Putin. If youre listening………"
Nietzches said; 'There was only one true Christian – and the crucified him!" Jesus taught acceptance of new religious ideas and teaching – that Saul hated! St.Paul hunted down members of Jesus' church, and tortured them to their death – with the approval of Jewish leaders. These are fellow Jews, like the Jews who cried "Give us Barabas!" Had they changed their minds via religious persuasion? Where is religious tolerance in this marass? Well, as of yesterday, Chritiandom, and Judaism – is still wating for that idea to come!
POTUS believes he has acquired the Wisdom of Solomon since he took office. His religious handlers have convinced him he is King David and the Messiah of the Jews. To fulfil the religious expectations of his followers, our National Wise Man held up two American women who were elected to serve their Country.
"Who shall I spare, these two socialist democrat Islamic haters of Jews, or, Benjamin Netanyahu, who is in danger of not being elected due to the evil Socialist Liberal Jews that dwell in Jesus Land? I hope you make the right choice – and vote for me!"
This is an outrageous Campaign Stunt that Trump pressured a foreign leader to get involved in. This is proof to me, Trump will employ any foreign power to get himself, and his ilk, back in the White House. There is no greater insult to the American People, and the Jewish People, that says WE CAN BE TRICKED! WE MUST BE DECIEVED! WE CAN NOT BE TRUSTUED TO MAKE THE RIGHT DEMOCRATIC CHOICE.
When I began to look at my family tree back in 1999, I was dismayed to learn about my Rosamond People on my mother's side. They owned plantations down in South Carolnia, and they owned human beings. What was truly shocking, was reading the Will of Captain Samuel Rosamond (Roseman) who fought alongside The Swamp Fox – as a Patriot! He left human beings to his children, who now owned their father's slaves. I still have trouble grasping this – and owning it! I have put myself in Rosamond's death bed doing an inventory;
"Hmm! Let me see. What son of mine has been most loyal to me? Which one would be most grateful to be a slave owner? I want a worthy Heir!""
This is – BIBLICAL! This is no convoluted bullshit practiced by a bunch of beer-drunk Bubbas at the NASCAR track. My sister, Christine Rosamond Presco, married Garth Benton, thus John Fremont who married Jessie Benton, is in our family tree. John was the first to Emancipate slaves, and ran for President as the first Republican candidate. He prepared the way for Lincoln! Most of the world's history is wrapped up in the last paragraphs. How do we humans do it? We fight hard to take slaves. Then we fight even harder to free them!
And look at this guy! John 'The Highwayman' Rosamond. John was a convicted criminal and was sold into slavery and – sent to the British Colony!
I was a highwayman
Along the coach roads I did ride
With sword and pistol by my side
Many a young maid lost her baubles to my trade
Many a soldier shed his lifeblood on my blade
The bastards hung me in the spring of twenty-five
But I am still alive
"In 1717 Parliament passed an act empowering courts to sentence offenders directly to transportation. Persons convicted of clergyable felonies or petty larceny could now be sent to American plantations for seven years instead of being whipped or burnt on the hand. This meant that a large portion of England's offenders were eligible to be shipped abroad and sold as servants for seven-year terms. Felons convicted of capital crimes could, with royal consent, be commuted to a term of fourteen years' transportation or, in some cases, life. Anyone who returned before her or his term expired or who helped a convict to escape was liable to be hanged.
Jonathan Forward, a young London merchant with extensive contacts in Maryland, obtained a lucrative subsidy of three pounds for every Newgate felon and five pounds for every convict taken from the provinces. In exchange, he agreed to ship any and all criminals sentenced to transportation, and to pay all costs, including gaol fees, for their conveyance. Forward was experienced in the African slave trade and had recently shipped two vessels with 171 convicts to Maryland. Operating out of his Cheapside house on Fenchurch Street, London, he collaborated with Jonathan Wild, who helped to provide "felons" for shipment abroad."
https://www.geni.com/people/Pvt-John-The-Highway-Man-Rosamond/6000000005908041380
When the Rosamond family lost their plantations in Mississippi, in the town Oprah Winfrey was born, they got in covered wagons and moved to Texas. I assume they were not happy about how things turned out DUE TO A DEMOCRATIC VOTE. We the People of the United States of America had abolished slavery. I have to look to see if any Rosamond family member wore the uniform of the Confederacy. I know our cousins, the Hodges took up arms against the Union.
Grandma Canzada killed wild turkey, and William Rosamond, climbing in a tree to get a good shot at a Couger – with the last bullet. Did they eat the meat? There was no welfare office close by, or laundrymat. A million Survivalists with guns got the same bad idea, that they will go into the woods when the End Time comes, and shoot game – till kingdom come! How much game is left in the woods? Their End Time ministers teach them to Hate Liberal Ecologists. How smart it that?
Sometimes you got to live with the bad choices others make – even at the polls! Get it? This is why the Story of the Rosamond Family is so vital to the Story of America. Most of the time you got to take responbility for the bad choices – you make! You got to to put down your holy voo-doo dolls – and buck up! You steal some shoes, and you are put on a ship sailing for America – wearing chains! Seventy percent of the first white men in America came here as indentured slaves! Today, because of voting booths, you can't leave black folks to your kindred anymore. You no longer have a choice.
I have been in touch with the University of Arkansas about leaving them my grandfather's books when I die. I was told by the head libraian there is a great interest in these kind of books, due to the New Back to the Earth Movement. I suspect there are a lot of End Timers who want to emerge from their Doomsday Bunkers, and start America – all over again! Well, you're reading a part of the real blueprint.
There are enough haters and killers in the world, and almost all of them carry, or, own a gun! Grandma Rosamond was glad her husband, the Sheriff, did not live long enough to see Yates blow her arm off with a shotgun! Or did he? Sometimes you got to shoot at the real bad guys – with intent to kill. I suspect the Appalachian Hunters killed a lot of Germans during both wars. They were crack shots. They were Scots-Irish for the most part, and they did most of the figihting and killing in our War of Indipedance. What you don't read about, is the hatred the Colonists had for the British, because when you are a winner, you don't have to stir up anymore hatred. You can show respect for your enemy!
What the two leaders of two democracies did to two U.S. Citizens, is accuse them of being HATERS. Did a judge rule this was the case? How many REAL HATERS have stood trial FOR REALLY HATING? What is so impossible here, is, that President Benjamin Nentanyahu, and President Donald Trump – DON'T BELIEVE THESE WOMEN ARE HATERS! They only prentended they were haters – to garnish votes! Outrageous!
This is a great insult for both the Citizens of Israel and the United States, because we spend hundreds of hours tying to locate THE REAL ISSUES under a mound of UTTER BULSHIT so we can vote our conscience, and feel good about ourselves and THE CHOCES WE MADE! This does not feel good at all. And the people of the world are just beginning to fathom why. The story of Ann Frank comes to mind and the arbitrary punishment of the Dutch People – who Hitler could not trust to swallow all of his Master Plan. Did the Dutch have their hunting rifles confiscated?
https://en.wikipedia.org/wiki/Dutch_famine_of_1944–45
Of all the WW2 footage I have seen, the look on the faces of American Soldiers liberating the Dutch people, stands out. These are white people starving to death. Some of these Liberators were Mountain Men who owned Coon Dogs and Blue Ticks, thus they rarely came home empty handed. These Scot-Irish had to accept the truth the Nazis were white, and, white people can do horrific things to other white folk.
My vision for the first Three Percenter Gathering in Lane County will take place in Wayne Morse Square. Basically it will be a gathering of Cat Lovers. You can bring your cat, or, pictures of a cat you lost, and you would be wanting to share your grief. You can share pictures of the gun/guns you own. No dogs – yet!
But, what we will be sharing, the most, is God and Jesus' foremost commandment.
"Love one another!"
Even "Love thy enemy as thyself."
I will bring a photo of Omar, and ask;
"Whom among you hate this Congressperson?"
We the People gave our President the Right to Pardon convicted prisoners who were tried by their peers. We the People did not give our President the right to condemn any citizen without a trial. Our President is not calm under fire. In a political panic he throws two women to the dogs.
I would never go hunting with this hateful man, or climb a tree to shoot a panther we chased we chased out on a limb. I DO NOT TRUST HIM! He might turn his gun on me, after mistaking me as game, or…………The Enemy of Israel. How about, the hater of Putin, and a member of the Free Press? This crazy man doesn't know who his enemy is!
The Don might be the first President who does not own a dog – or a cat! Why? A pet might take away some of the attention this oppressive person is addicted to. This is a bad sign. For, there is one thing you can learn from your good dog – loyalty! Our President knows nothing about loyalty. He held up two loyal citizens of the United States – and stabbed them in the back for the amusement of a foreign leader. Then these two claim they are loyal to one another! Bullshit!
What really gets ne, Trump did this evil thing in order to keep the loyalty of a millions of Christians! Why does Trump believe they are loyal to him? Hardly a one has used the Voice this Democracy gave to all it's citizens – to say they had enough! Of course he is going to betray again! He's a Serial Liar and Betrayer! What does any good Christian see in him? Why is he – their messenger!
"Give us Barabbas!"
Israel's interior minister tore into U.S. Rep. Rashida Tlaib on Friday for abruptly canceling plans to visit family in the West Bank after the government granted permission for the trip in a bid to smooth over a diplomatic firestorm.
"Apparently her hate for Israel overcomes her love for her grandmother," Aryeh Deri tweeted.
https://www.foxnews.com/politics/israeli-minister-rips-tlaib-for-nixing-trip-says-her-hate-for-israel-overcomes-love-for-her-grandmother
What a cowardly thing to say! But, using the word "coward" is too good for men like this because it denotes you are a warrior who lost his courage. This is slimily politician is made in Israel, where much Biblical history was made. Shortly after you get into Genesis – it begins – the holy knife fight! If the shoe fits, wear it. Check these holy loons out, who can be accused of loving Israel, or God, or whatever – too much! Boy, would these righteous ones like to get their Man Saliva on Omar!
Wake up folks! Surely Jesus, and God, gave numerous lessons on how to be loyal, why be loyal, and to whom! Running around like a chicken with your head cut off, holding up one alleged enemy after another, will not do. At my Three Percenter meetings we will discuss LOYALTY. Our guns will be silent. Guns are loyal to all, and no one. Did Jesus ever say;
'Be loyal to your country!"?
Nay, after going where no man has gone, before, unarmed into the far horizon, he said this, and as yet there were not a billion people to believe him……
"I have overcome the world!"
John Presco
President: Royal Rosamond Press
Three Percenter of Lane County
33 "I have told you these things, so that in me you may have peace. In this world you will have trouble. But take heart! I have overcome the world."
John 16:33
https://www.msn.com/en-us/news/us/dayton-mayor-provided-security-detail-after-trump-comments/ar-AAFUarz?ocid=spartandhp
Following a public spat with President Donald Trump, Nan Whaley was assigned a security detail for just the third time while serving as Dayton's mayor.
Posted on March 22, 2017by Royal Rosamond Press
Above is a picture of Yates Standridge. He was one bad man. He killed Sam Rosamond's father, and blew his wife's arm off with a shotgun. Look at the size of his hands. You don't want them lethal weapons clamped on your neck like an old greasy vice in a machine shop. He killed a man in jail. He escaped from jail. The Rosamond boys tried to bushwhack him, but shot the wrong man. Some fled to the oil fields of Oklahoma. Did they eventually…..get their man?
http://3sistershistory.blogspot.com/2015/12/divena-mae-dixon-and-yates-standridge.html
It was extremely dangerous to go after this man they called 'The Wolf', and you did not want him on your trail. If you saw him coming, you slunk away, hid in any shadow that would have you. He was no joke, no Hee-Haw Clown in some Jesus-Freak Carney Show. He was the real deal, the reason Vernon Rosamond preached to the good citizenry, while Velma played the organ. You better believe there is a Devil.
Posted on October 5, 2011by Royal Rosamond Press
A branch of the Rosamond family came to Texas in covered wagons and settled in Weldon. They were the Real McCoys who will go down in history because of Sweeny's aliance with Rick Perry, a fake cowboy and patriot. The Hodges family alsocame to Texas.Jon Presco
William A. Rosamond and his wife Canzada (Coleman) Rosamond and their six sons and other members of the Rosamond Family came from Kosciusko, Mississippi, where his parents owned a plantation on Big Black River. They came here in covered wagons in 1866 and experienced all the hardships on the way – wild animals and other threats to their lives.
They first settled for a short time in White Rock Creek where they were near water. Next they moved to Houston County. W.A. Rosamond, my grandpa, owned a gin and also a grist mill. And, was a farmer here in Weldon, Texas near the ole Huntsville and Crockett road. On this road was a stage stop, a short distance from their place. They had to hunt for their meat and other food. (Weldon?) was not a very clear settlement.