If I become Governor of Oregon I'm going to pass a Bill recognizing Finland as Oregon's Sister NATO Partner. I suggest other Governor's do the same with other European Nations. Let them know we have a vested interest in defeating Putin Imperialism. We can offer humanitarian help in time of war. We can grow Victory Gardens in order to fee all the Hungry People of The World!
John
Russia-Ukraine war: NATO chief says Finland welcome to join allies (cnbc.com)
Finland's position on NATO is a direct result of Ukraine war, says NATO chief
NATO Secretary-General Jens Stoltenberg said Friday that the 30-member U.S.-led alliance would "warmly welcome" Finland should the Nordic country apply for membership in light of Russia's war in Ukraine.
Finland Foreign Minister Pekka Haavisto said Thursday that the country, which shares a 1,300-kilometer border with Russia, would soon clarify the next steps on the possibility that it will apply for NATO membership.
Local media outlets have shown Finnish support for NATO membership hitting a record high following Russia's unprovoked invasion of Ukraine.
Unexpected reaction in Prague after Russia's invasion of Ukraine · Global Voices
Sisters But Not Twins: Prospects of Finland and Sweden's NATO Accession | Wilson Center
y Robin Forsberg & Jason C. Moyer on February 2, 2022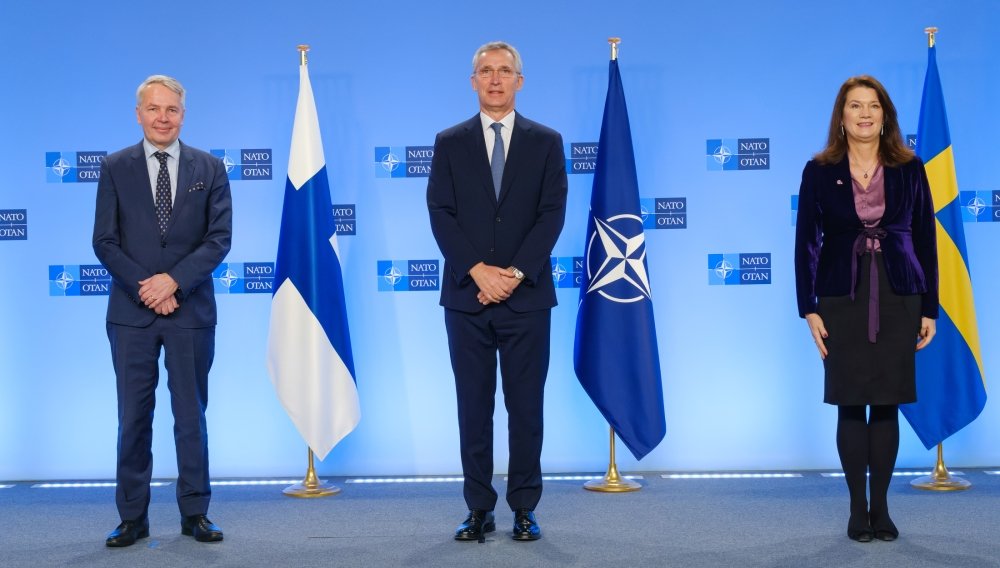 In December 2021, the Russian Ministry of Foreign Affairs put forward an eight-point draft treaty[1] with a list of security demands of the Western alliance. These include reverting NATO forces to 1997 positioning, banning new members from joining the alliance, and limiting NATO's presence in Eastern Europe. Washington responded that these points were unrealistic as they would entail the removal of multiple Eastern European countries from the NATO alliance and capitulate to Russia's desire for a greater sphere of influence over its neighbors.[2] In a show of force, Russia positioned an estimated 100,000 troops along its border with Ukraine, with many fearing an imminent invasion of Ukraine. Renewed debates over NATO's Eastern European enlargement ambitions, the potential for further Russian aggression, and uncertainty over Ukraine's future have led other countries to reconsider their engagement with NATO – including Finland and Sweden.
Together with Austria, Cyprus, Ireland, and Malta, Finland and Sweden are the only EU states that are not members of NATO. Both have been militarily neutral since World War II, although the end of the Cold War reignited the NATO question in both countries. After deciding to remain militarily neutral in the 1990s, both eventually abandoned their political neutrality when they joined the European Union together in 1995. Finland and Sweden's policies of military non-alignment have persisted to the present, although renewed threats of Russian aggression are prompting conversations of their potential NATO membership.
Russian culture and Russian invasion are two different things
Written byFilip Noubel
Posted 24 February 2022 18:42 GMT
Read this post in Malagasy, Italiano, Español, Ελληνικά, Esperanto , українська
Quite unexpectedly, Russia's invasion of Ukraine has shifted the position of Moscow's most influential supporter in the Czech Republic: President Miloš Zeman, who has just described Moscow's actions as a "crime".
The Czech Republic has a conflicted relationship with Russia. Politically speaking, its government is divided: President Miloš Zeman has long made his unwavering support for Moscow very public. Yet October 2021 parliamentary elections brought a new coalition and a new Czech Minister of Foreign Affairs, Jan Lipavský, who represents the Pirate Party.
Lipavský has publicly endorsed the view of the Czech secret services on Russia and China, who in their public annual reports have regularly designed both countries as representing the biggest threats to the Czech Republic's national security. Zeman attempted to veto Lipavský's appointment when given the list of the new government, described him as anti-Russian and delayed his nomination for weeks, but eventually had to accept his nomination.
This long-standing antagonism collapsed on February 24, the day marking the beginning of Russia's invasion of Ukraine. Zeman, who is known for keeping a long silence on divisive issues, made statements in a video that completely contradict his former position, apologized for being wrong and described Russia's decision as a crime:
Zeman says:
I love Russian culture and I value the Russian victims of World War Two, but this does not mean that I will agree with the invasion of a foreign army on the territory of a sovereign state. Russia has thus committed a crime against peace.

A few days ago, I said that the Russians are not crazy and will not attack Ukraine. I admit I was wrong.
He also called for immediate action to ban Russia from the SWIFT banking system, a sanction that could have a strong negative effect on Russian economy. The Baltic states are also calling for this measure.
Zeman's unexpected U-turn on Russia can be explained by the fact that the former Czechoslovak state experienced a similar situation in 1938 after Hitler claimed large parts of the country predominantly inhabited by ethnic Germans, known as Sudetenland, under the pretense of protecting them. The parallel with Putin's discourse on February 21 resonates deeply with Czech audiences, who remember how France and the UK failed in their military obligations and thought they could appease Hitler at the Munich conference. World War Two showed how wrong and mortally dangerous this assessment was.
In step with Zeman's change of heart, the government took swift measures on February 24 to punish Russia, announcing it would close Russian consulates, and close its own two consulates in Russia. This exacerbates a deep diplomatic crisis that led in April 24 to the expulsion of 18 Russian diplomats and major downsizing of the Russian embassy in Prague, following accusations of terrorist acts on Czech territory in 2014. The government is also considering banning visas for Russian visitors, except for Russian activists seeking refuge.
As can be seen on this tweet, Prague mayor, Zdeněk Hřib, also from the Pirate Party and a fierce critic of Russia and China, joined a major demonstration on Prague Wenceslas Square, where thousands of Czechs expressed their support for Ukraine:
https://platform.twitter.com/embed/Tweet.html?creatorScreenName=nasredinhoja&dnt=false&embedId=twitter-widget-0&features=eyJ0ZndfZXhwZXJpbWVudHNfY29va2llX2V4cGlyYXRpb24iOnsiYnVja2V0IjoxMjA5NjAwLCJ2ZXJzaW9uIjpudWxsfSwidGZ3X3NrZWxldG9uX2xvYWRpbmdfMTMzOTgiOnsiYnVja2V0IjoiY3RhIiwidmVyc2lvbiI6bnVsbH0sInRmd19zcGFjZV9jYXJkIjp7ImJ1Y2tldCI6Im9mZiIsInZlcnNpb24iOm51bGx9fQ%3D%3D&frame=false&hideCard=false&hideThread=false&id=1496895445779591175&lang=en&origin=https%3A%2F%2Fglobalvoices.org%2F2022%2F02%2F24%2Funexpected-reaction-in-prague-after-russias-invasion-of-ukraine%2F&sessionId=78c7a42118e42a5c6a543b455c61e348e679e004&siteScreenName=globalvoices&theme=light&widgetsVersion=940dd9ee54270%3A1649359550911&width=550px
Prague stands with Ukraine.
The Ukrainian embassy in Prague has also shared images of the demonstration: