One morning at the gates of the Louvre, 19th-century painting by Édouard Debat-Ponsan. Catherine de' Medici is in black. The scene from Dubois (above) re-imagined.

Reports of Christian Atrocities are coming in from Ukraine. On March 24, I informed my therapist I was going to contact attorneys in order to sue the Oregon Family Council that is associated with the Christian Coalition. I talked to three receptionists of law forms that were titled "Constitutional Lawyers". I have a phone record. How often do I try to sue a Christian organization? Once week? Twice a year? Later that day I read the breaking news that Virginia Thomas helped plan the January 6th. Insurrection, and she invoked the name of "King of Kings" as justification to "STOP THE STEAL1"
STOP THE CHRISTIAN MASSCRE BY CHRISTIAN SOLDIERS BLESSED BY KIRELL!
At this time I will refrain from saying whether MY LAWSUIT is ordained. Of course the Attorney For Christ will want to prove Satan is instructing me, and guiding me in order to HURT Christianity, because Christianity is not culpable -but for the molestation of children by Catholic Priests. I will call Pope Francis to the stand and have him clarify this remark:
"Once again, some potentate, sadly caught up in anachronistic claims of nationalist interests, is provoking and fomenting conflicts, whereas ordinary people sense the need to build a future that will either be shared, or not be at all," he said, without mentioning Putin by name."
The Pope is fully aware of Kirell's religious influence on Putin, and knows all about the Christian Coalition's ongoing attempt to create a Church-State in my Democracy, where Religious Leaders are NOT CULPABLED because they claim they are on the side of Jesus, and represent God. I will call upon the history of the Saint Bartholomew Massacre, and my alleged kin, John Wilson, Gottschalk Rosemondt, and the Knight Temple, Guy de Rougemont, to be my witnesses in the claim war is a secular anachronistic happening instigated by "some potentate".
Those who participated the Bartholmew Massacre were required to be devoutly religions. No one dare declare they were an atheist, or, Gay! If you declared you were a proud member of Martin Luther's new Church – in a Catholic community – you were stripped naked, tortured, and burned at the stake. Pope Francis knows all about the religious schism going down that secular leaders and nations must pay billions to prevent – and will be left with the bill for damages. Whose going to pay for the damages Saint Putin did to Ukrainian Cities?
The U.S. Government should convene panel of sane Christian Leaders and publish a paper about Christian propaganda and violence. Rick Warzywak wants every citizen in Michigan – to pray. He proves prayers do not work – when it comes to politics – because the ex-President LOST! Rick got Republicans to pray for Trump to win! Is he saying he wants Democrats to pray Biden will win again? Is Putin aware of this traitor to American Democracy that testified – DEMOCRACY DOES NOT WORK – rather than admit PRAYING DOES NOT WORK?
Has Trump ever prayed? Can you make a picture of that? Did Donald and Rick pray for the dead?
John Presco
Candidate for Governor of Oregon
Michigan state House candidate tries clarify comments on rape, Putin | The Hill
"It is impossible to remain indifferent in the face of the horrific images from the city of Bucha near Kiev, from after the Russian army left. Intentionally harming a civilian population is a war crime and I strongly condemn it," he tweeted.
During Russia's invasion of Ukraine, Israel has generally been more hesitant to criticize Russia than many of its Western allies. Israeli Prime Minister Naftali Bennett has sought to be a mediator during the conflict, maintaining contact with Ukrainian President Volodymyr Zelensky and Russian President Vladimir Putin.
Rick Warzywak Calls Trump the 'True President' at Rally (mediaite.com)
"Father in heaven, we firmly believe that Donald Trump is the current and true president of the United States. You have raised him up for this season and time to be used, to be part in saving a nation. Bless and protect him and his family from any physical, spiritual attacks, and may his voice still the people to righteous action to bring godly men and women into elected office, in Michigan and across America. We declare that he will be back in office soon — very soon — in Jesus' name. Amen.
Who is Rick Warzywak? – Transformation Michigan – Uniting Michigan in Prayer 83 Counties 24/7 – 365 Days a Year (transformmi.com)
Pope Recognizes Knights Templar – HISTORY
BUCHA, Ukraine—Nearly 300 civilians have been buried in mass graves by local authorities in this small suburb of Kyiv after Russian troops withdrew last week, one of several regions where Ukrainian officials and independent rights watchdogs say they are uncovering evidence of war crimes perpetrated by occupation forces.
Footage taken by the Ukrainian military shortly after Russian forces abandoned Bucha showed streets littered with bodies of civilians, some of them with their hands tied. Human Rights Watch on Sunday released a report documenting cases of rape and summary executions in Russian-occupied parts of Ukraine, including Bucha, as well as other crimes.
"Kyiv region. 21st century hell. Bodies of men and women, who were killed with their hands tied," Ukraine's presidential adviser Mykhailo Podolyak wrote in a Sunday social-media post with images of shallow graves and executed civilians in Bucha and nearby towns. Bucha's municipality Saturday put the number of bodies it buried in the mass graves at 280, with more being found amid the wreckage.
The reports drew widespread condemnation from Western governments on Sunday, suggesting they could alter the international response to the war. It could put pressure on the West to deliver more-powerful weapons to Ukraine and make it harder for some countries to justify continuing to purchase oil and natural gas from Russia. It could also complicate the peace talks currently under way between Ukraine and Russia.
Germany, which has refused to stop importing Russian oil and gas and to supply Ukraine with offensive weapons, should declare an immediate embargo on Russian energy, Kyiv Mayor Vitali Klitschko told Germany's Bild tabloid. "Not one more cent should go to Russia," he said. "This is bloody money that's being used to massacre people."
Ukraine's Defense Ministry compared the emerging evidence of mass killings in Bucha and other areas near Kyiv that the Russian military occupied for more than five weeks to the 1995 Srebrenica massacre, in which more than 8,000 Bosnian Muslims were slaughtered by Serb troops.
The Russian Defense Ministry called reports about Bucha "fake" in a post on its Telegram channel, part of what it said looked like a planned media campaign. It accused Ukraine of using "such staged footage" as a pretext to request weapons from Western countries.
Under international law, belligerents can be prosecuted for intentionally killing civilians and prisoners of war, destroying private property or engaging in torture, sexual violence, looting or other banned acts.
Russian forces arrived in Bucha and other suburbs of Kyiv in the first days of the war that began Feb. 24, attempting a lightning attack on the Ukrainian capital that would decapitate President Volodymyr Zelensky's government and install a new, pro-Russian regime. They got bogged down in fierce fighting with Ukrainian defenders.
After Ukrainian counterattacks disrupted their supply lines and threatened encirclement, Russian forces abandoned the region in recent days as part of Moscow's new strategy to refocus on eastern Ukraine. A significant part of the Russian contingent near Kyiv was made up of fighters from Chechnya and loyal to that region's leader, Ramzan Kadyrov.
On Saturday, Ukrainian soldiers raised the country's flag once again atop Bucha's city hall, weary yet reveling in Russia's withdrawal. "The city is completely ours," said Andrei Verlaty, a deputy commander of Bucha's territorial defense brigade. "But it's still not completely safe." Retreating Russian troops had booby-trapped the building with trip-wired grenades.
Shattered Russian tanks and armored vehicles, their metal rusted and orange from exposure and heat, littered the southwesterly approach to the Bucha. Evidence of fighting spilled onto Bucha's every street and block. Bullets had sprayed a Red Renault that carried the white flag of truce on its antenna. A bomb had caved in a large warehouse, its walls warped like melted plastic. Cars were flattened like soda cans, run over by tanks. The Garden Center mall was a charred hulk, the dancing school blackened.
On Bucha's west side, a civilian waved down a group of Ukrainian troops in a minivan who followed him to a metal garage that was burned and smoldering. Inside among piles of ash lay half of a woman's body, its torso burnt. The man said the woman had taken refuge in her garage during the Russian occupation.
Vasily Shcherbakov, a Ukrainian commander in Bucha, said some 20 bodies of local civilians had been left near a glass factory in town. Russian troops had forbidden townspeople from laying these bodies to rest, he said. "Then they mined the corpses," he said. "This is a new one." He said that he had lost count of the dead.
A truck towing a wagon stacked with bodies drove past a leg lying on the grass by the road, its foot wearing a black leather boot. A matching leg and boot lay 20 yards away. Further on was a torso and head. "The dogs have been eating them," said a Ukrainian soldier.
'Mass graves, terror against civilians' -Ukraine accuses Russia of war crimes
Locals gathered in the street to tell what they had seen and heard during Bucha's occupation. "Valentina Ivanovna was shot near that house," said an elderly woman, indicating an apartment stack. Neighbors pushed close and said they had heard Russians shooting, mostly at night when they hid in their homes.
Onto a rise past a grassy basketball court, a row of bodies was visible in a hole in the ground through a slit in a concrete carapace, eight or nine torsos wrapped in plastic, faces newly lifeless, yet to gray in decay.
A man looking on said that he and others had found a woman dead behind her bullet-riddled apartment door.
Down the road from city hall, behind St. Andrew's Church where the sand was slippery like clay in the rain, there was a slit in the earth. The hole held a pile of bodies, thrown any which way. From the dirt tossed upon them appeared an elbow, a knee, the sole of a running shoe. One body was wrapped in a plastic shopping bag, white with red roses.
The extensive devastation in Bucha and other newly retaken areas has led Ukrainian authorities to institute a curfew in the region until Tuesday morning.
In one recently retaken village near Kyiv, authorities found the body of a Ukrainian photojournalist who went missing while working there nearly three weeks ago. Maksym Levin died after being shot twice by Russian forces, according to a statement from Ukraine's prosecutor general. Another photographer who was with him remains unaccounted for.
In another village near Kyiv, Motyzhyn, Ukrainian authorities said they found the bodies of the village head, Olha Sukhenko, her husband and her son, who were detained by Russian troops on March 23.
The incident is one of 2,500 cases Ukraine's prosecutor general is building against Russian authorities for possible war crimes. The prosecutor has already identified 205 suspects, including members of the Russian military and political leadership
Human Rights Watch said in a report released Sunday it had documented several other instances of war crimes by the Russian military in occupied areas of the Chernihiv, Kharkiv and Kyiv regions between Feb. 27 and March 14. These included evidence of repeated rape and the summary execution of six men, as well as looting of civilian property, including food, clothing and firewood, the group said.
"The cases we documented amount to unspeakable, deliberate cruelty and violence against Ukrainian civilians," said Hugh Williamson, the group's Europe and Central Asia director, adding that these should be investigated as war crimes.
The killings in Bucha and other areas that were or are under Russian occupation have sparked calls for an international war-crimes investigation of the Russian military's behavior. "Reports of Russian forces targeting innocent civilians are abhorrent," British Foreign Secretary Liz Truss tweeted after images from Bucha emerged. "Those responsible will be held to account."
Charles Michel, president of the European Council, which represents European Union governments in Brussels, said the EU would assist Ukraine and nongovernmental organizations in gathering evidence to pursue Russia in international courts. German Foreign Minister Annalena Baerbock said Germany would reinforce sanctions on Russia and increase its military support for Ukraine.
The European Commission, the EU's executive body, was already expected to present a new sanctions package this week, including banking and other targeted sanctions. Officials said Sunday they were reviewing the work in light of the reports from Ukraine to see how to make the new sanctions package bolder.
European officials have so far ruled out imposing sanctions on Russian energy exports. However, some member states have been pushing for other sectors to be hit, including stopping Russian freight transport entering the EU and banning Russian ships from EU ports.
Kira Yarmysh, the press secretary of jailed Russian opposition politician Alexei Navalny, posted images of executed civilians in Bucha on social media. "Putin cannot be forgiven for this."
Ukrainian officials say it would take at least 10 days of demining work to restore access to the areas from which Russia withdrew in the Kyiv and Chernihiv areas.
Oleksandr Bursuk, the head of a linen factory in Dymer, north of Kyiv, said workers' clothing and personal effects had been looted, as well as a delivery truck, which he said he tracked to Belarus.
"There is no occupation army in Dymer anymore," said Mr. Bursuk. "As a farewell, our 'liberators' were looting everything they could."
A man returning to the village of Velyka Dymerka filmed the damage he said Russian forces had inflicted on his house. A flat-screen TV had been stabbed with a saber. In a kennel outside, his dog lay dead, apparently shot. "Why would you kill it?" he asked in the video.
Elsewhere in the country, Russia extended its recent pattern of targeting infrastructure far behind the front line. Ukrainian officials said Russia fired missiles at the southern port city of Odessa early on Sunday, igniting fires in some districts, officials said.
Several missiles were shot down by Ukrainian air defenses, according to the city council.
Ukrainian officials didn't disclose the target of the attack, but Russia's Defense Ministry said it had used high-precision sea- and air-based missiles to destroy an oil refinery and three storage facilities for fuel and lubricants in the Odessa region, from which fuel was supplied to a group of Ukrainian troops in the direction of Mykolayiv. Photos shared on social media showed thick plumes of black smoke rising above the city.
Former White House official Stephanie Grisham said that former President Donald Trump "loved to gossip" with Virginia "Ginni" Thomas, a conservative activist and the wife of Associate Supreme Court Justice Clarence Thomas.
Thomas has faced substantial backlash after The Washington Post and CBS News last month first reported text messages between her and Trump's former White House chief of staff Mark Meadows in the wake of the 2020 election and leading up to the U.S. Capitol attack on January 6, 2021. Those messages expressed strong support for efforts to overturn the election results and advised the then White House official regarding legal counsel Trump should utilize.
"Help This Great President stand firm, Mark!!!…You are the leader, with him, who is standing for America's constitutional governance at the precipice. The majority knows Biden and the Left is attempting the greatest Heist of our History," she wrote in a November 10, 2020 message to Meadows. She also told the Trump administration official that controversial right-wing attorney Sidney Powell should be "the lead and the face" of efforts to overturn Biden's win.
A Michigan state House candidate sought to clarify comments he made about rape and supporting Russian President Vladimir Putin's invasion of Ukraine, NBC affiliate WOOD reported.
During an appearance Sunday on a livestream hosted by Coalition to Rescue Michigan, Robert Regan, who last week won the GOP's special primary for Michigan's 74th district, suggested the Biden administration has been weak, contributing to the ongoing crisis in Ukraine.
"Everybody knows how weak we are. Putin is a tyrant. Putin is KGB. We all know who he is. He understands the United States cannot be trusted to protect him against corrupt Ukraine, the money laundering capital of the world, human and drug trafficking," Regan said during the stream.
"Putin said, 'I have to protect my country, have to protect my children.' I can't count on the United States. So what he did, he took some proactive action. He went in Ukraine, knocked out the bio labs, knocked out the missile sites so he can protect his people, which was all a direct reflection on a weak president," Regan added.
Asked by the NBC affiliate about his Putin comments, Regan backtracked his initial response.
"I would not say that I specifically support the activities of Vladimir Putin," Regan said. "All I was trying to suggest is when I see someone like George Soros say we absolutely need to support Ukraine and I see all of the news media jump on board and say, 'We all need to get behind Ukraine and condemn Putin,' we've just been lied to for the last two years."
Regan, a local entrepreneur, also used a rape analogy when discussing his beliefs that the 2020 presidential election should be decertified.
"You know that's kind of like having three daughters, and I tell my daughters, well, if rape is inevitable, you should just lie back and enjoy it. That's not how we roll. That's not how I won this election," Regan said on the live stream.
Regan later clarified that he would never say such a thing to his daughters, according to the NBC affiliate.
"And my comment was, listen, you would never say something like that to a woman," Regan said. "I have three daughters and I would never say that if rape is inevitable you should just lie back and enjoy it. I mean, that's horrible. Nobody agrees with that."
Regan's remarks come two years after his daughter, Stephanie, urged local voters to not elect her father during a previous House run.
https://www.history.com/player/21176546?autoplay=false
1128
January 13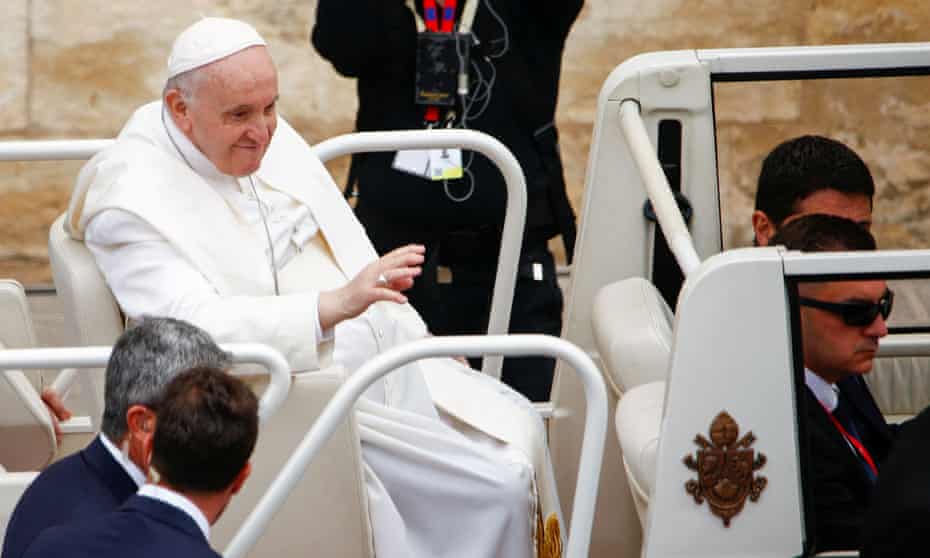 Daniel Boffey in KyivSat 2 Apr 2022 12.14 EDT
Pope Francis has said he is considering visiting the Ukrainian capital, Kyiv, and implicitly criticised Russia's president, Vladimir Putin, over the invasion of Ukraine.
The head of the Catholic church was invited by Ukraine's president, Volodymyr Zelenskiy, and the city's mayor, Vitali Klitschko, along with Ukrainian religious leaders on 8 March.
At the time of the invitation, the Vatican had confirmed receipt of a letter and said the pope was praying for Ukrainians but made no mention of any travel plans.
But asked by a reporter on the plane taking him from Rome to Malta on Saturday whether he was considering the invitation, Francis said: "Yes, it is on the table." He gave no further details.
https://imasdk.googleapis.com/js/core/bridge3.508.0_en.html#goog_655501569
https://imasdk.googleapis.com/js/core/bridge3.508.0_en.html#goog_1855394615
https://imasdk.googleapis.com/js/core/bridge3.508.0_en.html#goog_934291130
Later, in a hard-hitting speech in the island's presidential palace, the pope said: "From the east of Europe, from the land of the sunrise, the dark shadows of war have now spread. We had thought that invasions of other countries, savage street fighting and atomic threats were grim memories of a distant past.
"However, the icy winds of war, which bring only death, destruction and hatred in their wake, have swept down powerfully upon the lives of many people and affected us all.
"Once again, some potentate, sadly caught up in anachronistic claims of nationalist interests, is provoking and fomenting conflicts, whereas ordinary people sense the need to build a future that will either be shared, or not be at all," he said, without mentioning Putin by name.
The invitation from Ukrainian political leaders has been supported by the major archbishop, Sviatoslav Shevchuk, of Ukraine's Byzantine Rite Catholic church and Ukraine's ambassador to the Vatican, Andriy Yurash.
Pope recognizes Knights Templar
On January 13, 1128, Pope Honorius II grants a papal sanction to the military order known as the Knights Templar, declaring it to be an army of God.
Led by the Frenchman Hughes de Payens, the Knights Templar organization was founded in 1118. Its self-imposed mission was to protect Christian pilgrims on their way to and from the Holy Land during the Crusades, the series of military expeditions aimed at defeating Muslims in Palestine. For a while, the Templars had only nine members, mostly due to their rigid rules. In addition to having noble birth, the knights were required to take strict vows of poverty, obedience and chastity. In 1127, new promotional efforts convinced many more noblemen to join the order, gradually increasing its size and influence.
WATCH: Buried: Knights Templar and the Holy Grail on HISTORY Vault
By the time the Crusades ended unsuccessfully in the early 14th century, the order had grown extremely wealthy, provoking the jealousy of both religious and secular powers. In 1307, King Philip IV of France and Pope Clement V combined to take down the Knights Templar, arresting the grand master, Jacques de Molay, on charges of heresy, sacrilege and Satanism. Under torture, Molay and other leading Templars confessed and were eventually burned at the stake. Clement dissolved the Templars in 1312.
The modern-day Catholic Church has admitted that the persecution of the Knights Templar was unjustified and claimed that Pope Clement was pressured by secular rulers to dissolve the order. Over the centuries, myths and legends about the Templars have grown, including the belief that they may have discovered holy relics at Temple Mount, including the Holy Grail, the Ark of the Covenant or parts of the cross from Christ's crucifixion. The imagined secrets of the Templars have inspired various books and movies, including the blockbuster novel and film The Da Vinci Code.
Posted on April 1, 2022 by Royal Rosamond Press
Here is an astounding article about Bannon and Erik Prince who condone Russia and evangelical leaders going after the LBGTQ people. Do they know about Kirell? Going after people in the name of Jesus, and select churches – in a Inquisition! Islamic extremist execute Gay people – that are not illegal in our Democracy. Will Putin, Bannon, Prince, and the Thomas's help compile worldwide master list for the wholesale slaughter of gays? This is TERRORISM!
Note the general on the left in the video above. He led the illegal invasion of a sovereign nation – for religious reasons. This is a crusade that are not condoned in our Constitution. Does this man of war command the Wagner group – and Syrian mercenaries that are on their way to Ukraine to illegally murder Christians?
If Putin reads this blog, he is going to really hate me, because I pit all the men who played James Bond against him – and two Gay Women – one who aches to slap this butcher – DOWN!
John Presco
"For years, Col. Gen. Mikhail Mizintsev was an obscure figure in Russia's sprawling military leadership. But over the past week, he's become well-known under a startling moniker: "The butcher of Mariupol."
"Some people don't mind fighting, but there are groups that are definitely taking advantage of people's needs," Mr. Alahmad said. "The result is the same: People are paying this price. People are participating in wars that aren't theirs."
On Wednesday, John Kirby, a Pentagon spokesman, said the United States believed that about 1,000 mercenaries from the Wagner Group, a Russian military contractor, are focused on the eastern Donbas region of Ukraine, where Russia has installed two separatist enclaves. Mr. Kirby added that Wagner was believed to recruit from Arab countries, including Syria and Libya.
Syrian Mercenaries Deploy to Russia en Route to Ukrainian Battlefields (msn.com)
How I Uncovered Erik Prince's Secret Kremlin Connection (thedailybeast.com)
'Putin ain't woke': Steve Bannon and Erik Prince celebrate Russia for being anti-LGBT (yahoo.com)
Russian general dubbed 'Butcher of Mariupol' is a mystery to experts (msn.com)
Gini Thomas Leads Insurrection | Rosamond Press
In Vladimir Putin's speech on February 24, announcing what would be a full-scale Russian invasion of Ukraine (in his official Orwellian euphemism, a "special military operation" in the Donbas region), a whole paragraph was dedicated to the West's supposed undermining of "traditional values":
Properly speaking, the attempts to use us in their own interests never ceased until quite recently: they sought to destroy our traditional values and force on us their false values that would erode us, our people from within, the attitudes they have been aggressively imposing on their countries, attitudes that are directly leading to degradation and degeneration, because they are contrary to human nature. This is not going to happen. No one has ever succeeded in doing this, nor will they succeed now.
Syrian Mercenaries Deploy to Russia en Route to Ukrainian Battlefields (msn.com)
Russian general Yakov Rezantsev killed in Ukraine – BBC News
Putin's Anti-Gay War on Ukraine – Boston Review
As many on the American right defend Vladimir Putin's actions in Ukraine or seek to blame his invasion on Joe Biden, two figures in the right-wing firmament have celebrated Mr Putin's government for its homophobia and transphobia.
On his War Room podcast, former Trump aide Steve Bannon hosted private security maven Erik Prince, the Blackwater founder who has previously been accused of dubious contacts with Russian entities including private mercenary firms. The two of them were discussing the Russian government's behaviour when their conversation strayed into the subject of "wokeness".
"Putin ain't woke," Mr Bannon declared. "He's anti-woke."
"The Russian people still know which bathroom to use," Mr Prince said.
Mr Bannon riffed on the theme: "How many genders are there in Russia?"
"Two," Prince replied.
"All of a sudden, that's not… They don't have the flags, they don't have the Pride flags outside of their…" said the host.
"They don't have boys swimming in girls' college swim meets," mused Mr Prince.
"How backward," replied Mr Bannon. "How savage. How mediaeval."
The two men's conversation aired just before Russia began what has become a full-blown assault on Ukraine involving sea, land and air forces.
Kremlin-sanctioned propaganda against the Ukrainian government and the West has invoked the acceptance of homosexuality and trans identities as a signifier of the decadence that Russia is positioned to defend against.
The US's representative to the UN in Geneva, meanwhile, has warned that Russia is thought to be drawing up lists of Ukrainians to round up and imprison or even kill, saying that it will "likely target those who oppose Russian actions, including Russian and Belarusian dissidents in exile in Ukraine, journalists and anti-corruption activists, and vulnerable populations such as religious and ethnic minorities and LGBTQI+ persons".
Issues of trans rights and identities have been seized on by right-wing Republicans in recent years, and their prevailing views on the subject are hardening rapidly.
Texas's Governor Greg Abbott and Attorney General Ken Paxton this week announced a new crackdown on access to "gender affirming" treatment for trans children, with Mr Abbott calling for parents who seek it out to be reported for child abuse.
Putin: Western spy agencies weaponize intelligence in attempt to undermine Russian President (msn.com)
Western intelligence agencies are waging a psychological war over Ukraine directly with Russian President Vladimir Putin, an expert at the genre, who is now effectively taking a dose of his own medicine.
© Mykhaylo Palinchak/SOPA Images/Sipa USARussian President Vladimir Putin seen before the negotiations of leaders of states in Normandy format in Berlin. (Photo by Mykhaylo Palinchak / SOPA Images/Sipa USA)
The United States and its allies are painting a picture of a bogged down, demoralized and dysfunctional Russian military taking disastrous losses on the battlefield, and are simultaneously conjuring a vision of growing political tension inside the Kremlin. They claim the Russian leader is isolated, poorly advised and lacking real intelligence on just how badly the war is going.
Why American Dog Owners Are Ditching Kibble For This
Western governments are preventing Putin from defining the narrative of the war — just as they did before it began, when their declassified intelligence correctly called an invasion many geopolitical experts thought was unlikely.
It is a tough position for a Russian leader who has often deployed information warfare himself, notably while meddling in US and European elections. The remarkable detail of the declassified intelligence assessments must also be especially galling to Putin, a former KGB officer and intelligence chief. And they leave open the possibility that Western intelligence agencies have the capacity to see deep into the Kremlin's war effort and internal politics, which is likely to infuriate the Russian leader and could open further cracks in his regime.
The willingness of Western governments to be so open about what they are seeing inside Ukraine and Moscow has surprised even some veteran spies.
"It makes intelligence professionals, even former ones like me, nervous, because, of course, it's so ingrained in us to protect sources and methods," Steve Hall, former chief of Russia operations for the CIA, told CNN's Ana Cabrera Thursday.
Part of the intrigue about the US showdown with Putin and the intelligence angle is being fed by the nature of the covert community itself. Outsiders have no way of independently assessing the full accuracy of the information being pushed into the public view by their leaders. So we don't know where it's all coming from or from whom. But of course, that's the point, and it's keeping the Russians guessing too.
The attempt to portray the war in Ukraine as a disaster for Russia is coming at a moment when Western officials are discounting Moscow's claims that it is deescalating the conflict in Kyiv and elsewhere. Instead, they say, Putin's forces are "repositioning" — possibly for an intensified assault in eastern Ukrainian regions where Moscow has been pummeling civilians and razing cities. Such a tactic could be designed to unite Russian-held areas with Crimea, which Putin seized in 2014, and to give Moscow a direct corridor to the Black Sea through Ukraine.
The inside story of the war
In recent days, Western officials have sketched a remarkable portrait of the war.
In Australia on Monday, one of Britain's top spy chiefs, Jeremy Fleming, said that Putin had "massively misjudged" the war, the resistance of the Ukrainian people and his own military's capacity, and had been poorly served by his subordinates.
"We've seen Russian soldiers — short of weapons and morale — refusing to carry out orders, sabotaging their own equipment and even accidentally shooting down their own aircraft," said Fleming, who heads GCHQ, the UK's equivalent of the National Security Agency. Fleming's frankness was extraordinary coming from a leading espionage agency chief. But it is being mirrored in the United States where there were new reports on Wednesday that opened a window into the war and Putin's inner circle.
An official told CNN's Jeremy Diamond that Putin is being "misinformed" by advisers about how badly the Russian military is performing and the impact of sanctions on the Russian economy. \White House communications director Kate Bedingfield then said on camera that the Russian leader's advisers were "too afraid to tell him the truth." She said there was now a "persistent tension" between Putin and his military leadership.
On Wednesday, this new stream of declassified assessments made headlines. On Thursday, President Joe Biden was asked about them in a public setting, as officials presumably knew he would be. The sequence gave the President the chance to further amplify the US narrative.
"There's a lot of speculation," Biden said, though of course that speculation had been driven by information that the White House had allowed into the public domain. Asked how badly Putin was being misinformed by his advisers, Biden replied, "I'm not saying this with a certainty — he seems to be self-isolating, and there's some indication that he has fired or put under house arrest some of his advisers." While Biden said that the US didn't have that much hard evidence, his comments unleashed a whole new torrent of attention on Putin's current situation.
So what exactly are Western governments trying to do with this novel use of declassified intelligence assessments? Especially given that in many previous geopolitical crises, intelligence was kept secret by routine?
As with the pre-invasion messaging, it's clear that the US does not want the Russians to be able to create a dominant narrative of their own about the war through disinformation. Creating a picture of a failing war also helps maintain support for the tough Western stand against Putin. It may also improve morale among Ukrainians who are resisting Russia's onslaught. And it gives Western leaders a political opening to argue their policies are working as they manage public opinion on the war.
By providing a look into the disarray among Russian troops, the allies may be able to build internal political pressure on the Kremlin. Given the Moscow government's crushing of independent media, there will be few illusions that the Russian people will hear the US version of events, though tech-savvy younger Russians with VPN passwords allowing access to foreign internet services might.
But a drumbeat of humiliation for Russia could further sow discord inside the military, political and intelligence elites. In recent days, it has almost seemed as though Western officials, by discussing the situation in the war so openly, have been trying to address Putin and his advisers directly.
The complications of an intelligence-driven strategy
It's unlikely the intelligence stream will dry up any time soon. That's because it seems to be rooted in a morale problem inside Russian armed forces, which became obvious thanks to eavesdropping.
"They're whipping out their cell phones and trying to communicate with each other, both tactically, 'Where are you? Where's your unit?' and perhaps also back home in Moscow. That makes it really easy to collect," Hall said.
"And then, it's an interesting political decision to say, look, it's worth perhaps showing the Russians how good we are at collecting this stuff, in order to get the word out to citizens of both countries, citizens of the world, as to what's really going on in the Russian military right now," Hall added.
"It's an interesting decision, but it's been very illuminating."
Still there is reason for caution in interpreting the war solely based on the West's declassified assessments.
Intelligence, by definition, is a murky business. The information about the Russian operations in Ukraine and the apparent isolation of Putin in Moscow only tell the outside world what the Western intelligence services want to release. There is, therefore, no way for outsiders to know whether these snapshots give the full picture or a more selective one.
And the information that does filter out is still limited. An official cited by CNN's Diamond and Kevin Liptak on Wednesday declined to provide additional details of Putin being misinformed by his advisers other than what was reported. The intelligence community declassified and downgraded a summary of their findings but not the material itself.
As always, intelligence agencies are taking strenuous steps to avoid identifying their sources and the methods that were used to collect the intelligence.
There have been multiple times in recent American history — for example, before the US invasion of Iraq in 2003, when US intelligence assessments have proven to be faulty. In this crisis, however, the covert community has repaired some of its reputation. For weeks, the US warned that Putin was getting ready to send his forces across the Ukrainian border. Even the Ukrainians were skeptical.
Then hours before the invasion actually happened, the US issued a warning that the incursion was imminent — and was proven correct.
Still, the problems encountered by the Russian invading force have surprised Western intelligence agencies and have caused a reassessment of assumptions about the supposed might of Russia's military forces and leadership.
The head of US European Command, Gen. Tod Wolters, said at a Senate hearing this week that there could be an intelligence gap that led the US to overestimate Russia's strength and underestimate Ukrainian defenses.
But even that oversight only underscores the surprisingly poor performance of Russia's forces, and draws attention to it, further advancing the West's goals.
Posted on March 25, 2022 by Royal Rosamond Press
The spiritual battle I have been having with Tim and Beverly LaHayes has reached epic proportions with the revelation their compatriot, Gini Thoams, advocated the negation and reversal of a FAIR ELECTION! We are looking at Religious-Political Propaganda built upon the Fan Base of the Left Behind series, that is Christianized Terrorism. Imagine if Dan Brown had form a think tank in Washington aimed at gathering a flock-block of loyal voters – then selling them to the highest bidder!
Justice Clarence Thomas claims he did not know what his wife was up to. Bullshit! He knew she hung with Paul Weyrich who invented pro-life to counter the Civil Rights Movement, that Clarabell The Black Right-wing Clown – does not champion. He has seen the errors in his ways? Ginni has her dummy on her lap, projecting her thoughts into his brain. This is a evil thing that looks like a man in drag. She is showing who wears the pants in ITS family, by pretending to honor – OUR JUSTICE!
John Presco
The Heritage Foundation – Wikipedia
The membership list of the Council for National Policy is supposed to be a prized secret. A 2016 internal CNP policy obtained by Documented threatens expulsion for anyone that breaks the rules and names names. So anytime a list like this comes out, it's a big deal for those trying to follow what is happening in right-wing circles.
CNP members range from the leaders of the Heritage Foundation and the Federalist Society, to the Southern Poverty Law Center designated anti-LGBTQ hate groups Family Research Council and Alliance Defending Freedom. The heads of major foundations on the right, including those of Donors Trust and the Bradley Foundation, are also members.
Justice Clarence Thomas has spoken at CNP. His wife, the right-wing activist Ginni Thomas, is a leader within the group and a board member of CNP Action, the organization's 501(c)(4) arm. Much has been written recently about Ginni Thomas' role in CNP, including by Jane Mayer of the New Yorker, and by Danny Hakim and Jo Becker for the New York Times Magazine.
The group was founded in 1981 by leaders in the so-called "new-right," including Paul Weyrich (who also founded the Heritage Foundation and ALEC), and Rev. Tim LaHaye of the Moral Majority. For decades, the Council for National Policy managed successfully to keep the names of its members secret, as well as details of what went on at their closed-door meetings. Those meetings are almost always held at luxurious 5-star Ritz-Carlton resorts, because culture-war doesn't come cheap.
In recent years, the veil of secrecy has been falling.
In 2016, the Southern Poverty Law Center published a leaked copy of CNP's 2014 membership directory. Then Max Blumenthal published a 2018 CNP meeting packet, which included a membership list. Both of these were significant breakthroughs.
On November 1, 2020 Documented published a total of 14 membership directories spanning three years, which outlined hundreds of members, including some overlap from the 2014 and 2018 directories as well as many new members. This new list is now the most recent publicly available list of CNP memberships.