Russian lies and propaganda have rendered peace impossible. Hollywood did make propaganda movies.
https://www.cnn.com/2022/03/11/politics/russia-misinformation-putin-lavrov-ukraine-war/index.html
Posted on March 20, 2021 by Royal Rosamond Press
The author of this classic Film Noir won the Edgar Allan Poe award. I am jealous. I want to win this award for 'The Royal Janitor' for it being the most prophetic work of Propaganda – ever! Here is a Russian Punk praising "ordinary Americans" for betraying their Country some more. These are Putin Lovers bred in Evangelical Think Tanks. This is why I made Miriam Starfish Christling – A REAL CHRISTIAN loyal to THIS DEMOCRACY!
I am asking Broccoli and Michael to back my run for Governor of Oregon. I just sent this email to Eon Productions, and, left a phone message as well.
"Hello! My name is John Presco and I am running for Governor of Oregon as a Republican. Over three years ago I began a James Bond novel starring Victoria Rosemond Bond. I am kin to Ian Fleming thru Elizabeth Rosemond Taylor. Would you like to contribute to my campaign?
John Presco"
These are special times when how we deal with each other in the world has drastically changed due to Putin invading Ukraine. Many multi-million dollar corporation have been asked by the President of the United States to take steps to defeat tyranny. This goes for the leaders of NATO Nations. Russia is conducting a fierce Information War that may result in Nuclear War. We are in a New Cold War that is more dangerous than the first due to the invasion of Ukraine. My grandfathers were born in Berlin and the Czech Republic.
James Bond – is dead! We saw him die. The only way he can be reborn is as a politician running for office so he can serve his fellow citizens, his State, and his County! A vote for me, is a vote for Bond. As Governor, I will fight a War of Words with 'The Evil One'. I will form 'The Oregon Fuselier's' – a Foreign Legion – in order to aid the Ukrainian People, and other Nations.
I am a artist, poet, and author who created Victorian Rosemond Bond, and Miriam Starfish Christing. I used three young models – as models for my Bond characters. For months I have sent Alina Timo messages encouraging her to get into acting, and, read for a part. She is a natural. She has not replied to me directly, but has made acting the centerfold of her tik tok videos. I am very concerned that she has not posted a new video since Russian invaded Ukraine. We both shared an identify crisis. She bids me to take full responsibility for my creations and creation. Starfish dies at the beginning of my Bond book. I found this sad song that went with, that is applicable to both the Russian and Ukranian People. The Road of War…is a lonely road. Be safe my dear Miriam. You will be reborn in the Land of the Free!
JB
From a Bond group;
I am posting this for those of you guys who still don't believe what I have said before. As I already mentioned from my previous post, after the end of NTTD, it says "James Bond Will Return". So here is the end credits of NTTD for those of you guys who still believes that this is the end of the James Bond series. This end credits proves that it says "James Bond Will Return" at the very end. You can either wait or just fast forward it to 5:40 where it says "No Time To Die" and then at 6:00, it says "James Bond Will Return". So the bottom line is that this is not the end. We can get some more.
POST SCRIPT!!!
An hour after I posted the above, I read about the missel ATTACK on foreign fighters – that is right out of a James Bond movie – but for the fact these fighters were asleep. Cowards! This is an attack on all the Freedom fighters and Democracy lovers of the World.
JB
Russia Missile Attack On Ukraine American Fighter Base (buzzfeednews.com)
LVIV, Ukraine — Six Western fighters who came to Ukraine to join the new international legion described a scene of utter devastation and chaos when Russian missiles crashed down on a NATO training center as they slept on Sunday.
"We woke up to shooooooo…." said James, a former British soldier and experienced artillery and surface-to-air missile operator, describing the terrifying whoosh of the missiles that exploded dozens of meters from him. "I just lied there and thought, I'm going to die. And then there was just a big bang."
A video of the missile attack taken by one of the fighters and provided exclusively to BuzzFeed News shows two of the strikes hitting the training center and exploding into balls of fire. The missiles can be heard in the video flying overhead for several seconds before they come crashing down, seen at about 35 seconds into the video:
Video provided by a foreign fighter in Ukraine captures the sound and explosions of missiles from Russia.
At least 35 people were killed and 134 more were injured when eight Russian cruise missiles struck the International Center for Peace and Security in Yavoriv, a town that sits 10 miles from the border with Poland and had hosted US troops until last month. In the nearby western city of Ivano-Frankivsk, Mayor Ruslan Martainkiv said Russia's missiles struck the airport for a second time.
"All legionnaires are safe. No killed, no injured!" Colonel Anton Mironovich, director of public affairs at the National Army Academy in Lviv and a point person for foreign fighters, told BuzzFeed News. (Details about the people who were killed have not been released.) He said the air strike had been carried out by warplanes that took off from the Saratov airport in western Russia but approached from the south, from the Black Sea and Sea of Azov.
James, who did not want his last name used for security reasons, confirmed that, saying he did not see anyone from the foreign group at Yavoriv wounded in the attack.
The attack on the Yavoriv base came a day after Russian Deputy Foreign Minister Sergei Ryabkov warned that it would consider weapons deliveries from the West to Ukraine as legitimate targets. A Ukrainian officer with whom BuzzFeed News spoke on the condition of anonymity because they were not authorized to speak to the press described the attack on Yavoriv as "a message to the international community" that their weapons assistance to Ukraine will be "targeted" and foreigners streaming in to fight will be viewed as troops from outside nations participating in the war."
"Russia has asked China for military assistance in Ukraine, including drones, as it continues its unprovoked invasion, a senior US official told CNN.
Potential assistance from the Chinese would be a significant development in Russia's invasion, and could upend the hold Ukrainian forces still have in the country.
When asked by CNN about the reporting of Russia's request for military aid, Liu Pengyu, spokesperson for the Chinese embassy in the US, said in a statement, "I've never heard of that."
Liu expressed concern for "the Ukraine situation" — calling it "indeed disconcerting" — and said China has and will continue to provide humanitarian assistance to Ukraine."
The Winston-Salem Journal published an op-ed titled "Our view: Cawthorn is deplorable," in which they blasted the North Carolina Republican for calling Zelenksy a "thug" and "evil." He also claimed that the Ukrainian government is "incredibly corrupt" and that Zelensky pushes "woke ideologies."
"Of all the many, many, many reasons we could find to legitimately criticize North Carolina's gift to Crazytown, Rep. Madison Cawthorn…it's perhaps his latest exploit that has us truly seeing red," the Journal wrote in its op-ed.
"This is Ukrainian President Volodymyr Zelensky that Cawthorn was bad-mouthing, who has been leading his nation against a foreign invasion conducted by an unhinged dictator," it added. "This is the Zelensky who has defied an invasion force probably a hundred times mightier than Ukraine—one that has committed atrocities and war crimes by destroying hospitals and schools and homes, sending at least 2.5 million refugees to other countries."
One of the world's deadliest snipers leaves Canada to fight in Ukraine (msn.com)
Elderly Ukrainian couple confront Russian soldiers (msn.com)
Russia Missile Attack On Ukraine American Fighter Base (buzzfeednews.com)
Posted on May 7, 2021 by Royal Rosamond Press
My ancestors were wealthy Prussians. Were they investors in Prussia's attempt to purchase California, that did not happen possibly due to the Revolutions of 1848? Did some Germans realize California could be had by a intensive migration? The six million dollars could be used to buy portable homes, and other necessities. The chances Count Cipriani purchased a portable home from Carl Janke, is high. Unless he brought one in his wagon train.
The Jankes were members of the California Fusiliers. Did they have any contact with my kin, John Fremont, who was talked out of founding a new nation in the West during the Civil War. Consider the Manifest Destiny propaganda of his father-in-law and John Astor, who paid Washington Irving to author a propaganda novel that clamed the right of Americans to take the Oregon Territory – from BRITISH ROYALS. Astor launched a financial conquest of China – that could be the model for China today! If they take over Central America, will they manufacture Chinese cocaine after exterminating the criminal cartel and all gangs south of the border? Texans would be – pleased as punch! As long as China does not take away their right not to wear masks – or their guns! What about – their God? China could get its powerful think tank to invent a Cocaine Jesus for anti-Democratic cult followers, who will honor the day the Democrats cheated them our of their birth right with fake elections. To the Chinese, we look like members of a superstitious Cargo Cult, we easy pickens when it comes to….Divide and Conquer. Our tribal system is open to covert bribes, pitting one tribe against another tribe.
John Presco 'Author of The Royal Janitor'
California Fusileers (militarymuseum.org)
5 Ways Candidates Can Ask for Campaign Money | The Campaign School
Oregon 2022 primary elections set: 36 candidates for governor, many contested races
Salem Statesman JournalView Comments
Primary election races at the local, state and federal levels are now set.
With new legislative and congressional district maps and the parting of many senior political officeholders, this year is shaping up to be one of the most uncertain election cycles in recent Oregon history.
Gov. Kate Brown cannot run for reelection due to term limits, Senate President Peter Courtney, D-Salem, announced he would retire after his current term and a number of senators and representatives are either resigning from office or are leaving after short-term appointments.
Republicans are looking to break Democrats' multi-year supermajority control of the Oregon House and Senate as well as elect a Republican governor for the first time since 1982. Democrats are pursuing to maintain that control as they weather shifting leadership at the top of the party.
https://c46e4967218640e2eedc614addcb4bbc.safeframe.googlesyndication.com/safeframe/1-0-38/html/container.html
With the legislative session completed and only 10 weeks before the May 17 primary election, some political analysts have remarked on how quiet the races have been so far. Even among serious candidates, the overt indications of the campaign season — such as ubiquitous television political advertisements — have so far been largely absent.
"You have to introduce yourself to the voters. All the forums you go to in the world won't do that. You have to use mass media," Oregon political analyst Jim Moore said. "It's stunning to me that it has all seemed to be in suspended animation."
In general, candidates whom politicos consider to be "serious" are those with previous governmental experience and — arguably more importantly — those with a lot of cash on hand. The size of one's political action bank account isn't important in and of itself, but having a substantial war chest allows candidates to shape a race to their benefit.
Before the filing deadline, if a candidate already in the race has considerable fundraising success, that alone can discourage potential opponents from contending for the position.
https://cm.statesmanjournal.com/overlay/030122_supportlocal2_inline_desktop_anon
Once campaign season begins in earnest, candidates need to introduce themselves to voters while simultaneously setting themselves apart from their rivals. Much of this comes down to framing: how does a candidate define themselves and how do they attempt to define their opponents.
Money makes this much easier. It pays for highly produced television and radio advertisements, boosted social media posts, mailers, yard signs, billboards and webpages. And in Oregon, there is still no limit on how much money an individual can contribute to a campaign.
As the primary campaign season begins, here is a look at some of the top races:
Three dozen candidates for governor
The last time Oregon had a gubernatorial race this unsettled was in 2002, when the two primaries were fought for by three strong candidates on both sides of the aisle. In total, 11 candidates participated in the election, with future governor Ted Kulongoski receiving less than 50% of the vote in his primary and Republican primary winner Kevin Mannix getting 35%.
Two decades later, more than three times that number are in the running to replace Brown — a staggering 17 Democrats and 19 Republicans. Moore speculated the winner of the Republican primary this year might do so with less than 30% of the vote.
"For the first time in 20 years, it's just totally wide open," he said. "There's no favorites. No one's been anointed as the successor to Kate Brown."
The Democratic race is considered a two-person contest between former House Speaker Tina Kotek of Portland and Oregon Treasurer Tobias Read. Both have landed noteworthy endorsements and numerous campaign contributions. As of Tuesday, Kotek had about $950,000 in her campaign account, while Read had about $610,000.
https://c46e4967218640e2eedc614addcb4bbc.safeframe.googlesyndication.com/safeframe/1-0-38/html/container.html
Things are a bit more crowded at the top of the Republican primary with at least half a dozen candidates with experience, money or both:
Christine Drazan, former House Republican leader — $1 million in campaign account.
Bud Pierce, Salem oncologist and former gubernatorial candidate — $175,000 in campaign account.
Bob Tiernan, former Oregon representative — $1 million in campaign account.
Stan Pulliam, mayor of Sandy — $280,000 in campaign account.
Bridget Barton, GOP consultant — $410,000 in campaign account.
Jessica Gomez, entrepreneur — $110,000 in campaign account.
The full list of candidates for this and every other race can be found on ORESTAR through the Oregon Secretary of State's website.
James Bond: Born in Germany?
Agent 007 is definitely one of the most famous British fictional figures ever created. But according to some sources, he was actually born in the Ruhr valley. An exhibition in Bochum promotes the spy's German roots.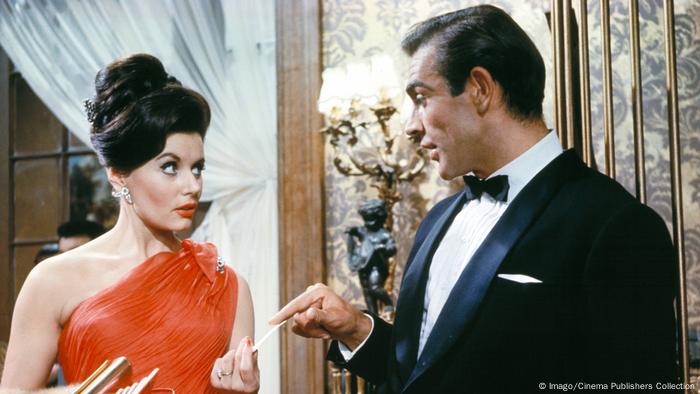 In his first James Bond novels, Ian Fleming didn't offer much information about the spy's origin and background. Bond obviously had to be British, given the fact that 007 worked for the UK's secret service, but that's all that was officially known.
Following the popularity of the first James Bond film, Dr. No (top picture), released in 1962, the author provided a few biographical details in his next novel that tied in with the background of actor Sean Connery, who played the secret agent in seven films.
In Fleming's You Only Live Twice (1964), Bond goes missing, and an obituary written by his superior, M., the head of the Secret Intelligence Service, mentions the names and nationalities of 007's parents.
His father was Andrew Bond, a Scottish man like Connery, while his mother, Monique Delacroix, was a Swiss national — adding to the spy's international flair.
Read more: How James Bond is writing film history
There are several editions of John Pearson's biography of 007
The 'authorized biography'
Later on, John Pearson, a former assistant of Ian Fleming at the Sunday Times newspaper, wrote a biography of the James Bond creator, titled The Life of Ian Fleming (1966); he went on to write a related work of fiction, James Bond: The Authorized Biography of 007, which was first published in 1973.
In the book, Pearson includes himself as a character of the plot: After the success of his Fleming biography, he is commissioned by MI6 to write the life story of agent 007.
Based on elements found in Fleming's novels, Pearson thereby fills in the blanks surrounding Bond's background.
While the biography was not actually commissioned by the publication company behind Ian Fleming's books, Pearson knew the Glidrose Publications chairman and obtained his permission to publish the work, making it an authorized biography.
Born in the Ruhr region — because of a train strike
In Pearson's book, 007 fans discover that James Bond was born in Wattenscheid near Essen, in the Ruhr region, on November 11, 1920.
While it used to be a separate town, Wattenscheid now belongs to the city of Bochum, where the exhibition "On a secret mission: The spy who came from Wattenscheid" opens on February 1.
According to Pearson's account, Bond's father Andrew, an engineer with Metro-Vickers, was stationed in Wattenscheid to dismantle Krupp's armament factories for the allied military government.
His wife, Monique Delacroix, had actually planned to go back to England to give birth, but she was caught up in Wattenscheid because of a rail strike.
Bond became an orphan at an early age; his parents died in a climbing accident in the Swiss mountains. Still, even after his aunt became his guardian, the young James would regularly return to Wattenscheid, where the family kept a summer house.
But maybe it was Zurich or Berlin
There are, however, contradictory accounts surrounding Bond's place of birth.
'Danger Society: The Young Bond Dossier' profiles the character
For example, according to Charlie Higson's Young Bond books, another official series based on Fleming's story, the secret agent was actually born in Zürich.
But then, according to the passport given to Daniel Craig as a prop in the movie Casino Royale, Bond was born in West Berlin — and way later, on April 13, 1968.
Experts who have tried to crosscheck James Bond's biography in detail, such as John Griswold in Ian Fleming's James Bond: Annotations and Chronologies for Ian Fleming's Bond Stories, have noted different background inconsistencies emerging from the author's own novels. Apparently, that didn't bother Fleming too much.
Film journalist and Bond expert Siegfried Tesche sees Pearson's version as the authoritative one, since the biography author knew Fleming very well. Tesche also argues that many official events still celebrate Bond's birthday on November 11, based on Pearson's account.
In the end, for some fans, Bond works best as a character without all those details about his background.
Read more: Bond girls through the ages
On show at the Bochum exhibition, the Lotus Esprit S1 Bond drives in 'The Spy Who Loved Me' can convert into a submarine
Fleming's experience of Germany
Nevertheless, the exhibition celebrates 007's Ruhr valley roots. Siegfried Tesche, who also curated the exhibition, definitely sees links between Germany, the fictional figure and the author of the novels.
"A little bit of James Bond can be found in Ian Fleming," he told DW. For example, like agent 007, the author also worked for the Royal Navy's Intelligence Division during World War II, before he started working as a journalist and an author.
"Fleming had to deal with the Nazis and German spies, and with the Cold War afterwards; and he built in the stories and things he experienced during the Second World War into his novels later on," explains Tesche.
Fleming also studied in Austria, Germany and Switzerland, points out the Bond expert. The author was fluent in French and German, and spoke Russian and different other languages too. He also loved the Alps, where he learned to ski and climb — all these passions would later emerge in his fictional character's adventures.
Among the exhibits Tesche organized for the James Bond exhibition in Bochum are different vehicles, including the Sunbeam Alpine S II the secret agent drives in Dr. No (1962), the one-man helicopter he flies in the 1967 You Only Live Twice and the Lotus Esprit S1 sports car seen in a chase in The Spy Who Loved Me (1977). Costumes, films scripts and other Bond accessories also make up the exhibition.
Along with the exhibition, the program includes different film screenings and talks with physics professor Metin Tolan, renowned for analyzing the science behind 007 movie stunts.
The Bond exhibition can be seen in Bochum until March 31.
'No Time to Die': A Rare In-Depth Interview With the Keepers of James Bond
By Brent Lang
Plus Icon
For nearly 60 years on the silver screen, James Bond, the rakish secret agent who jets from one exotic port of call to another, romancing women and besting bad guys in the name of queen and country, has answered to one person. M, the no-nonsense intelligence chief, is the only one who can revoke the British spy's license to kill. And even M isn't always successful at reining in 007.
Off screen, it's a different story. One family, the Broccolis, has long maintained an iron grip on the franchise. Thanks to a highly unique deal, they have been able to exert an unprecedented level of creative control, serving as the final arbiter on everything from the scripts to the casting to the promotional materials.
https://6429de1532115066a34e41802625a05d.safeframe.googlesyndication.com/safeframe/1-0-38/html/container.html
Eon Prods., the family's company, splits profits with MGM/UA, the studio that has the right to finance and distribute all of the Bond movies.
"For better or worse, we are the custodians of this character," says Barbara Broccoli, who oversees the franchise with her half-brother Michael G. Wilson. "We take that responsibility seriously."
It's an arrangement that was first hammered out by Broccoli's father, the producer Albert "Cubby" Broccoli, when John F. Kennedy was president and the Twist was all the rage. Miraculously, that pact has prevailed through the decades and generations, enduring everything from corporate mergers and bankruptcies to shifting consumer tastes and geopolitical upheavals. The elder Broccoli died in 1996. but not before ceding control to his two children with the 1995 release of "GoldenEye," a film that proved a sexist superspy, conceived by novelist Ian Fleming in the 1950s, still had a role to play in post-Cold War cinema.
Hollywood's longest-running — and one of its most lucrative — franchises, the spy series has spawned 24 films that have collectively amassed $16.3 billion in global ticket sales, adjusted for inflation, according to a 2018 Forbes story on Bond by the numbers ($6.9 billion unadjusted, per data site The Numbers).
On April 10, "No Time to Die," Eon's 25th Bond adventure, will hit U.S. theaters, representing a moment of both triumph and uncertainty for the series. It serves as the culmination of Daniel Craig's critically acclaimed, massively successful five-film run as 007; this time, after threatening to turn his back on the series for years, the star is insistent that he is finally holstering Bond's Walther PPK for good.
"I'm in total denial," says Broccoli. "I've accepted what Daniel has said, but I'm still in denial. It's too traumatic for me."
Broccoli, who joined Wilson in a rare sit-down interview with Variety last month, conducted in a drab Brooklyn studio far removed from the casinos, five-star hotels and villas that Bond habituates, weighs her words carefully. She'll cast a reproachful eye at Wilson when his attempts at humor strike her as ill-considered. "Americans don't do irony," he notes at one point, gesturing toward his U.S.-born interrogator.
Russian forces have abducted a second Ukrainian mayor, the Minister of Foreign Affairs of Ukraine said.
Yevhen Matveyev, the mayor of Dniprorudne in southern Ukraine, was abducted, the minister said.
It comes after the Russians abducted Ivan Fedorov of the city of Melitopol and installed a new mayor.
1 of 13 Photos in Gallery©Pierre Crom/Getty Images)
12 photos show Ukrainian families fleeing the Russian invasion amid warnings of a mass refugee crisis
Putin announced a "special military action" against Ukraine in the early hours on February 24.
Less than 24 hours later, photos show Ukrainians fleeing as the war escalates.
Photos show traffic jams, couples embracing, and a mother trying to distract her child.
Ukrainian citizens fled their homes after the first day of a full-scale invasion.
Train stations were packed with people on the move and roads filled with cars of people leaving the country, with their loved ones and prized possessions in tow.
Before the invasion took place, there were warnings of a mass refugee crisis.
"It is frightening to imagine what scale the refugee crisis could reach in the event of escalating hostilities in Ukraine. It will be a continent-wide humanitarian disaster," Agnès Callamard, Amnesty International's secretary-general, said in a statement before Putin invaded.
On Thursday, Callamard said that the Russian invasion has made the group's "worst fears" come true in a new statement.
"After weeks of escalation, a Russian invasion that is likely to lead to the most horrific consequences for human lives and human rights has begun," Callamard said.
Read the original article on Business Insider
Russian forces have abducted a second Ukrainian mayor, this time targeting the leader of the southern town of Dniprorudne, the Ukrainian Foreign Affairs Minister said.
The abduction comes after the Russians kidnapped mayor Ivan Fedorov of the city of Melitopol and installed an acting mayor in his stead.
"Today, Russian war criminals abducted another democratically elected Ukrainian mayor, head of Dniprorudne Yevhen Matveyev. Getting zero local support, invaders turn to terror," Foreign Affairs Minister Dmytro Kuleba said in a tweet.