Capturing Beauty
by
John Presco
Copyright 2021
Chapter
The Long Con
No one likes to admit they have been conned. This is true of millions of Trump followers who can't accept the truth HE LOST and is A LOSER, because they got to look at him way down the line. The mist – has cleared! The big sucker, has been licked down to the stick.
Yesterday was Father's Day, and, alas – I WENT ALL THE WAY! I accepted the truth my daughter was conning me – from the get! She rehearsed her role in THE LONG CON – since she was a child. Her mother and aunt and uncle identified me to her as….THE MARK! When Patrice approached me at the Kerry House, she was not wearing a wedding ring. She was hunting. Her two boys, and her Lover Boy – who looks like Bob Weir – are out of food. The rent is due. They NEEDED a short con. Her job is to give me a boo-hood story and I give her $20 bucks, maybe $50. There are folks from Peidmont who patramoize that bar. How many have paid the rent, because they don't want to see a woman and her two boys out on the street. One of them is the son of a Chicago Black Panther who Patrice said died on a fire. Did she – LIE?
Patrice asked me to rescue David and her other son, Matt (ten and five) from her husband Randy, who was abusing them. After living with me for two months she said she was thinking of going back to him. I asked her to leave. He was threatening to kill me. Patrice found out she was pregnant a week later.
Kamala 'Daughter of Oakland' | Rosamond Press
Above is a phtogrpahy taken at the Portland Zoo by Katherine, the wife of David, and mother of Malcom, who was named after Malcom X. She told me at their wedding she met several of David's sisters who told her stories about Angela Davis.
I just took a long break to look for the grave of Kay Coakley who may have been disappeared along with her sister who my mother said was trying to take Kay's legacy from her – that she wanted to leave to Vicki. There may not have been a probate filed. My RECOVERY NOVEL 'Bond's With Angels' begins with the Angel my sisters saw as children. Kay saw it too. I decided to sew my daughter and her mother for breach of written and verbal contract.
I googled Mayor Libby Shaaf to suggest the city we and Vice President Kamala Harris, were born in, lead the way in REPARATIONS. I discovered Oakland, and Marin County are giving GUARANTEED INCOMES to the poor. There is a artist program as well I was going to send her a link to all my Oakland History, and my Marin Shipmates idea, as well as The Black Liberation Navy idea that could be based and funded by The Port of Oakland. Alas, I own the credibility my daughter and her family helped destroy. There is so much more to this story!
I suspect Heather Hanson learned my sister Vicki Presco was dead before I did. Who told her? Heather drastically changed when Bill Cornwell turned her into an alcoholic. Her aunt helped.
Breaking Bad – With Bad Trustee | Rosamond Press
John Presco
President: Belmont Soda Works
The Coakleys and the Angels | Rosamond Press
Black Panther Party Gallery and Museum | Rosamond Press
Bonds With Angels – All Alone | Rosamond Press
Vicki Presco Was A Criminal | Rosamond Press
In the middle of a worldwide awakening to the centuries-old racism and oppression suffered by Black people, some African Americans finally see tangible assistance – even if the help isn't characterized as reparations.
Oakland, Calif., Mayor Libby Schaaf announced that the city would begin a guaranteed income project that would provide $500 per month to Black and Indigenous families.
The assistance, which targets low-income families of color in the 426,000-population city, will last 18 months.
Mayor Schaaf detailed that the money comes with "no-strings attached," and recipients can use it as they please.
"We have designed this demonstration project to add to the body of evidence and to begin this relentless campaign to adopt a guaranteed income federally," Mayor Schaaf told the local ABC News station.
The station reported that, for the project, the Oakland Resilient Families program has so far raised $6.75 million from private donors, including Blue Meridian Partners, a national philanthropy group.
The programs require residents have at least one child under 18 and income at or below 50 percent of the area median income – about $59,000 per year for a family of three.
Half the spots are reserved for people who earn below 138 percent of the federal poverty level or about $30,000 per year for a family of three, ABC reported. Participants are randomly selected from a pool of applicants who meet the eligibility requirements.
The report noted that Oakland's project is significant because it is one of the most outstanding efforts in the U.S. so far, targeting up to 600 families. And it is the first program to limit participation strictly to Black, Indigenous, and people of color communities.
Oakland, where 24 percent of the residents are Black, is among a growing list of municipalities providing financial payments to people of color – or reparations.
Rosemond, James of Abbeville County, Will Typescript (Mss Will: Estate Record Book 1, Page 329; Estate Packet: Box 80, Pkg 1949) (2 Frames):
Pompeo slams Fauci as 'spouting Chinese Communist Party talking points' (msn.com)
WILL OF JAMES ROSEMOND
In the Name of God amen, I James Rosemond of the State of South Carolina and Abbeville County being in a tolerable state of health but Calling to mind the uncertainty of life do make and ordain this my Last will and Testament in way and manner following that is to say I will and desire that all my just debts and funeral Charges be paid & satisfied Imprimus I Leave and bequeath to Marry my Loving Wife two Negro Wenches that is one Named Nell and the other Charity and likewise two Negro boys one Named Ralph and the other Sam for her use and for the Maintainence of her and my Children during her Life and Likewise my Wife shall have three horses that is to say my Brown horse and Black Gray & young Bay mare and plantation tools sufficient to work the plantation and Likewise I Leave for her use my whole stock of Cattle Excepting two or three which I allow her to Give to her Son James when she thinks he has ocassion for them and Likewise for the use of my wife and Children I Leave the one half of my hogs & sheep and the other half to be sold and Likewise I Give to my Wife all the household furniture that she thinks she has Occassion for Item I will and desire tha my Son Nathaneil shall have my Negro Smart but that he shall be sold and the money to be put to Interest untill he the sd. Natl. does Come of age and Likewise to my Son Natl I Give and bequeath my part of a tract of nine hundred and forty seven acres of Land Lying in Lawrence County on the Waters of Saluda and Reedy rivers near to where Ruben Piles Esqur now Lives Item to my son Thomas I leave and bequeath my Negro named George Item to my son Benjamin I Leave and bequeath my Negro girl named Jenny Item to my son Samuel I Leave & bequeath my Negro girl named Elon Item to my Daughter Mary I Leave & bequeath my Negro girl named Nancy. Item I Leave and bequeath to my three sons Thomas Benjamin and Samuel the Rest of my Lands to be Equally Devided amongst them to be given to them as they Come of age but the tract I now live on I alow my Wife to have the use of it while she Lives and at her death the Same to be divided as above. Item the Negro fellow Sam that I purchased from George Welded and my Stills and all my other property not above mentioned I desire that they shall be sold at publick Sale to the highest bidder except one horse Calld my young Bay and a saddle which I give to my wifes son James Dahorty Item my will is that at the Death of my Wife the four Negroes that I Leave to her for her Maintainence for Life Shall be Devided amongst my four Sons Nathaniel, Thomas, Benjamin and Samuel in manner following that is to say to my son Nathaniel I Leave and bequeath my Negro wench named Nell and to my son Thomas l Leave and bequeath the Above named aegro girl Named Charity, and to my son Benjamin I Leave & bequeath the above named Ralph and to my son Samuel I Leave and bequeath the above named Negro Sam My two sons Nathneal Thomas if their Negros should have any increase before she comes of age shall make up an equal proportion with one of them selves to my Daughter Mary and if they the sd. wenches should not have any encrease my four Sons shall make up to my Daughter Mary an equal proportion with them selves without exposing any of the the sd Negroes to sale Item my will and Desire is that all the monies arising from the sale of the above mentioned after paying all my just Debts shall be equally Devided between my wife and four sons and a horse and saddle to my Daughter Mary besides her equal share with the rest and I do hereby Constitute and ordain this my last will and Testament and desire it to be Received by all as such and I do hereby make & Disanul all former Wills and testaments by me made or ordained and I do Constitute and ordain Samuel Rosemond and James Watts Executors and mary my Wife executrix of this my last will and testament Given under my hand and sealed with my seal this fifteenth day of July A.D. one thousand seven hundred and ninety five.
James Rosemond (seal)
Signed sealed in presence of
Jas. Watts Wm Norwood Robert Ingram
Recorded in Will Book 1 Page 329 Box 80 Pkg 1949 Proven July 10th 1806 Recorded date not available A. Banton O.A.D.
The long con refers to any of a variety of cons which require more planning, preparation, a longer window of interaction with the con's target, the mark, and a longer period of time to execute. The long con may also require a large crew or a larger number of involved people to pull off the deception needed to relieve the mark of their cash or other valuables. Unlike a short con, the long con requires time to slowly draw the mark or marks into the con, but often result in very large pay-outs. Because of the difficulty in organization and execution, long cons are considered to be for experts, not the province of new, young con artists.
Traditionally, the term "long con" has referred to an elaborate con of one or more marks which ends with the payout, when the marks surrender their money or valuables. Long cons play on basic human frailties: greed, lust and desperation, qualities are also usually found in the mark. A classic example of a traditional long con is a Ponzi/pyramid scheme (Promise/most vulnerable children) involve multiple marks, often in sizable numbers, and a gradual payout from a foundation, but are able to stay in place for long periods of time of the lovable, beyond reproach original "Mark."
Elizabeth Coakley in the 1940 Census | Ancestry®
Elizabeth Josephine Clifford 1870-1950 – Ancestry®
Clipping from Oakland Tribune – Newspapers.com
About Us: History — Alameda County District Attorney's Office (alcoda.org)
Coakley Family History
This is a surname of Olde English origins. It derives from 'Cokelei' as recorded in the 1086 Domesday Book, and translating as 'The lands of Coca', a baptismal name. There are in fact three such villages in England, in the counties of Worcester, Oxford and Suffolk, although the surname in its various and varied forms, is most recorded in London. This is not in itself unusual. It probably means that between the 14th and 17th centuries the various villages were 'cleared' for sheep farming, and the tenants then moved to the 'mecca' – as London was so perceived to be. In so doing they would take with them as their identity the name of their former village, and given local dialects and poor spelling, this would create the various forms…
James Francis "Frank" Coakley (1897-1983) – Find A Grave Memorial
Kathleen Jewell "kitty" Wrinkle Coakley (1907-1996) buried in Saint Marys Cemetery located in Oakland, CA | People Legacy
Kathleen Anita Wrinkle (1928-1956) – Find A Grave Memorial
Lady in the Lake: 1956 Missing Person Case Solved – WRCBtv.com | Chattanooga News, Weather & Sports
Posted on August 12, 2012 by Royal Rosamond Press
The Sedgwick family married into the Samuel Merritt family a mayor of Oakland who made Lake Merritt where Bill Arnold and I spent most of our time, he living a block away on Athol. Kay Coakley befriended the Presco children, she the daughter of J. Francis Coakley, Oakland's famous DA who went after Mario Savio and the Free Speech Movement, Huey Newton and the Black Panthers, as well as bootleggers and prostitutes in Emeryville. I believe Coakley kept Rosemary out of jail after she was busted for making porno movies for Big Bones Remmer. The Coakleys claim they descend from Fair Rosamond.
Kay had a huge landscap of Lake Merritt in her dining room that should have been in a museum. Rosemary told her children the Coakley family owned allot of property around this lake.
J. Frank Coakley
James Francis Coakley was born and raised in Oakland, California, and educated at St. Mary's College, Stanford University, and Boalt Hall law school of the University of California at Berkeley. In later years he taught law at both Boalt Hall and St. Mary's.
Frank joined the Alameda County prosecutor's staff on February 21, 1923, as a deputy district attorney, following his graduation from Boalt Hall. He served under three predecessors: Ezra Decoto, Earl Warren and Ralph Hoyt. Under Warren, Frank served as assistant head of the Criminal Division. Later, under Hoyt, he served as chief assistant.
Having served in the U.S. Navy during World War I, participating in the expedition to Vladivostok, Frank was recalled to active duty during World War II as a Commander in the U.S. Navy's Judge Advocate General service, serving as chief prosecutor for court martial cases in the 12th Naval District. Following the war, Frank briefly entered private practice with his brother, Thomas, who later became a Superior Court judge in Mariposa County. That interlude was short-lived, as Ralph Hoyt soon decided to move on to the bench himself. Frank was called to take over for Hoyt immediately. Although Frank had discovered private practice to be more lucrative, he knew his heart was with the Alameda County District Attorney's Office, and that was where he belonged.
By ERIKA D. SMITHCOLUMNIST MARCH 27, 2021 6 AM PT
The last time I spoke with former guaranteed income guru Michael Tubbs, he was excitedly explaining just how many cities in how many states were clamoring to give a few hundred bucks a month to a few hundred of their residents — no strings attached.
"We're probably at like 20 to 25 states now," said the former mayor of Stockton and co-founder of Mayors for a Guaranteed Income. "I've got to find some mayors in Montana, North Dakota, South Dakota, Wyoming."
Indeed, the announcements about new guaranteed income programs have become almost routine, especially in California, where about half a dozen cities have adopted them. Marin County is the latest.
But there is nothing routine about what Oakland just announced.ADVERTISING
On Tuesday, Mayor Libby Schaaf, flanked virtually by Tubbs, said that her Bay Area city would soon start giving out $500 a month to 600 residents for at least 18 months.
Like a lot of cities, the recipients must be poor and have at least one child to qualify. Specifically, they must have an annual household income of no more than $59,000 for a family of three — or roughly 50% of the median income — and half of the recipients will be selected from households that pull in less than $30,000 a year.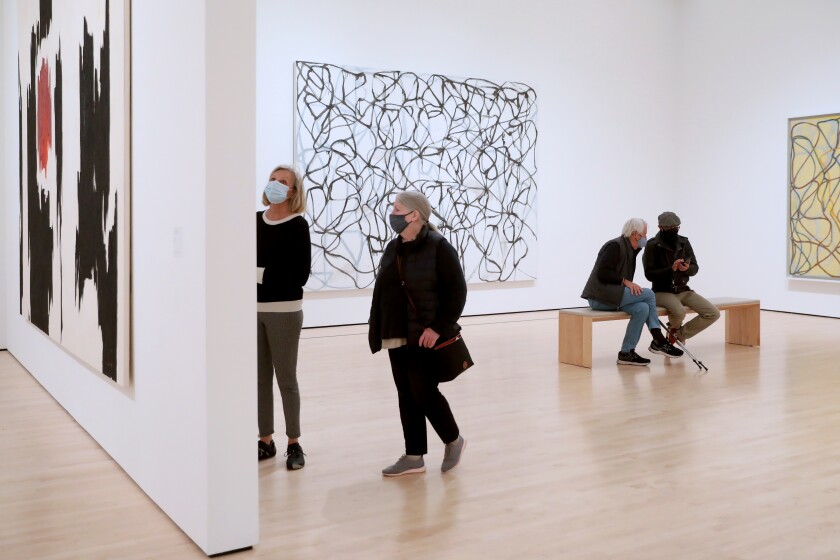 San Francisco to give $1,000 a month to artists in basic income program
March 26, 2021
But unlike a lot of cities, the recipients also must be Black, Indigenous or otherwise identify as a person of color to qualify.