How ironic that I find the Congressional Record of Sean Michael Miles who died next to Kathleen Ann Easton, the daughter of Irene and Ian Easton…on the day the G-7 meeting ended. It is evident to me, that the spirit of these kindred souls have visited me, and this day they beg us all – to tell the truth! If you have told lies before this day, then God forgives you, your Nation forgives you, the world forgives you, and the people you love, and whom love you, forgive you.
What a match! I can hear the conversations Sean and Kate had. She was a competitive policy debater. Like Sean, she loved the outdoors and was keen on saving the environment. It appears to me Kate had her mind on serving the government, but, which one? She excelled at Parliamentary Debate. It has been years since I read her obituary. She is liken to Victoria Rosemond Bond. That Rena places the poetic words about a Red, Red, Rose, and places a tail of Heather on a black horse – for a tail – is a Testimony to Kates love of Celtic Music. Was Enya her favorite? If so, this may be the reason Rena freaked out, for I sent her my reading of my 'The Birth of Venus' with ten Enya songs. I will see if I have a copy.
The Spirit of Sean Michael Miles, and Kathleen Ann Easton, came through my window, and fell upon the painting I was going to replicate of the one I did of Rena in 1969. She was standing on a hill watching the sunset.
Was Sean and Kathleen making plans on how they could save the environment – minutes before they died? Leaders in the West met some of their goals, twenty-one years later. I identified the people in my painting as Futurians.
John
Poet Amanda Gorman reads 'The Hill We Climb' – YouTube
I am also pleased and honored to announce that the first 
Congressional Fellow serving in this prestigious position will be 
Sean's beloved sister Michelle. Her younger sister, Shaleen, once 
served as Democratic page on the floor of the Senate. So today, 
Michelle, who is sitting behind me, I welcome you to my staff, and I 
know that you bring with you your brother's finest qualities.
KATHLEEN A. "KATIE" EASTON
     Former Bozeman High School state debate champion Kathleen Anne
"Katie" Easton, passed away as a result of an automobile accident early
Sunday, Jan. 10, 1999.  She was born April 20, 1979, to Irene (Rena) and
Admiral Sir Ian Easton, K.C.B. D.S.C. on the Isle of Wight, England. 
She attended grade school on the Isle of Wight and transferred to Chief
Joseph Middle School when she and her family moved to Bozeman in 1991.
She graduated from Bozeman High School in 1997.
    During high school, she completed a stellar career in forensics.  As
a policy debater in her sophomore and junior years, she compiled a 72.54
percent win/loss record.  In her senior year, she switched to
parliamentary debate and became a dominant force in the event, winning
the 1997 Montana state championship and the District NFL qualifying
tournaments.  At the 1997 Nationals Katie reached the semifinal round of
competition, a result that placed her in among the top 16 parliamentary
debaters in the country.
    After graduation, Katie attended The University of Montana for three
semesters as a student in the College of Arts and Sciences with an
emphasis in environmental science.  She achieved a 3.9 grade point
average, and had taken up skydiving. She planned to spend this summer
participating in Outward Bound in the North Woods of Maine and the
Florida Everglades.  She recently was accepted by AmeriCorps as a
National Service volunteer, beginning in September 1999.
    Katie loved the outdoors. She was an avid sailor who attended the
Medina Valley Sailing Centre on the Isle of Wight and achieved a Grade 5
with the Royal Yachting Association on the International Competitive
Exam. She enjoyed reading literature and was a Celtic and rock music
buff, a hobby that she shared with many friends and teammates who will
miss her unpretentious, humble manner and dry wit.  Katie was a true
humanitarian, a loyal, caring person who enriched the lives of all she
met.
     She was preceded in death by her father, Admiral Sir Ian Easton
K.C.B. D.S.C.; Her maternal grandmother, Ann Last Christensen, her
maternal grandfather, Thomas Ernest Christensen; and her paternal
grandparents Walter and Janet Easton.
    She is survived by her mother Irene Easton of Bozeman, brother James
Easton, who is serving on the U.S.S. John F. Kennedy; and brother Hamish
Easton who resides in London, England.
    Funeral services will be held at 2:30 p.m. Wednesday Jan. 13 at The
Salvation Army Church, corner of Church and Lamme Street.  Interment
will follow in Sunset Hills Cemetery.
    Memorials may be made to the Worthy Student Scholarship Fund for
Speech and Debate Scholarship, c/o Jan Wenderoth, Bozeman High School,
205 N. 11th Ave. Bozeman, MT 59715
Parliamentary debate – Wikipedia
Celebration was tempered with a musical tribute to five classmates killed in accidents in recent years. Honorary diplomas were awarded at the request of the senior class, Saunders said, to Adam Bronken, a diabetic who died his freshman year in a hot tub, and Kelsey Stewart, who died in a snowstorm car crash a few months ago. Also honored in the musical tribute were Stephen Babcock, killed in a skating accident, and Bozeman High graduates Sean Miles and Katie Easton, who died in a car crash on an icy road.
Sean Miles '01
JANUARY 11, 1999 IN MEMORIAM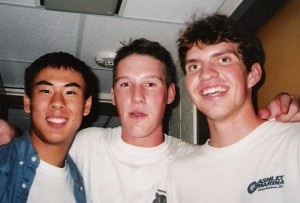 SEAN (RIGHT) WITH ANDERS CHEN AND CHRISTIAN DIEGEL Sean died on January 10, 1999, not yet halfway through his sophomore year. Born and raised in Bozeman, MT, Sean never truly left living near the "backbone of the world" even while attending Princeton. An excellent writer and a talented artist, Sean graduated at the top of his high school class and gave a commencement address steeped in Native American heritage, an address that still resonates today with those who heard it. A selfless individual for whom family came first and the environment of his beloved Rockies second, Sean had a magical way with words. Of Montana, he wrote, "It is a land I desperately love. It is a part of me. It hurts so much to care so much. Yet as a Westerner, I am invited to breathe it all in deeply each day."
With the ability to light up the room with his smile and put anyone at ease with his banter, Sean's openness and honesty affected everyone with whom he came into contact. Senator Max Baucus of Montana, a family fried of the Miles family, read a remembrance on the Senate floor and now sponsors the Miles Fellowship in Conservation. Professor Robert Fagles said of him a few days after his passing: "By my lights, Sean Miles was the best that we can do – bright, responsive, hard-working, clear in expression, clear in thought, and with a personality immediately likable, immediately commanding respect."
He is survived by his father Mike, his mother Joan, and his sisters Michelle and Shaleen. He is remembered and deeply missed by all Princetonians who came into contact with him.
Sean Miles '01 | Princeton Class of 2001 Website (tigers01.org)
G7 Leaders Offer United Front as Summit Ends, but Cracks Are Clear (msn.com)
BRUSSELS — President Biden and fellow Western leaders issued a confrontational declaration about Russian and Chinese government behavior on Sunday, castigating Beijing over its internal repression, vowing to investigate the pandemic's origins, and excoriating Moscow for using nerve agents and cyberweapons. Concluding
the first in-person summit meeting since the outbreak of the coronavirus pandemic, the leaders tried to present a unified front against a range of threats. But they disagreed about a crucial issues, from timelines for halting the burning of coal to committing tens or hundreds of billions of dollars in aid to challenge Beijing's Belt and Road Initiative, China's overseas investment and lending push.

Still, as they left Cornwall, where they had met at a resort overlooking rocky outcroppings in England's far west, almost all the participants welcomed a new tone as they began to repair the breaches from four years of dealing with Mr. Biden's predecessor, Donald J. Trump.
(62) If i could be where you are – Enya Lyrics – YouTube
Where are you this moment?
Only in my dreams.
You're missing, but you're always
A heartbeat from me.
I'm lost now without you,
I don't know where you are.
I keep watching, I keep hoping,
But time keeps us apart. Is there a way I can find you,
Is there a sign I should know,
Is there a road I could follow
To bring you back home? Winter lies before me
Now you're so far away.
In the darkness of my dreaming
The light of you will stay. If I could be close beside you
If I could be where you are
If I could reach out and touch you
And bring you back home
Is there a way I can find you
Is there a sign I should know
Is there a road I can follow
To bring you back home to me?
The Birth of Venus | Rosamond Press
Irene (Rena) Victoria Easton | Rosamond Press
Posted on July 21, 2013 by Royal Rosamond Press
Yesterday I came across an old e-mail from a high school friend of Rena Christensen. He admonished me for making this Midwest Beauty out to be a goddess. I had compared her beauty to the face that launched a thousand ships.
This bid me to launch another search for my Muse. What had become of her. Who did she marry? What is her surname? Where are her two children? We know she married an Admiral and lived on the Isle of Wight with her two children. Last night I found and obituary for Rena's beautiful twenty year old daughter. I wept, like I did when I learned Rena lost her husband. I found her husband.
Rena was afraid to even look at the ocean when we met in 1970. She told me she was afraid of it. Two hours later she does something so dramatic and beautiful in order to get over her fear. Admiral Sir Ian Easton captained Aircraft Carriers. He flew planes in WW2. Ian was Former Head of the British Defense Staff that just met in Washington to discuss cuts in military budgets. He put boats in battle for the Cup. He was seventy one when he died. Rena is sixty one today. I was twenty three when we met, and she was seventeen.
One day when we went to our little beach, Rena disappeared. I found her on the other side of a large rock in a precarious place. She was intently looking at the ocean waves. I knew she was trying to see her future, set a direction for the course of her life.
"Rena. Don't panic, but, you are not safe there. Come towards me."
She put these words on her husband's monument;
"Sweet and low, winds of the western sea"
It is beautiful women like Irene Easton, that put young men in the middle of the seven seas, looking over the horizon for their Helen. The legend of Brutus of Troy, founder of Britain,
is what propels this nation forward, and puts these Trojans in suspense, as they wait for the birth of Kate Windsor's first child. This mother to be modeled a sexy dress on a runway, and caught the eye of a prince. Beauty rules the waves!
And everywhere Beauty go, the Poet is soon to follow.
I do not regret taking poetic liberty with my muse. English Poetry is the engine of love, a ring of fire that protects that Isle. Irene Victoria is a British subject that came out of Grand Island Nebraska to see what she shall see. Rena has seen the world. Good for her!
Jon Presco
http://archiver.rootsweb.ancestry.com/th/read/BlackSheep/1999-01/0916238827
From: Bill & Jeanette Grummons
Subject: [BlackSheep-L] Isle of Wight
Date: Wed, 13 Jan 1999 07:47:07 -0700
Seems to me I remember seeing mention of someone researching The Isle of
Wight, England. If so, they may find the following obit of interest.
Sorry about that, have another honeydew day ahead of me and was taking
orders
Bill and Jeanette, IBSSG
Rootsweb Sponser
KATHLEEN A. "KATIE" EASTON
Former Bozeman High School state debate champion Kathleen Anne
"Katie" Easton, passed away as a result of an automobile accident early
Sunday, Jan. 10, 1999. She was born April 20, 1979, to Irene (Rena) and
Admiral Sir Ian Easton, K.C.B. D.S.C. on the Isle of Wight, England.
She attended grade school on the Isle of Wight and transferred to Chief
Joseph Middle School when she and her family moved to Bozeman in 1991.
She graduated from Bozeman High School in 1997.
During high school, she completed a stellar career in forensics. As
a policy debater in her sophomore and junior years, she compiled a 72.54
percent win/loss record. In her senior year, she switched to
parliamentary debate and became a dominant force in the event, winning
the 1997 Montana state championship and the District NFL qualifying
tournaments. At the 1997 Nationals Katie reached the semifinal round of
competition, a result that placed her in among the top 16 parliamentary
debaters in the country.
After graduation, Katie attended The University of Montana for three
semesters as a student in the College of Arts and Sciences with an
emphasis in environmental science. She achieved a 3.9 grade point
average, and had taken up skydiving. She planned to spend this summer
participating in Outward Bound in the North Woods of Maine and the
Florida Everglades. She recently was accepted by AmeriCorps as a
National Service volunteer, beginning in September 1999.
Katie loved the outdoors. She was an avid sailor who attended the
Medina Valley Sailing Centre on the Isle of Wight and achieved a Grade 5
with the Royal Yachting Association on the International Competitive
Exam. She enjoyed reading literature and was a Celtic and rock music
buff, a hobby that she shared with many friends and teammates who will
miss her unpretentious, humble manner and dry wit. Katie was a true
humanitarian, a loyal, caring person who enriched the lives of all she
met.
She was preceded in death by her father, Admiral Sir Ian Easton
K.C.B. D.S.C.; Her maternal grandmother, Ann Last Christensen, her
maternal grandfather, Thomas Ernest Christensen; and her paternal
grandparents Walter and Janet Easton.
She is survived by her mother Irene Easton of Bozeman, brother James
Easton, who is serving on the U.S.S. John F. Kennedy; and brother Hamish
Easton who resides in London, England.
Funeral services will be held at 2:30 p.m. Wednesday Jan. 13 at The
Salvation Army Church, corner of Church and Lamme Street. Interment
will follow in Sunset Hills Cemetery.
Memorials may be made to the Worthy Student Scholarship Fund for
Speech and Debate Scholarship, c/o Jan Wenderoth, Bozeman High School,
205 N. 11th Ave. Bozeman, MT 59715