Today is the most momentous day in my life. All my hard work has paid off. Ludwig traveled to Ithaca and hung with Cornell philosophers. My cup runneth over. I am so overjoyed that my grandparents can be put in a group of writers and thinkers – forever! I can remove my sister Christine from the literary hell she was thrown in hours after she died. My relationship with the woman I married, is redeemed. We believed in each other.
John Presco
Wittgenstein'sVisittoIthaca.pdf (cornell.edu)
Pynchon and Philosophy radically reworks our readings of Thomas Pynchon alongside the theoretical perspectives of Wittgenstein, Foucault and Adorno. Rigorous yet readable, Pynchon and Philosophy seeks to recover philosophical readings of Pynchon that work harmoniously, rather than antagonistically, resulting in a wholly fresh approach.
Amazon.com: Pynchon and Philosophy: Wittgenstein, Foucault and Adorno (9781137405494): Eve, Martin Paul: Books
Martin Paul Eve
Chapter in Profils Américains: Thomas Pynchon
Edited by Bénédicte Chorier-Fryd and Gilles Chamerois

Pynchon and Wittgenstein: Ethics, Relativism and Philosophical Methodology
Perhaps the strongest rationale for a philosophico-literary study intersecting Thomas Pynchon
with Ludwig Wittgenstein is that, in the writings of this philosopher, the very nature of philosophy is
reflexively questioned. Within his lifetime Wittgenstein published a single text, Tractatus
Logico-Philosophicus, influenced by the logical atomists in which he claimed, initially, to have "solved
all the problems of philosophy" (Tractatus Logico-Philosophicus x). However, in 1929 he resumed
lecturing and, following his death in 1951, the world was presented with the unfinished product of
these intervening years: the Philosophical Investigations. While many early studies, and indeed this
biographical overview, present a seemingly bi-polar, bi-tonal Wittgenstein, who enacts a retraction of
the Tractatus in the Philosophical Investigations, a closer examination of Wittgenstein's notebooks and
intermediate remarks reveals that the latter owes its genesis to a critique of the former and was
developed through an accumulation of thought and a gradual transition.

This piece presents a tripartite analysis of the relationship between the philosophical works of
Ludwig Wittgenstein and the novels of Thomas Pynchon. This is broadly structured around three
schools of Wittgenstein scholarship identified by Guy Kahane et al. as the Orthodox Tractatus, the New
Wittgenstein, and several strands of the Orthodox Investigations (Kahane et al. 4-14). Moving from the
earliest affiliation that Pynchon stages between Wittgenstein and Weissman, the underlying theme lies
in Pynchon's relationship to ethical relativism as it pertains to Nazism. From this it will become clear
that neither relativism of experience and representation, nor an unbounded relativism of non-committal
Posted on December 8, 2020 by Royal Rosamond Press
I married Mary Ann Tharaldsen, the ex-wife of Academy Award Winner, David Seidler, who is also in my family tree, along with Rick Partlow who marred my sister, Christine Rosamond Benton, who was married to the muralist, Garth Benton. Partlow won a Grammy. A Cornell paper says Mary Ann was married to Thomas Pynchon and they lived in the Rockridge on College Avenue near where the Hippie Movement began. The Loading Zone played at the Open Theatre. Lead guitarist, Peter Shapiro, played at our wedding reception. A close friend lived nearby and he was asked to contribute to Oliver Stone's movie. He was a good friend of Jim Morrison and Michael MacLure who taught poetry across the street from the Art College.
My family were San Francisco Pioneers. Mary Ann's father came from Norway. My step-daughter, Britt Baumback Murray will be in my family tree. Mary Ann is wearing Marilyn Reed's 'Train Dree' that my sister Christine Rosamond Benton, wore, and Debbie Boone on the cover of her album. Mary Ann discovered the actor, Paul Drake, who played Mick in 'Sudden Impact'. My friend, Bryan MacLean played at our wedding.
I still admire and love the only woman I married. She found me living and hiding in a little shack working on the fifty drawings of Atlantis. MA lived in Marin. My niece, Shannon Rosamond, read the bad movie script written about her mother. I'm going to use MA's discovery of me in – our movie about a world famous artist. MA was raving about me, she saying my drawing were worthy of a Master's Dissertation. She asked me if I was a member of Mensa?
I was blown away when twelve year old Britt showed me her written code after beating the Mother May I machine. I hope our new President will revitalize Gifted Children programs. Britt chose to go to my old school, McCheznie, verses the all white private school in SF. My Stuttmeister-Broderick kin had a house and small farm down the street. Gertrude Stein was a neighbor. I was very proud of my step-daughter for this stellar choice. Our black maid lived nearby and would take Christine home with her on the weekends to stay with the Sisters. At the reception MA danced with my nephew, Cian, when he was about nine. He is 'The Garden Child' I did a life-size drawing of MA who did a life-size painting of her good friend, Mimi Farina. I wish I had found time to do a painting of Britt and Mary Ann. Perhaps I will.
After our divorce, I moved downstairs. I remained good friends with MA. One day Britt brought her black girlfriend down to meet me, and show me their cornrow hairdos they just did. I should have become a photographer – along time ago. Her father had her going to the most exclusive private school in SF so she could meet the children of the rich. There had been a legal matter. Looking at these two beauties, was the happy outcome. These beautiful lessons continue to be the highlight of Bay Area History.
It occurs to me why I did not take up photography. I was afraid of becoming a commercial success like my sister, who is depicted as being deluded in saying her gallery ripped her off for millions; when in truth, they only ripped her for $50,000 a year. In this court matter, it never occurred to me me to use Rosamond as a character reference. I just now realize she was the kind of person Mr. Baumbach wanted his daughter to mingle with. The Benton's were friends of the Getty family. The hut in this painting is more my style. I did this when I was seventeen from memory of the mudflats off the entrance of the Bay Bridge. It is rumored Pynchon lived here. You could only walk to this shack during a special low-tide. How perfect for your average recluse. Note the pier is broken, thus, there is no access to the Recluse, this way. Money can't buy seclusion like this, because it is……a state of mind. Stoke the potbelly stove. Cue the rain!
John Presco
President: Royal Rosamond Press
Our Home On Miles | Rosamond Press
Christine Rosamond Partlow | Rosamond Press
Black Mask Authors | Rosamond Press
Britt Baumbach Murray | Facebook
Mary A Presco
in the California, Divorce Index, 1966-1984VIEW
| | |
| --- | --- |
| Name: | Mary A Presco |
| Spouse Name: | John G |
| Location: | Alameda |
| Date: | 24 Mar 1980 |
Mary Ann was married to
| | |
| --- | --- |
| Name: | David Seidler |
| Gender: | Male |
| Marriage License Date: | 1961 |
| Marriage License Place: | Brooklyn, New York City, New York, USA |
| Spouse: | Mary Ann Tharaldsen |
| License Number: | 4200 |
Two of Pynchon's Cornell friends, his future girlfriend Tharaldsen and her then-husband, David ­Seidler, had moved to Seattle and encouraged Pynchon to join them. Tharaldsen says Pynchon arrived "depressed—very down." She worked for Boeing, and hooked him up with a job writing technical copy for their in-house guide, Bomarc Service News. The aerospace giant was just then developing the Minuteman, a nuclear-capable missile that likely inspired Pynchon, years later, to cast Germany's World War II–era V-2 rocket as the screaming menace of Gravity's Rainbow.
UG. 25, 2013
On the Thomas Pynchon Trail: From the Long Island of His Boyhood to the 'Yupper West Side' of His New Novel
By Boris Kachka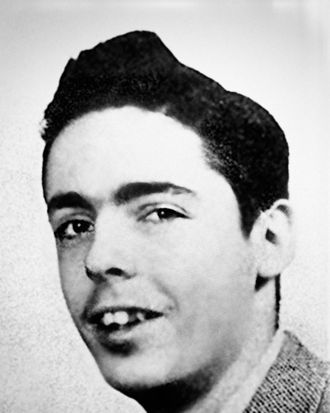 Then: Pynchon, age 16, in his 1953 high-school yearbook, one of the few known photos of the author. Photo: Getty
Let's get a few things straight. First of all, it's pronounced "Pynch-ON." Second, the great and bewildering and, yes, very private novelist is not exactly a recluse. In select company, he's intensely social and charismatic, and, in spite of those famously shaming Bugs Bunny teeth, he was rarely without a girlfriend for the 30 years he spent wandering and couch-surfing before getting married in 1990. Today, he's a yuppie—self-confessed, if you read his new novel, Bleeding Edge, as a key to the present life of a man whose travels led one critic to reflect: "Salinger hides; Pynchon runs." Now Pynchon hides in plain sight, on the Upper West Side, with a family and a history of contradictions: a child of the postwar Establishment determined to reject it; a postmodernist master who's called himself a "classicist"; a workaholic stoner; a polymath who revels in dirty puns; a literary outsider who's married to a literary agent; a scourge of capitalism who sent his son to private school and lives in a $1.7 million prewar classic six.
Other high-serious contemporaries, like Don DeLillo and Cormac McCarthy, have avoided most publicity out of a conviction that their work should stand apart, and they've largely succeeded; no one stakes them out with telephoto lenses, and everyone takes their reticence as proof of their stature. But ­Pynchon, by truly going the countercultural distance—running farther, fighting harder, and writing wilder—has crafted a more slippery persona. He doesn't just challenge his fans; he pranks them, dares them to find out what he's really about (or maybe just to stop exalting Important Writers in the first place). He's said he wants to "keep scholars busy for several generations," but ­Pynchon academics, deprived of any scrap of history, find themselves turned into stalkers.* The more he flees, the more we want—even now that, at 76, he's just another local writer you wouldn't recognize on the street. Though likely you have heard the rumors: He was the Unabomber; he was CIA; he wrote ornery letters to the editor at a small-town newspaper in character as a bag lady. In 1976, a writer named John Calvin Batchelor wrote a long essay arguing that Pynchon didn't exist and J. D. Salinger had written all the novels. Two decades later, Batchelor and Pynchon published stories on the same page of the newsletter of New York's Cathedral School, which both their children attended. Their bylines were side by side: "John is a novelist"; "Tom is a writer."
Tom is quite a writer. He's been credited, justly, with perfecting encyclopedic postmodernism in his third novel, Gravity's Rainbow, as well as in other kaleidoscopic epics and a few books he'd call potboilers and others would call the minor work of a giant. Bleeding Edge, out in September, is a love-hate letter to the New York City of a dozen years ago, when Internet 1.0 gave way to the fleeting traumas of September 11. It takes place partly on Long Island—where he was raised—but largely on what his detective heroine knows as "The Yupper West Side." And it's a book about something he's never really addressed before: home.
Batchelor and Pynchon probably know each other by now (though neither has answered interview requests). But their first point of contact was a note Pynchon wrote in response to that original article, postmarked from Malibu and written, curiously, on MGM stationery. "Some of it is true," Pynchon wrote of the story, "but none of the interesting parts. Keep trying."
Early on in Gravity's Rainbow, Tyrone Slothrop muses bitterly on his old-money roots. "Shit, money, and the Word, the three American truths, powering the American mobility, claimed the Slothrops, clasped them for good to the country's fate. But they did not prosper … about all they did was persist." It sounds like an ungenerous rendering of the Pynchons, one of those Wasp lineages whose historical prominence leaves their ancestors with a burdened inheritance. For a would-be writer with his own stubborn ideas, it was a source of pride and shame.
The name goes back to Pinco de Normandie, who came to En­gland at the side of William the Conqueror, and carries on through Thomas Ruggles Pynchon, the author's great-great-uncle, president of Trinity College and the first Pynchon to take issue with the family's portrayal by another writer (Nathaniel Hawthorne, who wrote of the "Pyncheons" in The House of the Seven Gables). Thinkers, surveyors, and religious mavericks, the House of Pynchon had settled into middle-class respectability by the time this Thomas Ruggles Pynchon was born near Oyster Bay, Long Island, in 1937.
His father, Thomas Sr., remembered saluting fellow congregant Teddy Roosevelt at church, and remained a staunch Republican along with most of Long Island's mid-century Establishment. Eisenhower was their man, and the growing white suburbs of postwar New York their constituency. Thomas Sr. went into engineering like his own father but wound up, for a time, in politics. He was Oyster Bay's superintendent of highways and then, briefly, town supervisor (the equivalent of mayor), until he was accused of complicity in a scheme to overpay a road-­surfacing company. At a hearing during his campaign, Pynchon Sr. admitted to taking gifts. "I received some poinsettias and I managed to keep one alive," he told his accuser, "and it will give me great pleasure to put one on your political grave." Instead he lost, giving way to the town's first Democratic supervisor in 32 years. His son was out of the house by then, but he'd seen enough of small-town, big-boss politics to float "The Republican Party Is a Machine" as an alternate title for his first novel, V. A family friend remembers the Pynchons, in their simple frame house, as "a very bookish family" with a large library to complement the ancestral portraits. On Sundays, the three children would split off between churches—­Episcopalian for Dad, Catholic for Mom (a nurse from upstate)—and reassemble later at Rothmann's Steak House.
Tom was lanky and unathletic, with protruding teeth that embarrassed him. He stuttered, too, and felt a kinship with Porky Pig. But that same friend ascribes some of ­Pynchon's "social behavior issues" to his "very dysfunctional family"—without elaborating. Pynchon himself almost never talked about his parents, especially in his earlier years. But one afternoon in the mid-sixties, he and his then-girlfriend, Mary Ann Tharaldsen, were driving through Big Sur when she complained of nausea. She wanted to stop at a bar and have a shot to settle her stomach. According to Tharaldsen, he exploded, telling her he would not tolerate midday drinking. When she asked why, he told her he'd seen his mother, after drinking, accidentally puncture his father's eye with a clothespin. It was the only time, says Tharaldsen, who lived with him, that he ever mentioned his family. "He was disconnected from them," she says. "There seems to have been something not good there."
A voracious reader and precocious writer, the young Pynchon skipped two grades, probably before high school, and channeled his suburban alienation into clever parodies of authority. He wrote a series of fictional columns under pseudonyms in his high-school paper in which teachers used drugs, shot off guns, and were driven insane by student pranks. In one story, a leftist agitator "got acquainted with the business end of a night stick the hard way." Pynchon later recalled that his first "honest-to-God" story was about World War II—though in his recollection it doubled as a plan for how to navigate the stultifying culture of postwar America. "Idealism is no good," he summarized. "Any concrete dedication to an abstract condition results in unpleasant things like wars."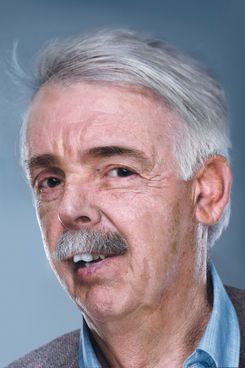 Engineering physics, the hardest program at Cornell, was meant to supply Cold War America with its elites—the best and the brightest, junior league. One professor called its students "intellectual supermen"; Pynchon's old friend David ­Shetzline remembers them as "the slide-rule boys." But after less than two years in the major, Pynchon left Cornell in order to enlist in another Cold War operation, the Navy. He once wrote that ­calculus was "the only class I ever failed," but he's always used self-deprecation to deflect inquiries, and professors ­remembered universally good grades. Tharaldsen says she saw Pynchon's IQ score, somewhere in the 190s. So why would he leave? He wrote much later about feeling in college "a sense of that other world humming out there"—a sense that would surely nag him from one city to another for the rest of his life. He was also in thrall to Thomas Wolfe and Lord Byron. Most likely he wanted to follow their examples, to experience adventure at ground level and not from the command centers.