The name Vandals was applied to a real group of people. This name is applied to the thugs who violated the homes of the Speaker of the House and Senate Leader It is with honor I attach the names of Sue and Kim Haffner to the Vandals who attacked key members of our Government. A month from now I predict millions of Americans will be shocked to see the chaos in our Nation is fueled by Radical Christians who moved into our Government – as planned! There is nothing left to discoverer as we become more and more polarized – which is the specialty of the Christian religion. Read your history and know these holy arsonist's work is never done.
John Presco
FLASH! The Washington Post is reporting Trump and his White House aides put pressure on the Attorney General of Georgia to come up with a way to remove votes for Biden – if he knows what's good for him! The Christian Coup' is on. This threat to our Democratic election process – is against the law! Trump and his conspirators should be arrested – immediately! The covert Christian agenda is now coming to light. We the People will see how they used cunning and stealth to deceive millions of people, just like SLEEPS did when the posted that WANTED poster of me on that fake abuser site. Alley Valkyrie did not identify herself – or say she and the young woman are anarchists! The same goes for Kim and Khrista. They pretend their actions are simple neighbor-like situations. This is called – CONSPIRACY! Jeff Holiday's fake warning about what will happen if I attend a Whitaker Neighborhood meeting – will be dealt with when Biden and his District Attorney VP take office. TRUMP IS A FAKE VICTIM! History will record him thus.
Mitch McConnell's home vandalized with message: 'Where's my money?' (today.com)
Professional Victims? | Rosamond Press
Holiday Villain – Jeff Holiday | Rosamond Press
Professional Victims? | Rosamond Press
'I just want to find 11,780 votes': In extraordinary hour-long call, Trump pressures Georgia secretary of state to recalculate the vote in his favor (msn.com)
"You're the arsonist here," Todd said to Johnson in discussing battles over election fraud. "President Trump is the arsonist here. You started this fire and now you're saying whoa, look at this, oh my god, all these people believe what we told them because you didn't have the guts to tell the truth that this election was fair."
'You're the arsonist here': Fiery debate between NBC host, GOP senator (msn.com)
The Washington Post obtained a recording of the conversation in which Trump alternately berated Raffensperger, tried to flatter him, begged him to act and threatened him with vague criminal consequences if the secretary of state refused to pursue his false claims, at one point warning that Raffensperger was taking "a big risk."
Throughout the call, Raffensperger and his office's general counsel rejected Trump's assertions, explaining that the president is relying on debunked conspiracy theories and that President-elect Joe Biden's 11,779-vote victory in Georgia was fair and accurate.
Trump dismissed their arguments.
"The people of Georgia are angry, the people in the country are angry," he said. "And there's nothing wrong with saying, you know, um, that you've recalculated."
Raffensperger responded: "Well, Mr. President, the challenge that you have is, the data you have is wrong."[Election results under attack: Here are the facts]
At another point, Trump said: "So look. All I want to do is this. I just want to find 11,780 votes, which is one more than we have. Because we won the state."
The rambling and at times incoherent conversation offered a remarkable glimpse of how consumed and desperate the president remains about his loss, unwilling or unable to let the matter go and still believing he can reverse the results in enough battleground states to remain in office.
"There's no way I lost Georgia," Trump said, a phrase he repeated again and again on the call. "There's no way. We won by hundreds of thousands of votes."
Several of his allies were on the line as he spoke, including White House Chief of Staff Mark Meadows and conservative lawyer Cleta Mitchell, a prominent GOP lawyer whose involvement with Trump's efforts had not been previously known.
In a statement, Mitchell said Raffensperger's office "has made many statements over the past two months that are simply not correct and everyone involved with the efforts on behalf of the President's election challenge has said the same thing: show us your records on which you rely to make these statements that our numbers are wrong."
The White House, the Trump campaign and Meadows did not immediately respond to a request for comment.
Raffensperger's office declined to comment.
On Sunday, Trump tweeted that he had spoken to Raffensperger, saying the secretary of state was "unwilling, or unable, to answer questions such as the 'ballots under table' scam, ballot destruction, out of state 'voters', dead voters, and more. He has no clue!"
Raffensperger responded with his own tweet: "Respectfully, President Trump: What you're saying is not true."
The pressure Trump put on Raffensperger is the latest example of his attempt to subvert the outcome of the Nov. 3 election through personal outreach to state Republican officials. He previously invited Michigan Republican state leaders to the White House, pressured Georgia Gov. Brian Kemp (R) in a call to try to replace that state's electors and asked the speaker of the Pennsylvania House of Representatives to help reverse his loss in that state.
His call to Raffensperger came as scores of Republicans have pledged to challenge the electoral college's vote for Biden when Congress convenes for a joint session on Wednesday. Republicans do not have the votes to successfully thwart Biden's victory, but Trump has urged supporters to travel to Washington to protest the outcome, and state and federal officials are already bracing for clashes outside the Capitol.[Growing number of Trump loyalists in the Senate vow to challenge Biden's victory]
During their conversation, Trump issued a vague threat to both Raffensperger and Ryan Germany, the secretary of state's general counsel, suggesting that if they don't find that thousands of ballots in Fulton County have been illegally destroyed to block investigators — an allegation for which there is no evidence — they would be subject to criminal liability.
"That's a criminal offense," he said. "And you can't let that happen. That's a big risk to you and to Ryan, your lawyer."
Trump also told Raffensperger that failure to act by Tuesday would jeopardize the political fortunes of David Perdue and Kelly Loeffler, Georgia's two Republican senators whose fate in that day's runoff elections will determine control of the U.S. Senate.
Trump said he plans to talk about the fraud on Monday, when he is scheduled to lead an election eve rally in Dalton, Ga. — a message that could further muddle the efforts of Republicans to get their voters out.
"You have a big election coming up and because of what you've done to the president — you know, the people of Georgia know that this was a scam," Trump said. "Because of what you've done to the president, a lot of people aren't going out to vote, and a lot of Republicans are going to vote negative, because they hate what you did to the president. Okay? They hate it. And they're going to vote. And you would be respected, really respected, if this can be straightened out before the election."
Trump's conversation with Raffensperger put him in legally questionable territory, legal experts said. By exhorting the secretary of state to "find" votes and to deploy investigators who "want to find answers," Trump appears to be encouraging him to doctor the election outcome in Georgia.
But experts said Trump's clearer transgression is a moral one. Edward B. Foley, a law professor at Ohio State University, said that the legal questions are murky and would be subject to prosecutorial discretion. But he also emphasized that the call was "inappropriate and contemptible" and should prompt moral outrage.
"He was already tripping the emergency meter," Foley said. "So we were at 12 on a scale of 1 to 10, and now we're at 15."
Throughout the call, Trump detailed an exhaustive list of disinformation and conspiracy theories to support his position. He claimed without evidence that he had won Georgia by at least a half-million votes. He floated a barrage of assertions that have been investigated and disproved: that thousands of dead people voted; that an Atlanta election worker scanned 18,000 forged ballots three times each and "100 percent" were for Biden; that thousands more voters living out of state came back to Georgia illegally just to vote in the election.
"So tell me, Brad, what are we going to do? We won the election, and it's not fair to take it away from us like this," Trump said. "And it's going to be very costly in many ways. And I think you have to say that you're going to reexamine it, and you can reexamine it, but reexamine it with people that want to find answers, not people who don't want to find answers."
Trump did most of the talking on the call. He was angry and impatient, calling Raffensperger a "child" and "either dishonest or incompetent" for not believing there was widespread ballot fraud in Atlanta — and twice calling himself a "schmuck" for endorsing Kemp, whom Trump holds in particular contempt for not embracing his claims of fraud.
"I can't imagine he's ever getting elected again, I'll tell you that much right now," he said.
He also took aim at Kemp's 2018 opponent, Democrat Stacey Abrams, trying to shame Raffensperger with the idea that his refusal to embrace fraud has helped her and Democrats generally. "Stacey Abrams is laughing about you," he said. "She's going around saying, 'These guys are dumber than a rock.' What she's done to this party is unbelievable, I tell you."
The secretary of state repeatedly sought to push back, saying at one point, "Mr. President, the problem you have with social media, that — people can say anything."
"Oh this isn't social media," Trump retorted. "This is Trump media. It's not social media. It's really not. It's not social media. I don't care about social media. I couldn't care less."
At another point, Trump claimed that votes were scanned three times: "Brad, why did they put the votes in three times? You know, they put 'em in three times."
Raffensperger responded: "Mr. President, they did not. We did an audit of that and we proved conclusively that they were not scanned three times."
Trump sounded at turns confused and meandering. At one point, he referred to Kemp as "George." He tossed out several different figures for Biden's margin of victory in Georgia and referred to the Senate runoff, which is Tuesday, as happening "tomorrow" and "Monday."
His desperation was perhaps most pronounced during an exchange with Germany, Raffensperger's general counsel, in which he openly begged for validation.
Trump: "Do you think it's possible that they shredded ballots in Fulton County? 'Cause that's what the rumor is. And also that Dominion took out machines. That Dominion is really moving fast to get rid of their, uh, machinery. Do you know anything about that? Because that's illegal."
Germany responded: "No, Dominion has not moved any machinery out of Fulton County."
Trump: "But have they moved the inner parts of the machines and replaced them with other parts?"
Germany: "No."
Trump: "Are you sure? Ryan?"
Germany: "I'm sure. I'm sure, Mr. President."
It was clear from the call that Trump has surrounded himself with aides who have fed his false perceptions that the election was stolen. When he claimed that more than 5,000 ballots were cast in Georgia in the name of dead people, Raffensperger responded forcefully: "The actual number was two. Two. Two people that were dead that voted."
But later, Meadows said, "I can promise you there are more than that."
Another Trump lawyer on the call, Kurt Hilbert, accused Raffensperger's office of refusing to turn over data to assess evidence of fraud, and also claimed awareness of at least 24,000 illegally cast ballots that would flip the result to Trump.
"It stands to reason that if the information is not forthcoming, there's something to hide," Hilbert said. "That's the problem that we have."
Reached by phone Sunday, Hilbert declined to comment.
In the end, Trump asked Germany to sit down with one of his attorneys to go over the allegations. Germany agreed.
Yet Trump also recognized that he was failing to persuade Raffensperger or Germany of anything, saying toward the end, "I know this phone call is going nowhere."
But he continued to make his case in repetitive fashion, until finally, after roughly an hour, Raffensperger put an end to the conversation: "Thank you, President Trump, for your time."
Alice Crites contributed to this report.
© Bill O'Leary/The Washington Post President Trump walks to the Oval Office after after returning from Florida on Thursday.
The Invasion of Eugene and Springfield | Rosamond Press
CNN) The homes of the two highest-ranking members of Congress — House Speaker Nancy Pelosi and Senate Majority Leader Mitch McConnell — have been vandalized, police said, after the Senate stalled Friday on increasing stimulus checks to $2,000 for millions of Americans. After McConnell's Louisville home was marked with graffiti early Saturday morning, the Kentucky Republican denounced the incident as a "radical tantrum."
"Vandalism and the politics of fear have no place in our society. My wife and I have never been intimidated by this toxic playbook. We just hope our neighbors in Louisville aren't too inconvenienced by this radical tantrum," McConnell said in a statement."Were's (sic) my money" was scrawled on McConnell's front door in what looks like white spray paint, according to photos from the scene taken by CNN affiliate WDRB.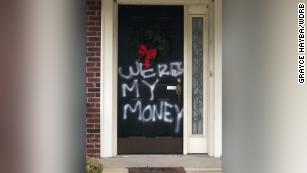 Mitch McConnell's Louisville home vandalized
Louisville Metro Police Department's 5th Division is investigating the matter and have not yet identified any suspect(s), spokesman Dwight Mitchell said.Early Friday morning, a home in San Francisco belonging to Pelosi was vandalized, according to the San Francisco Police Department. "Unidentified suspect(s) had painted graffiti on the garage door and left a pig's head on the sidewalk," the police department said in a statement obtained by CNN.
Vandals in the US have attacked the homes of the leaders of the two houses of Congress on the eve of a new session and the swearing-in of lawmakers.
Police said fake blood and a pig's head were left outside the California home of Nancy Pelosi, the Democratic Speaker of the House of Representatives.
In Kentucky, graffiti was scrawled on the house of Senate Majority Leader Mitch McConnell, a Republican.
Congress is deadlocked over a relief package for the coronavirus pandemic.
On Tuesday the House voted to increase the one-off payments sent to individuals from $600 (£440) to $2,000. The Democratic-controlled chamber passed the bill with the help of more than 40 Republicans.
But the Republican-led Senate has not approved the bigger cheques, despite calls to do so from US President Donald Trump.
What's happening on Sunday?
The two houses of Congress will convene for a new session, with recently elected lawmakers to be sworn in.
Ms Pelosi will be re-elected as House speaker, but with a reduced majority, after the Democrats lost seats in the 3 November election.
Mr McConnell remains as Senate majority leader but could be unseated if the Democrats win special elections for both Senate seats in Georgia on Tuesday.
Control of the Senate is likely to determine the fate of President-elect Joe Biden's legislative agenda. If the Republicans win, they will retain a narrow majority, giving them the power to vote down bills coming from the House.
Before Christmas, Democrats and Republicans blocked each other's attempts to amend a vital $900bn (£665bn) stimulus package. The legislation, which comes with a $1.4tn federal budget attached, was agreed by both sides.
Posted on February 25, 2020by Royal Rosamond Press
I Wear The Purple
From: The Royal Janitor
by
John Presco
Copyright 2020
Alas Starfish allowed Victoria to come up into her tree house. Climbing the bamboo ladder was the easy part. Taking in her dear friend, was the hard part. Miriam was wrapped in a purple robe, and on her head was a crown of thorns. The first time she read Christling's BAD report, the words "Christ Complex" jumped off the page at her.
"Are you going to fient, fall off the ladder, break your neck – and die, or, are you going to come sit next to me. I have something very important to tell you."
Getting comfy, Victoria waited for the worse.
"Have you read the Bible?"
Yes. I know it well. Working in the College of Heraldry I had to identify the source of the mottos on the Coat of Arms. I had a lot of time on my hand.
"Do you know the story of the Magi?"
"Yes!"
'I want you to close your eyes while I make a picture. On a hill is three crosses. On one of them is Jesus wearing a purple robe. A procession of a hundred knights on horseback ride to the top of the hill. Six men wearing purple, dismount and stand before…….their fellow king who is dying. A crown of thorns is brought out of a red bag, and the Six Kings order their Royal Augur to stand with them. They want to make sure…..he's the one. The augur has these ancient bones which he cast down on the ground, and reads them,
"He is the one!"
A ladder is found and placed on the cross. A piece of wood is found, and on it these words are written…
"King of the Romans."
The crown represents a Sheepcote wherein were kept the herds and horse of the Vandals, Skythians, and Alans. Rose bushes were grown on the thorny bramble from which a fragrant oil was made."
"O.K…..Are you done?" Victoria said, and realized her egregious mistake.
"No!" Miriam said with her fierce blue eyes.
"Jesus was a blonde with blues eye, just like mine. He was very tall. This is why his feet dragged on the ground when they put him on a ass. His people rode larges horses on the Steppes of Russia. He may be my ancestor. I descend from King Thrasamund. I am going to dismiss you, dismissing me, and give you the bottom line. After Jesus was born, three Roman Kings took him to Rome, where he drew up. When he was thirteen, he went up to the Temple of Zeus and conversed with the Seven Kings of Rome who were in exile. When one of them died, Jess was offered The Thorny Crown of the Good Shepherd. And, now you know why I am in a shitload of trouble. I figured all this out when I was thirteen. My parents……..were blown away! Jesus was not a Jew!
"Say something! I've been faking it. I've been leading a double life. I see the world as it should be – if it were not for Paul of Tarsus – the evil enemy of my people. That Gnome was not saved by the light! He followed – and killed the light. I hate that dwarf – with a passion! He is the Judiazer! He and Putin are cut from the same clothe. They are of Satan – the Divider and Liar from hell!"
Victoria could not look into Miriam's blazing blue eyes, so, she came at them sideways. She picked up the pine needle basket her beloved was waving, and let out a yelp when Miriam snatched it out of her hand.
"Would you like some tea. I can have my Major Domo bring us a tray!"
All of a sudden – Miriam jumped up!
"Shush! Can you hear them? Those are the great horns brought from Tibet. Hear that? The Alan Calvary is coming! The Scythians are coming! My people gather in Carthage. We must save her!"
Victoria shrieked as Miriam grabbed her spear – and flew out of her tree house! She did a roll when she landed, and took off like a track star!
"We must save Queen Dido and her lover from the Dwarf King! To Carthage! God save out Queeeeeeeeeeeeen!"
Victoria stood up. Her mouth was quaking. Tears formed in her eyes, and they jumped to their death. This was THE END. All good things must pass."
"It was too good to be true. My lover is a heretic – and a Pagan! There is nothing, or no one, who can tame her!…..To Carthage! For where't ever thy go, I will go, and be by your side! I will go mad – for you!"
But, then Victoria heard screams down by the pond. Miriam was concducting faux warfare with her enemies. Best go to my computer and do my job.
"Purple. Robe!"
An hour later, Starfish is still being quite the charismatic and has broken out in Victory song. Victoria has zeroed in on the name MELQART. Could it be Jesus was not King of the Romans, but, KING OF THE CITY? Then is came to her, what was written on the plaque…
KING OF THE ROMANS
KING OF THE CITY
O.K. Now we are getting somewhere. I can calm my love down with with logic and reason. I can be – historically supportive of her. Then, the door burst open. In three giant steps, Miriam is towering over Victoria. Her face was glowing!
"Guess what I just did?……I walked on water!"
Victoria hem and hawed, then pointed to the computer and the picture of a king walking on a beach with his little dog.
"You don't believe me…..do you!"
To be continued
The legend tells that the discovery of the purple was attributed to the god Melqart Heracles. While he was walking on the beach with the nymph Tyros, his dog found a Murex and munched on it. Its jaws tinged purple color. The nymph admired the color and asked the God to offer her a cloth with such a beautiful color. In order to please his sweetheart, Melqart, ordered to collect the seashells and to prepare a tincture of this crimson color, and make a dyed tunic witch delight the heart of the nymph.
https://en.wikipedia.org/wiki/Melqart
https://en.wikipedia.org/wiki/Thrasamund
https://en.wikipedia.org/wiki/Overthrow_of_the_Roman_monarchy
https://en.wikipedia.org/wiki/Dido