The Rape of Stefan Eins
by
John Presco
Copyright 2020
Five years ago Christine Wandel told me Stefan Eins does not want her to talk about him – to me….anymore! I assumed he was reading my posts I started putting on his facebook – because no one else was posting.
I wondered if Amy Oles was betraying me after I suggested she befriend Stefan. I saw that she became friends with Brooks who got into a physical fight with Christine. My friend since 1967 had never read my newspaper-blog because she does not have a computer. But, she has just got a cellphone. However, she refuses to let me show her the link to it.
Four years ago the cabbie friend she just made, tells my old hippie friend that he had read my blog – and thinks I am a genius! This is when Christine got interested in my idea to write a series on their relationship for my newspaper, Royal Rosamond Press, or even a book. I said we could split the profits. She was desperate for money in order to fix the house she and Eins just bought in Pennsylvania. Did she run OUR idea past Stefan (who is always begging old ladies for money) and they decided the best way to stop the flow of information to me, was to forbid it?  I felt Freedom of the Press was under attack.
With the attack on Portland's Bohemian Anarchists, I am now launching an investigation as to how much influence the extreme Catholic-right has on Barr and Trump. It has been suggested this Good Squad crushing the City of Roses, are members of Eric Prince's private Christian Army. It is being said Opus Dai may be behind this secret Catholic Crusade to take back America. This killer church has murdered millions of people. I am now wondering if Stefan was a member of Opus Dei, but, then he defected.
When a friend of fifty years suddenly turns against you, then any reporter, detective, or friend, is going to wonder. Stefan keeps a tight ship. His facebook friends, fellow artists, are afraid to talk, afraid to share. Note Stefan's hand over Christine's mouth. When she locked him out because she became afraid of him, Stefan went to the store and bought a crowbar.
I suspect Opus Dai is moving its troops into our major cities to put down the riots when Barr announces the suspension of our elections. Barr raves about the decadence of America – that Stefan helped bring about! Bohemian Artists used to be on the frontline of the war against tyranny. Ein's has gathered together a group of hack artists – who are not very good artists – as planned. I'm afraid Fashion Moda is more than a cult, and is a arm of Opus Dai.
Barr's father was a Jew. His mother is….Mary Margaret, as in……..
SISTER MARY MARGARET
The woman in the video below looks like she could be – Stefan's daughter?
John Presco
President: Royal Rosamond Press
One example: Barr and Patrick Cipollone, Trump's White House counsel, have both served on the board of directors of a Washington-based organization staffed by priests from the secretive, ultra-orthodox Catholic sect Opus Dei.
t's not enough that Attorney General William Barr, whose office is supposed to be nominally independent of the president's, is busy pursuing Donald Trump's paranoid global and domestic grudges around the world. Barr is also finding time to denounce his own country. In a histrionic speech at Notre Dame Law School on Friday, he blamed "secularists" and "so-called progressives" for destroying society and precipitating the crises of family dissolution, crime, and drugs, while talking of a war between religious and nonreligious Americans. Scary shit.
"This is not decay," Barr intoned darkly at Notre Dame. "This is organized destruction. Secularists and their allies have marshaled all the forces of mass communication, popular culture, the entertainment industry, and academia in an unremitting assault on religion and traditional values."
"Virtually every measure of social pathology continues to gain ground," he continued. "Along with the wreckage of the family, we are seeing record levels of depression and mental illness, dispirited young people, soaring suicide rates, increasing numbers of alienated young males, an increase in senseless violence and the deadly drug epidemic." He accused the government, with no evidence, of blocking the "passing on of the faith" from parents to their children, which he called a "monstrous invasion of religious liberty."
Stefan Eins was born in Prague during the Occupation of Czechoslovakia in 1940. Eins grew up in Vienna and Gresten, Austria. He graduated from the University of Vienna with a degree in Theology in 1965. From 1964-1967 he attended the Academy of Fine Arts in Vienna where he focused most of his studying on Sculpture. In 1967, he moved to New York City.
https://en.wikipedia.org/wiki/William_Barr
https://en.wikipedia.org/wiki/Stefan_Eins
https://www.theguardian.com/us-news/2019/oct/19/william-barr-attorney-general-catholic-conservative-speech
https://www.theguardian.com/world/2006/may/13/books.film#:~:text=Opus%20Dei%20(The%20Work%20of,clothes%20and%20do%20ordinary%20jobs.
Prominent liberal Catholics have warned the US attorney general's devout Catholic faith poses a threat to the separation of church and state, after William Barr delivered a fiery speech on religious freedom in which he warned that "militant secularists" were behind a "campaign to destroy the traditional moral order".
The speech last Friday at the University of Notre Dame law school, in which Barr discussed his conservative faith and revealed how it affects his decision-making as the nation's chief law-enforcement officer, has set off a fierce debate among Catholic intellectuals from across the political spectrum, as well as among Catholics inside the justice department.
C Colt Anderson, a Roman Catholic theologian and professor of religion at Jesuit-run Fordham University, said in an interview that he was unaware until this week that Barr was a fellow Catholic. Now, after reading the speech, Anderson believes the attorney general, in revealing his devotion to an especially conservative branch of Catholicism, is a "threat to American democracy".
He described the speech as a "dog whistle" to ultra-conservative Catholics who, he says, have aligned themselves to Donald Trump in a campaign to limit the rights of LGBTQ Americans, immigrants and non-Christians, especially Muslims, and to criminalize almost all abortions. "The attorney general is taking positions that are essentially un-Democratic" because they demolish the wall between church and state, Anderson said.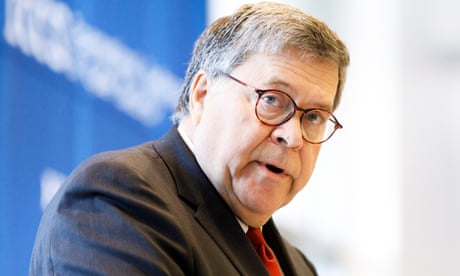 US justice department resumes use of death penalty and schedules five executions
In the hallways of the justice department in Washington, there has been a similar furor among some Catholics employees who answer to Barr. "I was shocked by the speech and all this fire and brimstone," said a senior department career official who considers himself a devout Catholic, speaking on condition that he not be identified for fear of losing his job.
"At least it helps me understand why Barr has been so willing to put his own reputation on the line to defend Trump so fiercely in every battle," beginning with the congressional investigation that is likely to end in the president's impeachment, he said. "Trump is Barr's imperfect vessel in serving a much higher cause: the gospel."
In the speech, delivered to an invitation-only crowd at Notre Dame, one of the nation's largest and best known Catholic universities, the attorney general described threats to religious freedom.
He warned that Catholicism and other mainstream religions were the target of "organized destruction" by "secularists and their allies among progressives who have marshalled all the force of mass communications, popular culture, the entertainment industry and academia".
He insisted that "the traditional Judeo-Christian moral system" of the United States was under siege by "modern secularists" who were responsible for every sort of "social pathology", including drug abuse, rising suicide rates and illegitimacy.
Barr did not address the fact that many of the policies of the Trump administration are strongly opposed by the Vatican. Pope Francis has repeatedly pleaded for the United States to open its doors to more refugees, even as Barr has defended policies that turn away or imprison immigrants seeking refugee status at the US-Mexico border, even separating parents from their children.
The reaction to Barr's address came as another Trump cabinet member, secretary of state Mike Pompeo, was drawing fire from civil liberties groups over the state department's decision this week to promote his recent speech titled Being a Christian Leader on the department's online homepage.
The speech by Pompeo, an evangelical Christian, was delivered on Friday, the same day as Barr's speech, to a meeting of the American Association of Christian Counselors in Nashville.
"It's perfectly fine for secretary Pompeo to be a leader who is a Christian," the group Americans United for Separation of Church and State said in a statement. But the decision to promote Pompeo's speech on the department's official website sends "the clear message that US public policy will be guided by his personal religious beliefs".
Barr's speech at Notre Dame was a reminder of a fact often overlooked in analysis of Trump's political base – that while the president enjoys the support of many high-profile right-wing Christian evangelical leaders, he has also surrounded himself with conservative Roman Catholics associated with organizations that some others in the faith consider extreme.
One example: Barr and Patrick Cipollone, Trump's White House counsel, have both served on the board of directors of a Washington-based organization staffed by priests from the secretive, ultra-orthodox Catholic sect Opus Dei.