I took a DNA test at Ancestry.com. The results identified Peter Wok von Rosenberg as my great, great, great, great grandfather. Peter owned Krumlov Castle that you see at the base of our family tree.
The owner of the Potrero Plant, must fund my ritual I am compelled to perform at the base of the smokestack. I need to use that furnace to conduct a alchemist ritual. If you need to remain anonymous for now, have your agent contact me.
This masquerade – must end! I hate to mention this, but, there are many curses winging their way home. Only I can stop them!
I must be at the San Francisco Opera for the last performance of Carmen! He will be there. He came to America with Sir Francis Drake. Peter and William backed the experiments of John Dee, and knew Queen Elizabeth. Baphomet had a sixth sense. He could smell gold treasure. He took Drake and his ships directly to the Galleons of Charles von Hapsburg, full of Incan and Aztec gold. He descended from a line of Knight Templars. The Bohemian Club were performing a ritual at the California Barrel Company the night after Caruso sang Carmen. The earthquake struck. The Bohemians fled as the smokestack swayed back and forth! Then, there came a streak of blue flame, that kept it steady.
"Baphomet!"
They robbed our story and made it into a Broadway smash! If I am not in the opera house, there may be another earthquake! Only I can tame his dark rage!
http://magicbohemia.com/2017/07/10/john-dee-in-bohemia/
Someone keeps altering the Rosenburg site. Wilhelm is the one who had no children. I suspect Prince Karl Schwarzenberg was shown this blog and ordered some pruning of our rose tree. I challenge Karl to take a blood test! However, this may not be conclusive. Therefore, I invite Karl to sit next to me at the Opera. Baphomet will approach, and pin a gold rose on the lapel of the real descendant of the Rose Man a.k.a. Adam. I now how to make the red earth. It came to me in a dream.
https://rosamondpress.com/2019/02/08/royal-stewart-family-tree-and-princess-erasmus/
Let us pray the Quickie Masters don't have plans to sell our children Three Minute Operas!
Because there are dark forces who have me in their sites, I am forced to leave a DNA clue, that is also the key to a chemical formula. Now my students can construct the double helix. Follow the Ds. Now you know!
MA and DA
MADA
ADAM
The mother and father of us all.
"I AM what I AM"
MAMA
DADA
ADAD
DADA
ADAD
Jon 'The Rose Man'
Copyright 2019
https://en.wikipedia.org/wiki/Baphomet
https://sfopera.com/1819season/carmen/
https://sfopera.com/1516-season/carmen/carmen-video-gallery/carmen-highlights/
The previous evening had been the opening night of the Metropolitan Opera Company's San Francisco engagement. Caruso—already a worldwide sensation—had sung the part of Don José in Bizet's Carmen at the Mission Opera House. He went to bed that night feeling pleased about his performance. "But what an awakening!" he wrote in the account published later that spring in London's The Sketch. "I wake up about 5 o'clock, feeling my bed rocking as though I am in a ship on the ocean….I get up and go to the window, raise the shade and look out. And what I see makes me tremble with fear. I see the buildings toppling over, big pieces of masonry falling, and from the street below I hear the cries and screams of men and women and children."
https://www.history.com/this-day-in-history/enrico-caruso-survives-the-san-francisco-earthquake
http://www.ckrumlov.info/docs/en/mesto_histor_alchym.xml
http://www.encyklopedie.ckrumlov.cz/docs/en/mesto_histor_povleg.xml
Peter Wok von Rosenberg
From his childhood, Peter Wok grew up in the shadow of his older brother Wilhelm von Rosenberg who was being prepared for the position of Rosenberg. This was a reason why Peter Wok never achieved a more influential position or more success in politics and lived in seclusion at the Bechyně castle. He took over the care of the Rosenberg after Wilhelm´s death in 1592. Because he did not have any children with his wife Kateřina of Ludanice, he was forced to sell the Český Krumlov castle to Emperor Rudolf II von Habsburg in 1601, also because his family was in deep debt. Peter Wok used to be described in the older literature only as a spoiled profligate, but this is quite untrue. The "last Rosenberg" died in 1611 in his residence in Třeboň. See also the last Rosenberg, Peter Wok von Rosenberg.
(mj)
Alchemy in Český Krumlov
The second half of the 16th century is usually called "the golden age of alchemy". Beside Emperor Rudolf II. von Habsburg, it was Wilhelm von Rosenberg who became the most important Maecenas of the hermetic sciences, especially of alchemy. Around the House of Rosenberg, in fact, arose a second center of hermetic and alchemic activity. Not only renowned and lesser known enthusiastic seekers, but also skilled con artists worked their magic in the Prague Rosenberg Palace as well as in different seats of Wilhelm's South Bohemian dominion – in Třeboň, Prachatice, and especially in Český Krumlov, which used to be called "the South Bohemian Mecca of alchemists".
Let's look over some names connected with this group of Rosenberg magicians. Primarily, we have to speak about Doctor Tadeáš Hájek z Hájku (1525 – 1600) – a physician and a Rennaissance natural scientist.
The first meeting of the 18-year-old Wilhelm with Hájek took place at the end of 1553. At the time, the natural scientist had published a prognosis for the following year based on an astrological analysis. The prognosis agreed admirably with and inspired Wilhelm's political projects, and much of it came true in the course of the year. The affair was a political struggle with the Dukes of Plavno. In 1556, we meet Hájek as a renowned physician accompanying Wilhelm von Rosenberg during his war campaign to Hungary. Among other things, Hájek was an excellent botanist and was very helpful during the arrangement of the Rosenberg gardens in Prague, Český Krumlov and Kratochvíle. Hájek's book "A Treatise of Comet and Celestial Signs", dating from 1580 and dedicated to both the brothers – Wilhelm and Peter Wok von Rosenberg – became well known. Because of his wide natural historical knowledge and honesty, Hájek was in demand for evwould-be
court .
For several years I have been trying to bring to the attention of the Austrian Government the existence of the large canvas at the University of Oregon Museum titled 'The Last Audience of the Habsburgs' that was smuggled out of Austria. Alas, I have found just the right person. He is my kindred, Karl Schwarzenberg, who himself had to flee a oppressive regime. Karl opposes Putin, and backs Britain. I will contact him and see if he would like to come give a talk on this painting. His relative, Prince Felix Schwarzenberg, restored the Habsburg Empire.
John Presco
President: Royal Rosamond Press
https://www.huffingtonpost.com/lan-anh-vu/how-i-got-there-karel-sch_b_9043274.html
Prince Felix of Schwarzenberg (German: Felix Prinz zu Schwarzenberg; 2 October 1800 – 5 April 1852) was a Bohemian nobleman and an Austrian statesman who restored the Habsburg Empire as a European great power following the Revolutions of 1848. He served as Minister-President of the Austrian Empire and Foreign Minister of the Austrian Empirefrom 1848 to 1852.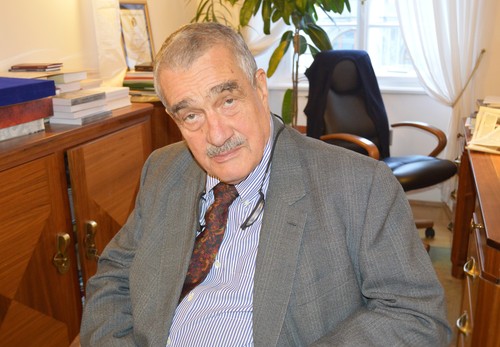 Karel Schwarzenberg is the Prince of Schwarzenberg, Duke of Krumlov, former first Deputy Prime Minister and Minister of Foreign Affairs of the Czech Republic and honorary Chairman of Top 09 party. Schwarzenberg was also a Member of the Senate of the Czech Parliament and a candidate for the President of the Czech Republic in the 2013 presidential election. He is noted as a pro-European member of the center-right governing coalition.
Schwarzenberg's family, who once ranked among the oldest and wealthiest aristocrats in Central Europe, had to leave the Czechoslovakia after the Communist coup of 1948. He spent most of his adult life in Austria to plot against communism. He is a great proponent of human rights and has been for his entire life. In 1989, he was awarded, together with Lech Wałesa, the Council of Europe's Human Rights Award. Lan Anh Vu sat down with Schwarzenberg to learn more about his political life, the challenges he faced and his advice for young people across the world when it comes to pursuing a career in politics.
The above words from a sentimental song make the latter years of Habsburg rule appear as halcyon days. And indeed, some members of the Habsburg family were perceived in a different light on their Bohemian throne on the Vltava than on the Danube.
In 1848, a change of power took place in the house of Habsburg, when Emperor Ferdinand I abdicated in favour of his young nephew Franz Joseph. Ferdinand, whose coronation as king of Bohemia constituted the last such ceremony held at St Vitus Cathedral in Prague, had a special connection with Prague, since Franz Joseph and Karl I dispensed with a formal coronation. Ferdinand, who in Austria tended to be perceived as an unfortunate anomaly in the house of Habsburg, now resided far from high politics in Hradčany, the Castle District of Prague, and in his rambling Bohemian estates around Reichstadt, until in 1875, highly revered, he died at the advanced age of 82.
The ex-emperor, often portrayed as incapable, evolved an astonishing skill at multiplying his assets. While he had waived his right to the imperial throne, he did not dispense with his private imperial fortune. As a result, Franz Joseph had to battle with huge financial problems; he was now the head of the family, but had scarcely any disposable private assets. Thus he had no choice but to make frequent clandestine begging trips to his wealthy uncle in Bohemia. Here, Ferdinand, as a result of his charm and good nature, became very popular, no doubt also in reaction to Franz Joseph's authoritarian style of rule.
Emperor Franz Joseph too was considered in Prague as a symbol of the late splendour of Habsburg rule, even though from a Czech perspective, this was tainted by the failure of the Bohemian Compromise in 1871 (modelled on the Hungarian Compromise of 1867). In Bohemia, he was jokingly referred to as 'the old Procházka'; upon a visit to Prague the newspapers published a photograph in which Franz Joseph could be seen taking a walk across one of the bridges over the Vltava, with the caption in Czech: 'Procházka na mostě' ('Walk on the bridge'). 'Procházka' means 'walk/stroll', but at the same time is also a common surname, and here alludes to the petit-bourgeois, scrupulously meticulous lifestyle of the ageing emperor.
After 1918, a fresh wind blew through the Castle District. President Tomáš G. Masaryk instructed architect Josip Plečnik to redesign the old royal castle as the official seat for the president of the newly-founded Czech Republic, with the skilful addition of modern constructional elements.