Here is The Art of the Deal.
John Presco
The invasion of Glenwood was led by Apex Investments of Dubai. Springfield and Eugene refused my history of the Miller Brothers, and John and Jessie Fremont. What are they giving the people? What are they giving women, and men? Who wants this empty clean space of the mind? Why did so many women vote for Trump? Who is bankrolling these projects? The Arabs got wealthy from the oil they own. They pretend there is a cultural exchange. There is not. Araba leaders are barbarians, family run oligarchies that our President emulates to the delight of squealing white women.
Who are these Hotel Cartel People? What are they not being questioned? Do we want what they have to sell? Are they helping the homeless? Who are they? We are just cattle to them. Their prices are too high. They should be cut in half, or, we should become a Socialist Nation and offer free transportation and lodging – along with free medicine!
Jon Presco
President Trump met with Russian officials at the White House last week. American journalists were barred, but Russia released photographs. Credit Russian Foreign Ministry
WASHINGTON — President Trump told Russian officials in the Oval Office this month that firing the F.B.I. director, James B. Comey, had relieved "great pressure" on him, according to a document summarizing the meeting.
"I just fired the head of the F.B.I. He was crazy, a real nut job," Mr. Trump said, according to the document, which was read to The New York Times by an American official. "I faced great pressure because of Russia. That's taken off."
Mr. Trump added, "I'm not under investigation."
The conversation, during a May 10 meeting — the day after he fired Mr. Comey — reinforces the notion that the president dismissed him primarily because of the bureau's investigation into possible collusion between Mr. Trump's campaign and Russian operatives. Mr. Trump said as much in one televised interview, but the White House has offered changing justifications for the firing."
It is clear to me what the Trump Buddies are up to. They want to make the Rich of the World even richer so they will invest in, and stay in, their Luxury Hotels on Boardwalk and Park Place. If they have to take food stamps from children, and put poor seniors out on the street, the will do so with a snigger, a snort, and a chuckle! A crazy nut is someone in power who is not willing to join the boys in the locker room and go after The Poor – with glee! The Press is not the enemy, The Poor, is their main target.
Jon Presco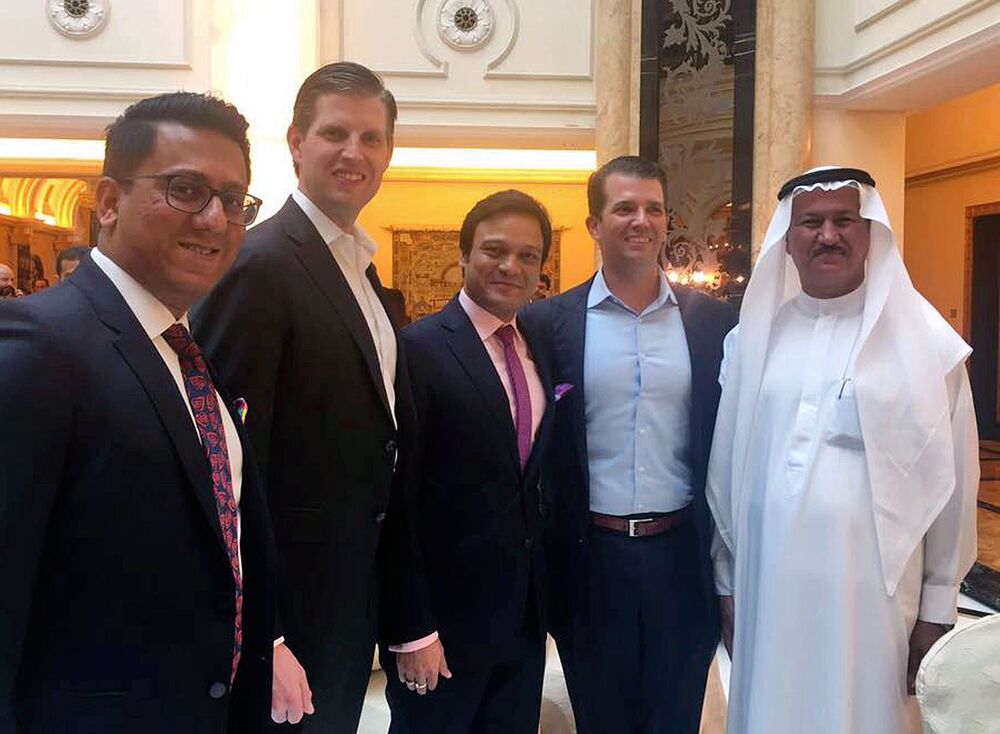 Banke International director Niraj Masand, far left, poses for a photo with Eric Trump, second left, Banke International director Porush Jhunjhunwala, center, Donald Trump Jr., second right, and DAMAC Properties chairman Hussain Sajwani, during festivities marking the formal opening of the Trump International Golf Club, in Dubai, United Arab Emirates on Feb. 18.
Source: AP
President Donald Trump's adult sons, who now manage his sprawling business empire, were guests of honor at the launch of a new luxury golf course in Dubai, the first opening of a Trump-branded property since Inauguration Day.
Eric and Donald Jr. presided as the red carpet was rolled out at the 30,000-square-foot (2,787 sq meter) clubhouse for the Trump International Golf Course, the first Trump golf resort in the Arab world.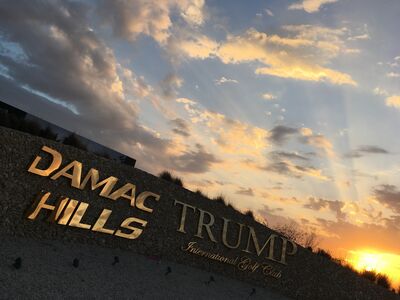 The plush kick-off event started just after sunset on a clear, blustery evening. Guests — a mix of local and foreign business people — were treated to canapes of quail egg, tuna tartar and spring rolls, and a string orchestra played Vivaldi's "Four Seasons." No alcohol was served.
The 18-hole course is part of a larger villa and apartment building project by Dubai-based developer Damac Properties Dubai Co. PJSC, which is owned by billionaire Hussain Sajwani. The layout was designed by architect Gil Hanse, who also designed the 2016 Olympic course in Rio de Janeiro.
A corporate membership is about $15,000 (55,000 dirhams) up front plus about $21,800 per year, according to a rate card distributed at the event. A single person can join for $6,800 plus a $9,530 annual fee.
Damac has a second resort under development, the Trump World Golf Club Dubai, which is being designed by golfer Tiger Woods. Damac paid Trump as much as $10 million in 2015 and the first part of 2016, according to his financial disclosure filed in May.
Mar-a-Lago Party
As president-elect, Trump said he turned down a $2 billion deal with a major property developer in Dubai because he didn't "want to take advantage of something." Damac confirmed the talks with Trump, without specifying whether the deal involved properties in Dubai or when the discussions took place.
A Hotel Management Company Delivering Real Results
The ancient Greeks called it Areté, the tireless pursuit of one's full potential. The strive to use all of one's faculties – strength, wisdom and ambition – to their highest effectiveness, and in doing so, to achieve real results.InnSight is a respected hotel management company built on the principal of Areté. For more than eighteen years, we have delivered highly effective hotel development and management services throughout the Northwest, exceeding the expectations of owners and investors, and fostering in our associates the next generation of hospitality leaders.Our Mission & Core Values
To deliver superior results to our owners, associates and guests. In pursuit of superior results, we value personal and organizational growth, community, integrity and excellence.

Hospitality Management Careers & Leadership Training

InnSight Hotel Management Group is always looking to strengthen our leadership and management team with the best talent available, and we may be looking for you! We offer healthcare benefits, paid time off, and travel industry discounts.

At InnSight, we expect our team members to make us as successful as we can be, and we believe in doing the same for each of them. We are committed to the development of our associates and the advancement of future leaders. Exemplary InnSight associates may be nominated for our Leadership Training Program, a challenging year-long instruction course on leadership fundamentals led by our Director of Operations and Human Resources Manager.
http://www.springfield-or.gov/DPW/CommunityPlanningDevelopment/SupportFiles/FranklinBoulevard/FranklinBoulevardStudy.pdf
https://www.planning.org/awards/2015/glenwoodrefinement.htm
http://djcoregon.com/news/2002/05/28/vik-construction-prepares-to-celebrate-55-years-of-industry-success/
Glenwood's turnaround
Local group plans riverfront hotel, conference center
---
Appeared in print: Saturday, April 5, 2014, page A8
---
More than a few people probably rolled their eyes when they read a story in Thursday's Register-Guard describing a proposal to build a $43-million riverfront hotel and conference center on Franklin Boulevard in Glenwood's gritty, underutilized riverfront district.
After all, similarly ambitious proposals have surfaced in the past only to disappear like morning mist on the Willamette River. In 2007, at the height of Oregon's last economic boom, Apex Investment Group, an international development company, announced plans for transforming an unincorporated jumble of industrial, retail and residential properties in Glenwood into a vibrant mix of housing, shops, restaurants and offices. A year later, the plan was dead. Developers cited unfavorable market conditions, a nice way of saying the project wasn't economically feasible, especially in light of the area's lack of infrastructure and the absence of an overall vision and detailed plan for how Glenwood should evolve.
But there are reasons to believe the most recent proposal will succeed where others have failed. They include Springfield's completion of the Glenwood Refinement plan, a comprehensive long-range strategy for the region and for addressing the daunting obstacles that have long hindered its redevelopment.
https://www.hotel-online.com/press_releases/release/glenwood-development-faces-some-hurdles
Richard Boyles, president and co-founder of Springfield-based InnSight Hotel Management Group, which manages about a dozen hotels in Oregon and Washington, remains skeptical of the latest Glenwood project.
Boyles said Vik approached him a year or two ago about joining the project. Boyles passed on the venture.
Boyles questioned whether there is a enough conference business to make the project profitable. He also wondered whether conference bookers will be keen to hold events at that location when some attendees would have to stay elsewhere.
"Its time will come," Boyles said of Glenwood. "But to lead that redevelopment with a hotel I didn't feel would be a successful venture."
Allen Lonstron, another member of the local development group, acknowledged that attendees would have to stay at other hotels in the area until Glenwood redevelops with more hotel rooms. But he said that's typically the case with conference centers and doesn't see it as a setback.
Boyles is "partly right because we don't have enough (full-service) hotel rooms," Lonstron said. "That's not going to keep us from having business."
Lonstron said the Eugene-Springfield area has fewer rooms and meeting space at full-service hotels, which include rooms, meeting space and in-house food service, than it did a decade ago.
The area has three full-service hotels: the Hilton Eugene, the Valley River Inn and the Holiday Inn Eugene/Springfield.
The Lane Events Center and Lane Community College have meeting space but no hotel rooms on site.
RIYADH: Disregarding the singular quest of making money when starting a business is the top advice offered to entrepreneurs by Adwa Al-Dakheel, the 25-year-old CEO of the Direct Influence media agency.
Society today needs businesses that can cater straight to its needs, the young Saudi executive said on the sidelines of the Saudi-US CEO Forum on Saturday.
"Today if you want to succeed; if you want your business to become a billion-dollar business, you need to think of the society first," she told Arab News.
"I think the old theory of (starting) a business just to make a profit is over," she added, adding that money will come eventually if you're doing the right thing and if the idea is beneficial.
Al-Dakheel, who is also a stock analyst, triple majored in business management, entrepreneurship and psychology in Boston, Massachusetts. She said the educational infrastructure in Saudi Arabia is "booming and is becoming bigger and better," something that calls for knowledge transfer between Saudi and foreign students.
"I think the idea and theory of knowledge transfer between Saudi Arabia and the US is extremely needed. In the past it has been one-sided, but in today's age it is actually moving in both directions."
She hopes to see more students coming to study in Saudi Arabia from the US. A current example of that are students coming from abroad to study at King Abdullah University of Science and Technology (KAUST) in Thuwal and Mohammed Bin Salman College (MBSC) in King Abdullah Economic City (KAEC).
The young businesswoman, who became a CEO at the age of 23, said that Saudi Arabia needs to invest more in employment, job development, and education as well. "It's not right for us to just employ people, get them a salary and just ask them to work. We should give them knowledge; we should educate because a year later, we don't want them to be the same people."
The past year was unkind to billionaires all over the world, including the Middle East, where Arab billionaires saw their net worth drop by 23.8% from a year ago. Still, FORBES MIDDLE EAST added five new billionaires, including Hussain Sajwani from the U.A.E., Sheikh Faisal Bin Qassim Al Thani of Qatar and Oman's Suhail Bahwan. Prince Alwaleed of Saudi Arabia remains the wealthiest Arab in the world, even though his net worth fell by more than 20% from a year ago.At 7, Lebanon has the most billionaires, making it also one the countries with the highest number of billionaires per capita in the world. Saudi billionaires are the richest with a combined net worth of $34.6 billion. The second richest are from the U.A.E. with a combined net worth of $19.7 billion.
Families remain pillars of Arab economies, providing jobs and stability. Saudi Arabia again tops the rich list, with 12 of the 15 richest families. Nine out of the 15 families made a fortune owning licensing rights to foreign brands, mostly American.
Forbes Middle East traces the trajectory of the Alajlan family, from small shop owners, selling menswear in a Riyadh souk, to exclusive licensees of Versace, Ferrari, Kenzo and other luxury brands for shemaghs, the traditional Arab headdress.
Richest Arab billionaire
Prince Alwaleed Bin Talal Alsaud (Saudi Arabia)– No. 1, net worth $17.3 billion
The Prince owns stakes in private and public companies in the U.S., Europe and the Middle East through Kingdom Holding Co.
Youngest Arab billionaire
Fahd Hariri (Lebanon) – No. 32, net worth $1.2 billion
Fahd Hariri is the youngest son of slain Lebanese Prime Minister Rafik Hariri. While he currently lives in Paris, he develops residential buildings in Beirut.
New Arab billionaires
– Suhail Bahwan (Oman)– Ranked #7, net worth $3.4 billion
Bahwan started out as a small trader before diversifying into several industries.
– Hussain Sajwani (U.A.E.) – Ranked #8, net worth $3.2 billion
Sajwani founded residential real estate developer Damac Properties in 2002.
– Sheikh Faisal Bin Qassim Al Thani (Qatar) – Ranked #18, net worth $2 billion
At age 16, Al Thani started selling car parts in Doha, before establishing his eponymous holding company in 1964.
– Abdul Wahid Al Rostamani (U.A.E.) – Ranked #28, net worth $1.3 billion
Al Rostamani and his late brother, Abdullah, founded Dubai's first bookshop in 1954.
– Mohammed Saud Bahwan (Oman) – Ranked #28, net worth $1.3 billion
Bahwan's late father became Toyota's agent in Oman in 1975 and built it into a market leader.
By Country
Saudi Arabia – 6 billionaires worth $34.6 billion
U.A.E. – 6 billionaires worth $19.7 billion
Egypt – 6 billionaires, worth $14.2 billion
Lebanon – 7 billionaires worth $12.5 billion
Oman – 3 billionaires worth $6.2 billion
Morocco – 2 billionaires with a new worth of $3.2 billion
Algeria – 1 billionaire worth $3.1 billion
Qatar – 1 billionaire worth $2 billion
View the full list of 2016 Arab billionaires rankings here.
Richest families
Olayan (Saudi Arabia) – Ranked #1, net worth $8 billion
The 69-year-old Olayan Group remains one of the largest family-owned holdings in the Middle East. It has partnerships with Kimberly Clark, Coca-Cola and General Foods, among other companies, and is a major investor in stock markets.
Alshaya (Kuwait) – Ranked #2, net worth $5.billion
Founded in 1890, M.H. Alshaya Co. operates more than 2,800 stores across the Middle East, Russia, Poland and the Czech Republic, including Starbucks, H&M and The Body Shop.
Al-Kharafi (Kuwait) – Ranked #2, net worth $5.billion
Founded by the late Mohammed Abdulmohsin Al-Kharafi, the Kharafi Group is one of the Middle East's biggest conglomerates and a major investor in the Kuwaiti stock market.
Abudawood (Saudi Arabia) – Ranked #4, net worth $4 billion
The late Ismail Ali Abudawood founded a small wholesale business in 1935 in Jeddah. Two decades later, the Abudawood Group became the exclusive agent for Procter & Gamble.
Alajlan (Saudi Arabia) – Ranked #5, net worth $2.6 billion
Ajlan Alajlan opened a small shop in Riyadh in 1978. He and his brothers now own five garment factories in China, and sell clothing in more than 6,000 stores throughout the Gulf.
Al Jaber (U.A.E.) – Ranked #6, net worth $2.5 billion
Founded in 1970, to date the Al Jaber Group has laid 7,000 kilometers of roads in the Emirates, and is the largest private sector employer in the country with more than 60,000 workers.
Khalid Bugshan & Family (Saudi Arabia) – Ranked #7, net worth $2 billion
Holding Abdullah Said Bugshan Co., founded in 1923, was split between Khalid and his two cousins, Ahmed and Abdullah in 1998. Khalid Bugshan is CEO of Saudi Bugshan Group.
Alhokair (Saudi Arabia) – Ranked #8, net worth $1.8 billion
Fawaz Alhokair Group is Saudi Arabia's most valuable retail company with 11 shopping centers across the country, and rights to global brands including Zara, Gap, Nine West and Topshop.
Ahmed Salem Bugshan & Family (Saudi Arabia) – Ranked #8, net worth $1.8 billion
Ahmed Salem Bugshan is chairman of one of three offshoots of Abdullah Said Bugshan Co. The group owns half of the Pepsi bottling and distribution operation in Saudi Arabia.
Sharbatly (Saudi Arabia) – Ranked #10, net worth $1.7 billion
Founded in the 1930s, the Al Nahla Group is a conglomerate with interests in automobiles, food and real estate. It owns 40 million square meters of land in Saudi Arabia.
Alrashed (Saudi Arabia) – Ranked #11, net worth $1.6 billion
Rashed AlRashed founded AlRashed Group in 1950, selling building materials during Saudi Arabia's construction boom.  He later diversified into real estate, automotive parts and food.
Al-Dabbagh (Saudi Arabia) – Ranked #12, net worth $1.5 billion
Abdullah Al-Dabbagh founded the Al Dabbagh Group in 1962. Amr Al-Dabbagh, who was chairman of the Saudi Arabian General Investment Authority, now heads the family holding.
Jameel (Saudi Arabia) – Ranked #12, net worth $1.5 billion
In 1955, Abdul Latif Jameel won exclusive rights to distribute Toyota in Saudi Arabia. He passed away in 1993, and son Mohammed became chairman and president of Abdul Latif Jameel Co.
Al-Agil (Saudi Arabia) – Ranked #14, net worth $1.3 billion
Brothers Mohammed, Abdulkarim, Abdulsalam, Abdullah and Nasser opened Jarir Bookstore after graduating. Jarir went public in 2003, now selling smartphones, office supplies and laptops.
Al Subeaei (Saudi Arabia) – Ranked #15, net worth $1 billion
Mohammed and his brother Abdullah founded the Alsubeaei Company in 1933. In 2010, the second generation divided the assets and Mohammed's family formed MASIC.
View the full list of the Arab world's richest families rankings here.
Methodology 
Net worths are estimates as of February 12, 2016 for individual billionaires (unless otherwise stated) and March 8, 2016 for the families, where several relatives own shares in the same holding, but division of ownership is not known. The cut-off is $1 billion. Although he's a native of India, FORBES ranks P.N.C. Menon as an Omani national, as he is a citizen of that country.