President Trump met with Russian officials at the White House last week. American journalists were barred, but Russia released photographs. Credit Russian Foreign Ministry
WASHINGTON — President Trump told Russian officials in the Oval Office this month that firing the F.B.I. director, James B. Comey, had relieved "great pressure" on him, according to a document summarizing the meeting.
"I just fired the head of the F.B.I. He was crazy, a real nut job," Mr. Trump said, according to the document, which was read to The New York Times by an American official. "I faced great pressure because of Russia. That's taken off."
Mr. Trump added, "I'm not under investigation."
The conversation, during a May 10 meeting — the day after he fired Mr. Comey — reinforces the notion that the president dismissed him primarily because of the bureau's investigation into possible collusion between Mr. Trump's campaign and Russian operatives. Mr. Trump said as much in one televised interview, but the White House has offered changing justifications for the firing."
It is clear to me what the Trump Buddies are up to. They want to make the Rich of the World even richer so they will invest in, and stay in, their Luxury Hotels on Boardwalk and Park Place. If they have to take food stamps from children, and put poor seniors out on the street, the will do so with a snigger, a snort, and a chuckle! A crazy nut is someone in power who is not willing to join the boys in the locker room and go after The Poor – with glee! The Press is not the enemy, The Poor, is their main target.
Jon Presco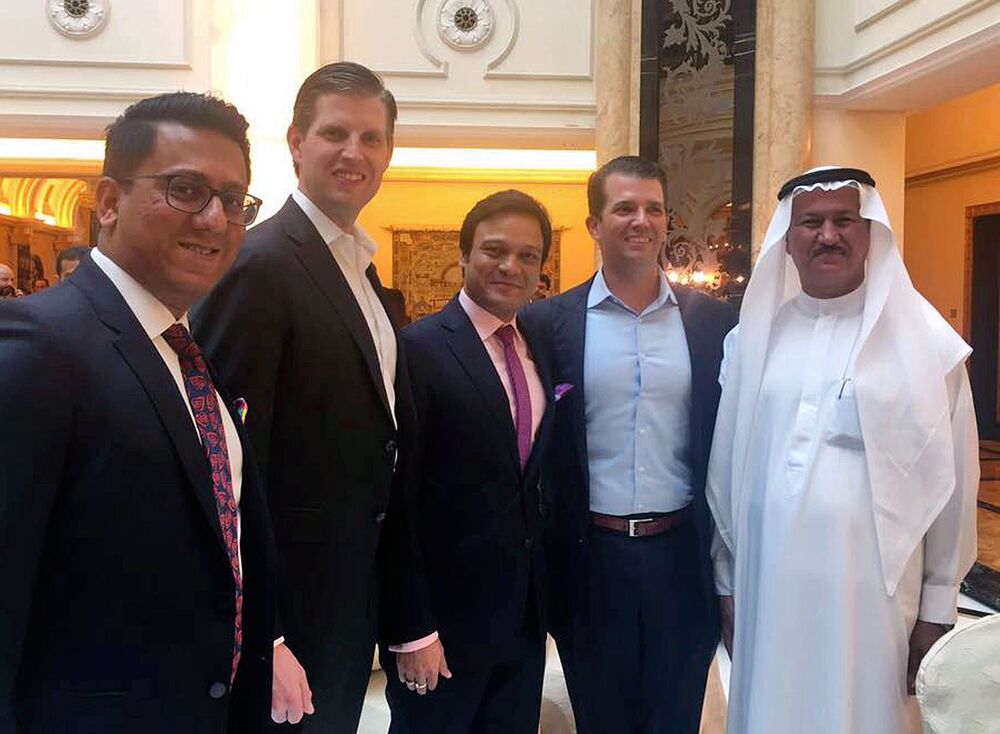 Banke International director Niraj Masand, far left, poses for a photo with Eric Trump, second left, Banke International director Porush Jhunjhunwala, center, Donald Trump Jr., second right, and DAMAC Properties chairman Hussain Sajwani, during festivities marking the formal opening of the Trump International Golf Club, in Dubai, United Arab Emirates on Feb. 18.
Source: AP
President Donald Trump's adult sons, who now manage his sprawling business empire, were guests of honor at the launch of a new luxury golf course in Dubai, the first opening of a Trump-branded property since Inauguration Day.
Eric and Donald Jr. presided as the red carpet was rolled out at the 30,000-square-foot (2,787 sq meter) clubhouse for the Trump International Golf Course, the first Trump golf resort in the Arab world.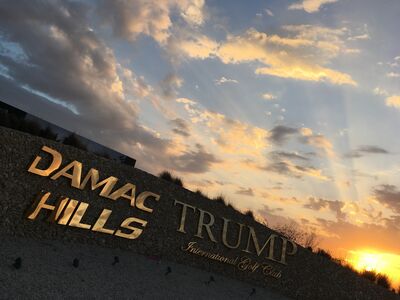 The plush kick-off event started just after sunset on a clear, blustery evening. Guests — a mix of local and foreign business people — were treated to canapes of quail egg, tuna tartar and spring rolls, and a string orchestra played Vivaldi's "Four Seasons." No alcohol was served.
The 18-hole course is part of a larger villa and apartment building project by Dubai-based developer Damac Properties Dubai Co. PJSC, which is owned by billionaire Hussain Sajwani. The layout was designed by architect Gil Hanse, who also designed the 2016 Olympic course in Rio de Janeiro.
A corporate membership is about $15,000 (55,000 dirhams) up front plus about $21,800 per year, according to a rate card distributed at the event. A single person can join for $6,800 plus a $9,530 annual fee.
Damac has a second resort under development, the Trump World Golf Club Dubai, which is being designed by golfer Tiger Woods. Damac paid Trump as much as $10 million in 2015 and the first part of 2016, according to his financial disclosure filed in May.
Mar-a-Lago Party
As president-elect, Trump said he turned down a $2 billion deal with a major property developer in Dubai because he didn't "want to take advantage of something." Damac confirmed the talks with Trump, without specifying whether the deal involved properties in Dubai or when the discussions took place.