There are hundreds of Americans who took part in the College of Defence Studies founded by Winston Churchill to make sure there would forever be an unbreakable bond between Great Britain, and the United States. The marriage of Sir Ian Easton of Britain, to Irene Victoria Christensen of the U.S. is that bond – forever!
https://rosamondpress.com/2018/04/16/teresa-rozemond-bond-la-draco/
Admiral Sir Ian Easton KCB DSC (1917–1989) was a Royal Navy officer who held various command positions in the 1970s.
Easton joined the Royal Navy in 1931 and qualified as a pilot at the start of World War II in which he saw active service on aircraft carriers.[1] On 4 January 1941, flying a Fairey Fulmar of 803 Squadron from HMS Formidable during a raid on Dakar he force landed, with his aircrewman Naval Airman James Burkey and was taken prisoner and held by the Vichy French at a camp near Timbuktu until released in November 1942.[2] He was appointed Assistant Director of the Tactical and Weapons Policy Division at the Admiralty in 1960 and was seconded to the Royal Australian Navy as Captain of HMAS Watson in 1962.[1] He went on to be Naval Assistant to the Naval Member of the Templer Committee on Rationalisation of Air Power in 1965, Director of Naval Tactical and Weapons Policy Division at the Admiralty in 1966 and Captain of the aircraft carrier HMS Triumph in 1968.[1] After that he was made Assistant Chief of Naval Staff (Policy) in 1969, Flag Officer for the Admiralty Interview Board in 1971 and Head of British Defence Staff and Senior Defence Attaché in Washington, D.C. in 1973.[1] He last posting was as Commandant of the Royal College of Defence Studies in 1976: he commissioned armourial bearings for the College which were presented during a visit by the Queen in November 1977.[3] He retired in 1978.[1]
The British Players arrive at the Creative Casino to play for all the marbles.
Sir Ian Easton was the head of College of Defence Studies in Washington where I believe he met Rena. It appears Ian Flemming opposed the entrance of Americans into this unit, and his Bond novels were a coded protest. I am sure he knew about Flemming's feelings, they discussed on a regular basis, especially when the Bond movies came out.  Did Ian marry Rena in hope of employing her in a real spy drama, but, she proved, difficult?
https://en.wikipedia.org/wiki/Royal_College_of_Defence_Studies 
'The Royal Janitor'
by
Jon Presco
Copyright 2018
Sabrina Victoria Eastman could not get to Osborne House fast enough. When she got behind the wheel of her 1961 Jaguar she named 'Grey Cloud' the young women who picked her up at the airport tried not to show that she had been warned. She was two shades a pale grey when they arrived at the palace built for Victoria and Albert. She tried to keep up on unsteady legs. The blood was returning to her hands now that she unloosened her grip. As they made their way into the basement she realized she had an experience better than sex. She was a virgin. All her blood veins were alive with an energy she did not know existed. She felt adventurous, and nauseous. She knew she would never be the same.
At the stainless steel door, Sabrina stopped, pointed up, and asked;
"What does that say?"
It says………."I can tell that you are quite left-leaning."
"Why is it there?" Sabrina asked.
"To remind us to never underestimate anyone. And, never think for a second a whacked-out poet-artist and Bohemian type, is not a true patriot."
A Russian Government hacking operation aimed at the US power grid did not compromise operations at any of the nation's commercial nuclear power plants, federal regulators and the nuclear industry say.
Here is the resting place of Rena Easton's husband who was given a poet's burial.
Jon
http://www.findagrave.com/cgi-bin/fg.cgi?page=gr&GRid=46208927
Birth:

1917

Death:

Jun. 14, 1989


Admiral, K.C.B., D.S.C. Former Head of the British Defence Staff. He was Commandant of the Royal College of Defence Studies in 1976, a UK senior serving military officer between 1972 and 2001. For the 2nd Louis Vuitton Cup, which was held in Fremantle, Australia in 1987, he paid an entry fee deposit of $16.000 for Royal Thames Yacht Club's White Crusader I and White Crusader II, representing United Kingdom.
Burial:
All Saints Churchyard
Freshwater
Isle of Wight Unitary Authority
Isle of Wight, England
The Most Honourable Order of the Bath (formerly the Most Honourable Military Order of the Bath)[1] is a British order of chivalry founded by George I on 18 May 1725.[2] The name derives from the elaborate medieval ceremony for creating a knight, which involved bathing (as a symbol of purification) as one of its elements. The knights so created were known as "Knights of the Bath".[3] George I "erected the Knights of the Bath into a regular Military Order".[4] He did not (as is commonly believed) revive the Order of the Bath,[5] since it had never previously existed as an Order, in the sense of a body of knights who were governed by a set of statutes and whose numbers were replenished when vacancies occurred.[6][7]
The Order consists of the Sovereign (currently Queen Elizabeth II), the Great Master (currently The Prince of Wales),[8] and three Classes of members:[9]
Members belong to either the Civil or the Military Division.[10] Prior to 1815, the order had only a single class, Knight Companion (KB), which no longer exists.[11] Recipients of the Order are now usually senior military officers or senior civil servants.[12][13] Commonwealth citizens not subjects of the Queen and foreigners may be made Honorary Members.[14]
The Order of the Bath is the fourth-most senior of the British Orders of Chivalry, after The Most Noble Order of the Garter, The Most Ancient and Most Noble Order of the Thistle
Carrie Fisher is in the Peerage due to her kinship to Dame Elizabeth Rosemond Taylor. These two actresses are in the Rosamond/Benton family tree. The world famous female artist, Christine Rosamond Benton, married Garth Benton, the cousin of the famous artist, Thomas Hart Benton, the grandson of Senator Thomas Hart Benton, whose two daughters held salons in Paris and San Francisco. Mark Twain was a frequent guest of Jessie Benton Fremont whose husband, John, co-founded the Republican Party, and blazed the Oregon Trail. His sister-in-law, Susan, gave birth to the famous artist, Philip Boileau, whose beautiful portraits of beautiful women are precursers to the work of Rosamond. Christine did not know this work. She died not knowing she shared a great, great, grandfather with Liz Taylor, who was conceived in the creative house belonging to the world famous artist, Augusta John, whose granddaughter, Talitha, married Getty. The Getty's are great patrons and Art Collectors. Christine and Garth were friends of Gordon Getty.
Jon Presco
Copyright 2017
https://rosamondpress.com/2015/07/13/watercolorist-robert-jensen/
https://rosamondpress.com/2013/09/11/susan-benton-at-la-caze/
http://www.vogue.com/13291453/talitha-getty-bohemian-marrakech-style/
Heathwood, 8 Wildwood Road, Hampstead (February 27, 1932-April 1939)
Heathwood is the Hampstead (North London) home where Elizabeth was born in 1932. Located on 8 Wildwood Road, the three story, 5082 square foot red brick Georgian style home designed by Matthew Dawson was built in 1926. Inside, the home has six bedrooms, three bathrooms, a living room, a sitting room, a large kitchen/breakfast room, and even servant's accommodations. The home was previously owned by the esteemed painter Augustus John, whose paintings remained on the walls when the Taylors moved in. A few years later, Augustus John's success in America would be in large part due to Francis Taylor, who sold his paintings exclusively in the United States.
Outside the home features lush gardens, described by Elizabeth's mother, Sara Taylor as having "tulips almost three feet high, forget-me-nots, yellow and lavender violas, flaming snapdragons, rich red wallflowers, and a formal rose garden that terraced down to [the] heath". The seven acre Turners Wood Bird Sanctuary was accessible through the Taylor's garden, and if that wasn't enough, the backyard also sported a tennis court.
In 2008, Heathwood was put up for sale for the first time in almost thirty years for £6.5 million pounds—and sold quickly.
---
Little Swallows
Little Swallows was the Taylors weekend and summer country home; a sixteenth-century gamekeeper's lodge located on family friend Colonel Victor Cazalet's country estate, Great Swifts, near Cranbrook, Kent. The home was named Little Swallows after the family of swallows that lived outside Elizabeth's bedroom window, but previously it was known locally as the "haunted house" as immortalized by Jeffrey Farnol in his novel, The Broad Highway.
The home was described as a place where birds perpetually sang. "It was so beautiful," Elizabeth once wrote, "like a little house out of a Walt Disney film nestled against a lovely woods that was almost like a bird sanctuary." It was pure heaven for the budding animal lover. "There were hundreds of acres to roam over and a farm of sorts. My brother and I made pets of all the animals—pet rabbits, pet turtles, pet lambs, pet goats, pet chickens. It was my idea of real bliss." On the weekends Elizabeth would ride her pony, Betty, a gift from her godfather Victor Cazalet.
The Taylors made the lodge more habitable for a modern family, adding electricity and a bathroom (created in the old dairy), which, according to biographer Alan Levy, "had water pumped from fifty miles away." The spacious home boasted fourteen rooms of beautiful proportions, each featuring beautiful leaded casement windows and warmed by a fireplace. The rooms were furnished with antiques found at auction (including a twenty person captain's table), and each bedroom contained a brass bed. The coal cellar was made into a pub, a wood paneled room christened the 'Ye Olde Rat Hole' where visitors, relaxing on discarded beer kegs, could order their drink of choice. Elizabeth and her brother Howard added their own touch to the home's decor, painting the letters of the alphabet on the Wedgwood blue painted floor in the bathroom.
Elizabeth's father, Francis, also turned his attention outside, where he created a lush, herbaceous English country garden. Elm, linden, fruit trees and a new lawn were planted, and a stone fireplace was transformed into a barbecue, perfect for summer meals.
Francis Taylor exclusively represented the Welsh painter Augustus John in America, a relationship that had developed when the Taylor family moved into John's former house in Hampstead, where Elizabeth was born in 1932. The Christie's sale includes 21 works by John, including Portrait of Poppet in Black Hat, which Elizabeth inherited from her father and, says Bertazzoni, "cherished all her life".
Her parents were originally from Arkansas City, Kansas. Francis Taylor was an art dealer, and Sara was a former actress whose stage name was "Sara Sothern". Sothern retired from the stage in 1926 when she married Francis in New York City. Taylor's two first names are in honor of her paternal grandmother, Elizabeth Mary (Rosemond) Taylor.
http://www.imdb.com/name/nm0663999/
http://www.imdb.com/name/nm0072927/
http://www.dailymail.co.uk/femail/article-2057966/Star-Wars-actress-Carrie-Fisher-reveals-bizarre-friendship-Elizabeth-Taylor–woman-stole-father-mother.html
https://rosamondpress.com/2013/11/28/michael-jackson-a-closeted-artist/
Talitha Dina Pol was born in Java, then part of the Dutch East Indies (now Indonesia), daughter of the artists Willem Jilts Pol (nl) (1905–88) and Arnoldine Adriana "Adine" Mees (1908–1948).[1]
Her father subsequently married Poppet John (1912–97), daughter of the painter Augustus John (1878–1961), a pivotal figure in the world of "Bohemian" culture and fashion. She was thus the step-granddaughter of both Augustus John and his muse and second wife, Dorothy "Dorelia" McNeil (1881–1969), who was a fashion icon in the early years of the 20th century. By Ian Fleming's widowed mother, Evelyn Ste Croix Fleming née Rose, Augustus John had a daughter and Talitha's aunt, Amaryllis Fleming (1925–1999), who became a noted cellist.
Early life
[
edit
]
Elizabeth Rosemond Taylor was born on February 27, 1932, at Heathwood, her family's home on 8 Wildwood Road in Hampstead Garden Suburb, London.[1] She received dual citizenship at birth, as her parents, art dealer Francis Lenn Taylor (1897–1968) and retired stage actress Sara Sothern (née Sara Viola Warmbrodt, 1895–1994), were United States citizens, both originally from Arkansas City, Kansas.[1][a] They moved to London in 1929 and opened an art gallery on Bond Street; their first child, a son named Howard, was born the same year.[5]
The Taylors' privileged life in London was little affected by the Great Depression.[6] Their social circle included artists such as Augustus John and Laura Knight, and politicians such as Colonel Victor Cazalet.[6] Cazalet was Taylor's unofficial godfather and an important influence in her early life.[6] She was enrolled in Byron House, a Montessori school in Highgate, and was raised according to the teachings of Christian Science, the religion of her mother and Cazalet.[7]
The Taylors decided to return to the United States in the spring of 1939 due to the increasingly tense political situation in Europe.[8] American ambassador Joseph P. Kennedy also contacted Francis and encouraged him to return to the U.S. with his family.[9] Sara and the children left first in April 1939, and moved in with Taylor's maternal grandfather in Pasadena, California.[10] Francis stayed behind to close the London gallery and joined them in December.[11] In early 1940, he opened a new gallery in Los Angeles, and after briefly living in Pacific Palisades, the family settled in Beverly Hills, where Taylor and her brother were enrolled in Hawthorne School.[12]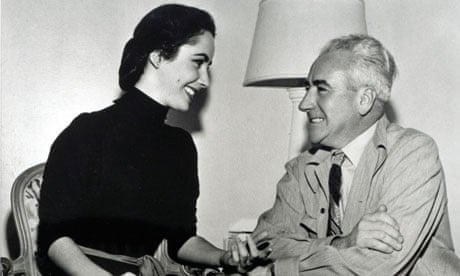 Elizabeth Taylor with her father, Francis, an art dealer, in 1954. He bought Van Gogh's Vue de l'Asile de la Chapelle de Saint-Rémy on her behalf in 1963. Photograph: Popperfoto/Getty Images