I just read this mornings news. Robert is a suspect. That's him looking at something Margaret Keane is holding. Is it a photo?
Margaret Keane was not captured and held prisoner. She enjoyed being in the company of many celebrities thanks to her husbands promotional genius that Christine Rosamond Benton duplicated. Why didn't the Keanes paint Robert Wagner?
http://people.com/crime/natalie-wood-death-witness-says-robert-wagner-jealous-christopher-walken/
Investigators reviewing the 1981 death at sea of actress Natalie Wood say the account of a boat captain who says he saw Wood's husband, Robert Wagner, explode in a jealous rage over her relationship with the actor Christopher Walken on the night she died is "credible."
In an upcoming CBS 48 Hours special, Los Angeles County Sheriff's Department Lieutenant John Corina is asked if Wood's widower Robert Wagner, 87, is considered a suspect. He responded by saying Wagner is now considered "more of a person of interest" in the reopened case.
In 1974, Christine Rosamond offered to teach me her style so I could be rich and famous, too. An old Persian man began painting Fake Rosamonds, posing as a woman. He hid his identity. The coroner changed his report after I told him my sister and family were not "hikers on Highway 1". A party at Rocky Point was concealed. Margaret talks about orgies in the swimming pool. Did Wagner catch Walken trying to get a nude Natalie into the sea?
A woman talks about making a dress from the Moon image that resembles my mother, Rosemary, who made most of her clothing. She sewed with her daughter. Note the painting of the woman with the rose next to fake wall of Berlin. Are those Dreamers on the other side?
I offered to teach my daughter The Family Style so she could take over the Rosamond gallery and legacy. She is – stupid – and called me a "parasite".  I made the same offer to Belle Burch, and was going to ask Rena if I could use her old photographs to render Rosamond-like images. These beautiful women freaked out and – hurt me! Here I am showing Christine photos of the painting I did of Rena. Note the smiles of Jacci Belford and her best friend in High School, Stacey Pierrot, who ended up with it all.
Pierrot's father is a bad artist. I have embroiled him in the mysterious death of two famous women. He should count his lucky stars – he amuses me! If he tries to get his attorneys on me,  my lawyer will read aloud in court the evil things his daughter's ghost writer said about my sister and mother. I have done much to promote by late sister, for the sake of my nieces, as Morris directed.
My movie script will show the world the nature of the Bad Seed he sired that has done irreparable harm to the Rosamond Gallery, and Carmel Art Scene. Celebrity News is full of Good&Bad reports. If you want to be a real artist, you got to pay your dues. Here is Snyder suggesting Rosamond is capable of murder.
https://rosamondpress.com/2017/12/22/sanity-hearing-on-the-rosamond-express/
"She had me cornered. I was trying to reason with her and get away before things got out of hand. She kept coming at me, and the bed was right there, so I finally whapped her. And it was like Bozo the clown. She bounced off the bed as if nothing had happened, and just kept right on coming. I was finally able to get around and out of the room, and years later I asked her if she remembered me slapping her during that episode. She had no memory of it whatever."
Rhoda is a female given name, originating in both Greek and Latin. Its primary meaning is "rose" but it can also mean "from Rhodes", the Greek island originally named for its roses.
https://rosamondpress.com/2017/04/02/daddy-buy-me-a-beautiful-identity/
What we are beholding is a unsolved Murder Mystery involving Vain Hollywood folks, who are constantly looking into the Magic Mirror. Sometimes they like what they see. And, other times they…….want to kill!
I never saw a dime from Rosamond's or Moon's Art. No celebrity looked over my shoulder while I painted. I was not invited to the party at Rocky Point, or I would be a 'Suspect'.
Jon Presco
http://www.sensual-arts.com/inspiration/variousartists/modernarts/moon/saramoon.htm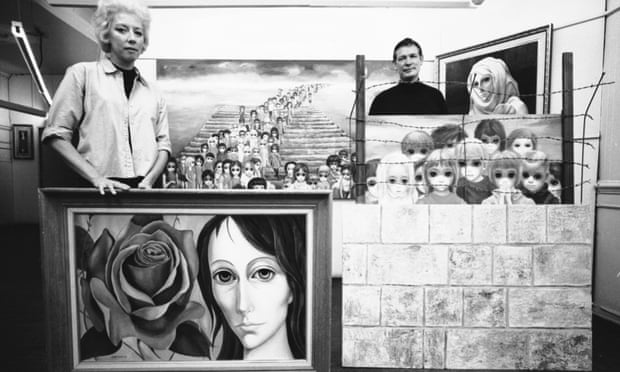 Margaret felt trapped. She wanted to leave, but she didn't know how. How would she support herself and her daughter? "So finally I went along with it," she says. "And it was just tearing me apart."
By the early 1960s, Keane prints and postcards were selling in the millions. You couldn't walk into a Woolworths without seeing racks of them. Luminaries including Natalie Wood, Joan Crawford, Dean Martin, Jerry Lewis and Kim Novak were buying the originals.
"Did you see any of the money?" I ask Margaret.
"No," she says. "I just painted. But we moved to a nice house. There was a swimming pool. Gated. Servants. So I didn't need to do anything except paint." She smiles, ruefully. Outside in the sun, Walter was living the high life. "There was always three or four people swimming nude in the pool," he wrote in his memoir. "Everybody was screwing everybody. Sometimes I'd be going to bed and there'd be three girls in the bed." The Beach Boys would visit, and Maurice Chevalier, and Howard Keel. But Margaret rarely saw them, because she was painting 16 hours a day.
"Did the servants know what was going on?"
"No, the door was always locked," she says. "The curtains closed."
"You spent all those years with the curtains closed?"
"When he wasn't home he'd usually call every hour to make sure I hadn't gone out," she says. "I was in jail."
"Did you know about the affairs?"
She shrugged. "I didn't care what he did by then."
"It must have been lonely."
"Yes, because he wouldn't allow me to have any friends. If I tried to slip away from him, he'd follow me. We had a chihuahua and because I loved that little dog so much, he kicked it, and so finally I had to give the dog away. He was very jealous and domineering. And all along he said: 'If you ever tell anyone I'm going to have you knocked off.' I knew he knew a lot of mafia people. He really scared me. He tried to hit me once. But I said, 'Where I come from men don't hit women. If you ever do that again I'll leave.'" She pauses. "But I let him do everything else, which was even worse probably."
"Would he come home from his partying and demand you show him what you'd painted?" I ask.
"He was always pressuring me to do more," she says. "'Do one with a clown costume.' Or: 'Do two children on a rocking horse.' One day he had this idea that I'd do this huge painting, his masterwork, to hang in the United Nations or somewhere. I had a month to do that."
The "masterwork" was called Tomorrow Forever. It depicted a hundred sad-looking, big-eyed children of all creeds standing in a line that stretches to the horizon. The organisers of the 1964 World's Fair hung it in their Pavilion of Education. Walter felt deeply proud of the achievement. He wrote in his memoir that his dead grandmother told him in a vision that "Michelangelo has put your name up for nomination as a member of our inner circle saying that your masterwork Tomorrow Forever will live in the hearts and minds of men as has his work on the Sistine chapel."
The art critic John Canaday reviewed Tomorrow Forever for the New York Times: "This tasteless hack work contains about 100 children and hence it is about 100 times as bad as the average Keane." Stung by the review, the World's Fair took down the painting.
"Walter was furious," Margaret says. "I felt hurt that they didn't want it and were saying nasty things. When people said it was just sentimental stuff it really hurt my feelings. Some people couldn't stand to even look at them. I don't know why – just a violent reaction. But so many people really love them. Little children love them. Even babies. So eventually I thought: 'I don't care. I'm just going to paint what I want to paint.'"
http://people.com/crime/natalie-wood-death-witness-says-robert-wagner-jealous-christopher-walken/
http://www.dailymail.co.uk/news/article-2875240/Big-Eyes-painter-Margaret-Keane-husband-Walter-stole-work-scammed-America-nuttier-Tim-Burton-s-movie-portrayal.html
https://www.theguardian.com/artanddesign/2014/oct/26/art-fraud-margaret-walter-keane-tim-burton-biopic
The centre of Walter's universe in the mid-1950s was a San Francisco beatnik club, The Hungry i. While comedians such as Lenny Bruce and Bill Cosby performed onstage, out at the front, Walter sold his big-eyed-children paintings. One night Margaret decided to go to the club with him.
"He had me sitting in a corner," she tells me, "and he was over there, talking, selling paintings, when somebody walked over to me and said: 'Do you paint too?' And I suddenly thought – just horrible shock – 'Is he taking credit for my paintings?'"
He was. He had been telling his patrons a giant lie. Margaret was the painter of the big eyes – every one of them. Walter might well have seen sad children in postwar Berlin, but he hadn't painted them, because he couldn't paint to save his life.
Margaret was furious. Back home she confronted him. She told him to stop. But something unexpected happened instead. During the decade that followed, Margaret would nod in respectful admiration as Walter told interviewers that he was the best painter of eyes since El Greco. She said nothing. Why did she go along with it? What was happening inside the Keane marriage?
https://www.theguardian.com/artanddesign/2014/oct/26/art-fraud-margaret-walter-keane-tim-burton-biopic
THE MYSTERY BEHIND SARA MOON
I am an addict. A Sara Moon addict. I love her paintings and I have a large print of one (see pictures below) – mine is called 'Moshgan' although whilst researching it also appears to be called 'Lisa' – no idea why? I bought her on eBay years ago for £26 and she sits to the right of my desk where I work at home.
We chat a lot and one day I am going to commission someone to make me a dress just like hers…which I will of course wear with a funny white headscarf like the one she is rocking.

I have to be honest and say that until recently I had never thought about who 'Sara Moon' is. I guess I imagined she was a hippy chick who idly spent the 1970s twirling her long hair and painting these ethereal women. I had such a shock when I looked into 'her' background.
Turns out that 'Sara Moon' is a nom de plume for a MAN, a Persian artist whose real name is Bijan – he lives in Germany and started doing these pictures for commercial reasons when a publishing company in LA commissioned him in 1976. For a long time no one else really knew who 'Sara Moon' was either and there was big campaign online to find out who the artist was and if they were still alive.
The true story ruins it a bit really, but I still love his work. He apparently was oblivious to all the fuss being made about whom he might be as he didn't have a computer and he now teaches art part-time and has essentially retired. To read more about who he is and how he disappeared for a while go to 

http://www.sara-moon.com/sm-other/sm-other-html/who-where.htm
I did a quick online search and you can buy the same Sara Moon 'Moshgan' print (not framed though) as mine at:

http://www.popularprints.co.uk/content/view/21/29/
To shop vintage homewares and prints click HERE