Here is Shamus Dundon saying it was "windy" as my family walked along a sandy beach – that does not exist! It is high tide. The wind is blowing strong, so strong, it drowns out Vicki's shouts. A rescue person told me he awoke to white caps as far as the eye can see. Strong winds produce large waves. This is a truth that can not be denied, but, Shamus gives it a shot. Do you see a beach?
Here is a video that has a arch, a rock bridge.
https://rosamondpress.com/2017/08/03/threading-the-eye-of-the-needle/
Look how steep it is. No sooner do they hike down there, then, Vicki is suggesting they go rent fishing poles, which means they climb back up, climb back down, and then, climb up again. Who invited my family out there? Did they know there were no tide-pools?
https://rosamondpress.com/2017/06/18/death-cove-and-cult/
Christine lived in Pacific Grove for over ten years. Snyder says that every time my sisters had a nightmare about a large wave, they would call each other. Did Christine call Vicki every time she saw another victim on the local news? She knew Rocky Point was – deadly!
On page 178 of Tom Snyder's biography of my late
sister it says this;
"Vicki's emergency call is routed to the Carmel
Highlands Station. It is the kind of call that comes
 in far too often along this section of the coast."
Note that Shamus says he was in the bowl just before the Wave of Death, struck, but left – in the nick of time! Did he have a premonition? What a lucky bastard!  Here he is describing where everyone was – after he left the bowl!
"From what I understand from mom a big wave came and knocked
Christine off  from where she was sitting. Drew was sitting a little farther away
and higher than Christine, and mom was a little farther away and
higher. I bleieve drew was also knocked down from where she was but not by as
much water. Mom was able to grab drew. Christine was farther away and in
the deeper part of the bowl, another wave came in and when all the
water poured out through the channel it took Christine with it."
The only thing that works, is, Shamus and Vicki take Drew Benton down to the sea – to fish! A wave takes Shamus and Drew, in. Vicki runs up to call 911. Christine rushes down to save her child. She does not bother to put on a jacket. Who is to blame? All the blame is put in a Dead Person, who can tell no tales. Christine would never bring Drew down to this cove. Would you?
Jon Presco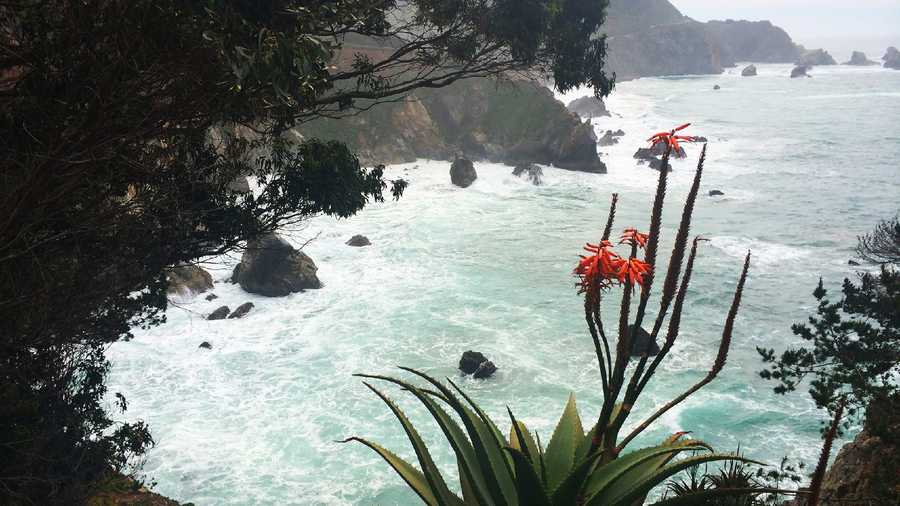 An aunt identified the boy as Jaime Fernandez of Marina. Fernandez was a senior at Monte Vista Christian School in Watsonville and was expected to graduate in June.
Fernandez had gone to an abandoned house south of Rocky Point that perches over a remote cliff and is a popular hangout spot for teenagers.
http://www.montereyherald.com/article/NF/20150304/NEWS/150309901
Someone should be there warning people that this beach is deadly. We parked our car and walked straight toward the ocean and saw no signs. I even had trouble finding the sign to get the name of the beach when I was calling 911," Laura Arredondo said.
In the past 20 years there have been at least 18 deaths reported at this half-mile beach stretch, according to the Divers' Alert Network medical research department and The Herald's archives.
http://www.mercurynews.com/2017/03/29/boy-9-dies-after-being-pulled-from-monastery-beach-in-carmel/
http://www.pineconearchive.com/140103-3.html
"One of the lifeguards jumped in the water and got the victim," Villasenor explained. "He was already dead."
The man was the latest in a long line of people — many fishermen — who have drowned over the years along the coast at Garrapata State Park or at nearby Rocky Point.
Most locals know that the ocean can be deadly, and state parks tries to make it clear to everybody else that the shoreline along the North Big Sur is particularly treacherous.
"The surf is extremely dangerous," a warning reads. "Do not swim, wade or climb on rocks."
https://rosamondpress.com/2017/06/17/high-on-shelling/
https://rosamondpress.com/2017/06/16/outsiders-contemplate-rosamonds-suicide-2/
Only 4 people were at the beach house. Me, mom, Christine, and Drew. All four of us went for a walk. We started near the water where
there cliff ended (sand meeting water) and worked our way back up the cliffs. I
seperated from them early on after not seeing any sea urchins etc (I
was hoping for tidal pool type stuff) I went find lizards after
running around  the cliffs for about 15 minutes I gave up and went back to the
house to read. Only 3 people were in the bowl when christine was taken.
Mom, Drew and Christine. After going to the house , then a little later, I
think I  hear something (it's windy so I think I'm hearing something). Then
I'm pretty sure I hear something so I get off the couch and look out the door.
The next thing I saw were Mom and Drew running up the hill mom crying and
saying to call 911. My whereabouts where in the guesthouse . You know
exactly where I was now. there not 4 people in the bowl.
In rosamond@xxxxxxxxxxxxxxx, "John Presco" <prosemont@xxxx> wrote:
Was Christine in a tirade with Drew, she known to be violent
according to accounts in Tom Snyder's biography, she having a fist
fight with Garth's daughter Jesse when she was a teenager? Did Shamus
intervene?
Alice Miller and John Bradshaw are world authorities on how violent
behavior is passed down from parent to child in a violent household.
This is why I have begun by biography recording the extreme violence
we children suffered, and why I posted so much on Alice Miller and
the Christian Right who incorporates violence, military conquest, and
political ambition in their mispresentation of Jesus's teaching. It
is profound to consider that a world famous artist, who was a
beautiful female who painted beautiful women, could have met her
demise in a violent incident that is covered up.
Shamus was physically punnished and violated by Vicki's second
husband Ken Prather who was a diagnosed psychotic who had a long
history of violent acts. After the devorce, Ken threatened to kill
Vicki, she joining the Nacy at 37 years of age to save her life.
Jon Presco
— In rosamond@xxxxxxxxxxxxxxx, Presco Jon <prosemont@xxxx> wrote:
> Jon: "The 911 transcript is telling the caller to go
> down and see if she is still clinging to the rocks."
>
> Shamus: "I was the caller and I went to go look. I
> never saw her."
>
> On page 178 of Tom Snyder's biography of my late
> sister it says this;
>
> "Vicki's emergency call is routed to the Carmel
> Highlands Station. It is the kind of call that comes
> in far too often along this section of the coast."
>
> I have a recording of my conversation with 911 when
> they read me the transcript of the call, they too
> saying a woman placed a call. On this same recording
> made eight years ago, Smamus lies agian saying he was
> the caller. Here is the e-mail were Shamus once again
> says he is the caller. Do you realize how serious this
> is? Shamus did not like Christine. What happened out
> there? I am certain Vicki was up in the house.
>
> Jon Presco
>
> Copyright 2003
> Note: forwarded message attached.
>
>
> __________________________________________________
> Do you Yahoo!?
> Yahoo! Tax Center – File online, calculators, forms, and more
> http://tax.yahoo.com
>
> —– Original Message —–
> From: "Presco Jon" <prosemont@xxxx>
> To: "Shamus Dundon" <dundons@xxxx>
> Sent: Friday, October 11, 2002 8:07 AM
> Subject: Re: yahoo messenger
>
>
> > Very briefly I will tell you, and Vicki, what made me
> > suspicious. It was Christine's jacket Vicki took out
> > of the closet and showed me after we saw the video she
> > made. It was in pristine shape after sitting down by
> > that bowl for a week. That bowl was made by the waves
> > coming in that narrow opening, hitting that wall, and
> > shotting fifty feet in the air, the cascading water
> > like a water fall. Surely sea-spray would have fallen
> > on this coat made of brushed suede. It would have
> > gotten wet, then dried in the son, to only get wet
> > again at high tide. The zipper would have some
> > corrosion on it, and the coat, salt deposits. It woul
> > have been ruined. It raised allot of questions
> > especially when I read in the Pinecone aticle Vicki
> > saying she was helping Christine overcome her fear of
> > the ocean. How was she doing that, by playing chicken
> > with that geyser of water? Christine would take her
> > coat off to keep it from being ruined? I found it hard
> > to believe she was able to get the coat off if she
> > went under for good whjen the second wave struck. Then
> > I recalled Vicki telling me she wished THEY had a
> > rope.
> We went back to the bowl to get some footage taken. That's when we
found the
> jacket.
> It had either washed or blown up high on the rocks(away from the
bowl and
> water) It smelled like salt to me
> I also noted at the time that it was in decent condition.. how and
when it
> came off I don't know.
> >The 911 transcript is telling the caller to go
> > down and see if she is still clinging to the rocks.
>
> I was the caller and I went to go look. I never saw her. There were
> seals(or sea lions) in the area
> everytime I saw one I thought it was her but it wasn't.
Considering where
> the helicopter picked her body out from the sea
> I highly doubt she was even close to hanging on rocks when I went
out to
> look. If memory serves she was almost 1/4 mile out where she was
picked up.
>
> > The autopsy shows her nails were torn as if she was. I
> > wondered why the acounts were different. Did someone
>
> Imagine water. then imagin a rock cliff.(more like a wall) now
imagine a
> channel cut out in the middle. the bowl was at one end of this
channel.
> When in the bowl you can hear water but not see it. At least when
I went
> through it before going to catch lizards then going back to the
guest house
> alone.
> I remember seeing shallow pools of water in depressions throughout
the bowl.
> The water looked murky like it had been there a while. Not fresh
sea water.
> As I said you could hear the water but not see it. When we came
back and
> found the jacket that day, the tide was higher. Water was splashing
in
> through that channel higher than the bowl. then falling into the
bowl and
> washing back down through the channel(the water level was lower
than the
> bowl) The waves splashed higher than the bowl…
> From what I understand from mom a big wave came and knocked
Christine off
> from where she was sitting. Drew was sitting a little farther away
and
> higher than Christine, and mom was a little farther away and
higher. I
> bleieve drew was also knocked down from where she was but not by as
much
> water. Mom was able to grab drew. Christine was farther away and in
the
> deeper part of the bowl, another wave came in and when all the
water poured
> out through the channel it took Christine with it. The channel I
beleive
> was about 2x the width of me. and there had to be at least 20′ of
channel
> between bowl and ocean, I don't know how far down that channel went
or how
> high the bowl was over the ocean, but from what I saw, it looks
reasonable
> that Christine would have had ample opoprtunity to tear her
fingernails.
> > feel responcible for this accident, and fearing the
> > wrath of Shannon, altered the story? Was someone on
> > guard, looking for the next wave to come, while the
> > others frolicked in the cascade? Then a huge wave
> > came, and that person on watch misjudged its size?
> >
> As far as I know Mom doesn't have any guilt for walking with
christine and
> drew where they were. Remember you couldn't see the water from
where they
> were sitting in the bowl.
> > Vicki had Drew make a crude map of that bowl, and she
> > made one. Vicki put four peoiple down in that bowl,
> > and I suspected Drew did as well. But, Vicki pointed
> > out the line Drew made between two of the people,
> > telling me Drew moved this person over two feet. As an
> > artist, I know a nine year old does not have this
> > perception. It was a very drude drawing. This line
> > looked like a minus mark. I wondered who was removed.
> > When Vicki gave me a couple of version of your
> > whereabouts, my investigation began in ernest. Why
> > would it not? I have those drawings.
> Only 4 people were at the beach house. Me, mom, Christine, and Drew
> All four of us went for a walk. We started near the water where
there cliff
> ended(sand meeting water) and worked our way back up the cliffs. I
> seperated from them early on after not seeing any sea urchins etc(I
was
> hoping for tidal pool type stuff) I went find lizards after
running around
> the cliffs for about 15 minutes I gave up and went back to the
house to
> read. Only 3 people were in the bowl when christine was taken.
Mom, Drew
> and Christine. After going to the house , then a little later, I
think I
> hear something(it's windy so I think I'm hearing something). Then
I'm pretty
> sure I hear something so I get off the couch and look out the door.
The next
> thing I saw were Mom and Drew running up the hill mom crying and
saying to
> call 911. My whereabouts where in the guesthouse . You know
exactly where I
> was now. there not 4 people in the bowl.
>
>
> > Jon
> >
> > — Shamus Dundon <dundons@xxxx> wrote:
> > > Yahoo messenger is harmless… btw if you look on
> > > your new webpage there is
> > > a link that would show people if you were available
> > > for chat on yahoo
> > > messenger that's why I thought you had it…