Alas – I am vindicated! Today is May Day. There are riots in France where Alley Valkyrie fled to. She backs the Yellow Vests! She became one of the heads of SLEEP, along with Belle Burch and her lover, Ambrose. I walked into The Yaw of Madness when I walked into Ken Kesey Square that fateful day. I thought they – were gone! Now – they are trying to make a comeback?
John Presco
https://www.foxnews.com/media/oregon-activist-sounds-alarm-bill-give-homeless-access-public-spaces-backwards-thinking?fbclid=IwAR1LmXtz13tLwpIxHD81OYTe3DoEDAkz7-vt2wLBX-6OWsTyd4iuCeRdZXM
An Oregon-based homeless advocate is sounding the alarm about a proposed bill in his state that would decriminalize camping in public spaces.
House Bill 3501, commonly known as the "Right to Rest Act," would allow "persons experiencing homelessness" to "use public spaces in the same manner as any other person without discrimination based on their housing status."
Kevin Dahlgreen told "Jesse Watters Primetime" the bill is "madness."
"Explain to me how this serves any meaningful purpose to end this humanitarian crisis. This is backwards thinking," he said. "This is the kind of thinking that got us into this mess in the first place. So, no, I am not OK with this."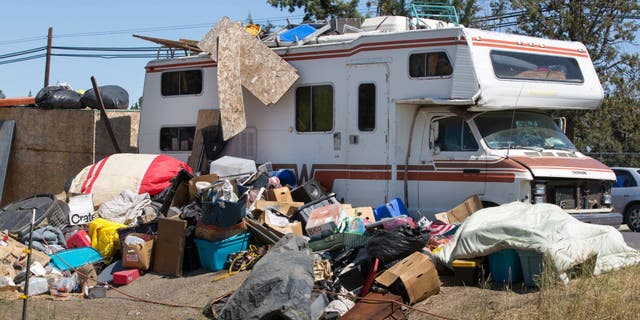 BEND, OR – AUGUST 9: A "safe parking" zone for the growing homeless population in this community is viewed on a side street off of Highway 97 north of town on August 9, 2021, in Bend, Oregon. (Photo by George Rose/Getty Images) (Getty Images)
HB 3501, sponsored by Democratic state Reps. Farrah Chaichi and Khanh Pham, states that homeless people should be able to have a reasonable expectation of privacy in any property that belongs to them, regardless if the property is located in a public space.
OREGON BILL WOULD PAY HOMELESS PEOPLE $1,000 A MONTH
The bill defines public space as "any property that is owned, in whole or in part, by state government or a local government, or upon which there is an easement for public use, and that is held open to the public." It clarifies that public space does not mean a private business establishment.
Dahlgreen said decriminalizing homelessness would "open the floodgates" and incentivize more people to come to the state.
"People come to these, you know, more progressive type cities anyway because of these progressive policies. [If] we do this, the Portland homeless population is going to explode and that is not OK," he told guest host Pete Hegseth. 
Posted on September 15, 2015 by Royal Rosamond Press
For a year and half, I knew if I went downtown to a City Council meeting, I would run smack-dab into my nemesis, Alley Valkryrie. I am a prophet. She was the first person I see as I came to overlook Wayne Morris Plaza. Holy crap, I'm right on top of her! She is eight feet away. What are the odds!
"Alley is a Feri initiate and Witch who runs a small local gift and clothing business in town called Practical Rabbit, and has become a central activist regarding how the homeless are treated in Eugene, Oregon."
http://wildhunt.org/2012/12/alley-valkyrie-and-the-magic-of-activism.html
"Please, go ahead and blog my threat.
You have no fucking idea what you're getting yourself into
You also have no idea how many people are already on to you, and how many people have my back. We also have six other mutual friends who are going to learn about your behavior ASAP
And just so you know as well: if you write anything about me that could be construed as defamatory, you will be hearing…"
"OUT OF THE GUTTER AND IN YOUR FACE"
I make a beeline for a bush because my heart was racing. It is thumping in my chest! I was not breathing. I felt, faint. We have never been in the same place at the same time. If I had climbed on the bench and beat my chest, then my video would go viral. There would have been a riot and utter chaos as she shouted orders to her bodyguards – that have nothing to lose. I would be chased around the plaza by members of a radical rock group, singing;
"One way, or another!"
Safely behind a bush I call her my "mortal enemy". A woman hears me, and asks;
"Who's up there?"
Again I miss my chance!
"Tis I…….Jon Gregory de Rougemont! The mortal enemy of that lamed-brain nincompoop, Alley 'In your face' Valkyrie!"
Just then, my old neighbor, Kevin is in my lense. He is the oldest radical in town after me. The woman backs off. Suddenly, there goes Alley, across the plaza!
I watch her get in line to go before the mayor. Here is another chance I did not take. I could get in line behind her, and ask for an interview while we wait. Close by is a woman officer of the law. But, this would not stop Alley from whispering to her guard;
"It's Jon. Go tell my Six Alley Goons to follow him when he leaves the meeting! I want him to feel UNSAFE!"
Are these six goons – Feri trained? 'How to play the pixie with a broken wing, and intimidate your foes.'
I talk with a young woman of Bohemian extraction. I ask her to take a pic of me holding my trophy! I could not get in due to the crowd.
I am going to be seventy years of age in twenty two days. If I would jump out of a plane with a chute on my birthday, I would fall asleep halfway down. This is exactly the kind of thrill-seeking that makes me feel young. It always has. I am a radical newspaper man. I have scooped the other reporters.
Jon Presco
President: Royal Rosamond Press Co.
The homeless folks with SLEEPS want to be protected by the 8th. Amendment.
http://legal-dictionary.thefreedictionary.com/8th+Amendment
blog | September 14, 2015 – 10:19am | By Camilla Mortensen
Advocates for the unhoused in Eugene are rallying at Wayne Morse Plaza (8th and Oak) and care oming before the City Council tonight. They point to a recent statement of interest filed by the U.S. Department of Justice that says "making it a crime for people who are homeless to sleep in public places, when there is insufficient shelter space in a city, unconstitutionally punishes them for being homeless."
FOLLOWING DEPARTMENT OF JUSTICE FINDINGS, EUGENE CITIZENS DEMAND MORATORIUM ON UNCONSTITUTIONAL ENFORCEMENT OF ANTI-CAMPING LAWS

CONSTITUTIONAL RALLY, PROTEST AND PRESENTATION OF DEMANDS

SEPTEMBER 14, 2015

6PM RALLY AND PROTEST: FREE SPEECH PLAZA

7:30PM DEMANDS PRESENTED TO COUNCIL: COUNCIL CHAMBERS

The US Department of Justice on August 6, 2015 exerted new federal muscle against local governments that criminalize homelessness . In a United States Letter of Interest in a Boise Idaho case, DOJ stated unequivocally that enforcement of anti-camping laws when there is inadequate shelter is unconstitutional.

Lane County's One Night Homeless Count has repeatedly validated that Eugene has hundreds of unsheltered homeless citizens. The city's official website confirms this. Consequently, Eugene's enforcement of its anti-camping law, 4.815, is unconstitutional.

In the DOJ "Conclusion" in the Boise case, US Attorney Sharon Brett stated, " If the Court finds that it is impossible for homeless individuals to secure shelter space on some nights because no beds are available, no shelter meets their disability needs, or they have exceeded the maximum stay limitations, then the Court should also find that enforcement of the ordinances under those circumstances criminalizes the status of being homeless and violates the Eighth Amendment to the Constitution."

"Thus, criminalizing homelessness is both unconstitutional and misguided public policy, leading to worse outcomes for people who are homeless and for their communities," admonished the DOJ.

Citizens, both housed and unhoused will attend the 7:30 PM Monday, September 14, 2015 meeting of the City Council to demand a moratorium on 4.815, Eugene's anti-camping ordinance and that all outstanding tickets be suspended or dismissed. The group will also demand a moratorium and suspension of 4.807 Criminal Trespass 2, a "quality of life" charge, and of the Parks Exclusion (Restricted Use) which is given without judicial review in violation of the 4th Amendment "due process' clause.

The final demand is to put a moratorium on interrupting anyone who is settled to sleep on public land who is not blocking pedestrian or vehicular traffic from dusk to dawn It is intended that the moratoriums remain in place until Eugene develops laws, policies and practices that comply with the US Constitution, Oregon Law and International Law.
Share this: