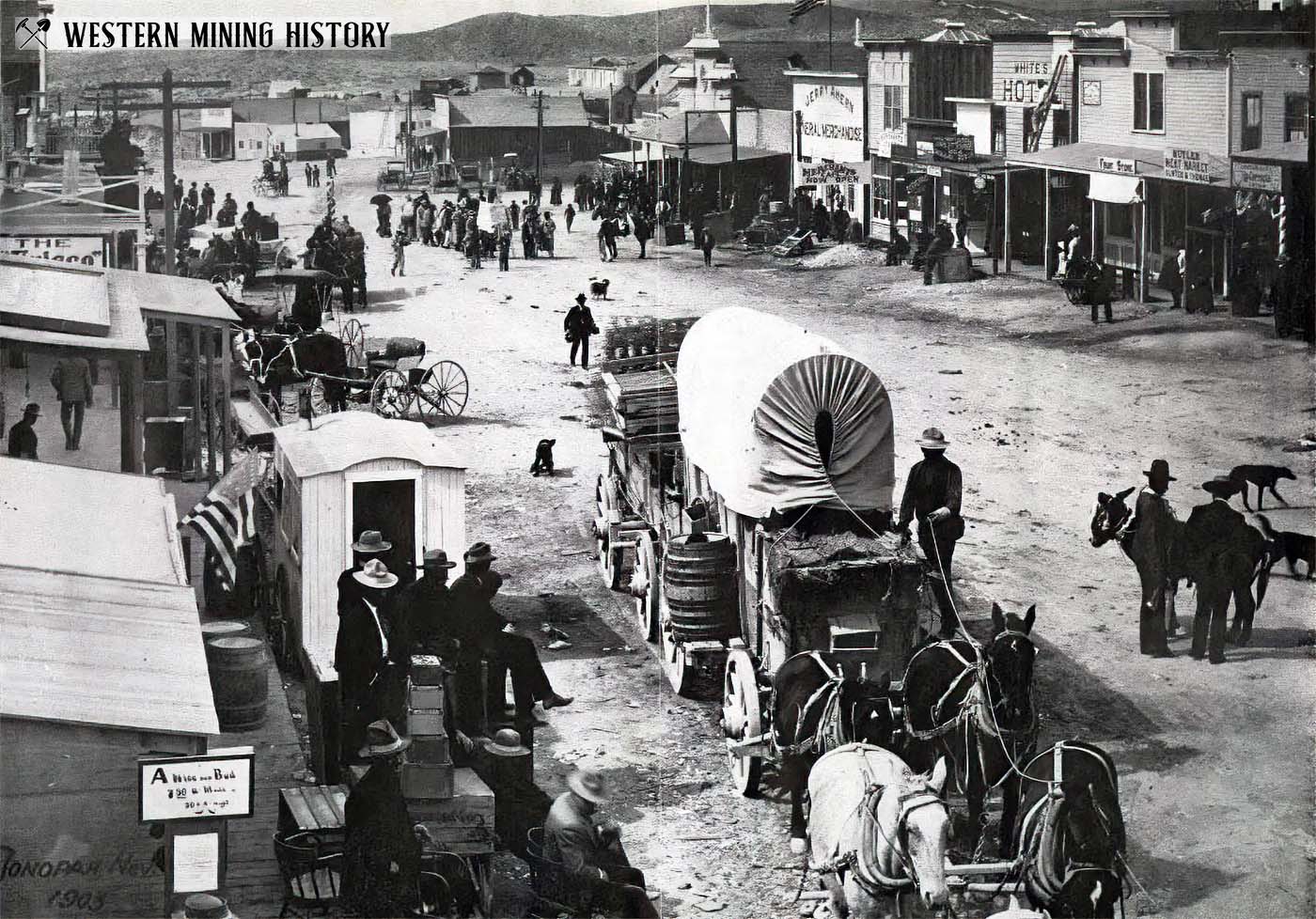 Tonopah, Nevada 1903
I hate my ignorant narcissstic family. If things didn't go as planned, they delete their family history. It had to be the fault of the ancestors.
I just found out. Oscar Presco was born Tonopah Nevada, a famous mining town. Did someone suggest this town needed a good tailor? Did Wensel make good money and moved to San Francisco to work for, or, be a partner in Bullock and Sons? One Presco son becomes a professional gambler in Crockett and the Barbary Coast. Nothing to see here. Let's turn on Gunsmoke.
People don't get it – American History! The Preskowitz family came from Bohemia to the new world, and helped make the most powerful nation on earth. Screw King David. Every dog has their day! Darn Bab it! If I want to be King of the World, then – get the hell out of my way!
This history helps – if you are a writer! Why did a Monterey Judge allow my history to be sold to outsiders. Below I talk about Lesbians – a year ago – before DeSantis used then like he Gold Laying Goose!
John Presco Presidential and Messiah Candidate
https://ancestors.familysearch.org/en/L2RG-DWG/oscar-robert-presco-1890-1970
Oscar Robert Presco was born on 6 February 1890, in Tonopah, Nye, Nevada, United States. He married Maude Ruth Spault about 1920. They were the parents of at least 3 sons. He lived in Alameda, Alameda, California, United States for about 15 years and San Rafael Judicial Township, Marin, California, United States in 1940. He died on 4 February 1970, in Marin, California, United States, at the age of 79.
Tonopah (/ˈtoʊnəˌpɑː/ TOHN-ə-pah, Shoshoni language: Tonampaa[4]) is an unincorporated town[5] in, and the county seat of, Nye County, Nevada, United States.[6] Nicknamed the Queen of the Silver Camps for its mining-rich history,[1] it is now primarily a tourism-based resort city, notable for attractions like the Mizpah Hotel and the Clown Motel.
Tonopah is located at the junction of U.S. Routes 6 and 95, approximately midway between Las Vegas and Reno. In the 2010 census, the population was 2,478. The census-designated place (CDP) of Tonopah has a total area of 16.2 square miles (42 km2), all land.
History[edit]
Tonopah in 1913
Old Mizpah mine in 1980
The American community began circa 1900 with the discovery of silver-rich ore by prospector Jim Butler. The legendary tale of discovery says that he went looking for a burro that had wandered off during the night and sought shelter near a rock outcropping. When Butler discovered the animal the next morning, he picked up a rock to throw at it in frustration, noticing that the rock was unusually heavy. He had stumbled upon the second-richest silver strike in Nevada history.[citation needed]
Men of wealth and power entered the region to consolidate the mines and reinvest their profits into the infrastructure of the town of Tonopah. George Wingfield, a 24-year-old poker player when he arrived in Tonopah, played poker and dealt faro in the town saloons. Once he had a small bankroll, he talked Jack Carey, owner of the Tonopah Club, into taking him in as a partner and to file for a gaming license. In 1903, miners rioted against Chinese workers in Tonopah. This resulted in China enforcing a boycott in China of U.S. imported goods.
By 1904, after investing his winnings in the Boston-Tonopah Mining Company, Wingfield was worth $2 million. When old friend George S. Nixon, a banker, arrived in town, Wingfield invested in his Nye County Bank. They grub-staked (provided with food, supplies and tools in an exchange for a percentage of mine yield) miners with friend Nick Abelman, and bought existing mines. By the time the partners moved to Goldfield, Nevada and made their Goldfield Consolidated Mining Company a public corporation in 1906, Nixon and Wingfield were worth more than $30 million.[7]
Wingfield believed that the end of the gold and silver mining production was coming and took his bankroll to Reno, where he invested heavily in real estate and casinos. Real estate and gaming became big business throughout Central Nevada. By 1910, gold production was falling and by 1920, the town of Tonopah had less than half the population it had fifteen years earlier.
Small mining ventures continued to provide income for local miners and the small town struggled on. Located about halfway between Reno and Las Vegas, it has supported travelers as a stopover and rest spot on a lonely highway. Today the Tonopah Station has slots and the Banc Club also offers some gaming.
Also in Nye County is the Yomba Band of the Yomba Shoshone Tribe of the Yomba Reservation, a federally recognized band of Western Shoshone people. The Western Shoshone dominated most of Nevada at the time of American settlement in the 1860s.
Since the late 20th century, Tonopah has relied on the nearby military Tonopah Test Range as its main source of employment. The military has used the range and surrounding areas as a nuclear bomb test site, a bombing range, and as a base of operations for the development of the F-117 Nighthawk.
In 2014, California-based solar energy company SolarReserve completed construction on a $980 million advanced solar energy project near Tonopah. The Crescent Dunes Solar Energy Project uses liquid sodium as a heat transfer medium for its solar energy storage technology. The plant began producing power in November 2015.[8][9]
On May 15, 2020, a magnitude 6.5 earthquake struck 35 miles (56 km)[10] west of Tonopah, followed by a series of aftershocks, the largest of which was a magnitude 5.1. However, no injuries were reported. It was the largest earthquake in Nevada since 1954.[11]
Toponymy and pronunciation[edit]
The founder, Jim Butler, named the settlement from what is thought to be a Shoshoni language word, pronounced "TOE-nuh-pah."[12] Although the town previously had a variety of names, including Butler City, Jim Butler's name has survived. According to local history, the name is said to mean "hidden spring".[1]
Linguistically, the name derives from either Shoshone to-nuv (greasewood), or Northern Paiute to-nav (greasewood), and pa, meaning water in both dialects.[13]
https://en.wikipedia.org/wiki/Tonopah,_Nevada
https://www.geni.com/people/Wenzel-Preskowitz/6000000115256315846
https://ancestors.familysearch.org/en/L2RG-DWG/oscar-robert-presco-1890-1970
Experience the Tonopah Historic Mining Park~
The Tonopah Historic Mining Park is located on the site of the original mining claims that started the rush to Tonopah, making it "Queen of the Silver Camps".
Jim and Belle Butler's strike in 1900 brought the United States into the 20th Century, and many of the mining processing techniques developed during that time are still being used today.
The park encompasses portions of four of the original major mining companies and covers more than 100 acres. This rich history is brought to life through preserved and restored equipment and buildings, historic exhibits, video presentations (in our on-site theater), and a self-guided tour. Learn More…
Take a look at our brochure!
The head frame was stabilized and some of its pieces were removed. In September of 2019, the Silver Top head frame was cut off its original foundation and moved off to the side.