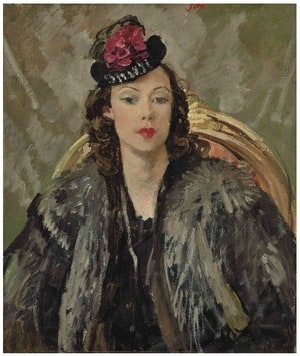 My cousin, Elizabeth Rosemond Taylor, owned the portrait of Poppet done by her father, Augustus John. Liz did not know she was kin to Ian Fleming before she died. She was born in John's home.
On this day March 17, 2023, I launch the Second Children's Crusade to rescue the Children of Ukraine, from the clutches' of Putin, and his Killer Priest, Kirill.
I am calling for a world-wide boycott of all Russian art, music, poetry, and chess, until the children are safely home with their parents.
John Presco
https://en.wikipedia.org/wiki/Children%27s_Crusade
The Children's Crusade was a failed popular crusade by European Christians to establish a second Latin Kingdom of Jerusalem in the Holy Land, said to have taken place in 1212. The traditional narrative is likely conflated from a mix of factual and mythical events, which include the preaching of visions by a French boy and a German boy, an intention to peacefully convert Muslims in the Holy Land to Christianity, bands of children marching to Italy, and children being sold into slavery in Tunis. The crusaders of the real events on which the story is based left areas of Germany, led by Nicholas of Cologne, and Northern France, led by Stephen of Cloyes.
122 Cheyne Walk
James Bond author Ian Fleming was another superstar resident that briefly lived on Cheyne Walk. He was said to reside in a smaller flat on Cheyne Walk before moving to number 122 briefly.
After selling Pitt House in 1923 Fleming's mother bought three cottages in Cheyne Walk and converted them into one dwelling. She named the three Turner's House after the painter J M W Turner who had spent his last years at No. 119. He died here in 1851. During her time here, Eve established a Bohemian salon for artists, like her lover, Augustus John, to allow them to mingle with patrons such as Winston Churchill. The young Ian lived here during his school holidays and continued to visit whilst he was at Kitzbuhel and at Geneva University.
Francis Taylor exclusively represented the Welsh painter Augustus John in America, a relationship that had developed when the Taylor family moved into John's former house in Hampstead, where Elizabeth was born in 1932. The Christie's sale includes 21 works by John, including Portrait of Poppet in Black Hat, which Elizabeth inherited from her father and, says Bertazzoni, "cherished all her life".
https://www.christies.com/en/lot/lot-5531465
The Taylor family home in Hampstead, where Elizabeth was born in 1932, had previously been owned by Augustus John, whose paintings remained on the walls when the Taylors moved in. Elizabeth's father Frank Taylor was an art dealer with a gallery located at 35 Old Bond Street in London. He established a close relationship with the Welsh artist. After relocating with his family to sunny California during the war, Frank opened an art gallery at the Château Elysée, but quickly relocated it to the more impressive Beverly Hills Hotel. It was at that location that such celebrities as Howard Duff, Vincent Price, James Mason, Alan Ladd, Hedda Hopper and Greta Garbo could be found selecting art for their own collections. Frank Taylor acted as John's American agent for many years and was responsible for the artist's popularity in the United States. The two men corresponded frequently. In a letter of 25 June 1943 Frank Taylor wrote to Augustus John: 'We have settled down to living in California and our young daughter is by way of being a movie star, if you see a picture Lassie Come Home which will be released in September, she is in that with Roddy Macdowal, Nigel Bruce, Dame May Whitty and a lot of people, she did a bit in Jane Eyre and will be in The White Cliffs of Dover, also she may get the leading part in National Velvet, even if you are not a movie fan see the Lassie picture it is in colour and is beautiful'. Miss Taylor inherited this collection of works from her father, and they remained in her homes throughout her life. We are grateful to Rebecca John for her assistance in preparing the catalogue entries for these works.
https://www.msn.com/en-us/news/world/international-court-issues-war-crimes-warrant-for-putin/ar-AA18KXuj
THE HAGUE (AP) — The International Criminal Court said on Friday it issued an arrest warrant for Russian President Vladimir Putin for war crimes because of his alleged involvement in abductions of children from Ukraine.
"Under green-cover'd bosoms, heaving quick
Beneath quick thoughts; while they grew red with shame,
And gazed down at their feet: while I felt sick,
And almost shriek'd if one should call my name.
"The thrushes sang in the lone garden there:
But where you were the birds were scared I trow:
Clanging of arms about pavilions fair,
Mixed with the knights' laughs; there, as I well know,
"Rode Launcelot, the king of all the band,
And scowling Gauwaine, like the night in day,
And handsome Gareth, with his great white hand
Curl'd round the helm-crest, ere he join'd the fray;
"And merry Dinadan with sharp dark face,
All true knights loved to see; and in the fight
Great Tristram, and though helmed you could trace
In all his bearing the frank noble knight;
"And by him Palomydes, helmet off,
He fought, his face brush'd by his hair,
Red heavy swinging hair; he fear'd a scoff
So overmuch, though what true knight would dare
https://www.geni.com/people/Poppet-John/6000000011071038000
Poppet always seemed faintly glamorous to the younger members of the John family; she was the aunt who lived in the South of France, mixed with grand people and loved a cocktail party. She had an exotically named stepdaughter, Talitha, and a charming husband, a Dutch painter who was always known by his surname, Pol. At their best they were a delightful, animated couple, who none the less suffered devastating turns of fate.
https://en.wikipedia.org/wiki/Augustus_John
By Ian Fleming's widowed mother, Evelyn Ste Croix Fleming, née Rose, he had a daughter, Amaryllis Fleming (1925–1999), who became a noted cellist. Another of his sons, by Mavis de Vere Cole, wife of the prankster Horace de Vere Cole, is the television director Tristan de Vere Cole. His son Romilly (1906–1986) was in the RAF, briefly a civil servant, then a poet, author and an amateur physicist. Poppet (1912–1997), John's daughter by Dorothy, married the Dutch painter Willem Jilts Pol (1905–1988). Willem Pol's daughter Talitha (1940–1971) by an earlier marriage (i.e. step-granddaughter of both Augustus and Dorothy), a fashion icon of 1960s London, married John Paul Getty Jr. His daughter Gwyneth Johnstone (1915–2010), by musician Nora Brownsword, was an artist.[31] Augustus John's promiscuity gave rise to rumours that he had fathered as many as 100 children.[32]
The Rose Line of Victoria Bond | Rosamond Press
THE MYTHICAL JAMES BOND, 007
BOND AND KING ARTHUR
In the 23rd James Bond thriller, Skyfall, director Sam Mendes sought to elevate super spy James Bond, from mere Hollywood action star, to a heroic symbol for England.
By employing poetry, imagery and story elements of Arthurian legend, Mendes stretches an umbilical cord through time to connect Britain's most modern fictitious national hero, Bond, with it's most ancient and legendary, King Arthur.
https://wmgallery.org.uk/whats-on/exhibitions-43/the-legend-of-king-arthur-a-pre-raphaelite-love-story
The Legend of King Arthur: A Pre-Raphaelite Love Story explores the legend of King Arthur within the Victorian imagination, presenting national myths and legends through the eyes of Pre-Raphaelite artists.
King Arthur is a central figure in English folklore, a fictional 5th century ruler who led his famous knights in various battles and quests. The Arthurian stories are told through numerous works by various authors from the 9th century onwards. The telling and retelling of the legend culminated in the English author Thomas Malory writing down the stories in a single work in 1485, Le Morte d'Arthur.
The Arthurian legends fell out of interest at the end of the Middle Ages but were rediscovered in the early 19th Century, initially by poets such as Walter Scott and Alfred Tennyson. William Morris and Edward Burne-Jones read these poems obsessively whilst at Oxford University and drew from them – and the myths that inspired them – for artistic projects throughout their careers.
This exhibition tells the Arthurian stories as presented by Malory, through the work of Pre-Raphaelite artists Dante Gabriel Rossetti, Arthur Hughes, John William Waterhouse and William Morris alongside lesser known female Pre-Raphaelite artists Eleanor Fortescue-Brickdale and Elizabeth Siddal. The show will introduce audiences to the Arthurian legend within the context of reawakened interest in medievalism in Victorian England.
https://en.wikipedia.org/wiki/Holy_Grail_tapestries
https://en.wikipedia.org/wiki/Oxford_Union_murals
https://www.poetry.com/poem/41108/king-arthur's-tomb
Posted on August 22, 2021 by Royal Rosamond Press
The Royal Janitor
by
John Presco
Copyright 2021
Becoming a James Bond Author
Just past midnight on August, 22, 2021, I googled "Ian Fleming" and "Bohemian" and discovered Evelyn Saint Croix Rose bought the house that one of my favorite artists lived in, and held a salon there. Turner lived in on Cheyne Walk, as did Dante Gabriel Rossetti, a co-founder of the Pre-Raphaelite Brotherhood, which I revived in 1969. My ship has come in. The Art Dynasty I saw coming over the horizon – is a magnificent Work of Art. The nine Muses have been my Winged Guides! I have found The Grail! I have persevered!
Eve was the lover of the artist, Augustus John, and had a daughter by him. My kin, Elizabeth Taylor, was raised in John's house. Her father, Francis Taylor, sold John's art.
Yesterday, many Australians protested against the lockdown, and marched without masks. This is foreseen in my second Bond novel 'Bond of Nebraska' where Cornhuskers go to the big game, knowing they will be exposed. My two spies, Victoria Rosemond Bond, and Miriam Starfish Christling, have been psychic tools that allowed me to see – things to come. Winston Churchill wrote the obituary of Valentine Fleming. Consider the British Defense Staff Washington, and Ian Easton, the late husband of my muse, Rena Easton. The creative Fleming family, has been replicated.
My first book will be about I being the Prophetic Heir to the Ian Fleming. It is like MY KIN – his spirit – came to warn us all, and prevent the greatest intelligence disaster in the history of the United States. The blow to our prestige will be felt for a very long time. My struggle to own some credibility – is epic! It is – THE STORY!
John Presco
President: Royal Rosamond Art
SYDNEY — More than 250 people who were protesting coronavirus lockdowns in Australia were arrested Saturday and many faced fines for defying health orders, authorities said.
At least seven police officers were treated for injuries after skirmishes broke out at some of the protests, which took place in multiple cities nationwide. The largest and most violent protest was in Melbourne. Many were organized by people in encrypted online chat groups.
The London Homes of Ian Fleming | Artistic Licence Renewed (literary007.com)
Evelyn St. Croix Fleming – Wikipedia
Story: Valentine Fleming's Eulogy by Winston Churchill | Lives of the First World War (iwm.org.uk)
JAMES BOND MEMES: Winston Churchill in the James Bond books
Major Valentine Fleming (1882-1917) – Find A Grave Memorial
Hundreds arrested, fined during Australia lockdown protests – ABC News (go.com)
https://www.wikiart.org/en/william-holman-hunt
https://www.william-turner.org/
When Spectre opened in theaters nationwide in November 2015, it enjoyed the second-highest opening weekend figures of any James Bond film released to date. Clearly, audiences still love the suave, unstoppable Agent 007. As University of Texas at Austin media professor Thomas Schatz says in a Christian Science Monitor article, the Bond films are a "transcendent franchise . . . something that seems to operate above the fray." Of course, there would be no 007 at all if it weren't for Ian Fleming, the original Bond writer. And, to a certain extent, we have Fleming's Solo Mom, Evelyn (Eve) St. Croix Fleming, to thank as well.
Fleming, an English author, journalist, and naval intelligence officer, was raised by Eve after his father, Valentine Fleming, was killed by German shelling on the Western Front in 1917. Though his family background might imply that Fleming was brought up in a conservative banking family, he absorbed something of a Bohemian lifestyle from his mother; after her husband's death, Eve lived in a house that had previously been the studio of the painter J.M.W. Turner. Eve was a free spirit: when Fleming was 17 years old and attending school at Eton, his mother packed up, went on a long cruise, and returned with a baby girl in her arms. She claimed the child, named Amaryllis, was adopted, though eventually Fleming learned Amaryllis was, in fact, a blood relation, the product of Eve's affair with the artist Augustus John.
Ian Fleming: Icon Creator | ESME
119 Cheyne Walk, Chelsea, S.W.3
119 Cheyne Walk, Chelsea, S.W.3 (Photo: Google Maps)
After selling Pitt House in 1923 Fleming's mother bought three cottages in Cheyne Walk and converted them into one dwelling. She named the three Turner's House after the painter J M W Turner who had spent his last years at No. 119. He died here in 1851. During her time here, Eve established a Bohemian salon for artists, like her lover, Augustus John, to allow them to mingle with patrons such as Winston Churchill. The young Ian lived here during his school holidays and continued to visit whilst he was at Kitzbuhel and at Geneva University.
The London Homes of Ian Fleming | Artistic Licence Renewed (literary007.com)
This house, number 4 Cheyne Walk was the home of the novelist George Eliot. She moved in there with her husband John Walter Cross. You might argue that Burgess was pushing his luck in this case. George Eliot (alias Marian Evans and Mary Ann Cross) only lived there for three weeks in December 1880. Her husband, who suffered from depression had thrown himself into a Venetian canal on their honeymoon but survived. Although both of them loved the house with its views of the river, Eliot became ill with a recurrence of a kidney condition she had suffered from for years and died before the year was out. I don't think that Burgess is suggesting that the woman following another dog in the picture is the author herself.
Cheyne Walk provided many subjects for Burgess. At number 59 was the house of W Holman Hunt.
This was a slightly more modest residence further down Cheyne Walk, close to the Old Church. When Hunt became more famous he moved to Melbury Road in Kensington – from the early Chelsea haunts of the Pre-Raphaelite Brotherhood to the more affluent neighbourhood of Lord Leighton.
(Apologies for the wavy picture on the scan. The original is a pencil drawing in a thick mount)
By contrast that other famous member of the Brotherhood, Dante Gabriel Rossetti moved to a big house at the other end of Cheyne Walk.
Number 16, also known as Queen House and Tudor House was the house Rossetti moved into in 1862 after the death of Elizabeth Siddall. Rossetti's brother lived there for a while as did the poet Algernon Swinburne. I've mentioned Rossetti's menagerie before, which included armadillos and wallabies but Burgess's collaborator Richard Le Gallienne (who wrote the text of Bits of Old Chelsea) reports an incident I'd never heard before attributed to James McNeill Whistler. Apparently Rossetti acquired a zebu (an African species of cow) which had to be conveyed into the garden through the house tied up. It was tethered to a tree, a condition it disliked (or perhaps it never forgot its undignified entry into the property), and one day it managed to uproot the tree and charge at Rossetti who had to climb the garden wall to escape its vengeance. Rossetti never found a buyer and had to give it away although we don't know to whom.
Posted on September 17, 2019 by Royal Rosamond Press
I am now going to concentrate on promoting myself in a professional manner. I taught my famous sister how to paint. She married into the famous Benton family of artists. I am kin to Augustus John.
John Presco
FRANCIS TAYLOR and ELIZABETH ROSEMOND:
Marriage: Abt. 1895
Children of ELIZABETH ROSEMOND and FRANCIS TAYLOR are:
3.i.FRANCES LYNN13 TAYLOR, b. 28 Dec 1897, Springfield, Sangamon
County, Illinois; d. 20 Nov 1968, Los Angeles County, California.
ii.JOHN TAYLOR.
https://www.theguardian.com/film/2012/feb/03/elizabeth-taylor-art-collection-auction
An appreciation of art ran in Taylor's family: her father, Francis, and great-uncle Howard Young were dealers. Born in London, Francis moved to Hollywood during the second world war and set set up his own gallery in the Beverley Hills Hotel, where it attracted film star clients including Hedda Hopper and Greta Garbo.
Francis Taylor exclusively represented the Welsh painter Augustus John in America, a relationship that had developed when the Taylor family moved into John's former house in Hampstead, where Elizabeth was born in 1932. The Christie's sale includes 21 works by John, including Portrait of Poppet in Black Hat, which Elizabeth inherited from her father and, says Bertazzoni, "cherished all her life".
Meghan McCain Says U.S. Is 'Laughing Stock' Over Taliban's Mock Iwo Jima Photo (msn.com)
Meghan McCain has branded the U.S. a "laughing stock" after the Taliban mocked the iconic Iwo Jima flag-raising photo following President Joe Biden's controversial withdrawal from Afghanistan.
Pompeo: US adversaries watching America 'destroy' its alliances amid Afghanistan exit (msn.com)
The Rose of the World Art Gallery | Rosamond Press
Posted on December 21, 2020 by Royal Rosamond Press
I went to bed early, then awoke around 1:30 A.M. realizing I had come to the end of this lonely road I have been on. It ends at No. 16 Cheyne Walk where my hero, Dante Gabriel Rossetti, once lived. Here John Paul Getty and his beautiful muse and wife lived. Talitha Getty Pol is kin to Augustus John, and Ian Fleming, via my cousin, Elizabeth Rosemond Taylor, whose grandson is a Getty. John and Talitha struggled to stay alive which meant they had to give up alcohol and drugs, as I did….thirty-three years ago. I am a success story. I rose like a Phoenix Bird above the ashes, as did Sir John Getty.
I am now going to seek funding from the numerous Trusts and Grants that the Getty Family left so a person like me can continue their Creative and Sober Legacy that was established to help struggling writers, artists, historians, and even poets. I deserve a grant, and I deserve help applying for a grant. I am asking Robert Brevoort Buck, and members of Alcohol Justice, to help me fill out and file the proper forms. A failure to to do so, will be seen as a statement that I do not deserve to be funded. Is it because of the things I said in my Newspaper, Royal Rosamond Press?
Another of my heroes, Joaquin Miller, had dinner at Rossetti's home. This Oregon native communicated with Michael Rossetti about publishing his poems about California. I have tried to get the cities of Eugene and Springfield interested in the Pre-Raphaelite history that my late sister, Christine Rosamond Benton, gave me credit for sharing with her, and thus she was inspired to take up art at the age of twenty-four. Rossetti's wife and muse lived in Cheyne Walk, and like Tabitha, she died of an overdose. I believe the painting Fair Rosamund was rendered here.
I am going back to bed, and I copyright what fate has in store for me, and Christine. We have been seperated by the forces of darkness. The parasites' and haters of art – have had a field day! Those days are over. These bright creative beings, deserve an integral sanctuary – that will be a beacon of light for all those creative souls who struggle with the disease of alcoholism.
Yesterday, I turned my living room into my studio so I can finish the the two paintings I began of my muse, Rena Easton, and begin my two portraits of Lara Roozemond.
John Presco
President: Royal Rosamond Press
Copyright 2020
"I was ushered into one of the prettiest and most curiously furnished old-fashioned parlours that I had ever seen. Mirrors and looking-glasses of all shapes, sizes and design lined the walls. Whichever way I looked I saw myself gazing at myself."–Recollections of Dante Gabriel Rossetti and his circle (Cheyne walk life), Henry Treffry Dunn.
Henry Treffry Dunn, who was at one time Rossetti's studio assistant, gives us an intimate glimpse into the artist's home. Rossetti moved into Tudor House at 16 Cheyne Walk (located in Chelsea) soon after the death of his wife, Elizabeth Siddal, from an overdose of Laudanum. His years at Tudor House are often described as bohemian and his behavior did become quite eccentric. It was in this home that he began collecting a menagerie of exotic animals and developed a passion for hoarding antique furniture, blue-and-white china, and vast amounts of bric-a-brac. His former lover and model Fanny Cornforth became the housekeeper of Tudor House and the household also consisted of poet Algernon Charles Swinburne.

Fair Rosamund (Dante Gabriel Rossetti, 1861) appears here behind a balustrade in the royal manor of Woodstock. The sitter, Fanny Cornforth, was a frequent model of Rossetti's. She became his housekeeper after the death of his wife Elizabeth Siddall in 1862. 1861. Oil on canvas.
To Paint a Mistress – two views on Fair Rosamund (museum.wales)
The decline began after Getty divorced his first wife Gail in 1966, and married Talitha Pol, who, within five years, had turned from an envied beauty of the continental jet set – Saint-Laurent and Nureyev were among her bosom pals – to a hopeless addict, who died of a heroin overdose in Italy in 1971.
Fearing arrest, Getty fled to London, and the self-imposed obscurity of a large house in Cheyne Walk, Chelsea. Overcome with remorse at the death of his wife, he deteriorated physically, and, in an attempt to end his own various addictions, he entered the London Clinic in 1984 for a long period of treatment.
Bestowing a Look at Britain's Benefactor : Arts: J. Paul Getty Jr. has donated millions for a variety of causes. Now, a flap over his reasons for giving has thrown the mostly reclusive oil magnate into the spotlight. – Los Angeles Times (latimes.com)
Getty only makes the papers through his philanthropies. To the increasing annoyance of the Getty Museum, those gifts are sometimes designed to keep in Britain works of art that the museum is interested in acquiring.
A public campaign already had raised about $8.8 million to match the Malibu museum's offer for the Canova and keep it in Britain. The government last week ordered a three-month extension of the time allowed under British law to equal the museum's offer; with Getty's gift, only approximately $1.22 million remains to be found.
During the past decade, Getty's philanthropy has become increasingly visible. He had previously given money to prevent a crucifixion painting by Duccio from leaving Britain for the Getty. His largest gift to date is $64.5 million in 1985, made to help London's National Gallery finance an extension, and he has given about $25 million to the British Film Institute.
He has also contributed to areas apart from the arts: $150,000 to striking miners' families in 1984, $4.4 million for a new grandstand at Lord's Cricket Ground in London in 1986, $3.5 million to London's Imperial War Museum, $750,000 to Ely Cathedral, and money to a fund for the Special Air Service regiment.
Although some of his better-known donations are publicized, Getty also gives quietly to other causes. For instance, reading in 1986 that a Royal Air Force hero was forced to auction his medals to raise funds for a memorial to his Dambuster squadron, Getty immediately offered to pick up the bill.
John Paul Getty Jr.'s history has been a troubled one. He was actually christened Eugene Paul Getty, the first child by his father's fourth wife. His mother, Ann, married three more times, and young Getty and his brother Gordon were raised mainly by their maternal grandmother in San Francisco.
He studied at San Francisco State but did not graduate. He was drafted into the Army and served briefly in Korea. At 23, he married Gail Harris; they had four children, the eldest of whom was J. Paul Getty III. The others are Aileen, Mark and Ariadne.
Getty joined the family oil business and received his father's permission to change his name to J. Paul Getty Jr. The senior Getty's personal assistant, Claus von Bulow, remembers young Getty as a man of "charm, conversation and sex appeal."
He was divorced from Gail and married Talitha Pol, of Dutch parents, in 1966 and became part of the international social set.
In May, 1968, Talitha had a son, whom they named Tara Gabriel Galaxy Gramaphone Getty. Then, while living in Rome, J. Paul Getty Jr. quit the family business in a chilly exchange with his father, who disapproved of his lack of enthusiasm for the business and involvement with drugs. The couple, discussing divorce, separated. Talitha moved to London from Rome into an exquisite house on Cheyne Walk in Chelsea.
Later that year she flew to Rome in hopes of a reconciliation, but under mysterious circumstances died overnight, apparently of a drug overdose. Getty left Italy–while the case was being investigated–for the house in London. Two years later, his son J. Paul III, then 16, was kidnaped in Italy and held for $3.35-million ransom. Getty Jr. hadn't enough cash to comply, and Getty Sr. at first refused to pay on the grounds that all his grandchildren would then be vulnerable to kidnaping.
After five months, when the abductors cut off a piece of the boy's ear and sent it to a Rome newspaper, the oil magnate loaned his son the additional money for the release of the grandson.
In 1981, J. P. Getty III suffered a drink-and-drug-induced stroke that left him paralyzed and almost blind. He now gets around in a wheelchair.
For years, Getty Jr. rarely ventured from his Cheyne Walk home. But one neighbor remembers taking her dog walking late at night and chatting with him on a nearby park bench.
"He was very pleasant, polite and informed," she recalls. "I never knew who he was until later."
Another neighbor recalls him at her door early one morning, in a disheveled state, asking to use the phone because his was out of order. She tried to help him with his disintegrating address book, but he finally left without making the call. Two hours later she received six dozen roses.
In the mid-1980s, Getty entered London Clinic, where he stayed for more than a year for treatment of phlebitis. There, he pursued his main hobby of collecting antiquarian books, with particular interested in illuminated manuscripts.
He has purchased several at auction for more than $1 million each, and they form the core of a vast library of precious books that he is establishing at his country home, in a castle-like building made from flint stone.
To Paint a Mistress – two views on Fair Rosamund (museum.wales)
Posted on February 27, 2020by Royal Rosamond Press
I am heir to the literary kingdoms of Tolkien, Fleming, and London. When I searched the internet for a replacement muse of Rena Easton, I gasped when I saw the three photographs of Lara Roozemond. If she was born in another time, and she came upon them, The Pre-Raphaelite Brotherhood would have fought bloody battles over her. Would Joaquin Miller join the fray?
There is a debate over the source of the name Rosamond. Some say it means "rose mouth". Lara's lips are like rose blossoms.
John Prescohttps://www.youtube.com/embed/cmO3ZO9TGgA?version=3&rel=1&showsearch=0&showinfo=1&iv_load_policy=1&fs=1&hl=en&autohide=2&wmode=transparent
Dinner at Rossetti's
by Joaquin Miller
________________________________________
There is no thing that hath not worth;
There is no evil anywhere;
There is no ill on all this earth,
If man seeks not to see it there.
September 28. I cannot forget that dinner with Dante Gabriel Rossetti, just before leaving London, nor can I hope to recall its shining and enduring glory. I am a better, larger man, because of it. And how nearly our feet are set on the same way. It was as if we were all crossing the plains, and I for a day's journey and a night's encampment fell in with and conversed with the captains of the march.
But one may not gave names and dates and details over there as here. The home is entirely a castle. The secrets of the board and fireside are sacred. And then these honest toilers and worshippers of the beautiful are shy, so shy and modest. But I like this decent English way of keeping your name down and out of sight till the coffin-lid hides your blushes–so modest these Pre-Raphaelites are that I should be in disgrace forever if I dared set down any living man's name.
But here are a few of the pearls picked up, as they were tossed about the table at intervals and sandwiched in between tales of love and lighter thoughts and things.
All London, or rather all the brain of London, the literary brain, was there. And the brain of all the world, I think, was in London. These giants of thought, champions of the beautiful earth, passed the secrets of all time and all lands before me like a mighty panorama. All night sol We dined so late that we missed breakfast. If I could remember and write down truly and exactly what these men said, I would have the best and the greatest book that ever was written, I have been trying a week in vain, I have written down and scratched out and revised till I have lost the soul of it, it seems to me; no individuality to it; only like my own stuff. If I only had set their words down on the next day instead of attempting to remember their thoughts! Alas! the sheaves have been tossed and beaten about over sea and land for days and days, till the golden grain is gone, and here is but the straw and chaff.
The master sat silent for the most part; there was a little man away down at the other end, conspicuously modest. There was a cynical fat man, and a lean philanthropist all sorts and sizes, but all lovers of the beautiful of earth. Here is what one, a painter, a ruddy-faced and a rollicking gentleman, remarked merrily to me as he poured out a glass of red wine at the beginning of the dinner:
"When travelling in the mountains of Italy, I observed that the pretty peasant women made the wine by putting grapes m a great tub, and then, getting into this tub, barefooted, on top of the grapes, treading them out with their brown, bare feet. At first I did not like to drink this wine. I did not think it was clean. But I afterward watched these pretty brown women" and here all leaned to listen, at the mention of pretty brown women– I watched these pretty brown women at their work in the primitive winepress, and I noticed that they always washed their feet after they got done treading out the wine."
All laughed at this, and the red-faced painter was so delighted that he poured out and swallowed another full glass. The master sighed as he sat at the head of the table rolling a bit of bread between thumb and finger, and said, sitting close to me: "I am an Italian who has neven seen Italy. Belle Italia!…"
By and by he quietly said that silence was the noblest attitude in all things; that the greatest poets refused to write, and that all great artists in all lines were above the folly of expression. A voice from far down the table echoed this sentiment by saying:"Heard melodies are sweet; but unheard melodies are sweeter." "Written poems are delicious; but unwritten poems are divine," cried the triumphant cynic. "What is poetry?" cries a neighbor. "All true, pure life is poetry," answers one. "But the inspiration of poetry?" "The art of poetry is in books. The inspiration of poetry in nature." To this all agreed.
Then the master very quietly spoke: "And yet do not despise the books of man. All religions, said the Chinese philosophers, are good. The only difference is, some religions are better than others, and the apparent merit of each depends largely upon a mans capacity for understanding it. This is true of .poetry. All poetry is good. I never read a poem in my life that did not have some merit, and teach some sweet lesson. The fault in reading the poems of man, as well as reading the poetry of nature, lies largely at the door of the reader. Now, what do you call poetry?" and he turned his great Italian eyes tenderly to where I sat at his side.
To me a poem must be a picture," I answered.
Proud I was when a great poet then said: "And it must be a picture–if a good poem so simple that you can understand it at a glance, eh? And see it and remember it as you would see and remember a sunset, eh?" "Aye," answered the master, "I also demand that it shall be lofty in sentiment and sublime in expression. The only rule I have for measuring the merits of a written poem, is by the height of it. Why not be able to measure its altitude as you measure one of your sublime peaks of America?"
He looked at me as he spoke of America, and I was encouraged to answer:"Yes, I do not want to remember the words. But I do want it to remain with me a picture and become a part of my life. Take this one verse from Mr. Longfellow:
"And the night shall be filled with music,
And the cares that infest the day
Shall fold their tents like the Arabs,
And as silently steal away.'"
"Good!" cried the fat cynic, who, I am sure, had never heard the couplet before, it was so sweet to him; "Good! There is a picture that will depart from no impressible clay. The silent night, the far sweet melody falling on the weary mind, the tawny picturesque Arabs stealing away m the darkness, the perfect peace, the stillness and the rest. It appeals to all the Ishmaelite in our natures, and all the time we see the tents gathered up and the silent children of the desert gliding away in the gloaming."
A transplanted American, away down at the other end by a little man among bottles, said: "The poem of Evangeline is a succession of pictures. I never read Evangeline but once." "It is a waste of time to look twice at a sunset," said Rossetti, sotto voce, and the end man went on: "But i believe I can see every picture in that poem as distinctly as if I had been the unhappy Arcadian; for here the author has called in ail the elements that go to make up a perfect poem."
"When the great epic of this new, solid Saxon tongue comes to be written," said one who sat near and was dear to the master's heart, "it will embrace all that this embraces: new and unnamed lands; ships on the sea; the still deep waters hidden away in a deep and voiceless continent; the fresh and fragrant wilderness; the curling smoke of the camp-fire; action, movement, journeys; the presence–the inspiring presence of woman; the ennobl- ing sentiment of love, devotion, and devotion to the death; faith, hope and charity,- and all in the open air."
"Yes," said the master thoughtfully, 'no great poem has ever been or ever will be fitted in a parlor, or even fashioned from a city. There is not room for it there."
"Hear! hear! you might as well try to grow a California pine in the shell of a peanut," cried I. Some laughed, some applauded, all looked curiously at me. Of course, I did not say it that well, yet I did say it far better, I mean I did not use the words carefully, but I had the advantage of action and sympathy.
Then the master said, after a bit of reflection: "Homer's Ulysses, out of which have grown books enough to cover the earth, owes its immortality to all this, and its out-door exercise. Yet it is a bloody book a bad book, in many respects–full of revenge, treachery, avarice and wrong. And old Ulysses himself seems to have been the most colossal liar on record. But for all this, the constant change of scene, the moving ships and the roar of waters, the rush of battle and the anger of the gods, the divine valor of the hero, and, above all, and over all, like a broad, white-bosomed moon through the broken clouds, the splendid life of that one woman; the shining faith, the constancy, the truth and purity of Penelope–all these make a series of pictures that pass before us like a panorama, and we will not leave off reading till we have seen them all happy together again, and been assured that the faith and constancy of that woman has had it reward. And we love him, even if he does lie!"
How all at that board leaned and listened. Yet let me again and again humbly confess to you that I do him such injustice to try thus to quote from memory. After a while he said: "Take the picture of the old, blind, slobber-mouthed dog, that has been driven forth by the wooers to die. For twenty years he has not heard the voice of his master. The master now comes, in the guise of a beggar. The dog knows his voice, struggles to rise from the ground, staggers toward him, licks his hand, falls, and dies at his feet."
Such was the soul, heart, gentleness of this greatest man that I ever saw walking in the fields of art….
Posted on August 1, 2018by Royal Rosamond Press
Joaquin Miller had dinner with the Pre-Raphaelites and was my grandmother's friend. This history is being compiled for the grant I am applying for. The history of the Pre-Raphaelites has not been discarded, thus, Kehinde Wiley has no right to claim it and hand it out to NOBODIES who don't deserve it! I don't give a rat's ass what the color of their skin is, and how badly they were oppressed. Let them work for their bragging rights. Just because Wyley thinks he has immortalized these non-artists, does not give them any titles. I will see to that.
Miller built a monument to my kin, John Fremont, the first Presidential Candidate for the Abolitionist Republican Party, and the first to emancipate slaves, forcing Lincoln's hand.https://www.youtube.com/embed/-_WrJyp-WYI?version=3&rel=1&showsearch=0&showinfo=1&iv_load_policy=1&fs=1&hl=en&autohide=2&wmode=transparent
Posted on May 30, 2016by Royal Rosamond Press
I will be going out to Coburg today to plant another flower at the grave of George Miller, the brother of Joaquin Miller, a honorary member of the Bohemian Club that was a place for Bay Area Journalists to gather and compare notes. If Miller lived in the Bay Area, then he too would be a honorary member.http://www.findagrave.com/cgi-bin/fg.cgi?page=gr&GRid=29810634
Elizabeth Maude "Lischen" or "Lizzie" Cogswell married George Miller. Lizzie was the foremost literary woman in Oregon. On Feb. 6, 1897, Idaho Cogswell, married Feb. 6, 1897, Ira L. Campbell, who was editor, publisher and co-owner (with his brother John) of the Daily Eugene Guard newspaper. The Campbell Center is named after Ira.
The Wedding of John Cogswell to Mary Frances Gay, was the first recorded in Lane County where I registered my newspaper, Royal Rosamond Press. Idaho Campbell was a charter member of the Fortnightly Club that raised funds for the first Eugene Library.
George Melvin Miller was a frequent visitor to 'The Hights' his brothers visionary utopia where gathered famous artists and writers in the hills above my great grandfather's farm. The Miller brothers promoted Arts and Literature, as well as Civic Celebrations. Joaquin's contact with the Pre-Raphaelites in England, lent credence to the notion that George and Joaquin were Oregon's Cultural Shamans, verses, he-men with big saw cutting down trees.
A year ago I received in the mail a book I ordered on E-Bay. I quickly scanned it to see if their were any illustrations or photographs. Then, I found it, what amounts to my personal Holy Grail. Joaquin Miller dedicated his book of poems 'Songs of The Sun-Land' to the Rossetti family that includes Gabriel, Michael, and, Christine. Gabriel was a artist and poet, Michael, a publisher, and Christine, a poet.
"TO THE ROSSETTIS"
Gabriel, who had Joaquin over to his house for dinner, where he met several members of the Pre-Raphaelite Brotherhood. Miller sends Michael a photograph of himself, and is sent a photo. This photo may be the famous one taken by Charles Lutwidge Dodgson, who is better known as Lewis Carrol the author of 'Alice in Wonderland'. If Joaquin had glued this portrait to a piece of paper, then we might have seen it on the dedication page.
What is going on here is extremely profound. Miller has exported his vision and lifestyle to the England, where he wrote Song of the Sierras, and now he is importing to America a cultural brand that contains Grail and Arthurian subject matter that was at the epicenter of the work of the Pre-Raphaelite Brotherhood.
Lewis Carrol posed two children as Fair Rosamond and Queen Eleanore. I associate Fairmount with Rosamond. Johnnny Depp is starring in another Alice in Wonderland movie. Eugene can celebrate our Land of Make Believe, our White Rabbit made famous by the Jefferson Airplane. I stood before the Mayor of Eugene and suggested a Newspaper Museum at Kesey Square wherein is a model of Miller's Fantastic Flying Machine. We could build a parade around this contraptions, a world contest that would bring creative people to our Fair City. Children would love this! They too would be in costume for the White Rabbit Run!
Here is what amounts to MY FANTASTIC MOVIE shot in Eugene. What an Amazing Journey is has been!
https://en.wikipedia.org/wiki/Bohemian_Club
Posted on December 6, 2014by Royal Rosamond Press
Posted on August 5, 2013by Royal Rosamond Press
Christine Rosamond Benton and I were drawn into Tolkien's Trilogy. The artist known as 'Rosamond' could not put these books down, nr could I. This caused our mutual friend, Keith Purvis, a British subject, to comment;
"She doesn't know these books are real."
We three were original hippies who took the Lord of the Rings to heart as we modified the modern world, made it over more to our liking, we oblivious to what normal folk were about. This is exactly what William Morris and the Pre-Raphaelite Brother and Sisterhood did. They – returned!
I discovered the Pre-Raphaelites in 1969 and let my hair grow long for the first time. I gave up drugs in 1967 and was looking for a spiritual format. I came under the spell of the Rossetti family who were friendly with Joaquin Miller. We Presco children knew Miller's daughter as 'The White Witch' and we would call her for advice. Miller's home 'The Abbye' was above our home in the Oakland Hills. Our kindred were friends of Miller, who was also a friend of Swineburn, who wrote 'The Queen-Mother and Rosamund' and 'Rosamund Queen of Lombards. Tolkien was inspired by the Lombards.
Filed away in Rosamond's probate is my plea to the executor to allow me to be my sister's historian. I mention Miller and Rossetti. I saw myself in the role of Michael Rossetti who had his own publishing company. He published Miller and other famous poets. When I was twelve, my mother read evidence I might become a famous poet.
All my imput has been ruthlessly ignored, because petty un-creative minds have forced our families creative legacy down the tiny holes of their hidden agendas, into the mouths of worms and parasites, because these ignorant people sensed I and the real Art World, did not let them in the door – would never admit them into our circle, our ring of genius!
Jon Presco
Copyright 2011
William Morris had a major influence on J. R. R. Tolkien. As John Garth points out, unlike most authors traumatized by the experience of World War I, Tolkien did not "discard the old ways of writing, the classicism or medievalism championed by Lord Tennyson and William Morris. In his hands these traditions were reinvigorated so that they remain powerfully alive for readers today" (40). His love of Morris, in particular, goes back to his undergraduate days when he turned from studying the Greek and Latin classics to the the northern traditions — the language and literature of the Scandinavian and Germanic past. According Garth,
William Morris, from the late 1870s on, decided to "remedy" the defects of the real historical record by producing specific works of "pseudo-history," fully-fleshed stories that he could present as "re-discovered" manuscripts of ancient tribal lore. So eager were the Germanic speakers of 19th century Europe to know more about their ancestors, that sometimes even academically trained scholars would be fooled by the books Morris wrote, and asked him for his sources, and wanted to read the original saga manuscripts themselves. To which requests Morris replied "Doesn't the fool realize, that it's a romance, a work of fiction — that it's all lies!" (from May Morris, daughter of W. Morris recollections).
JRRT, a generation later than Morris, got in on the tail end of this nationalistic/ romantic period, and became as fully enmeshed in its allures as Morris. Tolkien went on to "sub-create" his own "pseudo-histories," manufacturing his versions of the source myths that would allow a richer understanding of the Nordic tradition, especially the Anglo-Saxon phenomena of England. Between them, as much by accident as firm intent, Morris and Tolkien established an entire genre of pseudo-history that has, by now in the 21st century, become one of the most popular fields of literature.
"These two men knew either much (Morris) or most (Tolkien) of all that was known about these [northern] people and their lives. They used that wealth of knowledge to create 'dreamed realities' (Morris) or an 'imaginary history' (Tolkien) about what it might have been like to live in those days. While what they wrote wasn't necessarily true in a strict sense, both knew enough about the past and were talented enough as writers that what they wrote created a strong sense that they described what might have been." ( Michael W. Perry, More to William Morris, p. 7, 2003)
So, the question then becomes, for Tolkien readers, how does Morris stand up to JRRT? Is it worth the money to buy Morris's books? Will I get the same, or at least a very similar thrill from reading them as I get when running through the pages of LotR and The Hobbit? Well, that's what I am trying to decide in the next few installments of this topic. How do the works of the two authors compare, in what ways are they similar, in what ways do they differ?http://tolkiensring.proboards.com/index.cgi?board=authors&action=display&thread=675
Joaquin Miller looked me up at Somerset House, and left with me
the remaining proofs of his forthcoming volume. He showed me the dedication, 'To the Rossettis.' I strongly recommended him to write direct to Gabriel as to the matter before anything further is done. I mentioned the dedication to Christina. She feels some hesitation in sanctioning it, not knowing what the book may contain. If she makes up her mind to object, she is to write to Miller. I looked through the proofs and noted down some remarks on them. They include a series of poems about Christ, named Olive Leaves, implying a sort of religious, or at least personal, enthusiasm, mixed up with a good deal that has more relation to a sense of the picturesque than of the devotional. These poems, though far from worthless from their own point of view, are very defective, and would, I think be highly obnoxious to many readers and Reviewers. I have suggested to Miller the expediency of omitting them altogether. – Christina, I find, has already read these particular poems, and to some considerable extent likes them, which is so far in their favour as affecting religious readers"
The wider world of Victorian London is present: Turgenev comes to dinner, Browning sends his new volumes, Swinburne arrives drunk, and the American poet and adventurer Joaquin Miller makes himself known to the Rossetti circle. Nine appendices include five devoted to Poems and one to the Fleshly School controversy.
Joaquin Miller Cabin is located in Washington, DC. The Hights, the Oakland home Miller built at the end of his life, is currently known as the Joaquin Miller House and is part of Joaquin Miller Park. He planted the surrounding trees and he personally built, on the eminence to the north, his own funeral pyre and monuments dedicated to Moses, General John C. Frémont, and the poets Robert Browning and Elizabeth Barrett Browning. The Japanese poet Yone Noguchi began his literary career while living in the cabin adjoining Millers' during the latter half of the 1890s. The Hights was purchased by the city of Oakland in 1919 and can be found in Joaquin Miller Park.[42] It is now a designated California Historical Landmark.
Miller went to England, where he was celebrated as a frontier oddity. There, in May 1871, Miller published Songs of the Sierras, the book which finalized his nickname as the "Poet of the Sierras".[22] It was well-received by the British press and members of the Pre-Raphaelite Brotherhood, particularly Dante Gabriel Rossetti and William Michael Rossetti.
While in England, he was one of the few Americans invited into the Savage Club along with Julian Hawthorne, son of Nathaniel Hawthorne. The younger Hawthorne referred to Miller as "a licensed libertine" but admitted him "charming, amiable, and harmless".[
The Savage Club was formed to supply the want which Dr Samuel Johnson and his friends experienced when they founded the Literary Club. A little band of authors, journalists and artists felt the need of a place of reunion where, in their hours of leisure, they might gather together and enjoy each other's society, apart from the publicity of that which was known in Johnson's time as the coffee house, and equally apart from the chilling splendour of the modern club.
At present, there are 315 members. The club maintains a tradition of fortnightly dinners for members and their guests, always followed by entertainment. These dinners often feature a variety of famous performers from music hall to concert hall. Several times a year members invite ladies to share both the dinner and the entertainment — sometimes as performers. On these occasions guests always include widows of former Savages, who are known as Rosemaries (after rosemary, a symbol of remembrance).
Born in London, he was a son of immigrant Italian scholar Gabriele Rossetti, and the brother of Maria Francesca Rossetti, Dante Gabriel Rossetti and Christina Georgina Rossetti.
He was one of the seven founder members of the Pre-Raphaelite Brotherhood in 1848, and became the movement's unofficial organizer and bibliographer. He edited the Brotherhood's literary magazine The Germ which published four issues in 1850 and wrote the poetry reviews for it.
It was William Michael Rossetti who recorded the aims of the Pre-Raphaelite Brotherhood at their founding meeting in September 1848:
1. To have genuine ideas to express;
2. To study nature attentively, so as to know how to express them;
3. To sympathize with what is direct and serious and heartfelt in previous art, to the exclusion of what is conventional and self-parading and learned by rote;
4. And most indispensable of all, to produce thoroughly good pictures and statues.
Although Rossetti worked full time as a civil servant, he maintained a prolific output of criticism and biography across a range of interests from Algernon Swinburne to James McNeill Whistler. He edited the diaries of his maternal uncle John William Polidori (author of The Vampyre and physician to Lord Byron), a comprehensive biography of D. G. Rossetti, and edited the collected works of D. G. Rossetti and Christina Rossetti.
Rossetti edited the first British edition of the poetry of Walt Whitman, which was published in 1868; however, this edition was bowdlerized.[1] Anne Gilchrist, who became one of the first to write about Whitman, first read his poetry from Rossetti's edition, and Rossetti helped initiate their correspondence.[2]
In 1874 he married Lucy Madox Brown, daughter of the painter Ford Madox Brown. They honeymooned in France and Italy. Their first child, Olivia Frances Madox, was born in September 1875, and her birth was celebrated in an ode of Swinburne.
William Michael Rosetti was a major contributor to the 1911 edition of the Encyclopædia Britannica; his contributions on artistic subjects were criticised by many reviewers at the time and since, as showing little evidence of having absorbed the mounting body of work by academic art historians, mostly writing in German.