Below we see 'The Ronny Battle Flag' employed by DeSantis and other Republican in order to destroy Democrats. I'm going to learn how do graphics and put this coloful banner on a lance! Let's name the model for the new flag….Lance Banner!
It's official! The flag of the New Loyal Putanic Party is…..THE RONNY! An hour after I posted on Ron DeSantis raising the White Flag of Surrender, for his buddy Putin to see, I turn on the news and watch the Secretary of Defense, and a four star general – retract the fake call of retreat made by a Republican Presidential candidate who designed The Ronny flag in order to replace the 'Democrats Gleefully Murder The Unborn' flag, which is rendered impotent by the Supreme Court – that has to know about Scapegoats.
Democrats and Sane Republicans must launch a campaign to inform the American People, Fake Moral Propaganda is not just for Americans – but for Putin and China – too! They are running The WOKE Feint through their think tanks, understanding that DESTROYING half of the United States, is the first step in DESTROYING us all!
Then my local Noon News comes on, and I am looking at the Credit Suisse logo! WTF! It's another FEINT by THE BILLIOBAIES who keep us OCCUPIED shaming human genetalia, poking sharp sticks at our penises and vaginas – while they make a KILLING on the Stock exchange, and with Banking Manipulations and Big Buck Feints!
John Presco
Candidate for President
feint In military deception, an offensive action involving contact with the adversary conducted for the purpose of deceiving the adversary as to the location and/or time of the actual main offensive action.
A growing number of conservative Republicans are blaming what they call "woke" policies for the failures of two big banks this past weekend — but what exactly are they talking about?
None of the critics has provided evidence to prove the Silicon Valley Bank's policies on diversity and "ESG" — so-called environmental, social and governance investing — led directly to its collapse, with most experts pointing instead to a cash crunch due to surging interest rates.
Yet, that hasn't stopped Republicans from seizing on the "woke Biden bank" line as a convenient political talking point — one they've been using to attack the administration and Democratic-supported policies on issues across the board.MORE: Amid crisis, Biden tells Americans 'banking system is safe'
In a new op-ed in The Daily Mail on Tuesday, former Vice President Mike Pence blamed Silicon Valley Bank's failure on the company for having "engaged in risky borrowing and lending on behalf of California's donor class while committing billions of dollars to woke projects fighting climate change," he wrote.
"Banks make foolish decisions enabled by imprudent government policies and the American people pay the price," Pence wrote, calling Biden "disingenuous" for saying taxpayers won't now see higher fees in the fallout.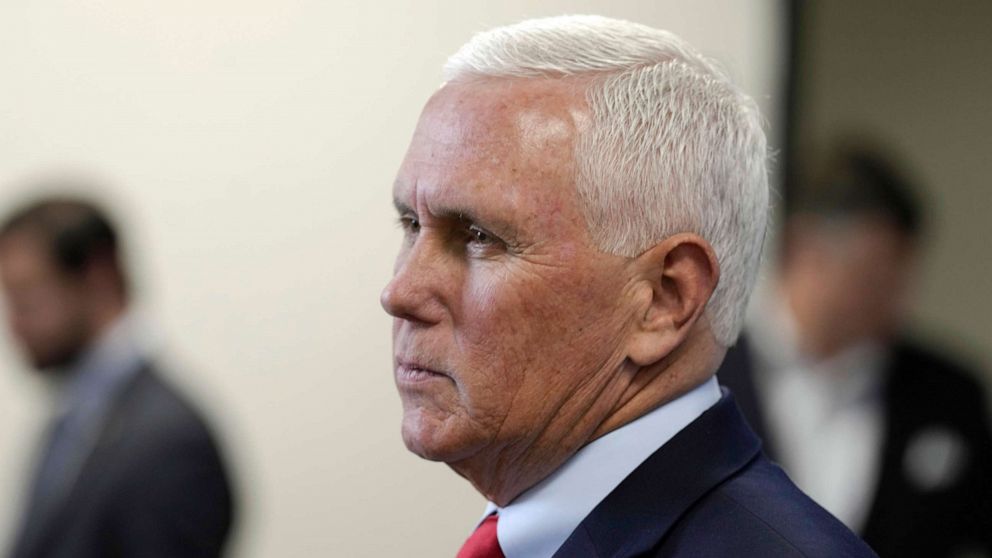 Pence, notably, served as vice president when then-President Donald Trump signed a banking deregulation bill in 2018 — which Democratic Sen. Elizabeth Warren and independent Sen. Bernie Sanders say led directly to Silicon Valley Bank and Signature Bank collapsing.
But his language echoes a growing chorus of Republicans like Missouri Sen. Josh Hawley, who called federal regulators stepping in to pay off deposits a "woke bailout," and House Oversight Chair James Comer, who on Sunday called Silicon Valley Bank "one of the most woke banks" on Fox News.
"We see now coming out they were one of the most woke banks in their quest for the ESG-type policy and investing," Comer said. "This could be a trend, and there are consequences for bad Democrat policy."
Florida Gov. Ron DeSantis, who appears to be preparing a run for president in 2024, in an appearance on Fox News on Sunday, also raised the prospect of Silicon Valley Bank being "so concerned with DEI and politics," referring to diversity, equity, and inclusion, that it "really diverted from them focusing on their core mission."
Silicon Valley Bank had documented efforts "to build a diverse workforce" where "all employees are connected, celebrated and supported."MORE: A timeline of the Silicon Valley Bank collapse
GOP Rep. Ronny Jackson of Texas also blamed what he called Silicon Valley Bank's "WOKE agenda" for its collapse, claiming the company wasted money on ESG policies and "CRT CRAP," he said, referring to Critical Race Theory.
"How much money did they WASTE on financing ESG/CRT CRAP? The insane left-wing agenda is BANKRUPTING our future. Go woke, GET BROKE!" Jackson tweeted Monday.
While conservatives team up against "woke" policies, Democrats have laid blame on the 2018 deregulation law, which they say allowed for Silicon Valley and Signature Banks to not be held to the same scrutiny as larger banks.
https://www.msn.com/en-us/news/politics/what-to-know-about-the-trump-era-rollback-of-bank-rules-and-svbs-demise/ar-AA18FNHB
The collapse of Silicon Valley Bank is putting deregulatory reforms implemented under former President Donald Trump back in the spotlight.
The abrupt implosion of the country's 16th-largest bank last week resulted in swift finger-pointing in Washington.
President Joe Biden and many progressive Democrats have blamed, in part, a 2018 law that rolled back some of the Dodd-Frank Act — a series of federal regulations passed in the wake of the 2008 financial crisis. Republicans, on the other hand, are decrying so-called "woke" practices at the bank as well as government spending and inflation as the culprits.
MORE: Why are some Republicans blaming bank failures on 'woke' policies?