https://www.msn.com/en-gb/news/world/scientists-find-meteorite-in-texas-from-fireball-that-exploded-with-the-force-of-8-tons-of-tnt/ar-AA17TOfa
A bird's eye view of the Tower of David Museum, about to undergo a $30 million renovation (Courtesy Naftali Hilger)
"I think you can say, well, Putin's out of his mind, and yes, maybe so," said Robertson. "But at the same time, he's being compelled by God. He went into Ukraine, but that wasn't his goal. His goal was to move against Israel, ultimately."
Protesters against the proposed changes waved Israeli flags and held aloft banners outside Israel's parliament in Jerusalem
I just saw Rep. Steve Cohen says Putin has a Fifth Column in the U.S. Cohen said if not for the Ukraine victories, Putin would be in Poland right now, doing Peter the Great. Cohen talked about McCarthy giving Tucker Carlson all the videos of Jan.6th attack, and Greene about to pass a resolution taking aid to Zelensky who called upon al the Jews of the World to – UNITE!
I suspect Tucker is going to make a pro-Putin propaganda film showing the Democrats were out to undermine the peaceful relationship Trump and the Republicans had with Putin. Will this movie explain why Israel refuses to condemn genocide against Ukraine?
Pat Robertson declared Putin's INVASION an Act of God. The Tower of David is being repaired. Secular Jews had built a monument atop it. Because the Orthodox Jews have declared a holy war against SECULARISM, I suggested the Crimea be a New Secular Israel. Then I discovered….
CRIMEAN CALIFORNIA
The War of Armageddon – has begun! I took over the ministry of Herbert Armstrong. I will broadcast the Holy War News via my blog, Royal Rosamond Press. I will be taking the side of the Secular People of the World who are being abused by Religious Fanatics.
A week ago a meteor was seen over Texas. I held back reporting on it, until there was a matching sign.
THE TOWER – AND THE HAND OF GOD
John Presco
Crimean California
The first option emerged in 1926 when Moscow announced support for a Jewish autonomous region in the Crimea, whereby about 96,000 Jewish families would move there.
The project gained an international dimension when in 1929 the USSR signed an agreement with the American Jewish Joint Distribution Committee, a Jewish relief organization based in New York. It gave $1.5 million a year to finance "Crimean California" and Jewish resettlement to the region.
https://www.msn.com/en-us/news/world/israel-thousands-protest-as-lawmakers-consider-judicial-reforms/ar-AA17qGNA
https://www.timesofisrael.com/tower-of-david-plans-renovation-connecting-east-and-west/
The Tower of David is located at a high point. Thus archaeologists think there was a dedicated road from the Tower of David to the Temple. This path was used by the elite and their servants for a quick and direct passage between the two points (see photo above).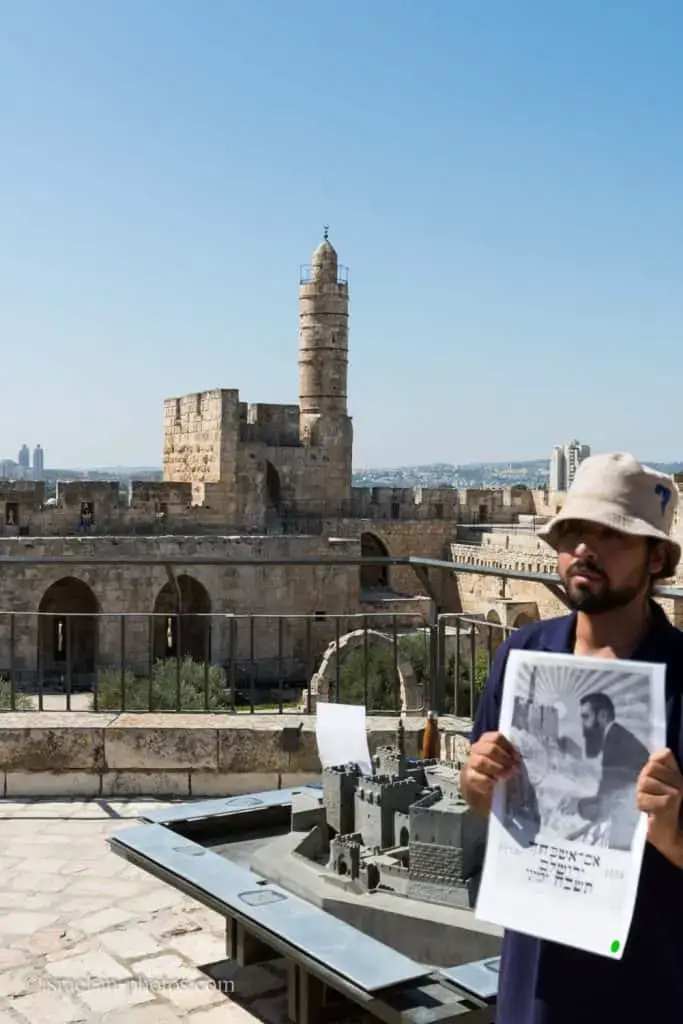 I mentioned above that Tower of David is not related to King David. The attribution was due to a misinterpretation of Josephus Flavius` writings. Church fathers connected a tower from Herod`s time, the Tower of Phasael, to King David. And on top of that mistake, another error was made. When Zionists created posters, instead of putting the Tower of Phasael, they drew another tower (see the photo above).
https://www.newsweek.com/retired-evangelist-pat-robertson-says-putin-fulfilling-biblical-prophecy-1683497
Former televangelist Pat Robertson came out of retirement to comment on Russia's invasion of Ukraine, saying Russian President Vladimir Putin is being "compelled by God" to bring about the "End of Times," prophesied in the Bible.
Robertson made a special appearance on The 700 Club Monday to weigh in on Russia's attack on Ukraine, saying Putin is simply following God's wishes to spark an End of Times battle against Israel. Robertson cited verses from the book of Ezekiel regarding nations coming together to rise up against Israel—saying Russia's invasion is a precursor to that event.
"I think you can say, well, Putin's out of his mind, and yes, maybe so," said Robertson. "But at the same time, he's being compelled by God. He went into Ukraine, but that wasn't his goal. His goal was to move against Israel, ultimately."
The founder of the Christian Broadcasting Network claimed that Ukraine is simply a "staging area" for one of the great biblical armies that will gather for Armageddon. Referring to a world map, Robertson pointed to a "choke point" between Bulgaria, Turkey, and Greece and why Russia might want to control that point.
https://www.washingtonpost.com/opinions/2022/04/13/israel-ukraine-war-russia-neutrality/
The Russo-Ukraine war is a battle between good and evil. It is inconceivable that any liberal democracy could fail to take Ukraine's side. Yet Israel is disgracefully hedging its bets for fear of offending the war criminals in the Kremlin.
Sign up for a weekly roundup of thought-provoking ideas and debates
Israel, to be sure, is not as bad as India, Brazil and South Africa, which abstained, along with America's Arab allies, on a motion in the United Nations General Assembly on April 7 to suspend Russia from the U.N. Human Rights Council. Israel supported the resolution, just as it supported an earlier motion to condemn the Russian invasion of Ukraine. Israel can be proud of the humanitarian aid it has provided Ukraine, including sending a field hospital, and it can be proud of all of the Ukrainian refugees — many of them not Jewish — that it is taking in.
But Israel refuses to send arms to Ukraine or impose sanctions on Russia. Israel provides Arab dictatorships with its powerful Pegasus spyware but refuses to sell it to Ukraine, an embattled fellow democracy. Israel also won't send Ukraine its Iron Dome missile-defense system or sufficiently crack down on Russian oligarchs, many of whom have ties to the Jewish state.
After the Bucha massacre was revealed, Israeli Foreign Minister Yair Lapid finally accused Russia of committing war crimes, but Prime Minister Naftali Bennett wouldn't go that far. "We are shocked by what we see in Bucha, horrible images, and we condemn them," Bennett said, without noting who had carried out these atrocities.
Follow Max Boot's opinionsFollow
Finance Minister Avigdor Liberman, a native of what is now Moldova and longtime fan of Russian dictator Vladimir Putin who leads a party of immigrants from the former Soviet Union, is even worse. Engaging in the slimiest moral equivalence imaginable, he said, "Russia is blaming Ukraine, and Ukraine is blaming Russia," as if the two sides were equally culpable for the horrors in Bucha and beyond.
Ukrainian President Volodymyr Zelensky, who is himself Jewish and lost relatives in the Holocaust, expressed frustration with Israel's stance in a March 20 speech to the Knesset. "One can keep asking why we can't get weapons from you. Or why Israel has not imposed strong sanctions against Russia," he said, while arguing that "indifference kills."
But rather than rallying to Zelensky's side, Israeli politicians were offended that he had dared to compare Ukraine's suffering to the Holocaust while ignoring the participation of some Ukrainians in the genocide against the Jews. "The war is terrible," Communications Minister Yoaz Hendel tweeted, "but comparison to the horrors of the Holocaust and the final solution is outrageous."
In the weeks since Zelensky spoke, evidence of Russian war crimes has emerged along with the genocidal intent behind them, leading many experts to conclude that Russia is indeed perpetrating genocide. You would think that Israelis would be more offended by Russian crimes than by Ukrainian rhetoric about the Holocaust, but alas, there seems to be no rethinking going on.
Israel has a variety of reasons for turning its back on Ukraine. The fig leaf offered by Bennett is that he must stay neutral so as to mediate between Moscow and Kyiv; he even traveled to Russia to meet with Putin last month. Yet peace talks are going nowhere fast — and Turkish President Recep Tayyip Erdogan has been more active as a facilitator.
The real reason Israel refuses to offend Russia is that former prime minister Benjamin Netanyahu reached a deal with Putin, whose air force controls Syrian airspace, to allow Israeli aircraft to carry out airstrikes against Iranian operations in Syria. Israel now admits to having carried out 400 airstrikes in Syria since 2017 in what its leaders call "the war between the wars." Israel and Russia operate a "deconfliction" hotline to ensure that Israeli airstrikes don't cause Russian casualties, and Russian jets and air defenses, in turn, don't fire on Israeli warplanes.
But let's get real. The dismal combat performance of the Russian military in Ukraine makes clear that Russia isn't doing Israel any favors. If the Russians did target Israeli aircraft, the Israeli Air Force would make short work of the attackers. Indeed, it already has. In 1970, the Soviets were providing Egypt, then a client state, with surface-to-air missiles and even MiG-21s flown by Soviet pilots. After the Soviets downed several Israeli aircraft during the "War of Attrition" between Egypt and Israel, the Israeli Air Force responded by ambushing and shooting down five Soviet warplanes without losing a single one of their own aircraft. Moscow did nothing in response.
One of the few prominent Israeli politicians who dissents from its amoral approach to Ukraine is former Soviet prisoner of conscience Natan Sharansky. He told my colleague Josh Rogin: "Zelensky is right when saying that this is not just a struggle for the Ukrainians, but a struggle for the entire free world. We have to do everything that we can to help them."
Israel should heed Sharansky's principled words. The Jewish state has long prided itself on being a "light unto the nations," but it is flirting with darkness in Ukraine.
Why Israel's planned overhaul of the judiciary is tearing the country apart
By Shira Rubin and
February 14, 2023 at 7:21 a.m. EST
JERUSALEM — Mired for years in a corruption investigation, Israeli Prime Minister Benjamin Netanyahu has long claimed that the courts are conspiring to destroy him. Now he is advancing an incendiary plan to hobble the country's judicial system that he maintains would make it more representative of the views of the majority.But his initiative has sparked a national crisis that many have warned may end in bloodshed.
Are you on Telegram? Subscribe to our channel for the latest updates on Russia's war in Ukraine.
On Monday, police estimated 100,000 Israelis demonstrated against the judicial overhaul outside the Knesset in Jerusalem, chanting "Disgrace!" and "Israel is not a dictatorship!" President Biden has called for compromise; economists have warned that investments in Israel, particularly its tech sector, are at risk; Israel's president has warned of "societal collapse."
Here's what you need to know about the proposed changes to the Israeli judiciary, and why they have divided the country:
What's in the bills?
On the table are several bills amending Israel's "basic laws" — legally equivalent to constitutional amendments — which would grant Knesset lawmakers control over judicial appointments, eliminate judicial review of legislation and allow parliament to vote downSupreme Court decisions.
Effectively, these changes will mean "there is no legal boundary to government," said Aeyal Gross, a professor of constitutional and international law at Tel Aviv University. "A government with no limits totally undermines any idea of democracy."
In Israel's parliamentary system, the Supreme Court has been seen as the sole check on lawmakers and the prime minister. Israel's high court both reviews appeals from lower courts and hears petitions filed against the government and public bodies. It has struck down laws targeting Ukrainian refugees and African asylum seekers and has delayed the eviction of Palestinians in a sensitive Jerusalem neighborhood. In other cases, rights groups say, it has upheld key violations of Palestinian rights.
On Monday, the Knesset gave preliminary approval to two bills that would allow it to appoint judges and to nullify judicial review. One amendment would change the makeup of the nine-member Judicial Selection Committee, which handles judicial appointments. The move would effectively give the government an automatic majority when voting on appointees.
https://742eae7a801807fdee4317fe1bc634ea.safeframe.googlesyndication.com/safeframe/1-0-40/html/container.html
On Tuesday, it is discussing an "override clause," a rare mechanism that would allow a simple Knesset majority of 61 votes to override Supreme Court decisions, potentially removing legal protections for groups that are not liked by the ruling coalition. The only other country in the world with an override clause is Canada, which has a constitution. Israel has no constitution, just the "basic laws."
"It's basically taking the worst from each country, but without the other contexts and guarantees in that country," said Gross, the law professor.
The three bills will be voted on three times before becoming law. The first vote is expected early next week. The second and third could, if both sides agree to negotiations, take place only after several weeks.
Justice Minister Yariv Levin has also presented the text of several other bills, such as one reducing the independence and legislative oversight of legal advisers for ministers. The final details of other proposals circulating are not yet clear.
Why is Netanyahu doing this?
Netanyahu, Israel's longest serving leader, has frequently been at odds with the judiciary.
Netanyahu returned to office late last year to head the country's most far-right government in history. His coalition includes once-fringe religious nationalists, Jewish supremacists, and settler activists who have pledged to support his efforts to upend the judiciary and drop the charges against him in his ongoing corruption trial.
Ending judicial oversight of legislation would be a major win for Netanyahu's far-right coalition, whose members have vowed to prioritize Israel's Jewish character over its democratic one and to annex the occupied West Bank — the land Palestinians envision as part of their future state.
It would also enable Netanyahu to legally protect allies in his coalition, including Aryeh Deri, the leader of the ultra-Orthodox Shas party. Netanyahu was compelled last month by the Supreme Court to fire Deri, who was serving as health and security minister, due partly to his "backlog of criminal convictions."
In three separate cases, Netanyahu has been charged with abusing his official position to grant favors to wealthy business executives in exchange for gifts that include champagne, cigars, and favorable media coverage for his family. As the first Israeli prime minister facing indictment while in office, Netanyahu's trial sparked a prolonged political crisis that has dragged the country through five rounds of elections in less than five years.
Earlier this month, Attorney General Gali Baharav-Miara sent a letter to Netanyahu ordering him to distance himself from the judicial overhaul due to the obvious conflict of interests. Netanyahu said he viewed Baharav-Miara's directive as "unacceptable."
Netanyahu has claimed that the judicial overhaul and his personal legal issues are separate. But Levin, a member of Netanyahu's Likud party, told a Knesset plenary last month that it was "the three indictments" that "convinced" him it was necessary to "correct" the system.
Despite pleas from Israeli President Isaac Herzog to halt the process and meet with the opposition to reach a compromise, Levin is continuing to move forward. If the plan goes through — and the government controls judicial appointments in every court across the country — then this could have a major effect on Netanyahu's case: The prime minister is being tried in the Jerusalem District Court and would probably appeal to the Supreme Court if convicted.
Why is this a problem in Israel?
Liberal Israelis consider the country's Supreme Court the last bastion of its democracy. But members of Netanyahu's coalition claim that the Supreme Court is populated by leftist elites and has oppressed the will of a country that has been rapidly pivoting toward the religious and nationalist right
A system free of checks and balances, Supreme Court President Esther Hayut warned last month, would lead to an Israel that "bears the name of democracy in vain."
"We can expect that after this reform is passed, Arabs will be discriminated against, there will be a separation between men and women, there will laws and maybe verdicts in the Supreme Court that will take away rights of the LGBTQ community. Material democracy will be harmed," said Amir Fuchs, a senior researcher at the Israel Democracy Institute, who will speak at the Knesset deliberations on Tuesday, ahead of the vote on the override clause.
Israel's Supreme Court in 2021 upheld the controversial Nation State Law, which declared Israel a national homeland for Jewish people and effectively codified Palestinian citizens of Israel as second class.
But even though "the judicial system is not favorable to the Arab public," Palestinian Israeli lawmaker Ahmed Tibi said Monday that he would fight the reforms "because at the end of the day the Supreme Court is the refuge of the minority."
Netanyahu and his coalition partners claim that they have the mandate to enact the proposals. They cite their clear victory in the November elections, in which they clinched 64 of the 120 seats in the Knesset. But the lawmakers did not publicize their judicial plans before the vote. As a quirk of parliamentary math, the parties that make up the coalition represent only 50.1 percent of the total votes.
The Israeli opposition has so far rejected overtures issued Monday night to sit down for negotiations, without the requested preconditions to halt the process.
"Let's talk without the whip of ongoing, aggressive and expedited legislation hanging overhead in the background," Israeli journalist Ben Caspit wrote on Tuesday in the newspaper Maariv. "People aren't prepared to accept that their democracy is being hijacked and to move on."