Four days ago Facebook banned me. I am not sure why. I appealed and am back. They may have thought I was pushing Nike shoes. On the sixth I posted on the Nike chevron symbol. In the last two days there has been a huge symbol controversy. I was preparing to post on the three Parthian kings who visited Jesus in a Sukkot booth, and not a manger. This booth may have bee located in Iran. Following a star to a distant location, never made sense. The astrologers were following the movement of a star that foretold the birth of a Messiah – or another Mithras?. For weeks there have been bright fireballs.
"The captains of seven European nations won't wear armbands supporting the "One Love" campaign in the upcoming games after FIFA said the players would be shown yellow cards, which would keep them off the field for a period of time. Players handed multiple yellow cards for repeat offenses would be dismissed from a game. "
https://www.cbsnews.com/news/world-cup-fifa-european-teams-abandon-one-love-armbands-qatar-lgbtq/
Bright green meteor dazzles south Norwegian skies| Screenshot from footage by Norsk Meteornettverk
An "unusually bright" meteor that lit up the night sky over southwest Norway on Saturday, is said to have been from the Taurid meteor shower.
The large cosmic fireball – sometimes called a bolide for its exceptional brightness – burnt up completely in the atmosphere, causing concerned Norwegians to call the police just past 7 pm.
I have touched down – in the present! I am a Futurian who warned the world about this day. When I awoke, it occurred to me The Messiah was born this day – in Iran!
When Neda was murdered, I went to downtown Eugene – and protested! I got one honk.
Seer Jon
https://en.wikipedia.org/wiki/Emblem_of_Iran
The logo is encoded in Unicode at code point U+262B ☫ FARSI SYMBOL in the Miscellaneous Symbols range.[1] In Unicode 1.0 this symbol was known as "SYMBOL OF IRAN".[2] However, the current name for the character was adopted as part of Unicode's merger with ISO/IEC 10646.[3][4]
Starfish yanked her gold anchor on a gold chain.
"This is the symbol of the first Christian Church, called The Way. It symbolizes Isis on her royal ark heading to the Promised Land. There should be a star in the loop, that has been sighted with an augur's wand which was used as a navigation tool."
Hmmm! Is the chevron – and ark? Victoria asked herself, and then saw that her wife was putting red tennis shoes in her check-out basket. Starfish hand wandered off course. It's a – Christian thing. They go nuts for symbols and signs.
https://news.yahoo.com/irans-soccer-team-covers-national-185347803.html
Players from Iran's national soccer team made a political statement before a World Cup warm-up match on Tuesday.
In a message to their country, Iranian team's entire roster took the field for their game against Senegal in black jackets, which pointedly covered up their nation's emblem on their jerseys during the national anthem.
What is the origin of the anchor as a Christian symbol, and why do we no longer use it?
CH editors answer your questions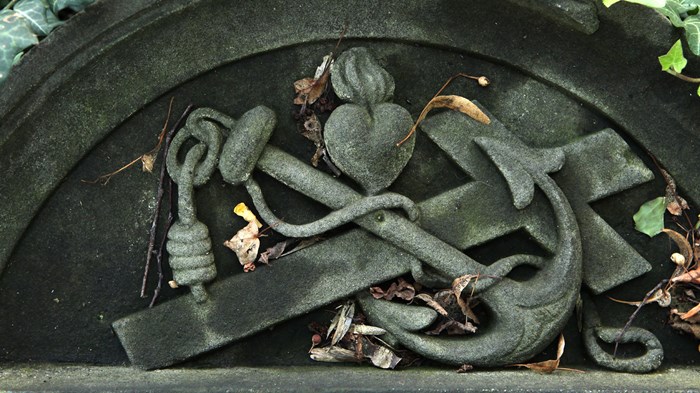 I have heard [the Christian musician] Michael Card say that the anchor was a primary Christian symbol until about 400 AD. Is this correct? And what is the origin of the symbo
The anchor became a key Christian symbol during the period of Roman persecution. As Michael Card observes in his recent album, Soul Anchor: "The first century symbol wasn't the cross; it was the anchor.
According to the Norway-based Iran Human Rights NGO, at least 326 people have been killed in the protests. Human Rights Activists in Iran, another group that has been monitoring the protests, says at least 419 people have died.
The Iran national team's captain, Ehsan Hajsafi, told reporters the day before the match that he and his teammates "support" those who have died.
"We have to accept that the conditions in our country are not right and our people are not happy," said Hajsafi, who added that families of the victims "should know that we are with them, we support them and we sympathize with them."
https://www.newsweek.com/did-irans-soccer-team-cover-emblems-protest-against-government-1747260
Did Iran's Soccer Team Cover Emblems in Protest Against Government?
BY TOM NORTON ON 9/29/22 AT 10:10 AM EDTPauseUnmute
Current Time 0:30
/
Duration 0:36
Loaded: 100.00%QualityFullscreen
SHARE
Share on FacebookShare on TwitterShare on LinkedInShare on RedditShare on FlipboardShare via EmailComments
ANALYSISFACT CHECKIRANSOCCERPROTESTS
The death of 22-year-old Iranian Mahsa Amini, who died in police custody after her arrest in Tehran for not wearing a hijab, has sparked demonstrations across Iran and around the world—including, it is claimed, by her own country's men's soccer team.
Iran's infamous "morality police" had arrested Amini, accusing her of breaking the country's strict law requiring women to fully cover their hair with a headscarf. She was reportedly beaten after her arrest and transferred to Tehran's Vozara Detention Center.
Iranian authorities said she had a heart attack, but her family rejects this explanation. United Nations experts cite reports that say she died as a result of torture and ill-treatment by the authorities.
https://181f01dd38e6c8a7473cd44c2bc48006.safeframe.googlesyndication.com/safeframe/1-0-40/html/container.html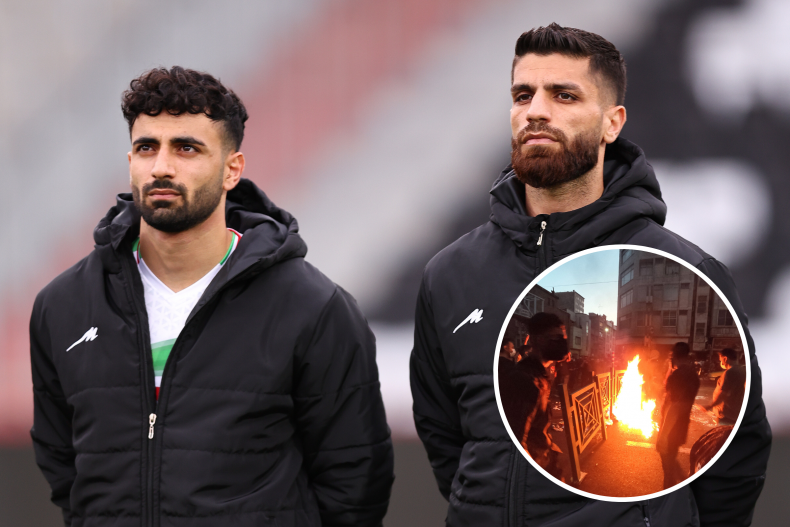 Protests broke out across Iranian cities, including Tehran, following her death, demanding accountability and an end to violence and discrimination against women and girls in Iran.
Reports suggest that 76 people have died in protests around the country. Demonstrations have spread around the world since, with clashes and arrests in London and Paris too.
https://181f01dd38e6c8a7473cd44c2bc48006.safeframe.googlesyndication.com/safeframe/1-0-40/html/container.html
In what was reported as an act of solidarity, during a World Cup friendly against Senegal on Tuesday, September 27, 2022, the Iranian team wore black jackets over their kit, concealing the Iranian national emblem.
One post left on Reddit suggested the move was a deliberate act of defiance, a narrative that was shared by dozens of Western media outlets.
However, as of yet, there has been no comment from the team, its players, or other spokespeople, that conclusively verified what the team's intentions were. Some commentators were skeptical about the claim.
So, to what extent can we determine whether what happened at the match was directly related to demonstrations in Iran and around the world?
The view that wearing these jackets was an act of defiance, was drawn from not only the protests, but other decisions surrounding the match and comments made by the players.
The match itself was scheduled to be played behind closed doors, although fans from both teams were later let into the stadium.
https://181f01dd38e6c8a7473cd44c2bc48006.safeframe.googlesyndication.com/safeframe/1-0-40/html/container.html
Reports claim the initial decision to play in an empty stadium was linked to concerns from the Iranian government about broadcasting "domestic issues," one article stated. Protestors nonetheless demonstrated outside the match and were recorded by international sports journalists.
Prior to the match, a number of members of the Iranian national team had also expressed their views via social media.
Posted on November 6, 2022 by Royal Rosamond Press
The Royal Janitor
by
John Presco
Chapter Nine: The Rouge Shoes
"I didn't know Nike bought Converse. What happened to the Monopoly rule?" asked Starfish. "I'm going to buy me a pair of Reds because they got a STAR on them, and proceeds go for a good cause."
Victoria brought up her partners screen to see what she had been doing in the ten minutes they stopped talking to each other. Victoria made a note that they would meet more often in the Admiral's Bentley and discuss the most Top Secret – stuff. She loved the English countryside, and now, Miriam was spoiling the moment with American Branding. What about the elections? Is Oregon going to have a Republican Governor – thanks to Phil Knight?
Victoria watched Starfish gather an army of Rouge Shoes – and paraded them before her. Googling Converse she was reading the star and chevron was inspired by the military. Having worked at the College of Arms, and owning a photographic memory. She gathered an army of cotes of arms with a chevron and star. Because all humans are Tribal, she put the Bond shield – on top! She couldn't stop herself. The Red Hand of Ulster represented – HER PEOPLE! Starfish had mocked her.
"O.K. – smartass! What about THE CROSS you Christians wear – that you don't?"
"I know better! Dimwit! I wear this!"
Starfish yanked her gold anchor on a gold chain.
"This is the symbol of the first Christian Church, called The Way. It symbolizes Isis on her royal ark heading to the Promised Land. There should be a star in the loop, that has been sighted with an augur's wand which was used as a navigation tool."
Hmmm! Is the chevron – and ark? Victoria asked herself, and then saw that her wife was putting red tennis shoes in her check-out basket. Starfish hand wandered off course. It's a – Christian thing. They go nuts for symbols and signs. Victoria summoned….THE THING…..and flashed her on Starfish's phone! Under the pic of Marjorie wearing RED WITH STARS, she asked….THE FORBIDDEN QUESTION!
"Why didn't Jesus condemn slavery? If Jesus is God, then God condones slavery?"
Starfish -threw down her phone on the leather seat between them – as if it was a burning coal – and hissed at it, like a great cat!
Seeing Starfish was weakened, Victoria went in for the kill. "How come Martin Luther – the man who reinvented God – DIDN'T CONDEMN SLAVERY AND ANTISEMETISM?:
Starfish grabbed her throat! "STOP! I can't breath! Have you no mercy on this poor Christian?"
"Aha! Victoria shouted, she delighting they were back doing THE ROUTINE they invented after Starfish DARE ask her husband why she was not a Christian!
"I hate Hypocrites – and Hypocrisy! Was her reply. And to prove her point she shouts!
"Why hasn't Phil Knight objected to the firing of Kyrie Irving for being anti-Semitic, when he gives millions to Christine Drazan – TO MAKE MARJORIE'S DAY – if she wins! The Greene Thing will go to Oregon to do – A VICTORY DANCE! She will be covered with images of the Winged Nike, and do a Victory Dance with Christine – THE CHRISTIAN! They will put on – ROUGE SHOES – and parade all over Oregon. And the Bundy Boys will be with them! What is wrong with you Americans? You've gone insane! Where's Mohammed Bin Salman? The world is ganging up on the Black Voter -including Phil Knight. Jesus was King of the Jews. THE JEWS! Why wasn't Jesus – A FREEDOM FIGHTER?
"STOP! You're killing me! He was a Freedom Fighter, I tell you!"
"Show me. Show me where it says he was an Abotionist – like Moses! He doesn't even utter his name!"
"Whos name?"
"MOSES! MOSES! Victoria shouted! Look! Here is a video of the Oregon Duck Marching band. This is what Phil has done to your beloved Ducks – with Marjorie Taylor Greene's Help. I bet they are wearing Rouge Nike Converses."
To Be continued
"Nike has suspended working with Kyrie Irving, the American basketball player, after he posted about an antisemitic film. The U.S. sportswear giant said Friday night that it will put its relationship with the Brooklyn Nets guard on hold. "At Nike, we believe there is no place for hate speech and we condemn any form of antisemitism"
https://www.rollingstone.com/politics/politics-news/bernie-sanders-blasts-nike-founder-phil-knight-oregon-1234619900/
Posted on August 24, 2018 by Royal Rosamond Press
I am a Seer from a Rose Line, who gave sanctuary to John Dee, who launched Sir Francis Drake in his Golden Hind…………to America!
There is a Bear and a Star waving over the New Kingdom of England. The Star Coalition will build a Kingdom for the Savior of Peace. There will be no Tribulation.
John Presco 007
Posted on September 28, 2014by Royal Rosamond Press
"By no means canst thou see Me (direct); But look upon the mount; if it abide in its place, then shalt thou see Me."
Quran
Yesterday morning I received instruction from my Angel-Messenger to make a banner, a sign, a flag for the Coalition formed to fight evil in the world. I chose the Light of God atop Mount Sinai. Last night I watched terrified people rushing down mount Ontake, a cloud of ash right behind them. This tells me God in on His Mount with His Messenger.
And when they were departed from Rephidim, and were come to the wilderness of Sinai, they encamped in the wilderness; and there Israel encamped before the mount. And Moses went up unto God, and the LORD called unto him out of the mountain…And all the people answered together, and said: 'All that the LORD hath spoken we will do.' And Moses reported the words of the people unto the LORD…And Moses brought forth the people out of the camp to meet God; and they stood at the nether part of the mount. Now mount Sinai was altogether on smoke, because the LORD descended upon it in fire; and the smoke thereof ascended as the smoke of a furnace, and the whole mount quaked greatly. . . (Exodus 19:2-18)
For the colors of the Coalition Flag I chose them from the scarf I put on a pole in 2009 and waved in front of the Federal Building in Eugene Oregon, after I looked in the eyes of Neda as she lie dying in a street in Iran. I was all alone when I did this before the homeless put up their tents. I rang a little liberty bell. I carried a sign calling for democracy in Iran.
Fifteen days ago I saw a video of five small boys with their hands tied behind their back about to be shot by deranged members of ISIS. Moses delivered God's Message to the Pharoah who was slaughtering little boys in order to prevent the Messenger from Delivering the Words of the Abolitionist God of Mercy.
"Let my people go! Freedom!"
Has any Christian Minister prayed for the Leader of the Coalition, President Barack Obama, Commander in Chief of the Armed Forces of the United States of America, so that this Coalition will own Spiritual Guidance, and the Light of the World will prevail over darkness and tyranny?
Ten days I went to a place few have been, inside the belly of a whale. From there I beheld the look on the face of Frankin Delano Roosevelt and Meher Baba, when they looked at the beast throwing children in a oven in Germany.
God bless the President of the United States, and the Coalition of Light and Justice!
Jon the Nazarite
The Ark upon the mountain
The Dove and Branch upon the sea
The hammers of iniquity
beat upon my forgotten tomb
I am awake upon the turbulant waters
My enemies cast lots
and blame me for their sins
while God's friends
read me on the Day of Atonement
so all will be saved
so all will be united in peace
The sun went down on me
so long ago
The vine that grew over my head
has wilted in the desert of forgetfulness
But, there on a mountian
a purple haze
a rosy afterglow
in a King's rosegarden atop a mount
that bid noble knights to climb hither
that beckon knights to sever a thread
and once again
be brave
http://en.wikipedia.org/wiki/Moses_in_Islam
http://www.theblaze.com/blog/2014/09/24/full-text-of-obamas-u-n-speech/
"The shadow of World War that existed at the founding of this institution has been lifted
Of course, terrorism is not new. Speaking before this Assembly, President Kennedy put it well: "Terror is not a new weapon," he said. "Throughout history it has been used by those who could not prevail, either by persuasion or example." In the 20th century, terror was used by all manner of groups who failed to come to power through public support. But in this century, we have faced a more lethal and ideological brand of terrorists who have perverted one of the world's great religions. With access to technology that allows small groups to do great harm, they have embraced a nightmarish vision that would divide the world into adherents and infidels – killing as many innocent civilians as possible; and employing the most brutal methods to intimidate people within their communities."
http://thinkprogress.org/world/2014/08/01/3466867/why-isis-blew-up-jonahs-tomb/