Netanyahu and Saudi King Salman
(photo credit: REUTERS)
https://www.jpost.com/Middle-East/New-Allies-Israel-and-Saudi-Arabia-513467
I just finished winning another game of chess. I am a very defensive – and aggressive player! It's good to be both. Mohammed bin Salman thinks he's a good chess player. He has been setting a trap for the United States employing the Trump family. He does not object to his partner and ally threatening the United States with nuclear weapons – thinking he is is safe…..HIS KING! Did Donald Trump steal plans on how to make a small nuclear bomb – and did he sell these plans to Mohammed? How do we know – he did not?
I founded the Goldbrick Think Tank over a year ago. It's now – open for business! I will show you how Saudi Arabia has US over a barrel – and our European Allies – that Putin also threatened to nuke. What if, Putin is playing at being Mohammed's Nuclear Bomber – and Rocket Boy? North Korea needs lots of money – and so does Putin! Who has allot of money? What if the U.S. dropped a nuclear bomb on the biggest city in Saudi Arabia in the next six hours? What if the U.S. threatened to drop – another bomb – if this King of Oil does not surrender, turn himself in for the murder of Kasogi, an American Journalist? We move in and take charge of all the oil and distribute to members of NATO. We sell all OUR OIL to friendly nations. OUR OIL will be slightly radioactive, but, that's the price you pay.
What do you think of this statement by Joseph Greenblatt?
"It's time for us to recognize that Saudi Arabia, the UAE and others in that region are powerful, on the move and not vassal states of the United States. It's also time for us to recognize the world is run by reality and practicality, hopefully working alongside of noble goals. We can still be a great nation and make the world a better place while living with these truths."
How will Americans like pumping gas going for $10 bucks a gallon, knowing Putin's got Mohammed's back with his nuclear arsenal? Does Greenblatt mean America can be great if we adopt Christian Nationalism and Neo-Confederate Yeehaw?
Just thinking aloud!
John Presco
President: Goldbrick Think Tank
https://edition.cnn.com/2022/10/09/opinions/opec-us-ties-saudi-arabia-uae-greenblatt/index.html
Jason Dov Greenblatt (born 1967) is an American lawyer. He was the executive vice president and chief legal officer to Donald Trump and The Trump Organization, and his advisor on Israel.[3] In January 2017, he was appointed as an Assistant to the President and Special Representative for International Negotiations by President Donald Trump.
https://en.wikipedia.org/wiki/Jason_Greenblatt
Editor's Note: Jason D. Greenblatt served as White House Middle East envoy in the Trump administration. He is the host of "The Diplomat" podcast on Newsweek and author of the new book "In the Path of Abraham." Follow him @GreenblattJD. The views expressed in this commentary are his own. View more opinion at CNN.CNN —
After being offline for 25 hours observing Yom Kippur, I opened my phone, and the news reports flooded in. The most compelling story was OPEC+'s decision to reduce oil production significantly, which understandably caused much consternation in Washington.
Jason D. Greenblatt
As a result, some Democratic lawmakers are agitating to pull all US troops out of Saudi Arabia and the United Arab Emirates, claiming the decision is "a hostile act against the United States and a clear signal that they have chosen to side with Russia in its war against Ukraine," this "despite President (Joe) Biden's overtures to both countries in recent months."
I think what is happening to Ukraine is atrocious. I also don't like paying higher gasoline prices any more than the next person, especially in this wild inflation world we are living in. But these lawmakers' accusation is disingenuous, dishonest and largely political.
While OPEC+'s decision does harm the United States, we cannot ignore the fact that these countries have their own national interests and strategies. Saudi Arabia, the UAE and others have grand, nation-transforming plans that are breathtaking in scope and extraordinarily expensive. We don't have the right to tell them to set aside their plans and sell us their valuable assets at discounted prices.
Mr. Biden goes to Riyadh (hat in hand)
Similarly, arguing, as Sen. Dick Durbin has argued, that US foreign policy can be imagined "without (the Saudi) alliance" is unrealistic and harmful to the interests of the US and our allies in the Middle East.
These lawmakers also criticize Saudi Arabia and the UAE for making their decisions despite Biden's overtures to them. That's a distorted view. If we take the case of Saudi Arabia, recall that as a candidate, Biden said that we needed to recalibrate the US-Saudi relationship, that he would not sell more weapons to the Saudis, vowed to make Saudi Arabia a "pariah," and said "there is little socially redeeming value" in the kingdom's present government.
Once in office, Biden did not take threats against Saudi Arabia (or the UAE) seriously; he mostly paid lip service to such attacks.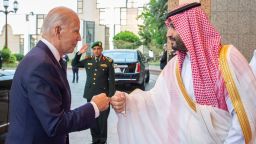 Biden's fist bump turned slap in the face
No overtures would have been needed if Biden had handled the relationship with the kingdom differently from the start. Instead, after he tried to kick the kingdom and Saudi Crown Prince Mohammed bin Salman to the curb, then feebly tried to mend fences with a brief trip and a fist bump, these critics are disappointed that the President's brief visit to the kingdom did not yield the desired results.
Biden was disappointed in OPEC+'s decision "while the global economy is dealing with the continued negative impact of (Russian President Vladimir) Putin's invasion of Ukraine," according to a statement from national security adviser Jake Sullivan and Brian Deese, director of the White House National Economic Council.
Let's consider that Saudi Arabia, the UAE and others could turn the tables on that statement in a hot second. Undoubtedly the kingdom, the UAE and others are disappointed, or more likely, furious, with Biden's relentless attempts to sign a weak, shorter and incredibly dangerous deal with Iran.
Biden at least tempered his public comments, in sharp contrast to what some of his fellow Democrats are calling for with their incredibly alarming idea of removing all US forces and military equipment from the kingdom and the UAE. Doing so would result in even more instability in the Middle East and would undoubtedly backfire on the United States.
While it's true these monarchies should (and I believe do) appreciate all the US does to help them, our relationship with these countries is a two-way street. The US significantly benefits from our forces and equipment being there. If we didn't, the personnel and equipment wouldn't be there. Let's not pretend we put the interests of other nations ahead of our own. Similarly, we should not make demands of other nations to put our interests ahead of theirs.
Biden also said that "we are looking at alternatives'' to oil from OPEC+ countries. That's fair, as long as it does not involve cutting deals with or easing sanctions on thuggish, brutal regimes such as Iran or Venezuela. Instead, he should focus on once again increasing energy production back home.
GET OUR FREE WEEKLY NEWSLETTER
Sign up for CNN Opinion's newsletter.Join us on Twitter and Facebook
How many times do we need to learn the same lesson? Look no further than Europe to see what could happen to us. It is going to be a cold and expensive European winter. And let's stop hypocritically calling for clean energy while at the same demanding that energy-producing countries ramp up production. This charade doesn't help make our planet cleaner. The world is just not yet ready to wean ourselves off fossil fuels.
It's time for us to recognize that Saudi Arabia, the UAE and others in that region are powerful, on the move and not vassal states of the United States. It's also time for us to recognize the world is run by reality and practicality, hopefully working alongside of noble goals. We can still be a great nation and make the world a better place while living with these truths.
Mohammed bin Salman, reformist prince shaking up Saudi Arabia
Saudi Arabia's powerful young Crown Prince Mohammed bin Salman seen in a picture provided by the Saudi Royal Palace on August 15, 2017 – BANDAR AL-JALOUD
by Robbie Corey-Boulet
September 28, 2022 — Riyadh (AFP)
Saudi Arabia's Mohammed bin Salman, who was named prime minister late on Tuesday, has shaken up the ultraconservative oil titan with economic, social and religious reforms since his meteoric rise to power.
The 37-year-old de facto ruler has overseen the most fundamental transformation in the modern history of the Gulf nation and sidelined all rivals after he became crown prince in June 2017.
Join the Middle East's top business and policy professionals to access exclusive PRO insights today.
Join Al-Monitor PROStart with 1-week free trial
But he has also presided over a crackdown on critics including prominent clerics, activists as well as royal elites, and faced a storm of condemnation over the murder of critic Jamal Khashoggi inside the kingdom's Istanbul consulate in October 2018.
On Wednesday the crown prince, whose formal role was defence minister, strengthened his position when his father, King Salman, issued a decree naming him as prime minister, a title traditionally held by the king.
Known by his initials MBS, the prince has pledged a "moderate" Saudi Arabia and sought to get international investors on board with his grandiose vision to overhaul the kingdom's oil-reliant economy.
He has taken on the powerful religious leaders who long dominated Saudi life and struck out at the nation's elite with a dramatic purge of royals, ministers and business figures that saw hundreds detained ostensibly as part of a probe into graft worth $100 billion.
"We want to live a normal life. A life in which our religion translates to tolerance, to our traditions of kindness," he told international business leaders at a conference in Riyadh soon after becoming crown prince.
"Seventy percent of the Saudi population is under 30, and honestly we will not spend the next 30 years of our lives dealing with destructive ideas. We will destroy them today and at once."
On the international stage, he has ratcheted up tensions in the Middle East by plunging the usually staid kingdom into the quagmire of regional rivalries.
He has overseen a military campaign in Yemen, ramped up a stand-off with Shiite rival Iran and tried to bring Qatar to heel by isolating it, ahead of a rapprochement with Doha at the beginning of last year.
– Shakespearean rise –
After energy markets were sent into turmoil by Russia's invasion of Ukraine, Western powers sought out the prince, whose isolation over Khashoggi's murder appeared at an end when US President Joe Biden visited in July.
On the campaign trail for the presidency in 2020, Biden had pledged to treat the prince as a pariah.
Born on August 31, 1985, Prince Mohammed graduated in law from Riyadh's King Saud University. The dark-bearded prince is the father of two boys and two girls.
His stunning rise has seemed almost Shakespearean.
He edged out his elder cousin, Prince Mohammed bin Nayef — one of the princes reportedly later detained in the 2020 power play — by replacing him as heir to the throne.
Foreign diplomats have predicted MBS could be in control of Saudi Arabia for at least half-a-century once he becomes king.
Prince Mohammed has already amassed powers unseen by previous Saudi rulers. He is also the chairman of the vast Public Investment Fund, which is spearheading efforts to diversify the oil-reliant economy.
He developed close ties with the White House under Biden's predecessor as US president, Donald Trump, especially with his son-in-law and adviser Jared Kushner — relationships that served him well during the Khashoggi scandal.
– Reform and crackdown –
The prince is the architect of a wide-ranging plan dubbed "Vision 2030" to bring social and economic change to Saudi Arabia's economy.
Women are now allowed to drive, attend public sporting events and concerts alongside men, and to obtain passports without the approval of a male guardian.
The kingdom has lifted a public ban on cinemas and encouraged mixed-gender events — something unseen before.
But at the same time, there has been a heavy-handed crackdown on dissidents including intellectuals and female activists, in what was seen as a strategy to stamp out any trace of dissent before a formal transfer of power from King Salman, 86.
In February 2018, Prince Mohammed oversaw a dramatic shake-up that saw top brass, including the chief of staff and heads of the ground forces and air defence, replaced largely with younger leaders loyal to him, further consolidating his control within the military.
But his lightning accumulation of authority has sparked fears that he might have upended the fine balance of powers in Saudi Arabia too quickly and could end up sparking instability.
MBS has engaged in "ill-fated confrontations abroad that dilute Saudi power, exposing the kingdom to greater military threats and scaring off investors," wrote Frederic Wehrey, a fellow at the Carnegie Endowment for International Peace.
Read more: https://www.al-monitor.com/originals/2022/09/mohammed-bin-salman-reformist-prince-shaking-saudi-arabia#ixzz7hOG1dJv3