A month after reading the Bible for the first time in 1987, I wondered this….
"If Jesus really is the Son of God, why didn't God have His Son going about the world in ships, like he has Paul of Tarsus doing? I mean, Jesus is allegedly God come to Earth to spread His New Teaching, and, He goes sailing on the Sea of Galilee. Anywhere else?"
My Sea Yarn 'The Royal Janitor' left off with Victoria and Starfish visiting Brittney Griner in prison. On the Spy Plane going back to the free world, Starfish announces very loudly.
"When I get to Oregon – I'm going to smoke allot of pot – ALLOT!"
'I'm sick of your narcisistic behavior. Everything has to be about you – eventually! You're going to get us arrested. They're going to turn this plane around and put us in a cell next to Griner!?
I have not written this down. I have been very busy. Victoria has had it with her friend's megalomania, and they have a very loud verbal fight on the spy plane.
Several days ago the main leader of the free world announces amnesty for pot smokers, and, he is coming to Oregon where marijuana is legal.
Did you know Holland has a Navy, that is in better shape then the Royal Navy. Why? I spent half the day looking at the Royal Naval – after I contacted two people at the Atlantic Future Forum, so they might be reading this blog. I'm READING THEM. They look like folks being held in The Tower of London waiting to have their heads lopped off. It's – A BLOODY DISASTER! I was going to suggest Queen Elizabeth's favorite horse be put on the HMS Prince of Whales to tour Kentucky where the late Queen visited several times when she went to the Derby. Lucretia Clay founded a famous farm for thoroughbreds'. I'm sure Elizabeth – who is being accused of being stuck in the 1950s – knew all about horse breeding in American. In the 1950 – Britain has a friggen Navy – that worked!
The Royal Janitor is about a Bond that won't even touch a gun, so BAD hires her a half Russian-Ukraine's American – who loves to shoot guns and kill people. I am playing with the truth – it was Beatlemania that brought down the Iron Curtain – AND WILL DO SO AGAIN! Most Russian – DONT WANT TO FIGHT – EVER! Stalin had to murder a million Russians in order to get them to fight the Nazis. Putin had to know this! Why did he set out to……PROVE HISTORY WRONG… he and his Rasputin…KILLER KIRILL….who needs to be parachuted to THE FRONT LINE!
Study the painting above. Millions of Russians want OFF The Good Ship Putinpop! Why? Because – Russian is……SINKING! Most of the men sent to the front line – deserted – or have been captured! Throw the a pair of Levis, a guitar – and some Beatles Music! Have the British Navy bring Russian Americans – TO AMERICA – and give them good jobs! This is cheaper than FIXING the Royal Navy, that won't GET FIXED till 2028. Have the Marine band play for them as they land in Florida to help REPAIR THE DAMAGE! This is Jesus' Navy! Wake the fuck up!
My natal birthday was October 8th. My computer went down. I could not get on the internet and blog. I spent two days FIXING it so, I can write for Royal Rosamond Press! I have – messages!
John The Naval Seer
https://www.theguardian.com/music/2013/apr/20/beatles-soviet-union-first-rip-iron-curtain
'I don't want to shoot anybody': war-averse Russians seek sanctuary in Georgia
Ukrainska Pravda
Sun, October 9, 2022 at 12:24 AM·2 min read
IRYNA BALACHUK – SUNDAY, 9 OCTOBER 2022, 10:24
A Russian prisoner of war has recounted being given two days of training [before being sent to fight in Ukraine – ed.], fighting in Kharkiv Oblast and how his platoon was defeated by the Ukrainian Armed Forces in just one minute.
Source: Security Service of Ukraine (SSU) on Telegram
Quote from the SSU: "The 'life cycle' of a [Russian] conscript is as follows: 12 days, then captivity. A large number of recently conscripted Russians have been captured by the Ukrainian Armed Forces during the counteroffensive on the eastern front. Some of them have fought for a total of 12 days."
Details: One of the captured soldiers, a resident of the Udmurt Republic, said that his military training lasted only two days. Meanwhile, tank crews are given no more than 10 days of training. He believes that it is impossible to prepare soldiers for war in such a short amount of time.
The Russian soldier said that he arrived in the town of Millerovo in Rostov Oblast (Russia) on 13 September. From there, his group of troops set out for Donbas (though for some reason they ended up in Kharkiv Oblast). By 25 September, he was captured by the Ukrainian forces.
Quote from the Russian soldier: "We saw well-armed, well-trained people. Every other person had a portable radio, all had thermal imaging devices and night vision scopes… They eliminated our entire platoon in one minute. Twenty people were killed in one minute."
For young Soviets, the Beatles were a first, mutinous rip in the iron curtain
The band inspired dissidents and musicians and, a new book claims, meant more to youth in the USSR than in the west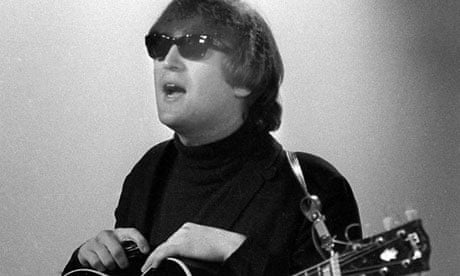 Sat 20 Apr 2013 09.00 EDT
Crossing the famous Finland station in Leningrad one day in the early 1960s, Kolya Vasin was stopped by a policeman who had spotted his long hair. "You are not a Soviet man!" charged the officer. "And he grabbed my hair," recalls Vasin, who was then hauled across a platform while dozens of people laughed. "I was crying from the pain, but I had to keep silent. I was afraid the man would drag me off to prison."
Vasin was a diehard Beatles fan. The Beatles' music had given him, he said "all the adventures of my life", for which "I was arrested many times, accused of 'breaching social order'. They said anyone who listened to the Beatles was spreading western propaganda." More than that, in the USSR, the Fab Four "were like an integrity test. When anyone said anything against them, we knew just what that person was worth. The authorities, our teachers, even our parents, became idiots to us."
Details: The soldier believes that Russia will continue "conscripting cannon fodder", deploying troops in Ukraine without any training.
He said that he decided it was "better to be in prison and alive than dead and under Ukrainian soil."
https://www.msn.com/en-us/news/world/the-war-that-russia-already-lost/ar-AA12MOyj?cvid=c532fa95f41c4796b28b747ea7481b5e
https://www.msn.com/en-us/news/world/china-calls-for-de-escalation-of-violence-in-ukraine-and-stresses-importance-of-respecting-sovereignty/ar-AA12N7Dz?cvid=1db3283d8a2842baa72dcfa20618879c
https://news.yahoo.com/platoon-taken-one-minute-russian-072438512.html
Jake Cordell
Mon, October 10, 2022 at 3:04 AM
In this article:
Vladimir PutinPresident of Russia (1999–2008, 2012–present)
By Jake Cordell
TBILISI (Reuters) – Igor Tikhiy, a 49-year-old marketing professional, has a simple answer to the question of why he fled to Georgia last week, crossing the border in the dead of night on his bicycle.
"I don't want to shoot anybody. That's why I'm here."
He is one of thousands of Russian men who have left their country since President Vladimir Putin announced a nationwide mobilisation drive in a bid to recruit new manpower for Moscow's war on Ukraine.
According to the mobilisation laws passed by the Kremlin and reassurances by officials, Igor's age should mean he is not subject to the draft.- ADVERTISEMENT –
https://s.yimg.com/rq/darla/4-10-1/html/r-sf-flx.html
"In Russia, what's written down is one thing but what they actually do is another. There are 50 year-olds being sent to the front. I don't want to be among them," he told Reuters in an interview in the Georgian capital of Tbilisi.
"I saw recruiters coming to my building with draft papers. I don't want to be around to find out if they are coming for me," he added.
After Putin ordered mobilisation, Igor, who lived in Moscow, packed his bags – and his bike – and flew to the southern Russian city of Vladikavkaz, some 32 km (20 miles) from the border with Georgia. Crossing in the middle of the night to avoid heavy queues, he then took a taxi some three hours south to Tbilisi, the Georgian capital.
It is a journey travelled by tens of thousands of Russians in the first weeks of Russia's chaotic mobilisation.
Alexey, a 33-year-old who works in media, spent six days queuing in his car on the Russian side of the border. He didn't sleep for the first 48 hours for fear of losing his place.
"It was a tough decision to leave, I thought about it for a long time. But I realised if I didn't leave right now I might never be able to. Russia could close the borders," he said.
Rumours of border closures have swirled around Moscow for weeks, denied by the Kremlin but viewed by many as credible.
Alexey said he considered abandoning his car and crossing on foot or bike, where the lines where shorter. Local media reports say dozens of cars had to be moved by police after their owners ditched them near the border.
"I don't want to go to war. I don't want to fight against a brotherly nation," Alexey said of his reason for leaving.
FROSTY RECEPTION
On the streets of Tbilisi, the latest influx of Russians into a city of just 1 million is evident.
Large queues have formed outside banks and shops selling SIM cards, while cafes are dotted with young Russian men scouring AirBnB for a place to stay.
How many will remain and for how long is an open question. For those who cannot work remotely, finding a local job will be tough and housing costs have rocketed, say volunteers helping Russians to acclimatise.
Prior to mobilisation, more than 45,000 Russians had already opened bank accounts in Georgia this year, central bank data shows – more than doubling the number of Russian-held accounts in the country in the space of just six months.
The arrivals have stoked a mini economic boom, with an extra 1.2 billion Georgian lari ($430 million) flooding into Georgia through cross-border transfers, says the Institute for the Development of Freedom of Information, a Georgian think-tank.
But for some locals, there is a feeling of apprehension.
Ex-Soviet Georgia and Russia fought a short war in 2008 over Abkhazia and South Ossetia – two regions internationally recognised as part of Georgia but under the control of Russian-backed separatists.
The two countries still have no formal diplomatic relations and Georgian society was fiercely anti-Russian before Putin invaded Ukraine.
Some Georgian activists want their government to restrict Russian arrivals or close the border altogether. Under Georgia's liberal immigration rules, Russians can effectively stay in the country indefinitely without a visa.
Around 300 people attended an anti-Russia protest outside Georgia's parliament last Friday.
"They can be like a mine – an explosive – which can be used anytime by Putin," said protester Tsotne Japaridze.
Many Russians, including Igor and Alexey, say they are against the war and want to integrate into Georgian society, but locals are sceptical.
"Even if we believe that all the Russians coming here oppose Putin… it's still a problem," said Lana Ghvinjilia at the protest.
"This is an influx of Russian culture, which we've been trying to liberate (ourselves from) over the last 30 years."
($1 = 2.79 Georgian Lari)
(Reporting by David Chkhikvishvili and Jake Cordell; editing by Guy Faulconbridge and Gareth Jones)
Posted on May 7, 2021 by Royal Rosamond Press
On this day, I found the European Union Kingdom of Helgoland. Elizabeth was once the Queen of the European Union. There were other nations that belonged to the EU that had royals who employed democratic nations in their title. China is celebrating the Death of the European Union, and is mocking Australia as being the symbol of the end of the British Commonwealth. At the same time, China eyes nations in Africa. Brexit, was the Beginning of the End. The Trumpites modeled their INSURECTION on Brexit.
I declare the Duke and Duchess of Sussex, the titular King and Queen of the Island of Heligoland, and seek the backing of the German Government to make this Kingdom their new Hands Across the Water, in order to Unify Germany and Britain, so they can take on their mutual enemies that are making plans to do them harm. Let us found a bond with the State of California so it will represent the European Union of the West, looking East to where our common adversary threatens our common supremacy of….The Seas of Liberty! Let San Francisco Bay and Hawaii be the Common Port of a New United Nations Fleet. Let us erect a International Sister of Liberty on Treasure Island that will look forever out the Golden Gate. Let the Kingdom of Heligoland be a Kingdom of Refuge for all the royals of the world, and all journalists.
The people of Heligoland are hoping the European Union bases Frontex on their Small Rock, that can be the Gibraltar of the New Union and Kingdom. Illegal Immigration has toppled Britain and the United States, and made these once powerful nations vulnerable to TREACEROUS crack-pots and religious cult leaders, who pretend to protect us from the foreign enemy within – when they are THE ENEMY WITHIN! These are NOT PATRIOTS.
I suggest the building of Two Towers of Liberty, one on Heligoland, and the other on Treasure Island. After 911, the United States did not respond correctly. We tried to gain back our power and lost prestige by launching a a war in Afghanistan – that alas we pull out of. President Biden has bid his Vice President, Kamala Harris, to solve the illegal immigration across our border. The Trumpites spent billions on Their Wall of Fear, that was the biggest Billboard Campaign of Fear erected – since the Great Wall of China. Trump"s Wall is the greatest failure in American History. He failed to get reelected, and his cult followers FAIL see how they lost. They are sore losers, just like the Confederacy, who seceded from the Union – AND FAILED!
I challenge China to come up with THEIR SOLUTION to illegal immigration, or shut up! Their threats ARE VILE, and intellectually dishonest. We can do better. Let our Vice President meet with members of the European Union in order to form a better way, a sane approach to what the People of the World have long engaged in. Consider Exodus!
John Presco 'Nazarite Judge' President 'Belmont Soda Works'
The Queen Came To Me In A Dream | Rosamond Press
California Fusileers (militarymuseum.org)
European Border and Coast Guard Agency – Wikipedia
German Federal Coast Guard – Wikipedia
European Border and Coast Guard Agency (Frontex) | European Union (europa.eu)