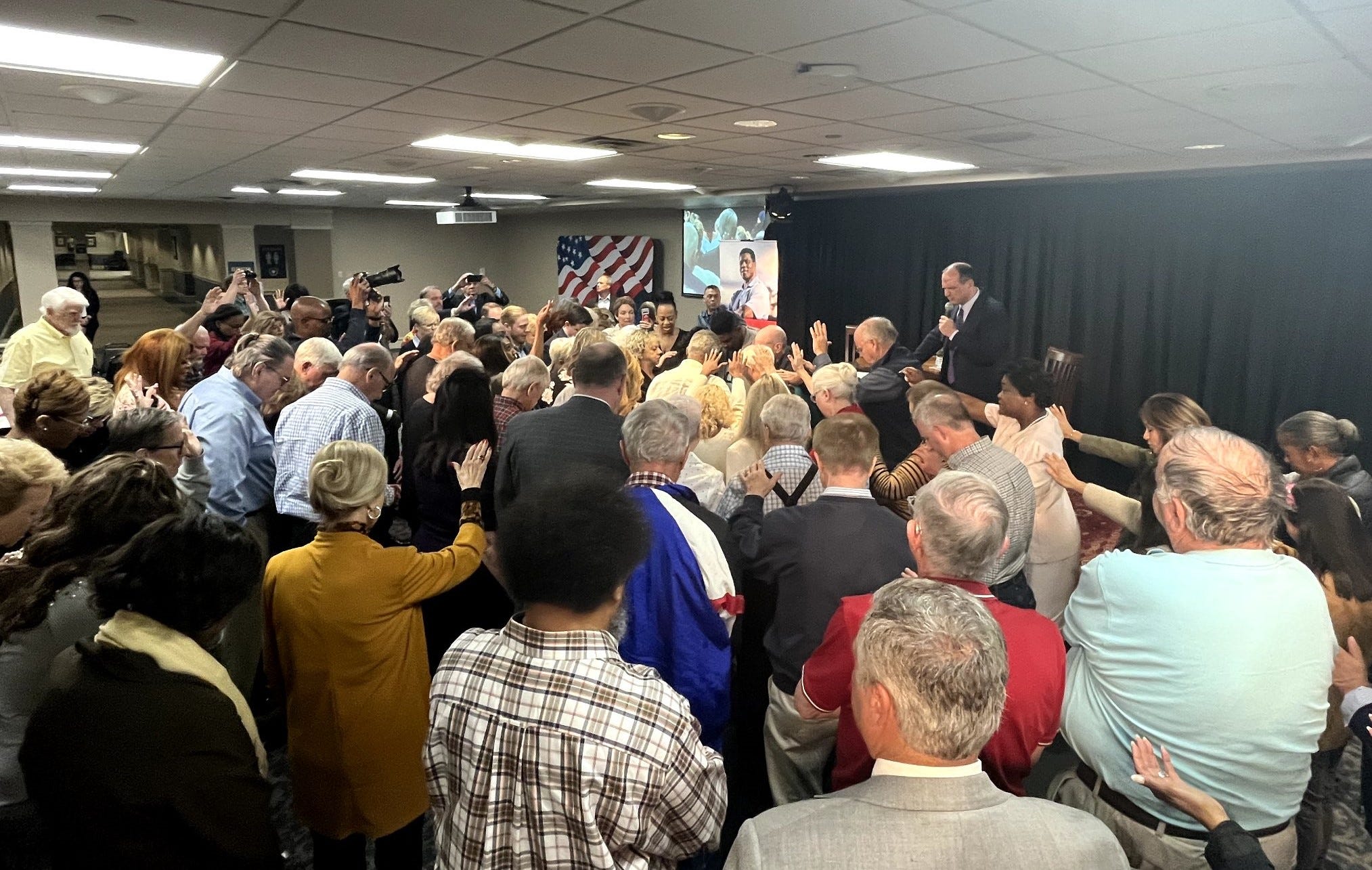 Anthony George prays for Herschel Walker as others gather around him at First Baptist Church in Atlanta, Georgia, on Oct. 4, 2022. (Herschel Walker campaign)
Video shows 'Prayer Warriors for Herschel' railing against Satan at closed-door megachurch event
Dismiss and Replace Trump's Appointments to The Supreme Court
A Proposal by John Presco
President: Royal Rosamond Press
There are a thousand Bible colleges in our Democracy, and 100,000 LIVING students. Since our Constitution was signed, how many Students of the Bible have there been, and, how many have puzzled over……THE PROPHECY OF AN ANGEL…..that said Eljah will return and herald in the "awesome day of the Lord"
The Day of the Lord – Wikipedia
This is how the Apocalyptic New Testament begins. An angel talks to Mary, and her alleged cousin's husband! Is there any MORE conversations with Messengers of the Lord? Why doesn't Saint Paul mention Gabriel – and John the Baptist? Paul encourages his young followers NOT to get married – because the world is coming to an end. Really! Did – it end? Did the Second Coming of Elijah – fail to do his job? Will there be a – THIRD ELIJAH?
"Behold, I will send you Elijah the prophet before the great and awesome day of the LORD comes. And he will turn the hearts of fathers to their children and the hearts of children to their fathers, lest I come and strike the land with a decree of utter destruction. (Mal 4:5-6)"
The President of Poland just asked for our nuclear weapons to be placed in his country, because it appears Putin is moving his nukes to the border of Ukraine. Are the' Prayer Warriors for Herschel' ALARMED? How about the 'Prayer Warriors for Donald'? How about 'The three Prayer Warriors on the Supreme Court'? Do they PRAY THE WORLD COMES TO AN END? YES – they have to, if they are Christians! How many Secular Democrats – know this? Is this why the 'Prayer Warriors' can not accept that Trump lost, because this means…..The Prayers of the Prayer Warriors – don't work. Thus, it us time for a Civil War as the Oath Keepers suggested.
Christian Leaders are all FOR SEPERATION OF CHURCH AND STATE. This why they took over the Republican Party – and encouraged Christians to join The War Party of the End Time Jesus. This is why they pray Gabriel help them win the House and Senate – and put Trump back in the White House, because….God's Angels are on their side!
The Republican Prayer Warriors want to Separate Christian Reality, from the Secular State Reality of Satan, so eventually they will have power over half of America – and cut most secular programs so they will pay less taxes. They have abandoned the End Time Tennant and core of their Scary Cosmology, and are conducting a fierce Holy Football Game.
I just watched Herschal Walkers news conference where white-haired Christians cheered when he refused to answer question from Satan's Secular Press, and said he just WANTS TO WIN! What need of a thousand Bible colleges, when you got Dumb-ass candidates like Trump and Herschal. Do Sane Americans need three judges – who use Justice to win holy football games – on the Court! Let them step down, put on a football helmet – and go for God's Goal Line!
I tried to become a Christian in 1988. I puzzled over why the learned father of John the Baptist did not know about the other visitation by and angel, who came to a woman who was old in years – and could not conceive?
Here is my solution for what Jesus meant when he said "I've come for the sinner, not the righteous."
If I can solve several riddles about Jesus's ministry – what need we of a thousand Bible colleges? What need we of a hundred thousand 'Prayer Warriors'…..What need we of three Christians on the Supreme Country, who believe Jesus – all by himself – founded a religion that overcame the world. What need of Pray Warriors, and Armed Militias, did Jesus need. Dismiss The Three who help cover up truth, religious truths, and secular truths. If Justice belongs to God, then they should hand in their resignations, and go into their church – and lock the door behind them! Whose business is it – what and who they pray for, as long as they keep it between them – AND THEIR GOD!
John 'The Nazarite'.
Zechariah said to the angel, "What proof is there for this? I'm an old man, and my wife is beyond her childbearing years."
Oh, God-of-the-Angel-Armies,
If you'll take a good, hard look at my pain,
If you'll quit neglecting me and go into action for me
By giving me a son,
I'll give him completely, unreservedly to you.
I'll set him apart for a life of holy discipline.
The Birth of Samson
13 Again the Israelites did evil in the eyes of the Lord, so the Lord delivered them into the hands of the Philistines for forty years.
2 A certain man of Zorah, named Manoah, from the clan of the Danites, had a wife who was childless, unable to give birth. 3 The angel of the Lord appeared to her and said, "You are barren and childless, but you are going to become pregnant and give birth to a son. 4 Now see to it that you drink no wine or other fermented drink and that you do not eat anything unclean. 5 You will become pregnant and have a son whose head is never to be touched by a razor because the boy is to be a Nazirite, dedicated to God from the womb. He will take the lead in delivering Israel from the hands of the Philistines."
6 Then the woman went to her husband and told him, "A man of God came to me. He looked like an angel of God, very awesome. I didn't ask him where he came from, and he didn't tell me his name. 7 But he said to me, 'You will become pregnant and have a son. Now then, drink no wine or other fermented drink and do not eat anything unclean, because the boy will be a Nazirite of God from the womb until the day of his death.'"
Poland says it has asked to have US nuclear weapons based on its territory, amid growing fears that Vladimir Putin could resort to using nuclear arms in Ukraine to stave off a rout of his invading army.
Poland suggests hosting US nuclear weapons amid growing fears of Putin's threats | Poland | The Guardian
A Harvest of Workers
Research, although sporadic, has consistently found that Bible college graduates comprise a disproportional percentage of North American evangelical protestant missionaries and clergy. Moreover, a variety of student outcomes research has consistently disproven the perception that Bible colleges are academically inferior to other Christian and secular higher education sectors. Bible college graduates consistently gain admission to and excel in advanced degree studies. Although many perceive that the movement has waned, conservative estimates suggest that as many as 1,000 Bible colleges and Bible institutes currently operate in North America, enrolling upwards of 100,000 students.
Was John the Baptist Elijah? – BJU Seminary
Oath Keepers look to recruit in Arizona with alarmist 'Civil War' rhetoric – YouTube
Second, Jesus' comment, "He who has ears to hear, let him hear," indicates that the disciples would have to ponder their Master's words carefully in order to interpret them correctly. In essence, Christ knew that people would have difficulty figuring out John's connection with Elijah! And his words urge us all to patient meditation in order to arrive at his meaning.
In reality, we have it much easier than the original disciples because we have the entire canon of Scripture for comparison. That canon includes Luke 1's lengthy account of the birth of John the Baptist and the events leading up to it. Here Gabriel's prophecy of John's birth contains these important comments (vv. 16-17):
The Book of Revelation describes the day of the Lord as an apocalyptic time of God's almighty wrath, which comes upon those who are deemed wicked. The text pictures every man hiding in the rocks of the mountains during a major earthquake to attempt to hide from God's wrath, while celestial phenomena turn the moon blood red and the sun dark.[Revelation 6:12-17] These celestial phenomena are also mentioned in Joel 2:31, which foretells the same precise order of events mentioned in Revelation: The moon turns blood red and the sun turns dark before the great day of the Lord.[Joel 2:31] Matthew 24:29-31 mentions the same event, yet it places the celestial phenomenon as occurring after the "tribulation of those days".[Matthew 24:29-31] According to these passages, it then seems that the day of the Lord is an event closely tied with the coming of the Messiah to judge the world.
The Day of the Lord – Wikipedia
Fox News spoke with Pastor Jack Graham, Ralph Reed and the Rev. Johnnie Moore, three of the 25 leaders in attendance on Tuesday morning for an hourlong, wide-ranging meeting in the Roosevelt Room at the White House. There, Trump was greeted with a standing ovation.
TUCKER CARLSON: IMPEACHMENT INSANITY – IT'S NOT CLEAR EXACTLY WHAT 'HIGH CRIME' TRUMP COMMITTED
"We discussed our support," said Graham, the pastor of Prestonwood Baptist Church in Plano, Texas. "We assured him that evangelicals across America support him. …We are unwavering in our support for the president."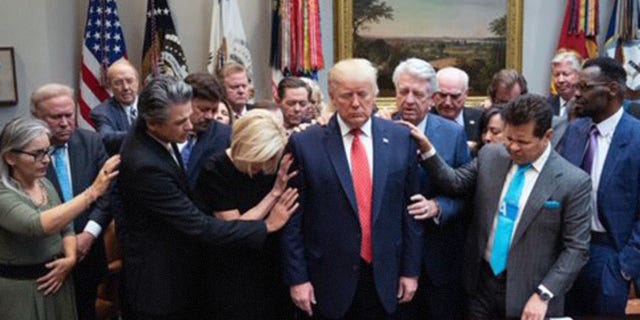 A group of 25 evangelical pastors and leaders met and prayed with President Trump Tuesday morning amid Democrats' impeachment push. (Official White House Photos by Joyce Boghosian)
Florida Pastor Charged in U.S. Capitol Siege After One of His Own Followers Ratted Him Out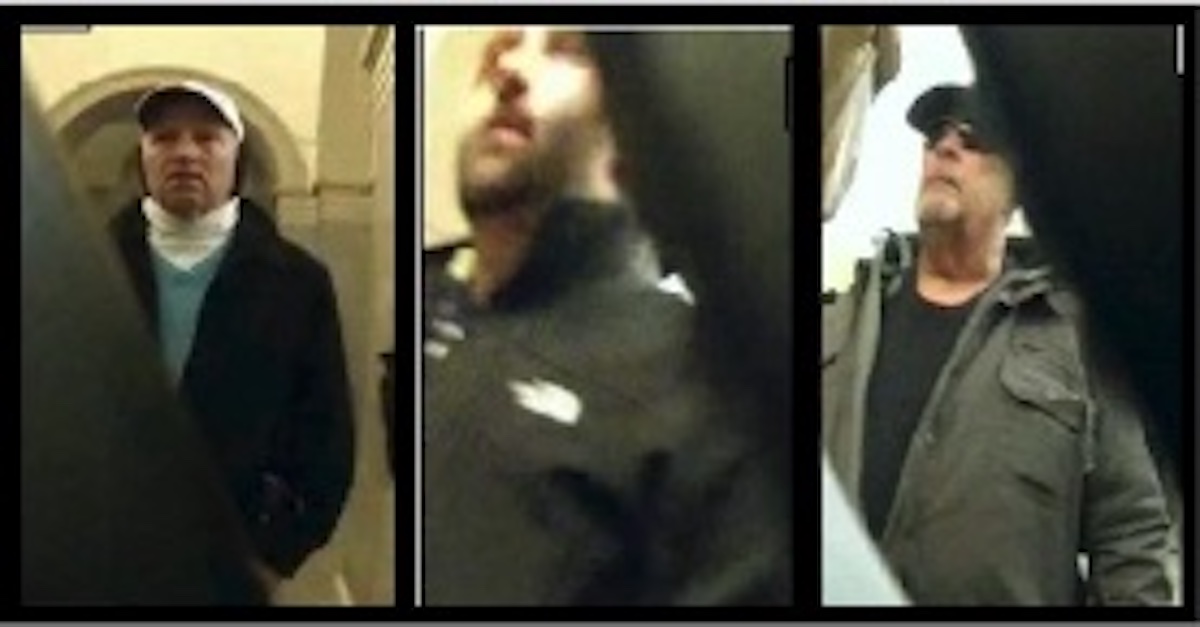 Florida pastor James Varnell Cusick Jr. and his son Casey Cusick are facing charges in connection with the Jan. 6th attack on the U.S. Capitol Complex — all because a member of Cusick's church told federal agents he was inside the Capitol with his pastor.
https://0c900a16bbcf672b7dcf67165a86f595.safeframe.googlesyndication.com/safeframe/1-0-38/html/container.html
When the authorities interviewed David John Lesperance at his home in Florida after identifying him as one of the people present at the capitol, Lesperance admitted that he was in Washington, D.C. from Jan. 5 to Jan. 8 and that he and his pastor were "present at President Trump's speech and then at the U.S. Capitol afterwards," according to an FBI affidavit.
"Caldwell has opened the door on redirect examination to evidence that he created a "death list" and included included federal presidential election workers during the charged conspiracy," the government argues. "As detailed in the government's 404(b) notice… these particular election employees were the subject of widely circulated conspiracy theories that falsely asserted they fraudulently helped President Joe Biden succeed."
No Appointment? No Problem – Upgrade to the World's Most Advanced CPAP With
The prosecutors go on to argue that "evidence that Caldwell intended to commit violence against these particular employees… flatly contradicts Caldwell's conjured impression that his attention and actions were narrowly tailored to rally attendance and self-defense against 'Antifa.'"
As John the Baptist was preaching and baptizing, the Pharisees sent a delegation to question him about his identity and ministry. When John denied being the Messiah, his interrogators immediately asked, "What then? Are you Elijah?" John's answer was simple and straightforward: "I am not" (John 1:21). This would seem to settle the matter and put an end to any controversy.
Later, however, Jesus said of John the Baptist: "He is Elijah who is to come" (Matt 11:14). This seeming contradiction naturally puzzles Bible believers and gives Bible critics an opening to attack the Scriptures. Is John Elijah or isn't he?
Theoretically, it's possible that John wasn't fully aware of his identity in God's redemptive program. After all, Jesus' statement about John comes in the context of responding to John's struggles concerning Jesus' own identity (Matt 11:2-3). One wishes for a more satisfying answer than ignorance on John's part, however. Such an answer is available through careful comparison of the relevant texts.
NOT THE HISTORIC ELIJAH
Malachi 3 predicts a day of divine judgment and salvation but indicates that this day will be preceded by the ministry of a forerunner (v. 1).
Behold, I send my messenger, and he will prepare the way before me.
Malachi 4 likewise prophesies the Day of the Lord and also speaks of a preparatory messenger (vv. 5-6):
Behold, I will send you Elijah the prophet before the great and awesome day of the LORD comes. And he will turn the hearts of fathers to their children and the hearts of children to their fathers, lest I come and strike the land with a decree of utter destruction. (Mal 4:5-6)
In their longing for deliverance from oppression and the arrival of God's kingdom, intertestamental Jews latched onto the hope of passages like Malachi 3 and 4. In particular, they expected that the historic Elijah—the one who had been spared from death and had ascended to heaven in a chariot of fire (2 Kings 2)—would return to the world as the forerunner of the Messiah.
Ohio Pastor Proudly Told Congregation He Was There for Jan. 6, Said 'Mission Accomplished' and 'Hallelujah' After Capitol Attack: Feds
MATT NAHAMOct 5th, 2022, 5:54 pm
32 comments SHARE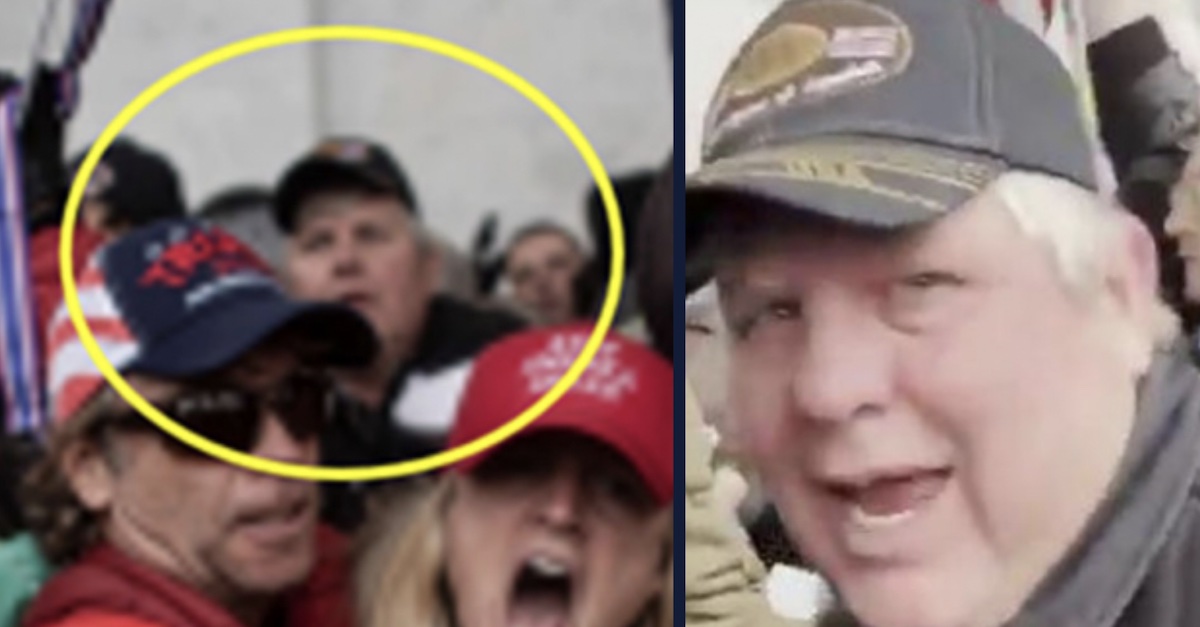 An Ohio pastor who reveled in the storming of the Capitol on Jan. 6 and proudly told his congregation about it months later now faces felony charges, according to the Department of Justice.
https://9bcc01d909f66de2b43e97f335198756.safeframe.googlesyndication.com/safeframe/1-0-38/html/container.html
A 57-year-old Frazeysburg, Ohio resident, William Dunfee made his intentions crystal clear through a bullhorn when addressing police officers directly on Jan. 6, the feds allege.
https://imasdk.googleapis.com/js/core/bridge3.537.0_en.html#goog_650859713
0 seconds of 4 minutes, 9 secondsVolume 0%
00:11
04:09
"Mister police officers, we want you to understand something. We want you to understand something. We want Donald Trump and if Donald Trump is not coming, we are taking our house," he allegedly said. "We are taking our house."
Now Dunfee faces felony charges for allegedly obstructing an official proceeding and interfering with a law enforcement officer during civil disorder. Several standard Jan. 6 misdemeanors for unlawful entry and disorderly conduct were also charged.
"On Jan. 6, 2021, Dunfee illegally entered the Capitol grounds and, using a bull horn, he repeatedly addressed the crowd, saying, among other things, 'We are taking our house,'" the DOJ said in a press release. "At approximately 1:44 p.m., Dunfee pushed a metal barricade against officers with the U.S. Capitol Police, who were attempting to hold the line. He pushed against the barricade a second time at approximately 1:58 p.m. He moved to the front of a crowd of rioters at the East Front entrance to the Capitol. Dunfee walked away from the East Front doors as others moved into the building, but he remained in the area."
The statement of facts in the case included several images that the DOJ says depict the defendant on Jan. 6. Several of the images show the suspect with the bullhorn in hand.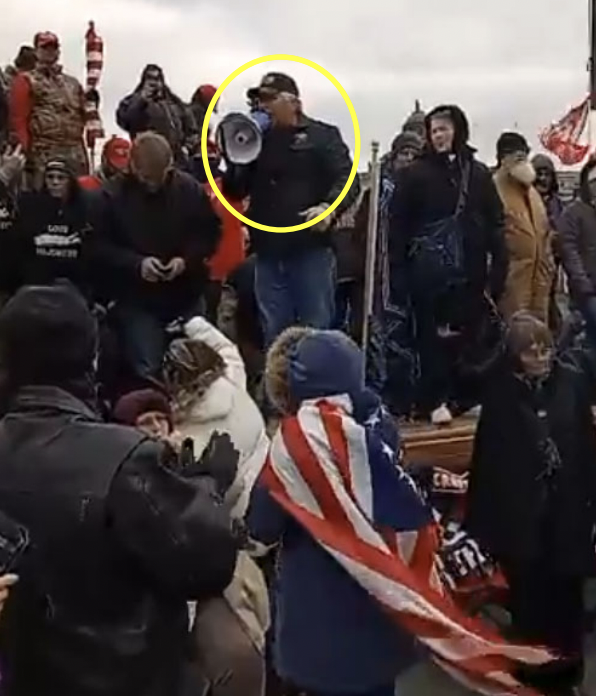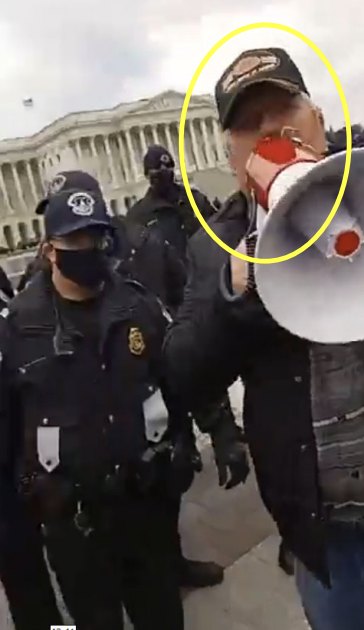 Court documents also include some of the words Dunfee allegedly spoke into that bullhorn in addressing the crowd that day.
"This election has been stolen right out from underneath of our noses and it is time for the American people to rise up. Rise up. Rise up. Today is the day in which it is that these elected officials realize that we are no longer playing games," the documents said. "That we are not sheeple that are just going to be [unintelligible] according to [unintelligible]."
"We will stand up for our country. We are standing up for our freedoms. We are standing up for our president. And today is the day these elected officials, these senators and these congressmen, understand that we are not going to allow this to continue any longer," he allegedly continued. "I am not talking about any of the nonsense of burning buildings and destroying another man's property, but they [elected officials] need to fear us."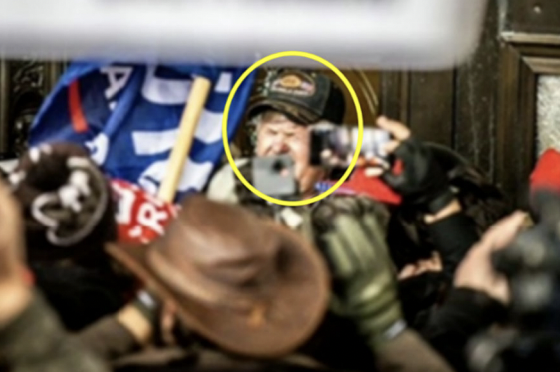 Prosecutors say that the Warsaw, Ohio-based pastor's politics were on full display in a Dec. 27, 2020 church video.
"The Government, the tyrants, the socialists, the Marxists, the progressives, the RINOs, they fear you. And they should. Our problem is we haven't given them reason to fear us," the defendant is accused of saying.
"January 4th through 6th … Are you ready?" he was also quoted asking the congregation, as if to spur them into action.
The government alleges that Dunfee not only had things to say before Jan. 6 but also basked in the afterglow.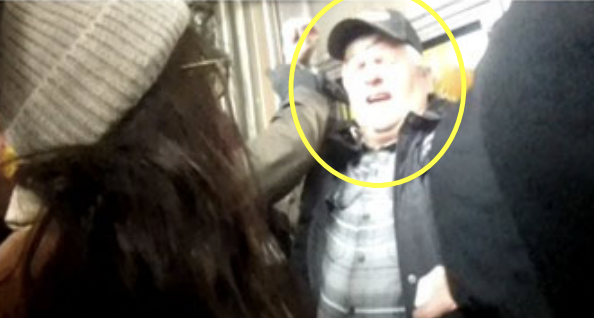 When one rioter said "We did it. We shut 'em all down. We did our job," the pastor allegedly replied with "Hallelujah." "Mission accomplished," he also allegedly told the surrounding pro-Trump mob.
The feds said they became aware of "Pastor Bill" just over a month after the attack on the Capitol, when a "tipster" took screenshots of incriminating comments on a Facebook page:
On or about February 3, 2021, a tipster provided a screen capture of comments made on the Facebook group "Here We Go with Jeremy Herrell," which read, "Amen Brother. My local ministry group was there and members of our group 'stormed' the Capital for a redress of our grievances. Leading the way was Pastor Bill. We as Christinas [sic] have the duty to overthrow evil." Later the same tipster posted, "Just a clarification… Pastor Bill and several others of our group made into the interior doors of the Capital. They pushed back and forth with the police. They talked to the officers and told them why they were there. Not to harm or destroy. They wanted to talk to the Congress. When an officer came back and said that wasn't possible, they tried to force the doors open. They were pepper sprayed and were stopped."
Months later in May, the suspect allegedly bragged to his congregation about his actions, again in an incriminating post on Facebook (though this one was a video on his church page):
In a publicly available video posted on May 30, 2021, to the New Beginnings Ministries Warsaw Facebook page (see photograph 23 below), DUNFEE told his congregation, "We show up January 6th at the Capitol Building right? To let it be known that we are not going to stand back and let an election be stolen. That we are going to hold our legislators accountable, and so on and so forth? And what did that get us? Huh? We are all deemed what? Huh? Bunch of terrorists, right?" Later DUNFEE stated, "I can tell you, having been there [at the U.S. Capitol], that um, we were surrounded by patriots. Many, many, many, many patriots. And I thank god they showed up to um, just to let it be known, that you know, what the bottom line is this, that um, you are not stealing this election. You're not going to rob us, deprive us of a democracy, of a republic, without us being heard."
Dunfee is not the only pastor to face charges over Jan. 6.