The Lord is near to all who call on him, to all who call on him in truth.
Again – I thank God that Donald Trump did not win an election, and does not represent any Amercan!
YEEEHAW!
Trump put the curse of his lie on the woman who got more votes than Liz Cheney. She preached the lie the Democrats stole the victory – God intended for Donald. Ask God – if this is true! Repent!
All members of the Cheney family are welcome to my families history. I see a political club 'Friends of The Truth' where all are welcome. Eighty million Victorious Democrats, who defeated Trump, have real respect for the stand Liz made against a tyrannical liar. Thank you!
The view from what divides us, can not compare to the majesty of what unites us! And it is not a case of how many, if there be just one man alone on the hill……who loves the truth more than himself.
John Presco
President: Royal Rosamond Press
https://www.politico.com/f/?id=0000015b-2115-d4bd-a5df-bbd77cd10001
Liz Cheney Vows To Do "Whatever It Takes" To Keep Donald Trump From "Anywhere Near The Oval Office" As She Concedes Wyoming Primary Race — Update
Ted Johnson – Yesterday 7:17 PM
UPDATE: Rep. Liz Cheney (R-WY), soundly defeated in her primary against a Trump-backed challenger, said that "now the real work begins," as she vowed to prevent the former president from returning to the presidency.
As pundits weighed the possibility that Cheney would wage a 2024 presidential run, she used her concession speech to reinforce how she chose principle over party, delivering a stinging rebuke of Trump and Republicans who support him. She also warned that Trump continues to stoke violent threats.
More from Deadline
"Two years ago, I won this primary with 73% of the vote," she said. "I could easily have done the same again. The path was clear, but it would have required that I go along with President Trump's lie about the 2020 election. It would have require that I enable his ongoing efforts to unravel our democratic system and attack the foundations of our republic. That was a path I could not and would not take."
The primary race dominated cable news coverage, and national correspondents descended on the state to cover her expected defeat. She will remain in her seat through the end of the year, meaning that she will continue to serve as vice chair of the January 6th Committee, scheduled to hold its second round of hearings in September.
Cheney also warned of potential political violence, as she condemned Trump's attacks on law enforcement following the search of his Mar-A-Lago property last week. Trump suggested that FBI agents planted documents in the boxes they retrieved, including those marked as classified.
"Donald Trump knows that voicing these conspiracies will provoke violence and threats of violence. This happened on January 6th and it is now happening again. It is entirely conceivable that the violence will escalate further, yet he and others continue, purposely, to feed the danger." She noted threats made against law enforcement and the federal magistrate judge in the case, and "despite knowing all of this, Donald Trump recently released the names of FBI agents involved in the search that was purposeful and malicious."
"No patriotic American should excuse these threats or be intimidated by them," she said. "Our great nation must not be ruled by a mob provoked over social media."
Cheney has not said what she plans to do after she leaves office.
"Freedom must not, cannot and will not die here," Cheney said. "We must be very clear eyed about the threat we face, and about what is required to defeat it. I have said since January 6th, that I will do whatever it takes to ensure Donald Trump is never again anywhere near the Oval Office, and I mean it."
According to CNN, James Goldston, the former president of ABC News who has been serving as an adviser to the January 6th Committee, was among those at Cheney's speech, held at a ranch with the Grand Tetons as a backdrop. The network reported that Goldston was there for his own production company "for potential future projects involving Cheney."
PREVIOUSLY: Rep. Liz Cheney (R-WY), who emerged as a central figure pursuing the facts about January 6th and Donald Trump's role in fomenting the attack on the Capitol, lost her primary race for Wyoming's at-large congressional seat.
Harriet Hageman, a former Cheney supporter and Trump critic who nevertheless won the former president's endorsement, was projected to win the race by a wide margin.
"No House seat, no office in this land, is more important than the principles we are all sworn to protect," Cheney told supporters in Jackson, WY.
Her defeat was expected, and the crush of national journalists who descended on the state in recent days reflected the national implications of her race. More than anything, it reflected the Republican party's embrace of Trump and rejection of anyone who challenged him, even when that person is the daughter of a former vice president.
As Cheney voted for Trump's impeachment and remained openly critical of him, she was stripped of her position in the House Republican leadership and censured by the party.
As vice chair of the January 6th Committee, Cheney has become the chief Republican spokesperson against Trump, arguing that he poses a threat to democracy. Her highly visible role likely cost her re-election, as Trump rallied against her in the hard-right state and House Minority Leader Kevin McCarthy actively campaigned against her. Even an ad featuring her father, former Vice President Dick Cheney, who once held the same congressional seat, failed to save her prospects.
Yet even as Cheney maintained conservative positions on issues like abortion and gun rights, as she faced reelection she earned support even from longtime Democrats. In the entertainment industry, Jeffrey Katzenberg and Nicole Avant have contributed to committees supporting her campaign, while she received endorsements from figures like Kevin Costner.
"We agree on little, if anything," Katzenberg told The New York Times last month. "But she has done something that very, very few people in history have done, which is she's put her country over party and politics to stand in defense of our Constitution."
Some detractors on the left, however, note that Cheney publicly soured on Trump relatively recently, backing his 2016 election and voting against his first impeachment. Author Don Winslow has been tweeting frequently about Cheney's past support for Trump and her past attacks on Democrats. On the first night of the January 6th Committee hearing in June, Winslow tweeted, "Liz Cheney loved Donald Trump until she didn't. And when she did she voted for him and his horrific policies 92.9% of the time. 92.9% out of 100%. You're not going to hear that on TV today but it's a fact."
On the debut of her MSNBC show, Alex Wagner opened with a segment featuring a clip in which Cheney is railing against "the most radical man to ever inhabit the Oval Office." But it was from 2013, and Cheney was talking about Barack Obama. Wagner then went on to contrast how Cheney, following January 6th, sounded the alarm about Trump, coloring the way that many Democrats view her now.
Even before polls closed, commentators on cable news were already weighing the prospects that Cheney would wage a presidential bid in 2024, if anything as a counter to Trump or a Trump-like candidate. As if to send a message, her campaign's ad spot featuring Dick Cheney ran during Fox & Friends and Hannity, two of Trump's favorite shows.
After casting her ballot with her father this week, Liz Cheney told CBS News said that she had "no regrets" and that there was "nothing more important than the defense of our Constitution."
The sum of your word is truth, and every one of your righteous rules endures forever.
Psalm 86:11 ESV / 18 helpful votes
Teach me your way, O Lord, that I may walk in your truth; unite my heart to fear your name.
Stand therefore, having fastened on the belt of truth, and having put on the breastplate of righteousness,
John 1:17 ESV / 17 helpful votes
For the law was given through Moses; grace and truth came through Jesus Christ.
Lying lips are an abomination to the Lord, but those who act faithfully are his delight.
Psalm 31:5 ESV / 14 helpful votes
Into your hand I commit my spirit; you have redeemed me, O Lord, faithful God.
1 John 3:18 ESV / 13 helpful votes
Little children, let us not love in word or talk but in deed and in truth.
The Lord is near to all who call on him, to all who call on him in truth.
Posted on August 22, 2013 by Royal Rosamond Press
"Rosamond recalls that Jack Cory and his sister Fanny Y. Cory, cartoonist, started him on his writing career."
In looking for traces of my Muse, Rena Easton, in Montana, I found what can be described as the Rosamond Holy Grail in Helena Montana. My grandfather lived in Helena and says he was inspired to write by Jack Cory, a political cartoonist and equestrian artist, and his sister Fanny Y. Cory, a famous illustrator who lived in a secluded ranch in Montana.
There was an art show of four generations of this family. This is the vision I had for my family when I became a Pre-Raphaelite. Christine Rosamond Benton did several Fairy paintings, as did Drew, who is employed rendering avatars for fantasy games.
Alas we have a true genealogy that traces the Rosamond Family Muse from the Cory family, to my grandfather, to me, to my sister, and to her daughter Drew Benton whose father was the famous muralist, Garth Benton, the cousin of the artist, Thomas Hart Benton. This is the convergence of three creative families – that is unheard of! The Great Muses are at work here. Consider our DNA!
If I had not been following my Muse wherever she leads me, then I would not have made this profound discovery that cast out the outsider from Rosamond Creative Legacy, those parasites who dare title themselves "caretakers" of Rosamond's art and life story. If my grandfather came back from the dead, he would take a bullwhip to these usurpers – of his history! Fanny was a very famous woman artist – before Christine was born!
Thank you my dear grandfather, whom I never met, for laying down the true stepping stones of our family history.
Royal wrote a short story about a bullfight in Montana where his sister lived. It appears their father adopted these sibling out to W.S. Spaulding after his wife died.
The top two images were done by Drew Benton. The boy with dragon was done by Drew's mother, Christine Rosamond Benton. The connections I just made – with no ones help – increase the value of all my families creative efforts. This is what real Art Books look like!
I've considered doing illustrations for most of my books. C'mon Rena. Show yourself. Do it for Montana! You were Rosamond's Muse. This is your State History. You got some major bragging rights! Put this in your resame. At least send me copies of photos of you that I can work from to illustrate
'Capturing Beauty'. I want your side of the story! I will got to the Governor and have you declared Montana's State Treasure who brought the history of Royal Rosamond and Fanny Cory, together!
Jon Presco
Copyright 2013
I also found an article about a Royal Rosamund, who was said to be the son of W.S. Spaulding – I do not know if that was the same person as the Frank Rosamund who is the coach driver with the family in 1900, but the ages match.
INDEPENDENT RECORD NOVEMBER 26, 1950
Royal Rosamond, Helena native, is Planning Book About
Home City, Chamber Is Told
Royal Rosamond, widely known
author and Helena native, is planning
a book about the city according
to a letter received by the
Helena Chamber of Commerce
from the resident of Oklahoma
City.
Rosamond said the book will
be based on recollections of his
childhood in the city. He asked
the chamber for assistance with
additional material about the city
and the surrounding area.
Rosamond said his parents followed
my grandfather, John L.
Reese, to Helena from Missouri
In the spring of 1884." The family
lived in the Sixth ward for three
years before moving to the Sanford
and Evans building.
His father, W. S. Spaulding,
and Gary Cooper's father were
Business partners with a shop on
the lot where the post office now
stands. When he was six years old,
Rosamond said, he was a playmate
of Tommy Cruse's little boy,
about the time the elder Cruse
was financed with a grub stake by
a local grocer and struck it rich
at Marysville. .
Rosamond asked the name of
the grocer and wanted to know
the Cruse boy's name. The letter
said Rosamond attended Hawthorne
school when he was six,
seven and eight years old. "There
was not a bob sled in town that
I had not ridden. . . . I was on
speaking terms .with every horse in
every barn in town. . . . I doted
on pigtailed Chinamen but failed
to win their friendship except for
one, a merchant up the gulch," he
said.
A frame residence built hy Rosamond's
father at the head of Walnut
still stands. .The author
visited the city In 1945.
His mother died when he was
nine years old and he moved to
Missouri until he was 18 when he
returned to Helena. Rosamond recalls
that Jack Cory and his sister
Fanny Y. Cory, cartoonist, started
him on his writing career.
Rosamond asked for information
about the earthquake, early gold
operations, a map of the city and
other information which he expects
to include in his book.
One of his novels, "Bound in
Clay" is available at the Helena
public library. He has been called
"Oklahoma's greatest living humorist,"
and is holder of the international
Mark Twain award for
his contribution to literature.
Fanny Y. Cory, Grandmother of Ann Cory on her mother's side
Now I will go back in time. I will go back to one of the dearest people in my life, my grandma.
Today her art work is bought and sold today on e-bay and other sites and she is noted in books about illustrators of the late 1800s and early 1900s.
Her art name is Fanny Y. Cory, although sometimes she signed with FYC and other versions of her name. The one thing that never changed, though, was that she signed her art vertically and with carefully formed capital letters.
Fanny Y. Cory was someone who always drew from the time she was old enough to hold a pencil. One of her early memories was lying on the floor of her home drawing away with adults patiently stepping over her.
She drew so much and so well that not only could she draw anything she saw but anything she wanted to materialize out of her fertile imagination.
Fanny Y. Cory's brother, Jack Cory, a well-known political cartoonist, paid her way to attend the Metropolitan School of Fine Arts in New York City.
She took part in the Artists Student Legue there but soon needed to earn money from her art to support her darling sister who had consumption.
Many times as I grew up I heard her tell the story about her beginning attempt to sell her illustrations. The first journey at 17 up the "well-worn iron stairs" into the unknown world of "Scribners" was frightening.
"The young man at the desk flipped carelessly through my portfolio. Then he looked up and said to 'Come back when you became known' ".
"I thanked him kindly and then walked across the hall to "Century" and they took my illustrations right away."
Before long Fanny Y. Cory was known as the "Sweetheart of the Century Company," and became one of the best known illustrators in the country.
She did covers and illustrations of St. Nicholas, Life, Scribner's, Century, Harper's Bazaar and The Saturday Evening Post.
She also illustrated many books during this time among them Alice's Adventures in Wonderland (1902) by Lewis Carrol, and several books by Frank L. Baum, author of The Wizard of Oz.
Fanny Y. Cory married a Montana rancher whom she had gotten to know in earlier years via his sisters and moved to his ranch at Canyon Ferry, Montana.
They raised their children there and she continued her illustration work on a limited basis.
After Fanny Y. Cory's children become older, it was apparent that they needed college training.
Fanny Y. Cory had always done her art for the good of others and to help her children have their dreams, she threw her talents into a new art field: two syndicated comic strips which she did for 25 and 30 years respectively.
One was "Little Miss Muffet," a daily strip that King Features ran originally as their answer to the very popular "Little Orphan Annie" comic strip.
Her other was a single that ran daily called, "Sonnysayings" which depicted the forever-young Sonny in his family. Its gentle humor featured life as seen from his youthful point of view.
During these years of constant black and white comic drawing, Fanny Y. Cory relieved her eyes and her creative heart, painting in watercolors her exquisite "fairy series".
There is a wonderful web site which tells yet more about her life and accomplishments: http://www.fycory.com
http://www.anncoryart.com/fanny-y-cory
The Artist:
"Fanny Y. Cory –By Herself" was how The Critic magazine captioned this self-portrait in its July 1900 issue.
Fanny Young Cory was born in 1877 and in 1895 an 18 year-old Miss Cory attended the Metropolitan school of Fine Arts in New York City. By the turn of the century, she was one of the best known illustrators in the country. She did covers and illustration for St. Nicholas, Life, Scribner's, Century, Harper's Bazaar and The Saturday Evening Post. She also illustrated many books including Alice's Adventures in Wonderland (1902) by Lewis Carrol, and several books by Frank L. Baum, author of The Wizard of OZ. Who's Who of American Women listed F.Y. Cory in their First Edition, Volume One.
Fanny Y. Cory, after marrying Fred Cooney in 1904, resided on a ranch near Helena, Montana, while raising their three children. In the mid 1920s she moved into newspaper cartooning and by 1936, King Features Syndicate carried both her famous "Sonnysayings" and her "Little Miss Muffet" strip in newspapers throughout the country. She was listed in King Features' Famous Artists and Writers. As a diversion during this period of the late 1920s and early 1930s, Fanny Y. Cory painted in watercolor what she considered her finest work. We now call this collection the "Fairy Series" of which these reproductions are a part.
In addition to her other accomplishments, the popularity of her work led to the publishing of several books of her own and in 1951, Fanny Y. Cory was named "Mother of the Year" for the State of Montana. Soon afterwards she moved to Camano Island, Washington where she continued her cartooning career with King Features Syndicate until she retired in 1956 at the age of 79. This was after a 36-year run of "Sonnysayings" and a 20-year run of "Little Miss Muffet". The original watercolors in the "Fairy Series" were painted over 60 years ago and remained in the artist's private collection, unpublished until recently.
http://boards.ancestry.com/thread.aspx?mv=flat&m=834&p=localities.northam.usa.states.montana.counties.lewisandclark
On a Ranch 27 miles from Helena, Montana, and "three miles from anything," lives Mrs. Fred Cooney. To readers of The Evening Star she is Fanny Y. Cory, illustrator and writer of "Sonny Sayings."
http://www.stanwoodhouse.com/gallery/generations.html
4 generations of artists
On the occasion of the 100th birthday of Sayre Cooney Dodgson of Stanwood, Stanwood House Gallery is mounting an exhibition of her art along with work by her mother, Fanny Cory, a nationally known artist and illustrator from the early 20th century, and other members of this family of artists.
https://www.youtube.com/embed/r09HNISrMEk?version=3&rel=1&showsearch=0&showinfo=1&iv_load_policy=1&fs=1&hl=en&autohide=2&wmode=transparent
Posted on February 18, 2012 by Royal Rosamond Press
John Fremont authored a proclamation that set free the slaves of Missouri and drew a line in the sand against the slave masters who authored the runaway slave act.
As I foretold, religious men are holding a tribunal over contraception, they not allowing a woman to testify. There are no women being heard. However, Sarah Palin's voice rings out, and like Michelle Bachman, they overlook the Fremonts, and point to our Founding Fathers as the ones whose dream is allegedly being trampled on.
When Jessie declared her support of the Abolitionists, her close kindred in the South stopped communicating with her. They snubbed her for the rest of her life. A woman of courage has not been found amongst the Republicans – hence!
It was no mistake that my rejection by my minister led me to discover the Shembe Nazarite.
This alleged man of God said this on a sunny Sunday i 1987, in front of his flock;
"I wish the Russians would nuke San Francisco and kill all the homosexuals!"
It was all I could to keep my mouth shut, and not stand up and say;
"Gary, there are some very famous Christian churches in San Francisco."
These religious fanatics are trying to bring down the Federal Government so they can get to the gays. Then there was 911 – and the Civil War!
Jon Presco
Appearing on Fox News' "On The Record With Great Van Susteren" last night, half term former Alaska Governor Sarah Palin attacked President Obama's plan to mandate that religious employers must include contraception in their health insurance plans (video below).
Palin said: "This is an un-American act of our president. Anything that would so blatantly violate an amendment within the United States Constitution is un-American. We're rising up on this one."
By 1843, several hundred slaves a year were successfully escaping to the North, making slavery an unstable institution in the border states.[2]
The earlier Fugitive Slave Act of 1793 was a Federal law which was written with the intention of enforcing Article 4, Section 2 of the United States Constitution, which required the return of runaway slaves. It sought to force the authorities in free states to return fugitive slaves to their masters.
Many Northern states sought to circumvent the Fugitive Slave Act. Some jurisdictions passed "personal liberty laws", mandating a jury trial before alleged fugitive slaves could be moved and others forbade the use of local jails or the assistance of state officials in the arrest or return of alleged fugitive slaves. In some cases, juries refused to convict individuals who had been indicted under the Federal law.
The Missouri Supreme Court routinely held that voluntary transportation of slaves into free states, with the intent of residing there permanently or definitely, automatically made them free.[3] The Fugitive Slave Law dealt with slaves who went into free states without their master's consent. The U.S. Supreme Court ruled, in Prigg v. Pennsylvania (1842), that states did not have to offer aid in the hunting or recapture of slaves, greatly weakening the law of 1793.
WASHINGTON (AP) — Religious leaders told a House panel Thursday the Obama administration was violating basic rights to religious freedom with its policies for requiring that employees of religion-affiliated institutions have access to birth control coverage.
But while the two sides may be battling over why women weren't invited to the hearing and whether this is an issue about women's rights or religious freedom, there is an even bigger issue at stake: the lack of women leaders in these institutions. The morning panel was composed of religious leaders and professors on ethics and religion: Rev. William Lori, Roman Catholic bishop of Bridgeport, Conn.; Rev. Matthew Harrison, the president of the Lutheran Church in Missouri; Ben Mitchell, a professor of moral philosophy at Union University; Rabbi Meir Solveichik, from Yeshiva University; and Craig Mitchell, a professor of ethics at the Southwestern Baptist Theological Seminary.
It's unfortunately not surprising that there weren't many women invited to such a panel—Roman Catholic priests cannot be women, of course, and women cannot be ordained as Orthodox Jews and are a minority of rabbis in other movements. And while there are certainly female professors of ethics and philosophy, women continue to be a minority in the academic world as well. A 2011 Catalyst study found that just 24 percent of tenured full professors in U.S. higher educational institutions are women and that just 38 percent of associate professors are female.
On August 30, 1861, Union General John C. Fremont issued an order that included the emancipation of all slaves in Missouri whose owners who did not swear loyalty to the Union. The military order exceeded the scope of the First Confiscation Act, enacted by Congress earlier that month, which only mandated the freeing of slaves who had been used in the Confederate war effort and whose masters were disloyal to the Union. Although Missouri was technically in the Union, the Border State was a bloody battleground at the time between Union and Confederate forces.
An editorial in the Harper's Weekly issue dated September 14, 1861 (published on September 4) supported Fremont's policy. With the dramatic title, "The Beginning of the End," the commentator (probably managing editor John Bonner) pointed out that the practical effect of Fremont's order would not free many slaves, but it would send an important message to other slaveholding states. The editorialist argued that Fremont's authority was based not on the (First) Confiscation Act but on "the war power," and cited John Quincy Adams—the former president, secretary of state, and congressman—for a definition of it.
However, President Lincoln feared that Fremont's emancipation order would provoke anti-Union sentiment in Missouri and other Border States (slave states that had not seceded), where attachment to the Union was uncertain in the early phase of the war. For those reasons, Lincoln asked Fremont to modify his order to comply with congressional legislation. When the general refused, the president rescinded the emancipation order on September 11, 1861. Lincoln's letter to Fremont appeared in the September 28, 1861 issue (published September 18). (Several times over the following months, Lincoln urged the Border States to emancipate their slaves by state law.)
GENERAL FREMONT'S PROCLAMATION.
The following Proclamation was issued on 31st ult., at
St. Louis:
"Head-quarters of the Western Department,
"St. Louis, August 31, 1861.
"Circumstances, in my judgment of sufficient urgency,
render it necessary that the Commanding General of this
Department should assume the administrative powers of
the State. Its disorganized condition, the helplessness of
the civil authority, the total insecurity of life, and the de-
vastation of property by bands of murderers and marauders
who infest nearly every county in the State and avail them-
selves of the public misfortunes and the vicinity of a hos-
tile force to gratify private and neighborhood vengeance,
and who find an enemy wherever they find plunder, finally
demand the severest measure to repress the daily increas-
ing crimes and outrages which are driving off the inhabit-
ants and ruining the State. In this condition the public
safety and the success of our arms require unity of pur-
pose, without let or hindrance, to the prompt administra-
tion of affairs.
"In order, therefore, to suppress disorders, to maintain
as far as now practicable the public peace, and to give se-
curity and protection to the persons and property of loyal
citizens, I do hereby extend, and declare established, mar-
tial law throughout the State of Missouri. The lines of
the army of occupation in this State are for the present de-
clared to extend from Leavenworth by way of the posts of
Jefferson City, Rolla, and Ironton, to Cape Giradeau on the
Mississippi River.
"All persons who shall be taken with arms in their
hands within these lines shall be tried by court-martial,
and, if found guilty, will be shot. The property, real and
personal, of all persons in the State of Missouri who shall
take up arms against the United States, and who shall be
directly proven to have taken active part with their en-
emies in the field, is declared to be confiscated to the pub-
lic use; and their slaves, if any they have, are hereby
declared free.
"All persons who shall be proven to have destroyed,
after the publication of this order, railroad tracks, bridges,
or telegraphs, shall suffer the extreme penalty of the law.
"All persons engaged in treasonable correspondence, in
giving or procuring aid to the enemies of the United States,
in disturbing the public tranquility by creating and circu-
lating false reports or incendiary documents, are in their
own interest warned that they are exposing themselves.
"All persons who have been led away from their al-
legiance are required to return to their homes forthwith;
any such absence without sufficient cause will be held to
be presumptive evidence against them.
"The object of this declaration is to place in the hands
of the military authorities the power to give instantaneous
effect to existing laws, and to supply such deficiencies as
the conditions of war demand. But it is not intended to
suspend the ordinary tribunals of the country, where the
law will be administered by the civil officers in the usual
manner and with their customary authority, while the
same can be peaceably exercised.
"The Commanding General will labor vigilantly for the
public welfare, and in his efforts for their safety hopes to
obtain not only the acquiescence, but the active support
of the people of the country.
J. C. Fremont,
Posted on November 16, 2021 by Royal Rosamond Press
Eighty million Americans did not vote for Trump. Many Christian leaders – never wanted any women to vote. The millions of Christian women that voted for Trump – have gone insane! The visions I had about Rena – have come true! Jesus never condoned alternative realities for any Democracy. Jesus never founded any Democracy. Jesus – LOST! Biden – WON! Get over it! Respect – MAJORITY RULE!
John
Crowd at Cornerstone Church in San Antonio chants 'Let's Go Brandon' (mysanantonio.com)
Wyoming GOP votes to no longer recognize Liz Cheney (msn.com)
The Wyoming Republican party voted this weekend to no longer recognize Congresswoman Liz Cheney, who represents the state, as a member of their party. Cheney, one of 10 Republicans who voted to impeach former President Trump, is one of two Republicans on the House select committee investigating the January 6 attack on the U.S. Capitol.
Jeremy Adler, a spokesperson for Cheney, said in a statement that it is "laughable to suggest Liz is anything but a committed conservative Republican"
"She is bound by her oath to the Constitution," Adler said. "Sadly, a portion of the Wyoming GOP leadership has abandoned that fundamental principle, and instead allowed themselves to be held hostage to the lies of a dangerous and irrational man."
Religious & Male Opposition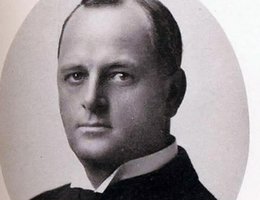 Lodowick F. Crofoot; a prominent Catholic lawyer, among the male anti-suffragists
Courtesy Nebraska State Historical Society, RG978.2B39no55
There were also religious figures who joined the fight to keep women out of the voting booths. After all, some of them argued, women did not belong in the political arena because their place was the:
". . . realm of sentiment and love, gentler, kinder and holier attributes, that make the name of wife, mother, and sister next to the name of God himself."
The Roman Catholic Church was the religious group that most consistently opposed women's suffrage. In 1906 more than 29% of all Nebraskans claimed affiliation with the Catholic Church, by far the largest single denomination in the state. German Catholics were the most conservative and opposed most of the progressive era reforms, especially any attempts to provide women access to the ballot box or prohibit the sale of alcoholic beverages.
https://rosamondpress.wordpress.com/2012/09/06/drew-benton-meets-baphomet/