Former President Donald Trump lashed out at Sen. Minority Leader Mitch McConnell on Thursday.
Trump called McConnell a "disloyal sleaze bag" after the Jan. 6 committee aired a video of him blaming the former president for the Capitol riot.
I awoke this morning with a depressing truth….America is divided between THE INFLATED ONES, the Christian Trumpites, and, THE DEFLATED ONES, the targets of the Christian Trumpite Cult!
This is what you get when one party claims they are the party of Jesus-God, and the other party is of Satan. For hundreds of years ministers have had to PUMP UP their congregations in order to get them to TITHE, and, keep coming back TO BE INFLATED AGAIN, made to feel they are superior to THE OPPOSITION, the make-believe followers of Satan. Satan does not exist, and his followers are few. THEIR NUMBERS ARE INFLATED in order to INFLATE the numbers of followers, and get more money in the collection plate – AND NOW MORE VOTES! This is not a Democracy, and spells the doom of Democracy, because it is not about The Issues, Truth, and Justice. I then read this article. This statement seals our doom.
It's a kangaroo court': in key state, Trump backers dismiss January 6 hearings | Wisconsin | The Guardian
"I looked up kangaroo court," said Terri Burl, a Republican activist in rural northern Wisconsin, a key swing state that Trump won in 2016 but lost four years later.
"I'm like, yes, that's exactly what this is. What's it supposed to prove?"
These amazing words should be carved in marble in the Capitol rotunda where all the statues are. Trump held a kangaroo court in the Rose Garden then ordered HIS INFLATED BELIEVERS to fight the Deflated Evil Democrats – WHO DID NOT STEAL THE ELECTION. Terri Burl – must believe they did – STILL!
America and the World ended when Al Gore lost his bid to become President. Then 911 happened and Geroge Bush and the Republicans lied about why WE need to invade Iraq. INFLATED LIES were offered to the American People who divided themselves IN TWAIN, between The Believers Of The Lie, and The Non-Believers of The Lie. The evil game of inflating and deflating – began! The Inflaters may never win the White House, again, so, THEIR REPUBLINCAN CHURCH becomes more like A CHURCH of Inflated True Believers.
Here is my great post of 2011, where I say what this article says. I USED powers of deduction and reasoning. Am I a prophet? It no longer matters. Trump going after Mitch McConnell in order to DEFLATE HIM, and INFLATE TRUMP – is so friggen strange. I am glad to see other writers alas tackling what I have been tackling, and – are coming up with some BRAVE SECULAR SPECULATIONS. My focus on Ed Meese is right-on, being Ed is The Old Lighthouse on the INFLATED TRECHEROUS ROCKS that we can STILL can use to navigate through what looks like the Largest Dark Age – EVER!
John Presco
Posted on March 4, 2014 by Royal Rosamond Press
Above are photos of me demonstrating against Bush's pending war against the "Axis of Evil" and the "Beast of Babylon" Saddam Hussain who was being touted by the Christian-right as the Anti-Christ. Merlin was also a candidate for the Anti-Christ. This is why I am wearing Merlin's hat. I am also wearing a Soviet flag because President Reagan titled Russia "The Evil Empire". This has to do with God and Magog, the Satanic force that the forces of King Jesus will do battle with at Armageddon.
Thursday night at 9:00, MSNBC will air 'Why We Did It' a documentary why the Bush administration lied about WMD in Iraq.
I Alone Represent the Evil Empire | Rosamond Press
Millions of Americans spent Thursday evening stunned, appalled and amused by the season finale of the congressional hearings into the storming of the Capitol in the waning days of Donald Trump's presidency, and his part in the deadly insurrection.
The slickly planned primetime hearing showed Trump refusing to call off the insurgents for more than three hours as he watched Fox News coverage from the White House dining room on 6 January 2021. The House committee heard how Secret Service officers protecting the vice-president, Mike Pence, were telling their families they may not make it home alive.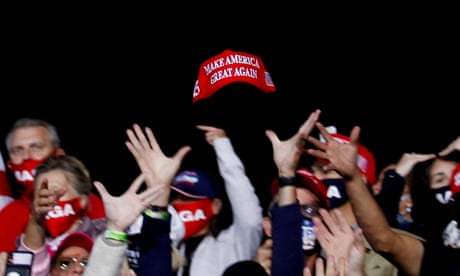 Members of the committee said the evidence showed that Trump lied, betrayed his oath of office, and summoned a mob to Washington to try to overturn the presidential election. It was, said Republican congressman Adam Kinzinger, "a stain on our history".
"I looked up kangaroo court," said Terri Burl, a Republican activist in rural northern Wisconsin, a key swing state that Trump won in 2016 but lost four years later.
"I'm like, yes, that's exactly what this is. What's it supposed to prove?"
Burl's loyalty to the former president – she was an early member of Trump for Women – has not been shaken by Thursday's testimony from former Trump administration officials. She watched for almost an hour before giving up because she said that while "the violence and destruction is not OK as people forced their way into the Capitol", the hearing was a one-sided attack on the former president rather than an attempt to get at the truth.
"There was an annoying and troubling Hollywood movie look to these theatrical hearings, as if they're acting in a badly done B-list movie," she said.
But Burl, a former social worker and substitute teacher, did tune in unlike other members of Oneida county Republican party and most other Trump supporters.
"I haven't watched it," said Kathleen Silbernagel, the party secretary and a retired programme manager for a Pepsi subsidiary. "It's a joke. Most conservatives feel that it is a kangaroo court. Liberals already hate him so it's not going to affect them. But how it will affect independent people, who are always in the middle, is hard to tell."
Advertisement
https://8cda8d110e7db1579139a5a2f558a9ee.safeframe.googlesyndication.com/safeframe/1-0-38/html/container.html
Opinion polls suggest that the hearings have not produced the devastating shift in public opinion against Trump that some Democrats hoped for. Nor have they slackened the grip of Trumpism on the Republican party. Even as evidence spilled out that the then-president "commanded an armed mob to overturn the election", few Republican politicians have turned away from Trump. Those that do pay the price.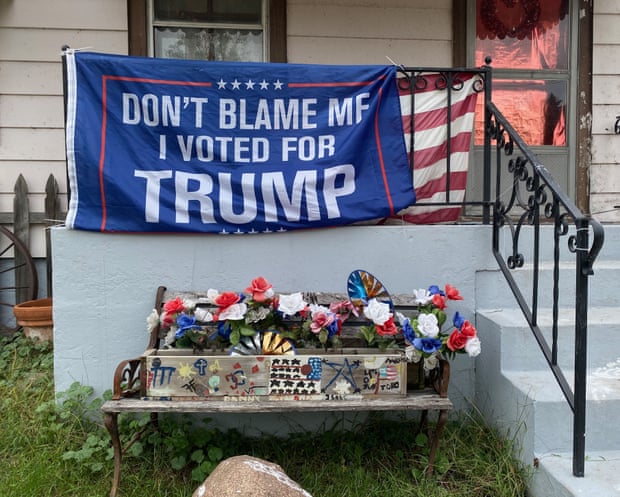 Representative Liz Cheney, who broke with her party leadership to serve as one of Trump's chief accusers on the House select committee, is facing a drubbing in next month's primary for her seat in Congress at the hands of a rival who has positioned herself as defender of the former president.
But while the hearings may not have shaken the commitment of the faithful, the weeks of testimony have compounded a sense of doubt among some Republicans that, even as Trump touts the idea of running for president again, he carries too much baggage to win another election.
A poll by the Wisconsin's Marquette law school released on Thursday showed that nationally most Republican voters have heard about the January 6 hearings only "a little" or "nothing at all". Just 35% of Republicans have been paying attention compared to a clear majority of Democrats.
It is no surprise then that opinion on Trump's culpability divides along partisan lines with Republicans overwhelmingly clearing him and Democrats certain of his culpability.
Advertisement
https://8cda8d110e7db1579139a5a2f558a9ee.safeframe.googlesyndication.com/safeframe/1-0-38/html/container.html
Oneida county Republicans make many of the arguments heard across Trump country to disparage the January 6 hearings.
"They're painting Trump as though he incited this riot," said the county Republican vice chair, Peter Biolo, who has also avoided watching the hearings. "They got to the Capitol and the Capitol police let them in. They didn't storm the Capitol as is being reported. And the one person that was shot, that female veteran, was shot by a Capitol police officer."
The hearings are instead viewed as part of a broader witch-hunt against the former president, alongside official investigations into whether his company fiddled taxes and fraudulently inflated property values to obtain cheaper loans.
The bad news for those who want to see Trump run again is that a key part of the electorate does not see it that way. Two-thirds of those independent voters who are following the hearings closely say Trump bears "a lot of responsibility" for the storming of the Capitol, according to the Marquette law school poll. Even among independents not paying close attention, a majority say he bears some responsibility.
Burl describes herself as heartbroken that Trump is not still president even if she was critical of his style when he was in the White House, particularly his aggressive tweeting. "I miss him. I've never felt that way about really any other Republican president, except maybe Ronald Reagan," she said.
But Burl looks at her own state where both Trump's victory in 2016 and loss four years later were each decided by a little more than 20,000 votes, less than 1% of the ballot. "I'm a Trump supporter all the way. But he has too much baggage now, just piled up and up. Baggage that makes it harder for him to win over those middle of the road voters," she said.
Silbernagel agrees. Biolo does not. He wants to see Trump run again because he doesn't think anyone else can keep Trumpism alive. "There are probably people like Trump out there but would they have his qualities? Would they be as direct, as confrontational?" he said.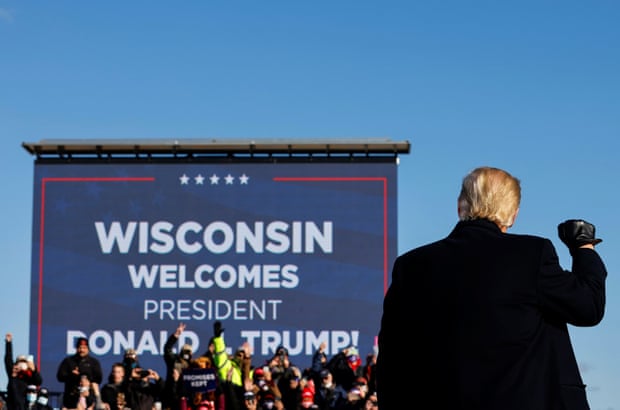 Advertisement
https://8cda8d110e7db1579139a5a2f558a9ee.safeframe.googlesyndication.com/safeframe/1-0-38/html/container.html
That divide is heard across Wisconsin where the commitment to Trumpism remains strong but there are creeping doubts about whether Trump is the man to continue to lead it. While most Republicans want to see the former president running again, a significant minority oppose it.
They warn that "he alienated a segment of the voting population that he's unlikely to get back" and say it is "time to move on from Trump. He had his day, did much good, and exposed a great deal. But his level of chaos and divisiveness should be left behind. We need a younger guy with less baggage and fewer scores to settle."
Charles Franklin, director of the Marquette poll, said his surveys reflect that gap.
"We continue to see Donald Trump is very popular within the party but more Republicans like him than want him to run for election again. A difference – both in the state and the national polling – is somewhere between 75% and 80% of Republicans say they have a favourable opinion of Trump. But it's more like 60% of Republicans that would like to see him run again," he said.
"In theory, 60% is plenty to win a primary so it hardly means that they're abandoning him. But you are seeing some slippage between looking back on him and having a favourable view and looking to the future."
That raises fears among some Republicans who suspect that while Trump might walk the primaries, particularly if others fear the political cost of running against him, he has already lost once against Biden by a massive 7m votes in the popular ballot. They also fear that the House committee hearings are providing an abundance of material for the Democrats to flood the airwaves with clips showing former Trump loyalists accusing him of leading an attempted coup.
Still, any Republican running against Trump had better feel sure of beating him or risk killing his own political career.
For now, in Wisconsin as elsewhere, loyalty to Trump continues to be a litmus test for most Republican voters in who they vote for. Franklin said that includes buying into the claims that the 2020 election was stolen and that the January 6 hearings are part of the plot.
"If you want to be a good Republican in the current party, you have to signal to the voters who have bought into the election fraud story," he said.
Posted on September 27, 2011 by Royal Rosamond Press
Rabid Dog preachers, and right-wing politicians, are spending trillions of our tax payer dollars waging a fake war against the "Evil One" and the "Evil Empire". Thanks to the invention of the Tea Party, any fool can join in and do a cheap imitation of Ronald Reagan attacking the Soviet Union – that does not exists anymore! However, a bullseye has been painted on the back of the President of the United States, and every Democrat, so the Ronny Loons can seize the day, get their kicks, at our expense. The Age of the Ronny Loons is upon us!
In 2001 I demonstrated Bush war against the "evil one" in Iraq dressed as Merlin, who is a bonnified candidate for the coming Anti-Christ. Two years ago I came to a Tea Party protest at the Federal Building in Eugene Oregon, dressed as the Anti-Christ. I carried a sign that read; "I WANT MY EVIL EMPIRE BACK!" "OBAMA STOLE MY EMPIRE!" "I AM THE TRUE ANTI-CHRIST. I MUST BE BEFORE HE WILL COME AGAIN!"
You should have seen the faces of the Patriots as they took in the Soviet flag I wore on my back, like a Caped Crusader for Evil.I wore a Star Wars light sabre on my waste. Many photos were taken of the Lone Wolf that walked fearlessly amongst the multitude of sheep. My sign had Biblical passages written on it. One guy asked;
"Whose side are you on, anyway?"
"My side, of course! I am the Anti-Christ!"
Jon Presco
One protester, Jeanne Mansfield – who said she was standing so close to the women sprayed in the face that her own eyes burned – claimed other NYPD officers had expressed disbelief at the actions of the senior officer.
In a vivid account of the incident in the Boston Review, Mansfield said: "A white-shirt, now known to be NYPD Lieutenant Anthony Bologna, comes from the left, walks straight up to the three young girls at the front of the crowd, and pepper-sprays them in the face for a few seconds, continuing as they scream 'No! Why are you doing that?!'"
Despite her attempts to turn away from the "unavoidable" spray, Mansfield, who took part in Saturday's march with her boyfriend on a whim after "stumbling across" it, said she suffered burning and temporary blindness in her left eye and tears streaming down her fac
The phrase evil empire was applied especially to the Soviet Union and its "empire" by U.S. President Ronald Reagan, who took an aggressive, hard-line stance that favored matching and exceeding the Soviet Union's strategic and global military capabilities, in calling for a rollback strategy that would, in his words, write the final pages of the history of the Soviet Union. The characterization demeaned the Soviet Union and angered Soviet leaders; it represented the rhetorical side of the escalation of the Cold War.
Share this: