Posted on July 12, 2022 by Royal Rosamond Press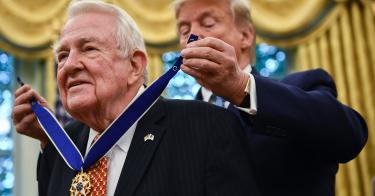 President Donald Trump awards former Attorney General Edwin Meese with the Medal of Freedom during a ceremony in the Oval Office at the White House on October 8, 2019.
Ed Meese had to be watching when Donald Trump invited his followers to go to the Capitol – for a wild time. Ed held out hope, that his incredible legacy would survive and have eternal brilliance.
"The VP detail thought this was about to get ugly," the security official said, in an interview that was modified to protect the individual's identity. "The members of the VP detail at this time were starting to fear for their own lives."
I have heard the terms; Obstruction of Congress and Government in regards to interfering with the counting of the votes of the Electoral College. If Ed Meese was the Attorney General, and he saw on Television a group of Black Panthers and Student Radicals – storming the Capitol – he would have commandeered the nearest police cruiser, filled it with armed State Troopers, and arrived on the scene – blasting away! Ed Meese…would do his duty!
I am throwing Ed Meese out of the Republican Party founded by my kin, John Fremont. I order all religious leaders who signed the Letter of Shame – to get out of the Republican Party.
GET OUT!
GET OUT OF OUR CROTCH – ARREST TRUMP – NOW!
I just watched Liz Cheney close the hearings. Below are Republicans who threw her and Adam – TO THE RIOTOUS MOB OF TRAITORS – who Trump incited by telling them the election was stolen. I watched Trump make a video on Jan. 7th. where he said "I don't want to say the election is over!" Neither do the signers of the letter that demanded Adam and Liz be punished AND STOPPED from helping MORE Republicans get THE TRUTH to the people, so, armed men with guns "the elephant in the room" will "stand down" and not commit more acts of treason IN THE FUTURE!
ALL the people who singed this letter should be arrested FOR TREAON. The FBI should raid their think tanks, and fake Christian propaganda mills, and seize their computers and cellphones – NOW! Arrest Ginni and Clearnce Thomas, along with Ed Meese – NOW!
This letter should have said what Loyal Republicans – who surrounded Trump – were telling him…
"Say you lost the election, and tell YOUR insurrectionists to…GO HOME!"
GET OUT!
The Signers knew Adam and Liz were getting death threats. They knew how DAMAGING Trump's actions, and the criminal behavior of his followers – WAS! So did members of Trump's family. They begged him to say…
"I AM WRONG! I LOST!
Liz Cheney is looking like a real Hero and Patriot. She may lose her seat because she stood up to Trump and the Cowardly Signers – who are not running for office! Help me expose them! I'm looking to file a Lawsuit that will prevent churches from taking over a political party and turning them it into a Church and Cult. This is a huge complaint amongst sane Republicans who have been driven out.
SEPERATION OF CHURCH AND PARTY
John Presco
Cheney said McCarthy, lawmakers were 'scared' by rioters (msn.com)
The Jan. 6 committee began its eighth hearing by laying out how former President Trump abdicated his duty by declining to take action as his supporters were attacking the Capitol. The hearing featured clips of several witnesses testifying both to the efforts of those around the former president to get him to do something about the riot, and to Trump's insistence that nothing should be done. Chairman of the Joint Chiefs of Staff Gen. Mark Milley was one of those who couldn't believe Trump failed to respond.
"You're the commander in chief, you've got an assault going on on the Capitol of the United States of America, and there's nothing? No call? Nothing? Zero?" Milley told the committee in an interview.
Thursday's hearing is focusing on what Trump was doing during the 187 minutes that elapsed between the conclusion of his speech at the rally that preceded the Capitol attack and when he finally tweeted for his "very special" supporters who broke into the building to "go home." It has been reported that the former president spent most of that time watching the riot unfold on TV while rebuffing efforts to convince him to take action. The committee thoroughly confirmed this reporting on Thursdsay.
Mike Pence's Secret Service Detail Was 'Making Calls to Say Goodbye' as Mob Approached: Official
Virginia Chamlee – Yesterday 6:40 PM
React69 Comments|118As the violent crowd of Donald Trump's supporters grew closer to former Vice President Mike Pence on Jan. 6, 2021, those on his security detail were so worried for their safety that they made goodbye calls to their families.
That detail came via an anonymous security official, who told the committee in an interview aired Thursday that he was listening to radio communications coming from Pence's security detail and overheard the fear in their voices and "yelling" in the background.
"The VP detail thought this was about to get ugly," the security official said, in an interview that was modified to protect the individual's identity. "The members of the VP detail at this time were starting to fear for their own lives."
The official continued: "There were a lot of — there was a lot of yelling, a lot of very personal calls over the radio, so it was disturbing. I don't like talking about it, but there were calls to say goodbye to family members, so on and so forth."
RELATED: Who Are Matthew Pottinger and Sarah Matthews? 2 Former White House Aides Will Testify at Next Jan. 6 Hearing
The testimony from the security official aired Thursday in primetime came on the heels of shocking revelations from fellow former White House aide Cassidy Hutchinson that Donald Trump was aware his supporters were armed in D.C. on Jan. 6, and that he lunged at a member of his own Secret Service detail in the car in an attempt to reach the Capitol that day.
Elsewhere in his testimony, the anonymous security official backed up Hutchinson's testimony that Trump wanted to go to the Capitol himself, saying, "we were all in a state of shock," at the notion. The person added that taking the president to the Capitol would mean the rally would "move from a normal, Democratic .. public event into something else."
Related video: Trump said Mike Pence 'deserves it' over chants calling for him to be hanged, aide says
"The president wanted to lead tens of thousands of people to the Capitol," the security official said, in the pre-recorded audio. "I think that was enough grounds for us to be alarmed."
RELATED: Regretful Capitol Rioter Says Trump's Election Lies Had Him Hooked, Warns Believers to 'Take Blinders Off'
The committee has heard from other witnesses that former president Trump allegedly endorsed chants by his supporters to "hang Mike Pence" that day.
In his March 2021 interview with ABC News' Jonathan Karl, Trump himself said the chants about hanging Pence were "common sense" because "the people were very angry."
"I thought he was well protected, and I heard that he was in good shape," Trump told Karl, who interviewed him for his book Betrayal: The Final Act of the Trump Show.
"Well, the people were very angry," Trump also said. "It's common sense. It's common sense that you're supposed to protect. How can you — if you know a vote is fraudulent, right? How can you pass a fraudulent vote to Congress?"
Never miss a story — sign up for PEOPLE's free daily newsletter to stay up-to-date on the best of what PEOPLE has to offer.
Thursday's hearing was the eighth held so far, though committee Vice Chair Liz Cheney said there are more to come.
"We have far more evidence to share with the American people," Cheney said, adding that further hearings will convene in September, after the committee spends August "pursuing emerging information on multiple fronts."
Rep. Adam Kinzinger says the US has to prosecute 'straight up coup attempts' for democracy to survive
gpanetta@businessinsider.com (Grace Panetta) – Yesterday 3:01 PM
React168 Comments|264
© Scott J. Applewhite/APRep. Adam Kinzinger, R-Ill., speaks as the House select committee investigating the Jan. 6 attack on the U.S. Capitol continues to reveal its findings of a year-long investigation, at the Capitol in Washington, June 23, 2022 Scott J. Applewhite/AP
Rep. Adam Kinzinger says the US must prosecute "straight-up coup attempts."
The Jan. 6 Committee is making the case for prosecuting Trump and his inner circle.
Kinzinger said he "cannot imagine how this democracy survives long-term" without accountability for Jan 6.
Rep. Adam Kinzinger, a member of the House January 6 Committee, said then-President Donald Trump and his aides' roles in the Capitol riot must be prosecuted for American democracy to persevere "long-term" in an interview on The Bulwark's podcast.
Convert PUB To PDF Using C++ – Aspose.PUB C++ Library
"Yes, we don't want to be a country that prosecutes the last administration," Kinzinger told The Bulwark's Charlie Sykes. "But if we let the last administration get away with what the last administration tried to get away with, or frankly, got away with, I cannot imagine how this democracy survives long-term."
"We just have to be able to say, we're not going to prosecute the last administration for political differences, but we have to for straight up coup attempts," Kinzinger added.
The Justice Department and the committee, conducting separate but parallel probes, have clashed publicly and behind the scenes over their respective tactics and the paces of their investigation.
The DOJ publicly griped about the January 6 Committee initially not turning over interview transcripts that could aid its prosecutions. The committee, meanwhile, was incensed at the Department for not prosecuting former Trump aides Mark Meadows and Dan Scavino after referring them for contempt of Congress for defying the panel's subpoena.
1 of 12 Photos in Gallery©Kent Nishimura / Los Angeles Times via Getty Images
Meet 11 key people behind the January 6 congressional investigation that starts revealing its findings today
A primetime hearing Thursday will kick off the House January 6 committee's public hearings.
The 8 p.m. hearing will feature "previously unseen material," the committee said.
Donald Trump has made his desire for counter programming clear to congressional allies.
For the past year, the House committee investigating the January 6, 2021, attack on the Capitol has conducted hundreds of interviews. It has fought in federal court for records, and recommended criminal charges against Trump allies who have defied the panel's subpoenas.
Now, the special Housel panel is going primetime.
At 8 p.m. ET on Thursday, the House January 6 committee is holding the first of several hearings to air its findings from the investigation into the breach of the Capitol by a pro-Trump mob. A second hearing is set for 10 a.m. on Monday, June 13.
Thursday's hearing will provide a first flavor of how the House committee plans to present its work. The House committee has yet to announce a schedule for further hearings, but there are expected to be about a half dozen in June.
Looming large over the hearings is Trump, who has communicated his desire for counter programming to congressional allies. It is unclear what new information the House committee will present, but the committee has reportedly concluded it has enough evidence to make a criminal referral to the Justice Department recommending charges against the former president.
Previewing Thursday's hearing, the committee said it would feature "previously unseen material documenting January 6th," along with witness testimony. The initial witnesses include a documentarian who interviewed members of the Proud Boys — a far-right group whose members were charged Monday with seditious conspiracy — and Caroline Edwards, a respected Capitol Police officer believed to be the first officer injured during the January 6 attack.
The string of hearings will combine to provide the American public with what the House committee described as a summary of its findings about a "coordinated, multi-step effort to overturn the results of the 2020 presidential election and prevent the transfer of power."
Here are the members of the committee to watch as the public hearings unfold.
Read the original article on Business Insider
Kinzinger said that before the Committee began holding its hearings, he was "very frustrated" with the pace of the DOJ's investigation into the Capitol riot and suggested that, in the end, the hearings may have been the catalyst that "lit a fire" under the DOJ investigation.
Related video: Congressman Kinzinger says "way more information" coming in Jan. 6 hearings
Ad – Up Next "Congressman Kinzinger says "way more information" coming in Jan. 6 hearings"Unmute
0
Congressman Kinzinger says "way more information" coming in Jan. 6 hearings
The committee is methodically gathering and presenting evidence that Trump broke at least five federal laws in his actions leading up to the Capitol riot in its hearings, Insider's Camila DeChalus has reported, making the case for prosecutions.
Kinzinger said that the hearings are serving as a criminal referral to the Department of Justice, calling the concept of a formal referral on paper "kind of an invented thing." The committee can issue a formal referral for criminal charges to the Justice Department, which has led to the charging of two Trump advisers. A trial for Steve Bannon, who is charged with defying the committee Kinzinger serves on, is underway.
"DOJ obviously knows what we know and they're investigating it. Whether we send them a piece of paper quote-unquote 'referring' or not really won't have much basis," Kinzinger explained. "That said, we still may do it, just to make the point."
Kinzinger said the Committee will decide on whether to do so "later in the summer or fall," when the panel plans to issue its initial report on its findings.
"I think we're all waiting for this kind of moment where there's some thing, but the truth is, it's kind of awkward to say how you end these things. And it's just the American people knowing the truth is very important," Kinzinger said.
Conservatives Applaud Sen. Rick Scott's Plan To Rescue America
Lt. Gen. William G. Boykin (Ret.)
Executive Vice President
Family Research Council
CONSERVATIVE LEADERS: REMOVE CHENEY AND KINZINGER FROM HOUSE REPUBLICAN CONFERENCE
December 15, 2021
December 15, 2021
The Honorable Kevin McCarthy
Minority Leader and Member (CA-23)
U.S. House of Representatives
2468 Rayburn House Office Building
Washington, DC 20515
Dear Leader McCarthy,
The undersigned conservatives ask that the House Republican Conference act immediately to remove both Rep. Liz Cheney (R-Wyo.) and Rep. Adam Kinzinger (R-Ill.) from the Republican conference due to their egregious actions as part of the House of Representative's January 6th Select Committee.
As you are aware, this committee has no formal representation from Republicans. Both Reps. Cheney and Kinzinger serve at the request of House Speaker Nancy Pelosi (D-Calif.). As part of Pelosi's team, Reps. Cheney and Kinzinger have deliberately sought to undermine the privacy and due process of their fellow Republicans, and those of private citizens, with improperly issued subpoenas and other investigatory tactics designed not to pursue any valid legislative end, but merely to exploit for the sake of political harassment and demagoguery.
The actions of Reps. Cheney and Kinzinger on behalf of House Democrats have given supposedly bipartisan justification to an overtly partisan political persecution that brings disrespect to our country's rule of law, legal harassment to private citizens who have done nothing wrong, and which demeans the standing of the House.
As duly elected representatives, Reps. Cheney and Kinzinger are free to serve in the House, but they should no longer do so with the privileges granted to members of the House Republican Conference. They should no longer be given access to the benefits of a conference they actively seek to undermine.
We ask that the GOP conference meet immediately to vote on stripping Reps. Cheney and Kinzinger from their membership in the GOP conference. We further inform you that conservative leaders are launching a nationwide movement to add citizens' voices to this effort.
---
The Honorable Edwin Meese III
Attorney General
President Ronald Reagan (1985-1988)
The Honorable J. Kenneth Blackwell
Chairman, Conservative Action Project (CAP)
Chairman, Constitutional Congress, Inc.
The Honorable Bob McEwen (R-OH)
U.S. House Committee on Rules
Former Member
The Honorable Matt Schlapp
Chairman
American Conservative Union (ACU)
The Honorable Jim DeMint
Chairman, Conservative Partnership Institute
Member, US Senate (SC 2005-2013)
Ed Corrigan
Vice Chairman, Conservative Action Project
President & CEO, Conservative Partnership Institute
Jenny Beth Martin
Chairman
Tea Party Patriots Citizen Fund
The Honorable Kenneth T. Cuccinelli, II
Chairman
Election Transparency Initiative
David N. Bossie
President
Citizens United
The Honorable Tony Perkins
President
Family Research Council
The Honorable David McIntosh
President
Club for Growth
Scott T. Parkinson
VP for Government Affairs
Club for Growth
Rachel A. Bovard
Senior Director of Policy
Conservative Partnership Institute (CPI)
The Honorable T. Kenneth Cribb, Jr.
Chief Domestic Advisor
President Ronald Reagan (1987-1988)
L. Brent Bozell III
Founder and President
Media Research Center
Alfred S. Regnery
President
Republic Book Publishers
Lisa B. Nelson
Cleta Mitchell, Esq.
David Bozell
President
ForAmerica
Noah Wall
Executive Vice President
FreedomWorks
Chad Connelly
Founder and President
Faith Wins
Terry Schilling
President
American Principles Project
William L. Walton
The Bill Walton Show
Resolute Protector Foundation
The Honorable Brooke Rollins
President and CEO
America First Policy Institute (AFPI)
The Honorable Russ Vought
Director
Office of Management and Budget (2020-2021)
Wesley Denton
Chief Operating Officer
Conservative Partnership Institute (CPI)
Ginni Thomas
President
Liberty Consulting
Lori Roman
President
ACRU Action Fund
The Honorable Gary L. Bauer
President
American Values
The Honorable Briscoe Cain
State Representative
Texas House of Representatives
Elaine Donnelly
President
Center for Military Readiness
Craig Shirley
Reagan Biographer
Presidential Historian
Alan M. Gottlieb
Chairman
Citizens Committee for the Right to Keep and Bear Arms
Gary A. Hofmeister
Businessman
Business Owner
The Honorable George K. Rasley Jr.
Managing Editor
ConservativeHQ.com
Seton Motley
President
Less Government
H. Preston Hawkins
Chairman
The Association for Community Education, Inc.
Richard Manning
President
Americans for Limited Government
Jeremy Cerone
Member
Council for National Policy
Robert K. Fischer
Meeting Coordinator
Conservatives of Faith
William Shaker
CEO
Washington Marketing Group
Paavo Ensio
Chairman
Universal Minerals Group
Richard D Hayes
Partner
Hayes, Berry, White & Vanzant, LLP
Joan Holt Lindsey
President
Lindsey Communications
Allen J. Hebert
Chairman
American-Chinese Fellowship of Houston
The Honorable Mary Vought
Executive Director
Senate Conservatives Fund
Clare Lopez
Founder/President
Lopez Liberty LLC
Sheryl Kaufman
Board of Directors
Americans for Limited Government
Dr. Allen Unruh
Founder
National Abstinence Clearinghouse
Amapola Hansberger
President
Legal Immigrants for America
The Honorable Morton C. Blackwell
President
The Leadership Institute
Lt. Gen. William G. Boykin (Ret.)
Executive Vice President
Family Research Council
Brandon Zehm
Owner
Zehm & Associates
Dr. Richard Rounsavelle
Trustee
MRC
Jenna L. Ellis, Esq.
Chair
Election Integrity Alliance
Wendy Borcherdt
Retired Political Volunteer
Board Member, Hoover Institution
Jessie Jane Duff
Gunnery Sergeant, US Marine Corps (ret)
Ambassador, America First Policy Institute (AFPI)
Ralph A. Rebandt II
Gubernatorial Candidate
Ralph Rebandt for Governor
The Honorable Peter J. Thomas
Chairman
Conservative Caucus
Melvin Adams
President
Noah Webster Educational Foundation
Sandy Rios
Director of Governmental Affairs
American Family Association
Terrence Scanlon
Former Chairman and Commissioner
U.S. Consumer Product Safety Comn.
The Honorable Mike Hill
Former Member
Florida State Representative
Dick Cheney, Ed Meese, others reflect on Office of Vice President at 2016 Law Review Symposium (pepperdine.edu)
Cheney said McCarthy, lawmakers were 'scared' by rioters (msn.com)
Byrnes concludes by noting continuities between the Reagan administration and the second Bush administration. Dick Cheney figures into the background of this story as one of Reagan's few strong supporters on Capitol Hill. Cheney was part of a minority of Republican congressmen who dissented with the congressional inquiry. In a written minority opinion, he and others opined that the Iran-Contra dealings had been legal. Rather than limiting executive powers, the dissenters instead believed that congressional oversight over the executive needed to be lessened. This report continued to play a role in Cheney's thinking, as Byrne writes that "In later years, Cheney, while serving as vice president in the George W. Bush administration, cited the report as a blueprint for his thinking on presidential power" (304).
The play-by-play description of the arms deals and North's dealings with the Contras are livened up by the absurdities of the affair. In one telling, when Robert McFarlane went to Tehran in the hopes of negotiating with the Iranian "moderates" (who themselves had been duped about McFarlane's intentions), he brought a cake in the shape of a key. He hoped that the gift would help "unlock" U.S.-Iranian relations (195). Unsurprisingly, the gesture was lost on the baffled Iranian delegation. In another example, Reagan failed to read important briefings for the Williamsburg economic summit and instead stayed home to watch The Sound of Music. Without these moments, the minutiae presented here can feel overwhelming to a general reader.
One of the implicit questions in this book is why Iran-Contra didn't generate the anger that the Watergate Scandal had. Byrne addresses a number of reasons why the events diverged: "Reagan was much more popular personally than Nixon, the political landscape had changed substantially as a result of declining economic conditions…and Congress had largely shed its reformist posture of the 1970s" (279). Byrne's account would be fuller if the failure of Senate Democrats factored into the narrative more strongly.
Deception is one of the powerful themes of this book. Virtually all of the major actors lie or distort the truth as it suited their needs. The NSC put up with Oliver North's lies and fabrications, Ghorbanifar lied to the Americans and Iranians, and Reagan was at the very least disingenuous about trading arms for hostages. People didn't just lie to each other, for that matter, but they lied to themselves as well. It turns out that hearing only what you want to hear is dangerous in foreign policy.
Byrne's book is all the more instructive if one keeps in mind the foreign policy of the last two presidential administrations. The power of the president to conduct foreign policy without oversight has become the norm in the United States. The imperial presidency was in place long before Reagan, but its current proponents all got their start dealing with Iran-Contra.
January, 2015
Conversation with Dick Cheney and Ed Meese
The morning speakers were followed by a conversation between Kmiec, Cheney, and former Attorney General Edwin Meese, III. The discussion began by highlighting the differing views held about the extent of the vice president's executive power. According to the participants, one interpretation believes that the Constitution invests all executive power in the U.S. President; others say the vice president is also a component of the executive branch. Cheney spoke of his working relationship with former President George W. Bush, and the qualities a vice president should have. "I think there's only one criteria and that's having the qualities necessary to step in at any moment, having the capacity and ability to be President of the United States," Cheney said.
Meese and Cheney also reflected on the recent deaths of former First Lady Nancy Reagan and Supreme Court Associate Justice Antonin Scalia. "Nancy Reagan was a very good wife, devoted to her husband, a tremendous source of strength to him," Meese said. Cheney reflected on his good friendship with the late Justice Scalia. "I think he played a major, major role in the history of American jurisprudence and is sadly going to be missed with his departure," Cheney said.
In closing the discussion, Kmiec said, "Thomas Marshall, who was Vice President for Woodrow Wilson, told the story of two brothers who left a village – one went to sea, and one became Vice President. Neither were ever heard from again. Obviously, this is not the case here. Thank you both."
Afternoon Sessions
The remainder of the program featured several distinguished guest speakers: Dr. Jody Baumgartner, who spoke on "Vice Presidency in the 21st Century"; Shannen Coffin, partner at Steptoe & Johnson in Washington, D.C., and former Counsel to Vice President Cheney, speaking about the legal, political and operational perspectives on the modern vice presidency; and University of Illinois College of Law Dean Vikram Amar on "The Vice Presidency in Five (Sometimes) Easy Pieces."
"I thought the symposium was a really unique blend of analyzing the history of our government and the development of laws that was very relevant to the current political climate," said Rebecca Wicks, a third year law student and Associate Editor of the Law Review. "It was also very exciting to get such prominent speakers at the law school. Dick Cheney provided a unique insight on the vice presidency that very few people are able to have, which made it an incredible opportunity to learn."
"It's not every day you get to see a former vice president speak in such an intimate setting," agreed 3L Sean Olk.