'The Idaho resolution in the deeply conservative state that Donald Trump won with 64 percent of the vote in 2020 is nearly identical to the Texas resolution that was passed last month, stating: "We reject the certified results of the 2020 presidential election; and we hold that acting president Joseph Robinette Biden was not legitimately elected by the people of the United States."
House Republicans plot investigative revenge on January 6 panel as Trump itches for payback – CNNPolitics
The former President has been itching for payback and leaning heavily on his Capitol Hill allies to defend him against a recent slew of damaging revelations about his role in the deadly attack on the US Capitol. Now, as Republicans search for ways to undermine those findings, their party has started to lay the groundwork to investigate the select committee itself.
Idaho Republicans considers resolution to reject 2020 election results | PBS NewsHour
Posted on July 14, 2022 by Royal Rosamond Press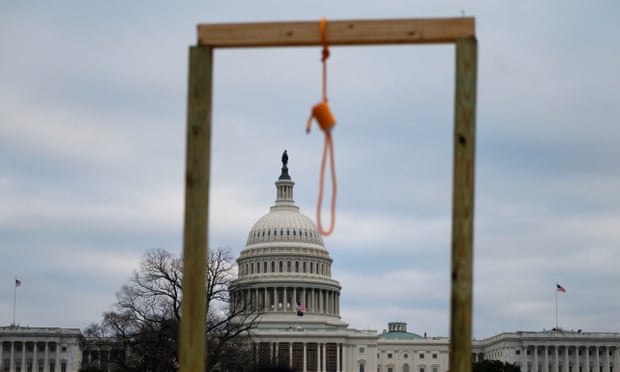 A pro-Trump mob set up a makeshift gallows outside the US Capitol on 6 January 2021 and rioters chanted 'Hang Mike Pence'. Photograph: Andrew Caballero-Reynolds/AFP/Getty Images
Never forget….the Democrats did nothing wrong! They beat Trump! So, how can there be payback? This is a OVERT ASSAULT! Don't turn over our Democracy to Insurectionists. These deluded and insane Republicans are the SOREST LOSERS IN HUMAN HISTORY – and the whole world knows it. Their itchy rage spells the end of American Democracy – and the Republicans ended it. Don't turn over the reigns of power . Call a National Emergency. According to Nance, they are going to start killing people. Best have the Armed Forces on the side of The Sane Ones, those who can face reality. This so called "payback" is the continuing Insurrection. Arrest Jim Jordon – FOR TREASON!
"he will use his position to get payback against Democrats for impeaching Donald Trump twice and setting up a select committee to investigate the Jan 6th insurrection."
If Trump had been impeached and removed from office, there would not have been the death of Capitiol Police and the defilement of our Nation's symbol of Democracy. This call for "payback" is inciting armed maniacs who want to "kill neighbors" according to Malcolme Nance. Consider the call to HANG MIKE PENCE because Trump wanted PAYBACK. See my post and letter to Ron Wyden.
John Presco
Malcolm Nance says Republicans are 'insurgency' looking to kill 'neighbors': 'We may have to fight them' (msn.com)
Never Forget – Democrat Voters Did Nothing Wrong | Rosamond Press
'Payback': House Republicans considering subpoenaing Cheney and Kinzinger after they're out of office
Raw Story – Yesterday 10:38 AM
React2k Comments|2k
By Tom Boggioni
According to a report from CNN, the House Republican leadership is debating how they plan to use the Judiciary Committee's powers should they take control of the chamber after the midterm elections.
With political observers believing the GOP will retake the House in November, that could mean controversial Rep. Jim Jordan (R-OH) could be the next chairman based on seniority, and it is possible he will use his position to get payback against Democrats for impeaching Donald Trump twice and setting up a select committee to investigate the Jan 6th insurrection.
According to the report, one of the topics under discussion is subpoenaing Reps. Adam Kinzinger (R-IL) — who is not running for re-election — and Liz Cheney (R-WY) — who is expected to lose — after they become private citizens.
Related video: Former GOP congressman says Liz Cheney will be voted out of office. Here's why
The report states, "Republicans have already asked the January 6 panel to preserve a broad range of documents in its possession – a signal they're preparing to force those records to be turned over should they wield powerful committee gavels next year," before mentioning the two GOP lawmakers currently sitting on the Jan 6th committee.
CNN reports that current House Minority Leader Kevin McCarthy (R-CA) is "cool to the idea, according to a Republican source familiar with his thinking."
For his part, Rep. Chip Roy (R-TX) would like Republicans to investigate Donald Trump's claims that the election was stolen from him, with Roy telling CNN, "I think that it is important to seek the truth – wherever it may lead – on all of this. We should be looking at whatever we can through the standing committees and have a robust debate about it."
The CNN report adds, "The GOP's growing desire to craft a counternarrative on January 6 – and shift the blame away from Trump – comes as the former President is gearing up to soon announce another White House bid. Pursuing that effort could also be politically advantageous for McCarthy, whose expected bid for speaker would be made easier with support from Trump. The former President has sometimes criticized the California Republican over how he has handled the GOP's defense of Trump during the select committee's investigation."
You can read more here.
Dear Senator and Congressman;
I bring to your attention a letter I found four days ago addressed to Kevin McCarthy asking him to take punitive action against Cheney and Kinzinger. Consider who signed this letter, I consider this a threat, and witness tampering. Ginni Thomas, and Ed Meese – who had Mario Savio arrested – stand out! There is a video of Meese and the Thomas' at the Heritage Foundation where Clarence spoke. I looked at several signees and was shocked. Most head think tanks. Elaine Donnally appears to be in charge of the other military, and Chad Connelly claims he has brought Jesus to Republicans, even Trump. I asked Jessie Jane Duff to remove the meme at the top of her Facebook that shows the cropped head of Trump on the body of Mel Gibson who starred in the movie 'The Patriot'. My great grandfather fought alongside Francis Marion, and are True Patriots. This fictional Trump, who never served, is carrying an American flag with a spear point. Such flags were used as weapons against the Capitol police. As you are aware, many Americans were drafted for the Vietnam War, a disproportionate number being black.
Meese published a paper that says demonstrators who are violent, and loot, should be prosecuted. Meese was an attorney general, and knows to declare the Insurrectionist innocent – is wrong! Have you recovered the painting that was stolen and the bust of Lincoln that was removed?
"legal harassment to private citizens who have done nothing wrong"
It is the Democrats who did "nothing wrong". They won the White House. Can you say this at the beginning of each meeting. It is this line that truly alarms me, and I suspect it is aimed at all those who wish to come forth and testify.
"We further inform you that conservative leaders are launching a nationwide movement to add citizens' voices to this effort."
After attempting to destroy the credibility of the Jan. 6th Committee and two of its members, the Gang of Twenty say they are going to hold a kangaroo court, and public tribunal – knowing dangerous militias took part in the storming of our Capitol. How many Democrats will be tapped to serve the Republican Witch Hunt led by the ex-President of the United States who called a protentional witness – who may have read this letter dated December 15, 2021
John Presco
President: Royal Rosamond Press