BREAKING! Five hours after I posted this, I read this news! I am spot on! This letter – hits the spot! It's a HIT LETTER! Ginni Thomas and her think tanks need to testify. Looks like conspiracy to me! The Christian-right – IS STILL ATTACKING OUR DEMOCRACY! This is a Holy War!
John
According to a report from CNN, the House Republican leadership is debating how they plan to use the Judiciary Committee's powers should they take control of the chamber after the midterm elections.
With political observers believing the GOP will retake the House in November, that could mean controversial Rep. Jim Jordan (R-OH) could be the next chairman based on seniority, and it is possible he will use his position to get payback against Democrats for impeaching Donald Trump twice and setting up a select committee to investigate the Jan 6th insurrection.
According to the report, one of the topics under discussion is subpoenaing Reps. Adam Kinzinger (R-IL) — who is not running for re-election — and Liz Cheney (R-WY) — who is expected to lose — after they become private citizens.
'Payback': House Republicans considering subpoenaing Cheney and Kinzinger after they're out of office (msn.com)
How White Evangelical Christians Fused With Trump Extremism
A potent mix of grievance and religious fervor has turbocharged the support among Trump loyalists, many of whom describe themselves as participants in a kind of holy war.
Supporters of President Trump stormed the United States Capitol building.Credit…Evelyn Hockstein for The Washington Post, via Getty Image
How White Evangelical Christians Fused With Trump Extremism – The New York Times (nytimes.com)
My ancestor was a good friend of a Pope, and he was a friend of the Great Erasmus – whom he defended! Pope Adrien's papal papers were probably thrown out in the trash by the Medici, along with Gottschalk's papers?
I am seeking a great attorney in order to bring a lawsuit against the signatories of the letter written by conservative members of think tanks – that had to know about the Proud Boys – a year before the coup. Ginni Thomas and Ed Meese had to know about the threat to start a civil – if Trump was not elected.
I will expose the plot to turn the Republican Party into a Theocracy, then destroy the Democrats. Being perceived as being RIGHT WITH JESUS has reached epidemic proportions – as planned! Biblical Scholars have covertly established a New Inquisition. Clarence Thomas is very proud. To make only half of American Women GUILTY of wanting the right to have a abortion – is to reestablish Religious Guilt as a means to rule the masses. And, any Ol Guilt will do.
Below are the elaborate letters written and received by one of my alleged great grandfathers, the Master of Theology at Louvain, who was well qualified to handle these matters, while Thomas owns very little Biblical knowledge? How about Ginni? How about the Proud Boys? Why do these signers insist they and the other militias did NO WRONG?
Thousands of Republican Men of God had their flocks PRAY FOR TRUMP TO WIN – AND THE DEMOCRATS – TO LOSE! This would prove – whose side God and Jesus – is on! This Battle between Good and Evil was the main topic – for how many Sundays? WHEN JESUS LOST – they flipped out – and have no stopped FLIPPING OUT, because, these evil men might have destroyed Christianity – if the truth be known. They had no PLAN B. They put it all on RED – AND LOST!
Never forget…the Democrats did noting wrong. Unless you are saying winning the White House, was wrong…..IN THE EYES OF THE LORD?
BINGO!
STOP THE PRESSES! Look what I found while investigating another Signer. WOW! Some of the same Signers support the confirmation of Russ Vought – yet they go after Cheney and Kinsinger who speak for THE PEOPLE…..who want to hear the SECULAR TRUTH!
John Presco
Conservative Leaders: Remove Cheney and Kinzinger from House Republican Conference
The Honorable Mary Vought
Executive Director
Senate Conservatives Fund
Robert K. Fischer
Meeting Coordinator
Conservatives of Faith
After Joe Biden was elected president, Biden and his transition team accused Vought of hindering the incoming administration's transition by refusing to allow incoming Biden officials to meet with OMB staff. Vought denied the accusations.[1][2]
In 2021, Vought founded the organization the Center for Renewing America, which is focused on combating critical race theory.[3]
Vought worked for Heritage Action, the lobbying arm of the Heritage Foundation.[4][5] He was the executive director and budget director of the Republican Study Committee, the policy director for the Republican Conference of the United States House of Representatives, and a legislative assistant for U.S. Senator Phil Gramm.[6][7]
Ginni Thomas' Republican Connections Raise Ethics Concerns for SCOTUS – American Oversight
As detailed in a recent update, emails between Ginni Thomas and DeSantis, obtained by American Oversight and reported on by Politico, suggest that Justice Thomas may have been in regular contact with the Republican governor. On June 10, 2021, Ginni Thomas reached out to DeSantis' scheduling office to invite him to speak to a "coalition" of "conservative patriots." Thomas explained that the governor would know her because her "husband has been in contact with him … on various things of late."
Sen. Bernie Sanders (I-Vt.) claimed that Vought was not qualified for a position within the government because of his Christian faith. With his comments, Sanders overtly violated Article IV of the Constitution, which prohibits religion as a threshold test for public service. In making these comments, Sanders crossed into territory that is dismaying in its intolerance and shocking in its intention. The only answer to such an outright and unconstitutional expression of bigotry is swift confirmation of Vought's nomination by the Senate. Yet, by blocking this nomination, Sen. Cornyn is complicit in support of Sen. Sanders' position by holding Vought's nomination hostage.
Supporters of far-right group the Proud Boys appear to be buoyed by President Donald Trump telling them to "stand back and stand by" during the presidential debate, embracing it as a new slogan and considering the remarks permission to cause further violence.
During Trump's heated debate with rival Joe Biden, moderator Chris Wallace asked the president if he is willing to condemn the violence committed by white supremacists and right-wing and militia groups in cities such as Kenosha and Portland.
In remarks similar to his "very fine people, on both sides" comments in the wake of the deadly neo-Nazi rally in Charlottesville, Virginia, in 2017, Trump failed to condemn the Proud Boys group when asked and highlighted the violence committed by left-wing protesters.
Proud Boys Supporter Warns of 'Civil War' if Donald Trump Loses Election (newsweek.com)
Proud Boys Members Appear in Official Trump Campaign Video (newsweek.com)
Proud Boys Members Appear in Official Trump Campaign Video (newsweek.com)
Exclusive: Fulton County DA sends 'target' letters to Trump allies in Georgia investigation (msn.com)
ATLANTA — In the latest sign that she is moving rapidly in her investigation into Donald Trump's efforts to overturn the 2020 election, Fulton County District Attorney Fani Willis has sent so-called "target" letters to prominent Georgia Republicans informing them they could be indicted for their role in a scheme to appoint alternate electors pledged to the former president despite Joe Biden's victory in the state, according to legal sources familiar with the matter.
Sealed Letters From the Rose Fox | Rosamond Press
. . 1153/ To Godschalk
Rosemondt Louvain 18 October
1520
Gottschalk Rosemondt of Eindhoven in Northern Brabant, matriculated
at the University of Louvain on 1499 and remained there until his
death in 1526. A doctor of divinity in 1516, he succeeded in 1520 to
the chair o f theology formerly held by Jan Briart. Like Briart he
was a personal friend of the future Pope Adrian V1. His prominent
position in the theological faculty notwithstanding , he retained an
open mind towards humanists studies and a measure of sympathy for
Erasmus. This letter is addressed to him in his capacity as rector
of the university for the winter term of 1520-21 (cf Matricule de
Louvain 111-1963) It was published in the Epistolae ad diverse.
In preparation for a confrontations with the theologian Nicolass
Baechem Egmondanus, to be held in the presence of the rector,
Erasmus launches an elaborate protest against his opponent, who had
attacked him from the pulpit of St, Peter's church on 9 and 14
October, cf Ep 1162s
1162/ To Thomas
More Louvain
November? 1520
This letter give a spirited account between Erasmus and Nicolas
Baechem Egmondanus before the rector of the of the university of
Louvain, Godschlak Rosemondt. Printed in the Epistle ad diverse, it
was no doubt composed with a wider public in mind; Thomas More, to
whom it is addressed, need not have been told at length an episode
of which he was himself a protagonist. Erasmus also described the
confrontation with Baecahmen in Ep 1173:29-109
ERASMUS OF ROTTERDAM TO THE RIGHT HONOURABLE THOMAS MORE GRETTING
The story that has reached you about my little dispute with Nicolaus
Egdmondanus in the pressed of the rector of this university is not
wholly true, and yet not quite devoid of truth; such is the way of
rumor, which likes to enhance the facts and tell the story with a
difference. Nor are he and I so much at variance that I would
willingly see him the victim of false reports. So here is the true
story, since I see that in your part of the world you are so idle
you can find time to follow the silly things we do here.
I had written to the rector of the university to protest against the
attacks made on me by Egmondamus in the pulpit and he wrote back
that if I was prepared to listen in person while he did his tale
unfold, we might perhaps come to some agreement. I replied that I
had no objection, though well aware that no lasting good would come
of it. So we met, and the rector took the chair, with me on the
right and Egmondamus on the left. This arrangement was not without
point. He knew Egmondamu's temperament, and of me he had quite the
wrong idea: he thought I was capable of losing my temper. So he sat
between us, to keep the combatants apart. There upon the rector
opened the subject in a few words, and then, with a countenance of
wonderful and comical gravity Egmondanus began: `I have spoken ill
of no man in my sermon. If Erasmus thinks he has suffered an injury,
let him declare it, and I will answer him.'I asked him whether there
could be a more atrocious injury that to traduce an innocent man in
a public sermon with a string of lies. That roused him at once;
dropping the mask he assumed, and almost purple in the face (his
face was red already, for it was after dinner), `And why, pray, says
he. `do you traduce me in your religious books, `I replied, `your
name is never mentioned.' Nor has your,' he retorted, `ever been
uttered in my sermons.' I denied that my books were religious books,
for in them I set down my down my own imaginings and write whatever
come into my head – a thing, I added, which is not allowed in the
pulpit. `Beside which', I said' `I have written for less about you
then the facts warrant. You have told lies about me in public,
calling me a supporter of Luther, whom I have never supported in the
sense that the public reads into your words and you mean yourself.'
By this time he was not merely exited, he was like a madman. `No,
no', he shouted, `you are behind the whole lot. You are the slippery
customer, the double-dealer; you can twist everything somehow by the
tail.' And he spewed up, rather than uttered, much more of the same
kind, which glittering bile at the moment put into his head.
I felt my own hackles rising, and already let out a word which was
the forerunner of rather intemperate language, not exactly `Thou
fool' but something of the sort that would smell worse then it
sounds. But I controlled myself instantly, thinking it better to
respect my won health ( for I was poorly) and that of the rector,
who was also in the doctor's hands, beside which it seemed foolish
and undignified to answer a madman in his own language.. So I turned
to the rector with a smile and said,' I could bring evidence of his
outrageous calumnies, and I could return his abuse. He calls me
slippery; I could call him in my turn a fox..
1164/ To Godschalk Rosemondt
This undated letter follows Ep 1153 and Erasmus's visit to Cologne.
It also report an event that took place on 25 November. It was
published in the Epistle ad diversoss.
ERASMUS TO THE DISTIGUISHED THEOLOGIN GODSCHALK ROSEMOND, MODERATOR
OF THE FAMOUS UNIVERSITY OF LOUVAIN, GRETTING
I have no desire to interrupt you so often with a letter, and yet it
is better for us both. We had enjoyed silence for a time from the
Frisian Domnican who put a gloss long ago on my Moria and since on
my Antibarbari, pouring every sort of rant and calummy on my name
and reputation. And he supposes he is doing right, for this reason
if no other, that I have touched on monks in what I write, although
I always refrain from the outrageous tales told of them too often –
and let us hope, without foundation – by common report, and repeated
of late at the crowded dinner table of the cardinal of Sion, and
have always avoided names of men and even of orders.
http://www.piney.com/ErasmusMonks.html
http://watch.pair.com/erasmus.html
http://www.san.beck.org/GPJ12-Erasmus,Anabaptists.html
http://www.humanists.net/pdhutcheon/Poems/What%20Price%20Utopia.htm
Adrian was a good friend of my ancestor, Goteschalk Roesmont, the
Master of Louvain University where Adrian taught. Roesmont
corresponded with Erasmus who was a Reformer in his own right. There
is a Protestant Prophecy aroung the Prince of the Scarlet Thread, and
the Red Hand Branch of Ulster. I hereby declare Santa Rosa Island the
New Rhodes in the West. Atop its highest peak the Rose of the World
now stands as a beacon for those who have a true love of Liberty and
Religious Freedom. She is a new beacon, the needle and thread of a
broader vision that will in time unite all the religions of the
world. She will be guarded by the New Dactyles. The Knights of
Rosamond will consist of a hundred and fifty women, and a hundred and
fifty men. No more, no less. As one we will light a Torch that will
Enlighten the World.
Nicholas Baechem
Jump to navigationJump to search
Nicolaas Baechem or Nicolaus Egmondanus (Egmond, ca. 1470 – Leuven, 24 August 1526) was a Carmelite priest, theologian at the University of Leuven and inquisitor in the Spanish Netherlands. From his conservatism he fought the Reformation and polemicized to his grave with Desiderius Erasmus.
Contents
Baechem from Egmond went to study in Leuven in 1487 and joined the Pedagogy De Valk. As primus of his year he obtained the degree of magister artium in 1491. While completing a philosophy teaching assignment, he continued to study theology under the future Pope Adriaan Boeyens. He became a doctor in that discipline in December 1505 and in March 1507 entered the mendicant order of the Carmelites in Mechelen. He returned to Leuven in 1510 to take charge of the Carmelite study house attached to the university as regent. He preached regularly in st. James' church. After teaching theology there for seven years, he moved to the Carmelite monastery of Brussels in 1517, where he was prior and regent. The following year he returned to Leuven, where he would lead the study house until his death. In 1520-1521 he was present at book burnings in Leuven and Antwerp. As an inquisitor, he was involved in faith research from 1521 to 1524. He died on 23 or 24 August 1526 and was buried in the chapter house of the Mechelen monastery, in a beautiful tomb that was destroyed in the English Fury of 1580.
On December 6, 1521, Baechem was appointed episcopal inquisitor by Robert de Croÿ. [1] He showed himself to be an opponent of humanistic theology that tried to take root in Leuven under the influence of Erasmus. In aggressive sermons he turned against lutheran and erasmian ideas, which he always mentioned in the same breath and labeled as heresy. As a result, Erasmus was forced to leave Leuven and move to the free city of Basel. [2]
His first assignment was the investigation of the reformist Augustinian priest Jacob Proost, who recanted his error. Baechem was also present at the fire death of the Augustinian brothers Hendrik Voes and Jan van Essen in 1523. In July 1524 he would have been relieved of his office, perhaps because he was too close to the discredited Frans van der Hulst.
In 1516 Erasmus' Novum Instrumentum omne was published, a critical, annotated edition of the New Testament with Greek source text and Latin translation. Baechem held on to the Vulgate and attacked this humanistic milestone. When the author settled in Leuven and wanted to enter into the debate about it, he said he heard from Baechem that he had not read the work. In the second, improved edition of 1519, the Carmelite was again very negative. Finally, in 1522, Erasmus defended himself in writing with his Apologia de loco 'omnes quidem'.
That same year his Familiarium colloquiorum formulae was published, in which Baechem promptly denounced Lutheran positions on confession, indulgences and fasting. In this Colloquia Erasmus had attacked him directly, not shying away from sarcasm. He even compared the Carmelite to a camel (playing Carmelita-Camelita). On his own initiative, Baechem embarked on a censorship of Erasmus' New Testament, Colloquia and Praise of Folly. Eventually, the humanist obtained from Pope Adrian VI a diploma that compelled Baechem to remain silent about him. His dislike of the father was so great that on the occasion of Baechem's death he wrote a biting epitaph (anonymously, but attributed to Erasmus by Molanus): "Here lies the Egmonder, an unused burden of the earth. He loved the frenzy, may he have no rest." [3] The Carmelites responded with an epitaph to the Mechelen tomb that wondered why the dead should suffer from sarcasm and replied that Erasmus had made that style a habit. [4]
Baechem left several manuscripts, none of which survived the Eighty Years' War:
Oratio latina ad PP. Carmelitas in capitulo provinciali anno 1515 congregatos
Prælectiones academicæ
Sermones de tempore et de sanctis, Bruxellis, Mechliniæ et Lovanii habiti
Censuræ in Novum Testamentum Desiderii Erasmi, in ejusdem Colloquia et Moriam
Commentarius in Evangelium Matthæi (Commentary on the Gospel of Matthew))
Commentarius in epistolas Paulinas (commentary on Paul's Letters to the Romans and to the Corinthians)
Commentarius in septem epistolas catholicas
Proud Boys Supporter Warns of 'Civil War' if Donald Trump Loses Election
BY EWAN PALMER ON 10/12/20 AT 3:41 AM EDT
SHARE
Share on FacebookShare on TwitterShare on LinkedInShare on RedditShare on FlipboardShare via EmailComments
U.S.PROUD BOYSDONALD TRUMP2020 ELECTIONQANON
https://trinitymedia.ai/player/trinity-player.php?pageURL=https%3A%2F%2Fwww.newsweek.com%2Fproud-boys-trump-civil-war-qanon-1538208&unitId=2601060880&userId=32f50bde-0d7d-4297-bcee-b59173e8807a&isLegacyBrowser=false&version=20220715_7d281dbf51c44ce92232efb031450aeb04617914&useCFCDN=0&abTestAlias=Pauses+AB+test+v2&themeId=140
Avideo has emerged of a Proud Boys supporter warning that there will be a "civil war" if Donald Trump does not get re-elected in November and advises people to stock up on guns.
The clip featuring the self-proclaimed supporter of the far-right group was posted online by actor and blogger Walter Masterson and took place during a Trump rally in Staten Island, New York.
The Proud Boys supporter, who is not identified, describes how the group are "not brawlers" despite being known for their violent rallies and altercations with left-wing groups and movements such as antifa.
"But we're there. We're like the Marines, we're the first to come in," he adds.
When asked by Masterson how the Proud Boys reacted to Trump's "stand back and stand by" comments he made during the televised presidential debate, the man said the group took that to mean the president is telling them to "wait for my orders."
"And that's exactly what we're waiting for," the supporter adds.
The clip then shows Masterson suggesting that Proud Boys are "not violent" before jumping to the supporter giving a warning as to what will happen if he does not win the election.
NEWSWEEK SUBSCRIPTION OFFERS >
"If Trump doesn't get re-elected, there's going to be a riot. If he doesn't get elected, this is when you're going to see a civil war," he adds.
"My recommendations to anyone stock up on ammo, get your guns." The interview is then cut off and the video ends.
https://www.facebook.com/v2.6/plugins/video.php?app_id=&channel=https%3A%2F%2Fstaticxx.facebook.com%2Fx%2Fconnect%2Fxd_arbiter%2F%3Fversion%3D46%23cb%3Df1f5dd9edb1a3c8%26domain%3Dwww.newsweek.com%26is_canvas%3Dfalse%26origin%3Dhttps%253A%252F%252Fwww.newsweek.com%252Ff23095555a57a2c%26relation%3Dparent.parent&container_width=689&href=https%3A%2F%2Fwww.facebook.com%2Fwaltermasterson%2Fvideos%2F2787653801480106%2F&locale=en_US&sdk=joey&show_text=false
Masterson said on Twitter days after he first posted the clip online that he intends to post the full interview online soon.
"Just a reminder that this is exactly how Proud Boys interpreted Trump's call to arms," Masterson tweeted.
In a statement on Instagram, Masterson added: "He was very open, he knew he was on camera and signed a release form as well. He had asked us to turn the cameras off during other parts of the convo and we obliged."
READ MORE
Elsewhere, the Proud Boys supporter also said how some members also follow QAnon, the conspiracy theory which believes Trump is waging a secret war against the "deep state" and high-profile Satan-worshipping pedophiles.
After once again being accused of failing to denounce white supremacy with his "stand by" remarks at the debate, Trump eventually condemned the group listed as an "extremist group with ties to white nationalism" by the FBI.
"I've said it many times," Trump told Fox News' Sean Hannity. "Let me be clear again: I condemn the KKK. I condemn all white supremacists. I condemn the Proud Boys. I don't know much about the Proud Boys, almost nothing, but I condemn that."
The White House has been contacted for comment.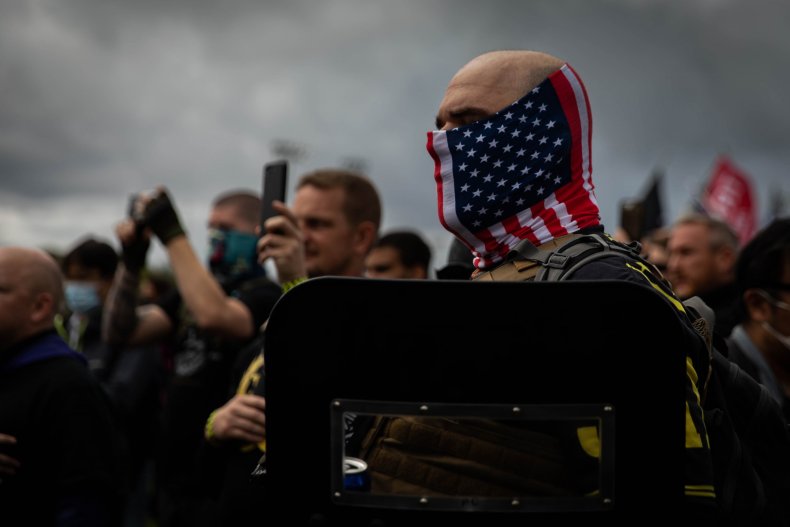 Posted on April 20, 2018 by Royal Rosamond Press
My ancestor a good friend of a Pope, and he was a friend of the Great Erasmus – whom he defended! Pope Adrien's papal papers were probably thrown out in the trash by the Medici, along with Gottschalk's papers? They were at the cusp of the Reformation and, and the center of Dutch Renaissance. Note the wallpaper behind Erasmus, that is like the work of Kehinde Wily, that took me to the very feet of Erasmus and his Habsburg backer – unknowingly!
Members of the Rosemont family were interred in the Minderbroedersklooster that was founded by the Franciscan Monks. Above are my Wieneke kindred who were members of the Order of Saint Francis. This is the real Rose Line. I was destined for the Church.
I am convinced Lara Roozemont and her family are kin to me and Elizabeth Rosemond Taylor.
Posted on September 5, 2014by Royal Rosamond Press
Ghisburtus van Roesmont was a Dutch nobleman of some importance. His mother was jonkvrouw Adriana Theodorici Rover, the daughter of Dirk Edmondszn Roover. The Roover family appears to descend from one of the Radbot rulers of Holland who was given the name Roover, or Rover due to conquest of the Netherlands. Arnoldus Rosemont also descends to Radbot, who was employed by the Franks to fight the Normans, the Vikings, who were called Rovers. The elder Radbot was allied with the Franks to fight the Viking, many who carried a banner with the image of a wolf. Was their marriage with a Merovingian princess, and thus a marriage union to carry on this line?
The Rosemonts are mentioned in the genealogical book, Taxandria, an extinct province that was replaced by 's-Hertogenbosch that had no rulers, or Papal interference, which is rare. The Swan Brethren appear to have owned Saint John's Church, and ran its affairs as a guild.
Ghisburtus Rosemont was the church warden of Saint John, and later sat in the ships chair. The chances her knew the Renaissance Artist, Hieronymus Bosch, and his father, is very high for his job to was to hire artists and craftsman.
"Only in 1454th – in 1455 were Van Aken and his wife a member of the Brotherhood of Our Lady . In 1461 – 1462 kreeg he was commissioned damaged (by fire) altarpiece of the Brotherhood in the former St. John's Church in collaboration with the master painter Claes Schoonhoven.
This is a remarkable discover. It puts my kindred at the heart of the Dutch Renaissance, for starters.
Here is a translation of a event, a miracle. There is a box. What is the object. What is "Cloth Hall"?
"On March 16, 1384, Ghijsbrecht Rosemont, witnessed a miracle with Jacob Mertensz. [No. 322 Miracles of Our Lady at 's-Hertogenbosch 1381-1603].
Henrick Painter, ships from Den Bosch in 1383 shared in 1397 with Chris Ruffle Mont Tijn a box in the Cloth Hall, which had been the case. Late Godscalck Roes Mont. In 1430 Godschalk Roes Mouth, buy the high sheriff of Den Bosch and Meierij castle Maurick. In 1442 he sold it back to Henry of Vladeracken.
The emblem worn by the Swan Brethren depicts a a rose, or lily,
amongst thorns. At the root of the rose is the Latin word SICUT which
is the first word from a line from Song of Songs.
2:2. As the lily among thorns, so is my love among the daughters.
Sicut lilium inter spinas sic amica mea inter filias
http://bossche-encyclopedie.nl/personen/roesmont,%20ghiselbertus.htm
ers, who were then still underage, will have been legal children of Ghijsbrecht and Lady Margriet. Master Godschalc was born in Eindhoven around 1483, studied artes in Leuven in 1499 and was promoted there in 1502 as the third of 99 students to magister artium . In 1510 he was nominated by the OLV fraternity for a benefice in the Bossche St.Jan and since 1515 he was also canon of the St.Petrus church in Leuven. He also always resided in Leuven where he was a professor in theology from 1515 and wrote a number of popular tracts.
On September 18, 1467, Ghijsbrecht Roesmont, counselor of Den Bosch and widower of Mabelia , added a codicil to this will in the presence of Rembout Vilt (no.403). Ghijsbrecht, who previously lived in the Orthenstraat (1422), then stayed – exhausted by his old age – in his house at the Zijle. As witnesses, the codicil includes the secretary Rutgher van Arkel (no.14), Ghijsbrechts servant and clerk Sander Pyeck van Batenburg (no.313) and his servant Lysbeth Goyart Goebelens from Eindhoven. In addition to the latter two, Ghijsbrecht also left goods to the St. Lambert church in Liege, the Bossche St. Jan, the St. Peter's church in Vught, the parish church of Uden and the Bossche OZ brotherhood, as well as Katherijn, widow of the goldsmith. Arnt vander Weyden, to Goetscalc and Jan, sons of his late cousin Jan Goetscalcs Roesmont, and to "the other heirs". Ghijsbrecht is mentioned in the obitus fratrum of the OLV fraternity under the year 1469/70, together with Rutgher van Arkel, secretary, and master Gerit Boest, counselor and secretary (see no.57). Ghijsbrecht probably died in the beginning of 1470. He was provided with the last sacraments by Brother Alart Alartss, Minderbroeder, and will be buried in the Minderbroedersklooster, just like some other members of his family. As far as he knows, he did not leave children behind. Still, he must have had a son Goyart because on September 12, 1422, Ghijsbrecht drew up a concept in the Bosch 'protocol in which Henric Heyme promised to pay 50 Arnoldus guilders to " michi ad opus Godefridi, filii May ".9)
Minderbroedersklooster ('s-Hertogenbosch)
The Minderbroedersklooster in 's-Hertogenbosch was the first monastery founded by the Franciscans in the present Netherlands . The monastery stood on the corner of the current Pensmarkt and Minderbroedersstraat and continued until the current Snellestraat . The Franciscans settled in 's-Hertogenbosch in 1228 . This is only two years after the death of the founder of order Francis of Assisi . On a site that Henry I of Brabant had given to the Franciscans, they would establish a monastery and a church . In 1256 the church is demolished to build a new, larger monastery church. In 1263 this church is dedicated by Henricus van Vianden , the Bishop of Utrecht .
Jon Presco
Posted on September 15, 2017by Royal Rosamond Press
Erasmus wrote letters to Rosemondt. One letter has the Rosemondt wolf seal on it. This is about the Spanish Inquisition. and of great interest to the history of Haarlem. This is one of the greatest genealogical studies of all time.
Jon Presco
Copyright 2017
1153/ To Godschalk Rosemondt Louvain 18 October 1520
Gottschalk Rosemondt of Eindhoven in Northern Brabant, matriculated
at the University of Louvain on 1499 and remained there until his
death in 1526. A doctor of divinity in 1516, he succeeded in 1520 to
the chair o f theology formerly held by Jan Briart. Like Briart he
was a personal friend of the future Pope Adrian V1. His prominent
position in the theological faculty notwithstanding , he retained an
open mind towards humanists studies and a measure of sympathy for
Erasmus. This letter is addressed to him in his capacity as rector
of the university for the winter term of 1520-21 (cf Matricule de
Louvain 111-1963) It was published in the Epistolae ad diverse. In
preparation for a confrontations with the theologian Nicolass
Baechem Egmondanus, to be held in the presence of the rector,
Erasmus launches an elaborate protest against his opponent, who had
attacked him from the pulpit of St, Peter's church on 9 and 14
October,