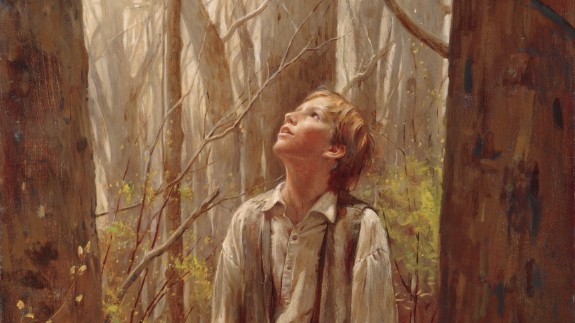 "On a spring day in 1820 14-year-old Joseph Smith sought solitude in a grove of trees and prayed to know which church was true. God the Father and Jesus Christ, "two Personages, whose brightness and glory defy all description,"1 appeared and spoke with him."
One of the Mormon Sisters who visited my home texted me asked what I thought of the opening vision in the Book of Mormon. I believe my answer is going to be – A BOOK!
My late friend is kin to Francis Cavenagh who had a vision. My Benton kin saved the Masonic Library – that may have contained Family Trees.
John Presco
Corbin Castle & Plymouth Brethren | Rosamond Press
"Soon after Francis Cavenagh and I were left alone for the night, a
mist seemed to come round me like the mist of hell, and one was sent
to me. I thought I had known him before, he was clothed in white. He
denied the truth of Scripture. I took the Word in my hand, and bolted
one passage after another at him, but still he held his ground. "The
moral glories of Scripture a lie!" I said; "they are as true as
heaven and earth." The temptation still continued; and I felt weak.
But I cried to the Lord for help; and gradually I rose out of the
mist into a calm atmosphere; and I was with my Evangelists again. But
it was dreadful while it lasted, That is a plain, unvarnished tale.'
The Corbin God Gene and Evangelical Zionists | Rosamond Press
"I saw a pillar of light exactly over my head, above the brightness of the sun, which descended gradually until it fell upon me.
"… When the light rested upon me I saw two Personages, whose brightness and glory defy all description, standing above me in the air. One of them spake unto me, calling me by name and said, pointing to the other—This is My Beloved Son. Hear Him!" (Joseph Smith—History 1:16–17).
First Vision (churchofjesuschrist.org)
The First Vision (churchofjesuschrist.org)
The First Vision (churchofjesuschrist.org)
Moroni's Visitation to Joseph Smith (mormonthink.com)
Posted on December 9, 2013 by Royal Rosamond Press
"It was in Dublin that, as a layman, he first became acquainted with John Nelson Darby, then a minister in the established Church of Ireland, and in 1829 the pair began meeting with others such as Edward Cronin and Francis Hutchinson for communion and prayer."
Mormons believe in some seriously crazy shit, but, when millions of like-minded folks believe this crap – along with you – then YOU are normal. This is the glaring flaw in most religions. The New Testament is about giving validity to ONE guy who has a new teaching, and is accused of sorcery. Then comes the number TWO guy, Paul, who Jesus' family and disciples believe is nuts, and is spreading a false teaching – ALL BY HIMSELF!
In the pics above we see the resurrected Jesus in Central America amongst the Nephites who cam from Jerusalem. It is implied they built the pyramids the Incans and Aztecs built. Note that they are taller then Jesus, a fellow Jew. They look like Red Blooded Americans to me, big o farm boys from Iowa and Utah!
Jon Presco
"The Nephites (/ˈniː.faɪt/[1]) are one of four groups (including the Lamanites, Jaredites, and Mulekites) believed to have settled in the ancient Americas according to the religious traditions of Latter-day Saint movement. The term is used throughout the Book of Mormon, a religious text, to describe the religious, political, and cultural traditions of this alleged group of settlers.
The Nephites are described as a group of people that descended from or were associated with Nephi, the son of the prophet Lehi who left Jerusalem at the urging of God c. 600 BC and traveled with his family to the Western Hemisphere, arriving in the present-day Americas c. 589 BC. The Book of Mormon notes them as an initially righteous people who eventually "had fallen into a state of unbelief and awful wickedness"[2] and were destroyed by the Lamanites c. AD 385.[3]
Some LDS scholars claim that the forebears of the Nephites settled somewhere in present-day Central America after departing Jerusalem.[4] However, both the Smithsonian Institution[5] and the National Geographic Society have issued statements that they have seen no evidence to support these claims in the Book of Mormon and no secular archeologist or historian has supported their existence.
http://mormon.org/faq/christ-in-america
According to the findings of scholars, he came to America long before the time of Columbus.
He taught the ancients his true religion, raised some of their dead, healed many of their sick, taught new and more productive methods of agriculture, and established a government of equality and peace.
He came suddenly and left suddenly in a supernatural manner.
The ancients regarded him as the Creator, come to earth in bodily form.
Tradition
Many now readily admit that his teachings were akin to those of the Bible.
And that he promised to return in a second coming is an acknowledged fact, well attested by historical accounts.
The tradition of a White God in ancient America was preserved through generations of Indians from Chile to Alaska, and has been significantly persistent likewise among the Polynesians from Hawaii to New Zealand.
In their main details all such traditions agree. They differ in name and minor details from island to island and from country to country, but the overall outline remains the same—there was a Great White God. He came among their forefathers, ministered for a while, and then left again. Some say he ascended to heaven.
http://www.lds-mormon.com/christ_i.shtml
This database is based on the Universal Masonic Record and Directory published by Leon Hyneman in 1860. The directory contains the names of all Masons who submitted their information for publication. Each entry lists the first and last name of the Mason and where he was residing in 1859, when the information was collected. Most of the more than 10,000 entries also list the man's occupation and the name of the lodge to which he belonged. This database represents Masons throughout North America, including Canada, the United States, and some Caribbean islands. It also includes a handful of Masons from outside North America (e.g., from England).
Those seeking more information about a specific individual may contact this database's compiler, Amy E. Armstrong, via e-mail at AmyeA@aol.com.
Freemasonry Membership Registers – Ancestry
Lodge Family Tree Charts (XREFweb) (museumfreemasonry.org.uk)
Masonic Records | FamilyTree.com
Posted on December 7, 2013 by Royal Rosamond Press
The nephew of Senator Thomas Hart Benton, whose daughter was, Jessie Benton, saved Albert Pike's Masonic Library. Benton's grandson, of the same name, was the cousin of my late brother-in-law, Garth Benton, who married my late sister, Christine Rosamond Benton.
I want to thank Amy Sargent Oles for coming to my aide. Her father, James Dickenson Sargent, was a 33rd. Degree Mason in the Detroit area.
Jon Presco
ALBERT PIKE'S MASONIC LIBRARYA Civil War Incident
By Bro. JOSEPH FORT NEWTON, Litt. D.The Master Mason – May 1925
http://www.mastermason.com/lodge850/Reading/civilwar.htm
IN AN ADDRESS entitled "Albert Pike, the Mason," delivered beforeIowa Consistory, No. 2, celebrating the centennial of his birth, inDecember, 1909, I made the following statement, in reference to anincident during the Civil War: "When the Union Army attacked LittleRock, the commanding general, Thomas H. Benton, Grand Master of Masons in Iowa, posted a guard to protect the home of Pike and his Masonic library." The statement has been called in question a number of times, most recently by Brother Charles E. Rosenbaum, Lieutenant Grand Commander of the Scottish Rite, in the following letter:
My DEAR BROTHER NEWTON:
I have repeatedly seen in print sketches of the Life of General AlbertPike that have been credited to you. In each one of these occurs thestatement on the printed sheet which I enclose. I have underscored that part of it that I would very much like confirmed by you if you can give me any authority for the statement therein contained. Several times I have intended writing you on this subject to ask you the source of your information, but other and more important things intervened, and I deferred doing so.
The truth about the matter as I understand it is that the only Thomas H. Benton that we know anything about of national reputation was aSenator from the State of Missouri during the Civil War period. Thegeneral who took possession of Little Rock and its vicinity for the Federal Army was General Steele. These are undoubted facts. So far as the surrounding of General Pike's home with soldiers to protect his library is concerned, that all reads very well, but it is likely as near the truth as Senator Thomas H. Benton being Grand Master of Iowa at the time and general in command of the Federal Forces in Little Rock.
Of course I realize that I am treading on dangerous ground to ask one as noted as yourself for information on a subject on which, no doubt, you are much better informed that I am, but if my information is wrong I certainly want the facts straight.
Thanking you in advance for any consideration you will give the subject, I remain Sincerely and fraternally yours,C.E. ROSENBAUM.
NATURALLY one does not keep in mind the authority – chapter andverse – for a statement made sixteen years ago. I referred the matter to the Library of the Grand Lodge of Iowa, where I first read it. The Grand Secretary, Brother C. C. Hunt, has been good enough to furnish the following brief of the facts, giving the reference where they may be found in the Proceedings of the Supreme Council:
In regard to Brother Rosenbaum's letter questioning your statement regarding Thomas H. Benton, Grand Master of Masons in Iowa posting a guard to protect the home of Pike and his library, I would refer you to page 127, Proceedings of the Supreme Council of the Southern Jurisdiction for October 25, 1895. On that date the Supreme Council went in a body to Oak Hill Cemetery, Georgetown, District of Columbia, to hold appropriate services over the grave of Albert Pike. T.S. Parvin gave the memorial address and in reference to a remark of the Library of the Supreme Council there is printed the following:
"It is due to history and to the memory of a dear friend and Brother that an incident, of no little importance, touching our great Library, the gift to the Supreme Council of General Pike, be placed upon our records, that honor may be given to whom honor is due.
"I had the facts, first by letter, and then, upon his 'return from the war,' from the lips of Colonel Thomas Hart Benton, Jr., at the time Grand Master of Masons in Iowa (my superior officer). Thomas H. Benton, Jr. ("nephew of his uncle" of that name), ex-State Senator, Superintendent of Public Instruction, and Grand Master 1860-'63, entered the Union Army as Colonel of the 29th Iowa Infantry and was later promoted to the rank of brevet brigadier-general, and in command of a division encamped for a time at Little Rock, Arkansas.
"It was at this period, when the passions of the Union soldiers werearoused against General Pike, who was at the head of the Indians in the Confederate (Rebel, as they said) Army, that the soldiers of his division determined to burn the house and everything, including the valuable library of General Pike, wherever found. The Grand Master, Colonel Benton, hearing of this, rushed to its rescue, and to guard against, any further attempt at its destruction, made the General's house his headquarters and placed a guard over his library.
"But for this noble deed of Iowa's Grand Master, my bosom friend for half a century, this Supreme Council would today be without, instead of possessing, one of the most rare and valuable libraries in the land.
"General Benton was too modest to publish this, save to his intimatefriends. Of him we may say, in General Pike's own words, "He has lived – the fruits of his labors live after him;" and you, my Brothers, are enjoying them, as it was this service that made it possible for General Pike in later years to place his library in our House of the Temple and dispose of it, as he did, for his honor and our good."
There is, however, one mistake in the statement which Brother Rosenbaum criticizes, and that is in calling Thomas H. Benton the commanding general. At that time our Thomas H. Benton was a colonel, commanding the second brigade of a the third division, under General Steele. (See page 471, part 1, Volume 29, Series 1 of the Official Records of the Union and Confederate Armies.) Also, the Thomas H. Benton referred to as colonel at the time the Federal troops took possession at Little Rock, was at that time Grand Master of Iowa and was serving his second year. He was in the army at the time of the Grand Lodge communication in 1863 and his deputy acted for him in presiding over the Grand Lodge.
Thomas H. Benton was a nephew of the Senator Thomas H. Benton, to whom Brother Rosenbaum refers.
Every Grand President and President throughout the universe is bound to summon and convene his Knot on the 17th of March in each year, that being the anniversary festival of St. Patrick, the patron of the Order, except it fall on a Sunday, in which case the meeting shall be convened for the following day.
No Friendly Brother may quarrel with or affront another Brother. If,however, through the frailty of human nature a member of the Ordershall so far forget the love he owes his Brother and the obedience due to the statutes as to proceed to anger with him and to disturb the peace and tranquillity of the Order, he is not to decide his own quarrel according to the laws of pretended honour by the barbarous practice of duelling, but with due obedience he must submit his differences to the decision of the Knot who will cause the offender to make sufficient and honourable payment for his error. Any great breach of the known rules of friendship to a Brother or generaldisrespect for the rules of the Order will be punished with perpetualdiscontinuance and no person so totally discontinued may ever again be admitted to the Order.
The Friendly Brothers profess themselves to be lovers of all mankind, and are therefore to endeavour by their advice and example to promote and encourage among men the practice of all the social virtues.
Although there was no settled system of relief it was readily andhandsomely accorded to any Brother who might be in distress and want.
MASONIC RECORDS
https://c50ef35aa9ad6a95494b86400fc343b7.safeframe.googlesyndication.com/safeframe/1-0-38/html/container.html
SHARE THIS:
Often overlooked resources are Masonic records. Many of your ancestors may have been members of a local Masonic Lodge in their hometown. The Masonic Lodge has been a staple organization in many local communities for decades. This organization includes the ladies, who are members of the Order of the Eastern Star (men can also belong to the Eastern Star).
The beginnings of the Masonic Lodge arose from the stonemasons' guilds during the Middle Ages. The language and symbols used in the fraternity's rituals come from this era. The oldest document that makes reference to Masons is the Regius Poem, printed about 1390, which was a copy of an earlier work. In 1717, four lodges in London formed the first Grand Lodge of England. This worldwide fraternity emphasizing personal study, self-improvement, and social betterment. From the 1800s into the early 1900s, there was the Masonic tradition of founding orphanages, homes for widows, and homes for the aged provided the only security many people knew.
Posted on December 9, 2013 by Royal Rosamond Press
"At the very least, the two communities, evangelicals and Mormons, have been … each other's worst enemies," said Richard Mouw, the former president of Fuller Theological Seminary and a longtime proponent of evangelical-Mormon dialogue."
The Mormons and Evangelicals have been bitter enemies due to the differing visions they own for America. But lately, they are chilling out with one another so they can take on their real enemy, Secular America, and Secular Government, that they both believe has to be relieved of power so Jesus can do his thing.
One thing that really interests the Mormons, that the Evangelicals could care less about, is Genealogies. However, that might change after I inform the LDS research center that I am close to a family who descends from members of the Plymouth Brethren, King Malcome, William Wallace and Robert Bruce!
https://rosamondpress.wordpress.com/2013/12/09/letter-from-bellet-to-cavenagh/
https://rosamondpress.wordpress.com/2013/12/09/jesus-in-america/
Here is an old post:
A religious cult has taken control of our Congress, and is attracting the votes of Orthodox Jews. Tonight I will be having dinner with my good friend, Mark Gall, who is a Jew. I used to take Mark's mother to synagogue when she lived in Eugene. I may be the only Gentile at this dinner. Mark is in the bottom photo sitting next to our good friend, Ed Corbin, who married a Jew who was married to a member of the Rockefeller family. Ed and Mark attended Harvard at the same time, along with Tom Jones who was married to a Schlumberger. Ed's ancestors on his mother's side were important members of the Plymouth Brethren who gave birth the Evangelical cult who want to control the world.
Ed's father suspected his daughter-in-law was a Cohen. If true, this would make Ed's three sons, descendants of the priests of Israel. We are attending the showing of Cosmos Corbin's film at the Hult Center with Bohemian types, some who were the Corbin's homestead neighbors.
The Plymouth Brethren, John Darby & Francis Cavenagh
Three years ago I found the genealogy of Edward Corbin, the son of
Dr. Randal B. Corbin the head of the Mayo clinic. It was lying in a
decrepit box I had pulled from his storage room I was helping my
friend organize. Ed's mother had sent it to him after his father
died. Ed's mother's maiden name was Wallace, she a descendant of this
famous and rebellious Scotsman.
As I glanced at it the name Plymouth Brethren caught my eye.
Engrossed I was reading about the Cavenagh family who were original
members of the Plymouth Brethren. This information was compiled by
Francis Cavenagh. I asked Ed if he knew what he had here? Being an
atheist he paid no attention to my excitement as I explained how
important this document was in regards to the founding of the
evangelical religion – and establishing a evangelical hegemony!
I told him Tim Lahaye was looking for all lost material on Plymouth
Brethren, and thus this might be a very valuable religious document –
especially when you know the evangelical took control of the
Congress, Senate, and White House. This is equivalent to a lost
Vatican document, a genealogy pf the founders of the Catholic church.
I told Ed;
"The Davinci Code is fiction, this is the real thing!"
I then tried to explain to him because his ex-wife was a Cohen, then
Ed's three sons – who are Jewish – are candidates to serve in the
third temple the evangelicals say the Jews must rebuild so the
Rapture and End Times can take place. This is the teaching of John
Darby who was a Plymouth Brethren, and a good friend of John G.
Bellet.
When I got home I googled Cavanagh and Darby, and found a letter John
Darby addressed "My dear F Cavenagh," I called up my good friend of
many years and told him about this letter Darby wrote that could make
his genealogy very valuable. Ed knew the nature of the book I was
authoring, that I claimed was "The real Davinci Code". I asked him if
I could used this genealogy in my novel, and he said yes. Three days
later when I went to his house he said he could not find the
genealogy. I insisted he make a good search of his home – fearing he
might have thrown it out. When I returned several days later he told
me he may have given it one of his kids, or his ex-wife, Catrine. –
who as fate would have re-married a man who comes from a lineage of
Plymouth Brethren.
Today, October 27, 2007, I came upon my blog that discussed this
genealogy that was posted, and re-googled F. Cavenagh, and found gold
when this incredible information was revealed. Francis Cavenagh and
her husband were very close to J.B. Bellet and his niece who complied
the letters of her uncle, who tells of an incident he had just before
his death. Apparently Bellet had a vision of Satan with Francis
Cavenagh in the room;
http://peebs.net/tag/plymouth-brethren/
ID: I4351
Name: Robert Bruce Wallace
Given Name: Robert Bruce
Surname: Wallace
Sex: M
Birth: 30 Aug 1870 in Windham Township, Norfolk Co. ONT CAN
Death: Aft 1920 in Pasadena, Los Angeles Co. CA
Change Date: 30 Nov 2008 at 09:54
Note:
1881 CAN ON>Norfolk North>Windham David B. Wallace 34 ON, Sarah C. 37 ON, Ethelda M. 11 ON, Robert B. 10 ON, Mabel R. 4 ON, Maggie 2 ON, Grace 1 ON, John A. ON, Robert Jones 30 ON labor, Charlotte Tate 38 ON
Marion Grace Wallace, Date of Birth: 7 Jul 1899, Gender: Female, Birth County: York, Father's name: R Bruce Wallace, Mother's name: Emelie S Cavenagh
d. 7/30/1899 of meningitis Toronto CAN
http://www.historic-uk.com/HistoryUK/HistoryofScotland/William-Wallace-Robert-The-Bruce/
There are two men whose names were a clarion call to all Scots.
Robert the Bruce, who took up arms against both Edward I and Edward II of England and who united the Highlands and the Lowlands in a fierce battle for liberty: and a humble Lowland knight, Sir William Wallace.
Scottish Monarchs (400 AD – 1603)
The early Scottish Monarchs
Descendants of Malcolm III
Duncan II (r.1094)
Edgar (r. 1097-1107)
Alexander I (r.1107-1124)
David I (r. 1124-1153)
Malcolm IV (r. 1153-1165)
William I (r. 1165-1214)
Alexander II (r.1214-1249)
Margaret (r. 1286-1290)
Alexander III (r. 1249-1286)
The Competitors
John Balliol (r. 1292-1296)
William Wallace, Guardian of Scotland
Charles I (r. 1625-1649)
1910 CA>Los Angeles>Los Angeles Assembly District 71 Robert B. Wallace 39 CAN [imigrated 1901] oil business auditor, Emilie S. 37 IRE, Winnifred [Leonara] 9 CA, [Helen] Lucile 7 CA, [Ervol] Portia 5 mos CA, Elizabeth Stogdill 15 CAN nurse
1920 CA>Los Angeles>Pasadena Robert B. Wallace 49 CAN oil company accountant, Emelie S. 48 IRE, Winnifred 18 CA, Lucile 17 CA, Portia 10 CA
1930 CA>Los Angeles>Pasadena Emelie Wallace 59 IRE widow, Portia 21 CA
marriage information listed Robert Bruce Wallace as a merchant
Robert was deceased before his father David died 3/6/1930.
Ancestry Hints for Robert Bruce Wallace
4 possible matches found on Ancestry.com
Father: David Bruce Wallace b: 26 Dec 1846 in Townsend Township, Norfolk Co. ONT
Mother: Sarah Catherine Jones b: 4 Sep 1843 in Beverly Township, Wentworth Co. ONT CAN
Marriage 1 Emilie Susan Cavenagh b: 7 Jul 1871 in Ireland
Married: 13 Feb 1896 in Toronto, York Co. ONT CAN
Change Date: 30 Nov 2008
ID: I9170
Name: Emilie Susan Cavenagh
Given Name: Emilie Susan
Surname: Cavenagh
Sex: F
Birth: 7 Jul 1871 in Ireland
Death: 19 Apr 1952 in Pasadena, Los Angeles Co. CA
Change Date: 30 Nov 2008 at 09:53
Note:
birth/death date CA Death Index
Ancestry Hints for Emilie Susan Cavenagh
4 possible matches found on Ancestry.com
Marriage 1 Robert Bruce Wallace b: 30 Aug 1870 in Windham Township, Norfolk Co. ONT CAN
Married: 13 Feb 1896 in Toronto, York Co. ONT CAN
Change Date: 30 Nov 2008
ID: I4305
Name: David Bruce Wallace
Given Name: David Bruce
Surname: Wallace
Sex: M
Birth: 26 Dec 1846 in Townsend Township, Norfolk Co. ONT
Death: 6 Mar 1930 in Windham Township, Norfolk Co. ONT CAN
Burial: Oakwood Cemetery, Simcoe, Charlottesville Twp., Norfolk Co. ONT CAN
Change Date: 19 Sep 2007 at 10:42
Note:
death reg. # 167-026175, of myocarditis, complication prostate and liver cancer, retired merchant; stationery and book store, informant J. [John] Alex [Alexander] Wallace son, bur. Oakwood Cemetery
St. Thomas Times-Journal
St. Thomas, Ontario, Canada
14 March 1930
Page 6 c3 Died – David Bruce Wallace, 84th year (born Bloomsfield, Norfolk County), son of late Alexander Wallace & Sarah Ann Culver, husband of late Sarah C. Jones (married about 1867). Buried Oakwood cemetery, Simcoe. A daughter, Mrs. C. H. Emerson & a son, Robert Bruce Wallace, died previously
Marriage 1 Sarah Catherine Jones b: 4 Sep 1843 in Beverly Township, Wentworth Co. ONT CAN
Married: 8 Aug 1868 in Bloomsburg, Townsend Township, Norfolk Co. ONT CAN
Change Date: 3 Aug 2007
Children
1. Ethelda May "Ethel" Wallace b: 7 May 1869 in Windham Township, Norfolk Co. ONT CAN
2. Robert Bruce Wallace b: 30 Aug 1870 in Windham Township, Norfolk Co. ONT CAN
3. Mabel Ruth Wallace b: 3 Jan 1877 in Windham Township, Norfolk Co. ONT CAN
4. Margaret Lazelle Wallace b: 23 Aug 1878 in Windham Township, Norfolk Co. ONT CAN
5. Emma Wallace b: 23 Aug 1878 in Windham Township, Norfolk Co. ONT CAN
6. Grace Kneal Wallace b: 16 Nov 1879 in Windham Township, Norfolk Co. ONT CAN
7. John Alexander Wallace b: 3 Apr 1881 in Windham Township, Norfolk Co. ONT CAN
8. Sarah Muriel Wallace b: 30 Mar 1884 in Windham Township, Norfolk Co. ONT CAN
http://www.findagrave.com/cgi-bin/fg.cgi?page=gr&GRid=11061451
Birth:
1909
Death:
2009
Portia died Wednesday, January 7, 2009, following a brief illness, at Charter House, her home for the past 24 years.
She was born March 30, 1909, in Los Angeles, and spent her childhood years in Sierra Madre, California. After graduating from Pasadena High School in 1927, she earned degrees in childhood education from Occidental College in 1929 and the Froebel League School in Childhood Education in New York City in 1930. In 1931 she earned a degree in primary education from Broad Oaks School, Whittier College. In 1931, after teaching kindergarten in Phoenix, Ariz., she and her sister, Lucile, founded a nursery school, the "House at Pooh Corner," in Palo Alto, Calif.
On Jan. 2, 1932, she married Kendall Brooks Corbin in Carmel, Calif. The couple moved to Rochester in 1946, where her husband entered clinical practice as a consultant in neurology at Mayo Clinic.
During the next nine years, Mrs. Corbin was affiliated with Aldrich Memorial Nursery School in Rochester, first as a board member and later as vice president and president. A second major activity was her long-term involvement with the Rochester Art Center, on whose board she served for nine years, and was its president in 1969 and 1970.
She was survived by two sons, Kendall Wallace (Susanne) Corbin of Eagan, Minn., and Edwin Malcolm Corbin of Eugene, Ore.; five grandsons, Kendall Bruce Corbin and Ian Andrew Corbin (and their mother, Jane Hammond Corbin) of Minneapolis, and Cosmos, Freeman and Eden (and their mother, Kathryn Corbin Parker) of Eugene; three great-grandchildren, Marcus, Sylvia Fay and Griffin Corbin; and a niece, Joan Popenoe. She was preceded in death by her husband on July 22, 1999; her parents, Emilie Susan (Cavenagh) Wallace and Robert Bruce Wallace; two sisters, Winifred (Barton) and Helen Lucile (Popenoe); a niece, Sydney Barton (Robinson); and a nephew, Frank Popenoe.
Burial:
Greenwood Cemetery
La Pointe
Ashland County
Wisconsin, USA
Robert I (11 July 1274 – 7 June 1329), popularly known as Robert the Bruce (Medieval Gaelic: Roibert a Briuis; modern Scottish Gaelic: Raibeart Bruis; Norman French: Robert de Brus or Robert de Bruys), was King of Scots from 25 March 1306, until his death in 1329.
His paternal ancestors were of Scoto-Norman heritage (originating in Brix, Manche, Normandy), and his maternal of Franco-Gaelic.[3] He became one of Scotland's greatest kings, as well as one of the most famous warriors of his generation, eventually leading Scotland during the Wars of Scottish Independence against the Kingdom of England. He claimed the Scottish throne as a fourth great-grandson of David I, and fought successfully during his reign to regain Scotland's place as an independent nation. Today in Scotland, Bruce is remembered as a national hero
http://www.fayewest.ca/peterjones/p422.htm
Eryl Portia Wallace1
ID# 422, (1909-2009)
Eryl Portia Wallace|b. 30 Mar 1909\nd. 7 Jan 2009|p422.htm|Robert Bruce Wallace|b. 30 Aug 1870\nd. 7 Nov 1929|p405.htm|Emilie S. Cavanagh|b. 1870\nd. 1952|p406.htm|David B. Wallace|b. 26 Dec 1846\nd. 5 Mar 1930|p380.htm|Sarah C. Jones|b. 4 Sep 1843\nd. 11 May 1922|p378.htm|||||||
Charts
Descendants of Peter Jones (1801-1875)
Eryl Portia Wallace was born on 30 March 1909.1 She was the daughter of Robert Bruce Wallace and Emilie S. Cavanagh.1 She married Kendall Brooks Corbin.1 She died on 7 January 2009 at age 99.2
Last Edited=21 Aug 2010
Children of Eryl Portia Wallace and Kendall Brooks Corbin
Kendall Wallace Corbin+1
Edwin Malcolm Corbin1
Citations
1. [S4] Donald Jones, 2006.
2. [S3] Ian Corbin, "Another Loyalist Family – Joan Hammond," e-mail to Faye West, 20 Jan 2009.
Edwin Malcolm Corbin1
ID# 429
Edwin Malcolm Corbin||p429.htm|Kendall Brooks Corbin||p424.htm|Eryl Portia Wallace|b. 30 Mar 1909\nd. 7 Jan 2009|p422.htm|||||||Robert B. Wallace|b. 30 Aug 1870\nd. 7 Nov 1929|p405.htm|Emilie S. Cavanagh|b. 1870\nd. 1952|p406.htm|
Charts
Descendants of Peter Jones (1801-1875)
Edwin Malcolm Corbin is the son of Kendall Brooks Corbin and Eryl Portia Wallace.1
Last Edited=22 Mar 2006
Citations
A brief history of the Clann Chaomhánach
The outstanding historical leaders of our illustrious Clan are, in chronological order, Diarmaid Mac Maol na mB?(early 1000s ?1072), Diarmaid McMurrough (MacMurchadha) (1110 ?1171), his son Domhnall (1128 ?1175), Art Óg McMurrough Caomhánach (1357 – 1417) and Domhnall Spáinneach Caomhánach (1550 – 1632).
The stronghold of the U?Cheinnsealaigh (Hy Kinsella) Clan which subsequently adopted the Caomhánach name was in South East Leinster, encompassing the modern counties of Wexford and Carlow, with parts of Counties Wicklow, Kilkenny and Laois.
The U?Cheinnsealaigh initially rose to power in Leinster under a chieftain called Diarmaid Mac Maol na mB?who became king of Leinster and also of Viking Dublin, in 1032. He subsequently ruled over the Isle of Man and exercised influence in Western Scotland and Wales, as well as assisting the future King Harold of England. Subsequent to Harold's defeat by the Norman William the Conqueror his sons fled for help to Mac Maol namB? He was the most powerful King in Ireland of his time up until his death in battle in 1072.
Following Mac Maol na mBó's death, the U?Cheinnsealaigh were embroiled in various conflicts involving the quest for overall power in Ireland initially by the by the O'Briens and subsequently by the O'Connors.
Mac Maol na mBó's greatgrandson, Diarmaid McMurrough (1110 ?1171; see separate article under 'Origin' on Home Page) was no sooner elected chieftain of the clan at 16 years of age in 1126, than his territory was invaded and ravaged by the power-hungry O'Connor clan of Connacht together with the malevolent Tiarnan O'Ruairc, King of Breffni, who was thereafter Diarmaid's bitter enemy. Some years later these enemies decided to destroy him and Diarmaid was forced to seek assistance from overseas in 1166.
Diarmaid hired Norman-Welsh mercenaries, under a leader known as Strongbow, Earl of Strigoil (and Pembroke). Strongbow was offered the hand of Diarmaid's daughter Aoife and Diarmaid further promised the mercenaries territory in South Wexford, which belonged partly to the Norse and partly to an Irish clan which had betrayed him earlier.
The main body of these mercenaries arrived in 1169, and having recovered his ancestral territory with their assistance, Diarmaid was about to expand his conquests, probably with a view to replacing O'Connor as High King, when he was struck down by a mortal illness in 1171.
Following the death of Diarmaid McMurrough (MacMurchadha) the Norman barons began to strike out and seize Irish territories for themselves, whereupon the Norman King Henry II came over with a major army principally to ensure that his barons did not carve out an independent Norman kingdom.
Diarmaid's son Domhnall succeeded him as elected King of Leinster, but he was assassinated at the behest of the Normans in 1175 as he was organizing resistance against them.
Domhnall's successors were recognized as the leading family in Leinster by the other Irish clans and continued to claim the Kingship of Leinster right up to the beginning of the 17 th century. However, their ancestral territories were under continual threat, initially from Norman, and later English, settler aggression. Preserving their hold on their birthright meant a struggle for survival over the succeeding centuries with varying degrees of success against a ruthless enemy who used every means possible, including regular resort to murder, in order to seize Caomhánach ancestral territory.
Art Óg Caomhánach (1357 – 1417) succeeded his father Art Mór (who died mysteriously in English custody) in 1377 and began a series of campaigns which enabled him to recapture Caomhánach ancestral territory which had been lost.
King Richard II of England, attempting to restore his control over the Caomhánachs and other Irish Clans, landed with one of the largest armies ever seen in Ireland at Waterford City in 1394.
After an initial display of defiance, including the burning of New Ross, Art Óg decided that a token submission was wisest path. King Richard returned to England a few months later. The Caomhánachs, however, immediately went on the offensive again, killing Roger Mortimer, the heir to the English throne at the Battle of Kellistown, Co.Carlow in 1398. A furious Richard II assembled another huge army and returned to Ireland in 1399, with the avowed intention of finally eliminating Art.
Art Óg, recognizing that his advantage lay in carrying on a campaign of guerilla tactics, devastated Richard's army as he endeavoured to pursue the rebel Irish army into its natural fastness. This famous victory has become the stuff of Irish legend.
Art Óg now held complete sway over the U?Cheinnsealaigh territory, which he further enlarged, through which none travelled without his permission.
Finally, on January 1st, 1417 the great Art Óg was assassinated, allegedly with a cup of poisoned wine
Upon Art Óg's death, his son Domhnall received the Carlow lands west of the Blackstairs mountain range, while his other son Gerald received the lands in Wexford, east of the mountains. The descendants of Gerald's son, Domhnall Reagh, became the senior ruling line of the Caomhánach Clan. Domhnall Reagh's son, Art Bui, and grandson Murtagh, succeeded in maintaining the Clan's independence despite continuing settler encroachment.
The Kavanagh Charter Horn
This ceremonial drinking horn is one of only a handful of surviving relics that can be linked personally to an Irish king. The Horn dates from the early 12th century. Originally constructed from elephant ivory the brass mountings were added much later in the 15th century. Passed down through the MacMorrough Kavanagh line it now rests in the National Museum of Ireland.
The Chieftainship of the Clan continued in the senior line through the descendants of Domhnall Reagh. The protection of Clan lands was only achieved at the expense of continuous warfare, with Cahir Carach Caomhánach being killed in 1538 and his son Donnchadh executed in 1583. Donnchadh's son, the famous Domhnall Spáinneach, was regularly in rebellion and was an ally of the Great Hugh O'Neill during the Nine Years War (1594 -1603). Though Domhnall was finally forced to come to terms with the English administration after the Battle of Kinsale in 1601, he retained a substantial part of his lands and was feared by the settler foes up until his death of old age in 1632.
The defeat at Kinsale, however, signalled the final destruction of the old Gaelic clan system.
Domhnall Spáinneach's son, Sir Morgan, continued the fight for his ancestral territory as a leader in the 1641 Rebellion during the course of which he was slain in battle in1643. Sir Morgan's sons, Domhnall Óg and Charles, continued the fight with their father's regiment for the Catholic Confederacy until the rebellion was finally crushed by the armies of Oliver Cromwell in the early 1650s.
After a period of imprisonment, Domhnall Óg chose to go into exile to join the Spanish army, while his brother Charles remained on in Ireland in the hope of fighting another day. This opportunity came when Col. Charles raised a regiment for the Jacobite cause in 1689 but, following the defeat of the Jacobite cause, he was killed in an accidental explosion aboard a prison ship off Kinsale in 1691.
This effectively marked the end of the ancient Caomhánach leadership in Leinster. Subsequent Caomhánach military achievements were chiefly in exile in the service of the armies of Austria, France, Poland, Germany, and the Americas.
Those of the Clan who managed to remain in Ireland ended up as tenants of alien landlords for the most part.
http://www.kavanaghfamily.com/
The surname Kavanagh or Cavanaugh and the other variants of the name are derived from the adjectival Irish Gaelic name Caomhánach. This was the name applied to Domhnall, eldest son of the 12th century King of Leinster Diarmait mac Murchada (Dermot MacMurrough).
Domhnall was fostered, according to Irish custom, by the family attached to the monastery of St. Caomhan at Kilcavan in the Barony of Gorey, County Wexford. He thus became known as Caomhánach. His brother Eanna became known as Eanna Ceinnsealach, also an adjectival name derived from the Clan and its territory. Eanna became the progenitor of the Kinsella Clan.
The word Caomh signifies "gentle" or "comely" in Gaelic.
As an incentive to the Norman commander Richard de Clere, Earl of Strigoil (and previously Earl of Pembroke, a title which Henry II had deprived him of) Diarmaid McMurrough had given him his daughter Aoife in marriage. De Clere was commonly known as "Strongbow"
Despite the fact that under Irish (Brehon) law, the Kingship could not be passed on this manner via marriage, Strongbow subsequently used this marriage to attempt to establish a claim on the kingship of Leinster, following the death of King Dermot MacMurrough in 1171AD.
However the Irish chiefs adhered to the traditional Gaelic legal system and Domhnall Caomhanach was subsequently elected as King.
While the exact place and manner of Domhnall's death is unclear, the general opinion of historians is that he was assassinated at the behest of the Normans as he was drumming up support for war against them.
In chief a lion passant, in base two crescents, surrounded by the words "Clann Chaomhánach" with the word 'Clann' over the lion and the word 'Chaomhánach' beneath the crescents, all in red on a silver background.
The lion represents courage and protection. The crescents represent two sickle type implements and signify abundance, giving rise to a 15th century personalised and individual family motto of 'Peace and Plenty'. Other family mottoes were put together at this time and at later dates.
It is important to note that a coat of arms does not belong to a family or Clann – technically a coat of arms is granted to an individual, therefore there are many coats of arms associated with the Kavanagh / Cavanaugh family.
The design depicted above is generally referred to as the "Clann Coat of Arms" or "Clann Arms" but in fact, it is more appropriate to think of it as a corporate logo.
We have come into possession of a remarkable audio recording. It is a sound file dating from 2 or 3 years ago and is the complete recording of an Exclusive Brethren 'Breaking of Bread'. You will find it at the end of this article.
It is remarkable for several reasons, not least of which is that this is today, the cult's most secret event – nobody is invited to attend this weekly 6am Sunday service unless they are a fully-established and credentialed member of the Exclusive Brethren.
It was not always so…
The Exclusive Brethren have changed radically from their early beginnings in Dublin, Ireland. The origins of the Plymouth Brethren are closely linked with one important spiritual event: Communion or, more coloquially known as 'The Breaking of Bread' or the 'Lords Supper'.
Historically this was a simple service: here is an extract from a 19th century description of the weekly event. One fascinating observation is that in those days visitors were welcome to attend. There was even a place for them …
An extract from Unorthodox London (1874)
The Brethren have three principal places of meeting
in London, and to one of these, the Priory, 198,
Upper Street, Islington, I adjourned on a Sunday
morning at eleven o'clock, armed with a few of
the particulars above stated, and prepared to wit-
ness and report their exposition in public worship.
The room, which is a moderate-sized school, was filled
with a congregation of evident habitués, a very small
portion at the back being railed off "for those not in
communion."
The service consisted principally of the
singing of a large number of hymns, without instru-
mental accompaniment of any kind, and the reading
of Scripture. There is nothing in the shape of pulpit
or reading-desk, nor any person occupying the posi-
tion of minister or president. There was, I suppose,
some preconcerted arrangement as to who should read,
pray, or give, out the hymn; but, to an outsider, it
appeared that any of the Brethren took part without
premeditation. Between each portion of the service
there was a long pause of several minutes, during
which the congregation sat with eyes closed, seemingly
engaged in private prayer.
The special object of the morning assembly was
"the breaking of bread." This was done in the
most homely manner possible. A loaf of home—made
bread was placed, in common plates, on a table in the
centre of the room, divided into quarters, and passed
round the benches; each member helped himself or
herself to a portion, literally "breaking" it off the
quarter loaf. The wine was passed round in like
manner, in large common tumblers, the administra-
tion of each element being preceded by prayer. It
was a simple ceremony; but the idea could not fail to
strike one that its very homeliness made it a close
representation of the original supper in the long
upper room and the daily bread-breakings of Apostles.
After the Communion—as I suppose one may term
it-—followed another hymn, sung to the tune of 'God
save the Queen.' Whether this loyal melody was
designed to occupy anything like the position of our
Collect for the Queen I cannot say, but the effect was
slightly incongruous.
With this I imagined the proceedings would have closed,
as I had been told there would be no sermon; but a sort
of sermonette was introduced, it seemed — and, I believe,
really was – on the spur of the moment. It was delivered by a
very humble Brother indeed, in homely and not always
accurate English; but he displayed minute knowledge
of Scripture, and his sermon was intensely earnest—as
the whole service had been—consisting, I am sure, as
the preacher kept telling us, of " thoughts that had been
pressing in upon his own soul." The two concluding
prayers were offered by gentlemen of a very diiferent
mental calibre, and the congregation evidently num-
bered many persons of position and education. The
names of " intending and accepted brethren " were
then read, together with one who "sought restora-
tion", and another who proposed to take to himself a
Sister; and so the proceedings terminated, without—-
as will be evident—anything having transpired to
inform one as to the special doctrines of the body.
Read the complete document in the peebs.net Archives
Over the years the Exclusive Brethren 'Lord's Supper' has been altered so much it is virtually unrecognizable.
Today's Lords Supper has a fixed format. First come the announcements (we have removed these from the recording for obvious reasons). Usually a random brother reads the announcements for the week, it's a task carried out by someone that usually does not have another task within the assembly.
There is a period of several minutes between the giving of the announcements and the beginning of the service. In this recording it was 7 minutes. Following the wait, a brother goes to the table to give thanks for the loaf. He does not use the sound system so his first thanksgiving is a little hard to hear, but after that, the sound system clearly picks up every brother's part, every sister giving out her number and the singing.
Remember, every individual is expected to take part in the Lord's Supper. As soon as you can audibly voice a number, Exclusive Brethren mothers encourage their daughters to give out a hymn. The fathers coach the young boys at home as how to hold a microphone and what to say. There are strict limits on what you can and cannot say at the Supper. Each segment of the time is highly regulated as to suitable words and participation.
Many ex-members remember the fear of going out of bounds and saying something unsuitable. The "Essential time" is not one remembered as one of liberty, more of making sure you crossed your t's and dotted your i's … and impressed everybody with what you knew about the rules and regulations of the Lord's Supper. If you strayed, a faithful brother would likely seek you out and help you with what these 'great men have said' so as to help you next time.
The early days of spiritual spontaneity have been replaced with yet more rules and regulations.
http://peebs.net/exclusive-brethren-archives/exclusive-brethren-communion-the-lords-supper-with-audio/#more-1869
May I join my hon. Friend the Member for Harlow (Robert Halfon) in pressing the Leader of the House on the appalling decision by the charity commissioners to revoke charitable status from the churches called Gospel halls of the Plymouth Brethren on the ground that they do not admit non-members to their holy communion, although they do admit non-members to all services, bible readings and all the rest?
These people are a small and completely harmless Christian community. For almost 200 years we have proclaimed in this Chamber the right to religious freedom. This is a vital and important issue, and we should proclaim it."
~ Edward Leigh, MP (July 12th, 2012)
EARLY LEADERSHIP — Consider the caliber of leadership that entered these lowly expressions of Body life in England alone. Nearly all ranked high amongst their peers: several were English Lords, one a cousin of Queen Victoria, many of the high nobility of England, others top-ranking Army and Navy officers (generals and admirals); still others were highly educated university men (one a Classic medallist–Darby, at 18). Fine scholars, well versed in the classical languages, and not a few of them equal to the best linguists of their day
AMERICAN FRONTIER REVIVALISM — It is true that during the first part of the nineteenth century there were strong religious developments throughout the eastern half of America. However, these were limited to the new birth, and revivalism. There was no teaching of the identification truth for spiritual growth, nor the Dispensational, positional, or prophetic truths that were being brought into the open via Darby's mind, heart, and pen. The Calvinistic revivalists in America included such Covenant stalwarts as Nettleton, Beecher, and Edwards. The chief Arminian revivalist at that time was the erratic extremist, Charles Finney.
THE FIRST BRETHREN FISSURE — Humanly speaking, we are now approaching stark tragedy in the history of the Brethren. It was a development that constituted the beginning of the end of their brief but brilliant unity.
DARBY VERSUS NEWTON — Although Darby was ministering elsewhere most of the time, early in 1845 it was brought to his attention that all was not well in the Plymouth Ebrington Street assembly. It was evident upon examination that Newton had been attempting to establish the large and influential group as an independent church with himself as pastor–and that with the blessing of co-workers Harris and Tregelles.
To the horrified Brethren, such action was not only schism in the Body, but also sectarianism and the dreaded "clericalism." To further complicate the catastrophe, Newton came out in the open as a postribulationalist, expressing disdain for Darby's dispensationalism and distinction between Israel and the Church.
After many stormy sessions and writing of papers in an effort to heal the breach, Darby and a number of others withdrew from the Plymouth assembly to form a new one. This move did not so much constitute a split as it did the excommunication of Newton and those who chose to remain with him at Ebrington Street. The entire movement was badly shaken by this event, and many felt that Darby had been rash in his action.
HERESY! — Two years later (1847), however, Harris discovered what was considered heretical error in one of Newton's unpublished manuscripts. It had to do with the Lord Jesus as Man, and as an Israelite on earth. When this was brought to light many of those who had previously questioned Darby's move sided with him. As far as the Plymouth Brethren movement was concerned, Newton and his group were off New Testament ground of gathering, and were considered to be a source of error. A crippling stress-crack had appeared in the body of the Brethren!
THE EXCLUSIVE BRETHREN — The Brethren have always insisted that Matthew 18:20 is the New Testament ground of gathering: "For where two or three are gathered together in my name, there am I in the midst of them." They deem it absolutely essential to gather in His Name, not that of a leader or denomination. Darby held to this so tenaciously, and pushed it so far, that it began to produce division and error. In 1845 he was to write:
United testimony to the truth is the greatest possible blessing from on high. And I think that if anyone, through the flesh, separated from two or three gathering in a godly manner before the Lord in the unity of the whole body of Christ, it would not merely he an act of schism, but he would necessarily deprive himself of the blessing of God's presence.
Such an extreme could only produce far-reaching tragedy. If a tiny assembly in New Zealand made a certain decision concerning discipline in their midst, for instance, every other exclusive assembly from there to London and beyond was obliged to act in accordance with it, or else. Their unity was to be strictly maintained in spite of the sad fact that it meant the continual heartbreak of severed fellowship, friendships, families, and even marriages!
Further, the closed Brethren insist that if all is not strictly observed according to their assembly protocol, the Lord will not favor them with His presence during worship. Such is a powerful means of control, of keeping everyone in line.
The inference is that if all in attendance are within the will of God, Hebrews 2:12 will be a reality for them: "I will declare thy name unto my brethren, in the midst of the church will I sing praise unto thee." The Lord Himself will lead their worship meeting. Such is the Brethren ideal. They insist that those who meet on the "erroneous" church or denominational ground cannot expect the same blessing and privilege, nor can other Brethren assemblies that may be under their discipline.
WINE — The Brethren still insist upon the use of wine in observance of the Lord's Supper, every week. And this in spite of the temptation and danger it presents, especially to anyone who has ever had, a drinking problem. As a matter of fact and sorrow, some of the exclusives use wine in their homes–a "freedom" that has resulted in instances of actual alcoholism among both leaders and followers.
Because of their extreme strictness, the exclusive Brethren are slowly excluding themselves out of existence. One exception is the Grantites, who are relatively moderate and continue to grow, mainly in the New Jersey area.
SPIRITUAL PATRICIDE — In moments of honest objectivity, Brethren have been known to refer to themselves as "the Lord's grief, the saint's sorrow, and the devils glee!" Unbelievably, the exclusives actually went so far as to excommunicate one of the original leaders of the movement, the saintly Dr. Edward Cronin!
After sacrificial service on the mission field in Turkey, followed by fifty years of faithful leadership among the London assemblies, he was cast out on the charge of "independency"–at the age of 78. Three years later, in 1882, he went to his reward in Glory with a broken heart. (Never mind, dear brother Cronin: Matt. 25:21!)
http://withchrist.org/mjs/pbs.htm
http://www.jstor.org/discover/10.2307/4085356?uid=3739856&uid=2129&uid=2&uid=70&uid=4&uid=3739256&sid=21101121674811
KENDALL W. CORBIN
Department of Ecology and Behavioral Biology, University of Minnesota, Minneapolis, MN 55455
BRADLEY C. LIVEZEY AND PHILIP S. HUMPHREY
Museum of Natural History and Department of Systematicsa nd Ecology, Universityo f Kansas,
Lawrence, KS 66045
Abstract. Electrophoretic and isoelectric focusing analyses of liver proteins of the steamer-
ducks, Tachyeresp atachonicus,T . pteneres,T . brachypterusa, nd T. leucocephaluss,h ow
these species to be distinct genetically, with the latter three species being more closely related
to one another than any one of them is to T. patachonicusT. here is also significant differentiation
among populations of T. patachonicus. Estimates of the average calculated heterozygosity
per species are high: 0.185, 0.160,O. 165, and 0.084, respectively, and observed
heterozygosities are 0.115 I 0.090, 0.202 f 0.118, 0.201 i- 0.085, and 0.080 f 0.069,
respectively. The genetic distances of Cavalli-Sforza and Edwards, Nei, and Rogers were
estimated and usedw ith a Wagner tree algorithm to preparea consensustr ee basedo n 1,000
subsets of allelic frequency data prepared by bootstrapping over loci. Estimates of F,, for
comparisons among populations of T. patachonicus and estimates of Nm based on the
distribution of private alleles indicate that gene flow between some pairs of populations is
significantly reduced. Values of F,, are much higher than those prev-iously found for other
pairs of avian populations. Genotypic distributions that deviate significantly from equilibrium
expectations are found for several of the polymorphic loci of one or more species.
Key words: Tachyeres; steamer-duckss; ubspeciesp;o pulationg enetics tructure;
Kendall W. Corbin, Ph.D.
Website: http://www.gvemporium.com
Kendall W. Corbin and his wife Susanne G. Corbin are the owners of Green Valley Emporium, LLC, an internet marketing company that specializes in eco-friendly products and information. Dr. Corbin received his BA from Carleton College and his Ph.D. from Cornell University. During a career as a university professor of ecology and genetics, he taught at Yale University and the University of Minnesota, Twin Cities campus.
http://www.sltrib.com/sltrib/news/57062262-78/evangelical-byu-mormons-mormon.html.csp
Share this: