DENNY LAWHERN, president of the Belmont Historical Society, looks through images that will potentially be hung in City Hall.
Denny Lawhern died on March 8, 2022. You can say the History of Belmont – IS HIS BABY – that was passed down to him when senior members of the historical society – DIED! This history suggests there is a legacy to be passed down, like my family legacy that has amazing roots in Belmont that go back to 1848. We are a – PREMIERE FAMILY!
"When I got started I was kind of a junior member and now a lot of the older members have passed away and now I find myself being up there as one of the senior members," Lawhern said."
I found out Denny IS DEAD last night. I debated about showing him some respect, but, when I read what Cynthia McCarthy had written on his memorial site, about Denny and his sister going to England to research his family roots, I wondered why he did not ask for my phone number – BECAUSE HE IS THE CARETAKER OF MUCH OF MY FAMILY HISTORY! He had much to tell me. Now, it is too late. THIS IS A CRIME.
https://www.genealogy.com/ftm/l/a/w/Denny-Lawhern/WEBSITE-0001/UHP-0019.html
McCarthy stakes a claim to images of my family – on the memorial. How come she was not happy TO KNOW descendants of Cark Janke EXIST, and one of them is a world famous woman artist, who signs her work by her middles name – ROSAMOND! I informed Cynthia dn Denny that our cousin is Elizabeth ROSEMOND Taylor. I got no response. Surely Facbook notices were sent to all the members. Three days passed before I heard from someone. There is a Belmont Quiz that posts old photographs, and it is suggested this is part of a historic service. Why wasn't I shown pics of my kin?
I now get to guess what kind of person Denny WAS – and his family. He fashions himself a Patriot. WAS he a Republican? His wife was a church-goer. Did Denny start combing through my blog 'Royal Rosamond Press – to see if I was HIS KIND of person. He did not like my posts on Kamala Harris, John Fremont, the Forty-eighters, and Turnverein Germans. Does Denny believe Trump – WON! Did Denny make any rude remarks about the history of LGBTQ People? Did he fear they wanted – in? Did Denny see himself as – A MORAL GUARDIAN? Denny painted American Flags on fire hydrants. Was he Anti-Hippie? Like a dog lifting its leg – DID DENNY MARK HIS TERRITORY? Did he hate my hippie history – and Liz's too? Did he hate my German ancestors, being English and all?
In one historic article on Cark Janke, it is suggested my great grandfather owned and ran California's FIRST AMUSEMENT PARK. This put's Belmont's History next to the history of Governor DeSantis who went after Disneyland for commenting on LGBTQ Rights. How much of my family history did Denny hide – and destroy? Did he have help? My run to be the Governor of Oregon puts me in a special category of Belmont History. I believe Denny was a political animal that enjoyed being in the limelight and getting strokes from elected officials. He sure didn't want me to get any strokes. Denny Lawhern is ….
NO FRIEND OF HISTORY!
The psychic-hit I get from Denney, is he came to California as a wanna-be hippie, met his wife, and instead had kids. All work and no flower play for Denny. Having seen the light, he wanted to make sure no hippie later on comes around and wants to be in touch of – WHAT THEY REJECTED – in their youth. How many other ex-hippies came snooping around…..Denyville? How many grasshoppers did this ant – ice? Did he wait till they posted their family photos?
John Presco
Together with his two sons, Carl also formed the Belmont Park outside the grounds of the soda works. It became a rather popular beer garden, and it also might be considered the first California amusement park.
Denny was excited in recent years about trips he planned to take with his sister Abbie, especially the trip to England to trace their ancestors.
Belmont Historical Society, Belmont, CA sent Today at 8:03 AM
One of the photos and captions is from the book I wrote. I am not certain if you think much of this information is new to us.
March 14 ·
It is with deep sadness that the members of the Belmont Historical Society say goodbye to Denny Lawhern, who passed away on March 8, 2022. Denny was a founding member of the Belmont Historical Society and remained active for over thirty-five years. He was the Society president for ten years and the historian for eight years.
Denny was instrumental in keeping the Historical Society running and the History Room open as a community resource. He was a familiar and friendly docent to countless visitors, led tours for hundreds of Belmont school children at the Belmont History Room and was a resource for city government and the community for all things related to Belmont history.
Denny also worked tirelessly to preserve the Emmett House, now a local landmark, the Ross House and the Belmont Firehouse façade.
Denny's contributions will continue to live on in the History Room. He will be deeply missed.
"Every story deserves to be told." | Rosamond Press
Born and raised on a farm in Weeping Water, Nebraska, Toni began collecting stamps as a young girl which she said gave her a window to the world. As a young woman, Toni made her way to California where she met her husband Denny. Toni and Denny moved to Belmont in 1966 to raise their family; they have lived in Belmont for 40 years. She possessed an abiding faith in the Lord, and raised her children in the First Congregationalist Church of Belmont.
John Ambrose <braskewitz@yahoo.com>
To:news@smdailyjournal.com
Wed, Mar 24, 2021 at 1:34 PM
I tried to post my family history on the BHS facebook and encountered a very rude Cynthia McCarthy who wrote a book on Belmont and failed to tell me this. She did not greet me warmly, and mentioned a copyright. I descend from Carl Janke, one of the founders of Belmont. My posts were taken down. Cynthia said she was to blame, and gave me her e-mail. I didn't trust her and posted on Davina Hurt's facebook. Here is my blog.
John Presco
President: Royal Rosamond Press
458 201-1472
On Monday, March 1, 2021, 12:54:42 AM PST, Mark Gall <mgall@uoregon.edu> wrote:
I looked at your post. It's rather complex and about matters that only insiders are likely to be able to follow. It seems to me that the woman should not be deleting your posts.
I noticed the Images of America cover in your post. This is a wonderful series of books. I have 3 of them about San Francisco: Visitacion Valley where I spent my childhood, Portola Valley where I went to parochial school, and The Theatres of San Francisco. I bought the one about Eugene Oregon and another one about Summit Illinois where Joy grew up.
On Mar 1, 2021, at 12:17 AM, John Ambrose <braskewitz@yahoo.com> wrote:
I began promoting myself on the Belmont history page and this woman is giving me a hard time and deleting my posts. Three days later I discover she has written a book with my family in it. I think she is trying to rip off my info. She should have told me.- and been happy to meet me!
John
Meet Snitty Cynthia Karpa McCarthy | Rosamond Press
M. D. "Mark" Gall
Professor Emeritus
University of Oregon
College of Education
Email: mgall@u
Cipriani describes himself as Florentine in his diaries even though he was from Corsica. He recounts meeting another Italian speaker in Nevada and tells him he's "Florentine, thank God!"
Belmont Historical Society, Belmont, CA sent Today at 8:03 AM
One of the photos and captions is from the book I wrote. I am not certain if you think much of this information is new to us.
You sent Today at 8:44 AM
What are you suggesting? Who is us? The Janke family is MY family not your family. Millions of families brag on their family history no matter how mundane. This is all I am doing. I did not come to battle with volenteers who I thought would be glad to hear from descendants of the Founder of Belmont. I thought MY history was being rejected as it was twenty years ago by kin of your famous cop who controlled the city history. I never encountered the way you set up your facebook group and assumed the worst and appologised. I even removed post to show I am not at war with a group of volunteers who may be working on books and have written books. I know being related to historic people gives me an advantage. The Benton's are kin to the Bonaparte family that Cipriani had extensive relationship with.
Belmont Historical Society, Belmont, CA sent Today at 8:44 AM
Greeting! Thanks Greg for your message. We are not here right now, but we'll get back to you as soon as we can. We are a small organization with a handful of volunteers. Thank you for your patience.
You sent Today at 8:53 AM
New to us? I don't get this statement. I can get the opinion of a professional writer as to what he makes of this. You may be treating me as a outsider a author who thinks he is in competition with you
You sent Today at 9:00 AM
Here is my good friend, Mark Gall. For 25 years we have discussed out family history. He grew up in Hunter's Point and will be in my book. Our mutual friend also went to Harvard and wrote a Eisenhower bio. He was an editor for Double Day. How long has each member of the Belmont Society been volunteering to gather my family history? Thank you for the good job you have done. https://pages.uoregon.edu/mgall/vita.htm
"We are related to historic people somewhere."
Belmont Historical Society, Belmont, CA sent Today at 9:39 AM
"There's no competition, for Pete's sake."
Belmont Historical Society, Belmont, CA sent Today at 9:39 AM
"Maybe your friend the editor can explain copyright to you.
Belmont Historical Society, Belmont, CA sent Today at 9:39 AM
"Everyone is related to "historic people."
You sent Today at 9:50 AM
Are you suggesting I am violating YOUR copyright, or, a group's copyright? I just want to make sure. There is strong evidence that MY family has been collecting OUR history for hundreds of years. Here is the proof the Benton family is kin to the Bonaparte family who were close friends of Cipriani. My famous artist sister married the artist, Garth Benton, the cousin of the artist Thomas Hart Benton. My niece Drew Benton is an artist, and so am I. This constitutes a artistic dynasty – when you include my mother's cousin, the actress Elizabeth Rosemond
The Jealous Historical Society | Rosamond Press
The Black Liberation Navy | Rosamond Press
Capturing Sleeping Beauty At Rosamond Gallery | Rosamond Press
Belmont History Quiz: What Can You Identify in This Photo? | Belmont, CA Patch
WASHINGTON (AP) — Virginia "Ginni" Thomas, wife of Supreme Court Justice Clarence Thomas and a conservative political activist, urged Republican lawmakers in Arizona after the 2020 presidential election to choose their own slate of electors, arguing that results giving Joe Biden a victory in the state were marred by fraud.
Ginni Thomas urged Arizona lawmakers to pick a 'clean slate' of electors just days after Trump's loss to Biden (msn.com)
Posted on March 23, 2021 by Royal Rosamond Press
Here is the come-on. The City of Belmont offers free membership to THE Belmont Historical Society IF POTENTIAL BUYERS ATTEND the book signing ceremony for the book CYNTHIA KARPA McCARTHY wrote 2014. Why didn't the city, the society, and Cynthia, get on google to see if anyone had copyrighted some of this history – before they singed off on it, gave their signature and O.K.? I have every reason to suspect they went into my archives via the search, and found my copyrighted material. THEY knew what was going on, and kept me in the dark. Then THEY threatened me and GASLIGHTED me. Never in the annals of History Keeping, has such an outrage occurred. I am actively seeking an attorney. I have a right to affix my name to my family history and have it publicly displayed with other history pertinent to my family. How did McCarthy come to own – MY HISTORY? Who sold it to her?
Here is Cynthia saying my family history is not – that important. Then she says there is no competition – after I sensed there was. Finally, she mentions a copyright which causes me to google her, and discover she wrote a book on Belmont that THE CITY helped promote.
"We are related to historic people somewhere.
Belmont Historian Denny Lawhern with Bay Curious listener Ben Hilmer. (Suzie Racho/KQED)
The Story Behind Belmont's Painted Fire Hydrants | KQED
In the albums are a few designs that definitely wouldn't get the OK today, including a Chinese man in a coolie hat with a Fu Manchu mustache, and a Native American character called "Chief Running Water." But Denny says, for the most part, the designs focused on the patriotic.
Belmont Casino's elegant owner, Charley Malaspina, featured in an article in Peninsula, January 11, 1946. Peninsula appears to have been a weekly newspaper that started publication in 1945 to cover the burgeoning peninsula.
The Belmont Casino, at 635 Old County Road half a mile from Bay Meadows Race Track, was billed as "Le Rendez-vous des Gourmets." Host Charles Malaspina's son Tom recalls the Belmont Casino from the late 1930s through the early 1960s as seating almost 150 people around a dance floor with a bandstand and two bars, the smaller bar being known as "Charley's corner. Today, the Madison Apartments is on the site.
Belmont History Quiz: What Can You Identify in This Photo?
Test your Belmont history knowledge by answering a many of the following questions as possible.
Posted Thu, Apr 19, 2012 at 12:14 am PT|Updated Thu, Apr 19, 2012 at 12:15 am PTReply
Once again, our thanks to Belmont historian Denny Lawhern for providing this wonderful old photo and the story behind it.
But before we tell you too much about the scene above, let's see how much you can tell us. He/She with the most correct answers will receive an "I Love Belmont" bumper sticker.
During what time period was this shot taken?
What is the location of this photo? (be as specific as possible)
What is the Bella Monti Country Club known as today?
What is the significance of the bell on the left side of the photo?
Please enter your answers in the comment section below. The winner(s) will be announced on Monday.
The Soda Works and the Country Club
In 1876, a German immigrant named Carl Augustus Janke founded The Belmont Soda Works, which manufactured one thousand bottles of sarsaparilla and other drinks per month.
Together with his two sons, Carl also formed the Belmont Park outside the grounds of the soda works. It became a rather popular beer garden, and it also might be considered the first California amusement park. This park, along with its carousel rides, restaurants, ice cream parlors, and bars, drew rowdy crowds from San Francisco all the way to San Jose. The rambunctious crowds are what eventually shut the park down. Today it's known as Twin Pines Park.
From the Daily Journal archives
Belmont park has history of sun, libations, mystery and disasters
By Paul D. BuchananDaily Journal Feature Writer
Oct 22, 2001 Updated Jul 13, 2017
The most popular daytime excursion destination on the Peninsula during the late 19th century once occupied the area in Belmont now known as Twin Pines Park. The Belmont Picnic Grounds proved so popular, in fact, that scores of picnickers would travel regularly from San Jose and San Francisco for sun, fresh air and libations.
The size of the crowds and the fondness for libation, however, eventually led to the attraction's demise.
According to Belmont Historical Society records, Dorothea and Carl August Janke sailed around Cape Horn from Hamburg, Germany, in 1848. After landing in San Francisco, they settled in Belmont in 1860. Industrious and entrepreneurial, Carl Janke purchased land in the vicinity of 6th and Ralston. Janke set out to create a site for leisure activities, modeled after the biergarten in his native Hamburg. His creation became Belmont Park.
Janke's park offered all the necessary provisions for an outdoor holiday, which included a dance pavilion to accommodate 300 large glassless windows, a conical roof and a dance floor situated around a large spreading tree. The pavilion was also equipped with a bar, an ice cream parlor and a restaurant.
Outside the pavilion, the park provided a carousel for children, footpath bridges crossing the meandering of creeks, and a shooting gallery, with picnic benches and lathe houses situated about the shady grounds. Brass bands performing from bandstands could be heard all around the woodland.
In 1876, Janke opened Belmont Soda Works, located north of Ralston along Old County Road. Janke's sons, Gus and Charlie, operated the soda works, which offered a variety of sarsaparillas. Within two years, the Soda Works produced more than 1,000 bottles a month
I met Denny in 2012 or so about doing a book about Belmont. The publisher had been kinda hounding him to do it. He had already scanned hundreds of historical photos of Belmont as JPEGs but the publisher wanted TIFFs. He said he wasn't keen to redo all the scans. Denny showed me around the Belmont History Room and the files and set me loose to do the book we all worked on together about Belmont.

Denny knew everything and everyone pertaining to Belmont, and he was a joy to work with. Denny was excited in recent years about trips he planned to take with his sister Abbie, especially the trip to England to trace their ancestors.

Denny was absolutely THE nicest human being I have ever met. I'm grateful to have known him.
Cynthia McCArthy – March 14 at 06:35 PM
Densel "Denny" Lawhern Obituary – Visitation & Funeral Information (skylawnmemorialpark.com)
Twin Pines Park's shady past | Local News | smdailyjournal.com
Twin Pines Park – Belmont, California – Municipal Parks and Plazas on Waymarking.com
Welcome to Belmont, California – Mr. Roofing Blog (mrroofing.net)
From the Daily Journal archives
Lawhern a friend of history
By Colleen Watson
Apr 30, 2007 Updated Jul 12, 2017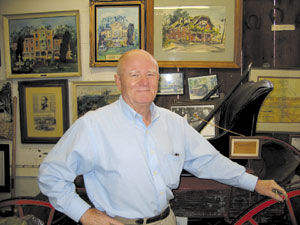 Surrounded by walls covered in pictures of old buildings, yellowing photographs and peeling signs Denny Lawhern points to a water color of a bright red building.
"It's called the landmark, one day it was there and the next day it was demolished." he said, explaining why the Belmont Historical Society got started.
Since the loss of "The Landmark," the Belmont Historical Society has helped the city of Belmont create ordinances regarding the preservation of historic buildings in the area. In 1991 the society did a survey of all of the buildings that had been built before 1941 and then designated some as historic local, state or potential federal designations.
One of the big projects the society is working on right now is the preservation of the Emmett house.
"If we can preserve a few buildings like the Emmett House, which we're working on now, its not so much its going to be a beautiful building today but its also going to be a beautiful building 200 years from now," Lawhern said. "We want to preserve the building but at the same time maximize the use of it for affordable housing."
Lawhern was one of the founding members of the Belmont Historical Society, created in the 1987.
"When I got started I was kind of a junior member and now a lot of the older members have passed away and now I find myself being up there as one of the senior members," Lawhern said.
He loves history but that isn't his favorite part of working with the Belmont Historical Society.
"I think the part I love most is interacting with different people." Lawhern said. "And right now my most enjoyable part about it is working with the residents in senior facilities. When I go there my goal is to spark an interest."
He works part time as manager at Superior Body Shop, and in his spare time creates historic slideshows of Belmont, the Peninsula and the Sierras.
He often visits senior care facilities to show them the 30-minute slide shows.
Now the society's president, Lawhern has lived in Belmont for 43 years. When he first moved into the community he started to give back. He served 12 years on the Planning Commission and many years with the homeowners association, the PTA and the scouts. He won the Ralston award in 1997 for citizenship for his community contributions. A California native, Lawhern and his wife Toni moved to Belmont to raise their family. He is still dealing with the pain of losing his wife last year, but he has had a lot of family and community support. He has a daughter Toni Lyn, a son Jason and a foster child Dwight.
Lawhern has been a driving force in the community for 40 years. He is as much a part of Belmont's history as any of the buildings he loves. And his work in the Belmont Historical Society has helped preserve the treasures of Belmont's past.
The Belmont Historical Society's History Room is located in Twin Pines Park and is open on the second and fourth Saturday of the month at 1225 Ralston Ave., Belmont, Calif., 94002. The phone number is (650) 593-
Twin Pines Park's shady past
By Jim Clifford
Jul 30, 2018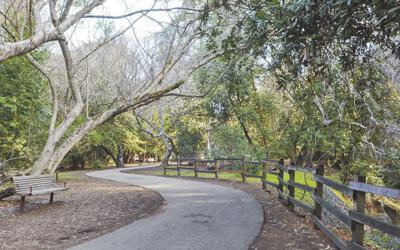 The Belmont City Council recently approved funding for a master plan to upgrade Twin Pines Park, a bucolic oasis where people can escape the push and pull of modern life by simply listening to the sound of a creek as it flows in the shade of towering trees. It is hard to believe this pastoral setting has a violent history that includes murder, rape and kidnapping.
The unsavory history took place a long time ago when the park was known as the Belmont Picnic Grounds as well as Belmont Park. The present park is a remnant of the original 12-acre, wildly popular venue that opened shortly after the train came to the Peninsula in the 1860s.
Belmont Park was the work of Carl Janke, who wanted to replicate a beer garden from his native Germany. The trains brought party goers from throughout the Bay Area to Belmont where they spent the day meandering through the woods or attending the many picnics hosted by immigrant groups and fraternal organizations, events that drew people by the thousands. Ships also brought park-bound passengers to the Belmont pier.
Today's 10-acre Twin Pines Park is located on Ralston Avenue a few blocks west of El Camino Real in the same spot once occupied by the Belmont Picnic Grounds, according to the Belmont Historical Society. The society maintains a museum in Twin Pines, which is also home to popular summer concerts as well as picnickers.
Janke's park featured a dance pavilion large enough to hold 300 dancers, a bandstand and, of course, a beer garden. Eventually, a jail cell was built under the bandstand to hold rowdy patrons, of which there were plenty.
Special trains carried passengers to the park for huge events, such as an 1868 picnic held by the Fenian Brotherhood, a group of Irish nationalists who wanted to free their native land from the English. The picnic drew 10,000 people, but such sizeable gatherings were not unusual for the times. Two years earlier, 15,000 turned out for a Fenian picnic in San Mateo. In 1870, 12,000 Fenians and their supporters converged on Redwood City, overwhelming a city of less than 2,000. The Irish group was not the only organization to hold massive picnics. In 1876, 8,000 people showed up at Belmont for an Odd Fellows picnic.
Belmont picnics often ended in drunken brawls and at least one escalated to gun play when a San Francisco hoodlum was shot to death. Drunks smashed out train windows with such frequency and people along the line complained so often that by 1900 Southern Pacific canceled charter trains to the park. Belmont Park deteriorated rapidly and was subdivided for other uses. In 1972, voters approved buying land for today's Twin Pines Park, an area that then was the site of the Twin Pines Sanitarium.
According to Roy's Clouds history of San Mateo County, 4-year-old Annie Mooney vanished from the park in 1883, never to be seen again in what he called "the most celebrated kidnapping case of California." The most infamous and sensational episode at Belmont Park, however, was the rape of 15-year-old Annie Sullivan on May 10, 1884, allegedly by Henry Casey, described in the San Mateo County Times and Gazette as "a bad character, especially among the female sex."
Casey had his day in court, but it was a brief one. Annie's father, Daniel Sullivan, was about 6 feet away from Casey during a court hearing when, without warning, he pulled out a pistol and fired three shots. Casey staggered toward the jury box, straightened up and fell backwards near the front door of the courtroom, mortally wounded. A newspaper reported that Sullivan "felt he did nothing wrong and that he would do the same thing if it happened again." If letters to the editors are evidence, public sympathy was with the father. Several writers said they would have killed anyone who assaulted their child while others said they would have been driven crazy by such a crime. Sullivan was acquitted on grounds of insanity
Long Description:
Twin Pines Park is the hub of Blemont Parks & Recreation. From Geocache GC1JB51, titled Sarsaparilla Park:
In the 1870s, Belmont was a whistle stop on the Southern Pacific railroad, an aspiring suburb to San Francisco and a base for tycoons like William Ralston who had built country mansions in the canyons and hills to the west. In 1876, two German immigrants brought some industry to town. Carl Augustus Janke and his son Carl Ferdinand founded the Belmont Soda Works just north of The Corners (now Ralston and El Camino). The Jankes manufactured a variety of fizzy drinks, most notably sarsaparilla, and delivered them to San Francisco and points south along the railroad.

The Jankes turned out to be entertainment entrepreneurs as well. They bought up a dozen acres on the south side of Belmont Creek and established Belmont Park and picnic grounds. Patterned after the beer gardens of their German heritage, it offered a 300 person dance pavilion, a carousel, a running track and walking trails, an ice cream parlor, plenty of picnicking space and of course drinks – beer and plenty of sarsaparilla (which might have been spiked with cocaine in that era). The Jankes made a mutually profitable deal with the Southern Pacific to run weekend picnic special trains from the city to Belmont Park. The place often hosted large crowds, with one notable affair being 8,000 people for an Odd Fellows fraternal gathering.

With drink and crowds came trouble. Drunken brawls were not uncommon, and on one occasion a shoot-out between gangs left a man dead (some modern problems are not new.) A private jail was installed at the park, beneath the dance hall floor, and the Southern Pacific put special police on its excursion trains. But as Belmont and other Peninsula settlements grew, the weekly influx of rowdies was seen as a problem that outweighed their commercial benefits. Under pressure from the locals, the railroad cancelled its party train specials by 1900. Belmont Park went into a quick decline, and was mostly subdivided for other uses. The present park and the civic center are part of its remains, with little to show of its checkered past.
Some features of Twin Pines Park are a children's playground and the Buckeye, Redwood, or the Meadow picnic areas. Facility rentals include the Lodge, Cottage, Manor, or Twin Pines Senior & Community Center.
Posted on November 7, 2018 by Royal Rosamond Press
I conclude Carl Janke is the founder of the city of Belmont, and perhaps the first Theme Park in California. Pre-fab homes were built back east and brought to Benicia in order to make it the first Capital of California. I suspect Belmont was a rival city.
William August Janke, the son of Carl August Janke of Belmont, lived in a Victorian house at 320 Haight St. a a block and a half from Fillmore St. Carl founded what may be the oldest theme park in America that catered to members of the Odd Fellows who lived in San Francisco. Carl Janke hired a special train to bring people to his theme park modeled after a German folk town and beergarten. Carl owned the Belmont soda works and sold a drink that may have contained cocaine. Carl made a jail for his town because folks got out of hand. Consider the Haight-Ashbury that was the haven for the Hippie Movement, that got out of hand. It became a theme-park that attracted folks from all over the world, and was the focal point of the war on drugs.
John Presco
1864-1910, page 133).
Records from Tombstones in Laurel Hill Cemetery, 1853-1927 – Janke
– Stuttmeister
Mina Maria Janke, daughter of William A, & Cornelia Janke, born
February 2, 1869, died March 1902.
William August Janke, native of Hamburg, Germany, born Dec. 25,
1842, died Nov. 22, 1902, son of Carl August & Dorette Catherine Janke. Frederick William R. Stuttmeister, native of Berlin, Germany, born
1812, died January 29, 1877.
Mrs. Matilda Stuttmeister, wife of Frederick W.R. Stuttmeister, born
1829, died March 17, 1875, native of New York.
Victor Rudolph Stuttmeister, son of Frederick W.R. & Matilda
Stuttmeister, born May 29, 1846, died Jan. 19, 1893, native of New
York.
Posted on June 8, 2017 by Royal Rosamond Press
The work of Disney Artist, Eyvind Earle, hung in the Rosamond Gallery in Carmel. Eyvind illustrated 'Sleeping Beauty'.
http://www.waltdisney.org/exhibitions/awaking-beauty-art-eyvind-earle
When I was eleven I read all the Grimm's Fairytales in a month. When my sixteen year old daughter came into my life, I compared her to Sleeping Beauty, who was name 'Rosamond'. I soon realized she was 'The Family Sleeper' who was fresh and untainted. When Heather Hanson came into my life for the first time, I offered to teach her Rosamond's Style. After giving birth to my grandson, Tyler, she had to focus on being a good mother. Hoping to leave a creative legacy to my grandson, I founded this company just hours ago.
https://royalrosamondprints.com/
Jon Presco
Copyright 2017
TONI LEE LAWHERN, R.N. LNC August 12, 1942- July 6, 2006 Entered into peaceful rest after a brief illness, surrounded by those she loved. A beloved wife, mother, sister and aunt, she is survived by her husband of 43 years Denny; Son Jason Lawhern of Belmont; Daughter Toni Lynn Lawhern of San Mateo; Foster Son Dwight Pederson, Valerie and Madison Pederson of Redwood City; Family in Weeping Water, Nebraska includes Sister Neva and Brent Stubbs, Brother Neil and Jackie Chambers, and cousin Meredith Dietl. Brothers- and sisters-in-law include Richard and Maren Lawhern of Fort Mill, South Carolina; Arthur and Elizabeth Lawhern of Austin, Texas; Paul and Cathy Smith of Quincy, CA; Abbie Hull and Richard Vaught of Belmont, CA; Glenda and David Laird of Redlands, CA. Nieces Melissa Vaught of Belmont, CA, Michelle Dudley of Cor d'Alene Idaho, Amanda Bohm of Austin, Texas and Helene Kiddie of San Francisco, CA and their families; Nephew Matt and Veronica Hull of Oakley, CA. Through her welcoming arms was the heart and soul of our family. She will be deeply missed by all. Born and raised on a farm in Weeping Water, Nebraska, Toni began collecting stamps as a young girl which she said gave her a window to the world. As a young woman, Toni made her way to California where she met her husband Denny. Toni and Denny moved to Belmont in 1966 to raise their family; they have lived in Belmont for 40 years. She possessed an abiding faith in the Lord, and raised her children in the First Congregationalist Church of Belmont. While raising their family, Toni attended Chabot College, San Francisco State University and the College of San Mateo earning a degree in Nursing. Throughout her successful and fulfilling career as a Registered Nurse, Toni worked at Peninsula Hospital, San Mateo County Hospital and Sequoia Hospital providing compassionate comfort and professional nursing to all people entrusted to her care. Later, seeking personal and professional growth, Toni obtained certification as a Legal Nurse Consultant and in recent years owned and operated her own successful business providing consultation and advocacy to clients who may have been wronged by medical service providers. She was an active member of the Bay Area Chapter of Legal Nurse Consultants. She is remembered by her colleagues for her intelligence, strength, radiance, professionalism and optimism, as well as being a generous mentor and friend. Toni actively pursued a full life, enjoying sewing, cooking, reading, fine dining and the theater with friends and family alike. Toni loved flying and in 1976 earned her pilots license so she could fly copilot with her husband, who is also a pilot. Toni loved music, and from an early age played clarinet and piano. As a young mother in the 1970's she became enamored of the ancient Japanese instrument Koto. Applying herself with a dedication that would become the hallmark of all her endeavors both personal and professional, she studied Koto under the instruction of Mrs. Shiamoka of San Francisco. After years of striving for excellence in Koto, Toni was humbly honored to be the first Caucasian women in the U.S. to be awarded a rank of Master for this instrument. Toni was a licensed foster care provider, for many years providing loving care and guidance to children in need; she was also a welcoming hostess to international exchange students. Friends and family were always secure in the knowledge that her door was open to any who sought companionship, comfort, guidance or refuge. The Lawhern Family humbly thanks and would like to acknowledge the extraordinary care Toni received from the Medical, Nursing and Respiratory staff during her stay at Kaiser Hospital Redwood City Intensive Care Unit. We deeply appreciate their ongoing professionalism, extraordinary dedication and unrelenting efforts towards sustaining our Beloved's life. In her final days she painlessly enjoyed the company of those she loved and for this we will always be grateful. Memorial Services are pending and will be announced at a future date. The Family requests that donations in her memory are made to the American Cancer Society.
Published by San Mateo County Times on Jul. 14, 2006.