An exhibition of Elvis opened in Australia. I'm putting Lisa Marie Presley in the Rose Family Tree of Samuel Rosamond. His brother, James Rosamond, is my 5th. grandfather? I will have to see.
Elizabeth Taylor was called upon to help her Country, as were many actors. If Liz and Elvis would have gotten married, they would have been the undisputed King and Queen of Hollywood. Liz encouraged Michael to take up art, and, politics? Jackson aspired to be President of the United States.
Allow me to compile the Elvis-Liz collection – posthumously.
John Presco
Elvis Presley exhibition coming to regional Victorian city in March 2022
By Chanel Zagon2:27pm Oct 25, 2021
https://imasdk.googleapis.com/js/core/bridge3.508.0_en.html#goog_692115281Play Video
Elvis Presley exhibition coming to regional Victorian city in March 2
A major exhibition celebrating the life and legacy of the 'King of Rock 'n' Roll' Elvis Presley is coming exclusively to Australia next year.
The exhibition, Elvis: Direct from Graceland, will travel from Memphis, Tennessee and arrive in Bendigo, regional Victoria, in March.
The Bendigo Art Gallery will house the exhibition featuring 300 artefacts owned by Elvis, including his military uniforms, a 1976 Red Bicentennial Custom Harley Davidson and some of his famous jumpsuits.
READ MORE: Anti-vaxxers vandalise Melbourne cafe for enforcing vaccine rule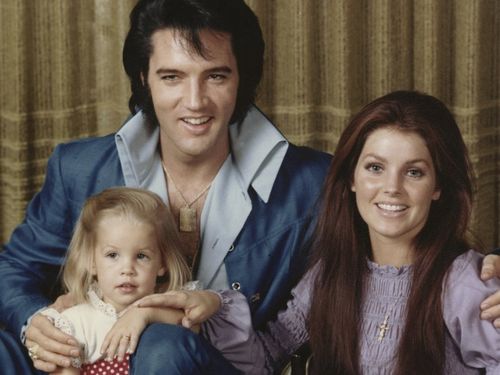 The music icon's personal items, such as baby clothes from his daughter Lisa Marie, his first job application and his first-grade crayon box he took to school, will be part of the exhibition.
Elvis' wedding tuxedo and his wife Priscilla's wedding dress will also be on display, along with a stage costume from the acclaimed TV performance known as the 68 Comeback Special, and garments from his eclectic home wardrobe.
Bendigo Art Gallery director Jessica Bridgfoot said the exhibition was part of an international series featuring world icons.
Posted on July 11, 2020 by Royal Rosamond Press
At 7:33 on July 11, 2020, I sent the following e-mail to the President of the United States.
"Dear Mr. President: May I suggest a statue of President Eisenhower be included in your proposed garden. Ike was an artist who rendered a hundred or more paintings while living in your home. He helped defeat the Nazis. He bid the Monument Men to return stolen art to rightful owners. He was a good friend of art dealer, Howard Young, who is the uncle of my kin, Elizabeth Rosemond Taylor."
For two days I have had enlightened conversations with my friends, Keith, Ray, and Merna, who live in Springfield. We talked about how polarized our Nation has become. We have always sought the middle ground and looked for what we have in common. Yesterday we talked about Howard Young's friendship with Ike. They hunted, fished, and swam together. They also played poker with rich and powerful men. Three hours later I discover President Eisenhower was a prolific artist who may have seen my kin Liz Taylor on several occasions. They could have fished together. My years of research have struck the motherload in regards of establishing the Artistic Dynasty that is made up of family members – the rival biographers did not find!
I believe Eisenhower is above the fray that has toppled monuments and works of art, because he destroyed the Master Race the destroyers of Caucasian culture and many minorities that were seen as inferior.
After the war President Eisenhower sought the company of men who come from humble roots. How much of an influence Howard had on Ike's art is to be discovered. I have been puzzled as to why Michael Jackson did a drawing of George Washington and the front door to the White House. Liz encouraged Michael to take up art. Did she tell him about her connection to President Eisenhower – the artist?
Liz's son married Aileen Getty whose family has amassed one of the largest collections of art in the world. I am going write the Getty Art Museum and suggest they have a show of Ike's work. My late brother-in-law did the mural at the Getty Villa. My late sister, Christine Rosamond Benton was a famous artist. I was her teacher.
John Presco
President: Royal Rosamond Press
Posted on November 28, 2013 by Royal Rosamond Press
This morning, I discovered Michael Jackson was an artist. I had read that his close friend, Elizabeth Rosemond Taylor, encouraged this Pop Star to collect art as she had done. Liz's great uncle, Howard Young, had no children, and I believe he willed his amazing collection to her. Howard was married to Mabel Rosemond, the sister of Liz's grandmother, Elizabeth Mary Rosemond. Add to this the marital union with the Getty and Benton family, and my families literary and artistic legacy, then here is the foremost Artistic Dynasty in the world, that rivals what the Habsburgs and de Medici achieved in many generations.