It is hard to be a Seer and Prophet – who is right! I composed a chapter of how Victoria Bond and Miriam Starfish got to Russia in my head – two days ago! Making my heroines Lesbians, was – fateful! They may be held co-responsible for Russia losing to Ukraine.
Today is Interntional Women's Day. The religious shaming of women begins at the beginning of Genesis. Let this evil practice……end today! This song is for Starfish.
In 1985 I fell in love with an older man who sang to me. He had sang on Broadway in New York. He has a Russian roommate, who was a tall young Nordic, and very handsome. He was a member of Berkeley Gay Radical group that married Gay Russians in order to get them out from under the terrible oppression. I was asked to take this Russian shopping. He spotted one of the first Dollar Stores. Inside the door was a gum machine with trinkets. He stopped in his tracks when he spotted a ring with the image of Rocky in the ring – with a Nordic Russian named Ivan Drago.
"What is that?"
I explained.
"Buy me that ring!"
I put a quarter in and had him turn the handle. He did not get the symbolism. He never visited his Lesbian wife. I saw him walking alone down a lonely road yesterday….as a Boy Without a Country.
Jesus said;
"I will not leave you as orphans. I will come to you!"
https://en.wikipedia.org/wiki/Ivan_Drago
Seer Jon
Buy Me That Horse | Rosamond Press
Amajor religious leader in Russia has come out in support of the invasion of Ukraine and laid the blame on the support of gay rights.
Patriarch Kirill, the head of the Russian Orthodox Church, during a Sunday sermon called Russia's "military operation" in Ukraine a conflict over "which side of God humanity will be on" between Russia and Western countries that embrace more progressive values. In particular, he called attention to Ukraine's support of gay rights and the presence of gay pride parades, The Moscow Times reported.
"Pride parades are designed to demonstrate that sin is one variation of human behavior," Kirill said during the sermon. "That's why in order to join the club of those countries, you have to have a gay pride parade."
The church leader characterized pride parades as "loyalty tests," and said that countries looking to ally with Western powers must embrace them or be shunned. Further, he claimed that the breakaway regions of Ukraine at the heart of the current conflict, collectively known as Donbas, have "fundamentally rejected" such values.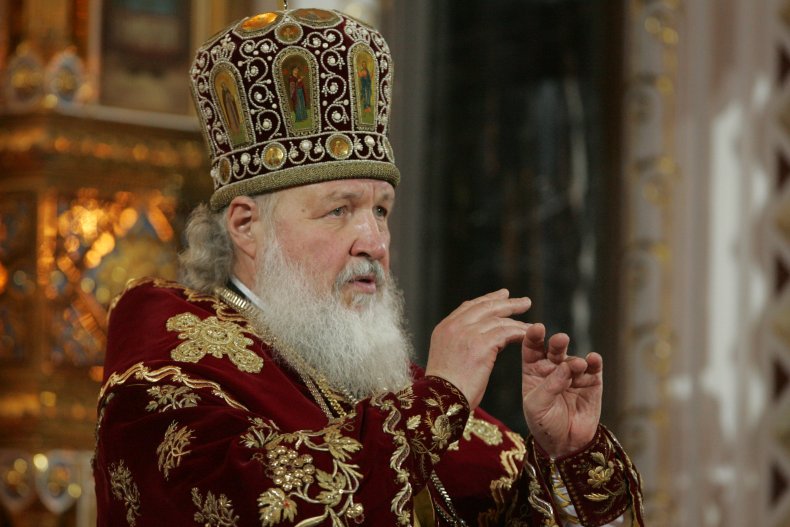 https://imasdk.googleapis.com/js/core/bridge3.503.0_en.html#goog_727710474
https://imasdk.googleapis.com/js/core/bridge3.503.0_en.html#goog_727710476
"For eight years there have been attempts to destroy what exists in Donbas," Kirill continued, referencing the start of Kyiv's conflict with separatist regions in 2014.
"And in Donbas there is a rejection, a fundamental rejection of the so-called values that are offered today by those who claim world power. We know that if people or countries reject these demands, they are not part of that world, they become strangers to it."
Ultimately, Kirill called the invasion of Ukraine a conflict about things "far more important than politics," and insinuated that the embrace of progressive western values would lead to the end of civilization. As noted by The Moscow Times, the Russian Orthodox Church has in the past been criticized for seeming to keep in step with the values and goals of the Kremlin during President Vladimir Putin's time in power.
Russian Petition Against Ukraine War Gets 1.5 Million Signatures
READ MORE
Russian Petition Against Ukraine War Gets 1.5 Million Signatures
"If humanity accepts that sin is not a violation of God's law, if humanity accepts that sin is a variation of human behavior, then human civilization will end there," he said.
In contrast to the stance by the Russian Orthodox Church, Pope Francis, leader of the Roman Catholic Church, has explicitly condemned Russia's invasion of Ukraine as a war.
"In Ukraine, rivers of blood and tears are flowing," the Pope said on Sunday while addressing followers in St. Peter's Square. "This is not just a military operation but a war which sows death, destruction and misery."
Francis also referred to Ukraine as a "martyred country" and urged other nations to offer humanitarian aid to its people.
Newsweek reached out to ILGA-Europe, an LGBT rights group, for comment.
Moscow patriarch stokes Orthodox tensions with war remarks (msn.com)
Posted on September 18, 2019 by Royal Rosamond Press
The Royal Janitor
by
John Presco
Copyright 2019
Victoria was in bed reading '1984' for the umpteenth time, when she there came a quiet knock on her bedroom door.
"Victoria. Are you asleep?"
"No. Come in!"
Victoria gasped when she beheld Miriam completely naked. Her gold hair flowing over her beautiful body, completed the complete package that got the full attention of Man, since the dawn of creation. Victoria stared at Miriam's mound of Venus and the V-shape of her pubic mat. For the first time she felt like a trespasser. This is – The Area of Man! Only a Man can gaze upon this! Miriam had never been in Victoria's bedroom, and thus she too was a trespasser – because she was compleltely nude under the covers. So many things are wrong with this picture, yet everything was never so – right!
"I thought we were going to take a break from one another?"
How many lovers have heard these words, spoken these words, for the first time, only to be made a liar. The First Breaking, is a great erotic event, for one has to untangle the tenacles 'The Love Aura' has you wrapped you in. One cacoon fits all! The un-weaving of the afterglow, is like a re-run, but, it is another movie altogether. What is, and what ought to be do have their time and place. Sometimes we arrive at perfection – and completion!
It was just two hours ago, that Victoria walked her dear Miriam to her tree house, they both dressed in the long night gowns they found in Victoria and Prince Albert closet. They were over a hundred years old. They grabbed an old latern that guided their way to the great oak. It was a scene out of Peter Pan, and other such Fairytales.
"Do you want me to come up and tuck you in?"
"No! I'm not ready for you to come up here. Goodnight!"
"Good night!"
Victoria put her book down on the nightstand and watched Miriam take her first steps into her sanctuary. She was reminded of the Tiger at the London Zoo. She was, gracefully looking for something – to feed on! She went right to it.
"Oh! What is this?"
When Miriam pulled her lovers photo album off the shelf it sounded like a tomb door opening. Victoria did not answer. Gliding to the bed, she threw the beefy book on the comforter, then dove on the bed herself. At the sight of her beautiful derrier and back, Victoria was ready for another Erotic Attack.
"You know. I really don't know you. Do you think you know me?"
Here is another great line lovers mutter after the first 'Fiery Glow of Pure Lust' has subsided. Everything gets pushed to the side to get your lust next to the one – you have to have. This is why many men shove one-night-stands out of their bed, and abode, because they never did want to know the latest seducee. The Big Lie lies right at the very beginning!It takes too much effort to learn anything about who you ark fucking, and, it leads to other things. What things? Well, more fucking, but, not with the same person if you play your cards right.
"I was lying in my tree, and was almost asleep, when my eyes were wide open! You are good at keeping secrets, aren't you?"
"Ah….it's my proffesion." Victoria said, and gave her lover her best coquettish smile.
"Oh, you are so cute. I could just eat you up!"
All of a sudeen, the gate to the tiger cage was open, and the tiger was lying next to Victoria sharing her lunch as they gazed into the empty tiger's cage. This is why she loved George Orwell. His metaphors have a life of their own, that roam the landscape long after his book is done – and the movie! No telling where they will show up. For the first time Victoria felt like The Man, with his……..? Without the play of the elusive erection, there was no easy set goal – and completion! Do Lesbian wrestle with this dilemma, this, complaint?
All of a sudden, Victoria saw Miriam as Alice in Wonderand. Best let her do all the wondering and wandering about – lest they both get exhausted. Turning many pages, Miriam got extremely excited.
"I want this horse! Is this your horse?"
"Why do you want a horse?"
"So I can ride it to town, naked, and proclaim our love!"
"Of course. Why did I ask? It was my horse. They sold it when I lost interest in riding it. I wanted to be a champion Dresser, but, I didn't have – it."
On hearig this, Miriam slowy closed the album, and like a python slithered across the silk bedspread, pulled back the covers, and lay the entire length of her body atop Victoria, who tingled all over as she felt Miriam's hair entwine with her hair. Venus took her glowing face in her hands, looked deeply into her lovers eyes, and said;
"You have – it – now! I want to sleep with you…..like this. I want to fall asleep on top of you, like this. I want to close my eyes, next to your eyes…………like this!"
And, just like that, Miriam fell into a deep sleep. Victoria listend to her shallow breathing. There came the cutest snoring then……..from her deep dream……..
"Buy me that horse!"
For half an hour Victoria let her tears roll down from the corner of her eyes. There was a rivlet of tears that ran past her ears to the lakes that formed at her neck. Only now did she realize how utterly alone she was after she lost her mother, like Miriam had lost hers.
Miriam was getting heavy. She had big Nordic bones. The Vikings made inroads into Russia. I wonder if she is kin to Harold Handradi, the Viking genius. Victoria rolled Victoria's dead weight off her as gently as she could. Like a mother, she cradled the back of her head so there would be no neck injury. She lay the head of Venus on her satin pillow. and, Victoria's mouth came open………..just so…….as if she wanted to be kissed, in her dream. But, that was apart of their agreement. They would never kiss. They would save their kiss for their husbands.
Victoria began to follow Miriam into a very deed sleep, but as usual she loaded up a profound question that was raised when her then, bodyguard, told her about the course her mother and father taught at the University of Oregon. They had rescued old Russian Fairytales from Russia and the Eastern Bloc, that were being discarded, used as fuel for stoves. They then compared them to Western Fairytales, and Russian tales brought over by immigrants. They said they were doing what should have been done in Queen Victoria's time, and, when WW2 was over. But, Stalin purged these tales. Why? Why have I am Miriam been brought together in Queen Victoria's house?
Victoria did not know it then. but she had asked the question that would soon save their lives. In her dream, she heard a very sad song, and it went on, and on, and on! When she went to turn out the light, she noted a tear forming at the corner of Miriam's eyes. She bent over, and kissed it away. This was a tear shed – in the future!
Venus is the goddess of love. In the beginning she opened the future up to all lovers. But, there was a reason why the Doors of Love had to be closed……..one by one! Miriam and Victoria cried, often because they felt a closure coming. Some things – are forbidden. Their collective tears kept the truth at bay.
John Presco
Copyright 2019
President: Royal Rosamond Press
An Ending
"I am going to kiss you now. Victoria opened her mouth just enough to match the beautiful open mouth of Miriam. She placed her lips upon her lips, as one would put a rose upon a freshly dug grave.
She was – right here, right there. And now she is somewhere else. But, not for me. My chance, our chance, is gone -so completely. How utterly unbearable, my being. So alone, all alone. Without her. I am left on the living side of death. Here, I must make my way.
I walk alone along the road. But I will never be alone. For thou art with me my love, on that road that runs on the dark side of the moon. You will go with me, her Lord, when I am in most need of her to be by my side. For she is with you, now. She knows the way.
John Presco
Copyright 2018
John Presco
Play both videos at the same time. Turn off sound of the second.