A great Sea Lord has been born to rival Neptune. Lord Aukus, and his beautiful consort, Bellona Rococo, are now looking for a home port to rule the Pacific Ocean from, and the China Seas. May I suggest San Francisco – and Oakland? Have I not compared Rena Easton to Helen of Troy? Surely she owned the face that launched a thousand ships. And, there is her Paris all in a froth. I will write Libby the Mayor of Oakland about having the city I was born in, manufacture a Ghost Fleet, and submarines that will be manned by an all black crew. Surely China would not harass the vessels of Bellona Rococo. Already a great Sea Epic rises in me, that will rule the waves for ten thousand years – and all the Seven Seas! Why not? Why not a French port that launches ships out the Golden Gate?
I will send my proposal to Gavin Newsom the Governor of California. My vision of the Land of Fromond – is now real! Is Liz Trust and Lord Ricketts worthy of a letter from the new John Dee? When I am done with my epic sea poem, I will seek a great talent to compose a symphony from this great drama that will alter the course of history. Behold! A California Sea Symphony!
Lord Aukus – Ruler of the China Seas
by
John Presco 'Seer after John of Patmos'
Paris is angry after Australia signed the Aukus pact
What have we here but more Trojan Horse treachery
another Greek stab in the back?
Where are the allies of Troy?
Look, over there by the craggy cliff!
Is that not the goddess Bellona Rococo
and her giant black canon she calls
'The Red Dragon Slayer'
Is this the universal banner that is yet to wave
over horizon after horizon
as far as the eye can see?
"Flaunt out o' sea
Your separate flags of nations!"
https://www.surfertoday.com/surfing/the-greek-deities-of-the-seas-and-waves
Mars Must Rule The Waves | Rosamond Press
List of water deities – Wikipedia
Marin City Sea Cadets | Rosamond Press
New Nation of Fromond | Rosamond Press
https://en.wikipedia.org/wiki/Bellona_(goddess)
Rococo (/rəˈkoʊkoʊ/, also US: /ˌroʊkəˈkoʊ/), less commonly Roccoco or Late Baroque, is an exceptionally ornamental and theatrical style of architecture, art and decoration which combines asymmetry, scrolling curves, gilding, white and pastel colors, sculpted molding, and trompe-l'œil frescoes to create surprise and the illusion of motion and drama. It is often described as the final expression of the Baroque movement.[1]
Aukus: France pulls out of UK defence talks amid row
By Alex Therrien
BBC NewsPublished2 hours agoShareRelated Topics
https://emp.bbc.com/emp/SMPj/2.43.9/iframe.htmlmedia captionAustralia's 'risky bet' to side with US over China
France's defence minister has cancelled talks with her UK counterpart amid the row prompted by a new security deal between Britain, the US and Australia.
Paris is angry after Australia signed the Aukus pact to build nuclear-powered submarines, pulling out of a major contract with France in the process.
UK PM Boris Johnson said France had nothing to worry about from the deal.
But Florence Parly's meeting with UK Defence Secretary Ben Wallace in London this week has been called off.
Lord Ricketts, a former British ambassador to France who was due to co-chair the two days of talks, confirmed the meeting had been "postponed to a later date".
'Very friendly relationship'
Foreign Office minister James Cleverly told BBC Breakfast that "all bilateral relationships go through periods of tension", but added: "I have absolutely no doubt that ultimately our relationship with France will endure."
He said the pact with Australia and the US was intended to "strengthen and deepen" the relationship with two long-standing defence partners and to support high-tech manufacturing and technology companies across the UK.ADVERTISEMENT
The Aukus agreement brokered last week, widely seen as an effort to counter China's influence in the contested South China Sea, ended a deal worth $37bn (£27bn) signed by Australia in 2016 for France to build 12 conventional submarines.
French foreign minister Jean-Yves Le Drian has described it as a "stab in the back" that constitutes "unacceptable behaviour between allies and partners".
And in a rare step among allies, French President Emmanuel Macron ordered the recall of the French ambassadors to Washington and Canberra.
The European Union has said it was "analysing" the impact of the Aukus agreement on its trade negotiations with Australia, which are due to resume in October.
BBC Brussels correspondent Jessica Parker said it appeared the EU had hardened up its position over the weekend, as the extent of France's anger became clear.
She said the commission wouldn't elaborate on what "analysing" the impact of Aukus could actually mean for the trade talks with Australia – but the language might lead to speculation that negotiations could even be suspended.
Speaking on a flight to New York, where he will take part in the UN General Assembly, Mr Johnson said France should not "worry" about the alliance, insisting that Anglo-French relations were "ineradicable".
The prime minister said Britain and France had a "very friendly relationship", which he described as being of "huge importance".
"Our love of France is ineradicable," he told reporters.
"Aukus is not in any way meant to be zero-sum, it's not meant to be exclusionary. It's not something that anybody needs to worry about and particularly not our French friends."
Mr Johnson is being joined on the trip with new Foreign Secretary Liz Truss, who launched her own defence of the agreement in an article for the Sunday Telegraph.
Ms Truss said the deal showed the UK's readiness to be "hard-headed" in defending its interests and had the potential to create hundreds of new skilled jobs.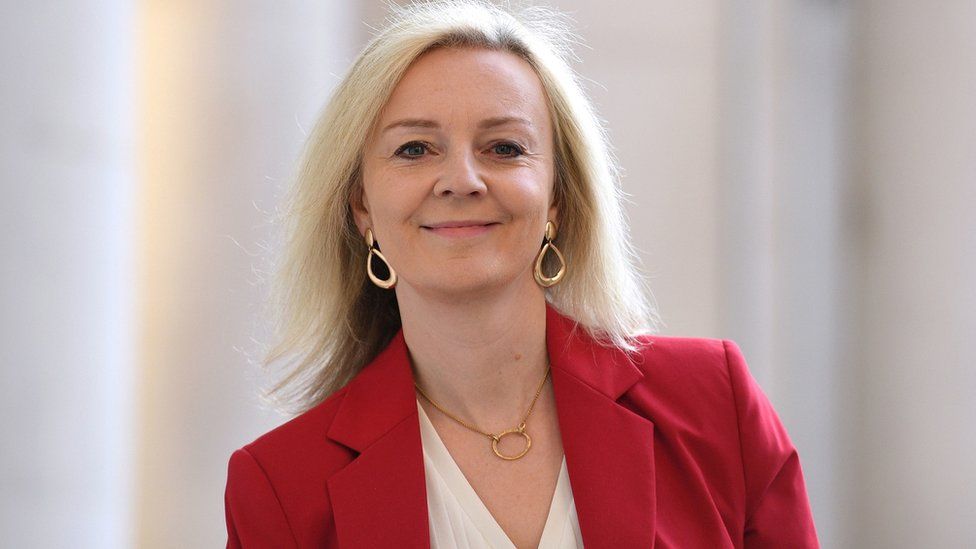 Meanwhile, Australia has defended scrapping its deal with France in favour of the Aukus pact.
Prime Minister Scott Morrison rejected accusations that Australia had lied, saying France should have been aware it was prepared to break the deal.
Speaking on Sunday, Mr Morrison said: "Ultimately, this was a decision about whether the submarines that were being built, at great cost to the Australian taxpayer, were going to be able to do a job that we needed it to do when they went into service and our strategic judgement based on the best possible of intelligence and defence advice was that it would not."
The agreement means Australia will become just the seventh nation in the world to operate nuclear-powered submarines.
The pact will also see the allies share cyber capabilities, artificial intelligence and other undersea technologies.
But it has been criticised by China, which has accused the three powers of having a "Cold War mentality".
And on Monday, North Korea, which has its own closely-watched nuclear weapon and missile programmes, warned it could spark a "nuclear arms race".
"These are extremely undesirable and dangerous acts which will upset the strategic balance in the Asia-Pacific region," state media KCNA quoted a foreign ministry official as saying.
Posted on May 8, 2021 by Royal Rosamond Press
China and Russia ambushed Blinken at the United Nations yesterday. But, I saw it coming. What inspired me to write a James Bond book – is a book in itself! To consider it becoming a movie – took a lot of guts!
Richard Rosenberg and Huey Newton 1 | Rosamond Press

My Kinship With Liz, The Gettys, Ian Fleming | Rosamond Press

China and Russia ambush Blinken at UN Security Council (msn.com)

Secretary of State Antony Blinken was lectured by China and Russia at a United Nations Security Council meeting that saw the authoritarian powers attempt to invalidate Western diplomatic initiatives and the U.S. alliance network.
"I'm sure that all countries would be glad to see the United States changing course and make a real contribution to practicing multilateralism," Chinese Foreign Minister Wang Yi said on Friday, moments after Blinken concluded his remarks.

Blinken denounced Chinese hypocrisy, although, like Wang, he avoided mentioning the target nations by name.
"A foundational unit of the United Nations, from the first sentence of the charter, is not just the nation-state — it's also the human being," Blinken said. "Some argue that what governments do within their own borders is their own business. … Asserting domestic jurisdiction doesn't give any state a blank check to enslave, torture, disappear, ethnically cleanse their people, or violate their human rights in any other way."
Rosamond Press
The European Union is acting as a World Police Force in warning Iran about the seizure of a ship. My old muse, married well. Irene is more that a female James Bond. She is the embodiment of Britania.
The portrait I did of Rena is a 'Historic Portrait'. Not even Rena can take this truth from me. She was my, and my late sister's muse. She is redeeming. She is redeemed by her choice of a husband, who made history.
John Presco
https://www.foxnews.com/opinion/trump-stands-up-to-iran
https://www.msn.com/en-us/news/world/britain-warns-iran-of-serious-consequences-if-british-flagged-oil-tanker-not-released/ar-AAEBw2a?ocid=spartandhp
Posted onJanuary 27, 2017byRoyal Rosamond Press
Rena's late husband was Former Head of the British Defence Staff which was founded by Winston Churchill to insure these two allies would forever be on the same side. It appears Theresa May is responding to the pledge of unity in meeting with Don Juan Trumpster.
Posted on November 13, 2016 by Royal Rosamond Press
The New Nation of Fromond will be born the day after Trump is inaugurated. I suggest we have a massive celebration in San Francisco celebrating the transfer of all America's Creative Spirit over the The People of Fromond. Frodomond is a alternative spelling. Let us create a collective legacy that will be passed down for generations to come. The Counter Culture may not have suitable Heirs.
https://en.wikipedia.org/wiki/Cascadia_(independence_movement)
The Fromondese will be as Green as can be. More details are coming. Study the plans for Cascadia. John Fremont founded the West. I have read his French surname is derived from Fromond. He was the first Presidential candidate for the Republican Party he co-founded. We will take away Trumps permission to use our founding father's name. Indeed, we will pass around a petition demanding the Trumpites leave our sacred Abolitionist Party. We will broadcast a Declaration of Emancipation across this Democratic Land, the very moment Tricky Trump places his hand on the Bible. The next day, women will march on Washington. We will reform the Jessie Scouts and make sure centers that cater to the needs of women are a safe place.
I implore you take me seriously. I am a wealth of Historic Permission, that will trump the vile permission you have already heard spewing forth from the Trumpster.
Jon Presco
Designer of Fromond
Copyright 2016
Tens of thousands of people say they are participating in a "Women's March on Washington" the day after President-elect Donald Trump is inaugurated.
The event, which is publicized on Facebook and scheduled for January 21, has garnered national attention and is titled the "Women's March on Washington." Previously, it was called the "Million Women March on D.C."
http://www.cnn.com/2016/11/12/politics/womens-march-on-washington-planned/index.html
The 2019 #Calexit Independence Referendum
In the Spring of 2019, Californians will go to the polls in a historic vote to decide by referendum if California should exit the Union, a #Calexit vote.
You will have this historic opportunity because the Yes California Independence Campaign will qualify a citizen's initiative for the 2018 ballot that if passed would call for a special election for Californians to vote for or against the independence of California from the United States.
This is a very important question. It is the responsibility of this campaign to explain what a yes vote will mean for you, your family, your community, our state, our country, and our world. We have designed this website to answer many of these questions and look to you to ask more.
"As the sixth largest economy in the world, California is more economically powerful than France and has a population larger than Poland. Point by point, California compares and competes with countries, not just the 49 other states."
In our view, the United States of America represents so many things that conflict with Californian values, and our continued statehood means California will continue subsidizing the other states to our own detriment, and to the detriment of our children.
Although charity is part of our culture, when you consider that California's infrastructure is falling apart, our public schools are ranked among the worst in the entire country, we have the highest number of homeless persons living without shelter and other basic necessities, poverty rates remain high, income inequality continues to expand, and we must often borrow money from the future to provide services for today, now is not the time for charity.
However, this independence referendum is about more than California subsidizing other states of this country. It is about the right to self-determination and the concept of voluntary association, both of which are supported by constitutional and international law.
It is about California taking its place in the world, standing as an equal among nations. We believe in two fundamental truths: (1) California exerts a positive influence on the rest of the world, and (2) California could do more good as an independent country than it is able to do as a just a U.S. state.
In 2016, the United Kingdom voted to leave the international community with their "Brexit" vote. Our "Calexit" referendum is about California joining the international community. You have a big decision to make.