I have published much of my life story in this blog. I am having much trouble finishing my autobiography because of what I am uncovering. These dark truths are activating my PTSD that I am being treated for. I will be contacting Netflix, HBO, and maybe Tarantino. They can supply writers who can work with me. Everything I have written in this blog is Copyrighted.
John Presco
President: Royal Rosamond Press
Victor Hugo of the Barbary Coast | Rosamond Press
Tenderloin Gambling
Unfinished History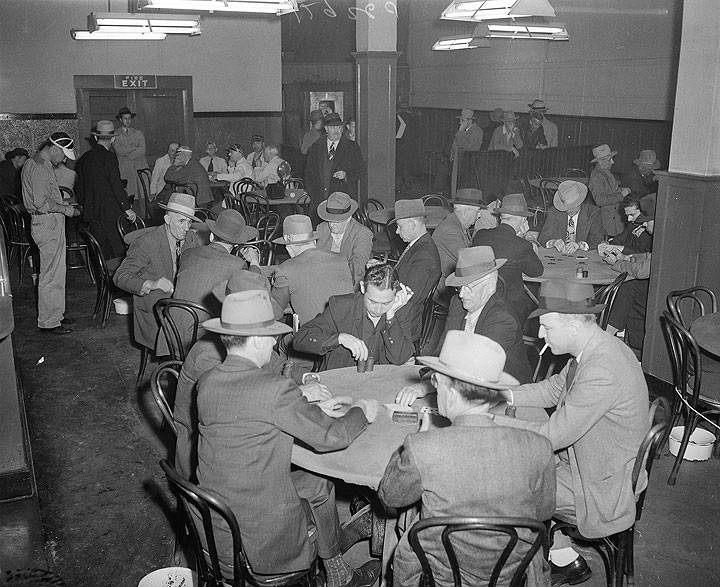 Remmer's Menlo Club gambling parlor on Eddy Street during raid, 1948.
Photo: San Francisco Examiner via Bancroft Library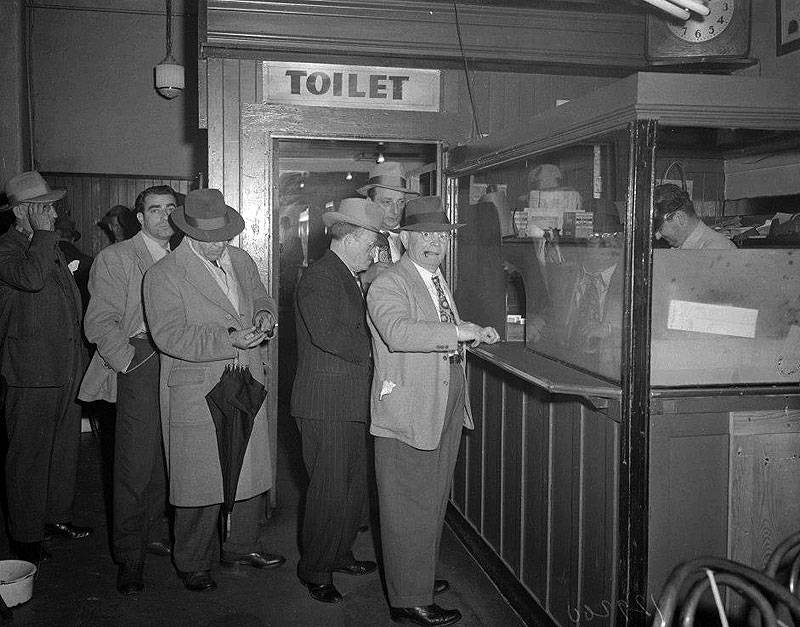 Gambling raid at Menlo Club, April 19, 1948.
Photo: San Francisco Examiner via Bancroft Library
During the last years of Prohibition in the early 1930s, gambling houses dotted the neighborhood, from Bones Remmer's Menlo Club on Eddy Street, the old Tivoli Opera House on Mason, the Kingston and Chad Milligan's. Cards, dominoes, dice, and betting the races were all easy ways to throw money around in the hope of a quick killing.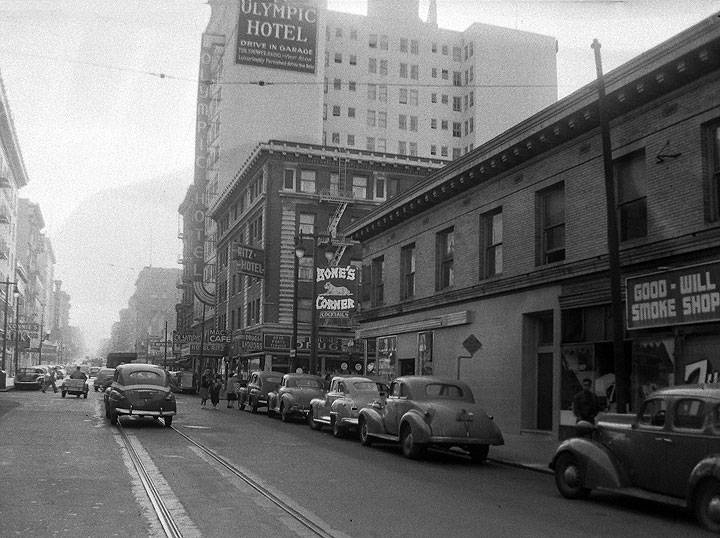 Bones' Corner, the gambling parlor of Bones Remmer, longtime associate of organized crime.
Photo:San Francisco Examiner via Bancroft Library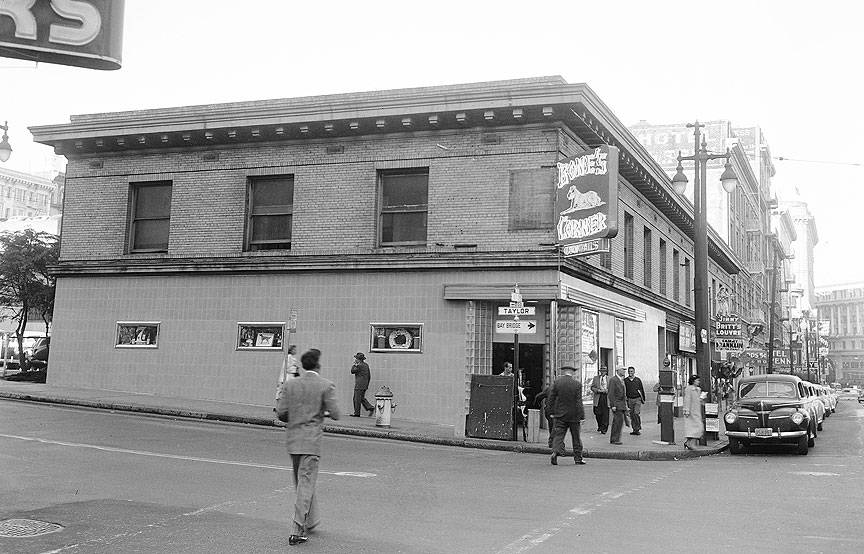 Bones Corner at Taylor and Eddy, c. 1940s.
Photo: San Francisco Examiner via Bancroft Library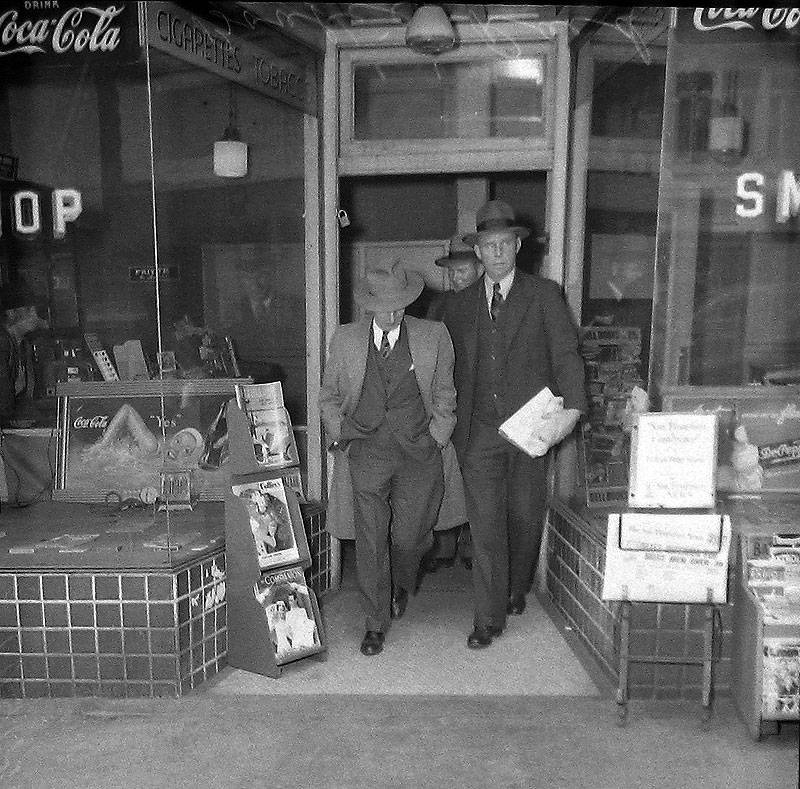 Bookies getting arrested at 441 Eddy Street, c. 1940s.
Photo: San Francisco Examiner via Bancroft Library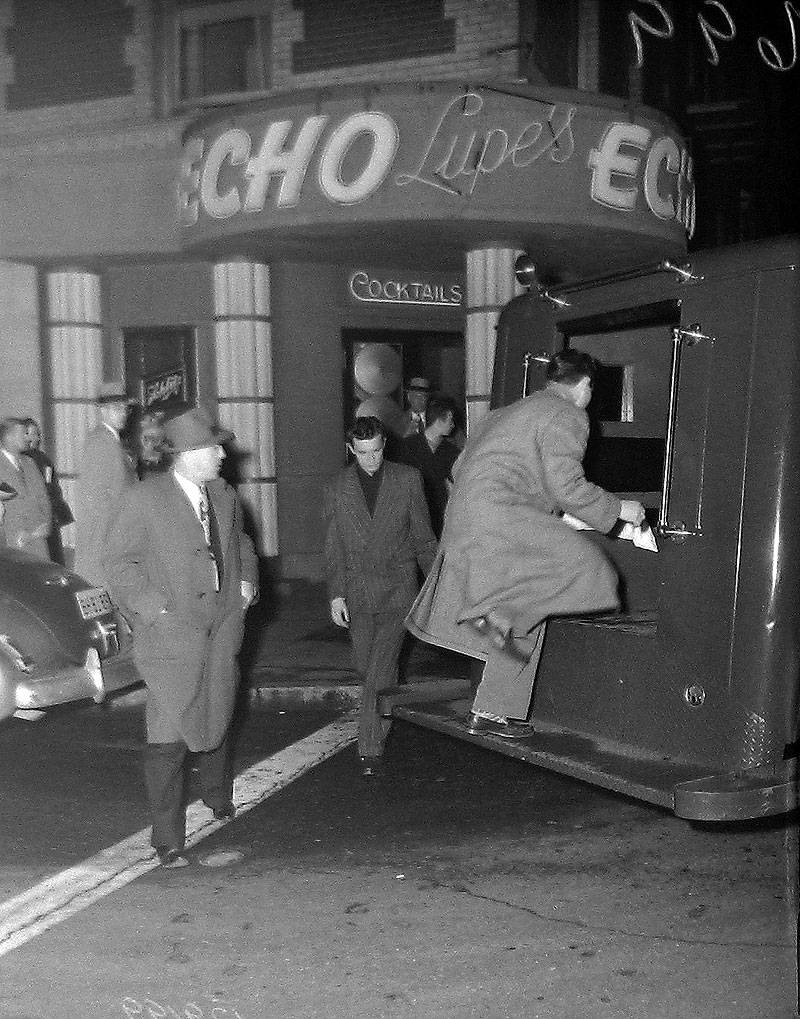 Echo Bar is busted at Taylor and Post Streets, c. 1940s.
Photo: San Francisco Examiner via Bancroft Library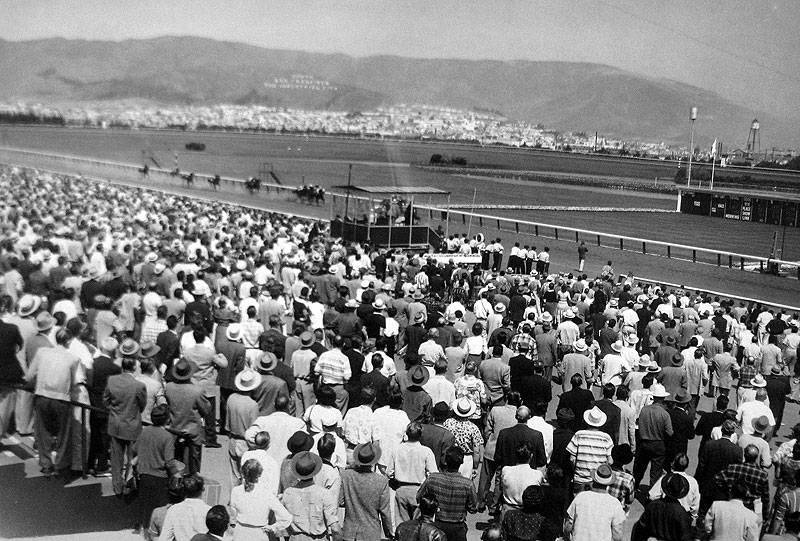 Tanforan Race Track, 1930s.
Photo: San Francisco History Center, San Francisco Public Library
Down the peninsula daily horse races filled Tanforan Race Track (now a mall, and for a brief and dark period, an internment camp for Japanese Americans during 1942) and Bay Meadows, while across the Bay horses raced at Golden Gate Fields; all three tracks were watched closely by the bookies working the Tenderloin from an ever changing array of apartments, bars, and storefronts. More bets were laid on the greyhounds at the regular races held at the Bay View Dog Track.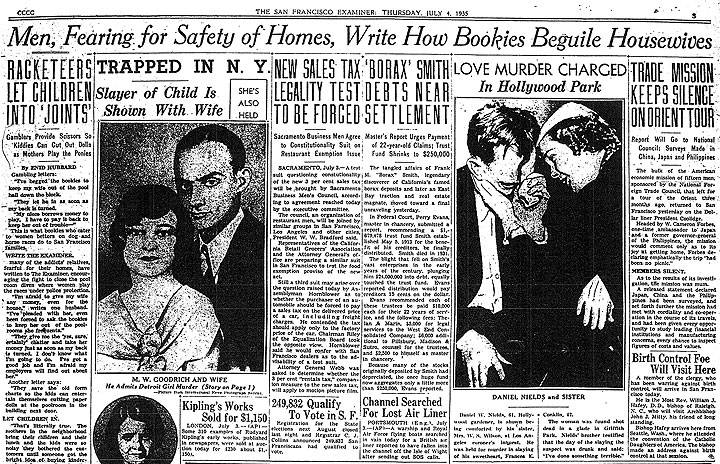 A 1935 series of salacious articles focused focused public attention on housewives who used their food money, or the money for a needed new coat to gamble on the local horse races. The Examiner headline July 2 proclaimed "Women Neglect Homes to Bet on Ponies; Shopping Money Sacrificed." Once again women who failed to be dutiful mothers and wives were made into evidence of moral depravity, worthy of public humiliation and grounds for stepped-up social control and repression.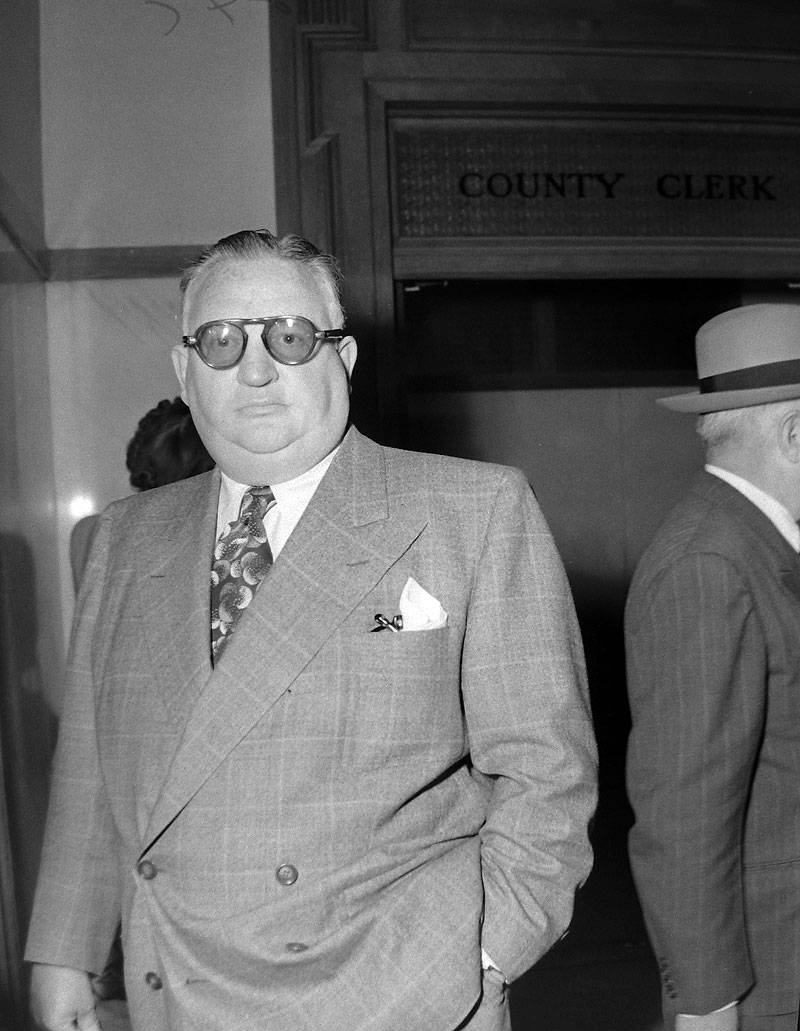 Elmer "Bones" Remmer at County Courthouse
Photo: San Francisco Examiner, courtesy Bancroft Library
During his long career as a gangster (reputed to be an associate of mobster Lucky Luciano) and gambler, Remmer operated card rooms in San Francisco and in unincorporated areas of Alameda and Contra Costa Counties. He operated the Menlo Club and later "Bones" Corner in the Tenderloin. While he managed the Cal-Neva Lounge at Lake Tahoe in the 1940s, the Nevada State Tax Commission warned him to "put square dice and new decks on the table." He was eventually sent to prison for income tax evasion. When he died in 1963, the underworld mourned the loss of the "big daddy of Northern California gambling."
Political cartoon in SF Examiner, with the split Mayor Christopher on top and Police Chief Ahern at bottom, c. 1956.
Posted on October 27, 2011 by Royal Rosamond Press
Meet Elmer 'Big Bones' Remmer! I did, when I was fifteen. My mother Rosemary
brought him over to the house with his wife, who may be in this photo, too.
http://tinyurl.com/y4ttjlg
http://tinyurl.com/y4ttjlg
http://tinyurl.com/y4ttjlg
Rosemary would later ask me if I recalled meeting this couple.
"These people were members of the Mafia who I made porno movies for."
The greatest kept secret in the world, is, men an women lie to sin. Sinning is big business. Vicki was adopted by Kay Coakley whose father was the District Attorney of Oakland. Frank Coakley allegedly looked the other way when the Mafia moved into the Bay Area. Did he know Rosemary was a one woman crime spree? We called her Ma Barker. We were her boys. She loved the title.
Above are photos of Rosemary at the Rucker Company office party. Rucker had a plant in emeryville, and helped put men on the moon. Rosemary forever sought the limelight, and was not willing to share it with any of her children – especially her to gifted, artistic children! She attacked, or threatened the life of our lovers. She owned the momopoly on sinning in our house. We were fobidden to be sinners and competer with he in her area of expertise.
After a hard day at the office, Rosemary would stop in at the Key Club in
Emeryville and have herself a drink. It was here she met that nice elderly
Italian couple who were members of a Mafia Family who had long ago founded the
city of Emeryville and made it a wide-open town, it famous for its Cat Houses
and Gambling Joints. Though several crack-downs had taken place, there were two
Card Rooms in Emeryville and the Key Club was once of them.
This gray-haired couple asked the Mighty Momster if she wanted to be a Movie
Star. Already owning a veracious sexual appetite, and laying guys at work for
free, or a shit wage – why not!From that moment on, whenever the movie `East of
Eden' was on T.V. Rosemary would call her family together for a Family Cuddle
around the warm glowing T.V. and you could hear a pin drop when Cal brought
Aaron to meet their mother, the dirty whore.I am often amused by these tales
that suggest Jesus married a whore and begat royal folks, like the Habsburgs. I
have been banned from many yahoo-groups owned and moderated by woman, who
conduct a sacred religious service as they declare Mary Magdalene was a Gnostic
Wizard, who knew way more then Jesus, knew, and, indeed taught him everything he
know;
During the reign of D.A. J. Frank Coakley, he was wittingly deaf, dumb and blind
to organized crime in Alameda County. He was a silent partner to an unholy
alliance with the La Costa Nosta, the Mafia.
In East of Eden, Steinbeck's depiction of the family Scapegoat equals anything
the Bible has to offer, for not only is Cal the cause of everything going wrong,
he is the last person in the world his older brother and father would look to
make things right. In this way he is doubly condemned, he made a goat after
being un-made a man.Like the scene of all that lettuce rotting in those box
cars, my brother and I were witness to my father's red truck broke down on the
Nimitz freeway with a broken axle because he overloaded it with hundred bags of
potatoes his whole family spent the weekend grading in a big warehouse in
Hayward. When my mother had to come to our rescue in her little blue Ford
Anglia, she grabbed the reigns from Vic in front to his sons, his fellow
workers. We cringed at the sight of his humiliation.
Jon Presco
Copyright 2011
Dugan's Café was built before the turn of the century at the northwest corner of Hollis Street and Park Avenue. The restaurant and bar became a hangout for turfmen and jockeys during the race track era. During the 1940s is featured Gay 90s variety shows, dancing, and hobby horse races. The two-story Victorian wood frame building was destroyed by fire on February 7, 1949.
Alameda and San Francisco County's resident Lucky Luciano's La Costa Nosta crime
boss was a man called Elmer "Big Bones" Remmer of Emeryville. Bones Remmer
controlled all the after-hours joints, brothels, gambling houses, extortion,
loan-sharking, bookies and Murder, Inc. in Emeryville, Oakland and San
Francisco. Along with witting politicians, cops, and various shady lawyers and
bagmen, Big Bone's mob operations remained unmolested by local law enforcement
agencies in Alameda and San Francisco County.
Fed up with crime, corruption and Murder, Inc. in Alameda County during the
1940-50's, the California State Attorney General had to come to Oakland to try
to shut down the mob's operations. The Attorney General's office indicted and
proceeded to prosecute some of Oakland's mob figures. Under D.A. Coakley, the La
Costa Nosta just didn't exist in the county. Just imagine of all people that
could have showed up in Oakland to defend the mob, it was the who's who of Mafia
http://sfist.com/2011/01/24/why_san_francisco_was_never_much_of.php
Why San Francisco Was Never Much of a Mafia Town, or Was It?
Big Bones Remmer
You heard about that big mob bust late last week on the East Coast? Well, NBC went to local crime author and retired policeman Kevin J. Mullen to find out why we haven't had any real, juicy mob activity out here. Mullen says that Al Capone sent emissaries out to San Francisco in 1931 to case the joint, but decided it was "too tough" a town to crack. That may just be a proud cop talking, but Mullen says it's an easier town to police, given its size and geography, and the transcontinental railroad terminated in Oakland, after all.
NBC and Mullen neglect to mention that the mafia's historic stronghold out here was Emeryville, where they set up shop with a figurehead mayor, a chief of police, and their very own little harbor, ultimately headed up by mob boss Elmer "Big Bones" Remmer, who worked for Lucky Luciano. Remmer controlled a number of after-hours joints, gambling parlors (the Oaks Card Clubin Emeryville is a latter day remnant, grandfathered in under city law since it's been there since the 1890s), brothels, and loan-sharking operations around Oakland, Emeryville, and S.F. Remmer's S.F. headquarters was the Menlo Club, and at least one sourcecredits Jerry Brown's dad, "San Francisco Attorney Edmund Pat Brown [with helping to] incorporate Bone's La Costa Nosta operation." So maybe it's just that the mob was better connected and operated in relative quiet out in crazy S.F.? In Emeryville, a reported hangout back in the mid-twentieth century was The Town House Bar, so named in part because it's where the "mayor" sat and drank all day while Remmer had free reign.
The Alameda County D.A.'s office prosecuted a bunch of cases against noted mob figures in the 40s and 50s. Also, reportedly, Jack Ruby (Lee Harvey Oswald's assassin) once worked in the Menlo Club in S.F. for a gambler named Eugene Shriber, an employee of Remmer's. (And this blogger guy claims to be the son of one of Remmer's prostitutes.)
So what's that again about the mafia never being in San Francisco?
http://sfist.com/2011/01/24/why_san_francisco_was_never_much_of.php
Posted on May 26, 2016 by Royal Rosamond Press
My brother, Mark Presco, described Melba as a 'Control Freak'. Coming from a master control freak, this is quite an honor. Mark stopped seeing our grandmother, because she put him to work every time he did. That was my experience. Vic was the same way. This is why I almost conclude the Stuttmeisters were Prussian Royalty. Vic and Melba have the look and baring. Hugo could not hang!
Rosemary Rosamond made porno movies for Big Bones Bremmer. Later, she was a high class hooker working out of the Beverly Hills Hotel. Hollywood Stars has seen he infamous movies. Our mother was hardly ever home. I was the family cook. Christine watched me render large canvases in the little studio I built in the back of our home on Glendon.
There are blue-eyed Austrian Jews. I was befriended by one. Hugo had amazing blue eyes. After getting away from the 'Control Freak' he moved to the Barbary Coast in San Francisco. When he discovered he was a great poker player, we will never know. He made a living sitting at a table with gamblers. Victor Hugo Presco, was a professional gambler of the Barbary Coast. You can't get any more Bohemian than this. Did he have a room above the Hippodrome? I would. When evening falls, I would put on my best duds and head for a card room. Who wants to get stuck with a bossy bitch and her spoiled brat – who demand all your attention? Victor Hugo – is my main man! I'm going to hang with his memory – till I die! We would have made great pals. Screw the Hansons!
1849: Badly drawn paintings of nude women adorn the walls of the best cafes in the city. Prostitutes begin to arrive from the east. They are frequently auctioned off from the decks of the arriving ships. Cafe owners often hire them to pose nude in displays in the dining halls. Gambling houses were everywhere. At the El Dorado it was reported that $80,000 once changed hands on the turn of a single card. Liquor and female companionship were often provided free of charge by the house as an incentive to frequent patrons.
This place was the Sin City of the world. It had an international reputation. It made the Capitol of Bohemianism, great. If we were told the truth, then we would know from where the dilemma came that ruined out lives. Melba's father ran the California Barrel Company and delivered wood barrels to Bootleggers all over America. Rosemary made porno movies for Big Bones Remmer, the only Mafia boss working the West Coast out of Emeryville. Hugo and Rosemary would have gotten along great. Did they ever meet?
Men wanted to get drunk, see naked women, and get laid. There is nothing new under the sun. They also wanted to be bedazzled and entertained. I love the pic of the Bella Union Dance Hall. Looks like an exotic dancer sitting on a crescent moon. Human beings also love to dance. Here is the rebirth of Ancient Rome. Here is the new Hippodrome. Then came Bill Graham and the………..
THE HIPPIEDROME
Then there was the Red Mill, later called 'The Moulin Rouge'. We Prescos got it covered. The Faux Caretakers have destroyed us. I will sell our True Story to HBO! We will be reborn. We will dance naked again, in the woods with the Woodminster and the Faun. Did Hugo meet any artists?
Captain Gregory
Copyright 2016
http://hoodline.com/2015/04/art-supply-store-artist-craftsman-has-storied-barbary-coast-past
Interior of the Moulin Rouge nightclub in the Barbary Coast, 1911
555 Pacific was such a place, going through multiple iterations of clubs and dance halls. The existing building is pretty much a reconstruction of a saloon that was there before the earthquake, but was known as the Red Mill, later renamed in French to Moulin Rouge in attempts to class up the joint. The exterior was covered in plaster reliefs of satyrs chasing naked wood nymphs. By the late 1930s, the Hippodrome moved into the spot.
http://sf.curbed.com/2013/5/24/10239866/have-a-good-time-at-the-hippodrome-on-terrific-street
BARBARY COAST
Historical Essay
Barbary Coast, 1909.
The Hippodrome by day, c. 1900-1920.
Photos: San Francisco History Center, SF Public Library
1849: Badly drawn paintings of nude women adorn the walls of the best cafes in the city. Prostitutes begin to arrive from the east. They are frequently auctioned off from the decks of the arriving ships. Cafe owners often hire them to pose nude in displays in the dining halls. Gambling houses were everywhere. At the El Dorado it was reported that $80,000 once changed hands on the turn of a single card. Liquor and female companionship were often provided free of charge by the house as an incentive to frequent patrons.
1860-1880: It was in the mid-1860s that the term "Barbary Coast" came into being. It derived its name from its similarity to the notorious Barbary Coast in Africa, and stretched from Montgomery to Stockton along Pacific Street, with branches off into Kearny and Grant Ave. The area had already been cleaned out twice before by the Vigilantes, but once again it began to grow with dives gambling halls, and houses of prostitution. One particularly dangerous block on Pacific between Kearny and Montgomery was known as Terrific Street. A writer in 1876 described the area:
The Barbary Coast is the haunt of the low and the vile of every kind. The petty thief, the house burglar, the tramp, the whore monger, lewd women, cut-throats, murderers, are all found here. Dance halls and concert-saloons, where blear-eyed men and faded women drink vile liquor, smoke offensive tobacco, engage in vulgar conduct, sing obscene songs and say and do everything to heap upon themselves more degradation, are numerous. Low gambling houses, thronged with riot-loving rowdies, in all stages of intoxication, are there. Opium dens, where heathen Chinese and God-forsaken men and women are sprawled in miscellaneous confusion, disgustingly drowsy or completely overcome, are there. Licentiousness, debauchery, pollution, loathsome disease, insanity from dissipation, misery, poverty, wealth, profanity, blasphemy, and death, are there. And Hell, yawning to receive the putrid mass, is there also.
–from Lights and Shades of San Francisco by Benjamin Estelle Lloyd, 1876.
One of the more colorful and memorable characters of the Barbary Coast was a one-time actor whose only name was Oofty Goofty. Oofty Goofty's great claim to fame was his insensitivity to pain. For many years he made his living along the Barbary Coast by being the willing victim of physical abuse. For ten cents a man might kick Oofty Goofty as hard as he pleased; for a quarter he would let himself be hit with a walking stick; and for fifty cents he would take a blow from a baseball bat.
The Old Hippodrome and Bella Union Dance Halls at 557 Pacific Street between Kearny and Montgomery. Jesse B. Cook on sidewalk, February 1925.
Photo: Jesse Brown Cook collection, online archive of California I0050526A
Hippodrome, early 1930s.
Photo: San Francisco History Center, SF Public Library
Those who escaped the clutches of the crimps and runners trying to shanghaithem frequented the dance halls of the Barbary Coast, where "dancing" with a woman could take any form or degree the patron wished. Those who desired serious drinking could choose from a variety of establishments, the most dangerous of which was The Whale–as tough a bar-room as San Francisco ever boasted. The most famous criminals of the time could frequently be found there, as for the most part, even the police were afraid to enter. Another famous drinking establishment was the Cobweb Palace, run by Abe Warner, a lover of spiders, who let them spin their webs without interference. The webs hung were festooned across the ceiling and down the walls. Liquor was especially cheap at Martin and Horton's, where one of its most infamous patrons was a shy little man who tended to sit unobtrusively at the back of the room. He was in fact, Black Bart, the highway bandit who held up stages with an unloaded gun and always left behind a bit of poetry signed "Black Bart the PO8."
The primary industry of the Barbary Coast was prostitution. Three particular types of brothels were to be found: the cow-yard, which served as both apartment building and brothel; the crib, the lowest and most disreputable of the houses; and the parlor house, whose employees were considered the "aristocracy" of San Francisco's red-light district.
The women who worked in the dives, regardless of their age, were called "pretty waiter girls." They were usually paid $15 to $25 a week to serve as waitresses, entertainers and prostitutes. For a small fee a man could view any pretty waiter girl free of her clothing. During the 1870s one Mexican fandango den dressed its girls in no more than red jackets, black stockings, garters and slippers. This dress code was abandoned in a few weeks due to overwhelming and uncontrollable crowds.
More often than not the owners of these brothels, regardless of what kind of house they operated, came away with great fortunes. The more frequented parlor houses seemed each to have its own speciality. Madame Bertha, who ran a parlor house located in Sacramento Street, in addition to the usual activities of such an establishment, gave organ recitals on Sunday afternoons to specially invited guests. The prostitutes sang popular songs while Madame Bertha accompanied.
Madame Johanna employed three French girls who gave erotic exhibitions and were known as the Three Lively Fleas. She was also the originator of "direct mail advertising" for brothels, sending pictures of the naked girls to specially procured mailing lists.