Russia and China are in South America turning the descendants of Indigenous Americans -who came from Asia – against the Anglos of the United States. Why didn't King David Trump and his Evangelicals Insurrectionist Hoard – who love Putin – try to stop this THREAT? Because they wanted Russia to invade and save them from the black race.
We are going to war! The Shekinah moves about the land. She has been the bodyguard of my sisters and I. She is what everyone is after. This is why I am viciously attacked, and why Christine is viciously attacked – IN HER OWN BIOGRAPHY! They are still trying to murder her – and me! They do not want me to publish my autobiography. They have taken incested children hostage – for power and money! This is so evident! What they did to me – they did to Christine! Israeli Intelligence KNOWS everything. They too back the evangelicals.
John The Keeper of The Light of God
Maria Butina and Miriam Starfish | Rosamond Press
Mr. H – My Angelic Advocate | Rosamond Press
The Angel of the Silver Chord | Rosamond Press
Bonding With a Beautiful Angel | Rosamond Press
Calling All Nazarite Angels | Rosamond Press
Bonds With Angels – The Mob | Rosamond Press
"Russia and China are now better prepared to fight together than Britain and America were before World War ii.
For decades, Herbert W. Armstrong predicted an alliance between Russia and China. "Scripture prophesies two great military powers to arise in the last days—one the revival of the Roman Empire by a federation of 10 nations in the territory of the ancient Roman Empire; the other … Russia, with her allies … possibly China or Japan," he wrote in the Plain Truth as far back as 1934."
Will Russia Attack America? – Herbert W Armstrong (hwalibrary.com)
People Won't Believe It!
Always the true prophets and ministers of God have stood almost alone, and opposed by the overwhelming majority in Israel. That is Israel's history of old. It is true today.
The 13th chapter shows the declarations of the popular ministry of this day in Israel — in America and Britain.
"Son of man, phophesy against the prophets of Israel… Woe unto the foolish prophets, that follow their own spirit and have seen nothing! O Israel thy prophets are like the foxes in the deserts. Ye have not gone up into the gaps, neither made up the hedge for the HOUSE OF ISRAEL to stand in the battle in the DAY OF THE LORD" (Verses 2-5). It is speaking of the soon-coming "Day of the Lord" — not some ancient event! … "They have seduced my people, saying Peace; and there was no peace" (Verse 10).
Certainly the popular ministry of today is saying to the people that we shall never be defeated in war, became, say those who understand our national identity, we are the chosen people of Israel! But we were not chosen for special favors. We were chosen for a service and righteous life we have failed to perform! Every time Israel of old disobeyed God, departed from His laws and ways, and went into the pagan customs (as we have done today, actually deceiving ourselves by calling those customs "Christian!") they were invaded and conquered. Has God changed?
The Giants of the East | theTrumpet.com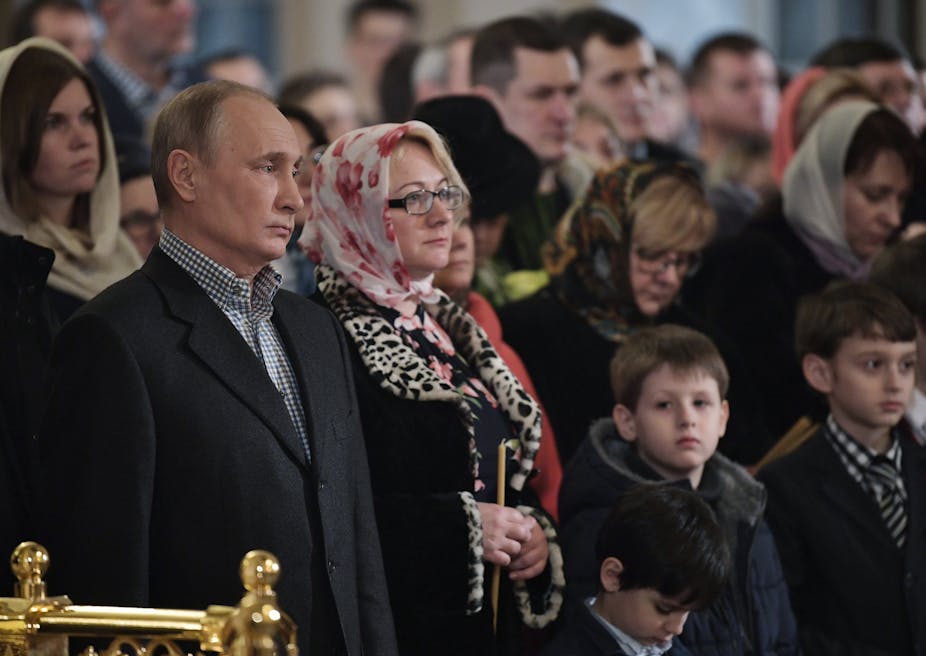 The close relationship between American evangelicals and Russia has lately been discussed widely in the news media. In particular, the Justice Department unsealed a criminal complaint in July against a Russian woman, Maria Butina, for trying to use the National Prayer Breakfast, a star-studded affair, as a "back channel of communication" with prominent American religious and political leaders.
Among them is Franklin Graham, son of the well-known evangelist, Billy Graham, and head of the influential Billy Graham Evangelistic Association.
In 2015, Graham famously visited Russia, where he had a warm meeting with President Vladimir Putin. On that trip, Putin reportedly explained that his mother had kept her Christian faith even under communist rule. Graham in turn praised Putin for his support of Orthodox Christianity, contrasting Russia's "positive changes" with the rise of atheistic secularism in the U.S.
U.S. Bombers Might Have to Go Back on Nuclear Alert (msn.com)
The head of the U.S. Strategic Command (STRATCOM) says he would ask to put bombers back on nuclear alert if the U.S. failed to replace the Minuteman-III.
The Pentagon is planning to replace the Minuteman-III with a new intercontinental ballistic missile, but some critics think such a move is unnecessary.
STRATCOM's commander says he would need two legs of a nuclear triad, or dyad, on alert at all times, forcing a portion of the bomber force to be ready to fly at a moment's notice.
The head of the U.S. Strategic Command will ask bombers to go back on nuclear alert status if the Pentagon doesn't replace the Minuteman-III intercontinental ballistic missile (ICBM).
Adm. Charles Richard made the comments during a discussion of the nuclear force structure in a Senate Armed Services Committee hearing on Tuesday, according to Defense News. President Joe Biden's administration is preparing to assess the U.S.'s strategic nuclear arsenal while the Pentagon is preparing to order the development of the Ground Based Strategic Deterrent missile to replace the aging Minuteman-III.
"Half of Russia's land capability, military land capability, now have moved to surround eastern Ukraine," House of Commons Defense Select Committee Chairman Tobias Ellwood said Wednesday. "I hope it isn't the case, but I fear that an invasion is imminent, and that is concerning."https://www.dianomi.com/smartads.epl?id=3533
Russia's mobilization around Ukraine exceeds even the levels reached in 2014, when Putin annexed Crimea from its neighbor and led to a conflict in eastern Ukraine. Putin's intentions with the latest buildup have stoked alarm in Kyiv and Western capitals, although his next steps remain a subject of debate.
But Ellwood is inclined to think that Moscow is planning a rerun of Putin's previous efforts to carve political satellites out of former Soviet vassal states — such as the Crimea crisis and the 2008 intervention in Georgia.
"This is all because Putin wants to look strong and reignite that idea that it is a superpower," Ellwood told the Council on Geostrategy, a British think tank. "And now, he's taking advantage of a disunited West."
US AND NATO WARN RUSSIA NOT TO BLOCKADE UKRAINIAN PORTS
The massing of Russian troops near Ukrainian borders has spurred leading lawmakers in Washington to draft legislation that would expedite the delivery of "defense article transfers" to Ukraine and "authorizes $300 million in foreign military financing (lethal and non-lethal)," according to a new announcement.
"As Putin continues to escalate the situation along the border with Ukraine, we are speaking with one voice in reaffirming our steadfast support to the people of Ukraine and our commitment to protect our national security interests and our closest partners," Senate Foreign Relations Chairman Bob Menendez, a New Jersey Democrat, said Wednesday after the bipartisan bill passed through the committee.
That legislation would also put pressure on President Joe Biden to impose additional sanctions on 20 entities "involved" against Nord Stream 2, a Russia-Germany natural gas pipeline that would empower Putin to cut gas to Ukraine without depriving Western Europe of resources.
"I believe that all of these entities are currently involved in building out the Nord Stream 2 pipeline," Idaho Sen. James Risch, the top Republican on the committee, said Wednesday. "U.S. law requires that such entities be sanctioned — this amendment should make Congress's intent crystal clear."
Russia's buildup could amount to an elaborate diplomatic maneuver to pressure Ukrainian President Volodymyr Zelensky into making concessions in talks related to the disputed territory of eastern Ukraine, according to Western officials and security analysts.
U.S. intelligence leaders conceded recently they don't know Putin's plans, but Ukrainian officials worry Western allies will underestimate the Kremlin.
"We're not trying to say that we know, date and time, when Russia will cross the front line or will cause another wave of escalation on the ground," Ukrainian Foreign Minister Dmytro Kuleba said Wednesday. "But we certainly see strategic preparations of the Russian Federation, military preparations of the Russian Federation. And it is now in the hands of Ukraine and all those who stand for the respect for international law and sovereignty in Europe to demotivate Putin from making further aggressive steps."
Putin's plans could be open-ended, according to British analysts who testified earlier Wednesday before the defense committee chaired by Ellwood.
"Historically, Russia and in the past the Soviet Union have, on multiple occasions, sort of moved from an exercise posture to an operational posture," International Institute for Strategic Studies research fellow Henry Boyd told Ellwood and the other lawmakers. "There is an entirely plausible narrative that says, this is simultaneously, an exercise to demonstrate internally that Russia can do what it wants to do … [and] give the Russians a definite backstop, a military option should they need it, under the circumstances."
Russia may feel emboldened by the sense that Biden's team is prioritizing threats from China and military demands in the Indo-Pacific region, Boyd added, and Ellwood acknowledged that Ukraine is hardly the top priority for Western strategists.
CLICK HERE TO READ MORE FROM THE WASHINGTON EXAMINER
"Biden has spoken very firmly about this, but actually, what can we do about it? It is not the hill that we're going to die on," the British lawmaker said during the Council on Geostrategy event.
Tags: News, Foreign Policy, National Security, Joe Biden, Ukraine, Russia, United Kingdom, Vladimir Putin, NATO
Original Author: Joel Gehrke
Original Location: Russian invasion of Ukraine is 'imminent,' warns senior British lawmaker
Politico reported that four former national security officials said that the Department of Defense has been investigating the incidents since last year. At least two groups of lawmakers were briefed on the probes earlier this year, the news outlet added, citing conversations with congressional officials.https://www.dianomi.com/smartads.epl?id=3533
The sources told Politico that the probe includes one fall 2020 incident in Syria in which several U.S. troops developed flu-like symptoms, with lawmakers also briefed on other suspected injuries sustained by troops.
It was not clear exactly how many troops were injured in the suspected attacks, nor how severe they were.
Lawmakers told Russia likely behind suspected directed-energy attacks on US troops: report (msn.com)
The Pentagon has reportedly briefed top lawmakers that Russia likely carried out a series of suspected directed-energy attacks against U.S. troops.
Two former national security officials told Politico that due to rising concerns over the alleged directed-energy attacks by Russia, the Pentagon's office of special operations and low-intensity conflict began looking into the incidents last year.
A Pentagon spokesperson told Politico that it was not aware of directed-energy attacks against U.S. troops in Syria and declined to comment on the Department of Defense's communications with lawmakers.
The Hill has reached out to the Pentagon for additional information.
The investigation is reportedly part of a broader look into directed-energy attacks against U.S. officials and also comes amid rising tensions between the U.S. and Russia.
On Wednesday, U.S. diplomats met with Russian officials to discuss a recent series of sanctions between the countries as President Biden aims to take a tough stance on Moscow.