(CNN)Federal prosecutors offered the most chilling description yet of rioters who seized the Capitol last week, writing in a new court filing that the intention was "to capture and assassinate elected officials."
The view was included in a memo seeking to keep Jacob Anthony Chansley, who rallied people inside the Capitol using a bullhorn, in detention. According to Capitol Police information included in the filing, Chansley was notable for his headdress, face paint and carrying of a six-foot spear."
After my last blog, I took a short nap and got back online. Members of SLEEPS plotted on how best Belle approach me. She asked for more personal information after our meeting. They wanted to get to the Kesey family and recapture Ken Kesey Square to use as the new home of Whoville Victims. Perhaps I could get permission from Zane Kesey?
It is becoming clear our Captitol and Democracy was beseiged by BIG VICTIMS. and, they were led by the BIGGEST VICTIM in the world – The President of the United States. Elected leaders – had robbed him – and his followers. Trump told them to get their revenge, and make it right!
As I was viciously attacked by Alley Valkyrie, Kim Haffner, and Jeff Holiday, they removed any idea that
I WAS THE VICTIM
All the people in this video needed to be identified and talked to by the FBI especially that male who said;
"You need to be locked up!"
I suspect he and Krista are radical Christians who have borrowed the threats of Alley Valkyrie and re-delivered them. This is – conspiracy. When Haffner said this'
"We're going to get rid of your cate!"
She is telling me – they will capture it!
"People have written about you. They WARNED us about you!"
(1) Springfield Witch Hunt – YouTube
I suspect my tormentors belong to the QAnon cult. Kathy made gestors that it pained her to be in my presence, as if I was a child-molester. She acts like the biggest victim in the world. I believe they attend a church that employs the QAnon Victim illness. I suspect Haffner gave Krista my sister's bio to read – and she freaked when she saw we are kin to Hollywood Stars and Politicians. When Krista read Alley's fake wanted poster, her ugly, fat, life – now had real meaning! We had exchanged a handful of words since she moved in four years ago. Why was she so irate and threatening? I told Haffner not to lend this book out because there were allegations of incest. My autobiography is titled….
CAPTURING BEAUTY
I said I was a write-in candidate for President two years ago. QAnon is being called a alternative religion – where the believers go to their cross. Trump worked them by pretending to go to his cross. You saw him do this right after losing the election.
The Kimites saw something innocent about me when I walked around the block every evening with my cat friends. As Cult-Victims they were seething with pent up rage because they had lost their innocence. Alas, they had someone to blame, and take their psychosis out on. They loved taking away my innocence. We have all been living in fear and hell for two years.
Pelosi: 'We've really lost our innocence' (msn.com)
John Presco
Capitol rioters intended to 'capture and assassinate' elected, US prosecutors say – CNNPolitics
How QAnon Conspiracy Is Spreading In Christian Communities Across The U.S. : NPR
Air Force vet holding zip-ties and an Alabama man armed with a knife who said God told him to enter the building. After getting into the chamber "by the grace of God," Chansley said he was glad he sat in Pence's chair because Pence "is a child-trafficking traitor," the memo states.
Chansley admitted that he left a chilling note on Pence's desk stating: "It's only a matter of time, justice is coming." But he told the FBI he "did not mean his note to Vice President Pence…as a threat."
Prior to the riot, Chansley had "previously espoused identifying and then 'hanging' 'traitors' within the United States government," the memo says.
QAnon[a] (/ˌkjuːəˈnɒn/) is a disproven and discredited far-rightconspiracy theory[2] alleging that a cabal of Satan-worshippingcannibalistic[3][4][5]pedophiles is running a global child sex-trafficking ring and plotting against U.S. president Donald Trump, who is fighting the cabal.[6] QAnon also commonly asserts that Trump is planning a day of reckoning known as the "Storm", when thousands of members of the cabal will be arrested.[7][8] QAnon supporters have accused many liberal Hollywood actors, Democratic politicians, and high-ranking government officials of being members of the cabal
SHAPIRO: Your piece is called "QAnon: The Alternative Religion That's Coming To Your Church." Do the people you interviewed really see it as a belief system comparable to organized religion?
BEATY: They do. They are picking up on the overt spiritual language that Q, whoever that is, is using in his messages on the Internet, and they see that as connecting directly to the Bible, to the God of Christianity and to God's hand at work in the world. So they see the QAnon messages as revealing truth in the world and that they are supposed to take up a spiritual battle to reveal truth.
SHAPIRO: And your reporting suggests that there's something about this moment that makes it spread that much faster.
BEATY: Yeah. So a lot of pastors I spoke with noted the fact that, you know, their churches are having to continue to do virtual church. They're not meeting in person as much due to the coronavirus and restrictions on worship. And in that time, the pastors I spoke with sense that there is this isolation and loneliness that their members are experiencing. You know, the pastors only get one hour a week with people in their church. The people in their church are probably spending hours on Facebook, on other social media forums, taking in this information. And the pastors I spoke with just felt like they couldn't do enough to counter the false messages that some of their church members were receiving through the Internet.
'He has an obligation to them': Attorney for 'QAnon shaman' asks Trump to pardon rioters – POLITICO
The lawyer for the "QAnon shaman" who was part of the deadly siege of the Capitol last week publicly petitioned President Donald Trump on Thursday to pardon his client.
In an interview on CNN, attorney Albert Watkins said his client, Jacob Chansley, "felt like he was answering the call
(CNN)Federal prosecutors offered the most chilling description yet of rioters who seized the Capitol last week, writing in a new court filing that the intention was "to capture and assassinate elected officials."The view was included in a memo seeking to keep Jacob Anthony Chansley, who rallied people inside the Capitol using a bullhorn, in detention. According to Capitol Police information included in the filing, Chansley was notable for his headdress, face paint and carrying of a six-foot spear.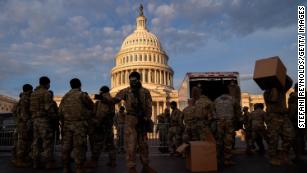 Members of Congress fear for their lives and security after deadly riot, sources say"Strong evidence, including Chansley's own words and actions at the Capitol, supports that the intent of the Capitol rioters was to capture and assassinate elected officials in the United States government," government prosecutors wrote.The allegations, written by Justice Department lawyers in Arizona, come as the government have begun describing in more alarming terms what transpired.RELATED: Key arrests so far from the Capitol riotIn a separate case, prosecutors in Texas court alleged that a retired Air Force reservist who carried plastic zip tie-like restraints on the Senate floor may have intended to restrain lawmakers.close dialog
Chansley is due in federal court in Arizona on Friday for a detention hearing."He loved Trump, every word. He listened to him. He felt like he was answering the call of our president," Chansley's attorney Al Watkins, appearing on CNN Thursday night, said. " My client wasn't violent. He didn't cross over any police lines. He didn't assault anyone." Watkins said Chansley also hopes for a presidential pardon.Prosecutors describe those who took over the Capitol as "insurrectionists" and offer new details about Chansley's role in the violent siege last week, including that after standing at the dais where Vice President Mike Pence had stood that morning, Chansley wrote a note saying "it's only a matter of time, justice is coming."Chansley later told the FBI he did not mean the note as a threat but said the Vice President was a "child-trafficking traitor" and went on a long diatribe about Pence, Biden and other politicians as traitors.
Washington, DC officers speak out following Capitol riot 04:56Before he was arrested, Chansley told the FBI he wanted to return to Washington for the inauguration to protest.Prosecutors accuse Chansley of being a flight risk who can quickly raise money through non-traditional means as "one of the leaders and mascots of QAnon, a group commonly referred to as a cult (which preaches debunked and fictitious anti-government conspiracy theory)."They also said Chansley suffers from mental illness and is a regular drug user, according to prosecutors' detention memo.
Former Air Force reservist carried plastic zip tie-like restraints on the Senate floor
A body armor-clad retired Air Force reservist who carried plastic zip tie-like restraints on the Senate floor may have intended to restrain lawmakers, federal prosecutors argued in a Texas court on Thursday.Prosecutors say Larry Rendell Brock, a 53-year-old retired Air Force Reserve officer who was arrested in Texas, was photographed roaming the Senate chamber clutching a white flex cuff, which is used by law enforcement to restrain or detain subjects.In court, prosecutors "argued that Mr. Brock intended to use the zip-ties to restrain those he viewed as enemies — presumably, federal lawmakers, who had moments before been evacuated from the chamber," said Erin Dooley, a spokeswoman for the United States Attorney's Office, in the Northern District of Texas.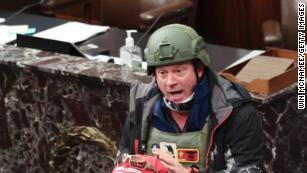 Brock was arrested January 10. He was charged with one count of knowingly entering or remaining in any restricted building or grounds without lawful authority, and one count of violent entry and disorderly conduct on Capitol grounds, according to court records.Now-viral photos show the man prosecutors have identified as Brock sporting a military helmet, green tactical vest and black-and-camo jacket. His ex-wife had identified him to the FBI after seeing him in a photo from the insurrection, according to an FBI agent's affidavit supporting Brock's arrest.A magistrate judge on Thursday released Brock to home confinement with electronic monitoring and limits on interacting with others involved in the riot and barred him from possessing guns or accessing social media.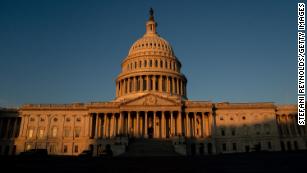 Key arrests so far from the Capitol riotAccording to court filings, prosecutors allege that Brock posted on Facebook about buying body armor and a helmet for a "civil war" and believed the US election was being certified by a "hostile governing force."In an interview with the New Yorker, Brock denied that he holds racist views. He repeated President Donald Trump's baseless assertions of election fraud.Brock told the magazine that vandalism to the Capitol building "was not my intent." He said he had picked the restraints off the ground and intended to give them back to a police officer.