The Speaker of the House got really pissed, when un-identified crazies stomped on her flowers, and exposed themselves on her home camera. This was the antechamber to Republican Hell. Her office was broken into – and defiled! One goon carried plastic handcuffs into the Senate chamber – wearing a handgun. Was he going to take elected lawmakers hostage, and LOCK THEM UP? What would THEIR demand be? How about handing over the votes of the electoral college so they can be burned? That two insurrectionists carried cuff, constitutes a
CONSPIRACY TO OVERTHROW THE UNITED STATES GOVERNMENT
These TRAITORS – will rat on each other when the FBI has got them detained in a small room – with mirror! All the insurrectionists need to be asked are these three questions;
"Do you really believe the Democrats conspired to steal the elections from Donald Trump? Did you ever confide in anyone the belief – this was not true? If so, can you give us that person's name?"
Of course the FBI has already seized their phones and computers.
(13) Nancy Pelosi's San Francisco Home Vandalized – YouTube
(13) Arkansas man in picture from Pelosi's office – YouTube
Threat from violent extremist groups remains high, says U.S. Senator Schumer (msn.com)
n a statement, Schumer said he had spoken on Saturday with FBI Director Christopher Wray to urge him to "relentlessly pursue" the attackers.
"The threat of violent extremist groups remains high and the next few weeks are critical in our democratic process with the upcoming inauguration at the U.S. Capitol to swear in President-elect Joe Biden and Vice President-elect Kamala Harris," Schumer said.
Christian Nazis On The March | Rosamond Press
US Capitol rioters chanted 'Hang Mike Pence' — video footage | The Times of Israel
"The Trump supporters rioting at the US Capitol last week chanted, "Hang Mike Pence," according to video clips from the scene.
The footage was among newly released images showing just how violent the riots were: a bloodied officer crushed in a doorway screaming; another tumbling over a railing into the crowd below after being body-slammed from behind; members of the media being cursed, shoved and punched. Five people died in Wednesday's mayhem."
I sent a e-mail to my Senator, Jeff Merkley, and City Manager, Neil Laudati, asking them to investigate my nighbors for acts of terrorism and violation of my Civil Liberties. I want their names so I can take them to small claims court as the Springfield Police Department reccommended. A woman whose name may be Krista, summoned her lover to come to my stairwell and threaten me. He came over by himself, and video taped me. These two apparentlyread the "threats" of Alley Valkyrie, who is so dumb she titles her threats "threats" on facebook. I am going to get her account closed! Alas, after two years, I got real people wathcing my back. Too bad they were not her for Clark and Colt, the two cats they terrorized!
The elected Government of Oregon needs to set-up a hotline so real Citizens and Patriots can call and report the harassment and threats they have recieved from the cult followers of the treasherous President, who is going to be impeached, or, removed from office via the 25th. Ammendment. More people died at The Dome than at the Bengazi raid. The Fake Republicans investigated that for years in order to CRIMINALIZE all the Democrats. The plot to CRIMINALIZE me, so people can hurt me, is UNAMERICAN. That this PLOT comes from FAKE CHRISTIANS – shames us in the eyes of our enemies and allies. Our Democracy has been severely weakened so Christian Bullies can get their kicks going after their enemies. They attack the Press.
YOUR neighbors get permission to BETRAY THEIR COUNTRY from images like the one below that completes the High Noon Warning I have been giving. What building is John Wayne pointing his Colt at? Those plastic ties can be used to strangle a victim.
John Presco
President: Royal Rosamond Press
(13) Capitol riots ravaged sacred room, U.S. Rep. Andy Kim explains after clean-up – YouTube
Occupy Eugene ~ Music Edit ~ X-Mas ~ Tent Monster Special "Tango Down".m4v – YouTube
US Capitol rioters spotted with ZIP TIES in shock pics suggesting 'plan to take hostages' (thesun.co.uk)
EUGENE (AP) — The city is building a fence at the home of a city council member who opposed the Occupy Eugene encampment after demonstrators on his lawn, including some topless women, unnerved a family with two young children who were out viewing Christmas lights. The nighttime demonstrations in front of George Poling's home also appalled neighbors.
. Poling was one of three council members who consistently voted against allowing the Occupy protesters to camp in city parks, but some participants singled him out for opposing fires at the camp.
On Christmas night, a group of 15 to 20 people erected tents on Poling's lawn. Four were arrested on trespassing charges. Four nights later, five masked women stood on the sidewalk in front of his house with a gong and had letters written on their chests spelling out the word "truth." No arrests were made.
Police are keeping a watch on Poling's house, and both Poling and the city have paid for unspecified security measures. Last week, a 6-foot-tall chain link fence was placed in front of Poling's home at city expense, and on Wednesday, workers began replacing the fence with a permanent wrought iron fence.
"It's not just about me," Poling said. "It's about my wife who has had to put up with this. It's about this family whose children were traumatized by what they saw."
The council disbanded the Occupy camp after a fight broke out there, leading to the death of one man. It led to the protests outside Poling's house.
Air Force veteran identified as Capitol rioter carrying zip ties on Senate floor | Fox News
Lindsey Graham called on President-elect Joe Biden to immediately contact Democratic congressional leaders and "the Squad," requesting they cease any discussion of President Donald Trump being impeached for a second time in the aftermath of the Capitol assault.
The Republican senator from South Carolina appeared on Fox News Friday night and urged Biden to "pick up the phone" and tell House Speaker Nancy Pelosi and other Democrats not to impeach Trump in the coming weeks.
Larry R. Brock Jr. confirmed to the New Yorker on Friday that he was the man pictured wearing a helmet and military gear on the Senate floor, after pro-Trump supporters, emboldened by the president's rhetoric, forced their way into the building. They disrupted a joint congressional hearing to certify the Electoral College results of the presidential election.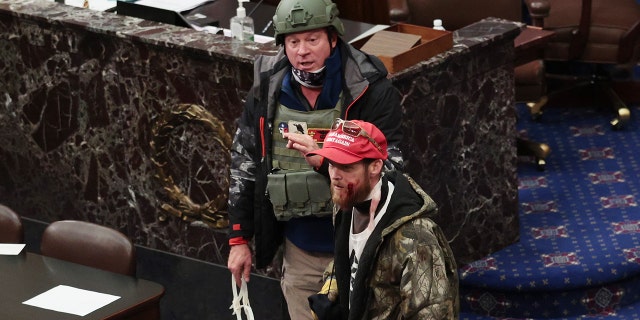 Larry Brock Jr. has been identified wearing a helmet on the Senate floor as pro-Trump rioters stormed the U.S. Capitol building Wednesday after mass demonstrations. (Photo by Win McNamee/Getty Images) (Getty Images)
"The president asked for his supporters to be there to attend, and I felt like it was important, because of how much I love this country, to actually be there," Brock told the New Yorker, adding that he intended to do so peacefully.
He did not respond to Fox News' request for comment.
The Air Force confirmed to Fox News that Brock entered the military in 1989 and became part of the Air Force Reserve in 1998. He served as an A-10 pilot until 2007 and retired in 2014.
"As a private citizen, we no longer have jurisdiction over him," the Air Force said in a statement to Fox News.
Brock, 53, a father of three, said he wore tactical gear because he was afraid of getting injured by counter-protesters such as "BLM or Antifa." He found the zip-ties on the floor and picked them up, intending to give them to a police officer if he encountered one, the New Yorker reported. https://721f432330581d99271fcb8ce0a1a3b4.safeframe.googlesyndication.com/safeframe/1-0-37/html/container.html
FLORIDA MAN ARRESTED AFTER PHOTOS SHOWING PROTESTOR CARRYING PELOSI'S LECTERN
"I know it looks menacing," he said, adding that he neither knew of nor supported the vandalism and destruction at the Capitol — which included broken windows and stolen historic relics. "That was not my intent."
Meanwhile, family members of Brock told the news outlet that he had used racist language in their presence and his pro-Trump views had veered further to the right in recent years. They noted that he may have held White-supremacist opinions, a charge which he has denied, the New Yorker reported.
CLICK HERE FOR THE FOX NEWS APP
The FBI continues working to identify individuals photographed in the melee at the Capitol, which left five people dead, including a Capitol police officer, and dozens more injured.
Senator Jeff Merkley <senator_merkley@merkley.senate.gov>To:braskewitz@yahoo.comThu, Jan 7 at 6:35 PM
Dear John,

Americans have witnessed many foreign strongmen ignore elections to cling to power. I never thought we would see this kind of attempted coup in our most hallowed temple of democracy, but that's exactly what happened yesterday. The American people have rejected Donald Trump's failed leadership, but he and his loyalists were trying to find any means by which to keep him in power. That is unacceptable in any democratic republic.

We should be clear, though, that the attack on our democracy was not only perpetrated by the violent mob that trashed the U.S. Capitol, but by elected representatives who serve there. There is no evidence of any systemic fraud in any of the six states that a group of senators on the other side of the aisle planned to challenge. All such claims were examined not only by respective state authorities, but also by the courts. The violent mob of insurrectionists and the Congressional objectors shared the same goal: overturn the election executed according to our Constitution and laws to seize power for their losing candidate.


Click here to listen to the remarks I gave on the Senate floor once the chamber was able to reconvene and complete our responsibility under the Constitution to certify the Electoral College's votes.>>>

The riot in the Capitol demands swift accountability, including removing President Trump from office, either by impeachment or the 25th Amendment. And there should be criminal investigation and prosecutions of both rioters and those who incited or conspired with them to address yesterday's actions. Justice demands accountability.

Responsibility for yesterday's attempted coup runs deep. It starts with the president of course, but the failure of President Trump's allies in Congress to stand up and speak the truth and dismiss the false claims and conspiracy theories promoted by the president led to yesterday's attempted insurrection. When a president attempts to deceive the public and inspire an anti-democratic revolt, it's the responsibility of all every single leader — regardless of party — to stand up, set the record straight, and protect and defend our constitutional republic.

And we should be clear that the efforts to overturn the election are only the latest efforts by a privileged and powerful elite to hold power in spite of the will of the people. For years, their vast pools of corporate and dark money, voter suppression, and partisan gerrymandering have conspired to manipulate elections. Our democracy has been under assault for a long time and we need robust election reforms to rebuild government of, by, and for the People.

I look forward to serving in the Senate while Joe Biden and Kamala Harris lead our nation. We must immediately address the economic and health care issues raised by the pandemic. We need to invest in the foundations for families to thrive — which means health care, housing, education and good paying jobs. We need to restore our democracy and take on voter suppression, gerrymandering, and dark money — the real issues corrupting our election system. And we need to take on the biggest issue facing our planet: climate chaos.

We have a long road ahead of us, and I hope you will join me in committing to traveling that road with decency and respect for one another and the institutions of our constitutional republic. We have so much work to do, and we need to get to that work right away.

All my best,
Jeff